This Ham and Cheese Monkey Bread is the ultimate easy breakfast recipe, which makes it perfect for those of us that need all the extra help we can get in the morning! We're all about overnight breakfast casseroles around here, and once you taste this one, you will be too!
Thanks to my friends at Rhodes Rolls for sponsoring today's post! As always all opinions are my own! #frozendough #Rhodes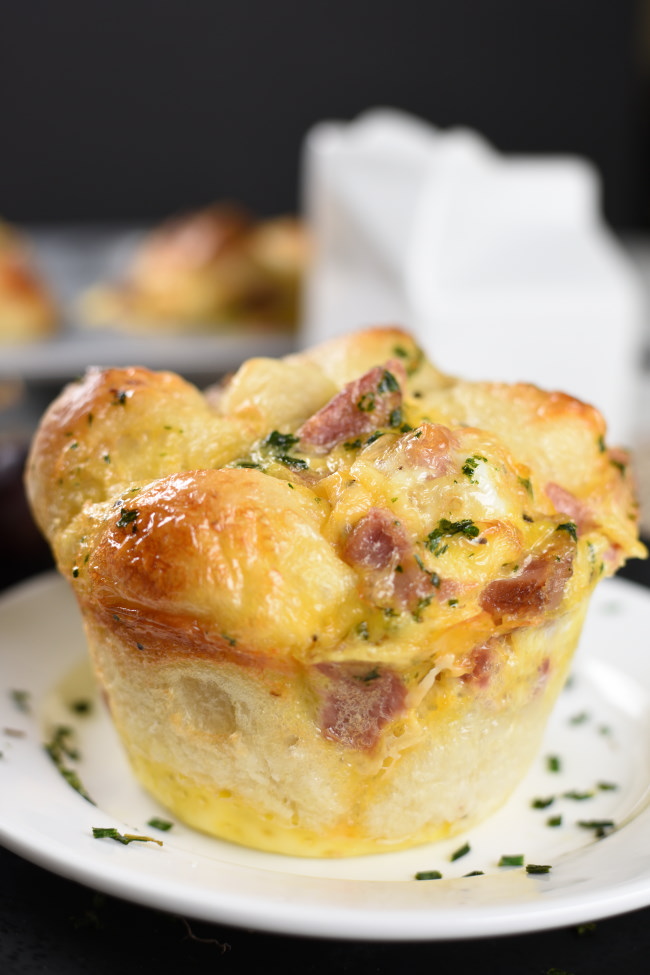 Raise your hand if you're in love with make-ahead breakfast recipes? Me too! This recipe is AMAZING because you can hit the snooze button and still feed your family a hearty breakfast!
This is also a great recipe for using up leftover ham, bacon, or sausage. Heck, if throw all three in there…it will only make it better!
We eat leftovers a couple of nights a week and my kids were literally FIGHTING over this monkey bread! When you have three boys there's no shortage of fighting, and now they're fighting over leftovers!
So whip this recipe up, and watch your kids gather around and fight over it!
What you'll find in this post!
Reader's favorite things about Ham and Cheese Monkey Bread!
There is so much to love about Breakfast Monkey Bread because it solves so many of my problems!
Overnight – Assemble it the night before and bake it in the morning
Inexpensive – This recipe uses simple ingredients
Leftover Ham – Dice leftover ham and use it up
On the Go Breakfast – Perfect for grabbing on your way out the door.
Freezes well– Take these muffins out of the freezer and pop them in the microwave for a quick breakfast
Mornings are hectic and that's why my family survives on recipes like Make-Ahead Hashbrown Breakfast Casserole, Breakfast Calzones, Breakfast Stromboli, and Blueberries and Cream Sweet Rolls. You just can't beat waking up and having breakfast ready to pop in the oven.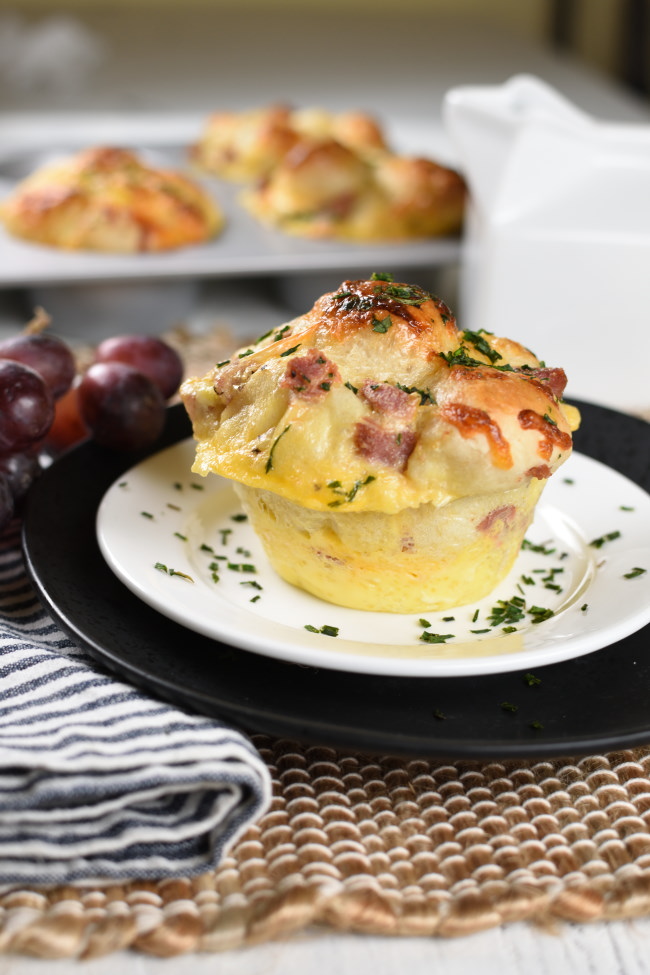 Monkey Bread Ingredients
Let's talk about what you'll need to make this easy recipe. These ingredients are all typical pantry/fridge ingredients. I bet you have most of them hanging around. Let's talk about variations, just in case! Since I live 60 miles from the grocery store I'm good at substituting! Here are some ideas!
Bread – Rhodes frozen rolls are my favorite. You can use biscuits too, but I really think using yeast rolls are worth the little extra effort.
Meat – Diced ham, fried and crumbled sausage, crumbled bacon, or a combination!
Cheese – Cheddar, Mexican blend, pepper Jack, Swiss, or Monterey.
Eggs – Whole eggs
Milk – Half and half is best. Whole milk, evaporated (not condensed), or heavy cream will work too.
Spices – Salt and pepper to taste.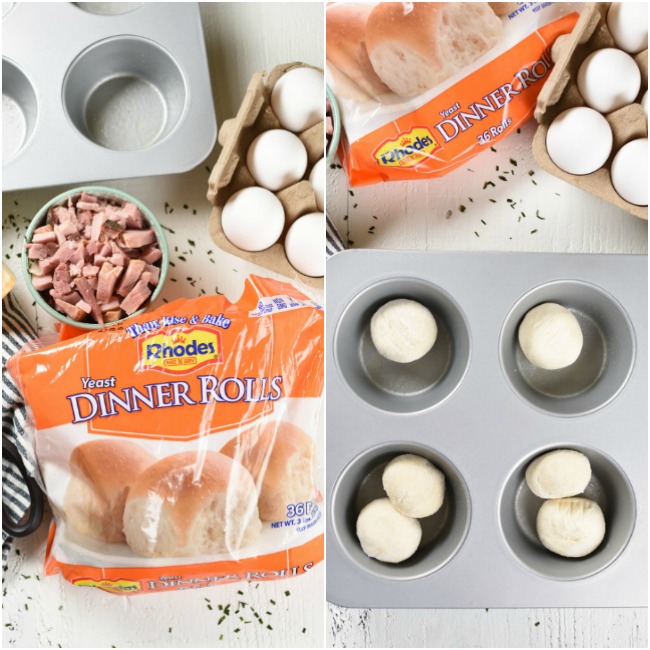 How to make monkey bread
Although this is a really easy recipe I'm going to share a few tips that will make you can make this without any snags! Making it in individual muffin tins is a little bit more work than making it in a bundt pan or in a 9×9 baking dish. But I like it better because it's easier to serve, and it's easier to freeze if you want to save some for later! It will taste fantastic either way!

How do I assemble monkey bread using frozen rolls?
Allow about 20-30 minutes for the frozen Rhodes rolls to thaw just enough to be able to cut them.
I used a jumbo muffin tin and used one and a half roll in each muffin cup. If you're using a traditional muffin tin try using 3/4 a roll for each muffin cup (you'd need 9 rolls total either way). If you're using a can of biscuits you won't need to wait for them to rise.
Sprinkle diced ham and cheese over the rolls.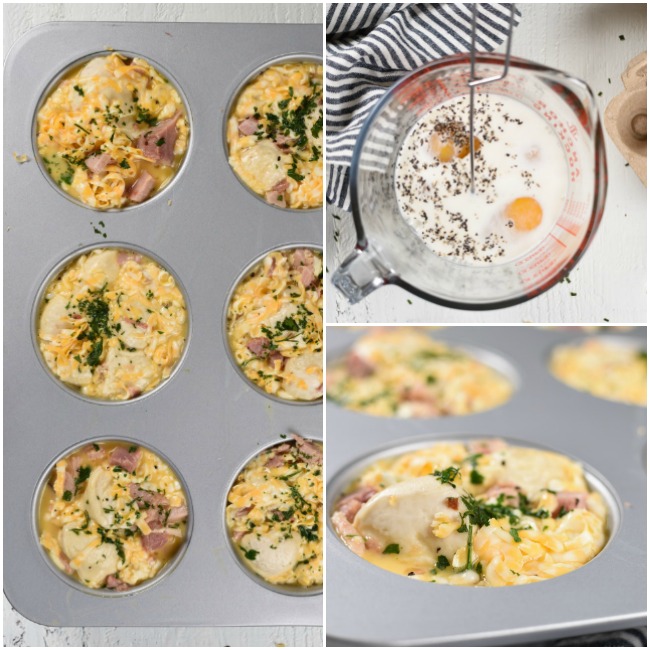 Add eggs to monkey bread
Use a big glass measuring cup or bowl with a pouring spout for this next step because it makes it easier to pour into the muffin tins without spilling.
Mix eggs and half-and-half together. Season with salt and pepper. Pour some into each muffin cup.
The rolls are going to keep rising as it sits. Be sure to leave a little extra room in the muffin tins to allow for the rising or you could end up with eggs all over your fridge! That wouldn't make breakfast any easier!
How to make monkey bread overnight and bake in the morning.
Stick them in the fridge and they'll be ready for you in the morning.
All you need to do in the morning is take them out of the fridge and stick them in the oven to bake. Be sure to set the muffin tin on a baking sheet just in case they overflow a bit. I haven't had this happen before, but it makes me a little nervous every time!
If you're using a bundt pan or a 9 x 9 baking dish you'll need to allow a more time to bake through since it will be thicker. A muffin tin only takes about 20-25 minutes to bake through.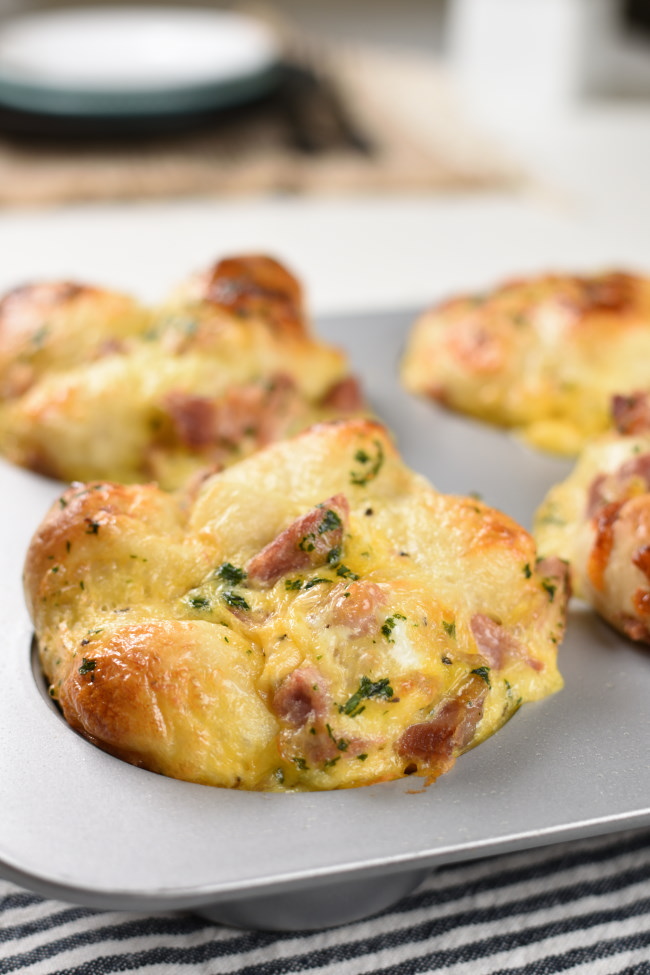 How to freeze and reheat monkey bread.
This is when baking this recipe in muffin tins comes in really handy. I love that they are already baked in individual portions instead of one big pan. After baking, follow these instructions for freezing and reheating.
Cool baked monkey bread completely.
Freeze for 30 minutes on a baking sheet.
Remove from baking sheet and store in an airtight container. They should last in the freezer for up to 3 months.
To reheat microwave one for 1 minute. Check to see if it's heated through. If not, continue microwaving in 30-second increments until heated through. Serve.
NOTE: They will also last for up to 3 days in the fridge. Just microwave to reheat.
What to serve with savory monkey bread.
We love to serve this pull-apart bread for breakfast or brunch. But, it's also a great recipe if you like breakfast for dinner. Here are a few fruit salad recipes and smoothie recipes that would be delicious served with it!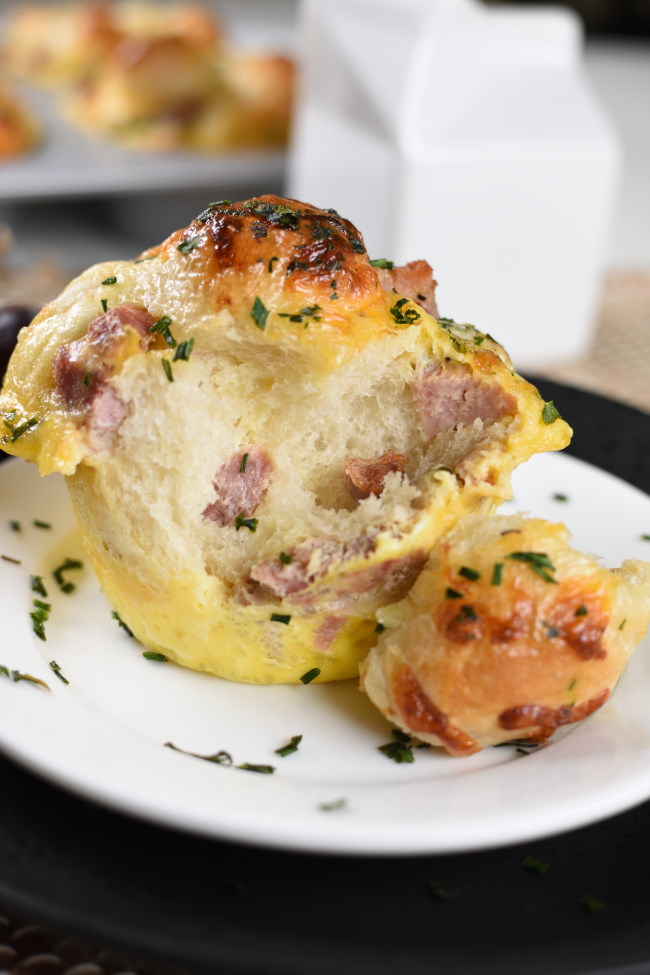 Grab My Ham, Egg, and Cheese Monkey Bread Recipe!
Ham and Cheese Monkey Bread is really similar to an overnight egg and biscuit casserole except it's in a fun savory monkey bread! This recipe can be assembled the night before and baked in the morning which makes it the perfect breakfast for the holiday company! Of course, the recipe is great for weekdays too!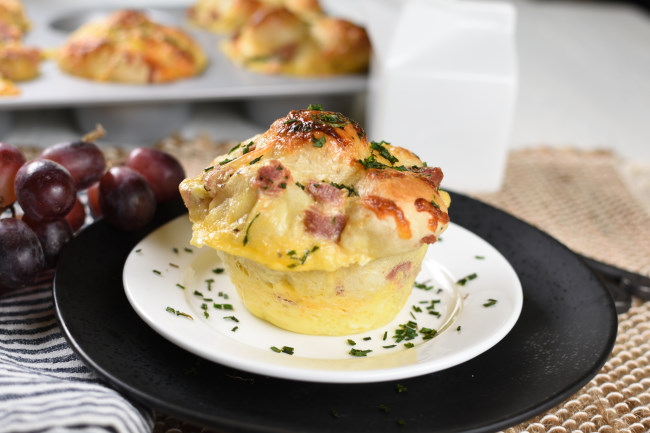 Egg, Ham, and Cheese Monkey Bread
Ham, Egg, and Cheese Monkey Bread is a make-ahead, overnight, breakfast recipe! There are little bits of crispy cheese on top, and the inside has savory ham and eggs all nestled inside fluffy white bread! Everyone will enjoy pulling pieces of bread off this cute muffin tin sized monkey bread!
Ingredients
9

rolls

6

large

eggs

1/3

cup

half and half

1

cup

diced ham

1

cup

shredded cheddar cheese

chopped parsley

optional
Instructions
Assembling Monkey Bread
Grease jumbo muffin tin with nonstick baking spray.

Set 9 Rhodes rolls in the muffin tin. Some muffin cups will have 2 rolls and some will have 1 roll. We're going to work that out in a minute. Let rolls sit in muffin tins for about 20 minutes, or until they are thawed enough to cut with scissors.

Cut rolls in quarters, placing 6 qaurters in each muffin cup.

Evenly divide diced ham and cheese and sprinkle over rolls in the muffin cups. Use your fingers to toss the rolls, ham, and cheese together a little bit.

Whisk eggs, half and half, salt, and pepper in a large measuring cup. Pour egg mixture evenly in muffin cups. Be sure to not fill them over 3/4 full. You might have more egg mixture than will fit. If so, discard any extra egg mixture. Sprinkle with chopped parsley if desired.

Cover muffin tin with greased plastic wrap, set on a rimmed baking sheet just incase it overflows during the night. Refrigerate overnight, or until rolls have doubled.
Baking Monkey Bread
Preheat oven to 350 degrees. Set muffin tins on a baking sheet just in case they overflow. Bake uncovered for 20-25 minutes.

Remove from muffin tin and serve immediately!
Notes
*Feel free to use whatever kind of cheese you have on hand. Pepper Jack, Colby Jack, and Swiss would all be fantastic options!
*You may substitute fried sausage or crumbled bacon for diced ham.
*2%, evaporated, heavy cream or whole milk may be substituted for half and half.
Nutrition
Calories:
445
kcal
|
Carbohydrates:
50
g
|
Protein:
23
g
|
Fat:
17
g
|
Saturated Fat:
6
g
|
Cholesterol:
221
mg
|
Sodium:
880
mg
|
Potassium:
105
mg
|
Fiber:
2
g
|
Sugar:
7
g
|
Vitamin A:
506
IU
|
Calcium:
187
mg
|
Iron:
17
mg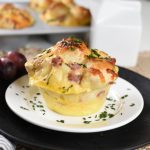 tried this recipe?
Make sure to share it with me! Leave a review or tag me on Instagram