Make Ahead Hash Brown Breakfast Casserole is a hearty casserole that's sure to make your mornings run smoother! You'll need simple ingredients to make this casserole; frozen hash browns, diced ham (or any other breakfast meat), eggs, milk, and grated cheese! Assemble it the night before and all that's left in the morning is popping it in the oven!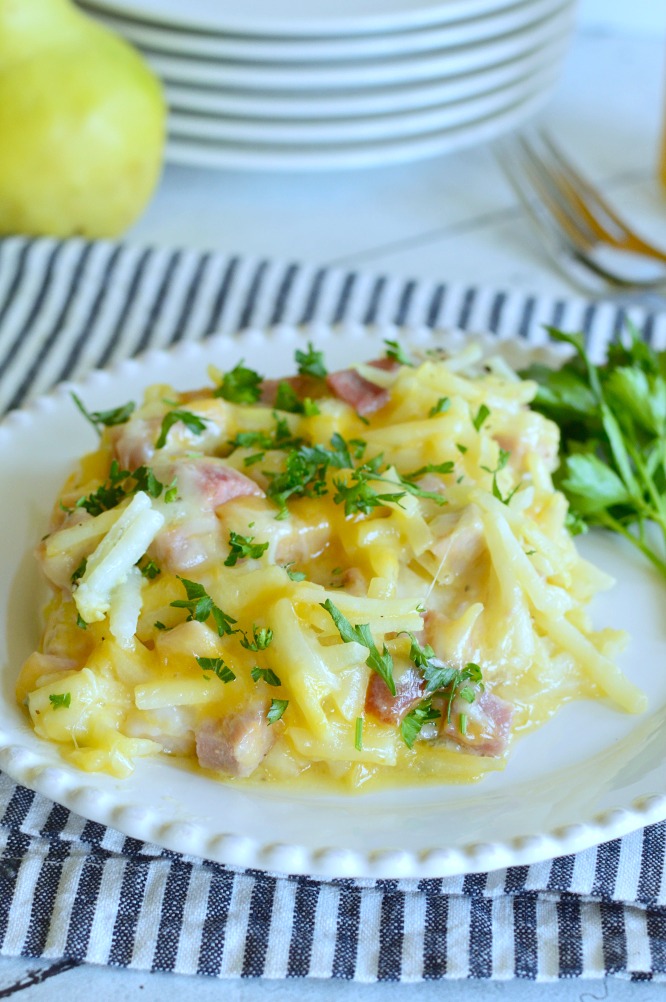 We've been told for years that breakfast is the most important meal of the day, it's also the most hectic meal of the day. I'm all over anything I can do the night before to make life easier in the morning. Just knowing breakfast is all assembled and hanging out in the fridge makes me sleep better!
Let's talk about sleeping for a minute.
I'm one of the lucky ones that just can't sleep past about 6:15 in the morning. There are so many nights when I climb under my covers and wish, and pray that I could sleep in just once. Just one time would be amazing! I turn my alarm off in hopes of waking up around 7:30 and feeling all sorts of rejuvenated.
Without fail, I roll over in the morning and peel my eyes open enough to see what time it is, and it's always 6:15. Give or take 2 minutes! That's right 6:17 makes you feel like a completely new woman!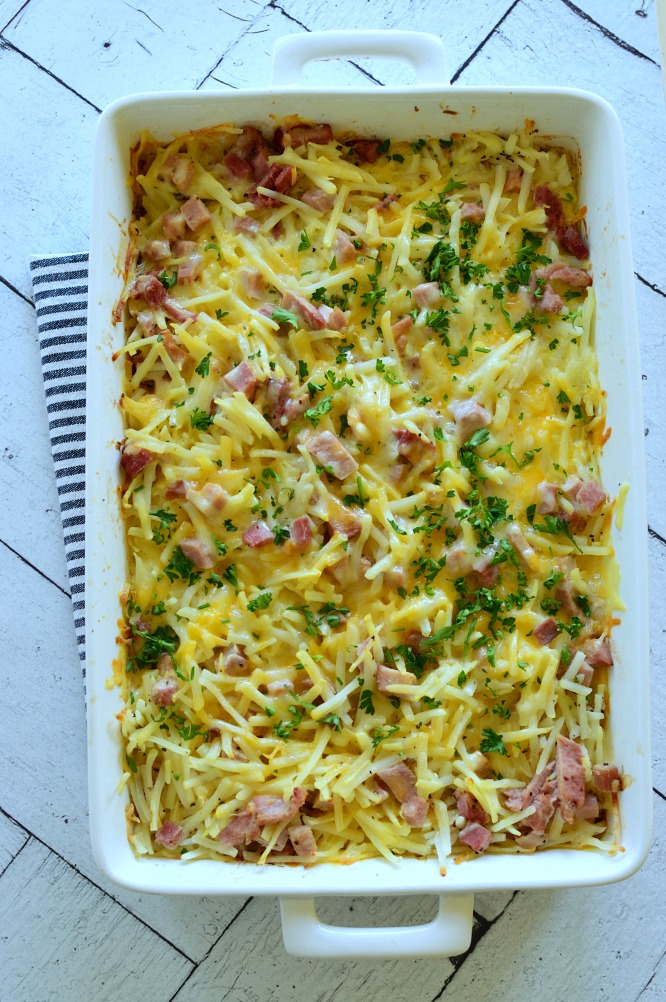 Mornings are the busiest time of the day!
Maybe part of the reason I can't sleep is because I feel like I'm the ONE and ONLY person in this house that's responsible to make sure everyone gets up, gets a lunch out of the fridge and thrown into a lunch box. It's my job to toss breakfast on the table. And for some crazy reason it's also my job to make sure everyone has a jacket, hat, backpack, books, homework, pencil, helmet for football practice, on and on.
I swear if I didn't get my rear out of bed in the mornings and wake everyone up, they'd still be nestled under their covers at 9:00, unless they wanted to do something fun like go hunting. They always manage to hear their alarm clocks and jump right out of bed for early morning hunting trips.
Anyway, in an effort to make life easier in the mornings I always try to either make breakfast the night before, or at least have a game plan for the next day.

Easy Make Ahead Breakfast Recipes
Here are a few other super simple make ahead breakfasts you might fall in love with. They're all hearty enough to fill up my hungry boys, which is really saying something!

How to make breakfast ahead of time.
Making Hash Brown Breakfast Casserole ahead of time is really simple.
First, follow the directions to completely assemble the casserole. Then you have three options.
Bake immediately, then serve.
Bake, cool. Refrigerate for later. Warm up single servings in the microwave as needed. This is a great option for those days when the whole family is running in different directions.
Refrigerate. I usually refrigerate overnight. Bake an hour before you would like to serve the casserole.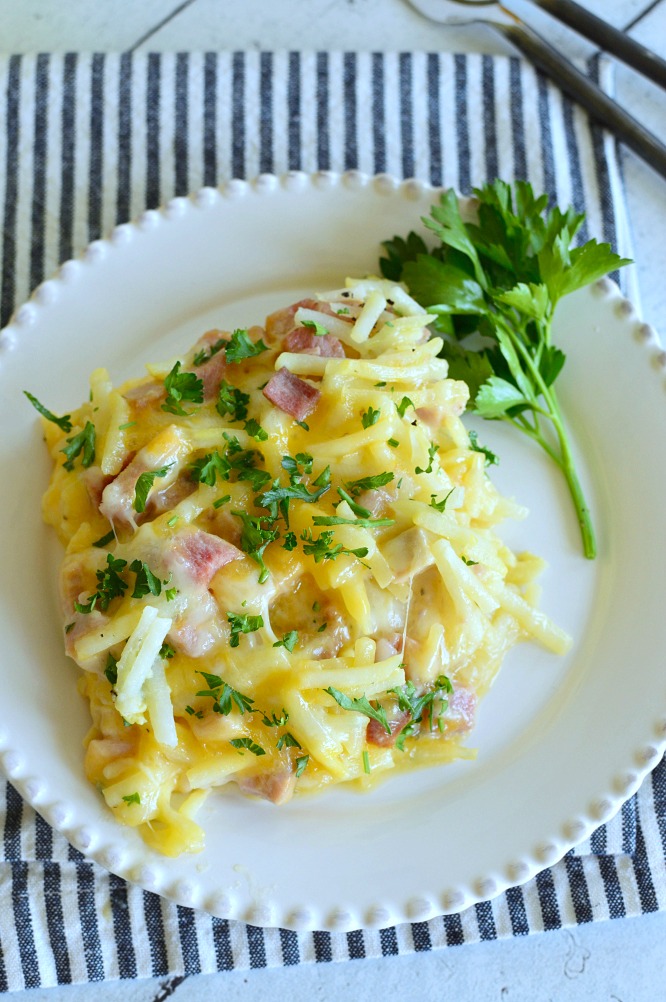 Can I customize Make Ahead Hash Brown Breakfast Casserole?
Yes! Feel free to customize this casserole anyway you like!
My family loves it with browned and crumbled breakfast sausage. It's also delicious with fried bacon, or a combination of any breakfast meats.
My mom adds green chilies to her breakfast casserole and my boys freak every single time! Add them if you'd like!
Of course you can top your casserole with your favorites. Sour cream, salsa, ketchup, parsley, or whatever you love.

Grab the Make Ahead Hash Brown Breakfast Casserole recipe!
Pin it for later, or print it out!
If you are the early bird at your house I sincerely hope you get to sleep in soon! No one can burn the candle at both ends forever without wearing down!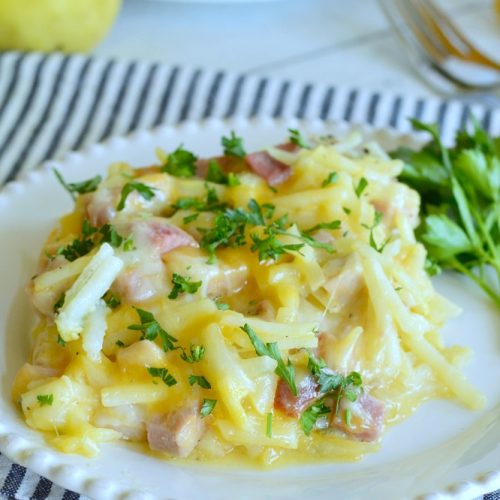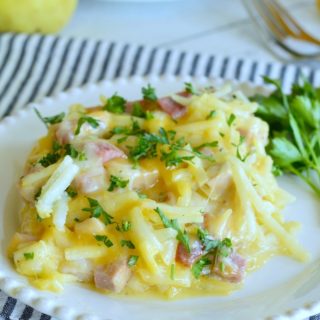 Make Ahead Hash Brown Breakfast Casserole
Make Ahead Hash Brown Breakfast Casserole is a hearty casserole with diced ham, plenty of gooey cheese, and frozen hashbrowns. It's super easy to make. Bake it and serve it, or refrigerate overnight and bake it in the morning!
Ingredients
20

oz

Hash Browns

Frozen

6

eggs

1

cup

evaporated milk

2

cups

ham

diced

1

cup

cheddar cheese

grated

1

cup

Swiss cheese

grated

1/4

cup

butter

melted

1/2

tsp

salt

or to taste

1/2

tsp

pepper

or to taste
Instructions
Preheat oven to 350 degrees, if you are baking casserole immediately.

Spray 9 x 13 pan with nonstick baking spray.


Spread hash browns evenly in baking dish.

Season with salt and pepper. I usually start with 1/2 tsp each, then adjust to taste.

Drizzle melted butter over hash browns.

Spread diced ham, or other cooked breakfast meat, over hash browns. Sprinkle grated cheese over potatoes. Gently stir.

Whisk eggs. Add milk and whisk together. Pour egg mixture over hash browns. Gently stir.

Cover baking dish with aluminum foil. Bake for 45 minutes. Remove foil and bake for 5-10 more minutes or until its bubbly and cooked through.
Directions for making ahead of time.
Assemble breakfast casserole. Cover with foil. Refrigerate. When you are ready to bake preheat oven to 350 degrees and bake for 55 minutes. Remove foil and bake 5-10 more minutes or until bubbly.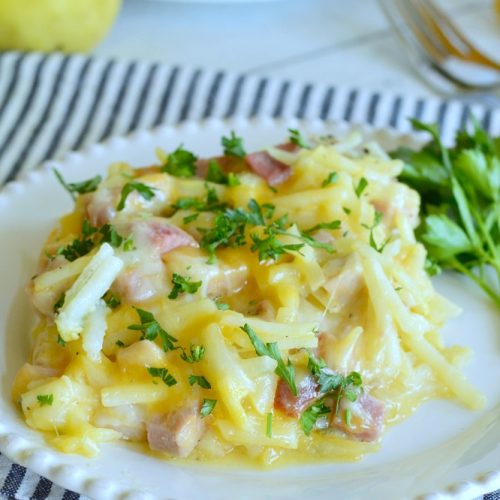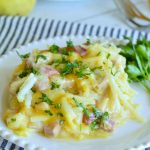 tried this recipe?
Make sure to share it with me! Leave a review or tag me on Instagram