A Ham and Cheese Calzone is an easy freezable breakfast recipe! They will remind you of pizza and breakfast hot pockets all wrapped up in one tasty on the go breakfast! Roll out pizza dough and add scrambled eggs, diced ham, and plenty of cheese then bake them up! Making them ahead of time is a morning time game changer!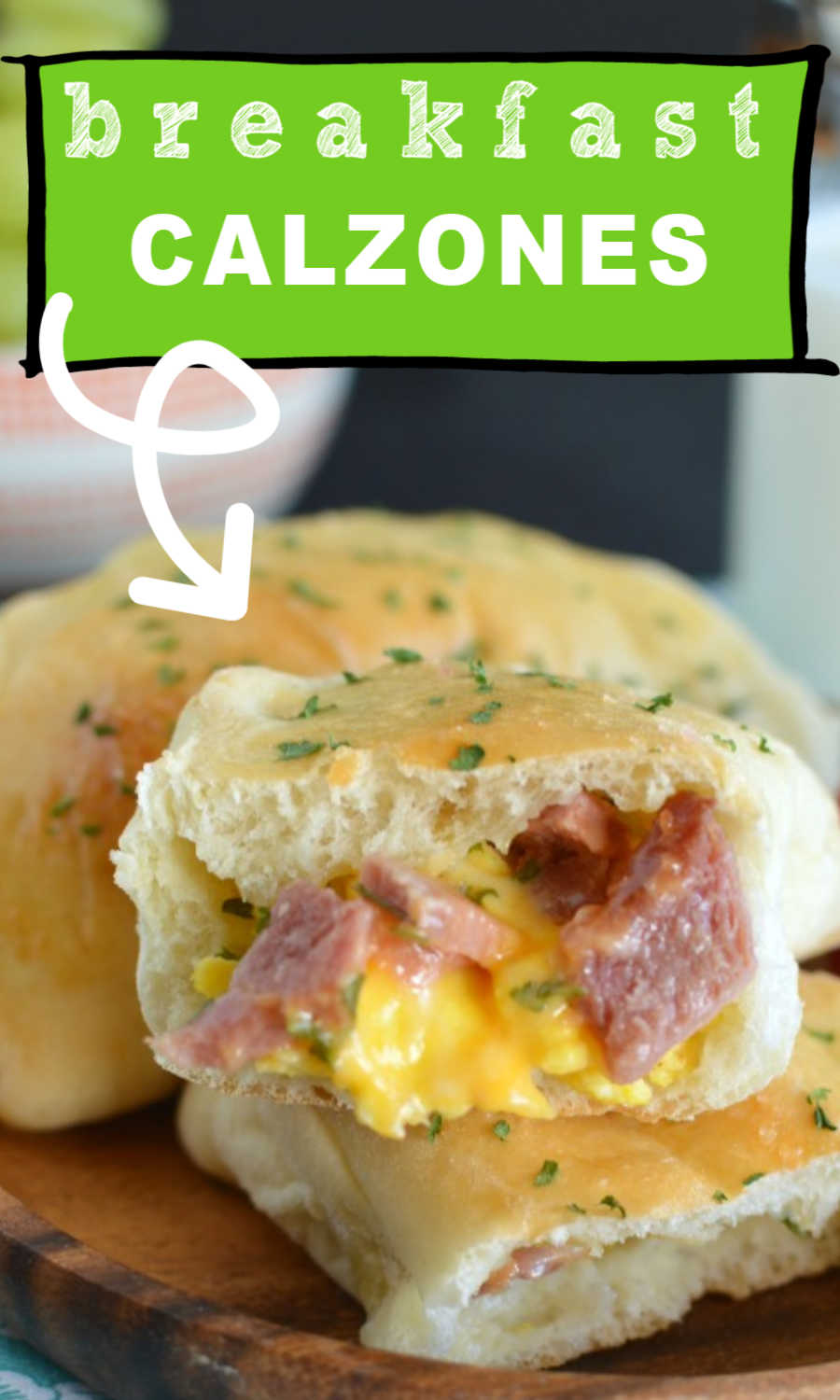 Life can get so hectic, especially in the mornings! It seems like regardless of how much planning and preparations I do the night before, our mornings are still rushed. Having breakfast all ready to go is a lifesaver; it's one less thing for me to have to think about!
Because we live our lives on the go we're always looking for recipes EXACTLY like this Ham and Cheese Calzone Recipe! Pepperoni Pizza Sliders, Philly Cheese Steak Calzones, Sloppy Joe Bombs, and Spaghetti Sandwiches are all the kind of quick and easy on the go meals we go back to over and over!
Calzones are like inside out pizza, or basically dough wrapped around the toppings! Skip pizza delivery or take out and enjoy this new spin on Pizza night!
How to make ham and cheese calzones
I'm going to walk you through this super simple and easy how to make calzones process step by step! It's so easy! Promise!
STEP 1: Roll pieces of dough into about 6″ circles. You can use crescent rolls, homemade or store-bought pizza dough, or frozen dough that's been thawed, which is what I used.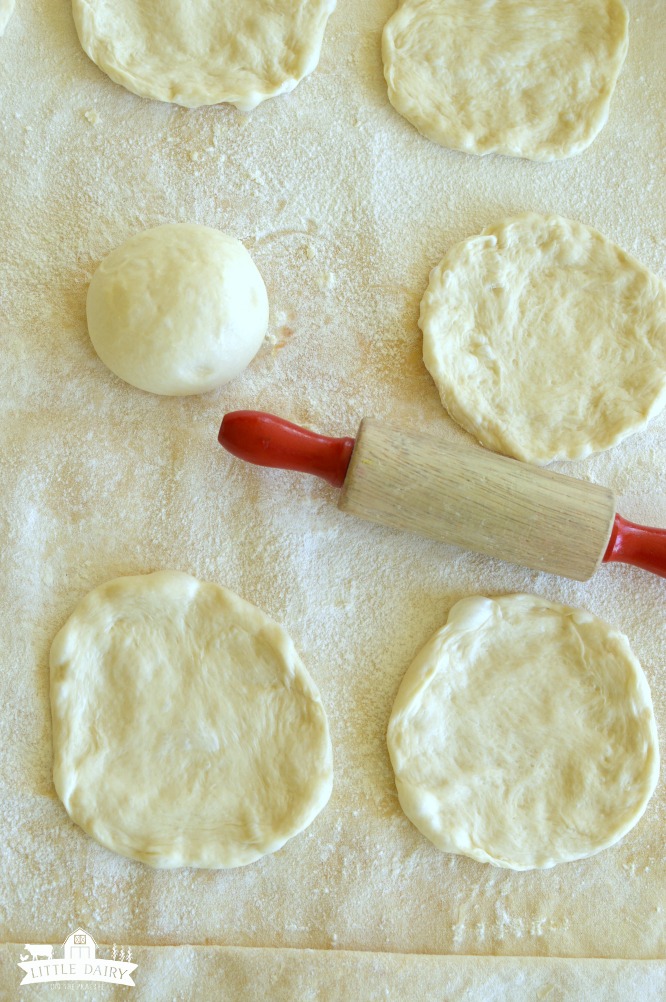 STEP 2: Add scrambled eggs, diced ham, and grated cheese. You can use any cheese you'd like. Cheddar is my fave! It's also fun to add bacon or sausage. Heck, add bacon, sausage, and ham if you want!
NOTE: Try not to add too much filling. It also works best if you add them to half of the rolled out dough.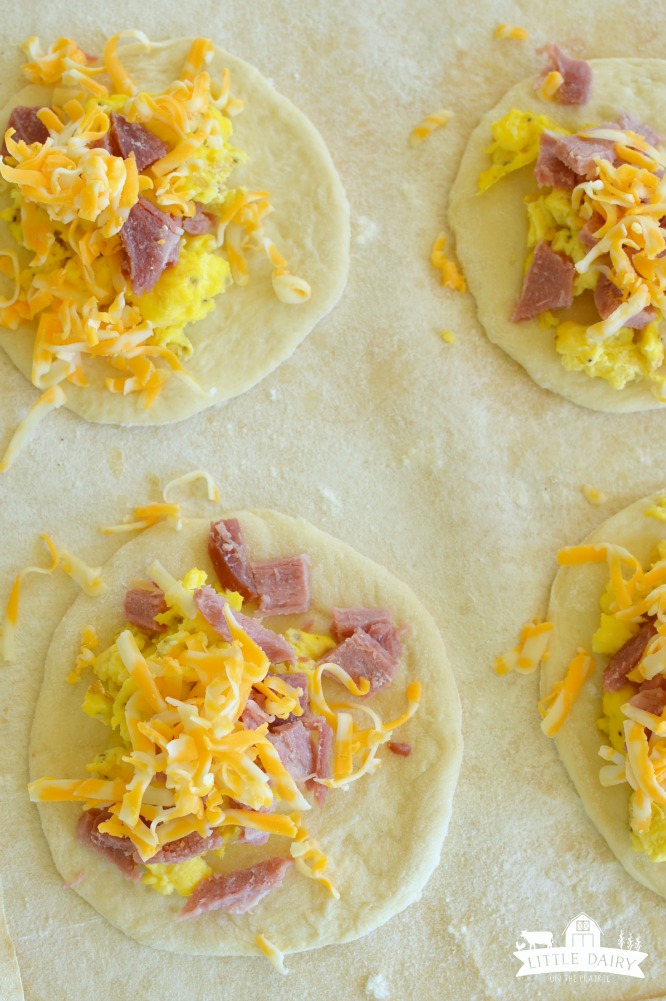 STEP 3: Fold half of the dough over the fillings to create a half-circle.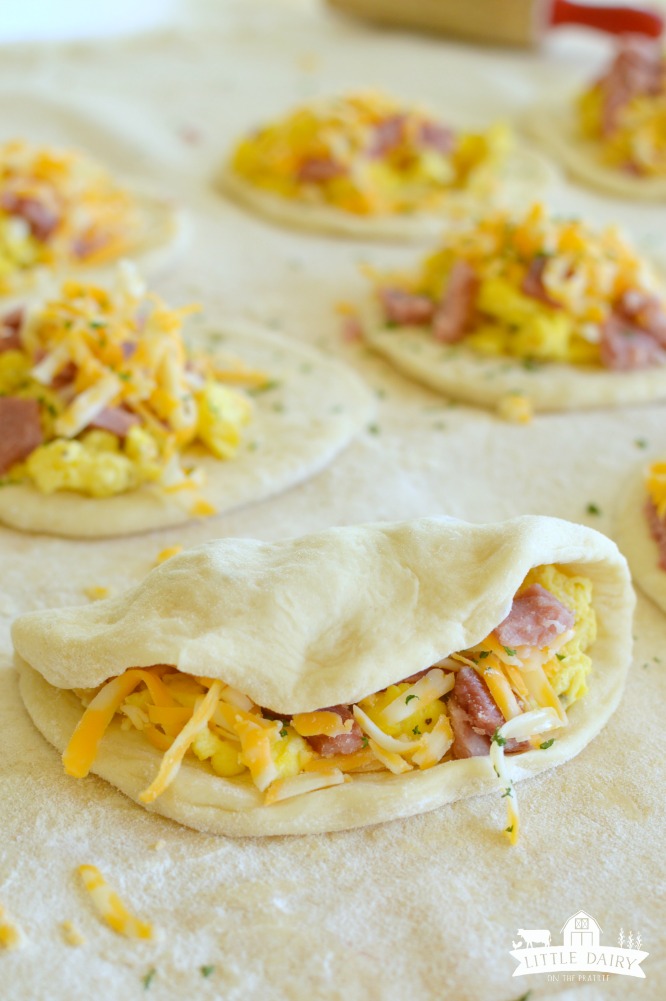 STEP 4: Pinch the edges of the bread together to seal. You can use your fingers to crimp them together, or the tines of a fork.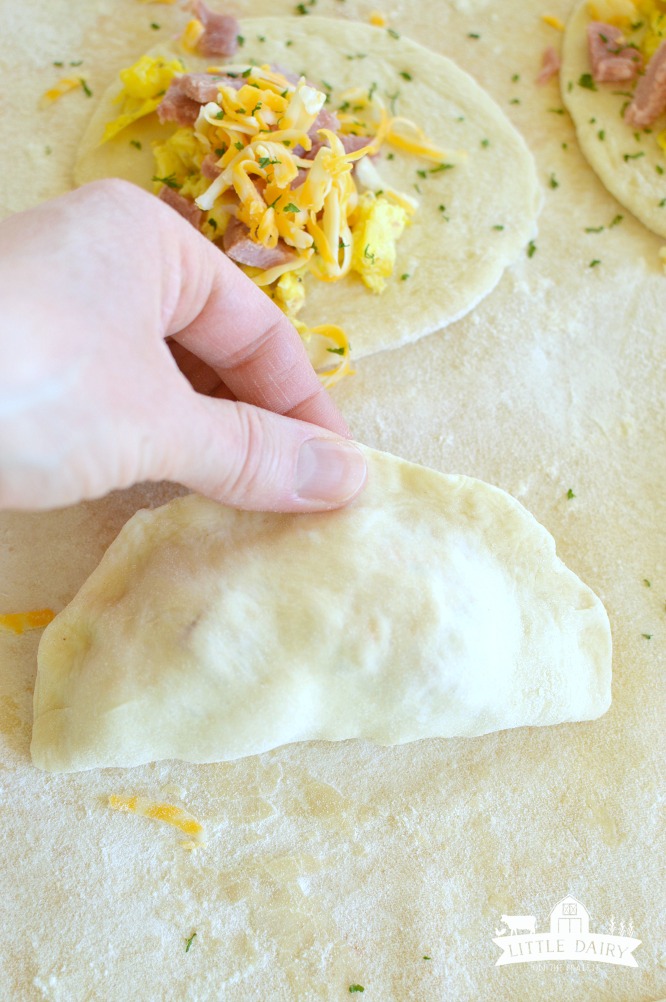 STEP 5: Place calzones on a baking sheet. Brush the tops of them with evaporated milk or beaten egg white. Either will help them get browned on top. Sprinkle parsley, sea salt, or sesame seeds over the top if you want.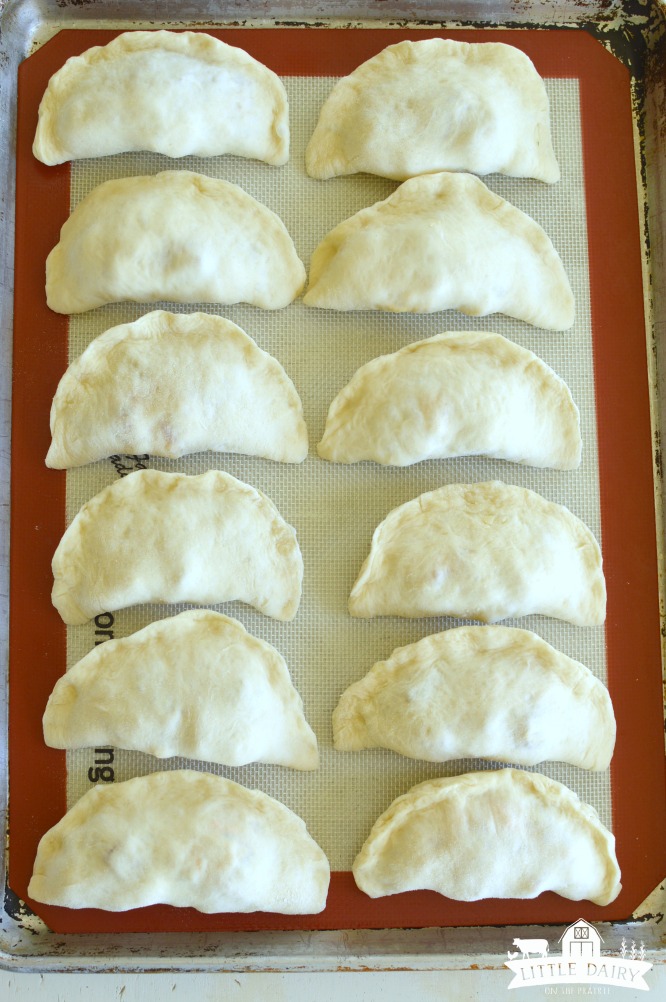 STEP 6: Bake calzones.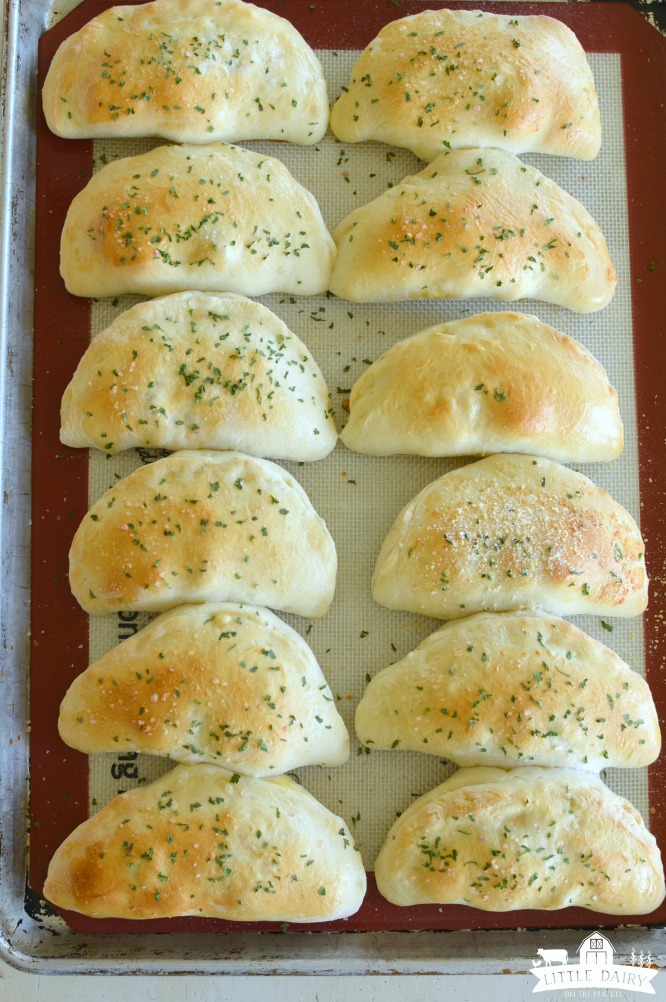 Homemade Ham and Cheese Calzones
There are a lot of options when it comes to making these calzones! Get creative and customize them to your family's taste! No matter what you add I'm sure you'll agree with me that homemade is much better than the ones you can buy in the freezer section of the store!
Mexican – add green chilis and use sausage
Pizza – add marinara sauce and other pizza toppings
Hawaiian – leave the eggs out and add pineapple
Meat lovers – add crumbled bacon and fried sausage too
With Vegetables – add sauteed onions, peppers, and mushrooms
How to freeze homemade calzones
It's the BEST thing in the world and it's really handy to have them in the freezer waiting for you on busy days! They can be stored in the freezer for up to 3 months, that's about how long they'll last.
Bake calzones and let them cool.
Leave calzones on a baking sheet and freeze them for about 20 minutes.
Remove them from the baking sheet and store them in a freezer bag.
How to reheat frozen homemade calzones
If I know my family is going to eat them in a couple of days I store them in the refrigerator. Otherwise, I stick them in the freezer. You can also move them from the freezer to the refrigerator and let them thaw overnight if you'd like. Just be sure to keep them in an airtight container.
To reheat from the fridge cook in the microwave for 1 minute. Continue microwaving in 30-second intervals if needed to warm through.
To reheat from the freezer, microwave for one minute. Turn over and microwave for one more minute. Check to make sure it's warmed through. If not, continue warming in the microwave in 30-second intervals.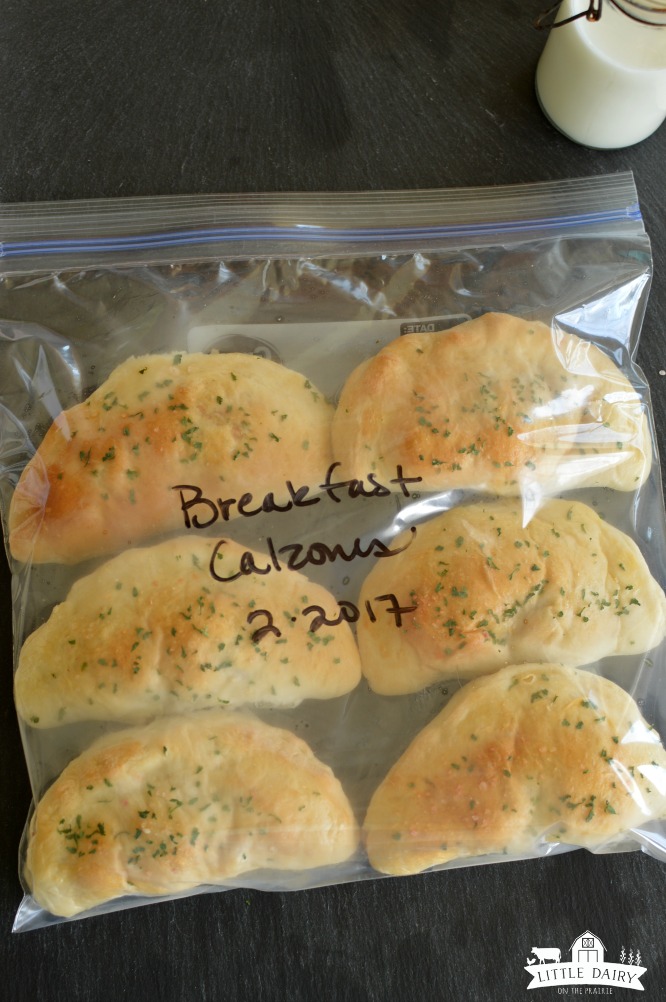 Grab my Ham and Cheese Calzone Recipe
We really love adding eggs to these which basically makes them like homemade hot pockets for breakfast! Try them out and let me know what you think!
Be sure to check out these other easy breakfast recipes too!
Breakfast Recipes with Ham
By the way, check out this guide to learn all about how to safely freeze ham. And check out my tips for quickly cutting ham.
Breakfast Bread Recipes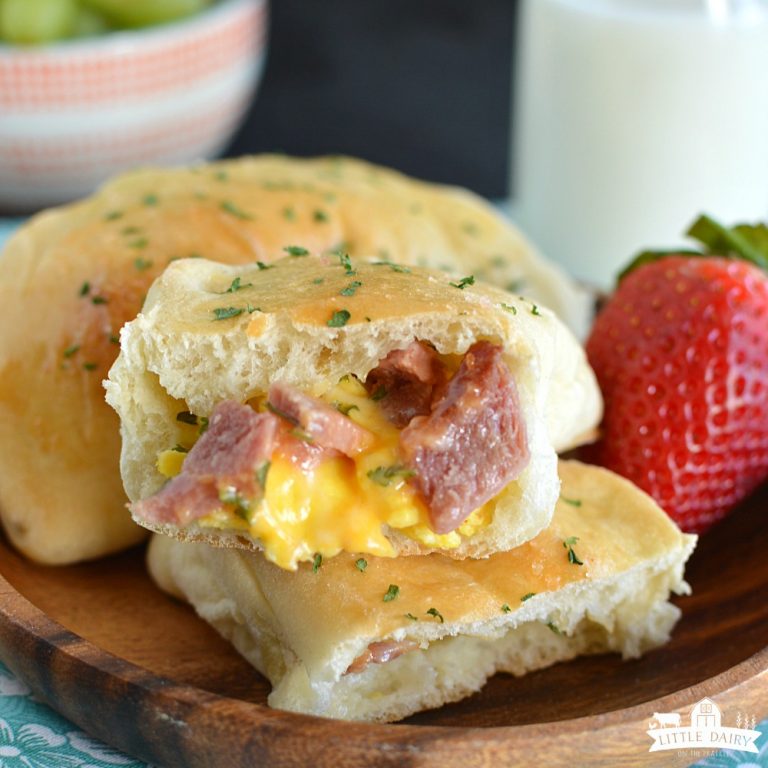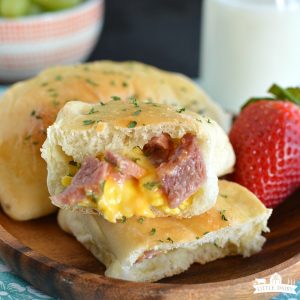 Ham and Cheese Calzone
Ham and Cheese Calzones are basically like inside out pizza! Fill them up with whatever pizza toppings you like! We love adding scrambled eggs and serving them for breakfast!
Ingredients
12

frozen rolls

or pizza dough

12

eggs

1

TBSP

milk

1 ½

cups

diced ham

1 ½

cups

shredded cheddar cheese

1

egg white

Dried parsley, Sea Salt, or Sesame Seeds

Optional
Instructions
Preheat oven to 350 degrees.

Whisk eggs and add milk. Cook them in a greased skillet over medium heat, stirring to scramble until they are cooked.

You can either use a rolling pin or your fingers to flatten rolls into flat disks. I rolled mine out to about 5-6 inches in diameter.

Evenly divide eggs and spoon them over half of each piece of dough.

Evenly divide diced ham and grated cheese and place over eggs.

Fold half of the dough over the fillings and press to seal. Use your fingers or a fork to crimp.

Place on baking sheet either greased with nonstick spray or lined with parchment paper. Brush tops of calzones with beaten egg white. Sprinkle with parsley flakes, sea salt, parmesan cheese, or sesame seeds. You can get creative here and use whatever you like!

Bake calzones for 15 minutes.

Serve immediately or see notes below for freezing.
Notes
Freezing Calzones – Calzones can be frozen for up to three months in an airtight container. Flash freeze them for 20 minutes on a baking sheet then move to the airtight container or freezer bag. Frozen calzones can either be thawed in the refrigerator or in the micowave. Refrigerating Calzones – Keep in the fridge in an airtight container for up to three days. Reheating Calzones – Heat frozen calzones for 1 minute, flip and repeat. If needed continue cooking in 30 second intervals until heated through. Reheat refrigerated calzones by microwaving for 1 minute on high. Check to see if it's hot. Continue reheating in 30 second increments until heated through. Variations – Get creative with ingredients used to put inside the calzones! Quantity – It's easy to adjust this recipe to make more or less calzones. I usually use one egg per calzone and guess on the cheese and ham!
Nutrition
Calories:
255
kcal
|
Carbohydrates:
21
g
|
Protein:
16
g
|
Fat:
12
g
|
Saturated Fat:
5
g
|
Cholesterol:
186
mg
|
Sodium:
566
mg
|
Potassium:
128
mg
|
Fiber:
2
g
|
Sugar:
1
g
|
Vitamin A:
379
IU
|
Calcium:
204
mg
|
Iron:
2
mg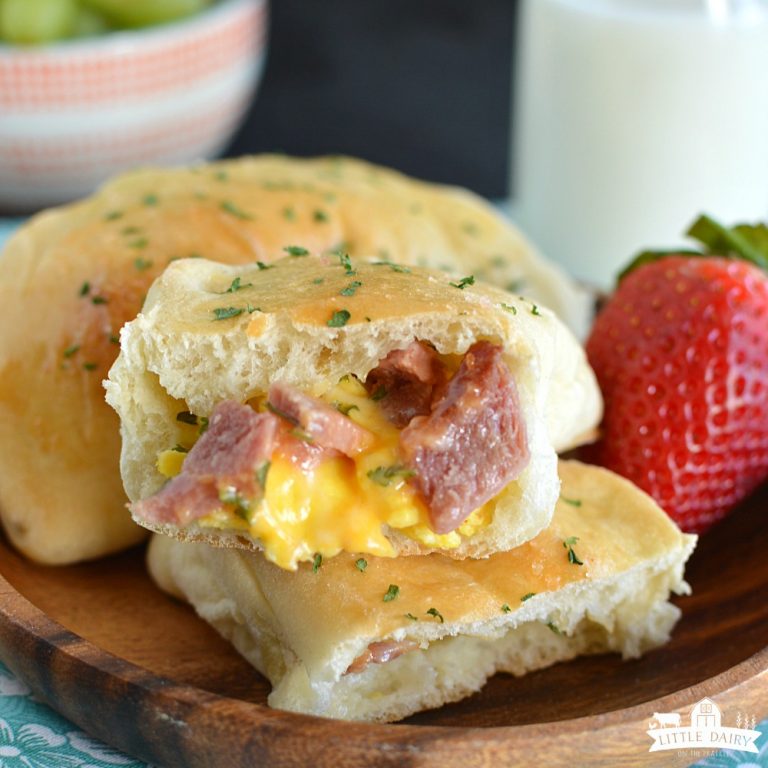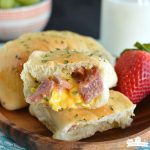 tried this recipe?
Make sure to share it with me! Leave a review or tag me on Instagram