Baked BBQ Meatballs are amazing on their own, but stuff them with mozzarella cheese and you've got a whole new level of goody deliciousness! You can bake them in the oven or even on the smoker! Baste the meatballs with barbecue sauce right before they're done baking and it will get caramelized add the BEST flavor!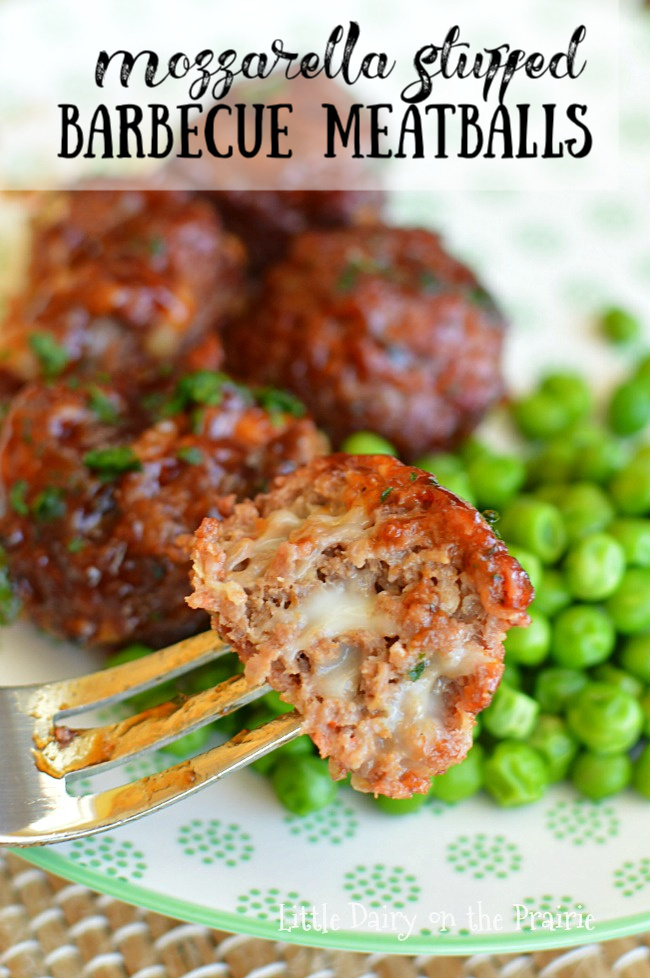 Summer is in full swing and the boys are BUSY! This past week they have been harvesting our first cutting of hay. They have been in equipment all day every day. Justin doesn't like to let the swather sit while the family eats lunch so the boys take turns eating. I feel like my kitchen is a cafeteria that is open all day long.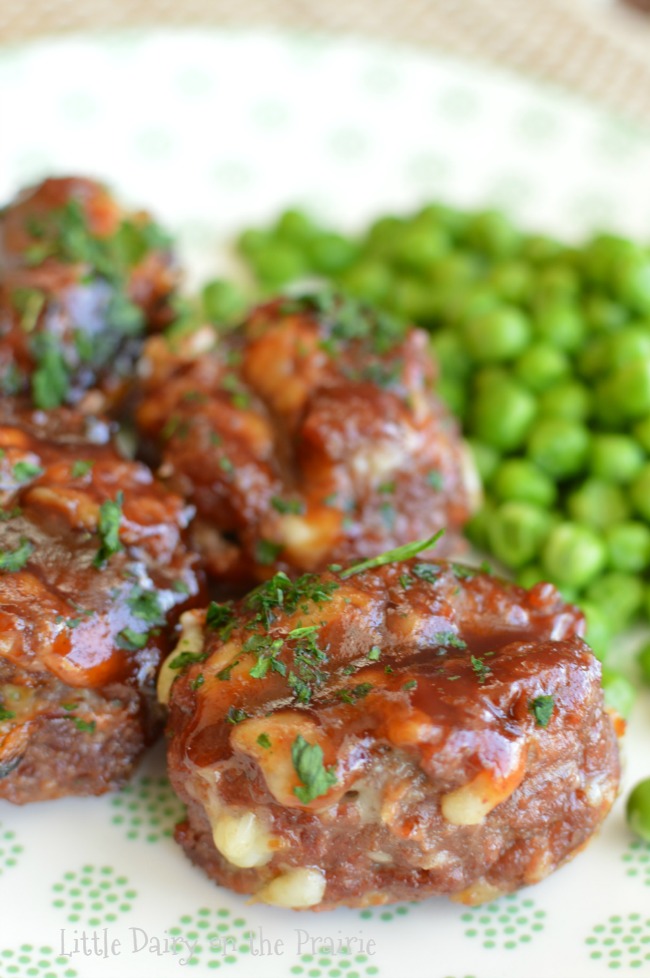 This past week I needed a few meals that could be served all throughout the day, or that could be microwaved. My boys love Sweet and Sour Meatballs and Zucchini Parmesan Meatballs so I decided to try out this Barbecue Mozzarella Meatballs version. And let me tell you they were good!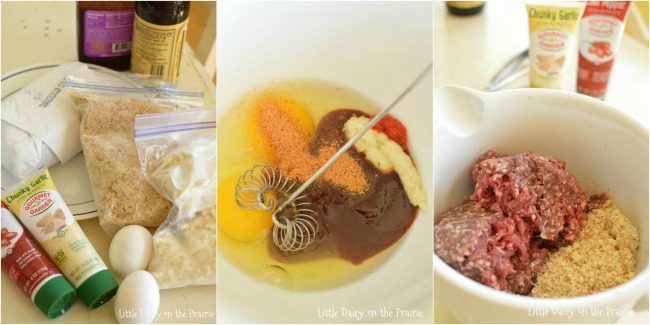 How to make BBQ Meatballs in the oven
I had a few extra minutes in the morning before I had to head to the field and it was just enough time to make the meatballs and stick them in the fridge. If you are in a hurry to get your meatball made there are a few tricks that will help you out.
Use store-bought bread crumbs. If you're into making your own you can freeze them to use later!
Grate lots of mozzarella cheese then stick extra in the freezer. It's so easy to pull the cheese out of the freezer and throw it into the meatballs!
I love Gourmet Gardens Garlic in a tube! It's so much easier than peeling and chopping garlic!
You can use my homemade barbecue sauce, or to make it faster use store-bought barbecue sauce instead of making it from scratch!
I use a cookie scoop to make imperfect meatballs and call them "rustic meatballs"!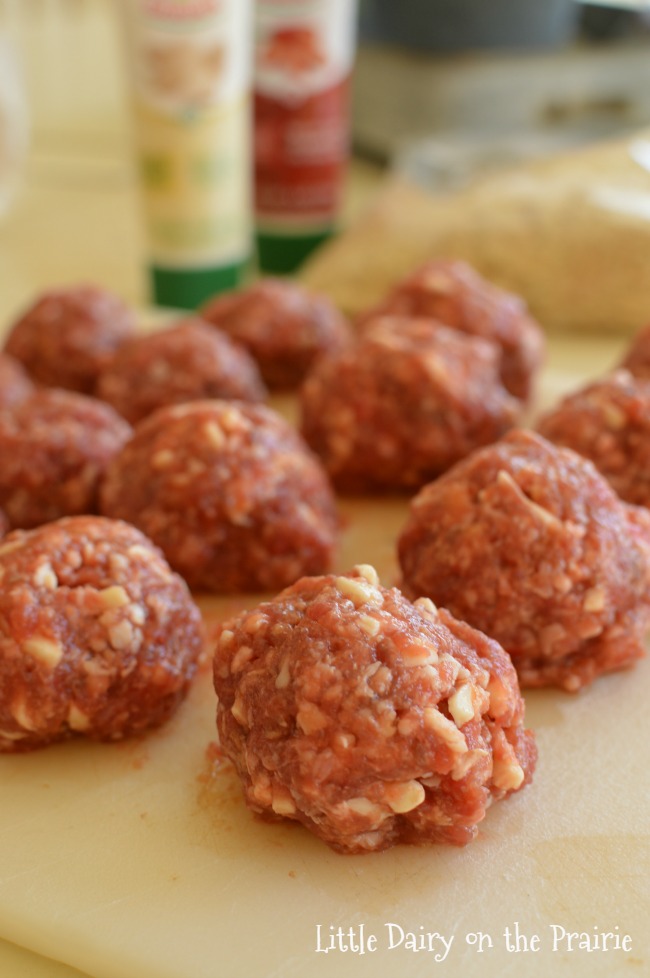 I didn't have time to stuff my meatballs with mozzarella so I mixed grated cheese into the whole mixture and it was pretty dang tasty and probably a hundred times easier too!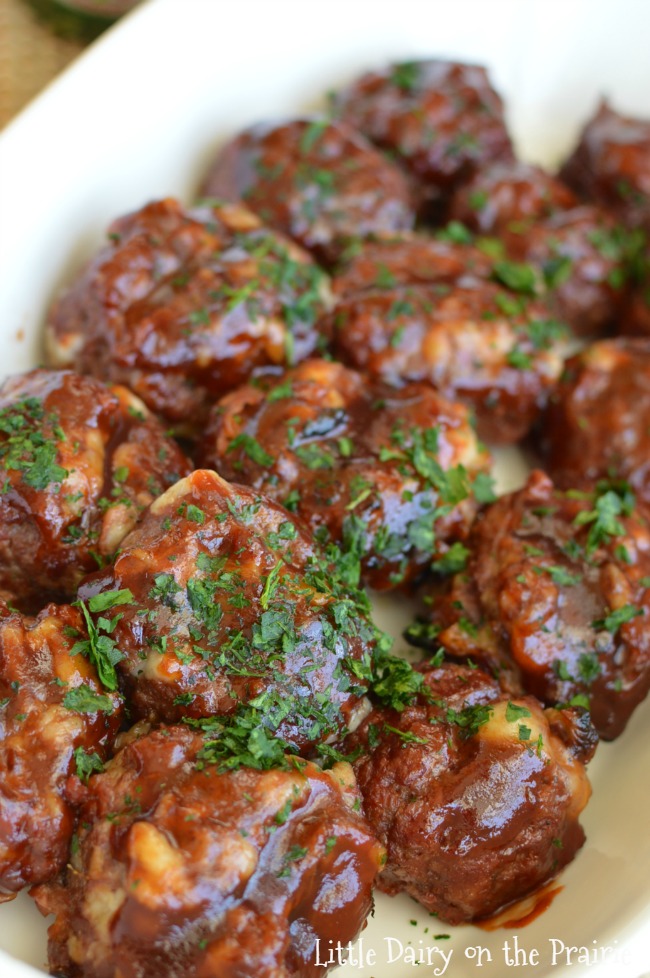 It's completely okay to make these mozzarella meatballs ahead of time and stick them in the fridge until it's time to eat. A little before dinnertime pop them in the oven and bake them up!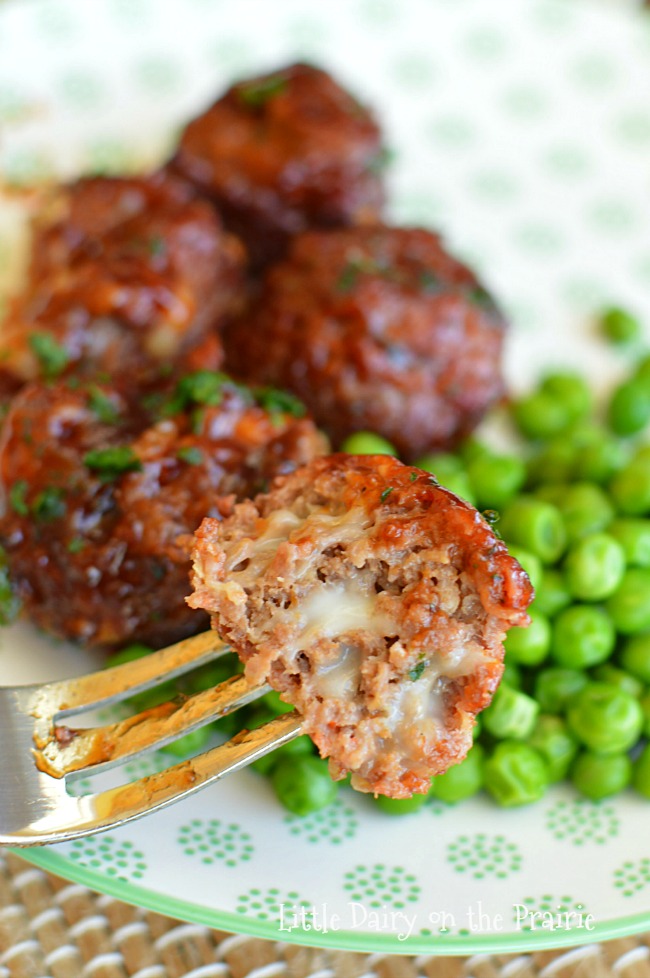 What to serve with BBQ Meatballs
My family loves meat and potatoes kinds of meals! Easy side dish recipes are a lifesaver for me because I usually don't think about them until it's too late to make anything that takes much time. I think these will fit your busy schedule perfectly!
I'm going to add these just in case you need a few more easy ground beef recipes! Beef is my fave!
Grab the Baked BBQ Meatballs recipe
For now, we're still taking turns eating lunch! That's okay though! The boys are working hard and that's a hundred times better than having them be bored! And let me tell you, they were pretty excited when they found out we were having BBQ meatballs for lunch! I have a feeling your family will feel the same way!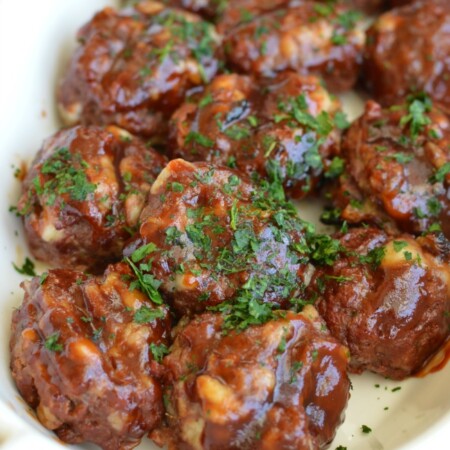 Baked BBQ Meatballs with Mozzarella Cheese
Baked BBQ Meatballs are the most flavorful homemade beef meatballs, but there's more! they have shredded mozzarella cheese which makes them gooey and over the top! The barbecue sauce on top gets a little bit sticky and amazingly yummy!
Ingredients
2

pounds

ground beef

1/2

cup

bread crumbs

2

tsp

Worcestershire sauce

1

tsp

season salt

1

tsp

pepper

1

tsp

garlic paste

1

tsp

chili powder

1/2

tsp

onion powder

2

eggs

1/2

cup

shredded mozzarella cheese

1/2

cup

barbecue sauce
Instructions
In a mixing bowl whisk eggs. Add remaining ingredients, except barbecue sauce. Stir gently until combined.

Using a cookie scoop (mine is about 2 T size) form meat into meatballs. Set in a greased baking pan.

At this point you can either refrigerate meatballs to be baked later or bake immediately.

When you are ready to bake meatballs, preheat oven to 400 degrees. Bake meatballs uncovered for 18-20 minutes depending on the size of your meatballs. Baste meatballs with barbecue sauce and return to the oven for 3-5 more minutes.

If you are feeling fancy garnish with fresh herbs. If not they are going to be amazing just the way they are!
Nutrition
Calories:
513
kcal
|
Carbohydrates:
17
g
|
Protein:
31
g
|
Fat:
34
g
|
Saturated Fat:
13
g
|
Cholesterol:
169
mg
|
Sodium:
904
mg
|
Potassium:
531
mg
|
Fiber:
1
g
|
Sugar:
9
g
|
Vitamin A:
295
IU
|
Vitamin C:
1
mg
|
Calcium:
109
mg
|
Iron:
4
mg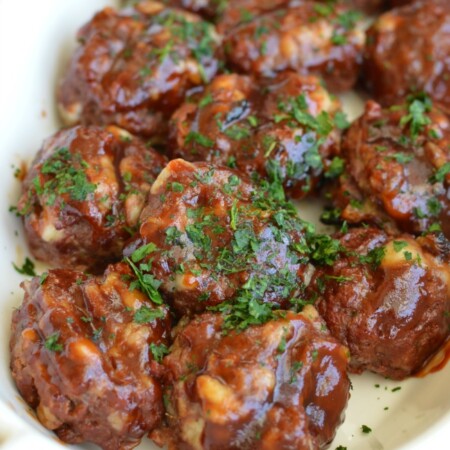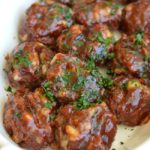 tried this recipe?
Make sure to share it with me! Leave a review or tag me on Instagram
Pin it for later!