Slow Cooker Creamy Taco Soup takes ordinary taco soup to a whole new level of comforting yumminess! Not that there's anything wrong with ordinary taco soup, but making it creamy…now that's simply the right thing to do! It's a little spicy, a lot hearty, and way creamy!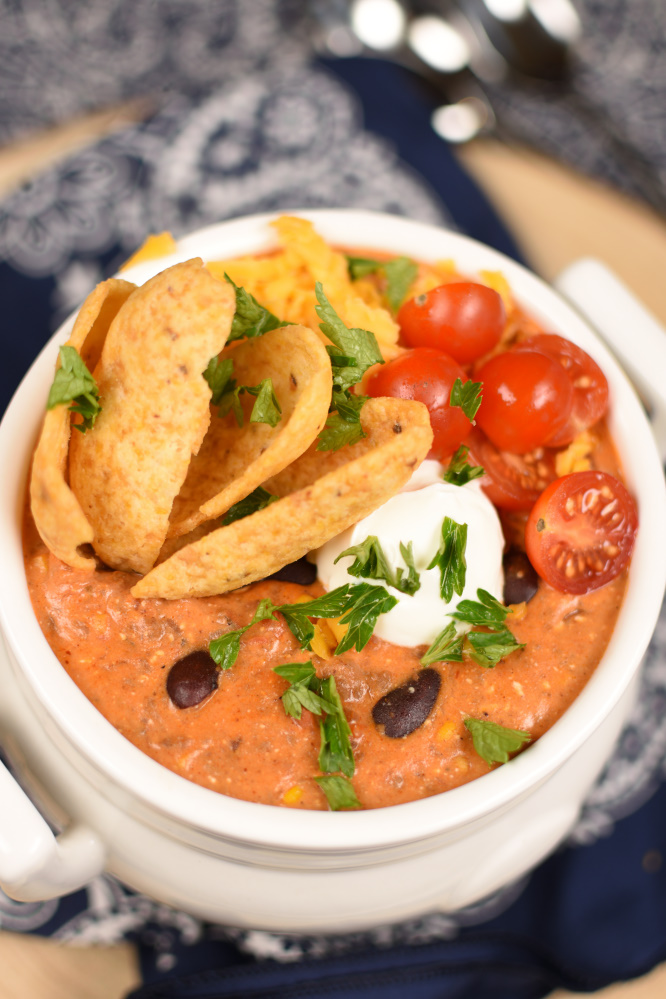 Are you one of those people that freezes all winter long? Unfortunately I am! When I agreed to marry my husband I was also agreeing to live on this stinky dairy farm in Eastern Idaho, otherwise known as the coldest and windiest part of Idaho!
Part of the agreement was that I would live here if he would not make me leave the house to go to work AND give me a fireplace! Well, I work from home, have a wood fireplace downstairs, a propane fireplace upstairs, and an electric heater that blows on my feet while I work in my office! I guess he kept his end of the deal!
I'm grateful to be warm while I'm working in my house but I do have to leave every once in a while! And I'm not going to even pretend like it's okay out there in the winter. Every time I head out of a store I tell Justin how my leg hairs are growing (I swear they grow faster when I get goosebumps) the whole way back to the car. And I might even claim that my nostrils are getting frozen shut and that my once broken finger (6th-grade basketball injury) is aching because it's too cold. And I have to spend half of my income on warm fuzzy boots and cozy coats so I don't freeze!
As you can imagine I LOVE warming up to a piping hot bowl of soup almost everyday all winter long! There's just something magical about warming up from the inside out!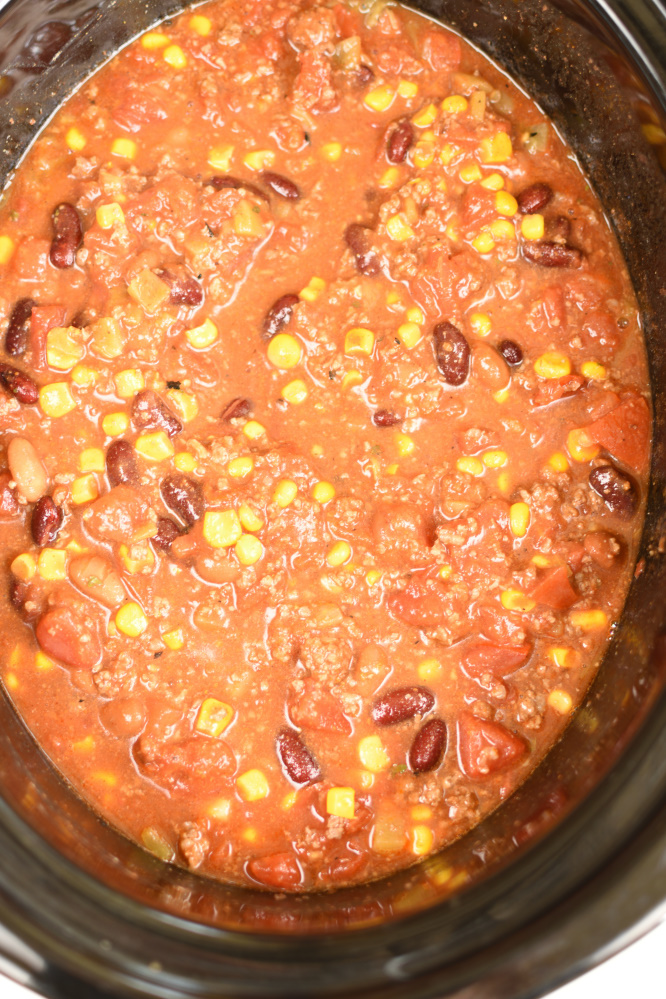 Slow Cooker Creamy Taco Soup hits the spot EVERY. SINGLE. TIME! I'm telling you how can you go wrong with soup like this?
It's made in the slow cooker…how easy is that?

It's Mexican food! I can't resist (Fiesta Mexican Dip, Beef and Bean Burritos, Beef Enchilada Stacks,

All I you have to do is open a few cans and throw them in the slow cooker.

At almost any given moment I have leftover taco meat in my fridge which gives me a headstart on making Slow Cooker Cream Taco Soup! (P.S.All of those Mexican foods I listed above can be made out of leftover taco meat. Get some in the fridge ASAP!)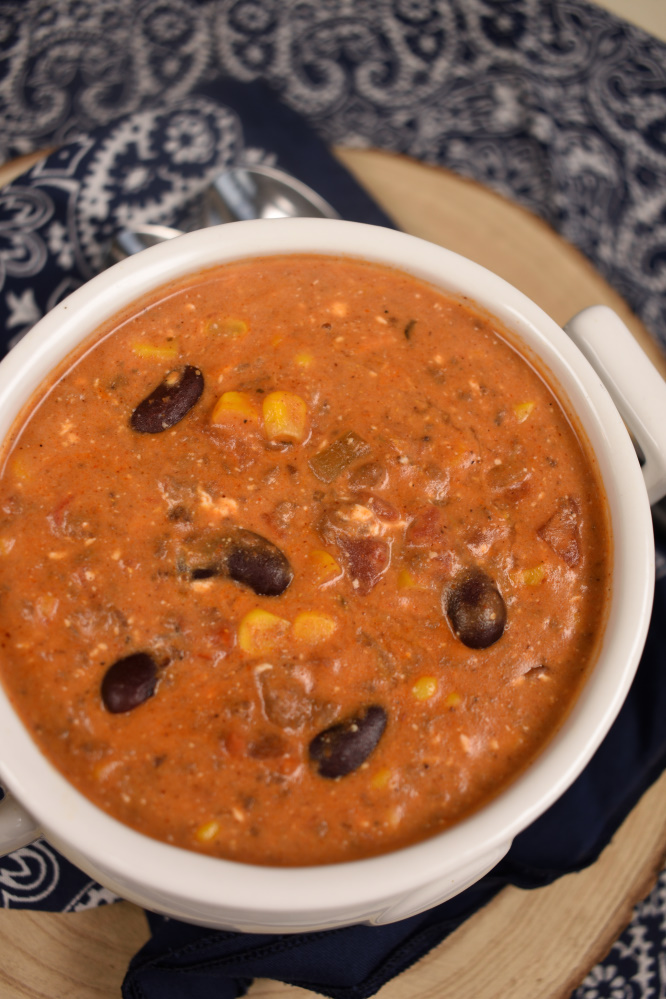 When it comes time to serve Creamy Slow Cooker Taco Soup all you need to do is add put it in a bowl and top it with sour cream (more creaminess), cheese, and corn chips. You can get as carried away as you want and add chopped cilantro, avocados, diced tomatoes, sliced olives, and green onions! You decide how carried away you want to get!
My family never complains about sliding their two feet under the table when they know they are getting Slow Cooker Creamy Taco Soup! Justin never complains about my excessive coldness! He does look at me like I'm crazy though…probably because he knows I'm going to put my ice cube feet on him as soon as we get in bed! And yes, we have a heated mattress pad an electric blanket! May the summer be here before we know it!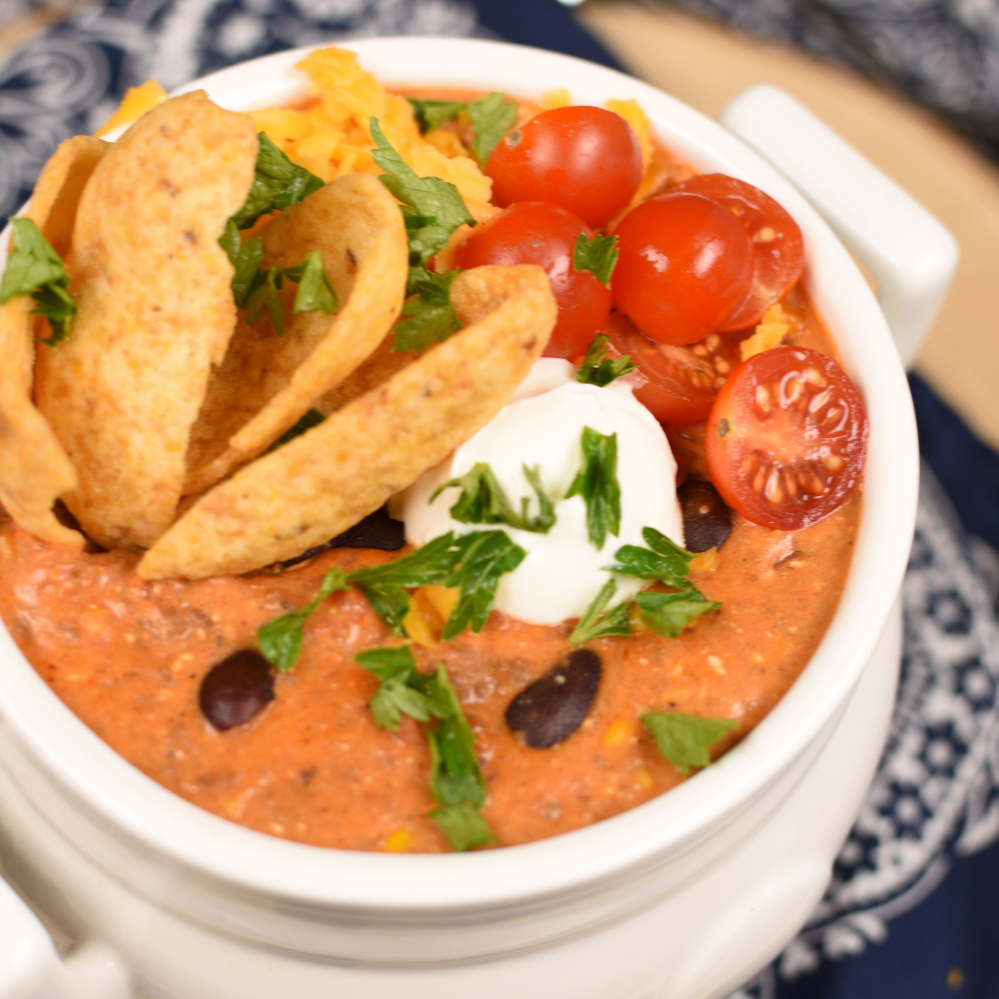 Slow Cooker Creamy Taco Soup
Slow Cooker Creamy Taco Soup is a throw it in the slow cooker and forget it kind of chili! It's everything you love about traditional taco soup and so much more! This is what you are going to want to come home and warm up to!
Ingredients
1

pound

ground beef

8

ounces

tomato sauce

20

ounces

diced tomatoes

undrained

15.25

ounces

corn

undrained

16

ounces

chili con carne

15.5

ounces

kidney beans

drained and rinsed

1

ounce

taco seasoning (1 packet)

1.5

ounces

ranch seasoning (1 packet)

8

ounces

cream cheese

room temperature
Optional Toppings
olives

diced tomatoes

diced avocados

chopped cilantro

corn chips

sour cream
Instructions
Brown and crumble ground beef over medium-high heat until cooked through.

Add all ingredients except cream cheese and additional toppings to the slow cooker. Don't drain any of the cans except the kidney beans.

Stir.

Cook on high for 3-4 hours or on low for about 6 hours.

Just before you are ready to serve add a package of cream cheese. Replace the lid. Let rest for about 5 minutes. Stir until incorporated. (It's important to use room temperature cream cheese.)

Serve with desired toppings.
Notes
Stove-top: This recipe can be made on the stove-top. Fry ground beef, add the rest of the ingredients (except the cream cheese and toppings), and cook on low-medium heat for an hour. Cook with the lid on and stir occasionally. Add the cream cheese and stir until combined.
Pressure Cooker: Using the saute setting brown the ground beef in the Instant Pot. Add the remaining ingredients, except cream cheese and toppings. Place the lid on the pressure cooker and set the valve to the sealed position. Cook on high pressure for 12 minutes. Quick-release. Add cream cheese and let sit for 5 minutes. Stir to combine.
Nutrition
Calories:
469
kcal
|
Carbohydrates:
41
g
|
Protein:
22
g
|
Fat:
25
g
|
Saturated Fat:
12
g
|
Polyunsaturated Fat:
1
g
|
Monounsaturated Fat:
9
g
|
Trans Fat:
1
g
|
Cholesterol:
79
mg
|
Sodium:
1251
mg
|
Potassium:
954
mg
|
Fiber:
10
g
|
Sugar:
8
g
|
Vitamin A:
1252
IU
|
Vitamin C:
15
mg
|
Calcium:
107
mg
|
Iron:
6
mg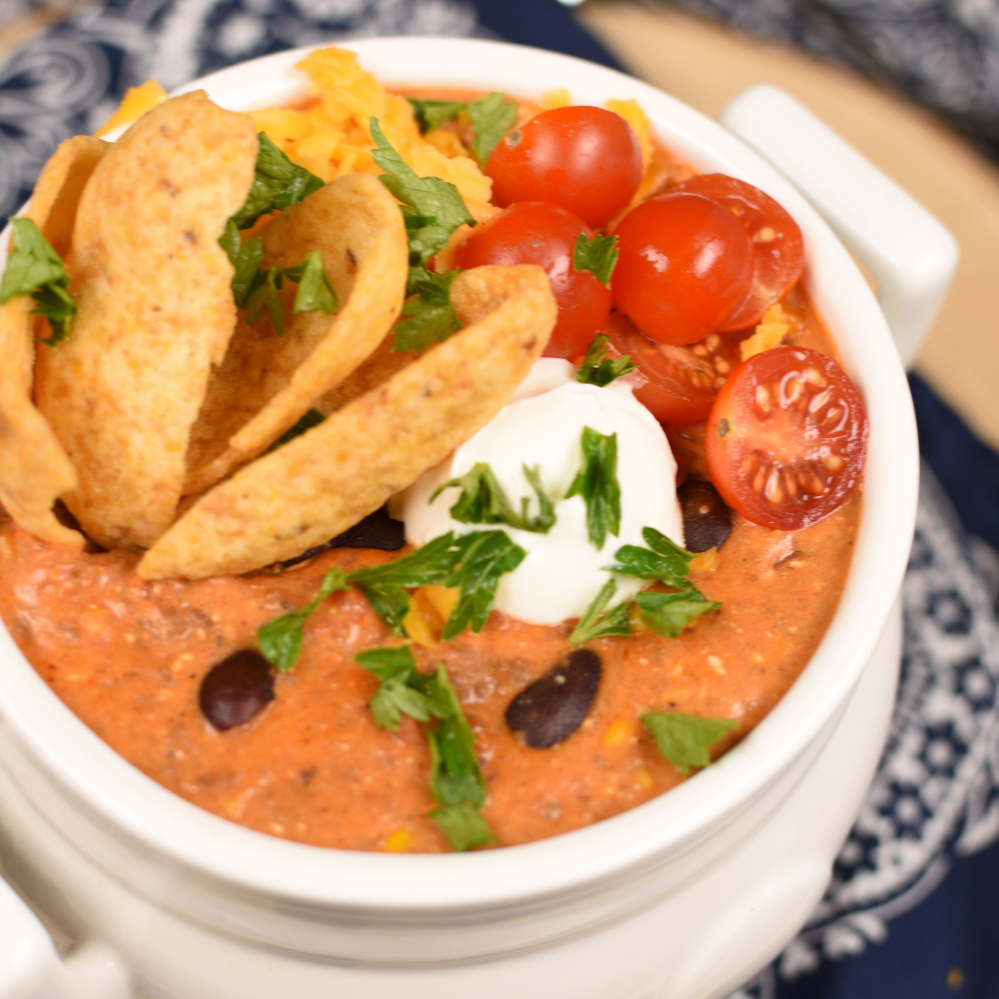 tried this recipe?
Make sure to share it with me! Leave a review or tag me on Instagram