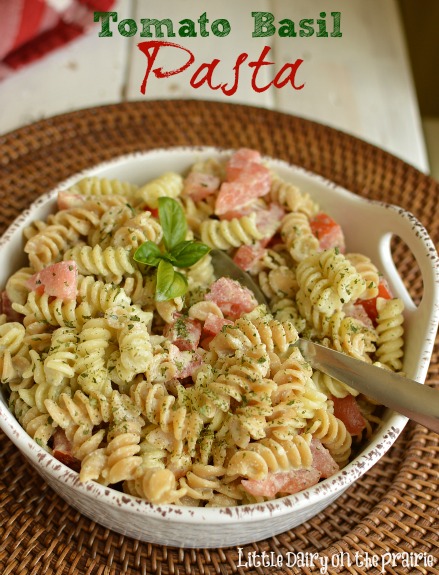 During the summer we are super busy on the farm. I'm not even kidding when I say I was putting steak on my grill the other day at 10:40. See, we only have a few, very few, nice weeks of summer weather here. Since it's my favorite time of the year and we love to be outside we soak up every last minute of every day. The kids and I stay outside until the "Big Boss" calls it a day. Then we meander inside and get going on dinner and showers. I'm okay with this schedule because it only lasts for a little while. When we finally do get inside, the boys are starving and I'm not in the mood to cook. Imagine that, at 10:40 p.m. I'm not ready to pull out all of the stops and make a show stopper meal. Tomato Basil Pasta is one of those side dishes I look forward to all year long. It's easy, doesn't heat the house up and every one likes it! Adding grilled chicken turns it into a meal!
Remember how I said we only have a few weeks of warm summer weather here? That means our growing season is extra short. I don't usually have access to fresh herbs in the grocery store either. So when my basil plants in my garden start looking like this…I can hardly contain myself!

My tomatoes are actually going to produce tomatoes this year! I have to tell you the tomatoes for this pasta did not come from my garden. But soon they will!
How can you go wrong with parsley? It makes everything fresh and pretty!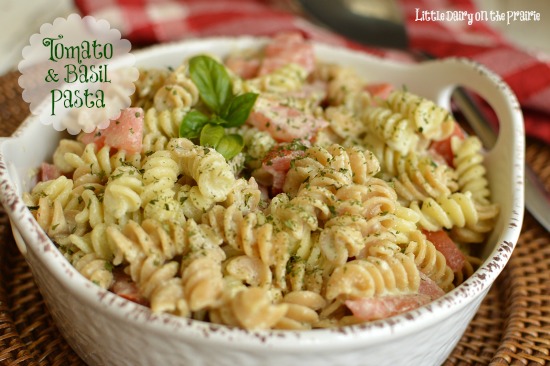 If you find yourself starting to make dinner at 10:40 at night make Tomato Basil Pasta! It's fabulous for late nights, or any time really! Oh ya, I used my Basil Pesto recipe for this, which I keep in the fridge at all times once my basil is big enough to use. If you don't have any pesto or basil you could always buy some pesto. I'm telling you, if you grew basil in your garden you would fall in love!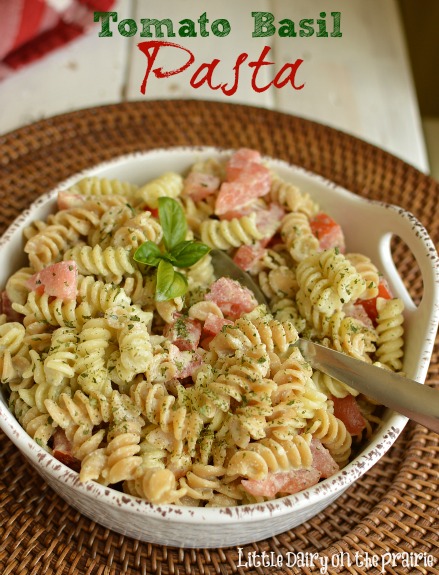 Tomato Basil Pasta
Tomato Basil Pasta is one of those side dishes I look forward to all year long. It's easy, doesn't heat the house up and every one likes it!
Ingredients
1/3

c.

prepared pesto

1/4

c.

heavy cream

1/4

c.

ricotta cheese

1/4

c.

Parmesan cheese

2.

T.

butter

8

oz.

pasta

cooked to al dente

2 to

matoes

diced

additional Parmesan cheese for sprinkling on the top

freshly ground black pepper and salt

parsley or basil for garnish
Instructions
Add butter and cream to sauce pan. Heat over medium heat until butter is melted. Add pesto, Parmesan and ricotta cheese. Stir to combine. Add salt and pepper to taste. Remove from heat.

Pour sauce over hot cooked pasta.

Add diced tomatoes to pasta.

Toss pasta and sauce.

Garnish with parsley or basil and additional Parmesan cheese.

NOTE: Adding grilled chicken turns this into a hearty meal!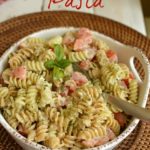 tried this recipe?
Make sure to share it with me! Leave a review or tag me on Instagram

It's so hot outside and my garden is beginning to flourish with fresh herbs! I'm absolutely in love with basil and Tomato Basil Pasta is the perfect home for a little of the freshness!