Zucchini meatballs are an Italian-style meatball made with ground beef and baked in a creamy tomato sauce! Serve them over pasta topped with plenty of cheese!
One of my favorite parts about this recipe is that it can be made ahead of time, then baked about 30 minutes before you're ready to eat! You're going to want to add this recipe to your favorite ways to use an abundance of zucchini!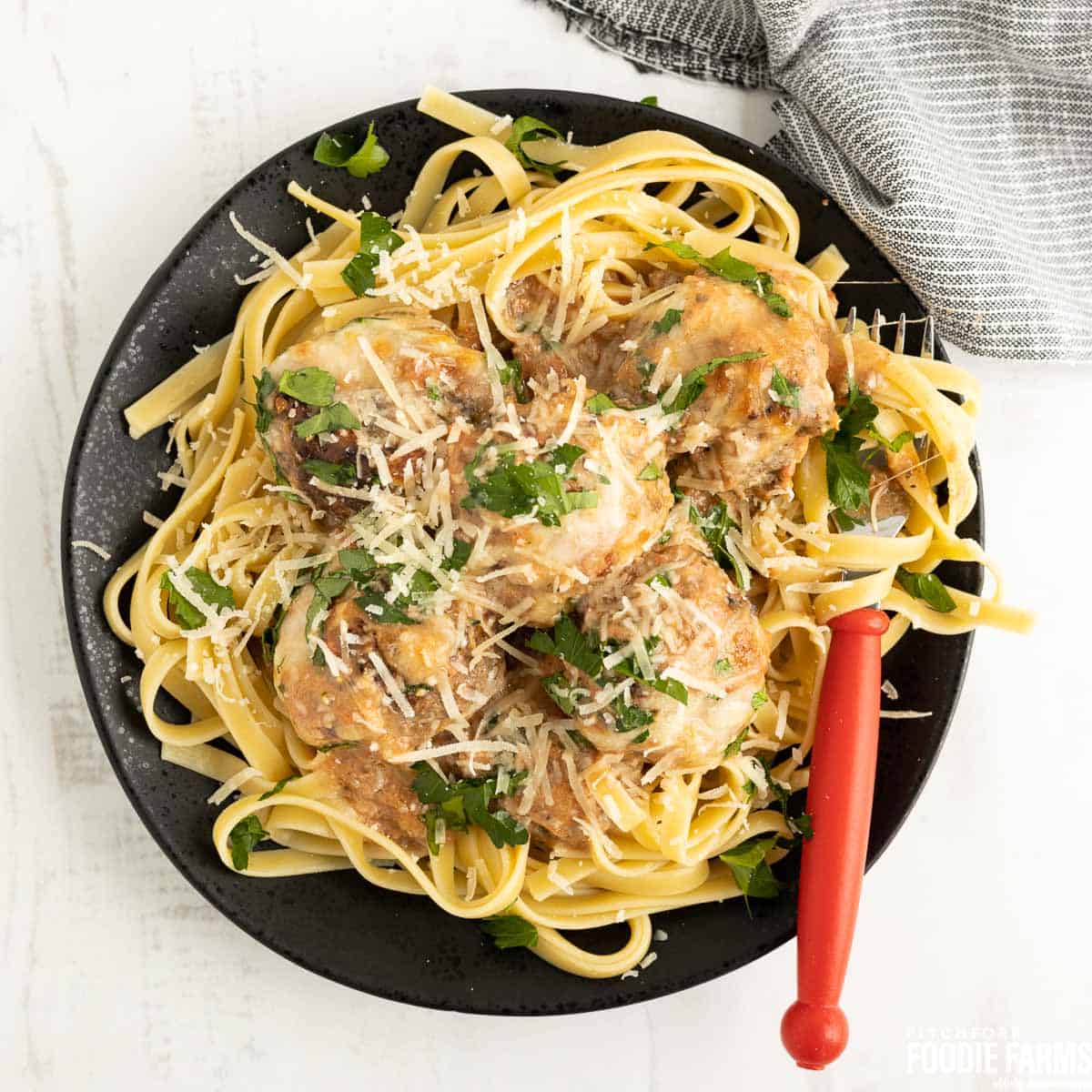 Meatballs are a favorite at our house! I've got you covered with whatever kind of meatball you're looking for with BBQ Meatballs, Sweet and Sour Meatballs, and even extra cheesy Mexican Meatballs! I have to say, this recipe makes the moistest and most tender of all my meatballs recipes!
Since we raise cattle, we are way into easy beef recipes! If you search for "zucchini meatballs" you'll stumble on a few vegetarian recipes (and I can't call these meatballs if they're made without meat). There's none of that nonsense with these babies! They're full-on made with ground beef!
Trust me! If you're going to "sneak" veggies into your kids' meals, you better have some meat to hide it in!
WHY THIS RECIPE WORKS:
I have lots of meatball recipes here at Pitchfork Foodie. I love all of them! But these are the most flavorful and tender! I've made this recipe a million times and it turns out every single time!
A great healthy way to use zucchini!
The meatballs can be made ahead of time and baked at the last minute!
No need to brown the meatballs if you don't have time! Hello EASY!
They can be made with fresh or dried herbs, so basically you can use whatever you have on hand. This recipe is really forgiving so you can subsitute easily.
Leftovers are fantastic!
INGREDIENTS NEEDED:
The ingredient list is kind of long, but don't let that scare you! They're mostly simple ingredients. Let's talk about options for substituting in case you don't have something.
Ground Beef: Although you could use ground turkey or chicken, beef is my favorite! Beef has a little bit higher fat content and it helps the meatballs hold their shape and keeps them from falling apart.
Zucchini: Fresh or frozen grated zucchini. Drain frozen zucchini before using it.
Eggs:
Bread Crumbs: Store-bought is great. If you need to make them from scratch pulse a few pieces of bread in the food processor until it creates crumbs. If you're really in a bind you can use crushed up saltine crackers or oats.
Basil & Parsley: Fresh or dried will work. Use the ration 3 parts of fresh to 1 part of dried. For example, 3 Tablespoons of fresh parsley=1 Tablespoon of dried parsley.
Garlic: Mince cloves of garlic or use garlic paste (This is not a sponsored shoutout! I truly love the stuff.)
Salt and Pepper
Parmesan Cheese: The kind from a can works just fine, or you can grate it yourself if you want.
Marinara Sauce: I use sauce I make from scratch and can, but you can totally use store-bought pasta sauce or spaghetti sauce.
Cream Cheese: Use full fat. Reduced fat cream cheese has water added and will thin the sauce. You could also use ricotta cheese.
I always make pesto when I have fresh herbs in my garden, then freeze it to use throughout the year. This recipe is a great recipe to use homemade pesto sauce in if you don't have fresh basil and parsley! I freeze them in about 2 Tablespoon sized cookie scoops. I use two "pesto balls" for the meatballs and add 2 "pesto balls" to the sauce instead of adding fresh basil and parsley.
HOW TO MAKE MEATBALLS WITH ZUCCHINI:
Let me walk you through and show you step by step how to make these meatballs.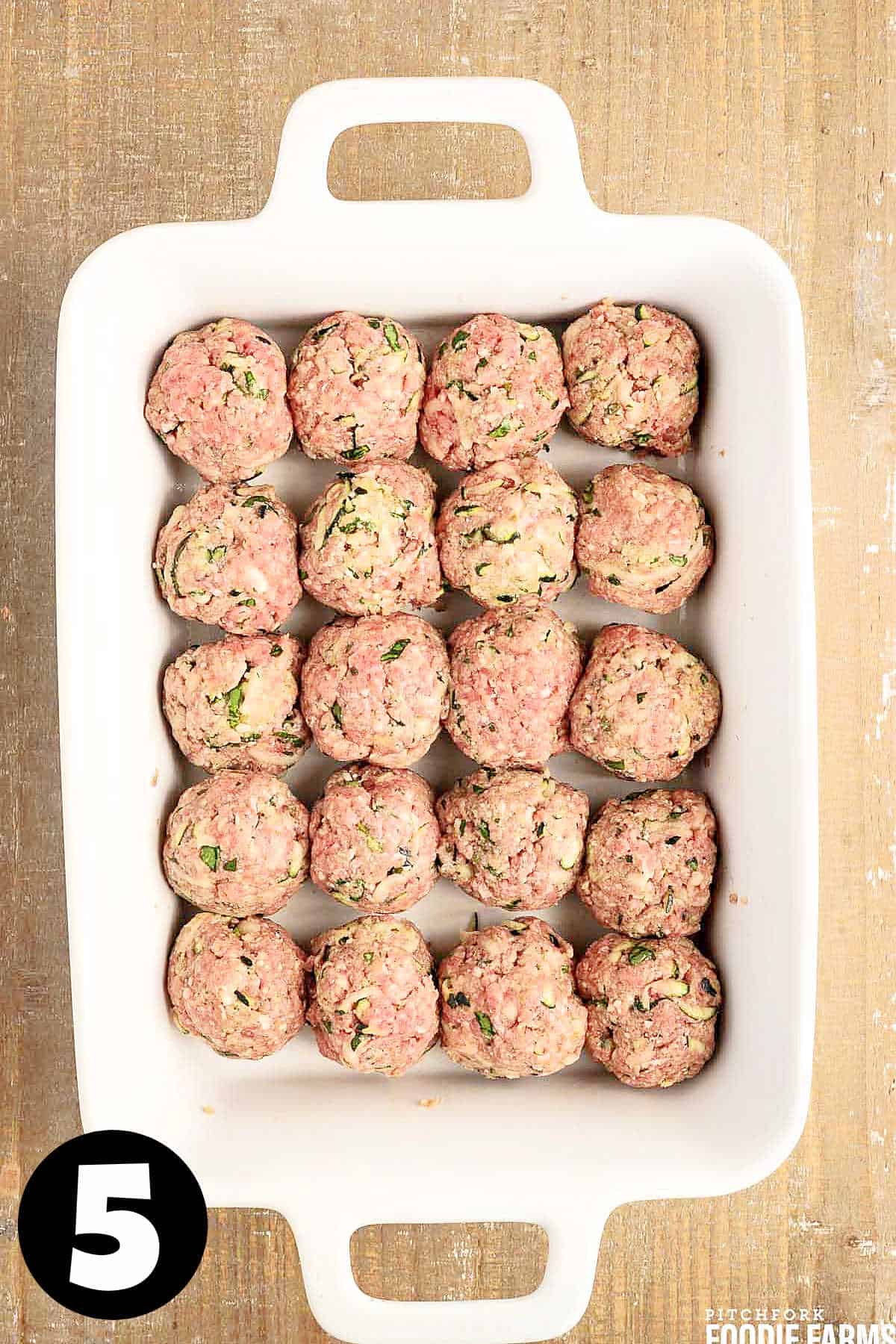 STEP 5: Shape meatballs into about 2 inch balls. Use a cookie scoop to make meatballs because it's easier to make them all the same size. They bake more evenly if they're the same size. You really don't even need to roll them to make them smooth if you don't want to. They'll be rustic and that's okay!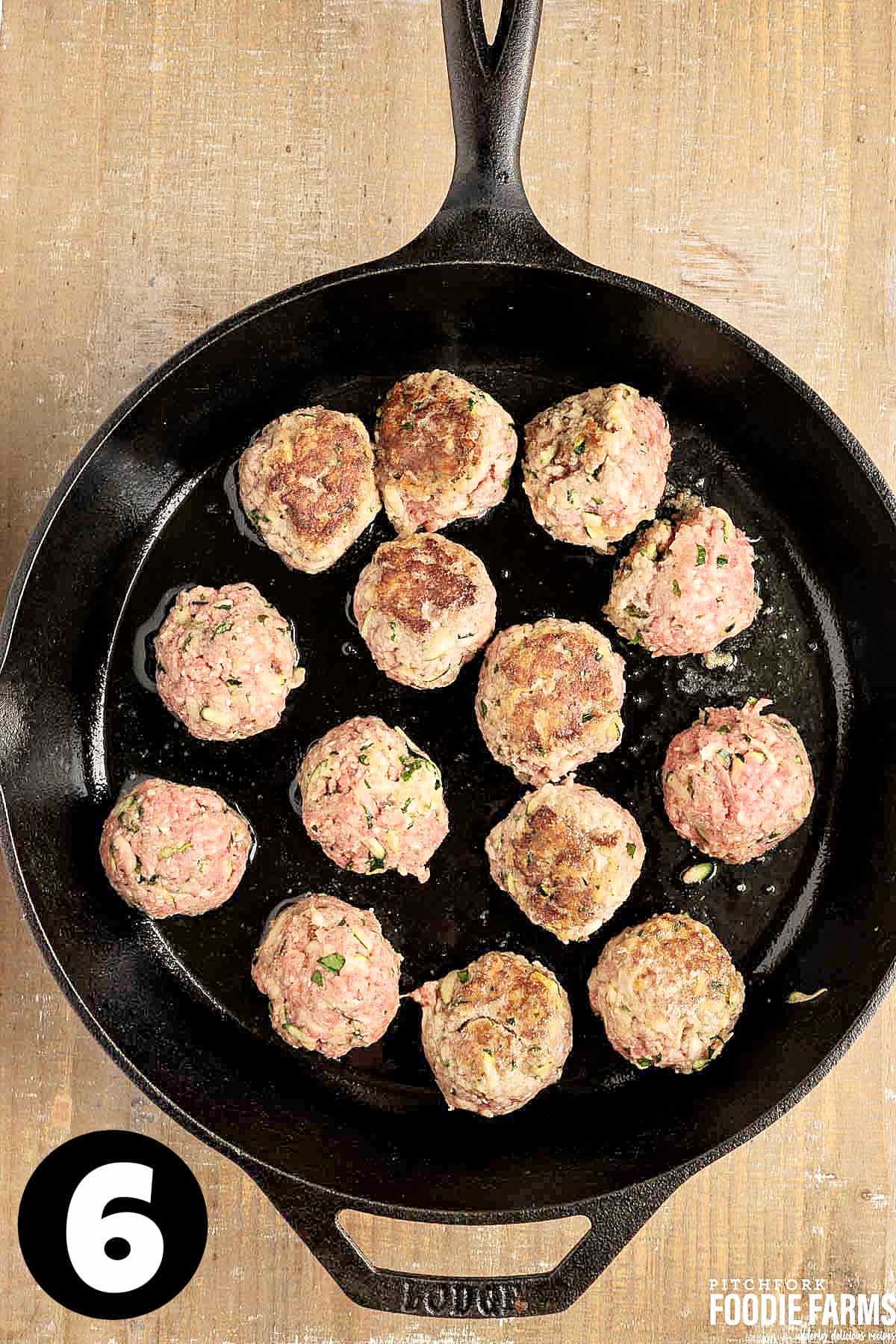 STEP 6: Optional! If you have time and you want to make the meatballs extra pretty with browned bits on them go ahead. If not, skip to step 7:Over medium-high heat add a little bit of olive oil to a skillet. Add meatballs and let them brown in the oil just until they release and are easy to move. Flip and brown on all sides.
STEP 11: Bake for 30 minutes. The sauce will be bubbly and the cheese will be melted. If the cheese isn't golden brown broil the casserole for a few minutes. Watch it carefully so it doesn't burn.
I love making this recipe ahead of time. Assemble through Step 10. Refrigerate until you're ready to bake them. Bake for 40 minutes.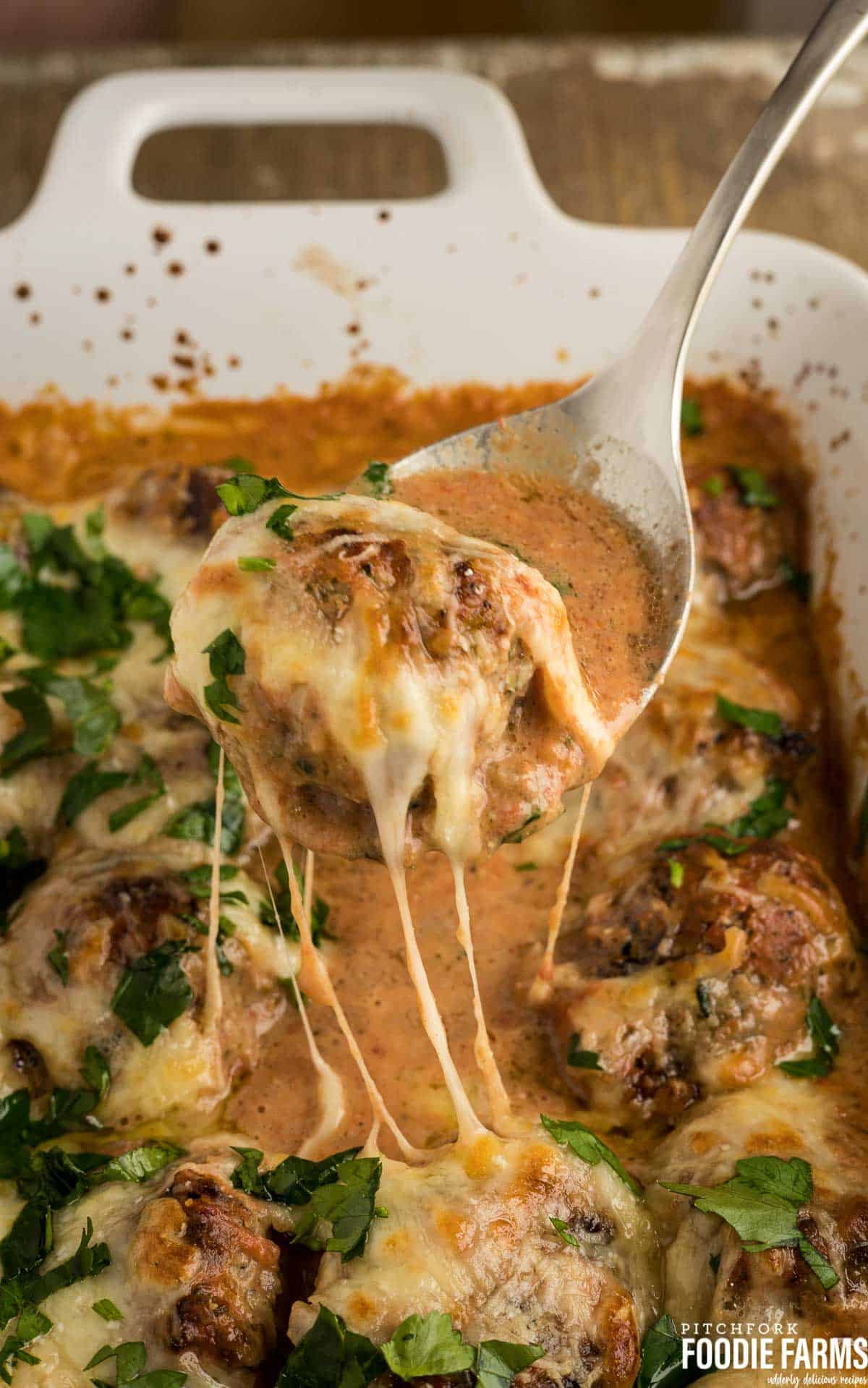 FAQs:
Can I freeze meatballs?
Yes! Make the meatballs and shape them. Set on a cookie sheet and freeze until firm. Remove from cookie sheet and put in a freezer bag.
Can I use other sauces for meatballs?
Of course! Since these are Italian-based meatballs I'd stick to Italian-type sauces. Alfredo would be a great option!
How do I reheat leftover meatballs?
To reheat a whole pan of meatballs, bake them in the oven at 350 degrees until warmed through, about 30 minutes. Or, microwave a single serving portion for about a minute or until warmed through.
MORE ZUCCHINI RECIPES:
I love it when you make my recipes and give me feedback! If you have a minute please comment below and leave a star ranking! Also, be sure to follow me on Pinterest, Instagram, and Facebook!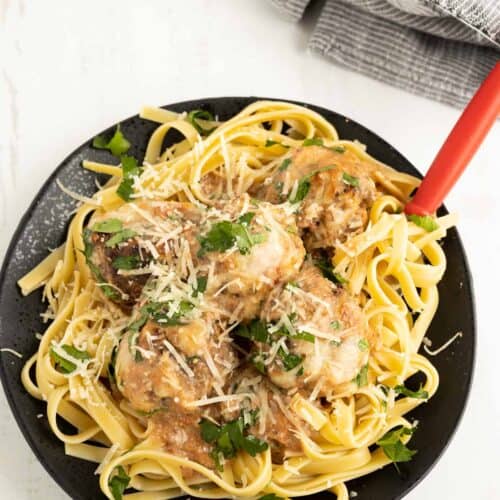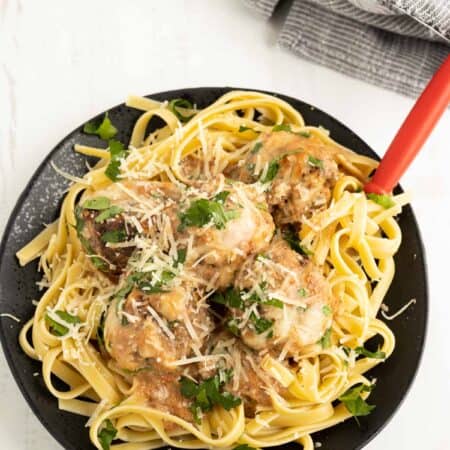 Zucchini Meatballs with Beef
Zucchini meatballs are made with ground beef and baked in a creamy tomato sauce! Serve them over pasta, zoodles, or by themselves. Be sure to add plenty of cheese! One of my favorite parts about this recipe is that it can be made ahead of time, then baked about 30 minutes before you're ready to eat!
Ingredients
Meatballs
2

whole

eggs

beaten

1/2

cup

bread crumbs

1

Tablespoon

fresh parsley

minced

1

Tablespoon

fresh basil

minced

1/2

cup

Parmesan cheese

grated

1/2

tsp

salt

1/4

teaspoon

black pepper

2

cloves

garlic

minced

1 1/2

pounds

ground beef

1 1/2

cups

zucchini

grated
Pasta Sauce
12

ounces

marinara sauce

4

ounces

cream cheese

room temperature

2

Tablespoons

fresh basil

minced

2

Tablespoons

fresh parsley

minced
Ingredients for Garnish and Topping
1/2

cup

Parmesan cheese

grated

1/2

cup

mozzarella cheese

basil and parsley
Ingredients for frying meatballs (optional)
Instructions
How to make Zucchini Meatballs
Whisk eggs. Add bread crumbs, parmesan cheese, garlic, basil, parsley, salt, and pepper.

Add ground beef and grated zucchini. Mix until incorporated but be careful not to overmix. Overmixing creates tought meatballs.

Form meatballs, I like using a cookie scoop to make about 2 Tablespoon sized meatballs. Roll meatballs into balls if you want. If not just drop them with the cookie scoop and leave them just like that!

Brown meatballs (totally optional). If you don't want to fry the meatballs skip to the next step. To brown the meatballs, heat about a Tablespoon of olive oil in a large skillet or Dutch oven style pan over medium-high heat. Add half of the meatballs. Brown one side, then flip and brown the other side.

Put meatballs in a baking dish, 9 x 13 greased.
Pasta Sauce Instructions:
Make sure cream cheese is at room temperature. If it's not quite warm enough you can defrost it in the microwave until it's soft enough to stir. Microwave in 15 second intervals to make sure you don't cook it!

Stir the cream cheese until smooth and gradually add the spaghetti sauce. Stir until mixed.

Add fresh parsley and basil, or reduce the amount by half if you're using dried herbs.
Assemble and Bake
Pour sauce over meatballs in the baking dish.

Sprinkle with cheese.

Bake at 400 degrees for 30 minutes if you didn't brown the meatballs first, or 20 minutes if you browned the meatballs. Cover with foil if the cheese gets too brown.

Garnish with extra herbs if you want.

Serve over hot cooked pasta.
Notes
To make meatballs ahead of time assemble meatballs and add creamy tomato sauce. Cover with foil and refrigerate until 45 minutes before serving. Add cheese and bake for 35-40 minutes. Garnish with herbs. To make gluten-free use gluten-free oats or gluten-free bread crumbs. Serve over spaghetti, linguini, fettuccini noodles, or zoodles. Can also serve the meatballs by themselves.
Nutrition
Calories:
467
kcal
|
Carbohydrates:
11
g
|
Protein:
27
g
|
Fat:
35
g
|
Saturated Fat:
15
g
|
Polyunsaturated Fat:
2
g
|
Monounsaturated Fat:
15
g
|
Trans Fat:
1
g
|
Cholesterol:
104
mg
|
Sodium:
877
mg
|
Potassium:
566
mg
|
Fiber:
1
g
|
Sugar:
4
g
|
Vitamin A:
838
IU
|
Vitamin C:
11
mg
|
Calcium:
274
mg
|
Iron:
3
mg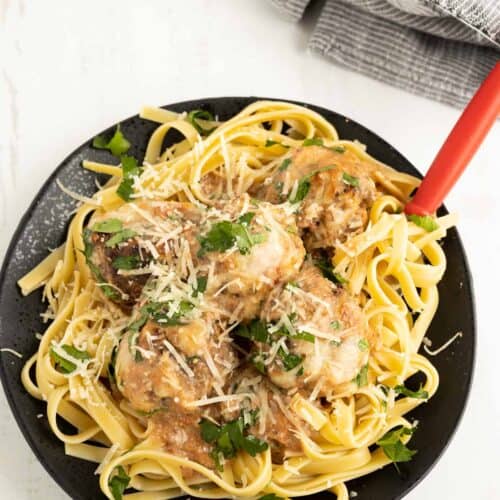 tried this recipe?
Make sure to share it with me! Leave a review or tag me on Instagram