Smashed Red Potatoes are the easiest potato side dish recipe ever! And if that's not enough, they're extra crispy and buttery on the outside, and fluffy on the inside!
Smashed potatoes are amazing as an appetizer or served with almost any main dish!
FAST! EASY! INSANELY ADDICTING!
I'm in LOVE with French fries! But, I don't live near fast food and sometimes I'm just too lazy to make my own fries.
Crispy smashed potatoes are the answer! They satisfy my fries cravings without making a mess with oil or driving 60 miles to buy them.
I seriously can't wait for you to try them! If you decide to make them as finger food for a party, make lots because they will go fast!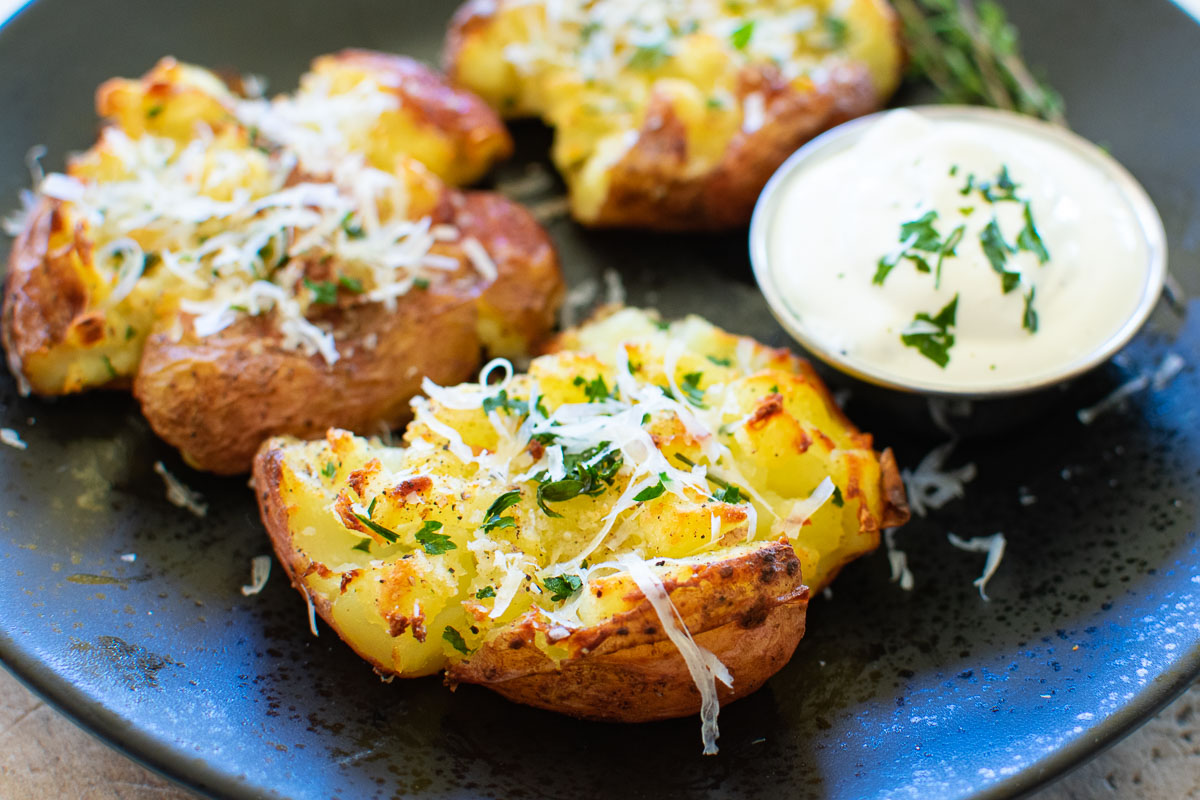 Why This Recipe Works
Quick and easy! This recipe takes about minutes of hands-on time.
Simple ingredients are all you'll need for this recipe. I bet you already have most of them on hand.
Make-ahead Boil the potatoes, smash them, and drizzle them with butter and olive oil, season, refrigerate, then bake later.
Ingredients Needed: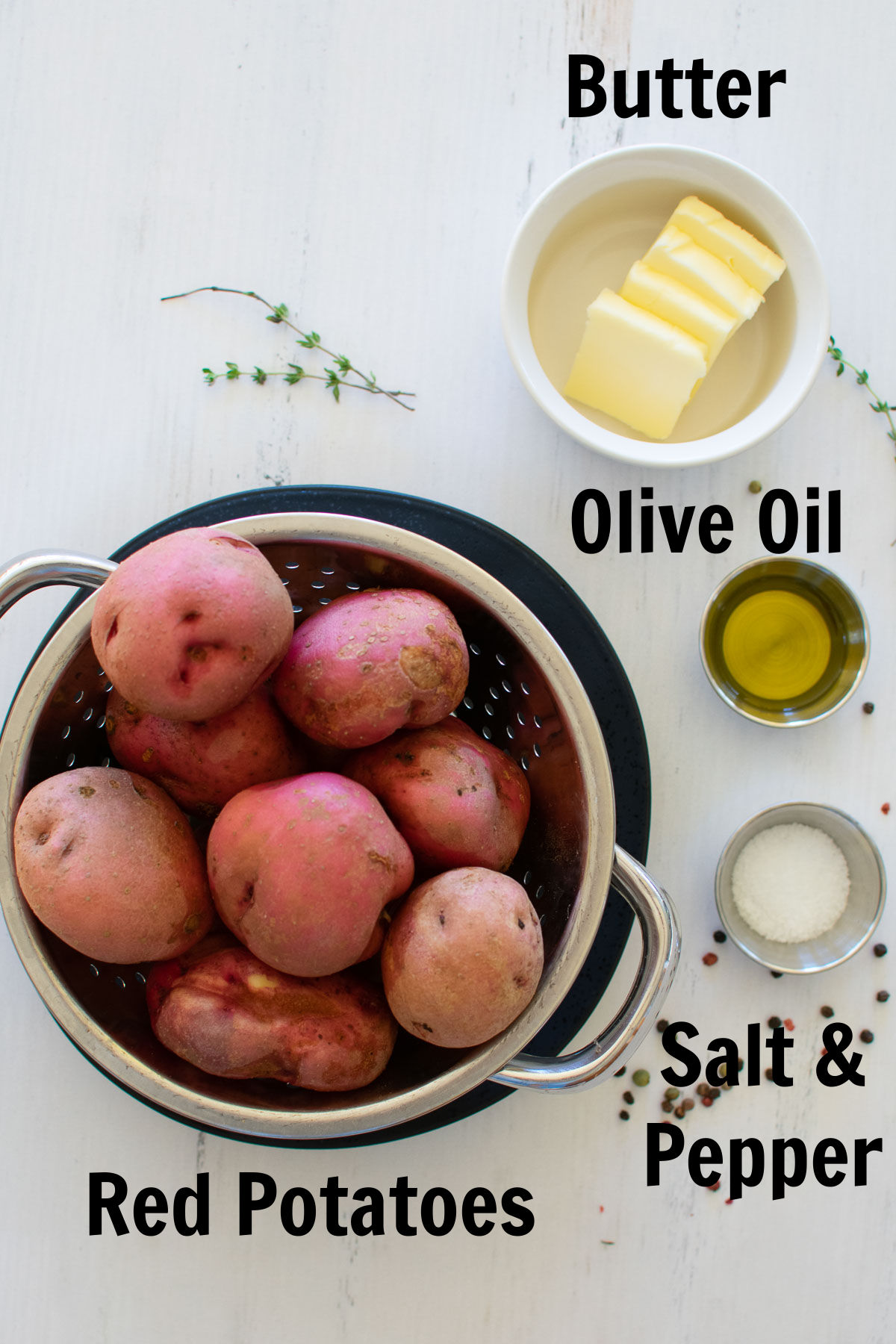 3 ingredients + salt and pepper! That's it!
Potatoes: Use little potatoes, about the size of a golf ball. My favorite is baby red potatoes because the skin is soft and thin. You can also use fingerlings or any small potatoes really.
Butter: This gives the potatoes the BEST flavor
Olive Oil: Helps the potatoes to get crispy without burning.
Seasonings: Salt and pepper. Garlic salt and onion salt are optional if you want more flavor.
Little Dairy on the Prairie Pro Tip: I've used potatoes the size of lime before and they work too. Smash them flatter for a crispier potato, smash them a little less for a potato that's a bit more like a baked potato.
How to Make Smashed Potatoes
Easy!
Three steps! Boil. Smash. Butter. Bake.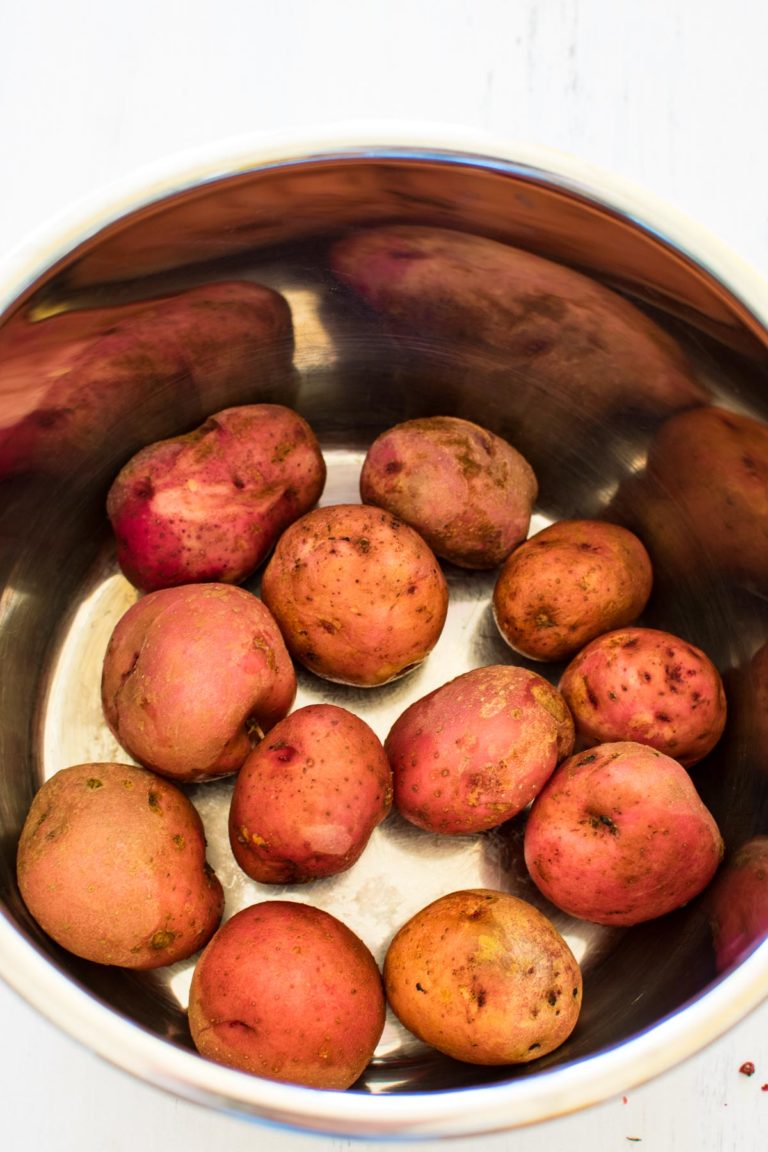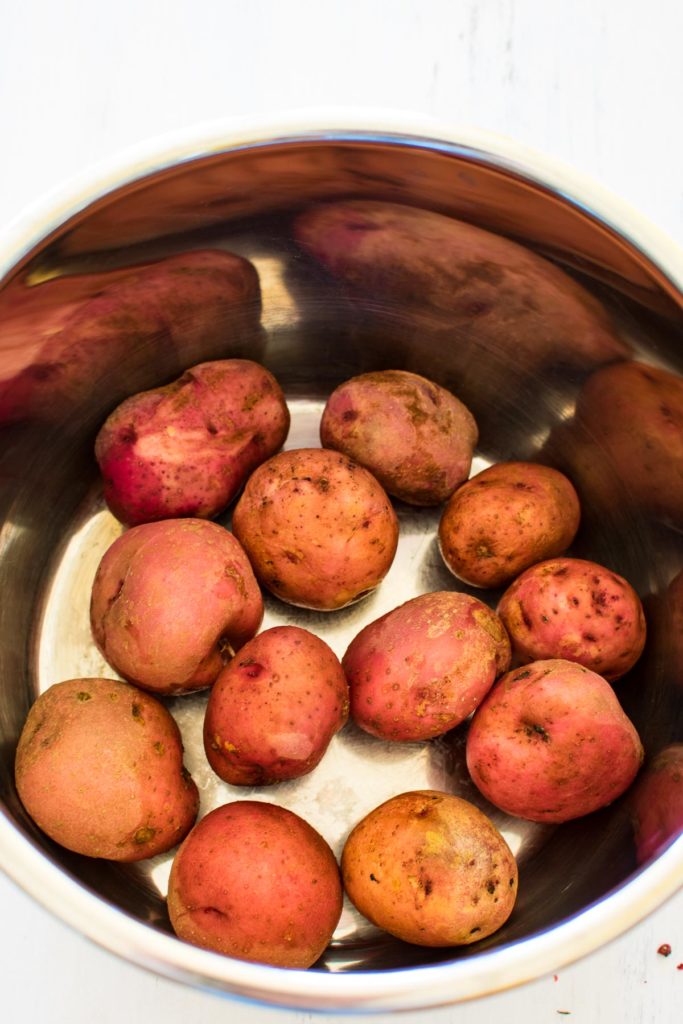 STEP 1: Boil Potatoes. I like to use the instant pot but the stove-top is fine too.
STEP 2: Smash with a potato masher or fork.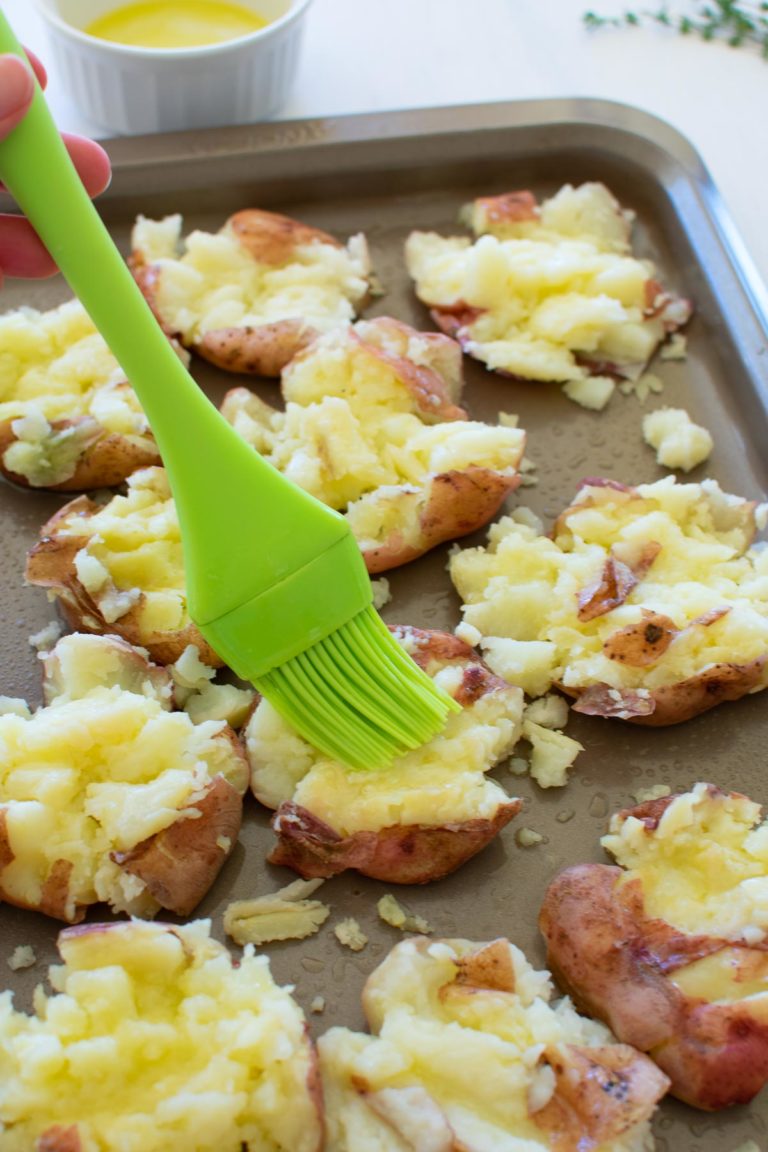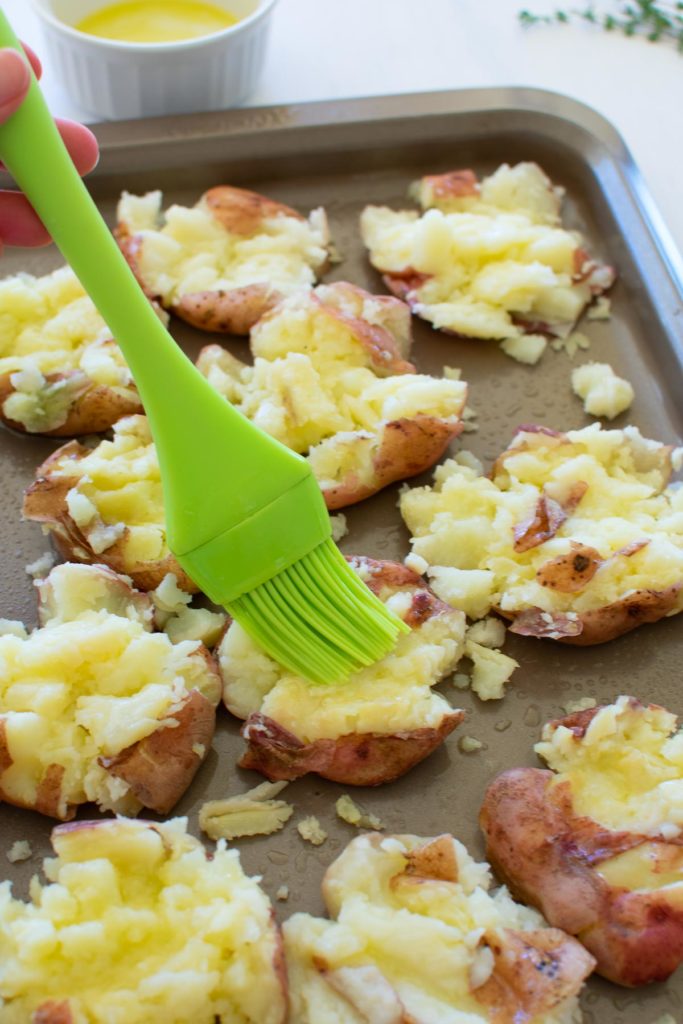 STEP 3: Brush with butter/olive oil mixture. Season.
STEP 4: Bake for about 20 minutes. Or until they're roasted and crispy!
Little Dairy on the Prairie Pro Tip: To give them a nice garlic butter flavor you can use my Garlic Butter Recipe in place of the plain butter in this recipe. Or you can smash garlic into a paste and add it to the melted butter. Garlic burns easily so you don't want chunks of it!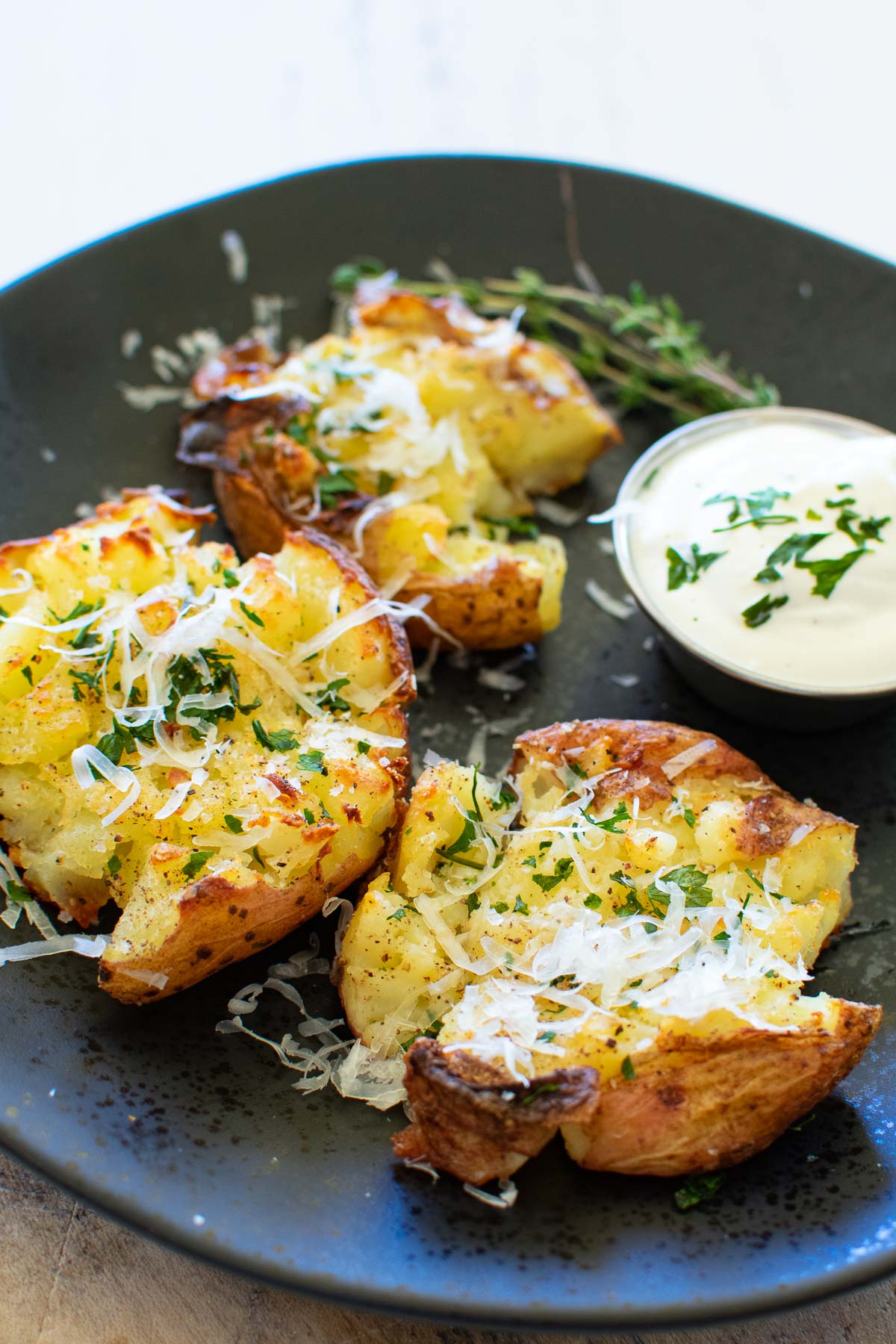 Recipe FAQs
What is the difference between smashed potatoes and mashed potatoes?
Smashed potatoes are whole potatoes that are slightly smashed and baked until crispy. Mashed potatoes are soft and creamy and mixed with butter, cream, etc.
What are the best potatoes for smashed potatoes?
The most important thing is that the potatoes are small. About the size of a golf ball. Red, Yukon gold, and fingerling are all great options.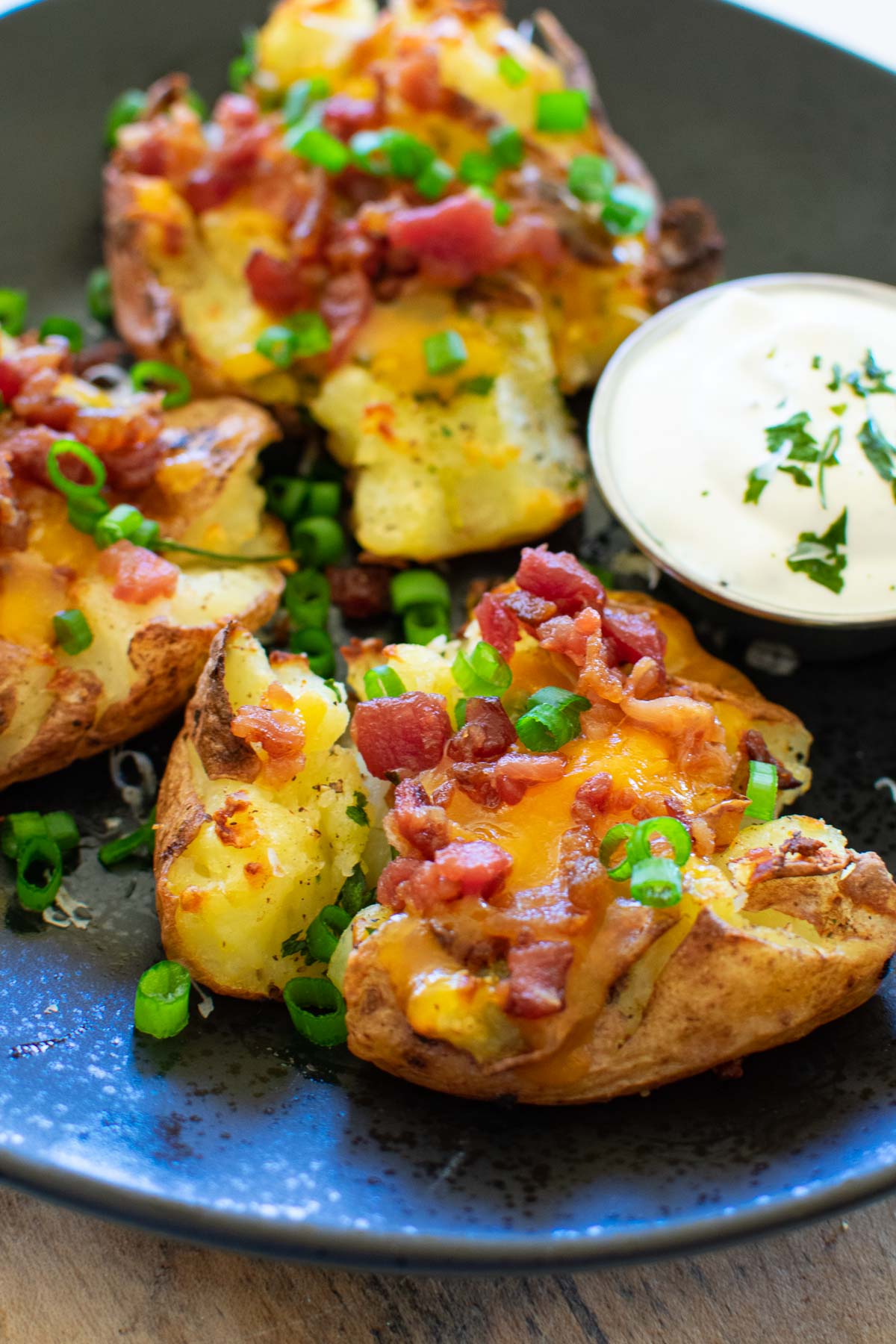 How to Serve Crushed Potatoes
This really is the BEST red potato side dish recipe!
It literally goes with almost any kind of meat. Serve them with BBQ Pork Chops, Slow Cooker Cube Steaks, Citrus Grilled Chicken, Skillet Filet Mignon, Hawaiin Burgers, and Slow Cooker Roast Beef.
They also make an addicting snack or an easy party appetizer.
Tips For Serving Smashed Red Potatoes
Make sure they're HOT!
Load them and top them with bacon, cheese, and sour cream.
Sprinkle fresh herbs over them. Parmesan is great too!
Serve them with ranch dressing, Dilly Dip, or sour cream. Some people love them with ketchup or marinara sauce. I'm a ranch kind of a girl!
Other Potato Recipes
What to serve smashed potatoes with:
They're amazing with pretty much any meat. I especially like them as side dish to go with beef.
I love it when you make my recipes and give me feedback! If you have a minute please comment below and leave a star ranking! Also, be sure to follow me on Pinterest, Instagram, and Facebook!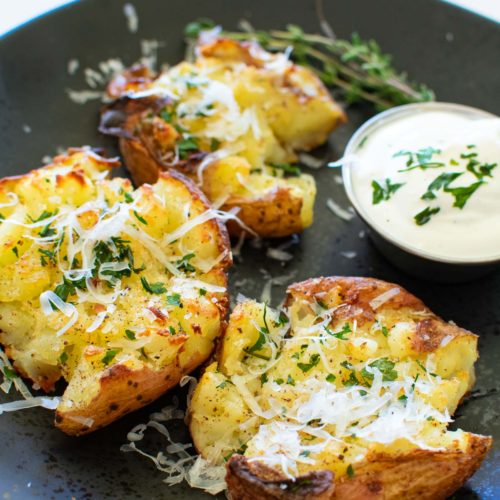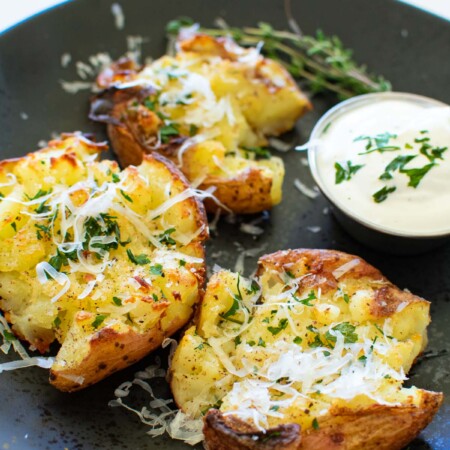 Crispy Smashed Red Potatoes
Smashed Red Potatoes are the easiest potato side dish recipe ever! And if that's not enough, they're extra crispy and buttery on the outside, and fluffy on the inside!
Ingredients
2

pounds

red potatoes

The size of a golf ball

3

Tablespoon

butter

1

Tablespoon

olive oil

1/2

teaspoon

salt

or to taste

1/2

teaspoon

pepper

or to taste
Instructions
Pressure Cooker: Add cleaned and unpeeled potatoes to the pressure cooker. Add 1 cup water. Set valve to seal. Cook on high pressure for 10 minutes.Stove-top: Add cleaned, unpeeled potatoes to a pot. Cover with water. Bring water to a boil. Turn heat down to medium-high. Boil for 10 minutes or until fork-tender.

Cooking times may vary a little depending on the variety and size of potatoes. This is a good average! Just make sure they are fork-tender.

Preheat oven to 425 degrees.

Spray a half sheet baking pan with nonstick baking spray. For easier cleanup the pan can be lined with aluminum foil first, then spray the foil.

Remove potatoes from the pressure cooker and drain. Let sit for a minute until they are dry. Smash potatoes with a potato masher or a large fork. I usually smash them until they are about 1/2 inch thick. The flatter and thinner the potato the crispier it will be.

Melt butter. Add olive oil. Generously brush on top of potatoes. Sprinkle with salt and pepper to taste.

Bake for 20-25 minutes or until golden and cripsy.

Serve exactly as they are or, garnish potatoes if you would like. See notes below.
Notes
Smashed Potato Varieties:
Loaded:

Add fried and crumbled bacon, scallions, and cheddar cheese during the last minute of baking.

Parmesan:

Add grated parmesan cheese and rosemary during the last minute of baking.

Garlic Butter:

Add garlic paste, or 1/2 teaspoon of garlic powder, to the melted butter and olive oil.

Herbs: Any fresh herbs will give them a fun pop of color and flavor.
Best Potatoes for Smashed Potatoes (the size of a golf ball):
Baby red potatoes
Fingerling potatoes
Small Yukon Gold
Nutrition
Calories:
133
kcal
|
Carbohydrates:
18
g
|
Protein:
2
g
|
Fat:
6
g
|
Saturated Fat:
3
g
|
Cholesterol:
11
mg
|
Sodium:
203
mg
|
Potassium:
516
mg
|
Fiber:
2
g
|
Sugar:
1
g
|
Vitamin A:
139
IU
|
Vitamin C:
10
mg
|
Calcium:
13
mg
|
Iron:
1
mg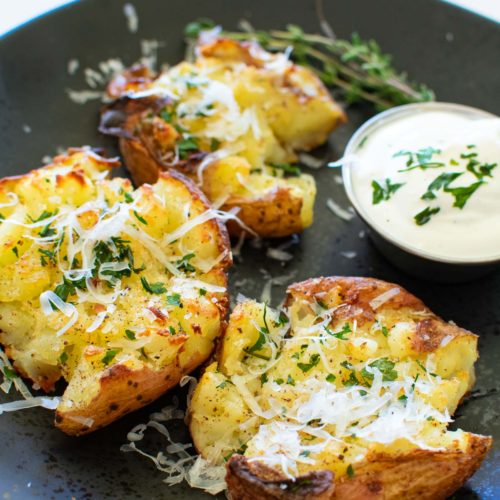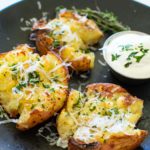 tried this recipe?
Make sure to share it with me! Leave a review or tag me on Instagram