I promise, even though this Sweet and Sour Meatballs recipe is made with homemade meatballs it's so easy to make! The meatballs are tender and flavorful and I could literally eat the sauce with a spoon!
And, being able to prep them ahead of time makes dinner time so doable! It takes me less than 30 minutes to throw them together, then all that's left is baking them in the oven!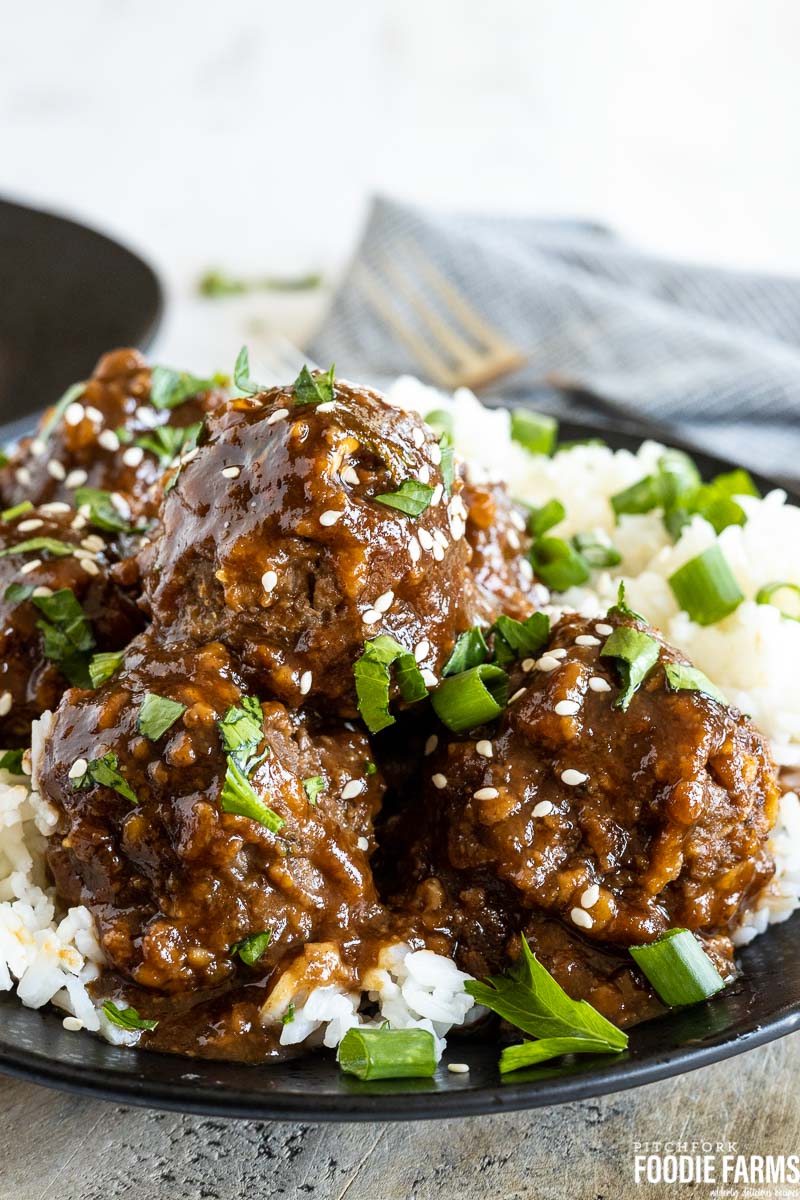 Quick and Easy Dinner Make Ahead Dinner
Sweet and Sour Meatballs are a go-to at our house because:
I'm always looking for recipes that can be prepped early in the day when my life is a little bit more calm. Dinner time is always chaotic and when I'll I have to do is throw something in the oven it makes my life a million times easier!
They taste AMAZING! The meatballs are savory and the sauce is tangy and sweet which is the perfect combo!
This is one of my favorite take in dinners to bring to friends that have just had a baby or just need a little help. everyone LOVES them!
I always have everything I need to make them.
If you love meatballs as much as we do be sure to check out my Mexican Meatballs, BBQ Meatballs, and for sure take a peek at my Zucchini Meatballs!
If you're really in a hurry you can use store-bought meatballs instead of making homemade meatballs from scratch.
Ingredients: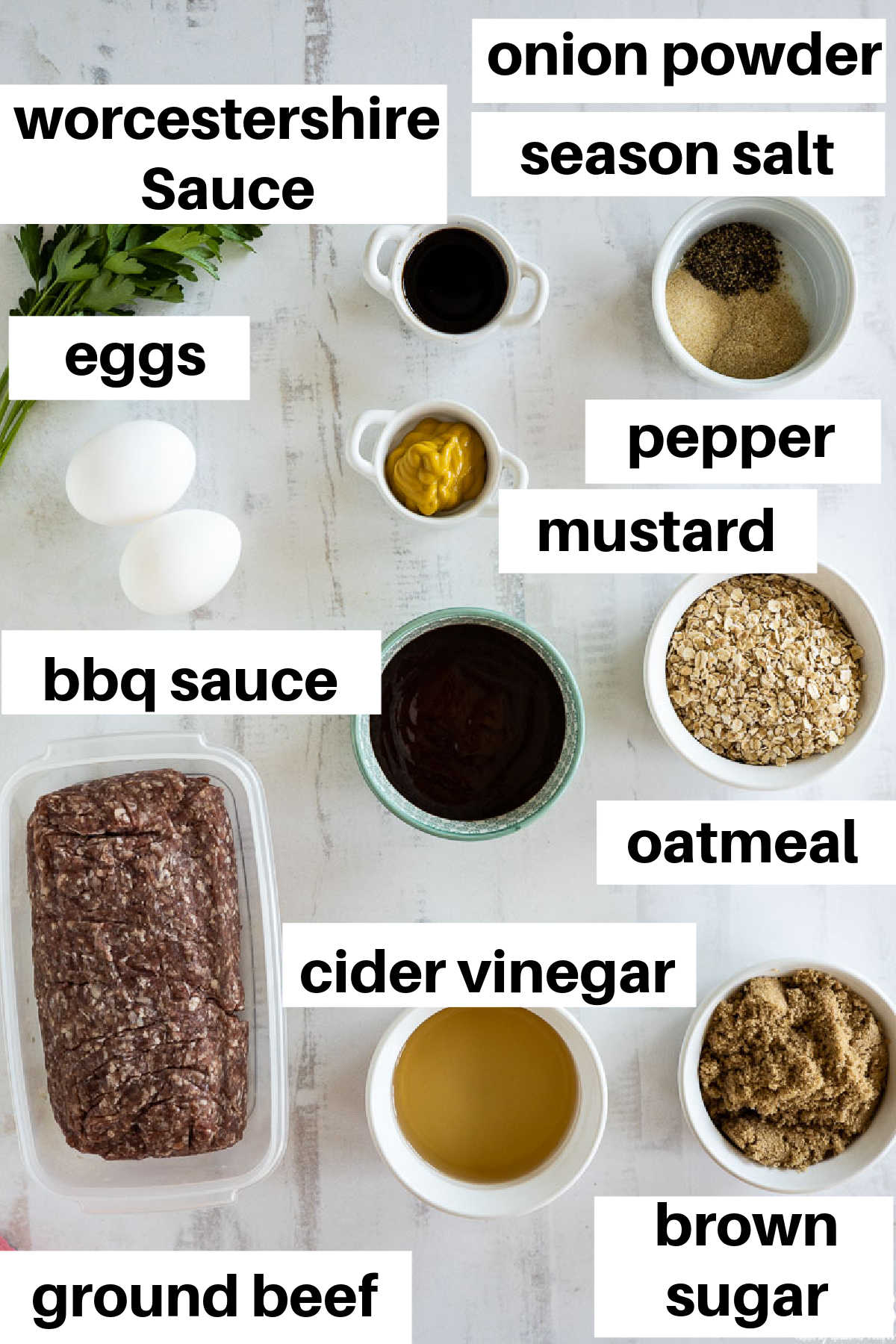 Don't let the fact that this recipe has quite a few ingredients fool you. They're all normal ingredients I bet you already have on hand. And if you don't, they're great ingredients to add to your food storage.
This recipe isn't a fussy recipe, meaning you can substitute these ingredients for other things if you need to. Here are a few ideas.
Brown Sugar – You can use honey instead.
Vinegar – Although I think cider vinegar adds the best flavor you can totally use white vinegar is you need to.
Mustard – Regular yellow mustard is tangy so it works best in this recipe, but if you have dijon or something like that around already, go ahead and use it.
Salt – Use regular table salt if that's what you have
If you want to make Hawaiian meatballs feel free to add pineapple chunks. Be sure to drain the juice if you're using canned pineapple. I also really like adding green peppers, but my boys are NOT fans so I don't usually add them.
Instructions:
I like using a baking dish that's a little bit deeper and smaller than an 9 x 13″ pan. This 7″x11″ pan works great. You want the meatballs to be squished in there. The sauce will almost cover the meatballs which is EXACTLY what you want!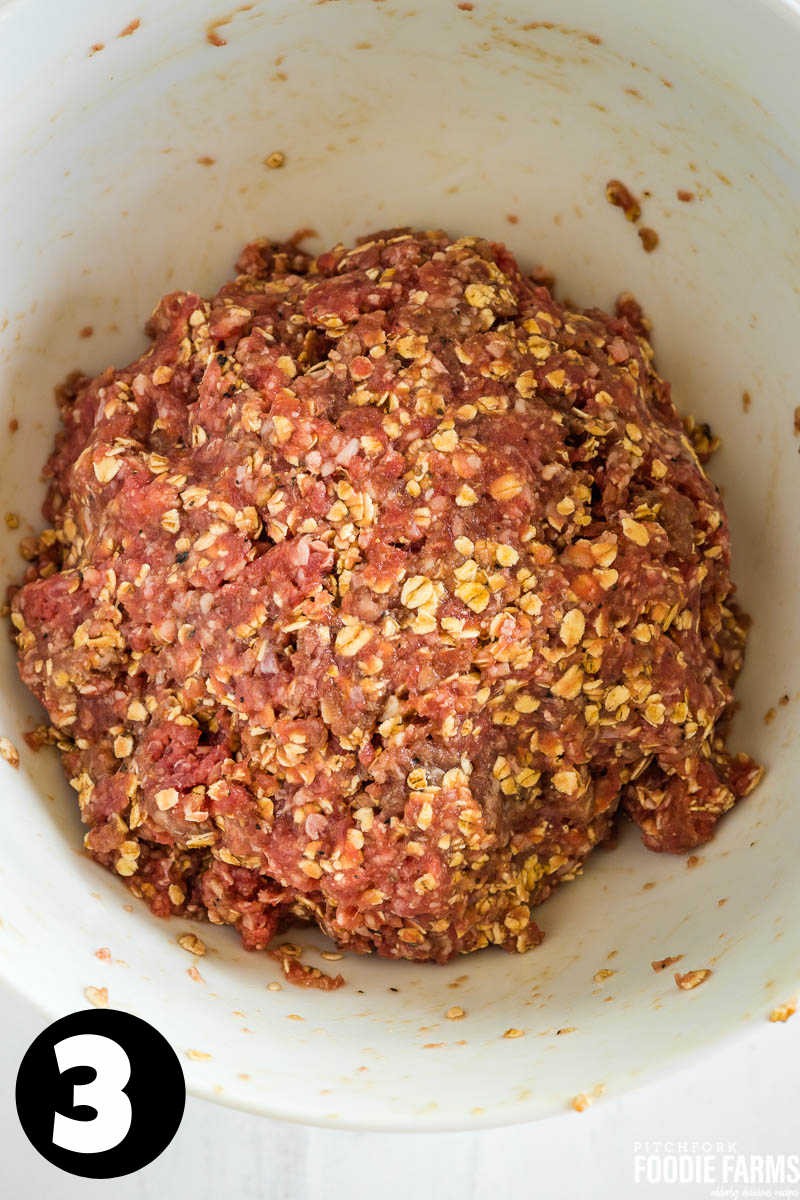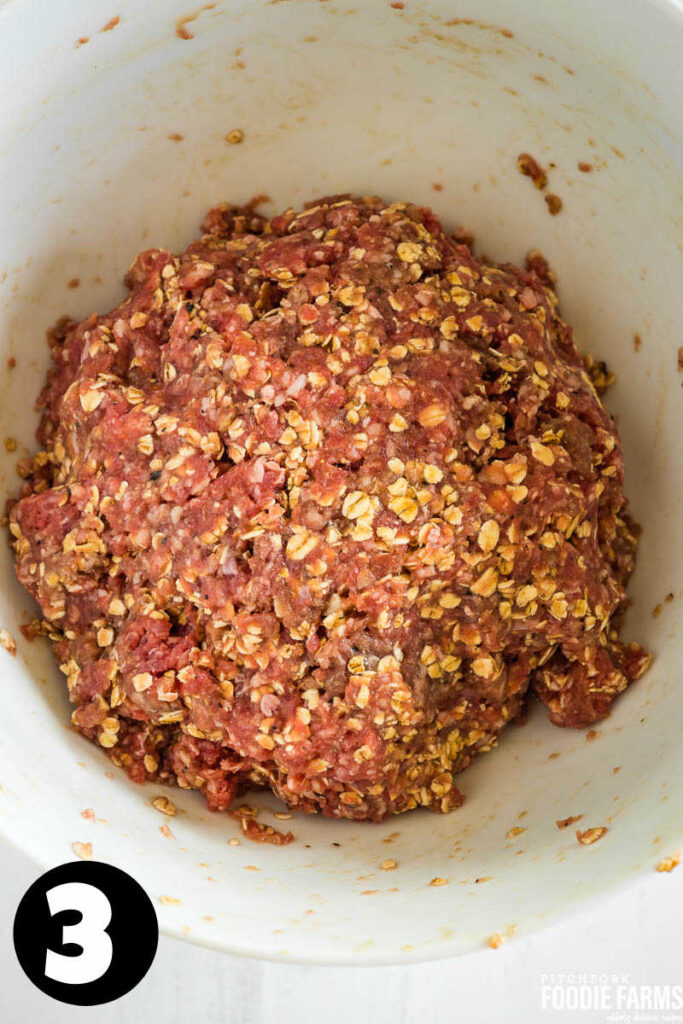 STEP 3: Mix together with your hands. You want to mix it thoroughly, but be careful to not overmix. Overmixing will make the meatballs tough.
All the meatballs should be about the same size so they'll bake evenly. The easiest way to do this is with a cookie scoop.
Most of the time I go for a rustic meatball and don't bother rolling them at all. If you have time and wan to go ahead! It works best scoop the meatballs with a cookie scoop. Spray your hands with non stick baking spray, and then roll the meatballs until they are smooth.
If you want those browned bits on the edges of your meatballs you can either broil them for a few minutes or fry them in a little bit of oil in a skillet. I always SKIP this step because it takes too long and I don't like cleaning up oil splatters. Besides I think they taste the same either way!
Can I freeze meatballs?
Yes! Meatballs make a great freezer meal. Make this recipe through step #4. Freeze meatballs. Then store in an airtight container or a freezer bag. When you're ready to bake them you want to either thaw them in the fridge first or increase baking time by 30 minutes.
How long will meatballs last?
We love leftovers! Store them in the fridge for up to three days. Microwave when you're ready to eat them!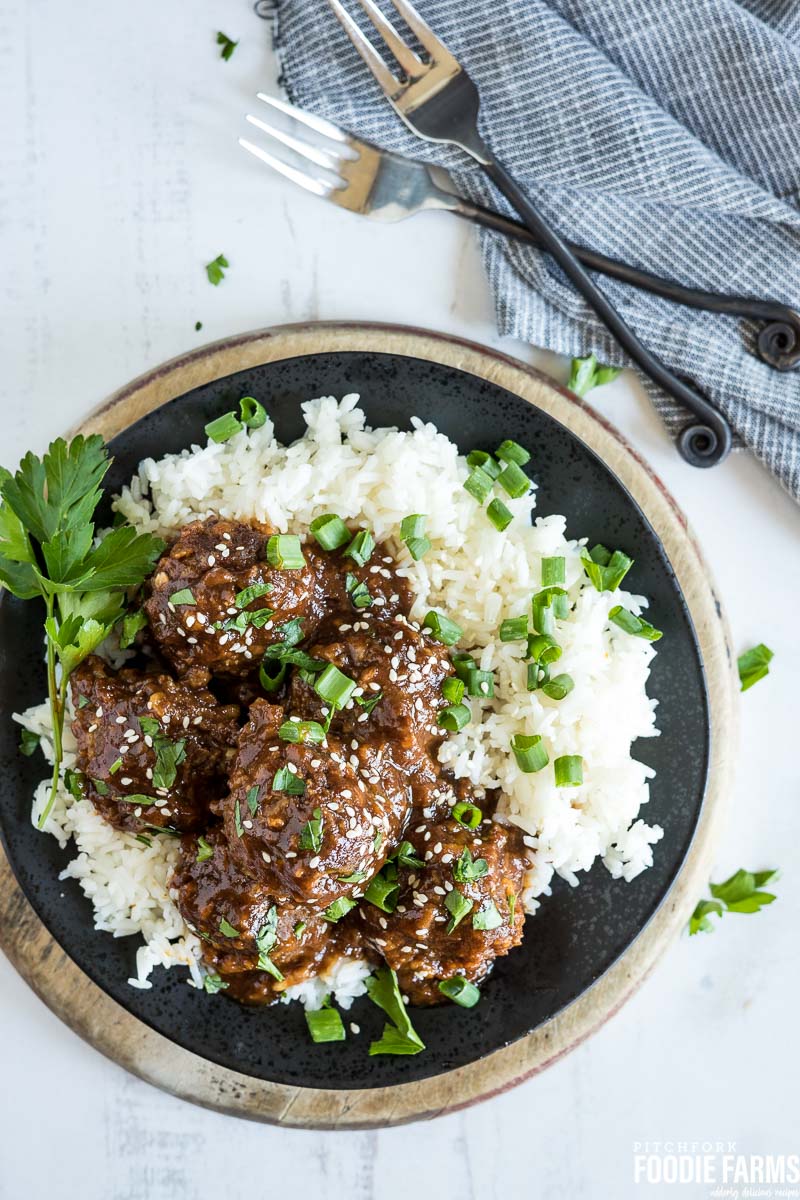 Serving Suggestions:
Of course, sweet and sour meatballs are amazing served with white or brown rice. But I also really love serving them with Cheesy Mashed Potatoes and Roasted Green Beans!
Here are a few other ideas:
I love it when you make my recipes and give me feedback! If you have a minute please comment below and leave a star ranking! Also, be sure to follow me on Pinterest, Instagram, and Facebook!
Recipe: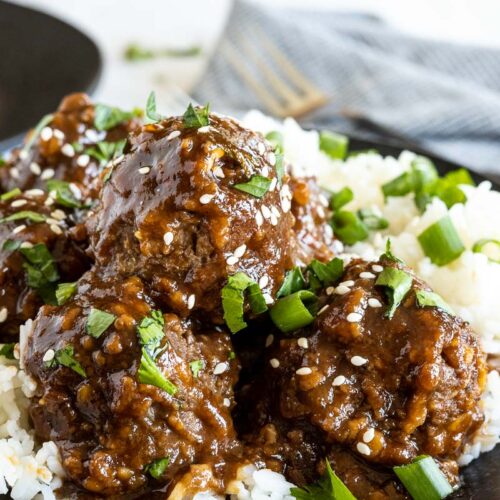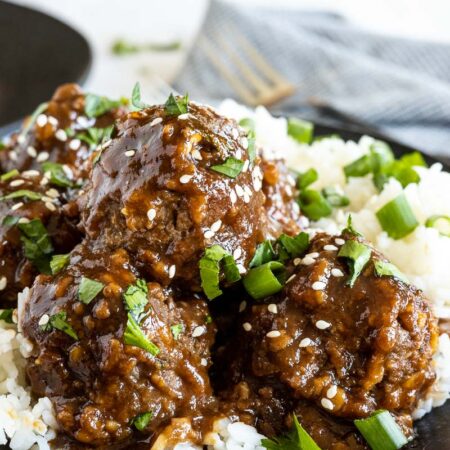 Simple Sweet and Sour Meatballs
This sweet and sour meatball recipe is so easy to make using simple ingredients. Plus, you can make it ahead of time and bake it when you're ready! It's delicious served over rice or mashed potatoes.
Ingredients
Meatballs:
1

pound

ground beef

3/4

cups

oats

2

whole

eggs

beaten

1 1/2

teaspoon

season salt

1/2

teaspoon

onion powder

1/2

teaspoon

cracked black pepper

1

Tablespoon

Worcestershire sauce
Sweet and Sour Sauce
3/4

cup

barbecue sauce

1/4

cup

cider vinegar

1

Tablespoon

Worcestershire sauce

1/4

cup

water

2

teaspoon

prepared mustard

3/4

cup

brown sugar
Instructions
Spray 9" x 13" baking dish with cooking spray. Preheat oven to 350 degrees.

Whisk eggs. Add oats, seasonings, and Worcestershire sauce. Mix together.

Add ground beef. Mix together with your hands. You want to mix it thoroughly, but be careful to not overmix. Overmixing will make the meatballs tough.

Shape the meat mixture into meatballs and place in a greased baking dish. 1 1/2 inch meatballs are a good size, about 2 Tablespoons.

Whisk barbecue sauce, mustard, brown sugar, vinegar, and Worcestershire sauce together in a bowl to make the sweet and sour sauce.

Pour the sauce over the meatballs.

Bake uncovered, at 350 degrees for 40 minutes.
Notes
Make-Ahead:
To make this recipe ahead mix the meat mixture, shape it into meatballs, refrigerate until you're ready to bake. Mix the sweet and sour sauce and store it in the refrigerator. Pour over meatballs just before baking.
Ingredients:
I love using quick oats in this recipe because they aren't quite as chewy. If you are using old-fashioned oats you might want to blend them in a food processor a little bit.
Honey may be used instead of brown sugar.
Freezer:
Make meatballs then freeze. Once the meatballs are frozen they can be stored in an airtight container until you're ready to bake. Either thaw in the fridge until you're ready to bake, or add 20 minutes to bake time. Pour sauce on just before baking.
Nutrition
Calories:
405
kcal
|
Carbohydrates:
50
g
|
Protein:
15
g
|
Fat:
16
g
|
Saturated Fat:
6
g
|
Polyunsaturated Fat:
1
g
|
Monounsaturated Fat:
7
g
|
Trans Fat:
1
g
|
Cholesterol:
55
mg
|
Sodium:
1084
mg
|
Potassium:
417
mg
|
Fiber:
1
g
|
Sugar:
39
g
|
Vitamin A:
88
IU
|
Vitamin C:
1
mg
|
Calcium:
63
mg
|
Iron:
3
mg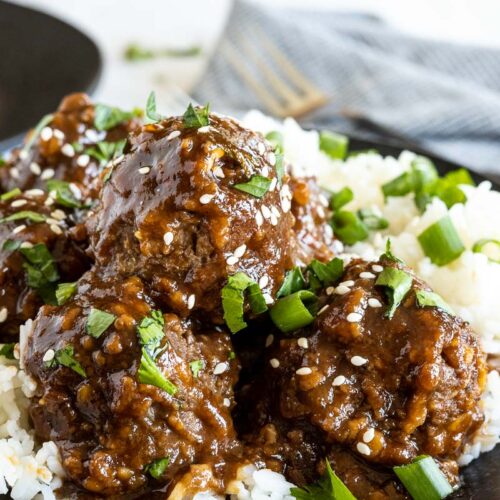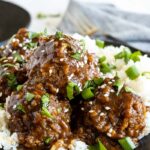 tried this recipe?
Make sure to share it with me! Leave a review or tag me on Instagram