Marinated Cucumbers and Onions are the perfect way to serve fresh cucumbers! It takes less than 10 minutes to make this recipe, then all you that's left is letting them pickle in the refrigerator! They keep in the fridge for up to two weeks and make the perfect summer side dish!
Serve these cucumbers with Citrus Grilled Chicken, Hot Ham Sliders, or BBQ Pork Chops.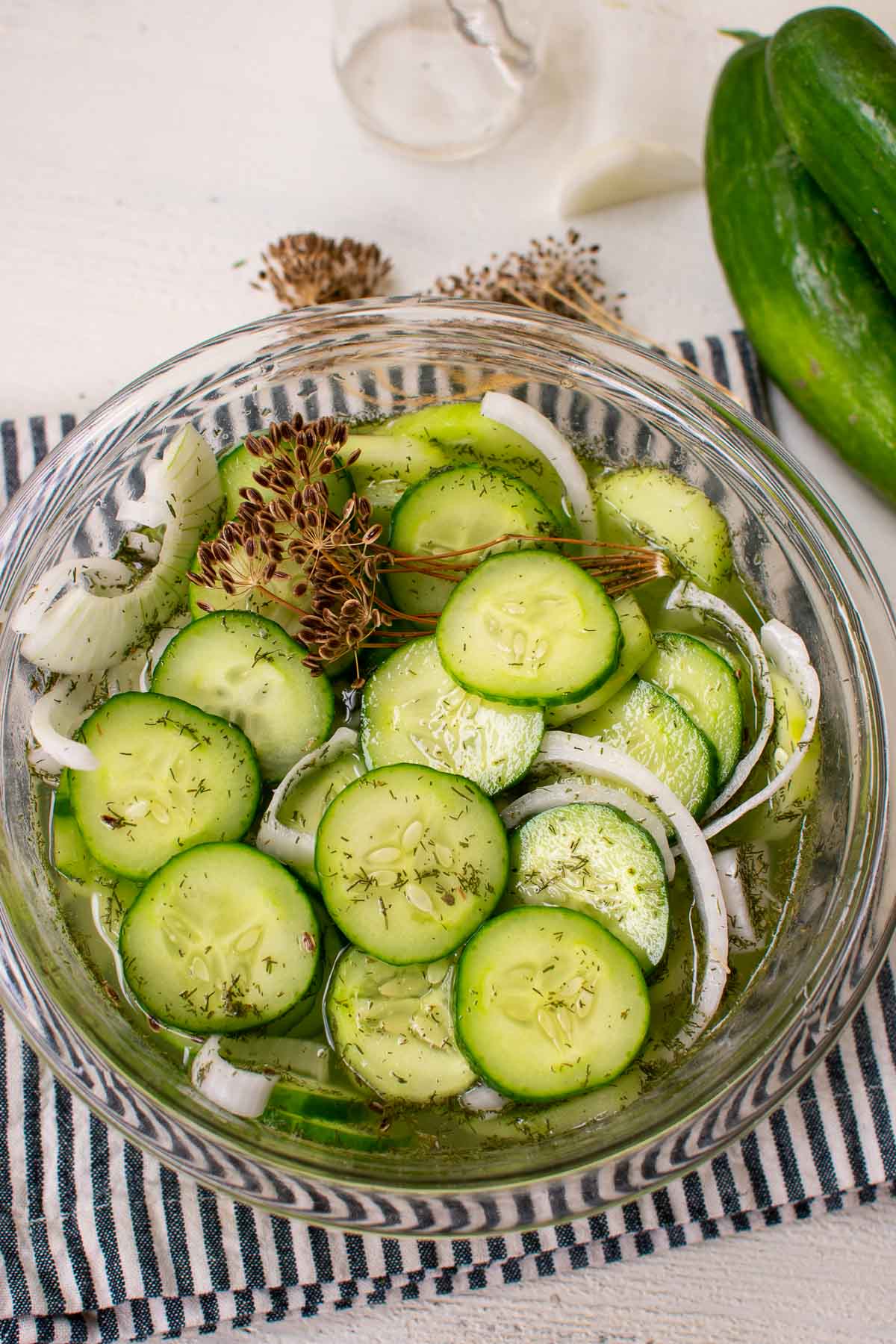 Why I Love This Recipe
I love dill pickles, but canning them is a lot of work. Marinated pickles are so much easier to make. They don't last as long and aren't shelf-stable like regularly processed pickles. But, they are more fresh tasting and a bit more mellow than traditional pickles. They're also sweet, which I love!
This recipe is really SIMPLE to make because you don't need to boil a water/vinegar mixture as you do in some refrigerator pickle recipes. I love easy recipes that only take a few minutes to throw together!
When the cucumbers in my garden are growing like crazy we can't keep up with them if we're just eating them fresh. This is a great recipe for using them up because they keep for a couple of weeks in the fridge. You can also add more cucumbers to the brine if you're eating them really fast!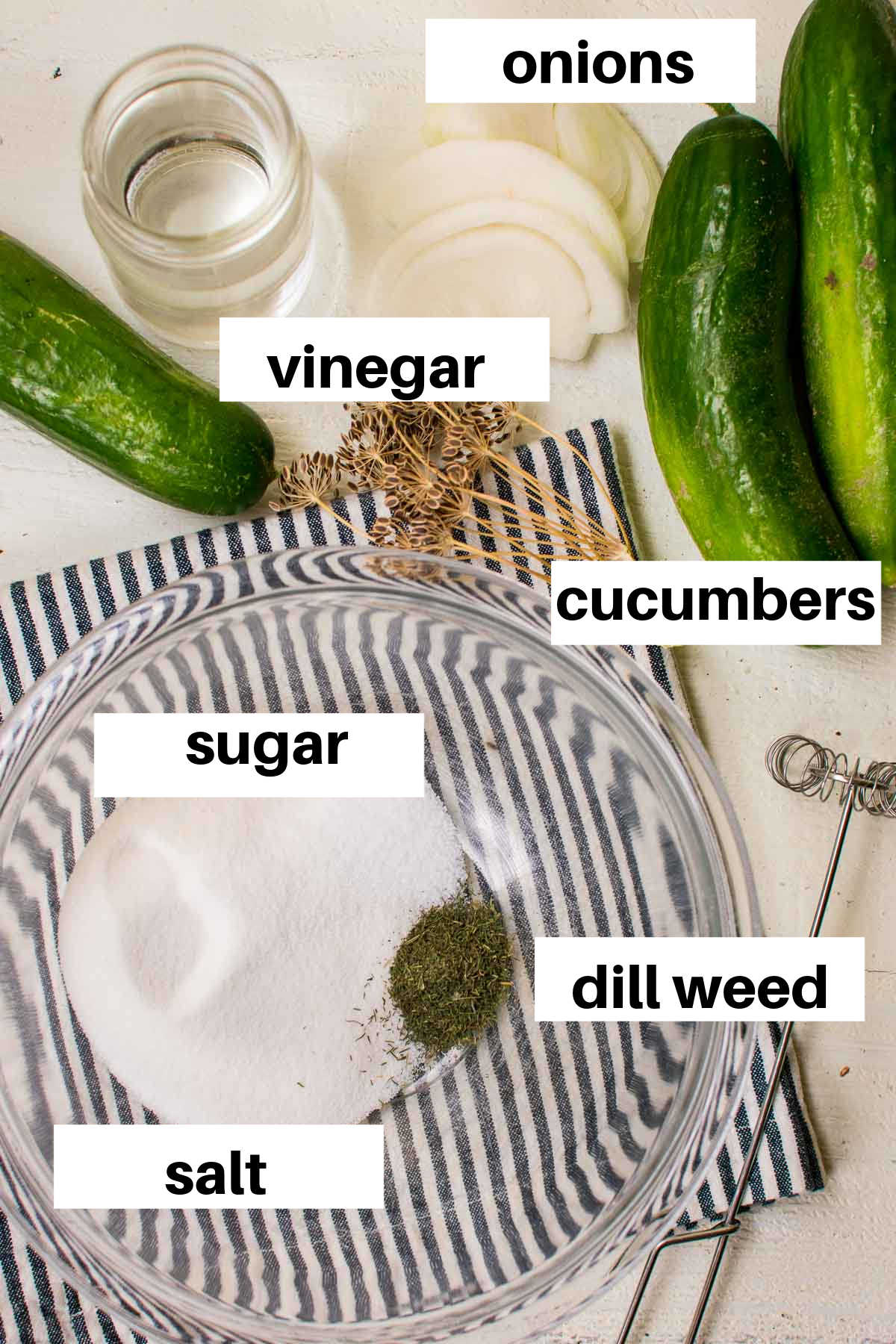 Ingredients
You'll need simple ingredients you probably already have on hand. Plus, if there are a few options for adding other veggies, make it exactly how you like it. Let me walk you through the options.
Vinegar: I like distilled white vinegar, but you can also use cider vinegar if you'd rather. The marinade will be darker and I think the flavor is a little more mellow.
Dill weed: I like to use fresh because it's usually growing in my garden at the same time as cucumbers. It's perfectly fine to use dried if that's what you have on hand. Just remember that dried herbs are more potent than fresh so you'll need less. The ration is 3:1. So, for 1 Tablespoon of fresh dill you'll only need to use 1 teaspoon of dried dill.
Sugar: I use regular granulated sugar. You can use Stevia or other sugar substitutes if you're trying to keep the calories down and make it Keto.
Instructions
This recipe is seriously the easiest recipe ever! Let me show you what you need to know.
You'll need to wash and slice cucumbers and onions. The cucumber peel can be left on, or it can be removed. Either way is fine, it's a personal preference. I like them on.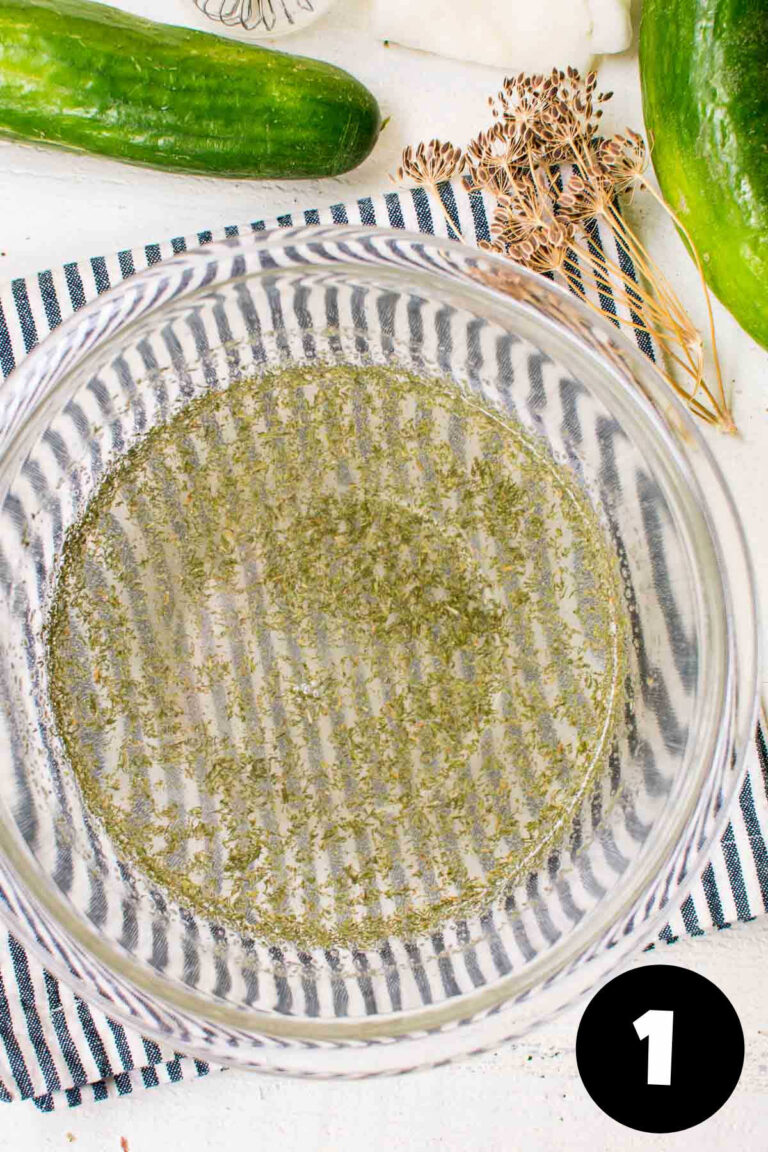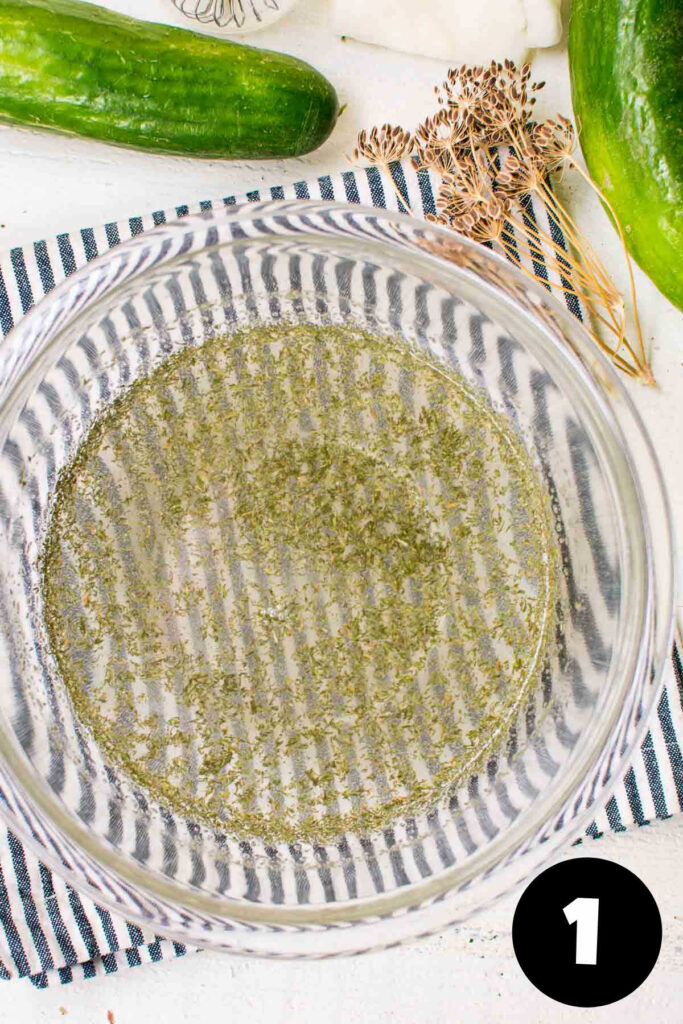 Whisk vinegar, sugar, salt, and dill seed or weed together.
Add sliced cucumbers and onions. Stir.
Refrigerate for at least 4 hours for best results. You can eat them soon, but they won't be fully marinated.
Little Dairy on the Prairie Pro Tip: We love adding all different kinds of fresh vegetables. Tomatoes are a fantastic choice. We also really like sweet bell peppers. You can add pretty much any sturdy vegetable like cauliflower, carrots, jalapenos, etc.
FAQs
How long will refrigerator pickles last in the fridge?
These pickles will last for up to 2 weeks. The longer they sit the softer they get. Trust me, they're still fantastic!
How should I store marinated pickles?
In an airtight glass or plastic container. Vinegar reacts with metal, so chose a different material. I like using a glass canning jar.
What kind of cucumbers should I use to make pickles?
Burpless cucumbers are my favorite variety because they have thinner skin and less seeds than other varieties. You don't need to worry about using little tiny pickling cucumbers in this recipe. Really, any cucumber will work. English cucumbers are a great option and my favorite in the winter.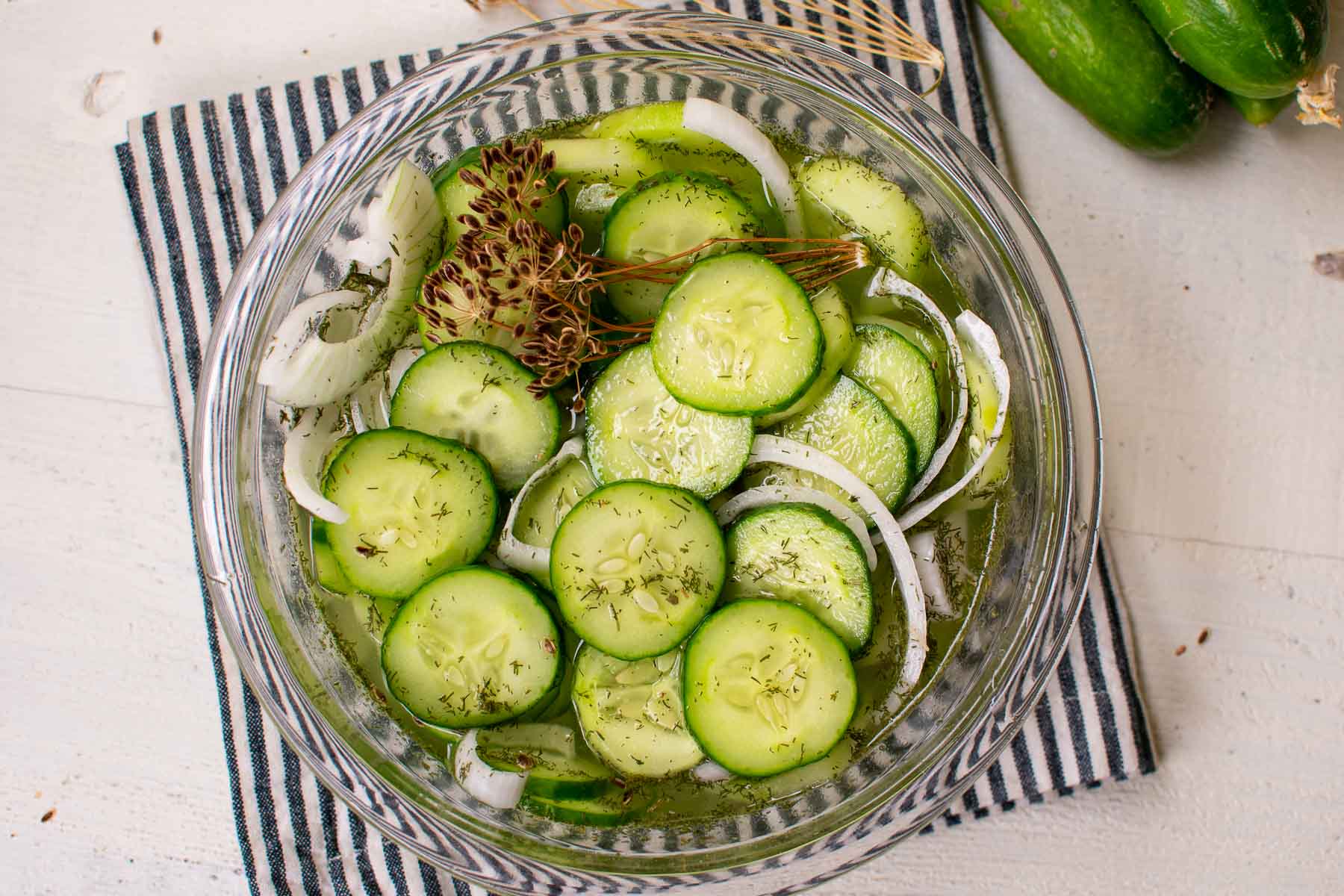 Serving Suggestions
Most of the time I eat these pickles straight from the container and serve them as a side dish or salad. Both the pickled cucumbers and onions are delicious on sandwiches like my Dill Pickle Grill Cheese or adding to Lettuce Wrap Cheeseburgers.
Here are a few other side dishes that go well with grilled chicken, steak, or burgers.
Recipe
I love it when you make my recipes and give me feedback! If you have a minute please comment below and leave a star ranking! Also, be sure to follow me on Pinterest, Instagram, and Facebook!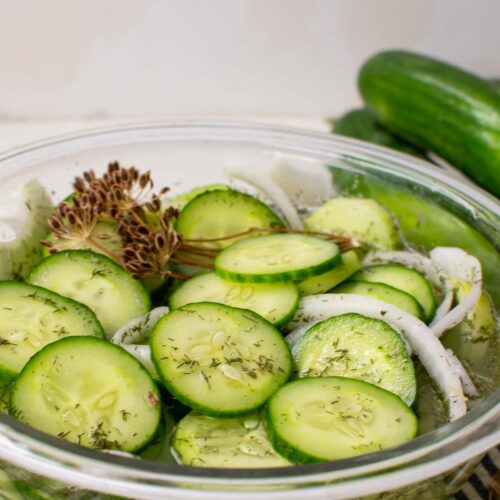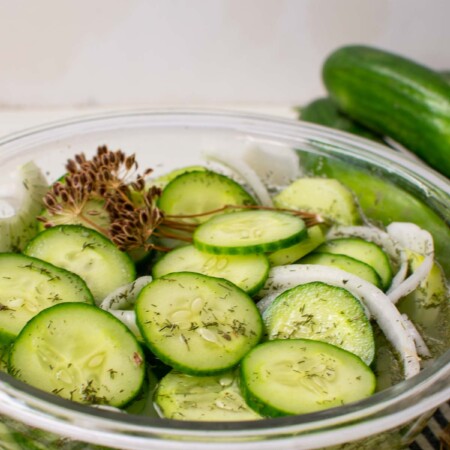 Easy Marinated Cucumbers
These simple refrigerator pickles only take less than 10 minutes to throw together. Just let them sit in the fridge for a few hours and enjoy thes quick pickled cucumbers!
Ingredients
3

cups

cucumbers

sliced

1/4

cup

onion

sliced

1/2

cup

water

1

cup

distilled white vinegar

1

cup

sugar

2

teaspoons

salt

2

teaspoons

dill weed

1

head of dill

optional
Instructions
Slice the cucumbers and onions into 1/8 in slices. You don't have to be exact in your cutting, but keeping the slices even helps them marinate equally. You can peel the cucumbers firt if you'd like, or leave the peel on. Add to a container. (See note about choosing a container)

Whisk together the water, vinegar, salt, sugar, and dill weed. Whisk it until the sugar is completely disolved. It only take a minute or two.

Pour the vinegar marinade over cucumbers and onions. Stir to coat all the cucumbers. Add heads of dill if you'd like.

Refrigerate for at least 4 hours before serving.
Notes
Choosing a container:
Use a glass or plastic container. The vinegar reacts to metal so avoid using a metal container.
I like to choose a container that's small enough that the cucumbers are totally covered with the marinade.
Reusing the marinate:
The pickles will continue to get softer as they sit. They're still totally safe to eat and delicious!
The marinade will keep for up to two weeks. If you eat all the pickles, you can simply add more fresh cucumbers to the marinate and make another batch.
Other veggie options:
It's fun to add other vegetables. Pretty much any firm fresh veggie can be added.
We love tomatoes (I know it's not firm but it works) and sweet bell peppers.
Nutrition
Calories:
110
kcal
|
Carbohydrates:
27
g
|
Protein:
1
g
|
Fat:
1
g
|
Saturated Fat:
1
g
|
Polyunsaturated Fat:
1
g
|
Monounsaturated Fat:
1
g
|
Sodium:
584
mg
|
Potassium:
77
mg
|
Fiber:
1
g
|
Sugar:
26
g
|
Vitamin A:
38
IU
|
Vitamin C:
2
mg
|
Calcium:
11
mg
|
Iron:
1
mg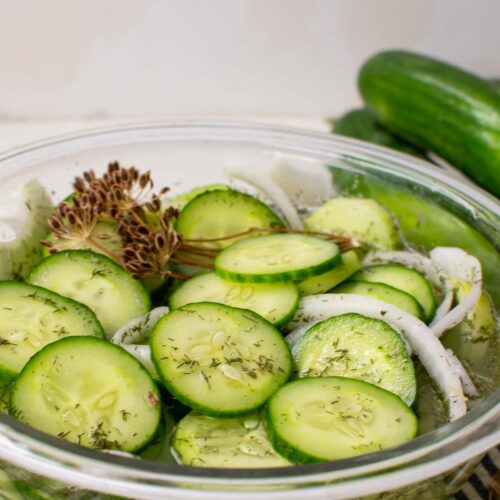 tried this recipe?
Make sure to share it with me! Leave a review or tag me on Instagram