30 Easy Breakfast Recipes has fun breakfast recipe ideas for busy mornings! There is breakfast for kids, with eggs, without eggs, hearty breakfast with meat, and even ideas for crowds. Oh, and most of them are great on the go breakfasts too!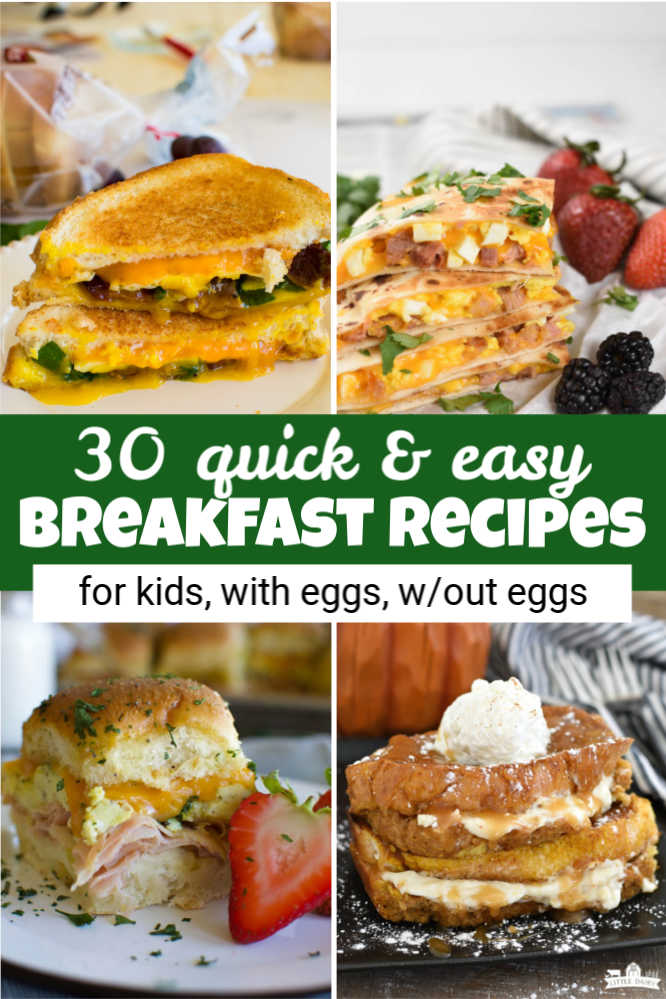 Breakfast is the most important meal of the day, yet it's the hardest one to prepare for! Check out this collection of the BEST breakfast recipes that will get your day started off on the right foot!
These recipes are great for kids or grabbing on the way out the door. There are also hearty breakfast recipes without much effort. Most of them are easy breakfast ideas for crowds too!
Check out these quick bread, no-bake, savory, potatoes, breakfasts loaded with meat, breakfast ideas without meat, and more!
Heck, they all make quick dinners ideas too!
Easy breakfast recipes for kids
Mornings can be especially hectic if you have kids! We all need a few quick breakfast ideas for kids that they'll be happy to wake up to. Really, who needs complaining first thing? Trust me, no complaining about these recipes!
Btw, I don't really think these recipes are healthy but kids will LOVE them! And they are easy breakfast recipes with simple ingredients so even beginners can help make them!
Easy breakfast recipes with eggs
Yay for eggs! I'm a sweet girl all the way. But most of the time I'd rather eat savory breakfasts and save sweet for later in the day.
Are you bored of plain old scrambled or fried eggs? Are you still looking for easy breakfast ideas with eggs these are perfect!
All of these recipes are great for switching things up! Be sure to check out the breakfast recipes with potatoes too!
Quick bread and muffin recipes for breakfast
Easy breakfast ideas on the go seem to be the most popular breakfasts at my house!
When the kids are in school there are always a million things to do before they head out the door. During summer farming starts early which means I'm delivering breakfast to the fields quite a bit.
Quick bread and muffins are perfect for easy breakfast ideas on the go! Add a smoothie and you're set!
Easy pancake recipes from scratch
Of course, pancakes are always a great option, and they're especially good if you're looking for easy breakfast ideas for a crowd!
I'm adding make ahead baked French toast, waffles, and breakfast cake to this section too because they seem like they fit in the same category with pancakes with maple syrup!