Overnight Apple Pie Baked French Toast is the ultimate, comforting breakfast casserole recipe! Throw it together the night before and all that's left in the morning is sticking it in the oven to bake! This casserole has apple pie filling tossed in day old bread and has the best struessel topping that makes it taste like French Apple Pie!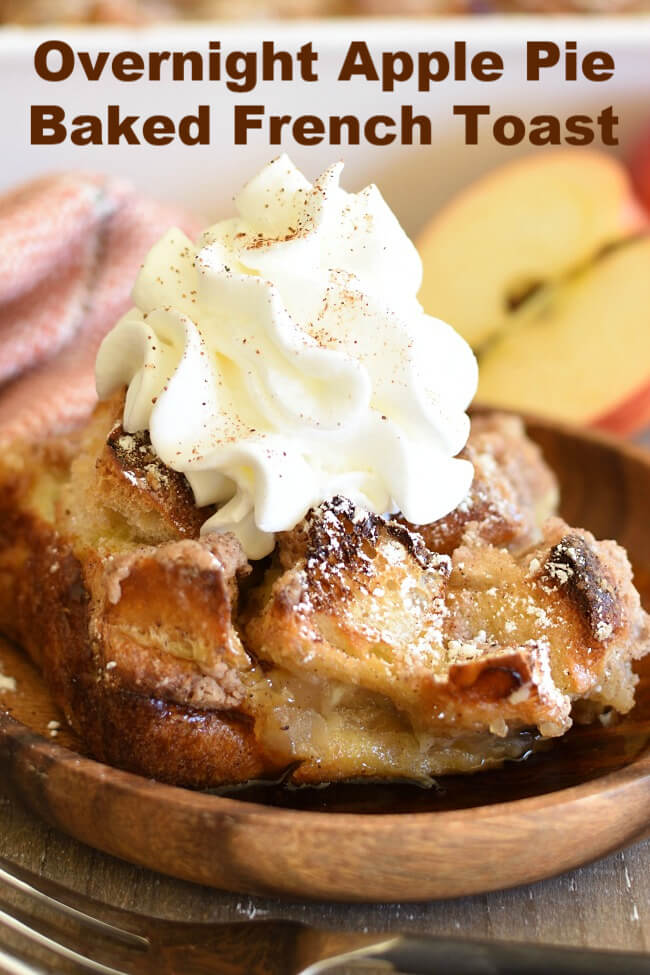 You guys…this breakfast casserole recipe is out of this world! It's a fun spin on Baked French Toast from Pioneer Woman. Apple pie lovers are going to go absolutely crazy for it, because what's better than being able to a breakfast casserole that resembles apple pie!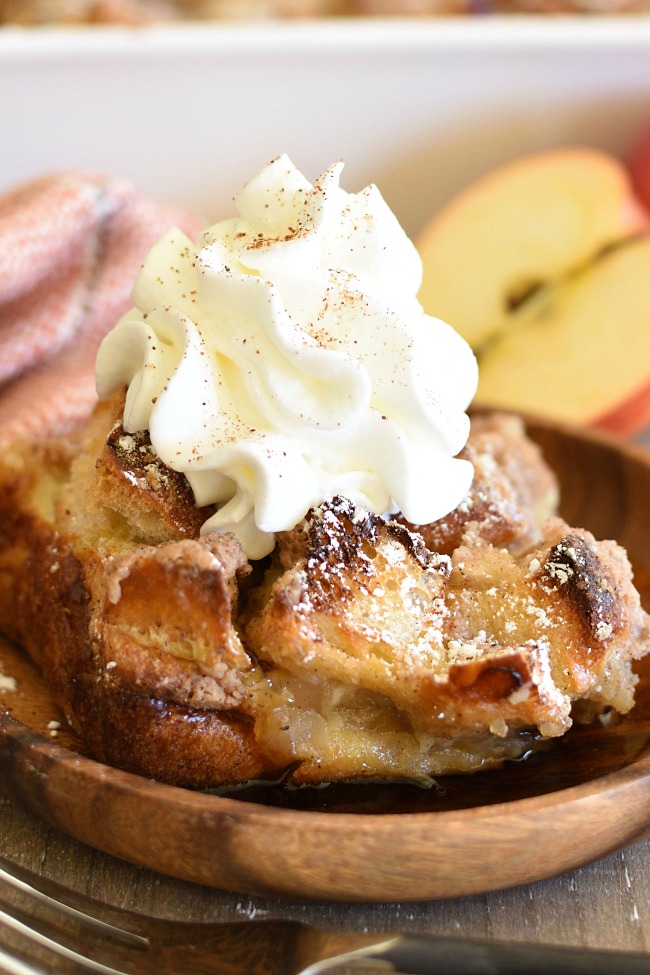 A perfect fall breakfast or brunch for a crowd!
Winter is right around the corner here in Idaho and that means nights are getting longer and mornings are getting colder. To be completely honest we could probably skip winter without really hurting my feelings at all. I understand we need winter and snow and all that, but I love going outside, only when it's warm though. Cabin fever sets in pretty quickly during the winter months and I dream of being out mowing my lawn in the fresh air.
For now though, I'm going to focus on enjoying evenings being shut in with my family, and of course I'm going to enjoy all the comfort food. I'm telling you, this Apple Pie French Toast is seriously a comforting way to start your day. If you're a breakfast for dinner kind of person, this breakfast casserole recipe will surely hit the spot in the evening too!
You decide when you want to eat it, but no matter what get it on the menu and get it whipped up! You won't be sorry!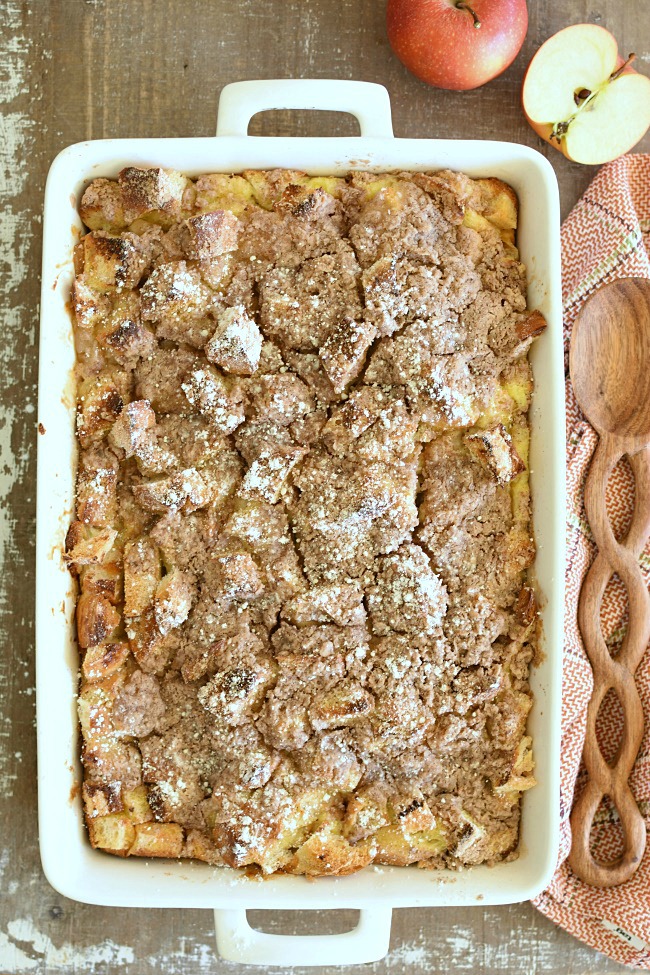 Of course there's that gooey center of the dish, but there's also the most amazing streusel topping that makes me want to pull those crispy pieces off and eat them right away! It's almost like pull apart bread!
Make this streusel topping like most other streusel recipes. Cut butter, flour, and apple pie spices together. Oh, and a dash of salt.
Prepare the streusel topping the night before you want to bake the French toast, but don't sprinkle it on until right before baking.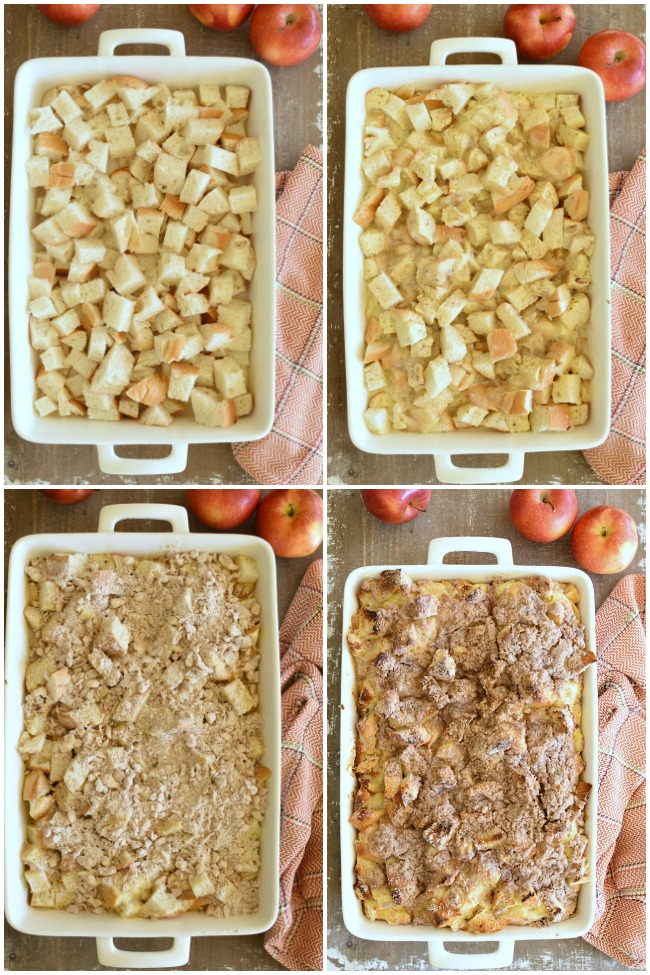 What kind of bread should you use to make Overnight Apple Pie Baked French Toast?
Good question!
I always use a loaf of French bread. Check out my Pumpkin Cream Cheese Baked French Toast post to read all about why I like this bread! Sour dough bread is also a wonderful choice because it's sturdy enough to hold up after being soaked all night long. In other words, it doesn't get soggy like regular old sandwich bread would.
So here's the run down on the steps!
Cut bread into cubes and spread it out in greased baking dish.
Mix eggs, milk, cream, spices, and apple pie filling together. Pour it over bread cubes.
Refrigerate overnight.
In the morning sprinkle streusel mixture over French toast.
Bake!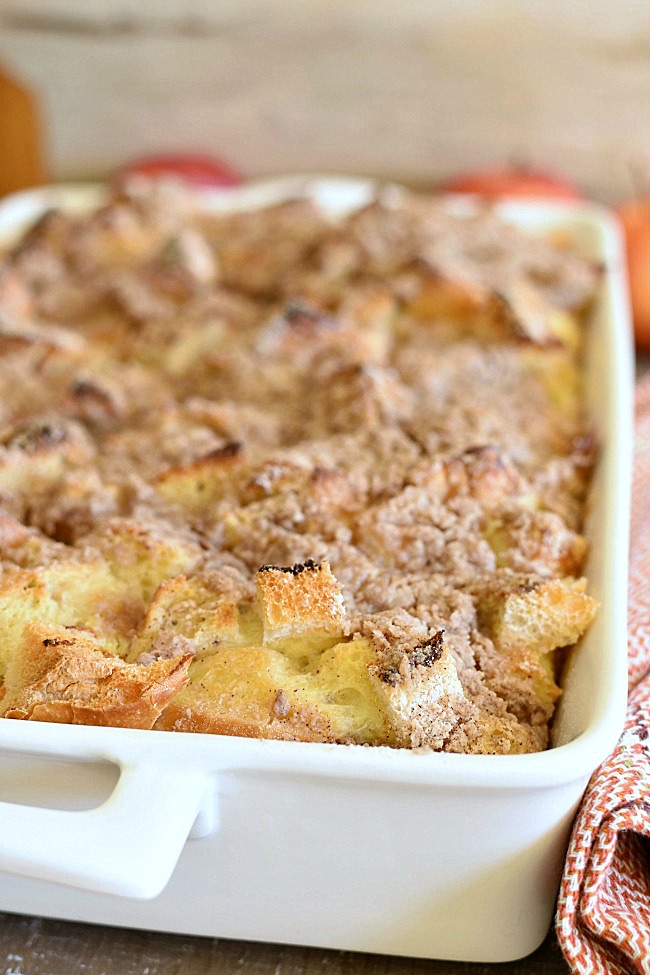 Of course Apple Pie Baked French Toast deserves a gorgeous dusting of powdered sugar!
Now who would ever complain about waking up to this? No one at my house!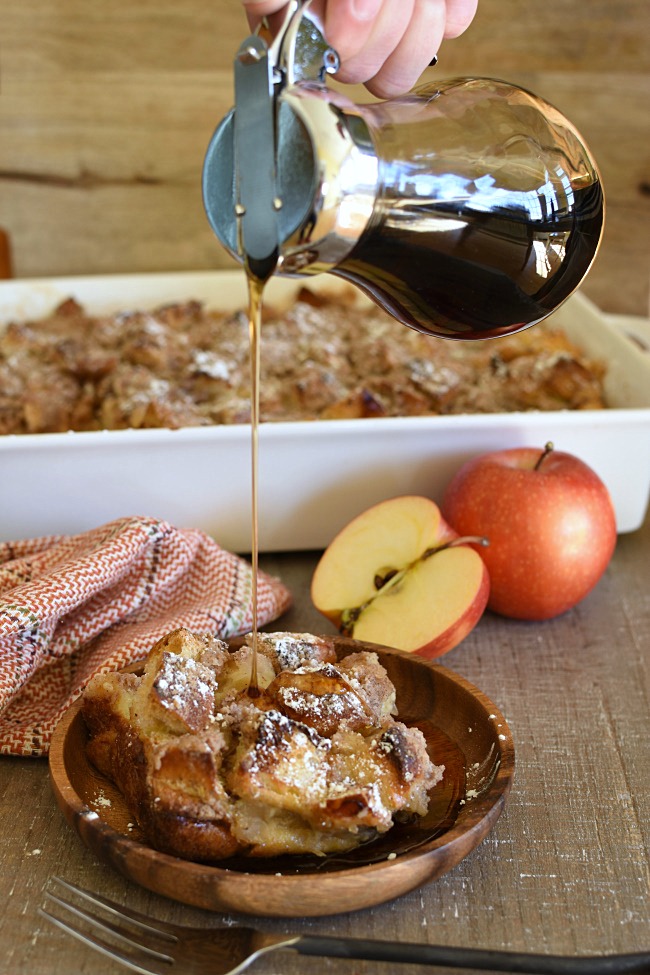 Did you know that apples and maple syrup compliment each other really well? It's true! Make sure you warm the syrup before drizzling a generous amount over the French toast!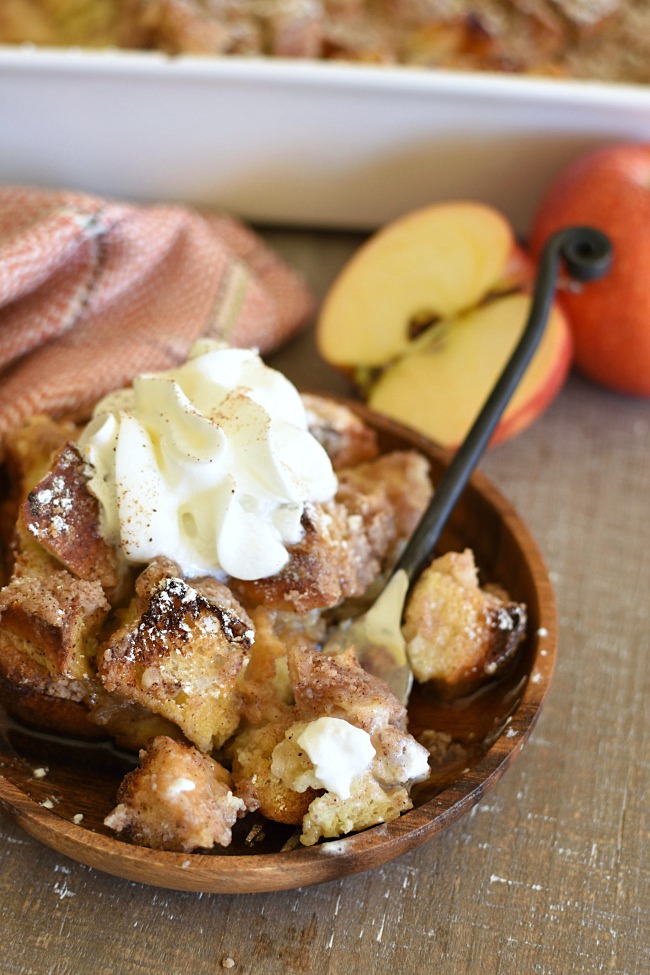 As if a dusting of powdered sugar and a drizzle of maple syrup weren't enough it's absolutely necessary to load this glorious breakfast with PLENTY of whipped cream! It's the right thing to do! I wouldn't dream of serving apple pie without whipped cream, or ice cream and Apple Pie Baked French Toast is no different! With that having been said, I wouldn't judge you if you served it with a scoop of vanilla ice cream either! Ice cream has happened for breakfast at my house and we're all still alive to tell about it!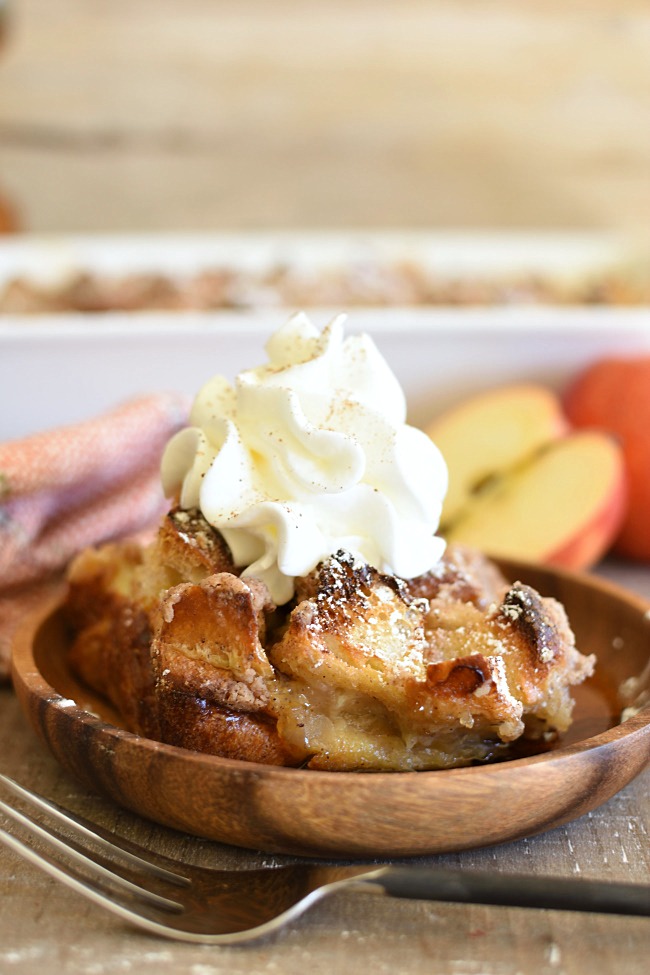 Here's my Overnight Apple Pie Baked French Toast recipe!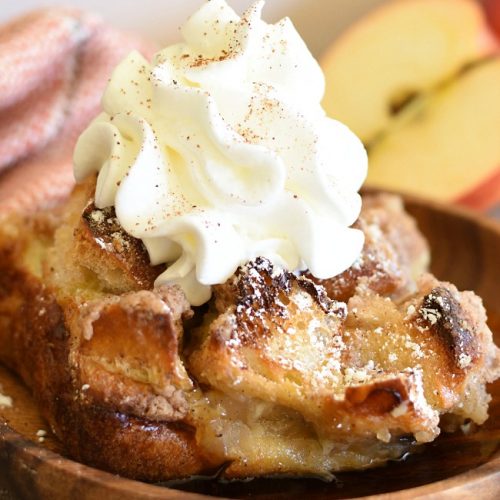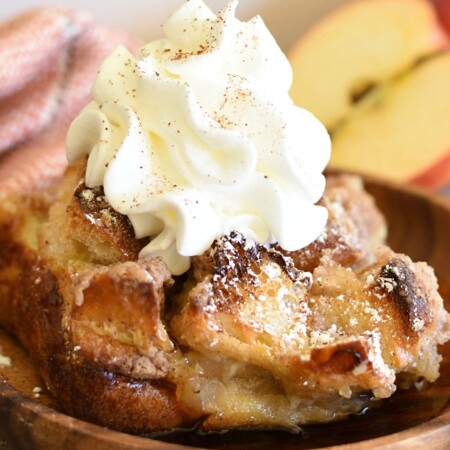 Overnight Apple Pie Baked French Toast
Overnight Apple Pie Baked French Toast is a super easy, make ahead breakfast! It's full of cozy spices and apple pie filling, then topped with a crispy streusel! Dust it with powdered sugar, drizzle it with maple syrup, and finish it off with a generous amount of freshly whipped cream!
Ingredients
1

loaf

French Bread, or sourdough bread

8

eggs

2

c

milk

1/2

c

heavy cream

3/4

c

brown sugar

1

Tbsp.

vanilla

2

tsp.

apple pie spice

1

21 oz. can

apple pie filling
Streusel Topping
1/2

c

flour

1/2

c

brown sugar

1

tsp

cinnamon

1

tsp

apple pie spice

1/4

tsp

salt

1/2

c

butter

cold
For serving
powdered sugar

maple syrup

whipped cream
Instructions
Assembling French toast
Grease a 9 x 13 baking dish. Set aside

Cut bread into cubes, about 1 inch. Set into prepared baking dish.

Whisk eggs. Add milk, cream, 3/4 c. brown sugar, vanilla, and apple pie filling. I usually cut the apple pie filling so they are in smaller pieces, but that's optional. Stir.

Pour egg/milk mixture over bread. Gently stir.

Cover with plastic wrap. Refrigerate overnight. If you don't want to wait overnight you can also let it sit for an hour then move on to the next step.

Using a pasty cutter cut butter, flour, 1/2 cup brown sugar, cinnamon, apple pie spice, and salt together until it you have course crumbs. Store streusel in a the refrigerator in a sealable container overnight.
Baking and serving French toast
Preheat oven to 350 degrees.

Srpinkle streusel topping over French toast.

Bake uncovered for 50-60 minutes. The longer it bakes the more crispy and brown in will get on the top.

Dust with powdered sugar.

Serve with freshly whipped cream and maple syrup.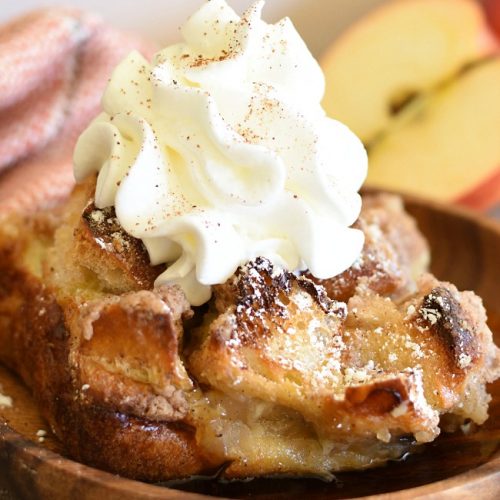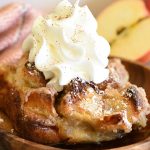 tried this recipe?
Make sure to share it with me! Leave a review or tag me on Instagram