S'mores Greek Yogurt a quick, easy, and healthy summer breakfast, snack, or dessert! If you are a s'mores lover…you are going to go crazy for this good for you version! Hey, in my opinion there is nothing wrong with eating chocolate first thing in the morning!
My family eats ice cream by the buckets all year long. I'm not even kidding you when I say it's a staple around here!
In fact I buy it from the ice cream store in the 2 1/2 gallon sized cartons! I'm not sure if I should admit that I have to restock the freezer about once a month!
Check out my S'mores Greek Yogurt Bark video to see how to make it!
Greek Yogurt S'mores Bark is an awesome alternative to eating buckets full of ice cream. Not that I would care if you did…cuz we do! But for breakfast? I think it wouldn't hurt to lighten up and healthy up the frozen breakfast treat just a little!
With Greek Yogurt S'mores Bark I don't even feel like I'm making this huge sacrifice like I do when I eat most healthy foods. No doubt, it doesn't taste exactly like full fat ice cream, but you no I think that's probably okay when it comes to breakfast!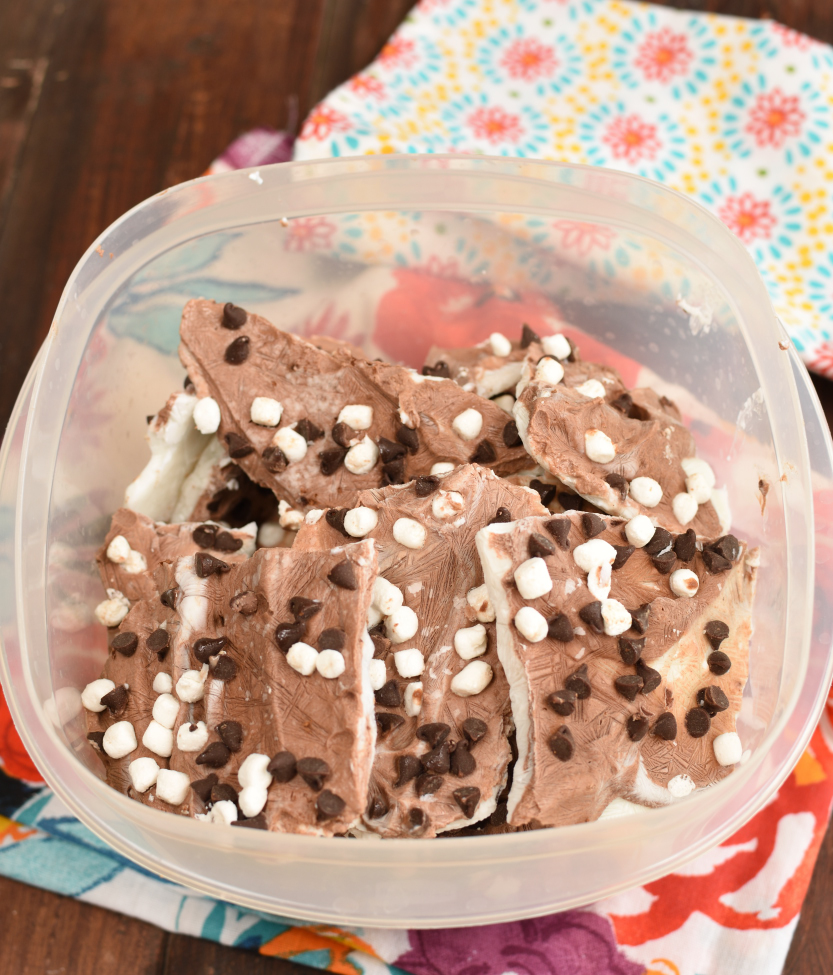 Funny, well not funny at all, thing about this S'mores Greek Yogurt Bark is that I messed up when I videoed and photographed this bark. Ummm, how did I totally forget to include graham crackers which happens to be a huge part of making S'mores Greek Yogurt Bark. It happens to be a super important part of any s'mores right?
Let me tell you how I make this stuff when I'm not worried about lighting, and recording, and all that crazy stuff. You have two options.
Crunch up a few graham crackers and sprinkle them right on top of the Greek yogurt layers. I add it before the chocolate chips
Add a few handfuls of graham type cold cereal over the Greek yogurt layer. (You know what I'm talking about right? Golden Grahams, etc)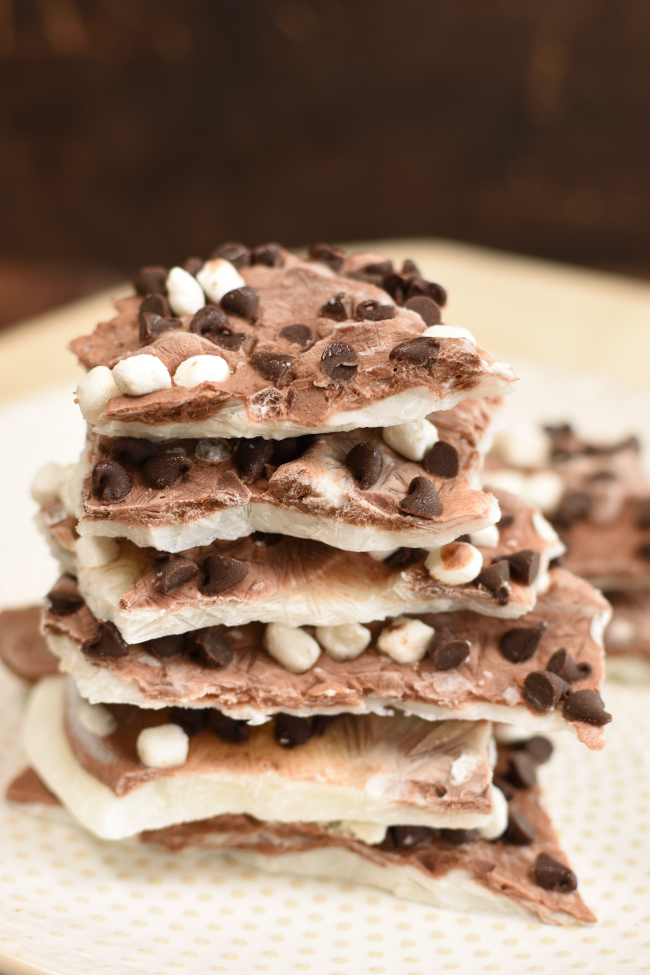 Regardless of whether you remember to include grahams in you S'mores Greek Yourt Bark or not it will still taste fabulous. It should just probably be called something else. What would you name it?
Hey, maybe I should just call it "Gluten Free Greek Yogurt Bark"!
Call it what you want. Just get it made ASAP and start enjoying it!
Here's the S'mores Greek Yogurt Bark printable recipe!
And if you love are looking for another awesome Greek yogurt breakfast recipe check out these ones!
Chocolate and Peanut Butter Greek Yogurt Popsicles, Greek Yogurt Caramel Apple Dip, and Sticky Sweet S'mores Mix (which doesn't include Greek yogurt but it's all about s'mores including grahams)!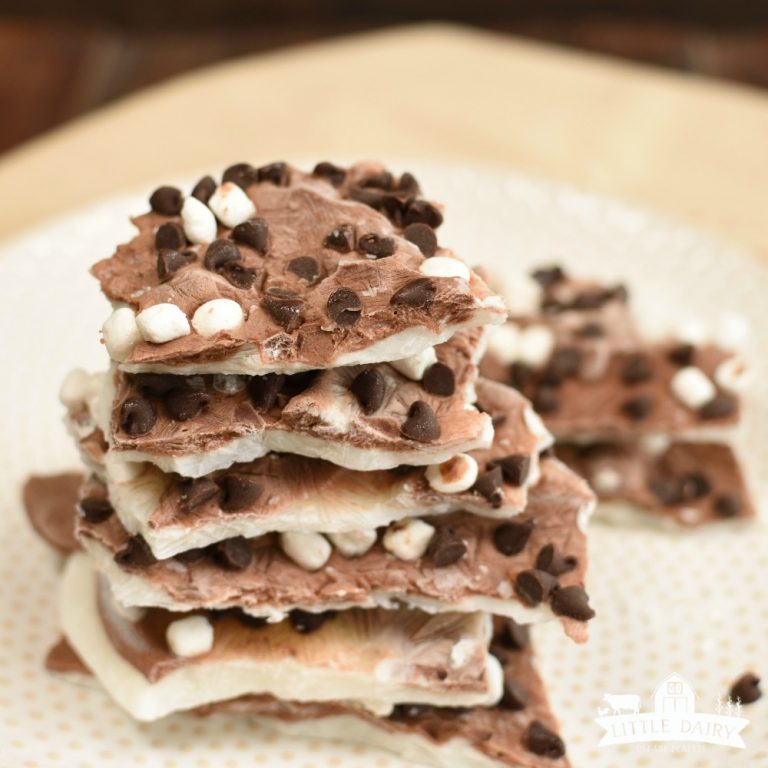 S'mores Greek Yogurt Bark
S'mores Greek Yogurt Bark happens to be a super quick and easy frozen breakfast, snack, or dessert option for summer! There's nothing wrong with eating something that tastes like ice cream first thing in the morning!
Ingredients
2

cups

vanilla Greek yogurt

divided

1

T.

honey

1

heaping Tbsp cocoa

1/2-1

c.

coarsely crushed graham crackers

1/2

c.

mini chocolate chips

1/2

c.

mini marshmallows

I use the dehydrated kind
Instructions
Line a baking sheet with parchment paper.

Mix 1 cup Greek yogurt with cocoa powder and honey. Set aside

Spread remaining cup of Greek yogurt over parchment paper. I usually spread it a little thicker than 1/8″. This recipe is not precise. Make it as thick as you want!

Drop chocolate Greek yogurt over vanilla yogurt layer. Swirl or spread.

Sprinkle crushed graham crackers, chocolate chips, and marhsmallows over Greek yogurt layers.

Freeze until firm. Break into pieces. Keep frozen until ready to eat.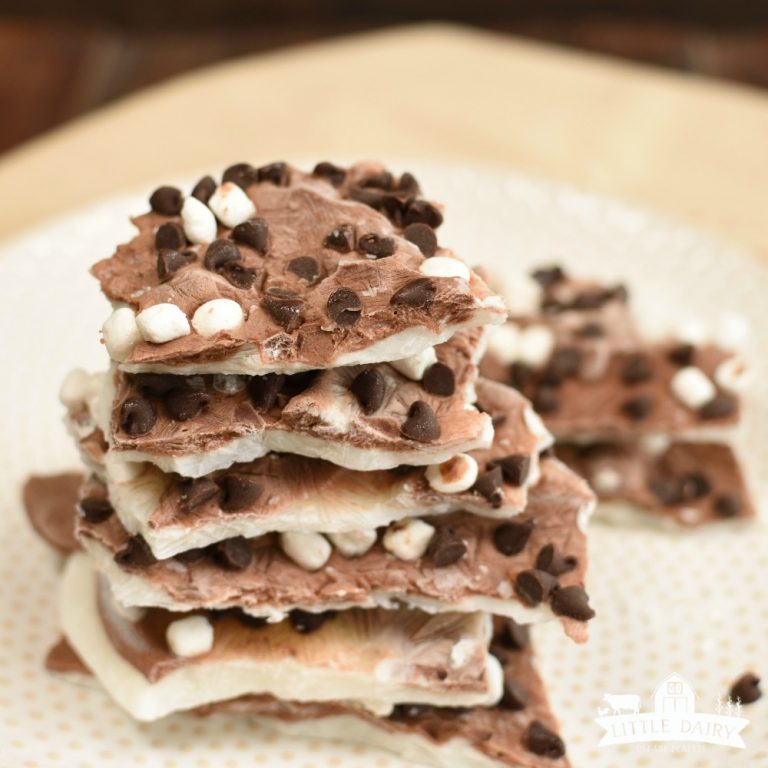 tried this recipe?
Make sure to share it with me! Leave a review or tag me on Instagram