We're about to take your pumpkin game up a notch with a twist you didn't see coming – Pumpkin Zucchini Muffins loaded with chocolate chips! It's all the cozy vibes of fall wrapped up in a super moist and fluffy muffin recipe! These delicious pumpkin zucchini muffins are quick and easy to make!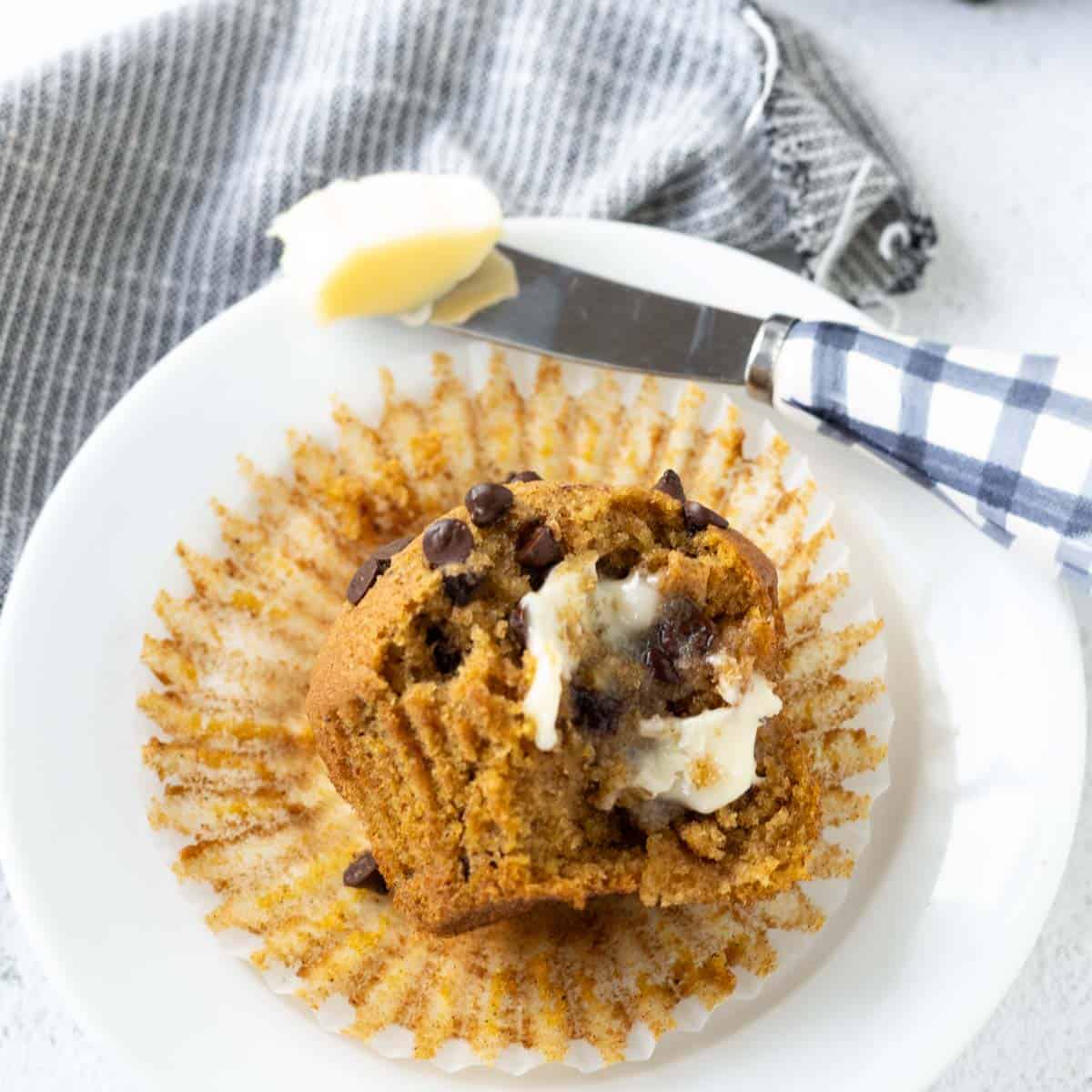 This recipe was originally written in 2018 and updated with additional images and text in 2023. The recipe is the same!
Every spring I feel extra ambitious and plant way too much zucchini! It's hard not to after a long winter. Then in late summer, I wondered what I was thinking!
When it gets that time of year, I'm always looking for a few more ways to use up the abundance of zucchini from the garden. Sometimes my boys turn their noses up at having a healthy veggie in their muffins. There is NO complaining about zucchini pumpkin muffins!
They have all the cozy pumpkin spices in them, plus chocolate chips, and zucchini! The zucchini makes them moist, fluffy, and tender. They are the perfect fall comfort food! I mean really, all pumpkin recipes are perfect for fall!
Be sure to check out my other delicious muffins recipes; rhubarb muffins, peanut butter banana muffins, chocolate chip banana oatmeal muffins, and pear muffins! Muffins make the perfect on-the-go breakfast or snack!
One of my readers left this comment! I think she pretty much summed it up!
"These are my favorite muffins – ever. I have made them at least 10 times now, I figured I needed to leave a comment!! One of my kids is extremely picky and I can get him to eat veggies via a chocolate chip muffin 🙂 Win-Win! THANK YOU THANK YOU THANK YOU for this recipe. WE LOVE IT!" Marie
Why This Recipe Works
There are a few things that I love about this pumpkin muffin recipe over some of the other ones I've tried. I think you're going to fall in love with them too!
Quick and easy recipe! Grating and using a paper towel to wring zucchini is a pain. It gets stringy zucchini all over the cheese grater that's not easy to wash off. When you start grating zucchini it releases water and that water goes everywhere! I blend the zucchini for this recipe and it works perfectly! It also makes the recipe faster and easier to make! It's a great way to save time and effort!
Tried and true! These muffins turn out perfectly every single time. They are so much easier to make than zucchini bread because the baking time is shorter. It's also easier to get muffins to bake just right without a sinking top, which happens with quick bread recipes.
Customizable! It's easy to customize this recipe to your taste. I have some suggestions for you in just a minute!
Freezes well! These muffins taste just like fresh out-of-the-oven muffins even after they've been in the freezer. It's the perfect breakfast idea when you simply don't have time to make breakfast! I ALWAYS keep my freezer stocked with these muffins for busy mornings.
Ingredients
You will need basic pantry ingredients for this recipe. You'll also need zucchini. Let's talk about some options for substitutions just in case you do not have everything you need on hand.
Zucchini: You'll need about 2 medium-sized zucchinis
Pumpkin Puree: Be sure it's pumpkin puree, not pumpkin pie filling
Sugar: Granulated sugar and brown sugar
Large Eggs
Oil: Canola or vegetable oil are my favorites. You could also use olive oil.
Vanilla Extract
All-Purpose Flour: I haven't tried making this recipe with gluten-free flour. I have tried using half whole wheat flour and half all-purpose flour. They turned out great. The texture is a bit more dense.
Baking Soda
Salt
Spices: Ground cinnamon, ground nutmeg, ground cloves, ground ginger (or use pumpkin spice)
Chocolate Chips: Semi-sweet, milk chocolate, or mini chocolate chips.
How to Prepare Zucchini For Baking
Although shredding zucchini is the most popular way to prepare zucchini in a baked recipe, I've learned a little trick to make that whole process even easier! Fast and easy is the name of my game. It's how I survive from day to day!
Here's what you need to know to successfully blend zucchini instead of grating it.
1 cup shredded zucchini equals 5/8 a cup of zucchini puree. So, if the recipe calls for 1 cup shredded zucchini you need 1/2 a cup + 1/8 a cup of zucchini puree.
2 cups of shredded zucchini = 1 1/4 cup zucchini puree! See we are actually using all that 5th grade fraction practice!
I haven't tried to use pureed zucchini in cookies or savory recipes. I think it will add a lot of moisture and drastically alter the texture of the cookies.
However, I've substituted zucchini puree in cake, bread, and muffin recipes and it works great!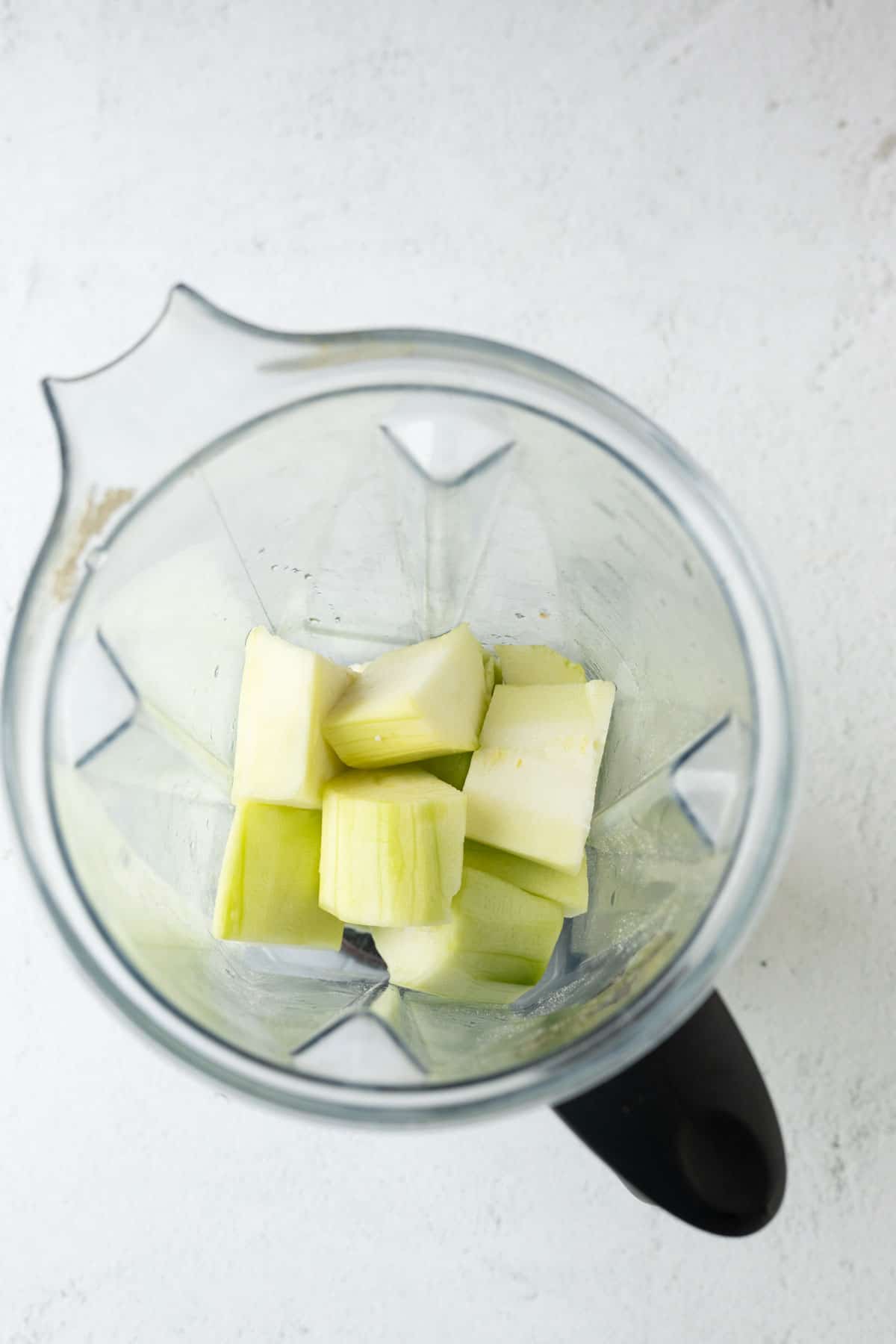 How to Make Pumpkin Zucchini Muffins
This recipe is a simple, basic zucchini muffin recipe. I did make it into a very easy pumpkin muffins recipe by using blended zucchini puree instead of grated zucchini. It works perfectly and saves so much time!
Let's talk about the instructions.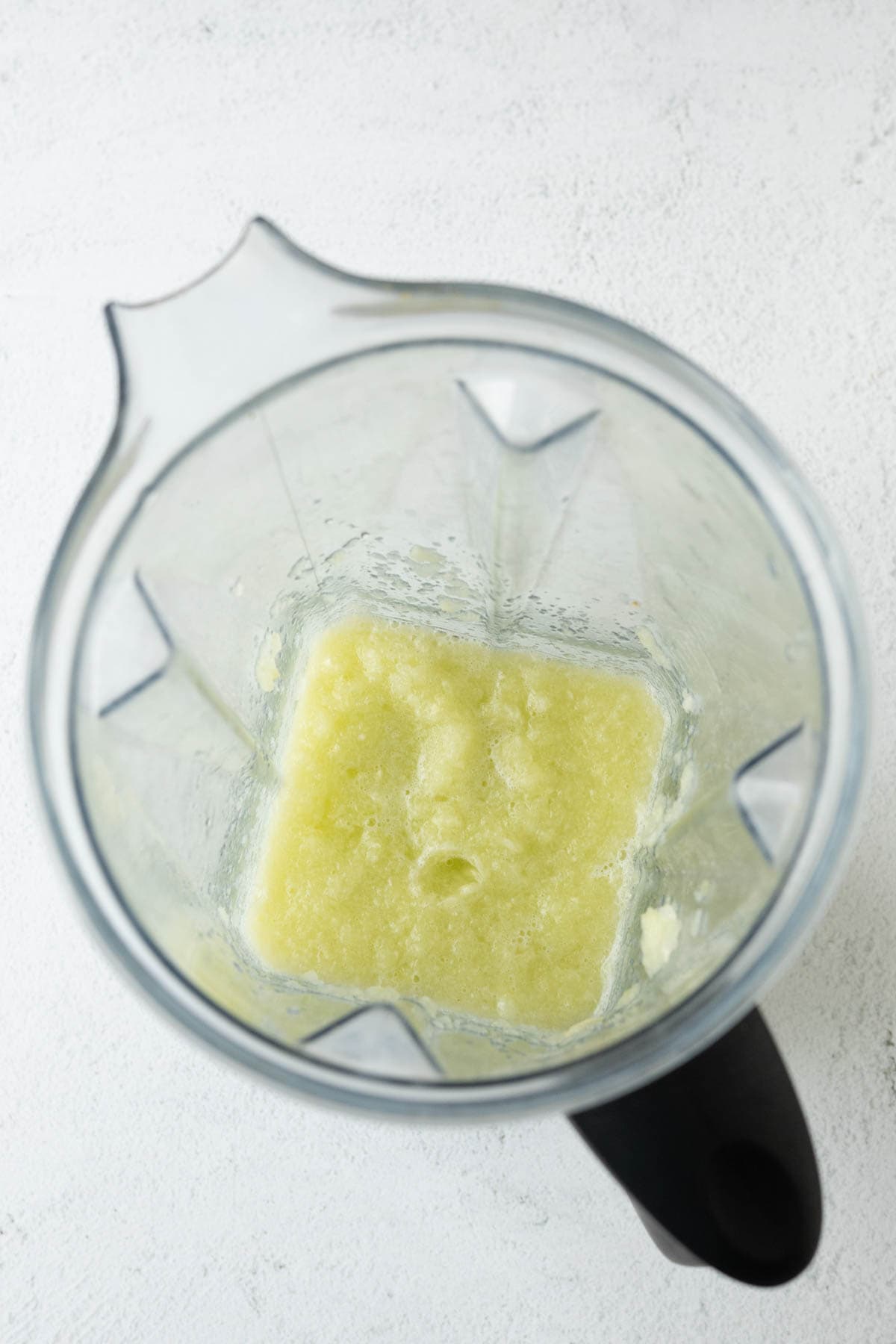 Step 1: Blend zucchini. You can peel the zucchini or leave the peel on. Leaving the peel on will make darker muffins. Cut the zucchini into chunks and add them to a food processor or blender. Blend until the zucchini is smooth and pureed. Set aside.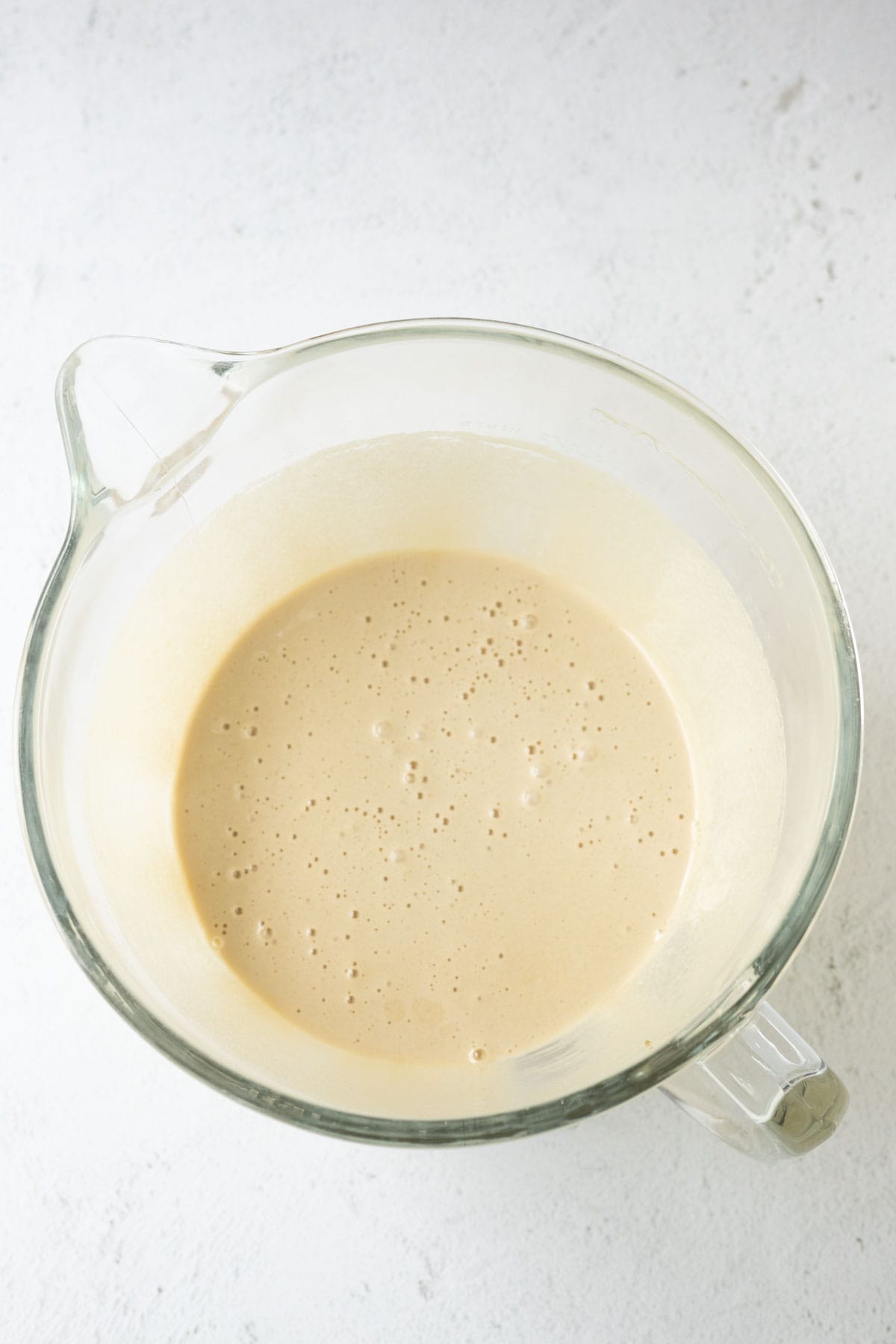 Step 2: Mix wet ingredients. In a separate bowl, beat eggs, sugar, and oil until light and fluffy. Add a cup of pumpkin puree, zucchini puree, and vanilla. Mix until combined. I use my Kitchenaid mixer for this recipe.
Step 3: Add dry ingredients. Add flour, soda, salt, and spices to the large mixing bowl. Add the dry ingredients to the wet ingredients and gently mix only until they are incorporated. It's okay if there are lumps and a few streaks of flour. You don't want to overmix.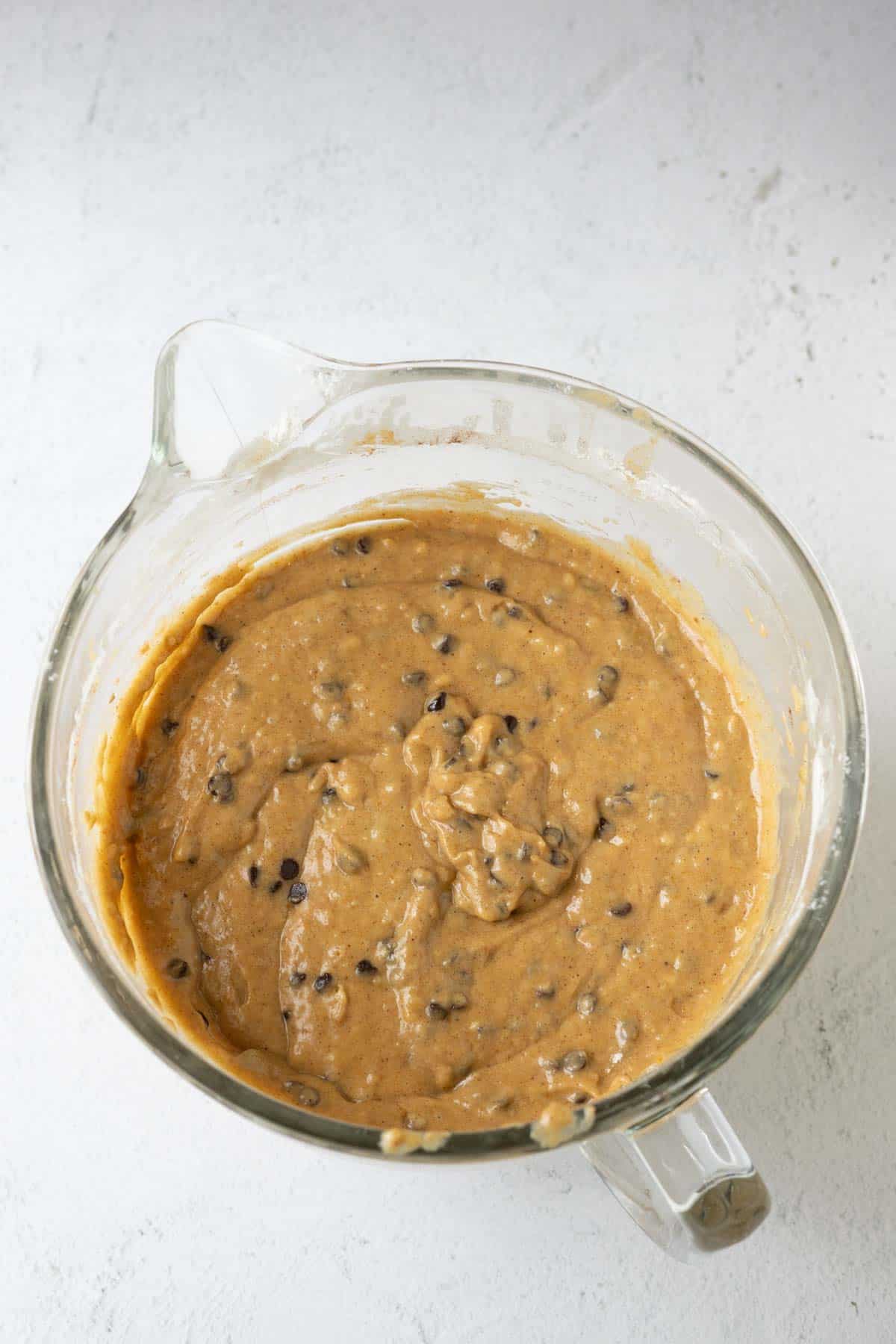 Step 4: Add chocolate chips. Fold in the chocolate chips.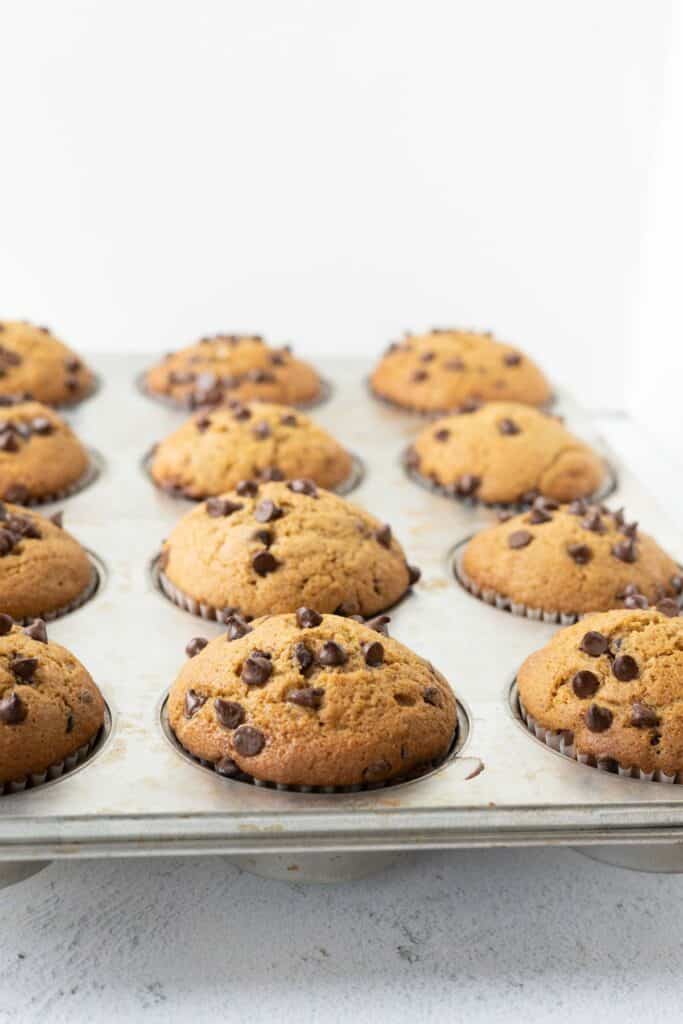 Step 5: Spoon and bake. Preheat the oven to 350 degrees. Let the batter rest while the oven preheats. Spoon the batter into a muffin pan with paper muffin liners, or use a muffin tin sprayed with cooking spray. Fill the muffin tins to a little over 2/3 full. Bake at 350 degrees for 18-20 minutes, or until a toothpick inserted into the center of a muffin comes out clean.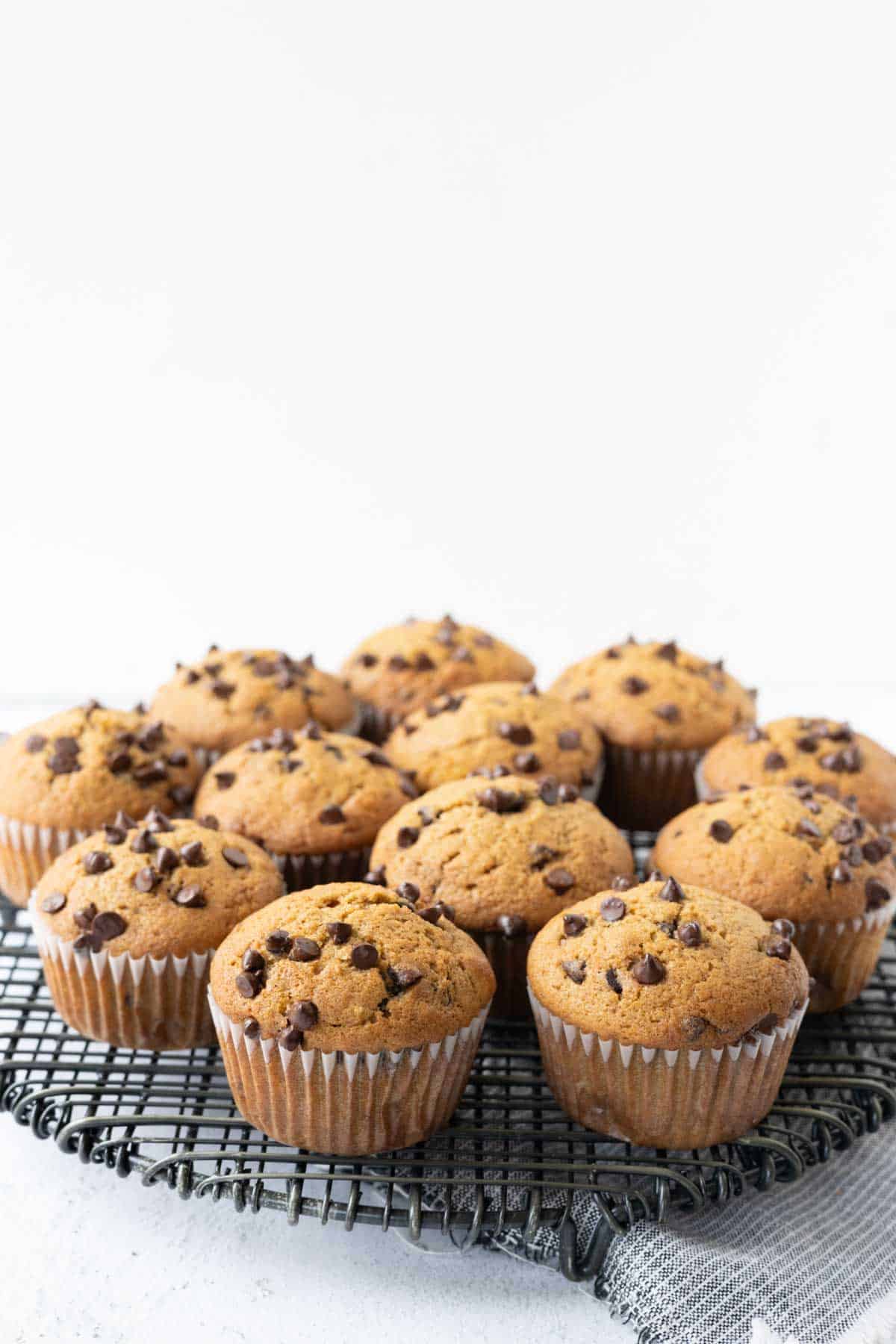 Step 6: Cool Muffins. Let the muffins cool in the tin for a few minutes before transferring them to a wire rack to cool completely.
I learned a few tips for getting bakery domed muffins from my friend Beth at The First Year Blog. Her muffins have the perfect domed top! You need to check out all of her yummy muffin recipes!
Fill the muffin cups all the way full. I like to use my 1/4 cup large cookie scoop.
Let the muffin batter rest for 10-15 minutes before baking.
Preheat the oven to 425 degrees and bake for 8 minutes, leave the muffins in the oven and reduce the oven temperature to 350 degrees and bake for another 8-10 minutes. Watch carefully because the muffins will bake faster than if you bake them at 350 degrees the whole time.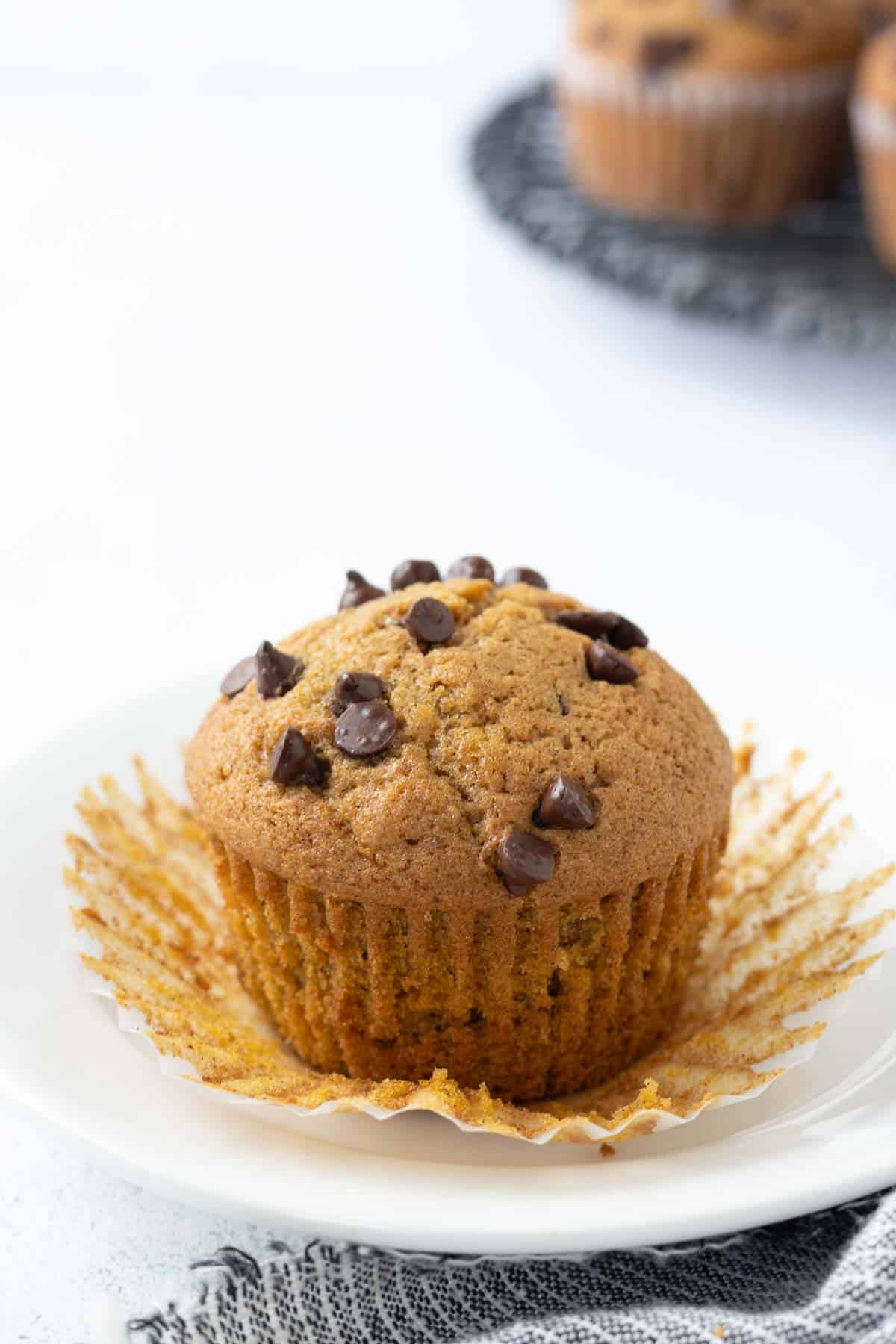 Tips for Success
Gentle Mixing: When combining wet and dry ingredients, mix gently until just combined. Overmixing can lead to dense muffins.
Uniform Baking: Fill the muffin cups evenly to ensure uniform baking and rising.
Toothpick Test: Insert a toothpick into the center of a muffin – if it comes out clean or with a few crumbs, they're done!
Cool Before Storage: Allow the muffins to cool completely before storing to prevent moisture buildup.
Variations
I really do love these muffins exactly as they are! If you want to experiment with them, here are a few ideas!
Nutty Crunch: Add chopped walnuts, pecans, or almonds for a delightful crunch and nutty flavor. Mix it in the batter or add to the top of the muffins.
Cream Cheese Frosting: Frost the tops of the muffins with a cream cheese frosting. The cream cheese frosting for my pumpkin cream cheese bars would be perfect.
Spiced Streusel: Top each muffin with a sprinkle of cinnamon-spiced streusel for added texture and flavor. See my rhubarb muffins recipe to see how to make a streusel topping. Or check out my cinnamon muffins to see how to make an oat crumb topping.
White Chocolate Chips: Use white chocolate chips instead of milk chocolate chips.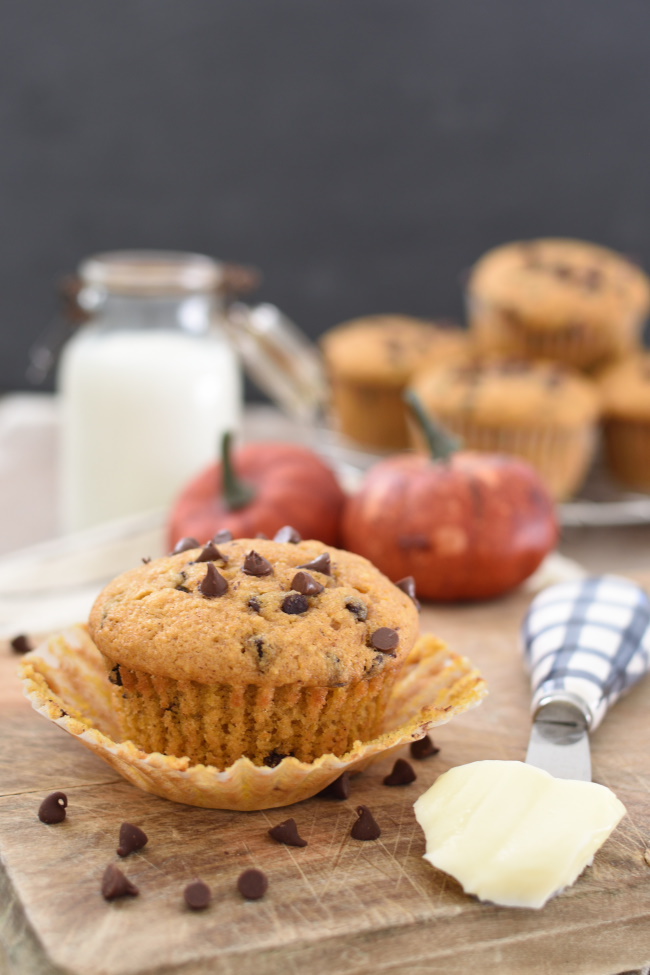 Storage Suggestions
To be honest, I have to make a batch of these muffins and stick them in the freezer without my family knowing about it, or there won't be any leftovers for freezing!
I LOVE freezing these muffins and popping them out for later. It's one of my go-to take-in treats for sharing with new moms, or friends that need something special!
Room Temperature: Store the cooled muffins in an airtight container at room temperature for up to 2 days.
Refrigeration: If you want to keep them for a longer period, refrigerate them in an airtight container for up to 5 days.
Freezing: These muffins freeze well! Wrap them individually in plastic wrap and store them in a single layer in a freezer-safe container or ziplock bag for up to 3 months. Thaw frozen muffins in the refrigerator or at room temperature.
Reheating: To make pumpkin zucchini muffins taste like you just made them, pop them in the microwave for a few seconds before serving. Slather them with butter and enjoy!
Can muffins be made into a loaf of quick bread?
Yes! It's easy to convert a muffin recipe into a loaf!
Because loaves of bread are thicker they will need longer to cook through. Decrease the oven temperature by about 50 degrees. Expect to bake a loaf of quick bread for about 60 minutes. You might want to also move the oven rack to the center position in the oven.
Depending on how many muffins you are making, and on how full the muffins will be will affect how many loaves of bread can be made from one muffin recipe. For most muffin recipes that produce 24 muffins you will be able to make one loaf and about 12 muffins. Be sure to bake the muffins for a shorter amount of time than the loaf!
FAQs
Can I use fresh pumpkin instead of canned pumpkin puree?
Absolutely! You can cook, puree, and cool fresh pumpkin to use in this recipe. Make sure it's well-drained to avoid excess moisture.
Can I substitute the vegetable oil with a different type of oil?
You can use melted coconut oil, butter, or even applesauce for a healthier alternative. Remember that this might slightly affect the flavor and texture of the muffins.
Do you have to take the seeds out of zucchini?
You don't need to take the seeds out of the zucchini, especially if the zucchini isn't too big. I prefer smaller zucchinis for baking because they have smaller seeds, more tender skins, and less water content.
Can I use frozen zucchini in baking?
It's easy to use frozen zucchini in baking, but I prefer to use fresh zucchini because it isn't as mushy and watery. Frozen zucchini has too much moisture. I prefer making zucchini muffins with fresh zucchini and freezing the bread rather than freezing shredded zucchini.
Other Zucchini Recipes
Once the zucchini in my garden is on I'm looking for a million ways to use it zucchini! Here are a few of our favorite zucchini recipes.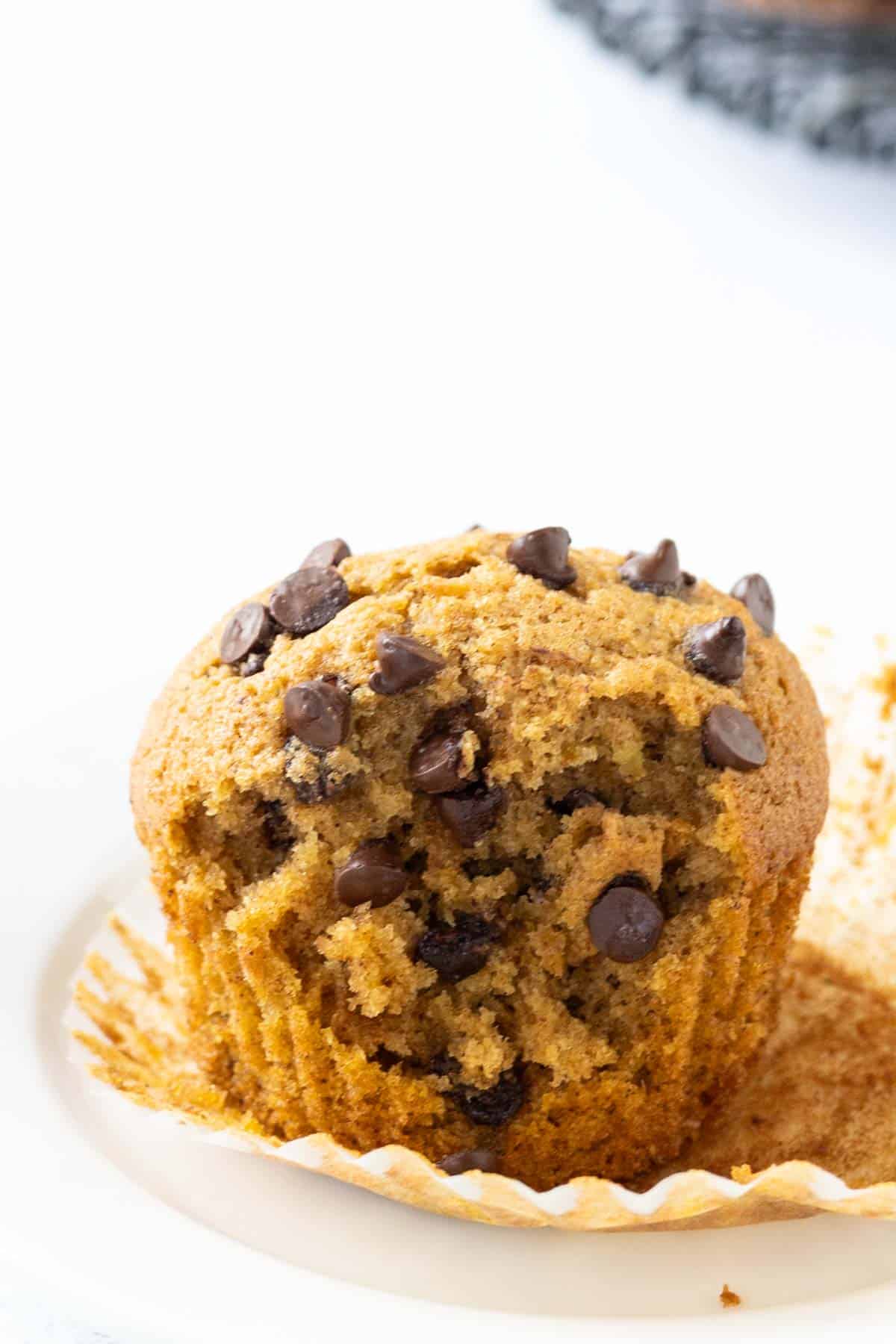 Pumpkin Zucchini Muffins are extra moist muffins, full of pumpkin spices, and studded with plenty of chocolate chips! Double this recipe and stick a few dozen in the freezer for breakfast, brunch, snacks, or even dessert later on!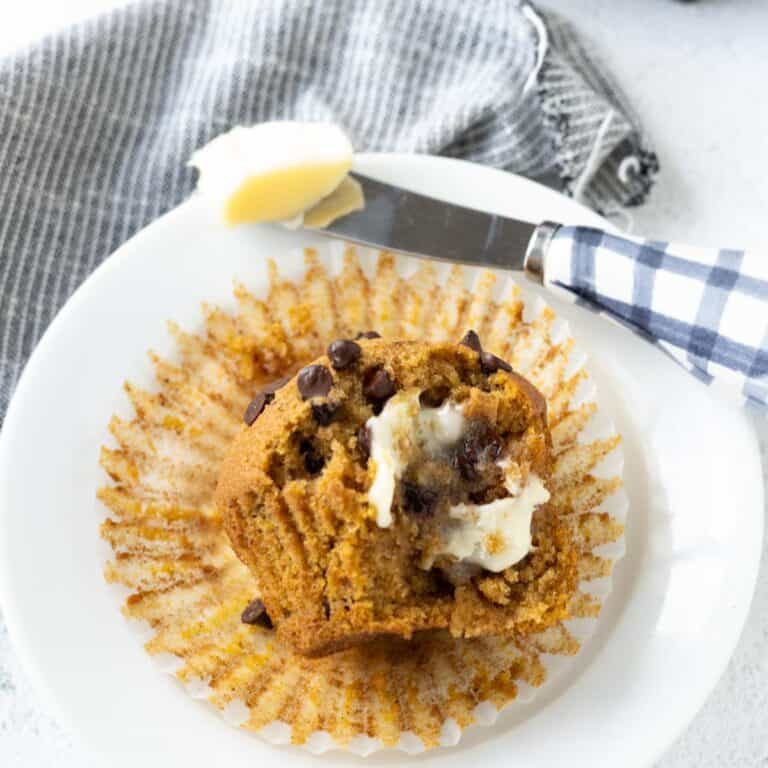 Pumpkin Zucchini Muffins
The best Pumpkin Zucchini Muffins are loaded with cozy fall flavors and chocolate chips! This recipe is really easy to make and creates an extra moist muffin!
Ingredients
3

whole

eggs

1

cup

granulated sugar

1

cup

light brown sugar

1

cup

pumpkin puree

1

cup

vegetable oil

1

Tablespoon

vanilla

1 1/4

cup

zucchini puree

or 1-2 cups shredded zucchini

3

cups

all-purpose flour

1

teaspoon

baking soda

1/2

teaspoon

salt

2

teaspoons

cinnamon

1

teaspoon

ground nutmeg

1/2

teaspoon

cloves

1/2

teaspoon

ground ginger

1 1/2

cups

mini chocolate chips
Instructions
Preheat oven to 350 degrees. (See notes to make a more domed muffin).

Peel and cut zucchini into chunks. Puree in a food processor or blender. Or, grate zucchini. Set aside.

Beat eggs and sugars until light and fluffy.

Add pumpkin, zucchini puree, oil, and vanilla. Mix again.

Add flour, baking soda, salt, cinnamon, nutmeg, ginger, and cloves to the pumpkin mixture. Gently mix only until combined.

Add the chocolate chips and stir. You can reserve a few chocolate chips to sprinkle over the tops of the muffins if you'd like.

Line muffin tins with paper liners. Using a 1/4 cup ice cream scoop or cookie scoop fill the paper liners.

Bake at 350 degrees for 18-23 minutes. Test for to see if they are done with a toothpick.

Cool in muffin tin for 5 minutes. Remove to a wire rack to continue cooling. Store in an airtight container for up to 3 days. Or freeze in a sealable bag for up to 3 months.
Notes
For more bakery domed muffins:
Fill the muffin cups all the way full. I like to use my 1/4 cup large cookie scoop.
Let the muffin batter rest for 10-15 minutes before baking.
Preheat the oven to 425 degrees and bake for 8 minutes, leave the muffins in the oven, reduce the oven temperature to 350 degrees, and bake for another 8-10 minutes. Watch carefully because the muffins will bake faster than if you bake them at 350 degrees the whole time.
Nutrition
Calories:
188
kcal
|
Carbohydrates:
38
g
|
Protein:
2
g
|
Fat:
3
g
|
Saturated Fat:
2
g
|
Polyunsaturated Fat:
0.1
g
|
Monounsaturated Fat:
0.03
g
|
Trans Fat:
0.02
g
|
Cholesterol:
2
mg
|
Sodium:
106
mg
|
Potassium:
70
mg
|
Fiber:
1
g
|
Sugar:
25
g
|
Vitamin A:
1628
IU
|
Vitamin C:
2
mg
|
Calcium:
29
mg
|
Iron:
1
mg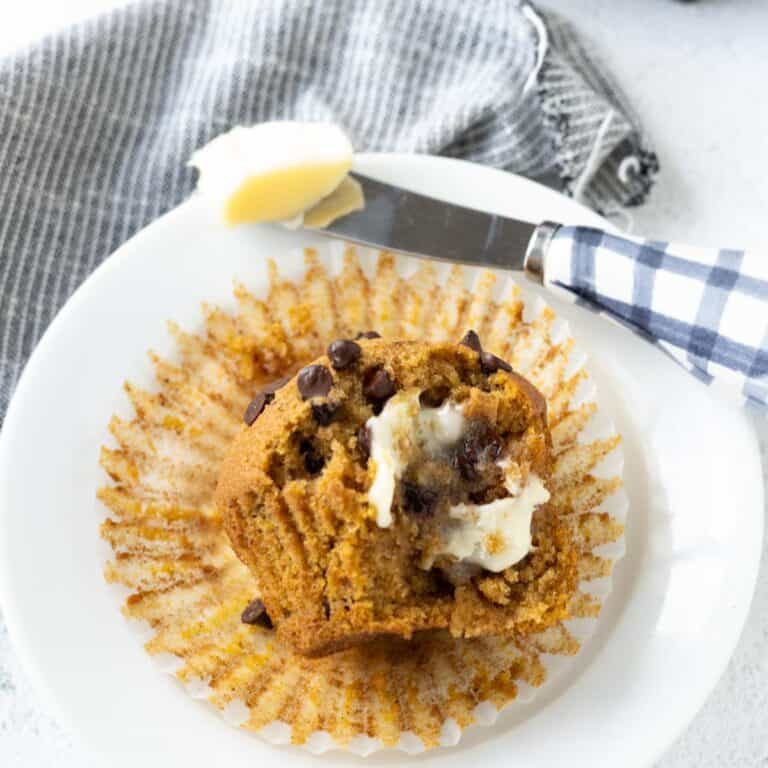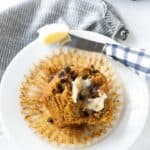 tried this recipe?
Make sure to share it with me! Leave a review or tag me on Instagram