Fluffy Whole Wheat Pumpkin Pancakes is an easy, one bowl recipe that takes ordinary pancakes and turns them into a cozy fall breakfast! They are thick, fluffy, and full of warm spices! Drizzle them with maple syrup, or top them with freshly whipped cream and a dash of nutmeg! Make extras to stick in the freezer for busy mornings!
Thanks to Nutrimill Harvest for sponsoring todays post! #HarvesttheGood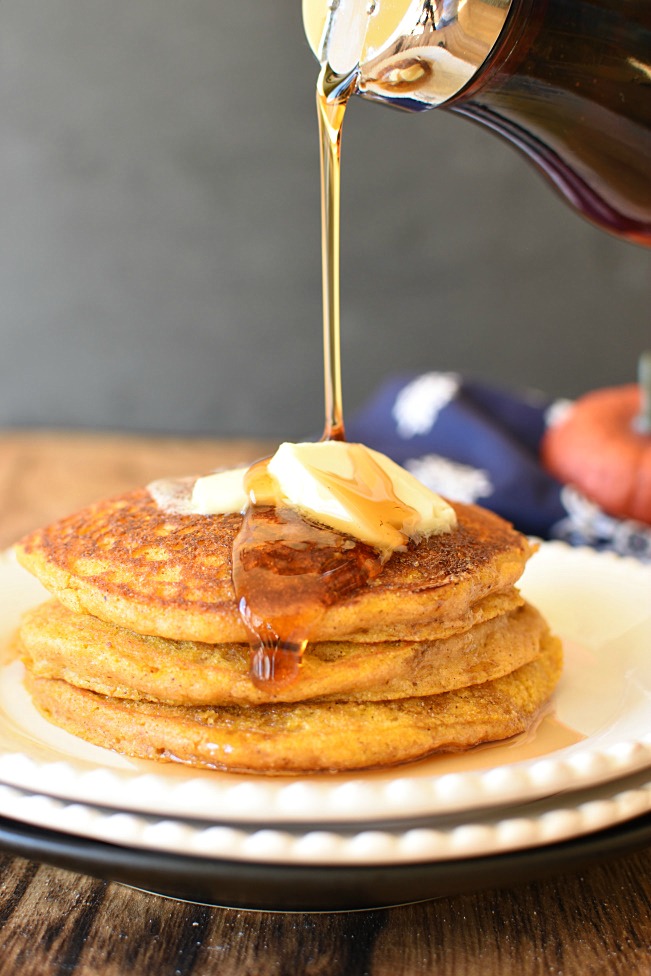 Here on the farm we LOVE breakfast! Of course we love breakfast for breakfast, but we also love it for dinner and even lunch! Yep, even lunch! My boys have access to microwaves at school and let me tell you that makes all the difference when you're trying to pack exciting lunches, because you know how boring sandwiches can get. Sometimes I throw a few pancakes in a container, pour syrup in a separate container, and call lunch done!
Whole Wheat Pumpkin Pancakes are the fluffiest, moist pancakes around! I'm totally in love with all the pumpkin spices tucked in there, and add mini chocolate chips from time to time which everyone goes crazy for.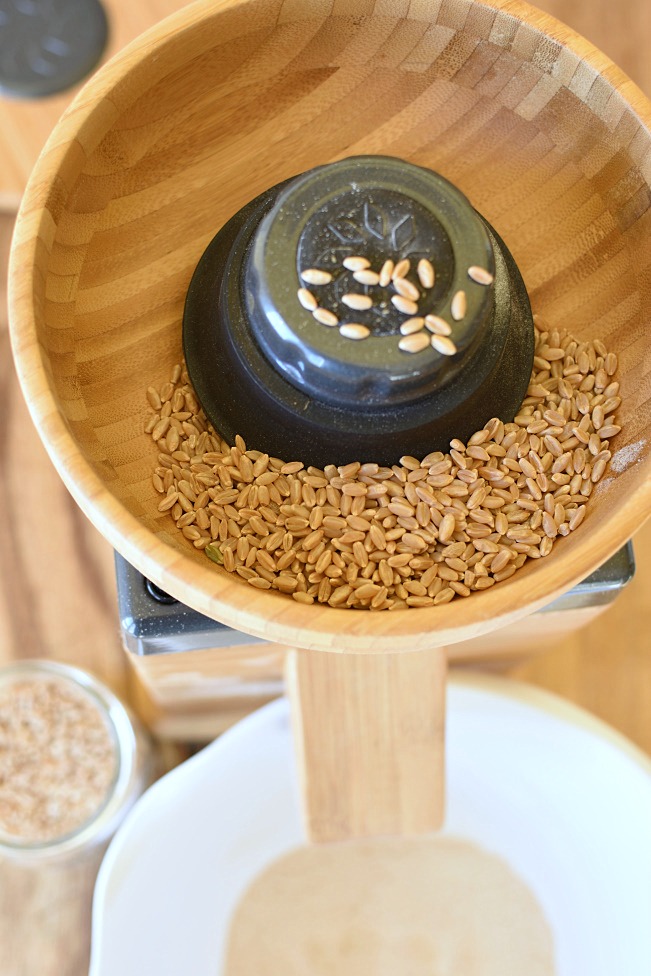 Have you ever ground your own wheat before? There's something magical about freshly ground whole wheat! It's warm, smells like bread, and transforms fresh-baked products into something amazing!
I've been grinding my own wheat for years, but the grinder I was using is a bit cumbersome so I never wanted to drag it out. Whenever I decided it was worth the hassle I ground enough wheat to last for a couple of months because I didn't want to get it out or clean the mess up.
When I saw this NutriMill Harvest I knew I wanted to try it! It's pretty enough, and small enough you can leave it on the countertop all the time. (It even comes in different colors so you get to choose a NutriMill that fits with your kitchen.) Friends, that means it's easy to get freshly ground wheat every time a you want to use it! Ahhh! No hassle, no fuss, no mess!
Christmas is right around the corner and if there's a baker on your list, this is the perfect gift! If your health conscious in the kitchen, you're going to love grinding your own wheat! Go check out the NutriMill Harvest (affiliate link) and see what you think! I'm pretty sure you're going to love it!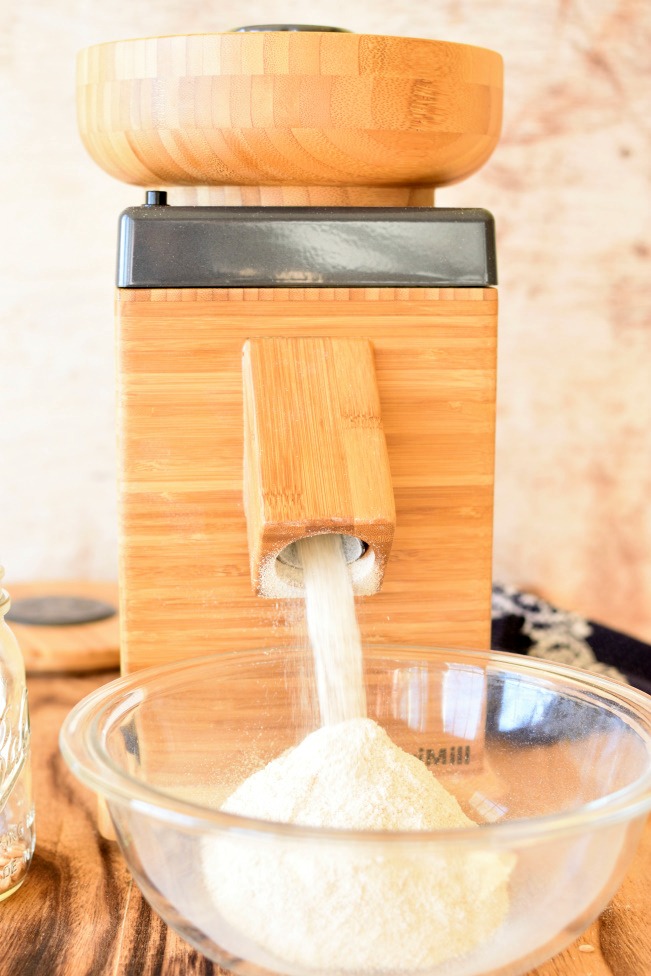 How to grind my own wheat?
My boys aren't super picky eaters, but they do turn their noses up at whole wheat. They turn their noses up if they know they're eating whole wheat! How do I trick them? Ground wheat needs to be as fine as pastry flour, no cracked wheat in this house! I can't pass course ground wheat off as white flour. I'm not that good!
Now, when I first tried the NutriMill Harvest I was not impressed. The flour came out far too course, and it got plugged up. I was frustrated because I really wanted this easy wheat grinding system to work for me.
Then, I did what I should have done in the first place, read the instructions and had my extra mechanical teenager help me with it. Now, you really don't need a team to help you set it up. It's all ready to grind wheat as soon as you get it.
After a few adjustments it was grinding pastry fine flour! What did I adjust? Turn the knob to change the texture of the grind. Easy right? So here's the thing. The machine needs to be running when you add wheat to it. And don't turn it off until all the wheat in the hopper is completely ground. No big deal, yet it's important to do it right or the machine will plug up.
Now we have it figured out I've been having so much fun grinding fresh whole wheat for everything from pizza crust, cinnamon rolls, muffins, and these Whole Wheat Pumpkin Pancakes! You guys it's so EASY!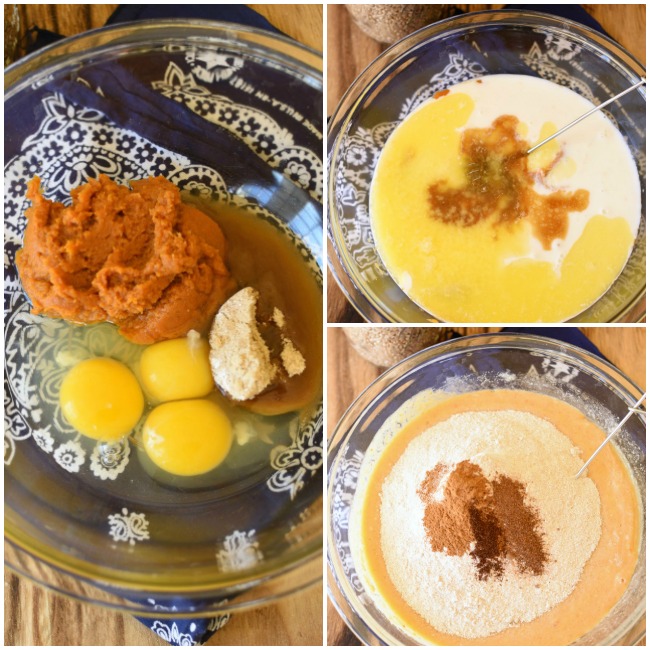 What's the difference between pumpkin puree and pumpkin pie filling?
Pumpkin puree and pumpkin pie filling are both sold in a can and look similar. But they are not the same thing and will produce completely different results.
Pumpkin puree is simply pumpkin that has been pureed. Pumpkin pie filling has spices (think cinnamon, cloves, nutmeg, etc) and sweetener added.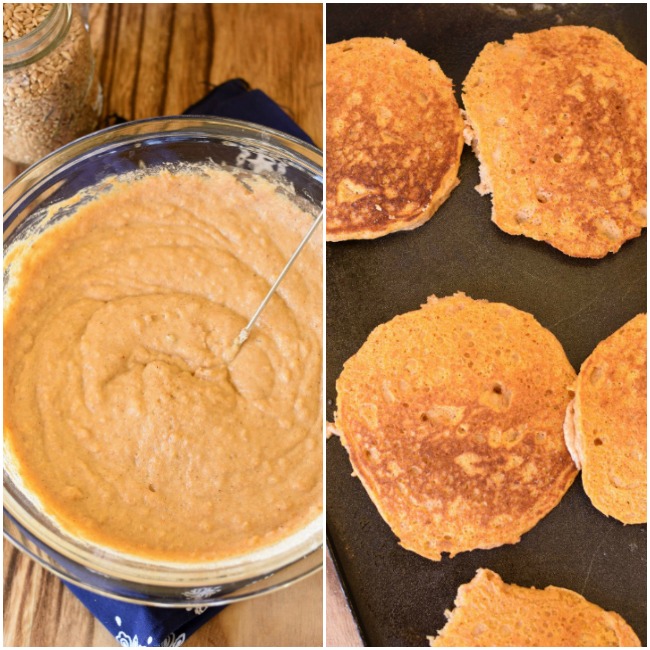 Why not over mix pancake batter?
Sometimes more isn't better. That's true when it comes to mixing pancake batter. Over mixing breaks gluten in flour down and makes more chewy, dense pancakes instead of light and fluffy ones.
How much should you mix pancake batter. Mix it until there aren't anymore white streaks of flour. Lumps are okay though.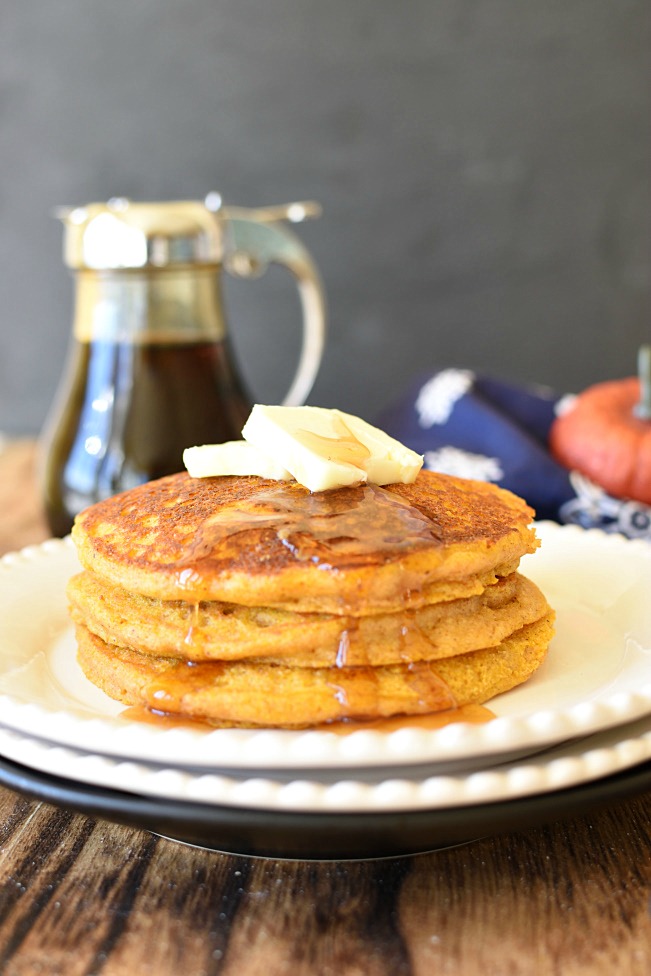 Can I freeze Whole Wheat Pumpkin Pancakes?
Heck yes! I'm pretty much the leftover queen!
Whenever I make pancakes I always make extras to keep in the fridge, or throw in the freezer for later. Now that's how I make breakfast a reality, or make dinner happen even on the busiest days!
How to warm up frozen pancakes? There are lots of ways to do this. The fastest and easiest way is to stick them in the microwave for a bit. You can also put them on an oven proof pan, or plate and warm them in the oven. I prefer the microwave because they can dry out a bit in the oven.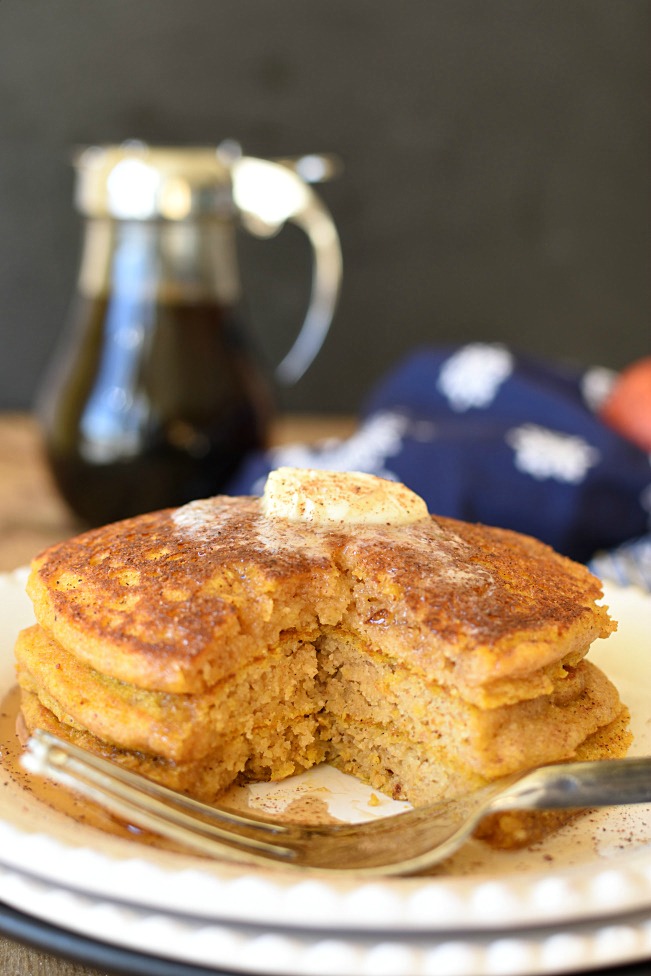 Check out how thick, moist, and fluffy those pancakes are! They are heaven with plenty of butter, real butter please, and lots of warm maple syrup!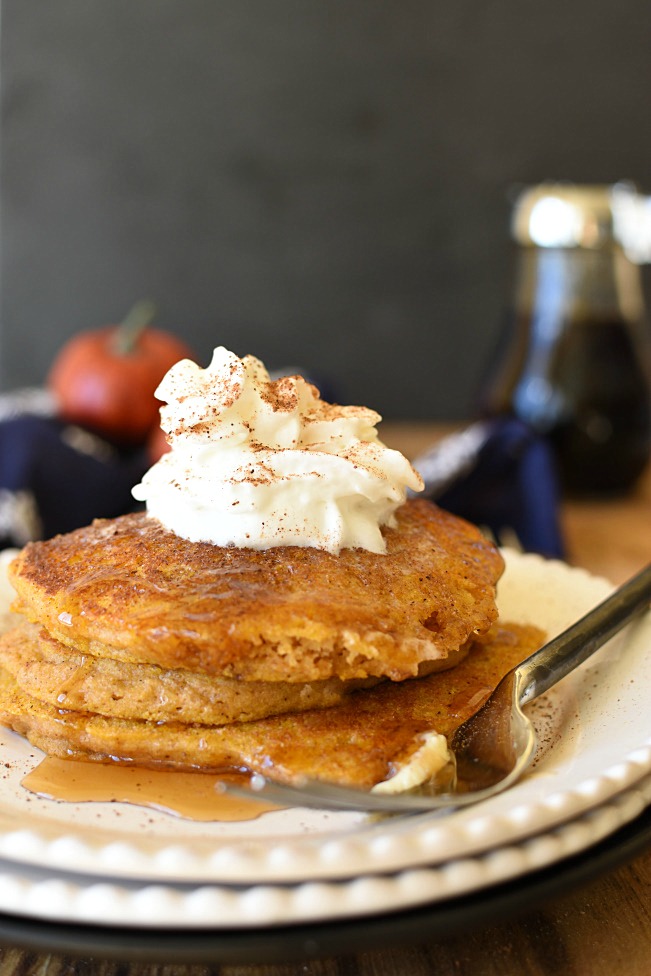 If you want to these Pumpkin Pancakes to give a little nod to pumpkin pie top them with freshly whipped cream! Now that's a breakfast!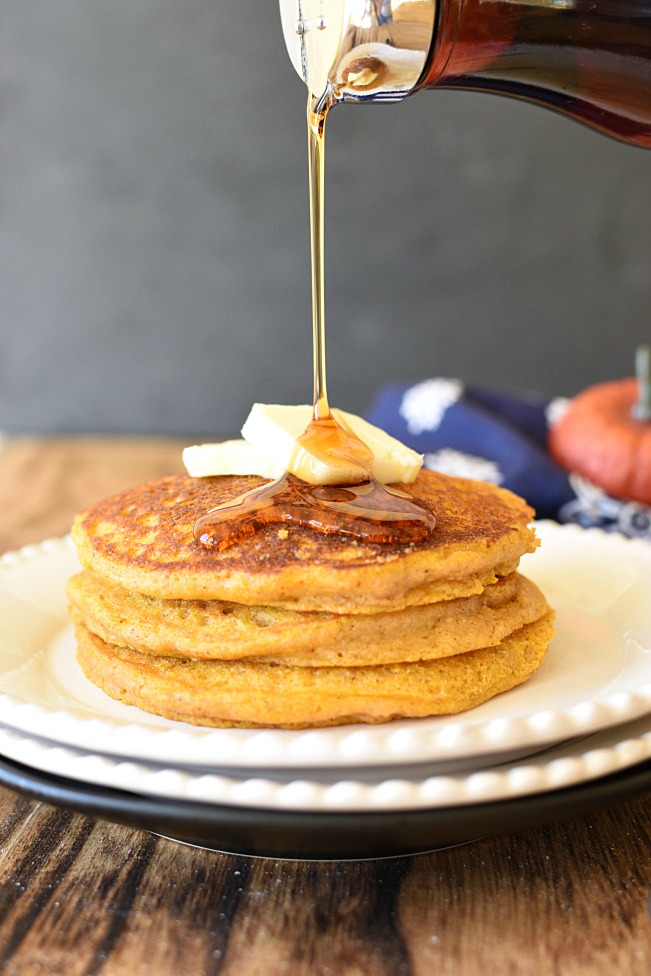 Grab the Whole Wheat Pumpkin Pancake recipe!
Be sure to pin this recipe so you'll be able to find it later! Happy breakfast, lunch, dinner, leftovers, or whatever you meal you want to eat these pancakes for!
Whole Wheat Pumpkin Pancakes
Whole Wheat Pumpkin Pancakes is a simple, one bowl recipe. They have all the cozy pumpkin pie spices all wrapped up in fluffy buttermilk pancakes! Drizzle them with maple syrup, or top them with whipped cream!
Ingredients
3

eggs

1/3

c.

brown sugar

1/2

c.

pumpkin puree

1/3

c.

butter

melted

1 1/2

c.

buttermilk

1/2

c

milk

plus extra for to thin pancakes if needed

2

tsp.

vanilla

2

c.

whole wheat flour

2

Tbsp.

baking powder

1/2

tsp.

salt

1

tsp.

cinnamon

1/2

tsp.

nutmeg

1/4

tsp.

ground cloves

butter for cooking pancakes
Instructions
In a large mixing bowl whisk eggs, brown sugar, and pumpkin puree together.

Add buttermilk, milk, melted butter, and vanilla. Whisk together.

Add flour, baking powder, salt, cinnamon, nutmeg, and cloves to mixing bowl. Whisk until combined, but be careful not to overmix. If pancakes are too think add additional milk until desired consistency.

Heat skillet or griddle to medium hot. Spread butter over surface of skillet. Drop 1/4 cup of pancake batter onto griddle. Cook until the edges start to get firm, check the bottom side to see if it's golden brown. Flip pancakes and repeat on the other side.

Serve with butter and maple syrup or with a freshly whipped cream and a sprinkling of nutmeg!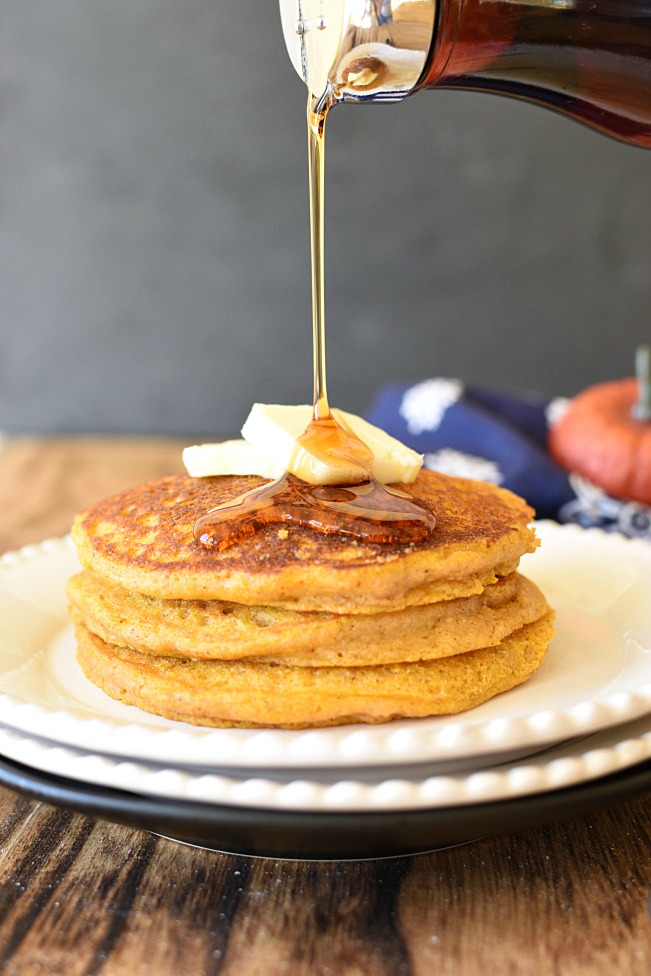 tried this recipe?
Make sure to share it with me! Leave a review or tag me on Instagram