Pumpkin Cream Cheese Baked French Toast is everything you love about pumpkin pie and cheesecake in one scrumptious breakfast! Throw it together, let it hang out in the fridge overnight, and bake it in the morning! Top it with your favorite toppings to make it extra special!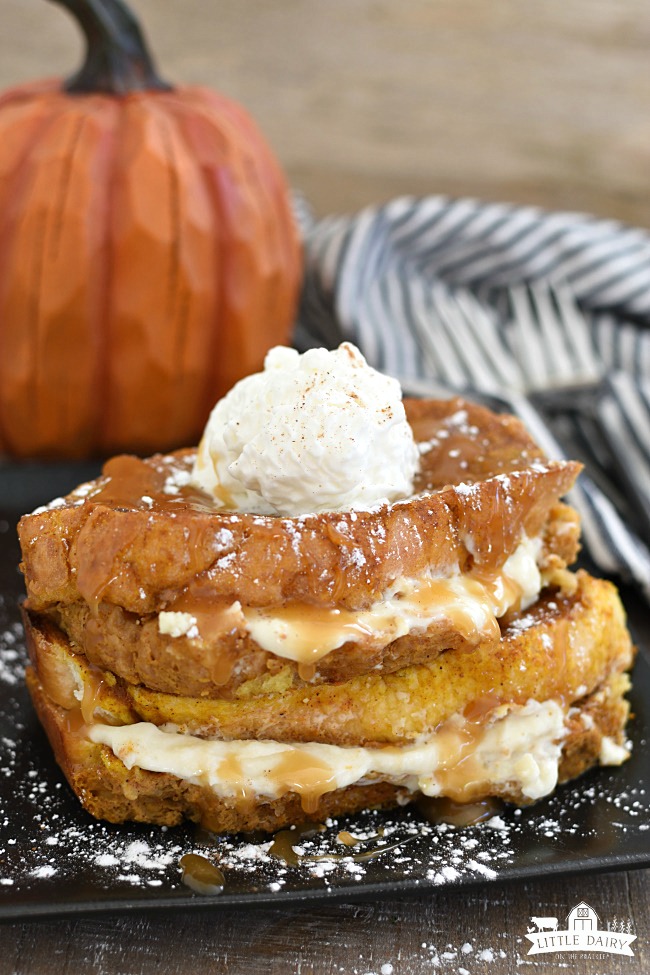 You guys are in for a treat today! I'm so excited to share this Pumpkin Cream Cheese Baked French Toast recipe with you for three reasons!
I LOVE it, and I have a feeling you are going to love it too! Cheesecake is one of my favorite foods in the whole world. When it's camouflaged as breakfast and I get to eat it first thing in the morning, I'm a happy girl!
Did you catch the part about it being made ahead of time? All that's left to do in the morning is grab it out of the fridge and bake it up! I don't know about you, but that's my kind of breakfast!
It's easy to make this breakfast recipe big enough to feed and army, or small enough for just a few people! With the holidays coming up I'm guessing you just might have a few extras to feed. I've got you covered at least for breakfast with baked french toast!
Okay, can we do four reasons please? It's also a popular breakfast for dinner option around here! Brinner doesn't get any easier than this! Besides that, you don't even have to make dessert with this one!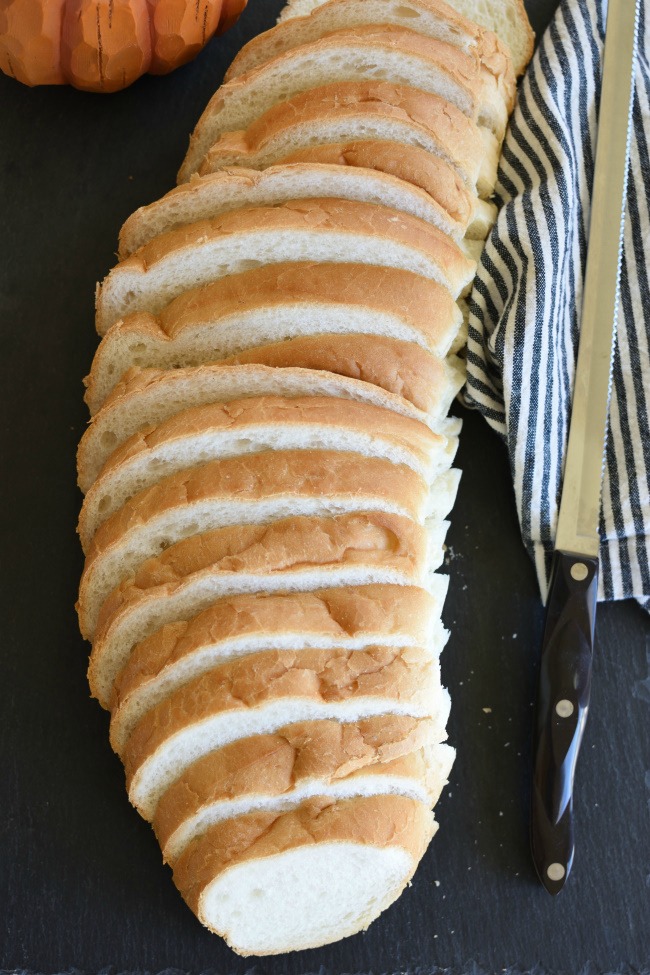 What's the best bread for making French toast?
Let's talk for just a minute about that!
My very favorite bread, and pretty much the only bread I use, for making French toast is French bread from the grocery store. Most of the time it's on sale for 99 cents, sometimes up to $1.50. That's super inexpensive! Remember when I said this pumpkin french toast is perfect for feeding to crowds? Not only because it's easy and can be made ahead of time, but because it's CHEAP! Extra budget friendly here!
Being able to slice it myself allows me to choose thickness I like for my French toast. If I'm making classic French toast I slice it a little thicker. For stuffed French toast slicing it thinner works better since each serving will end up with two slices of bread.
Store bought French bread gives French toast the best consistency ever! It's soaks up just the right amount of milk/egg mixture. It's never too soggy, and just as important the crust is perfect!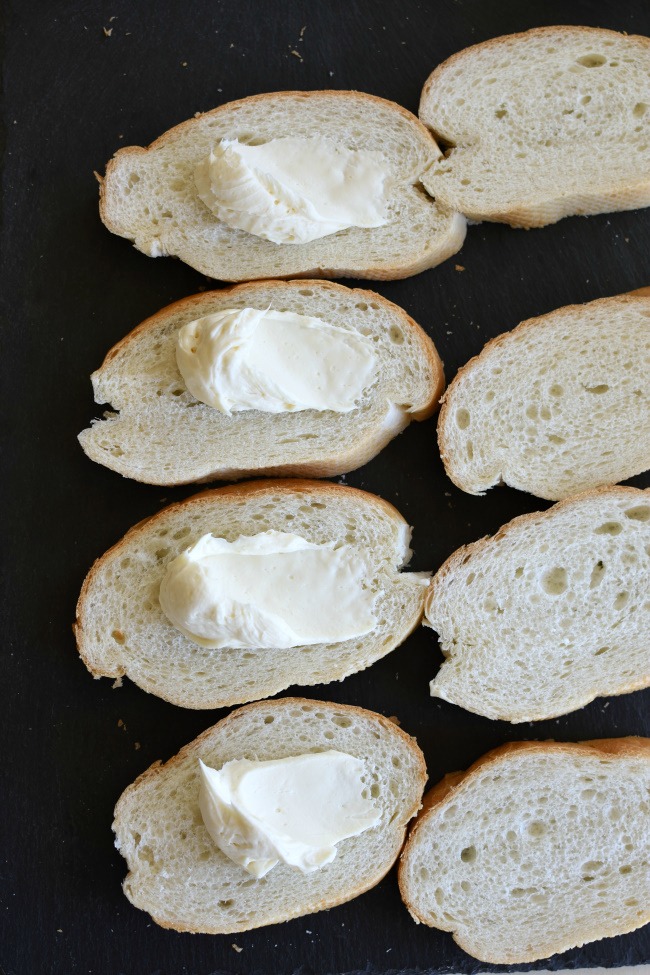 How do I let cream cheese come to room temperature?
The best way is to let the cream cheese sit on the counter for about 30 minutes to allow it to come up to room temperature. If you're short on time, cut the block of cream cheese into smaller chunks and spread them apart from each other. It will warm up a little faster because it's smaller pieces.
Using the microwave works too. I always remove cream cheese from the package and defrost it in the microwave. The defrost function instead of the cook function brings it to room temperature slowly. Using the cook function it is risky because it's easy to over cook it and you end up with warm, runny cream cheese.
Regardless of how you get it to room temperature this cream cheese filling is out of this world! Trying not gobbling the whole thing up with a spoon is an opportunities to practice some serious self-control! I failed!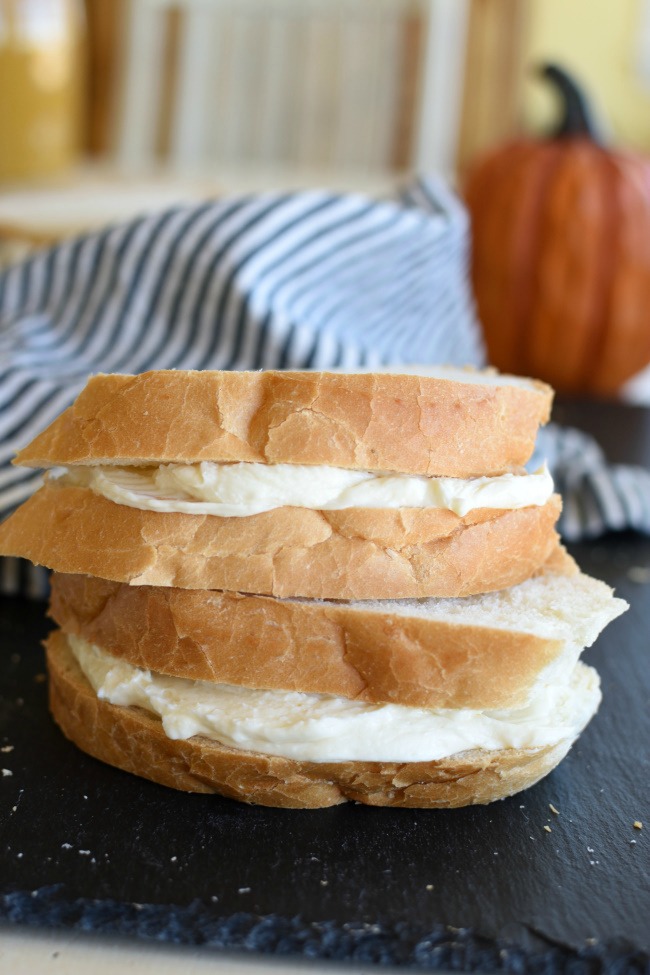 This cream cheese filling is my go to stuffed French toast filling. My friend Becki shared it with me many years ago and I've been using it ever since! Try it with fresh raspberries, sliced strawberries, chocolate sauce, or whatever else your heart desires!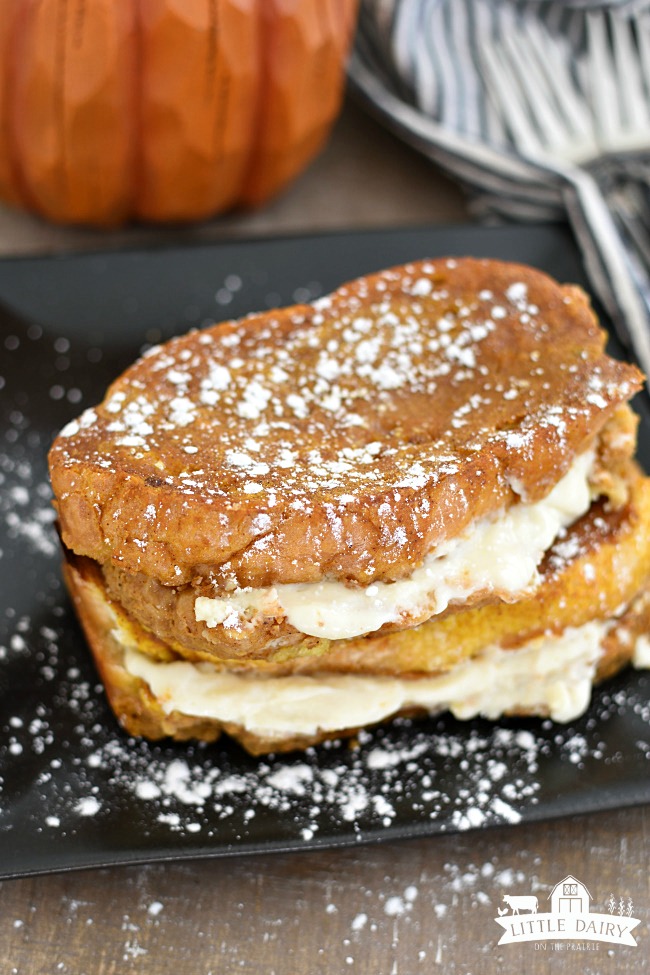 What other options are there for topping French toast and pancakes besides maple syrup?
Is topping your pancakes, waffles, and French toast with maple syrup getting old and boring? Well, maple and pumpkin happen to work really well together and are amazing on this french toast.
There are a million ways to go here. Of course dusting them with powdered sugar makes them look gorgeous.
This breakfast is already pretty sweet and adding a little whipped cream helps cut some of the sweetness.
Or, you can go completely overboard and add caramel sauce, which is actually down right tasty! Sprinkle a few chopped pecans on and it's really over the top!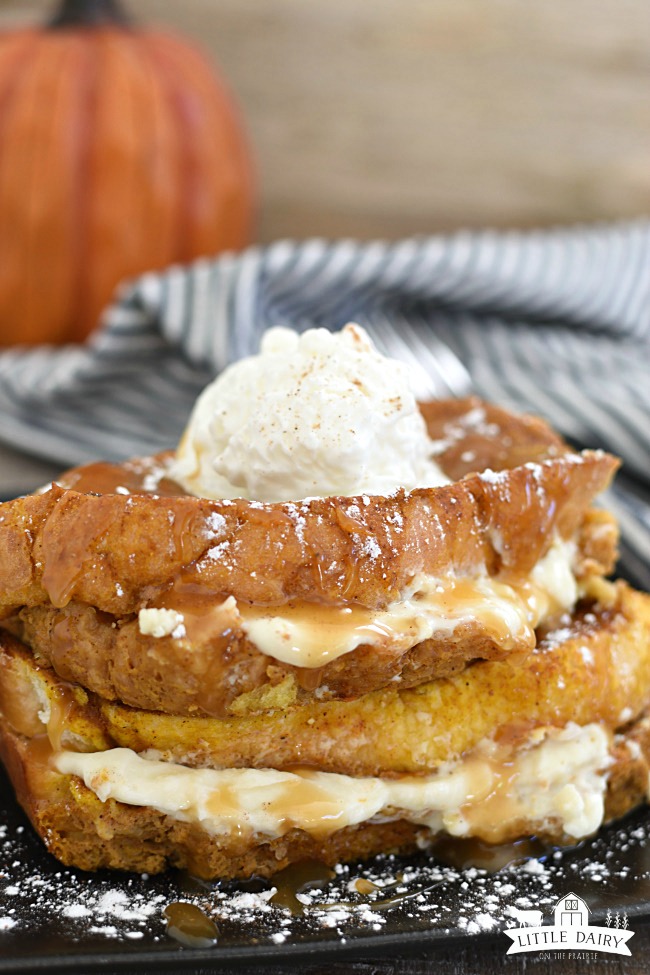 Holy cow! Pumpkin Cream Cheese Baked French Toast is a mouthful of a name! It's absolutely, hands down one of my favorite breakfasts! There is decadent cheesecake filling sandwiched between golden brown french toast, all baked up in the most amazing pumpkin spices! It's out of this world!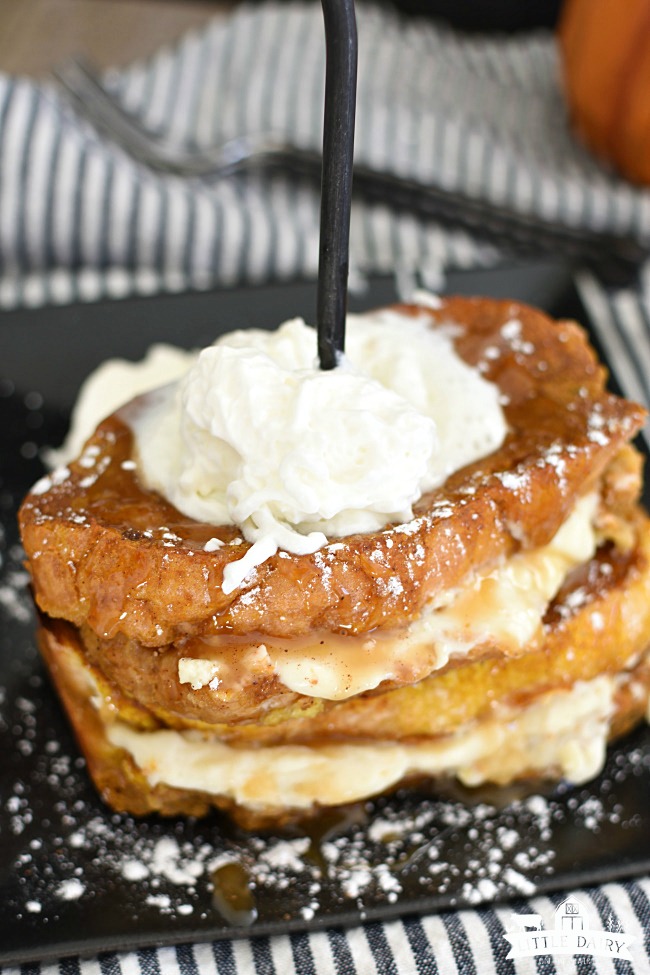 Grab the recipe!
Add this Pumpkin Cream Cheese Baked French Toast to your holiday menu, your every day breakfast menu, and even your dinner menu!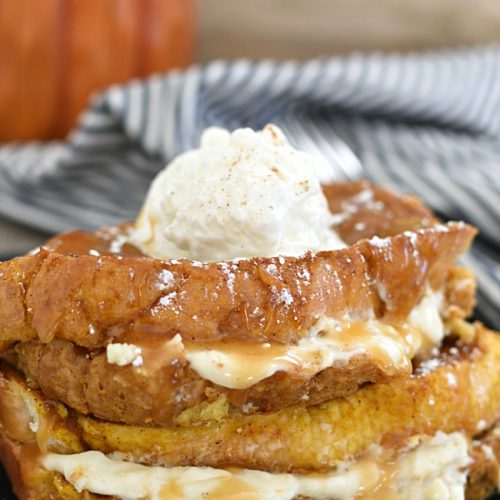 Pumpkin Cream Cheese Baked French Toast
Pumpkin Cream Cheese Baked French Toast is everything you love about pumpkin pie, cheesecake, and French toast in one scrumptious breakfast! Make it ahead of time, let it sit in the fridge, and all that's left is baking it and topping it with freshly whipped cream! Enjoy your morning!
Ingredients
1

loaf

French bread

sliced

2

Tbsp.

butter
Cream Cheese Mixture
1

8 oz. pkg.

cream cheese

room temperature

1/3

c.

powdered sugar

1

tsp.

vanilla

dash

salt
Pumpkin Mixture
4

lrg.

eggs

1

c.

half and half

1/3

c.

granulated sugar

1/4

tsp.

salt

1

tsp.

ground cinnamon

1/2

tsp.

ground ginger

1/4

tsp.

ground nutmeg

1/4

tsp.

ground cloves

1/2

c.

pumpkin puree
Instructions
Cream Cheese Mixture
Beat cream cheese until smooth. Add powdered sugar, vanilla, and salt. Set aside.
Pumpkin Mixture
In a separate bowl beat eggs. Add half and half, granulated sugar, salt, and all the spices. Mix together.
Assembling French Toast
Spray 9 x 13 baking sheet with nonstick baking spray. Set aside.

Slice French bread into about 16 slices. Divide cream cheese mixture and spread over 8 slices of bread. Top each with a second piece of bread.

Set cream cheese stuffed French toast in prepared baking dish. It might be a little bit tight and you might have to squish them to get all the french toast to fit. It's okay!

Pour pumpkin/egg mixture over French toast. Slice butter and set on top of each French toast. Let sit for a few minutes then flip each French toast over

Cover French toast with plastic wrap or aluminum foil and regrigerate overnight.
Baking Instructions
Pre-heat oven to 400 degrees.

Bake uncovered for 25-30 minutes, or until golden brown and baked though.
Notes
French toast may be baked without letting it sit overnight. Assemble French toast and pour pumpkin/egg mixture over it. Let it sit for 30 minutes then flip each French toast over and top with sliced butter. You will most likely need to adjust the baking time to around 20 minutes. It should bake a little faster because they ingredients won't be as cold as they would be if they came straight out of the fridge.
Substituting evaporated milk in place of half and half is perfectly fine in this recipe!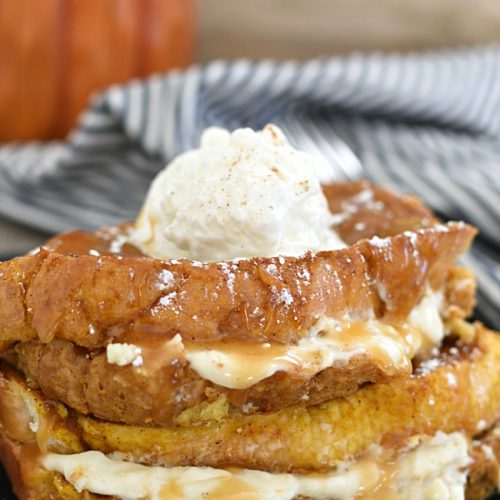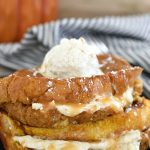 tried this recipe?
Make sure to share it with me! Leave a review or tag me on Instagram