Everything about Fresh Creamy Tomato Soup is just right. Everything from the fresh tomatoes and onions to the most savory blend of seasonings! I seriously crave this hearty and pretty soup!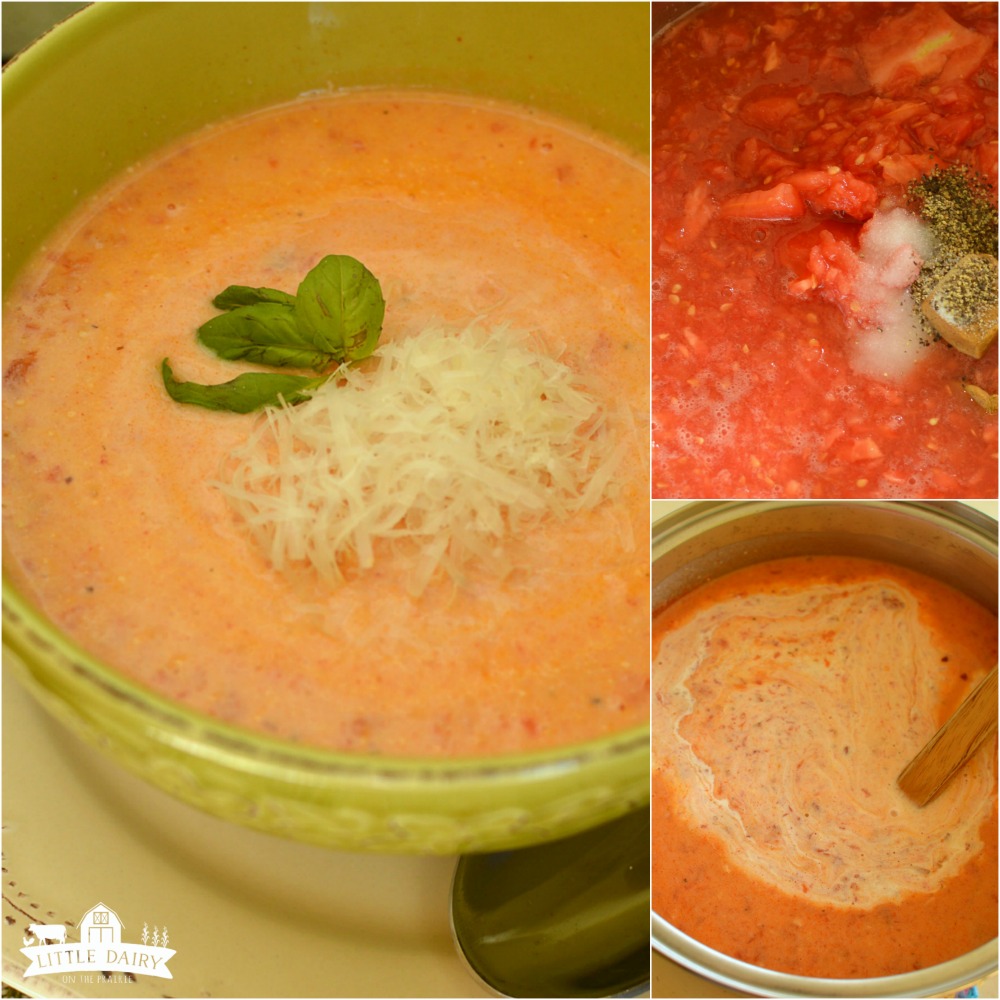 Soup is one of my all time favorite foods! It's the perfect comfort food! I have been looking for the perfect tomato soup recipe for a while now. My sister-in-law makes a killer creamy tomato soup. One of my favorite restaurants serves a chunkier tomato soup that is out of this world good. (I may or may not order it in July) I have been trying to recreate it for sometime now. First of all, I tried making it taste like their soup and making it healthy. I soon discovered that it tastes good for a reason! It's all the heavy cream. I tried again after I harvested all my tomatoes and finally ended up with the soup I was dreaming of! Warm your family up this fall with Fresh Creamy Tomato Soup!
First of all, scald some clean fresh tomatoes. Scald them just long enough to make it easy to remove the skins.
I used Roma tomatoes because that's what I harvested from my garden. Besides that I wanted a little bit meatier tomato, and that's a Roma.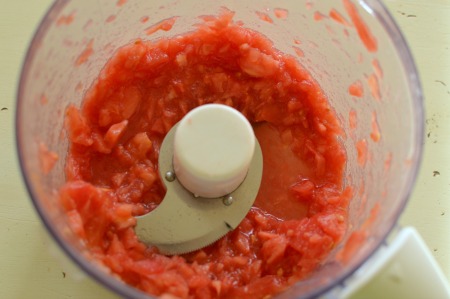 Peel tomatoes. Put a couple handfuls at a time in a food processor. Pulse. Little chunks are perfect in this soup.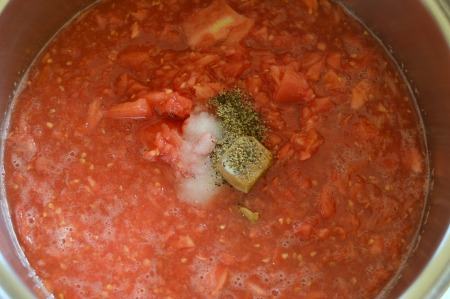 Pour tomatoes in a 6 quart pan. Add bullion cubes, salt, pepper, season salt, and red pepper flakes. Oh ya, and sugar. It balances out the acidity in the tomatoes.
Let all of this simmer over medium heat for about 20 minutes. Keep stirring it.
While all of that is simmering…saute some diced onions in butter until they get a nice golden color and are tender. Once they are done, add them to the tomatoes.
Don't let your kid help you with this part. They will surely dump the flour in the pan before it's time. Oh well, he gave me a little kiss because he did it. Totally worth it!
This is what you are supposed to do. Make a basic roux. Melt butter. Add flour. Stir and let simmer for a minute. Slowly add milk whisking to make sure you don't get any lumps. Continue to simmer until thickened.
Once the basic white sauce is thickened pour it into the tomatoes.
Note: If you can't imagine tomato soup with chunks in it, you feel the same way about soup as my middle child does! In that case, puree the tomato/onion mixture before adding the white sauce.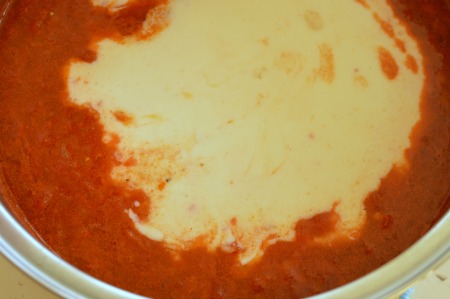 Stir the white sauce into the tomato mixture. Heat together. Add cream and half and half. Stir.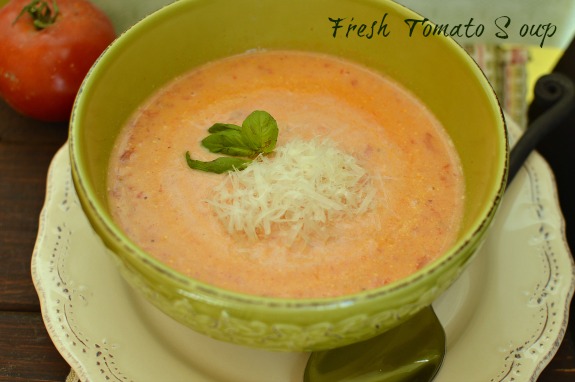 This soup is divine served just the way it is. If you feel like getting all fancy you can serve it with grated Parmesan Cheese, sliced scallions, fresh basil, or croutons. Or you can go the traditional route and serve Fresh Creamy Tomato Soup right along side a grilled cheese!
I'm not even lying to you, not even one little bit, when I tell you Fresh Creamy Tomato Soup is by far my favorite soup ever! I do love other soups like Ranch Potato Soup, Creamy Southwest Chicken Soup, Creamy Chicken and Tortellini Soup, and Cheesy Chicken Gnocchi Soup, but this soup…it will always be my first love!
Fresh Tomato Soup
This creamy soup is unique because it has a fresh diced tomatoes and onions. The perfect blend of seasonings make it extra flavorful!
Ingredients
8

cups

tomatoes

peeled and chopped

2

chicken bouillion

1

tsp.

salt

1/2

tsp.

season salt

1/2

tsp

pepper

1/4

tsp.

crushed red pepper flakes

2

T.

sugar

1/2

c.

onion

finely diced

2

cloves

garlic

minced

6

Tbsp.

butter

divided

4

T.

flour

4

cups

milk

1

cup

half and half

1

cup

heavy whipping cream
Instructions
Scald tomatoes. Remove skins from tomatoes. Pulse in food processor to chop until diced.

Add tomatoes, all seasonings and sugar to large pot. Gently simmer for 20 minutes.

Saute onions in 2 Tablespoons butter until onions are tender. Add garlic during last minutes of sauteing. Once onions and garlic are tender add to tomatoes.

Melt remaining 4 Tablespoons butter in sauce pan. Add flour and stir together. Continue to cook over medium heat for a minute. Gradually add milk. Whisk to make sure there aren't any lumps. Continue cooking until thickened.

If you don't like chunks of tomatoes and onions in your soup, puree the tomato mixture. It's really good with hearty chunk's though!

Add white sauce to tomato mixture. Heat through.

Add half and half and cream. Stir together.

Serve warm.

Garnish with Parmesan Cheese or fresh basil.
tried this recipe?
Make sure to share it with me! Leave a review or tag me on Instagram