Parmesan Grilled Cheese is everything you love about grilled cheese and garlic bread mixed into one amazing sandwich! It has the BEST crispy parmesan crust on the outside and plenty of gooey cheese on the inside! This will become your new favorite comfort food!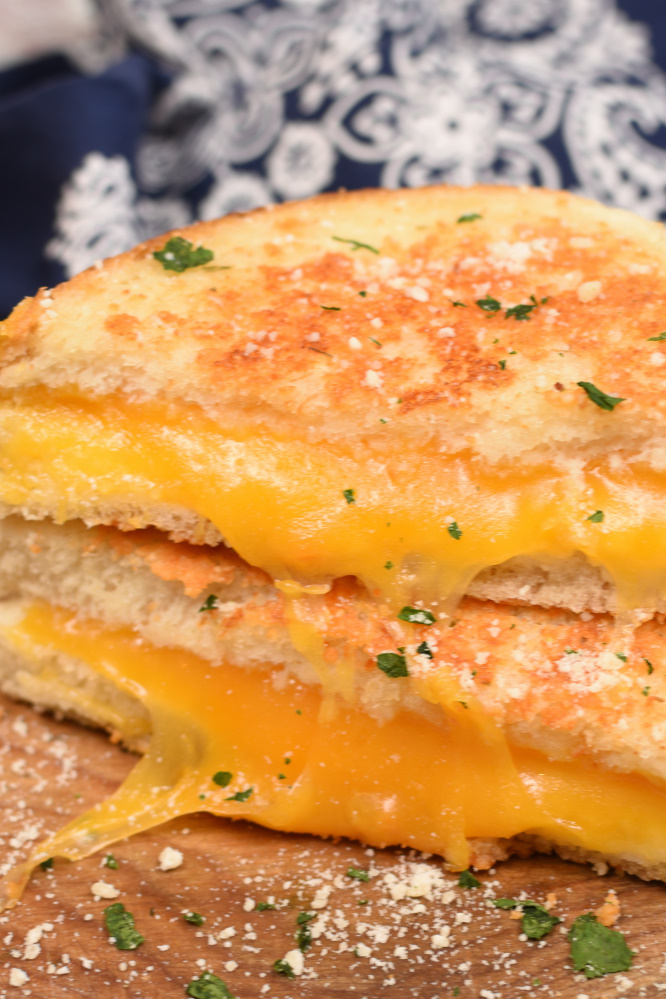 Today I'm beyond excited to share my Parmesan Grilled Cheese Sandwich with you guys! I've always been a HUGE lover of grilled cheese sandwiches because who could ever resist ooey-gooey cheese nestled between golden brown buttery bread? Not me!
Let me tell you though, the crust on my Parmesan Grilled Cheese Sandwich is so stinkin' divine! It's so good your going to sink back into your chair, close your eyes and fall in love!
Something magical happens when you combine the soft melted cheese on the inside with that crispy, golden brown, buttery and cheesy crust on the outside! I'm not kidding you when I tell you this is the BEST grilled cheese sandwich ever!
You do need to try out my dill pickle grilled cheese, grilled turkey sandwich, and spinach grilled cheese. Oh, and don't forget my fried egg grilled cheese sandwich either!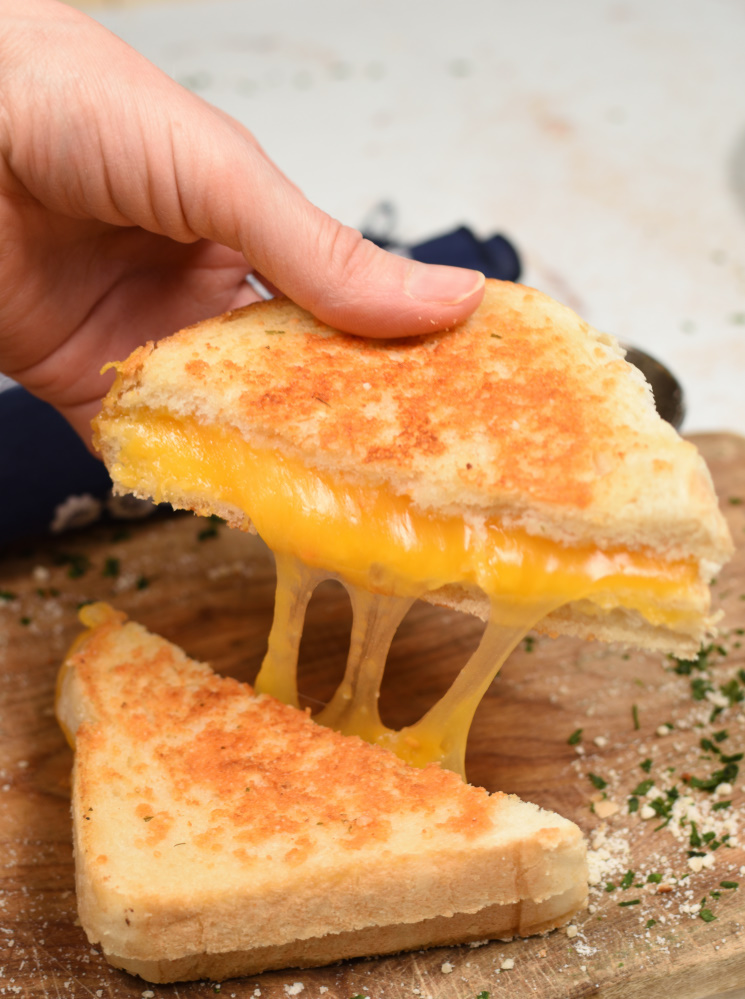 Well, by now you know that I married a dairy farmer and have lived on this stinky ol' farm for almost twenty years! I can't believe it's been that long since I agreed to live here with all these cows, flies, crazy hours, and pretty much be joined at the hip with this farm!
After I met Justin and he told me he was a dairy farmer I think my heart sunk a little! He was a really great guy but I just didn't want to be married to a filthy dirty, no days off, muck boot-wearing dairyman!
Right after I decided my heart didn't need to be sunken I told him that I'd actually been supporting him for many, many years!
I was convinced I was single-handedly supporting the entire dairy industry with my love of cheese! I can pound more cheese in a month than most people can pound in a whole year. Surely Justin was getting his a portion of my hard-earned money I spend on cheese!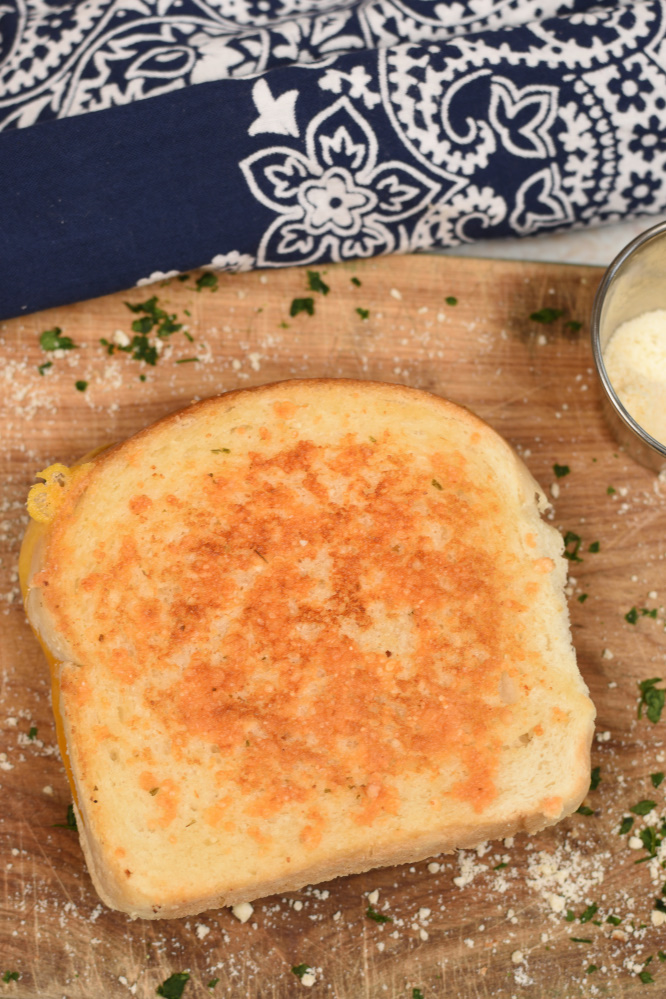 I'm seriously an addict. After I've been on vacation for a few days I start to really crave salty cheese! I add it to every single meal I make; pasta, scrambled eggs, Hawaiian cheeseburgers, breakfast salad, cheesy mashed potatoes, and even pancakes (don't knock it till you try it, it's good)!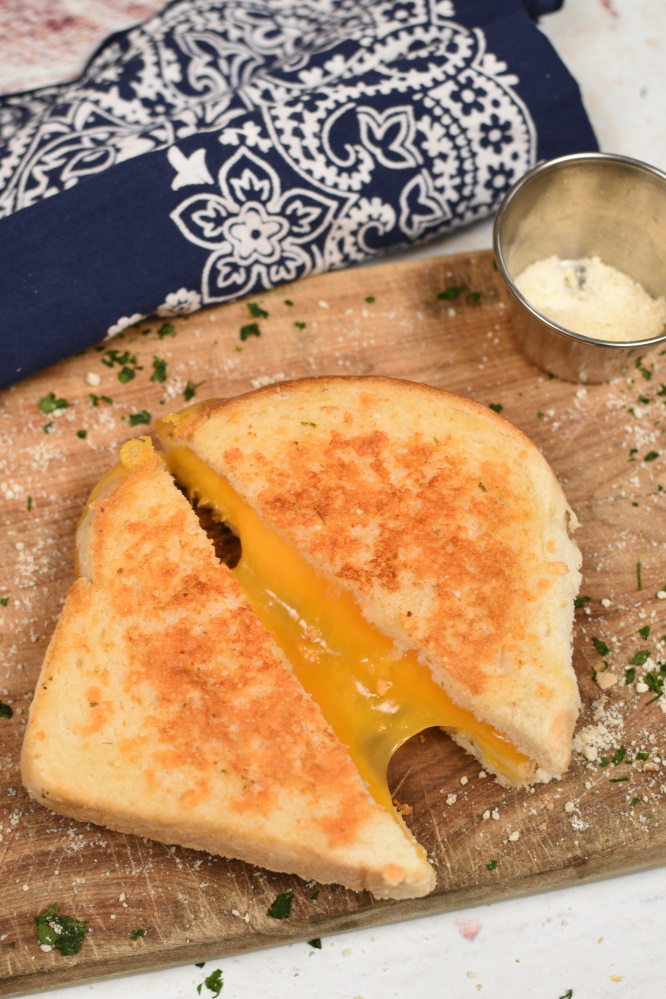 I'll take cheese any way I can get it! But I have to admit that ultra comforting Parmesan Crusted Grilled Cheese Sandwiches will always be at the top of my list of favorite meals! It has not one, but two or more kinds of cheese and you can't beat that!
Parmesan Grilled Cheese Sandwiches are still the same old super simple to prepare classic sandwich you fell in love with as a kid with a fun little twist!
How to make grilled cheese
Use soft butter

Spread the butter one more time after you add parmesan cheese just to help everything to stick.

Grill sandwich over medium heat so the bread doesn't get browned before the cheese melts.

Serve with jam…trust me it's so flipping tasty!


Gourmet grilled cheese
Use a variety of cheeses; Swiss, cheddar, pepper jack, provolone, or a combination.

Add meat; deli ham, roast beef; grilled chicken, or bacon

Switch up the seasonings used in the Parmesan crust; garlic salt, Salad Supreme, Mrs. Dash's seasonings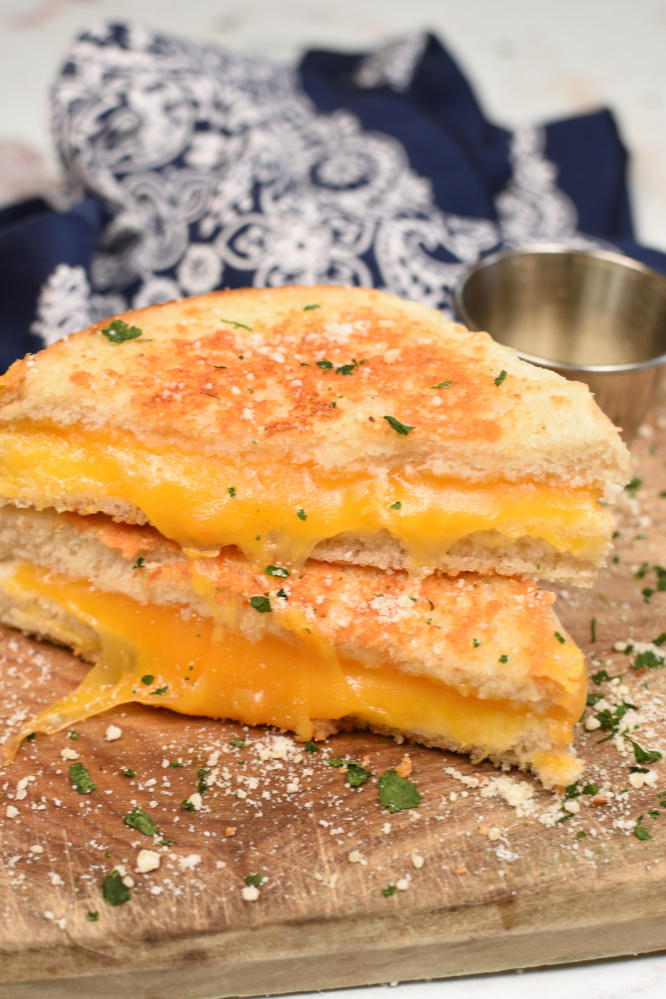 Parmesan Grilled Cheese Recipe
Parmesan Grilled Cheese Sandwiches really are the ultimate comfort food! I pretty much made them twice in the last 12 hours because I happen to think they make a pretty darn good breakfast too!
If you want to help me support myself and the rest of the dairy industry whip up a Parmesan Crusted Grilled Cheese Sandwich! Oh, and I'd love to know what's your favorite kind of cheese to use in grilled cheese sandwiches and what else you pile on it! Leave me a comment and share your ideas!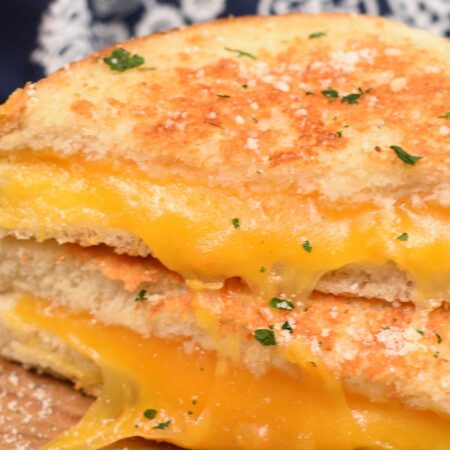 Parmesan Crusted Grilled Cheese Sandwich
Parmesan Grilled Cheese Sandwiches are everything you love about the classic plus they have the most scrumptious buttery garlic and parmesan crust on the golden brown outside! I know you are going to love it…a lot!
Ingredients
2

slices

white bread

2

slices

provolone cheese

such as cheddar, swiss, pepper jack, colby jack, etc.

2

Tbsp

butter

1

Tbsp

parmesan cheese

grated

1

dash

garlic salt
Instructions
Spread butter one side of each slice of bread. Sprinkle butter side with garlic salt and parmesan cheese. I like to gently press and spread with a knife just to help ensure the paremesan sticks and stays in place. If it seems too dry you can always add and spread another thin layer of butter.

Build sandwich with buttered sides of bread on the outside and cheese slices in the middle.

In a nonstick pan grill over medium heat until golden brown. The parmesan will make the sandwich stick to the pan until it has formed a nice golden brown crust then it will be easy to flip!

Grill the other side.

Remove from heat.

Slice in half.

Serve immediately!
Nutrition
Calories:
549
kcal
|
Carbohydrates:
26
g
|
Protein:
21
g
|
Fat:
41
g
|
Saturated Fat:
25
g
|
Cholesterol:
102
mg
|
Sodium:
1055
mg
|
Potassium:
135
mg
|
Fiber:
1
g
|
Sugar:
3
g
|
Vitamin A:
1193
IU
|
Calcium:
613
mg
|
Iron:
2
mg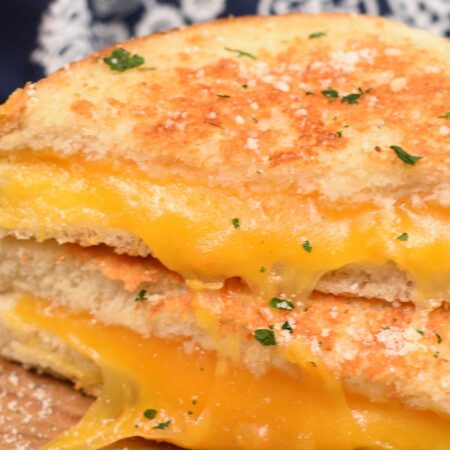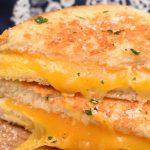 tried this recipe?
Make sure to share it with me! Leave a review or tag me on Instagram