Slow Cooker Beef Stew is as comforting as any meal I can think of! This old fashioned recipe is loaded with vegetables and has the most tender, melt in your mouth pieces of beef! The perfect blend of seasonings gives it the BEST flavor, and you'll love the thick gravy!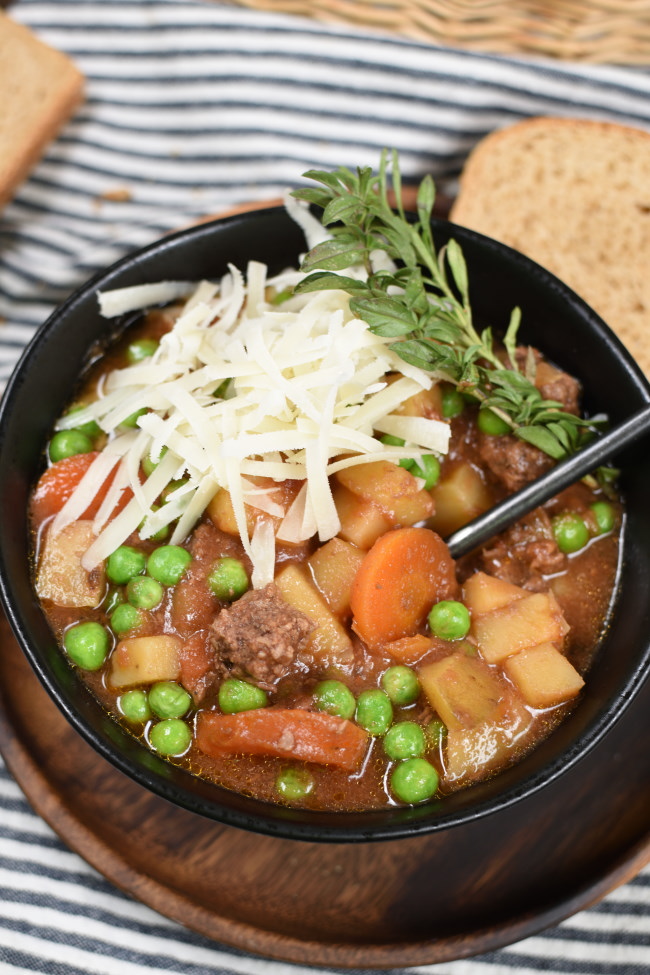 If you 're always on the hunt for super-duper easy recipes you're in the right place! Stews are inexpensive to make, and it's easy to keep all the ingredients on hand. I know some people use a stew seasoning packet, but making homemade stew seasoning is easy and is made with simple spices and seasonings. Oh, and if you're looking for a stew without wine, here you go!
Cube Steak Beef Stew is one of those recipes where you throw everything in the slow cooker and let the magic happen! The longer it cooks the better, and if that wasn't enough the leftovers are even better! You can't beat that!
It's a really good thing the leftovers are every bit as good as the first time around with this soup because it's one of those meals that seems to magically grow bigger than you thought possible! My kids have been packing leftovers in their school lunches all week! It's definitely been a stew and No-Knead Whole Wheat Bread kind of week!
How to Thicken Beef Stew
LITTLE DAIRY ON THE PRAIRIE TIPS:
I've had lots of questions about how to thicken watery beef stew! Here are a couple easy ways to thicken beef stew in a slow cooker with simple pantry items! NOTE: If the stew is really watery you might want to make twice as much slurry. I usually start with a little and add more as needed.
FLOUR – Add three tablespoons of flour to a small cup. Then add a 1/4 cup of water and stir until smooth to make a slurry. Add the slurry to the slow cooker and stir the stew. Put the lid back on and let it sit for 10 minutes. Stir again. The stew should be thicker. If it still needs to be thickened more make more slurry and repeat.
CORNSTARCH – Use the same method as about substituting cornstarch for flour. A great gluten-free option.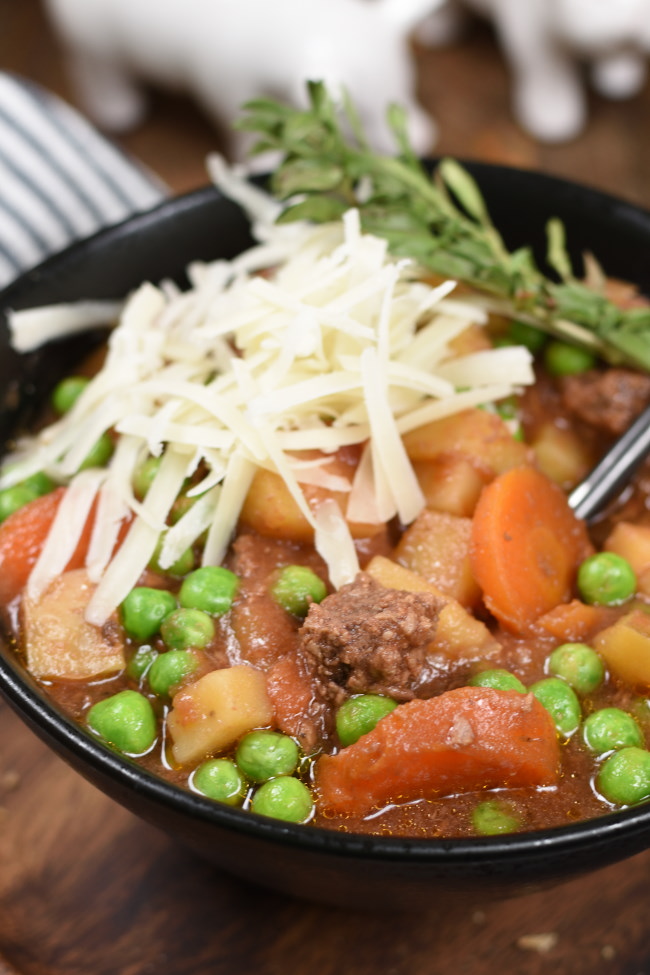 What vegetables can I add to Slow Cooker Beef Stew?
Need another reason to make this soup? It's so inexpensive! Staying on track with your grocery budget has never been tastier! I have leftover carrots and potatoes from my garden and I was happy to use them up.
You can scrounge around the bottom of your freezer and grab whatever other vegetables that have been lost and add them to the stew too! There really aren't any rules with stew. Just substitute what you already have on hand for the same amounts of vegetables listed on the recipe. Here are some alternative vegetable ideas to get you started.
Corn (my kids favorite and we have plenty of Sweet Freezer Corn in the freezer)
Squash (butternut or other winter squashes would be ideal)
Sweet Potatoes
Celery
Broccoli
Cauliflower
Green Beans
Some vegetables, like peas, take less time to cook than others so you'll want to add them last. Others like sweet potatoes and squash will need longer so be sure to add them with carrots and potatoes.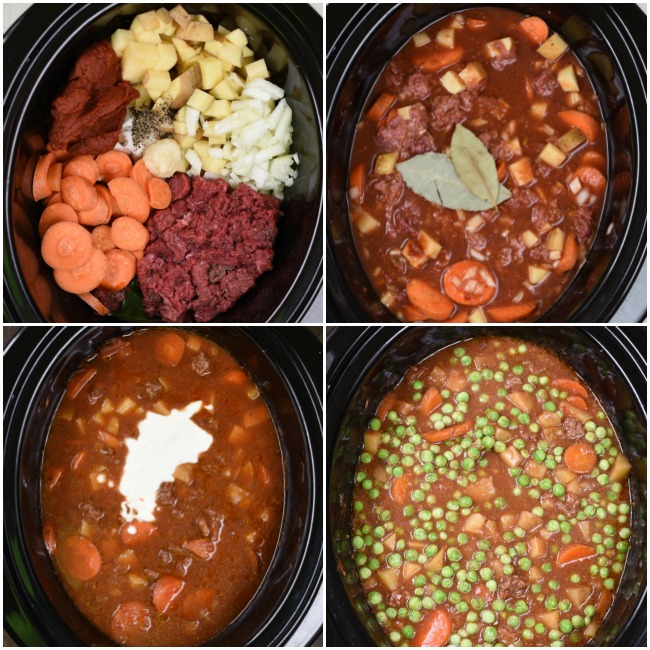 What cuts of beef can I use in Slow Cooker Beef Stew?
Once again, there aren't many rules with stews. Pretty much anything goes. Since beef stew cooks slowly over a long period of time tougher cuts of meat have a chance to get really tender. Don't worry about breaking the bank on a super high-quality cut of meat here. I used cube steak and it was incredibly fork tender. Melting in your mouth actually! Here are a few cuts of beef you could use. Just be sure to cube the meat before adding to the slow cooker
Round steak
Round Roast
Rump Roast
Stew meat
Cube Steak – check out my post all about cube steak
Sirloin Steak
Even hamburger works. Be sure to brown it before adding it to the slow cooker.
Some recipes say you need to sear the beef chunks before adding them to the slow cooker. If you want the extra work, go right ahead! It will create a gorgeous brown crust on the outside of the beef. I don't typically sear my beef first and it turns out perfectly. So, here's to skipping extra pan washing!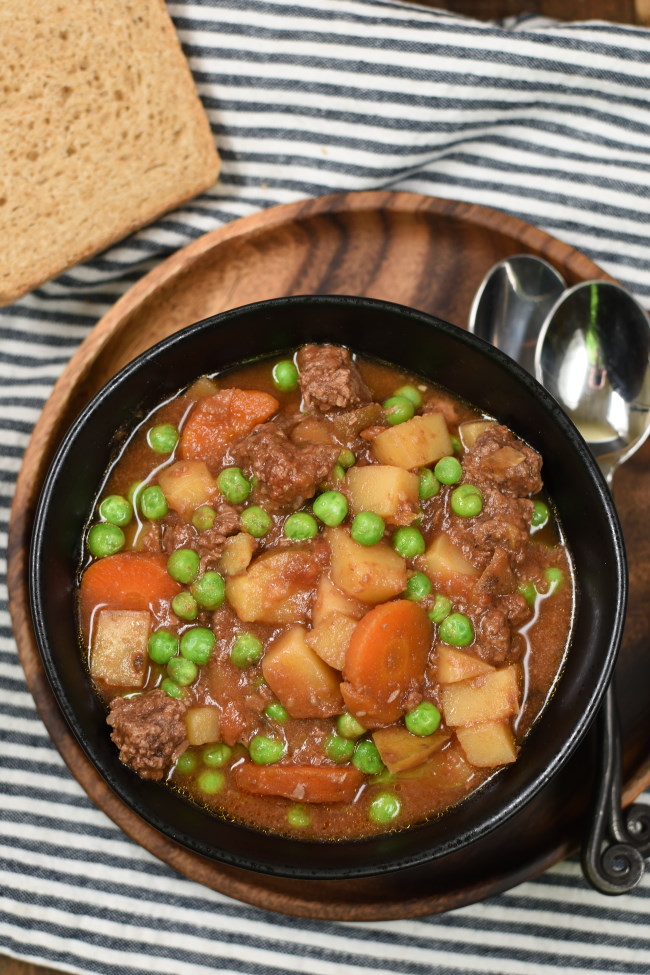 What to serve with Beef Stew?
Personally, I think every bowl of stew or soup for that matter deserves a warm slice of bread! But you know, if you don't have time for that go ahead and serve it with saltine crackers. It will get you by in a pinch!
Here are a few of my favorite easy bread recipes for serving with soup and stews.
Beef stew is best served with plenty of cheese! Cheddar is always a fantastic classic option, Pepper jack will add a nice touch of spice, Parmesan gives good depth, and mozzarella will be so gooey and melted! It doesn't matter which kind of cheese you add…just be sure to add more than enough!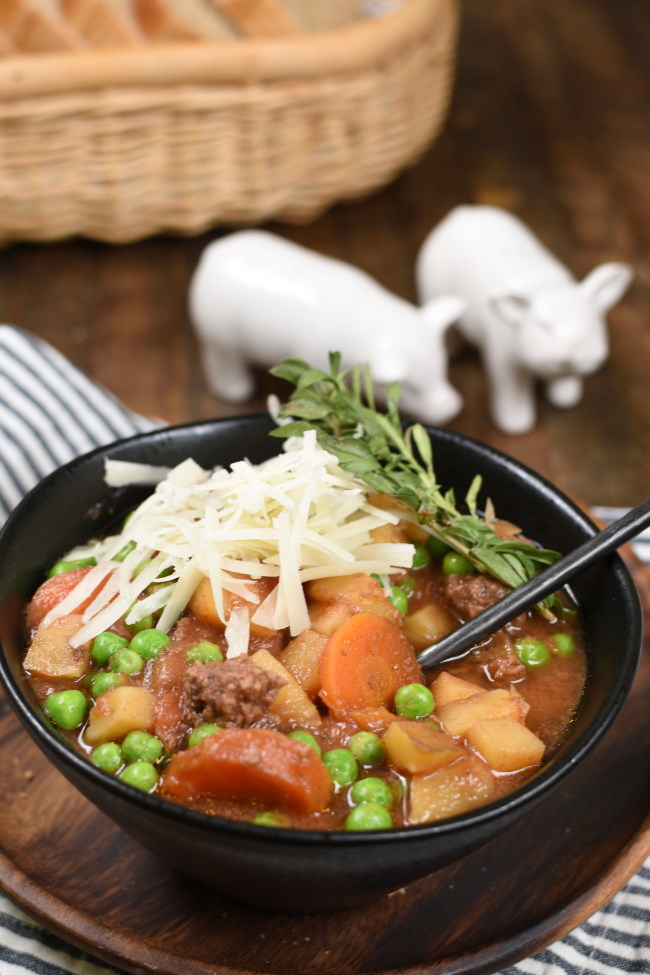 Grab my Recipe
There are lots of Slow beef stew recipes, but this classic version will take you back to everything you remember about the comfort of your family gathered around the table on cold winter days! It has all the amazing flavors of Slow Cooker Pot Roast in super easy stew form!
Oh, I almost forgot to tell you that there are many, many days I assemble this stew the day before I want to serve it. Just leave it in the slow cooker overnight and all that's left is setting that puppy on the slow cooker base in the morning. Carry on with your day and that's all there is to it!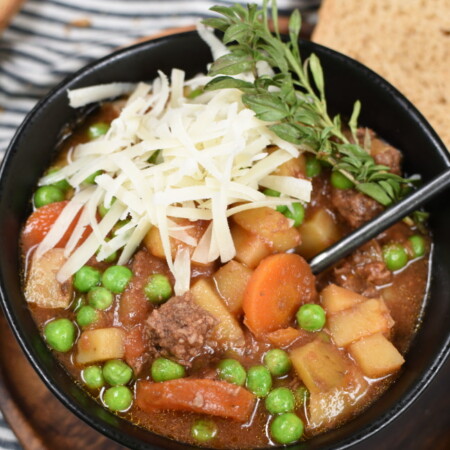 Slow Cooker Beef Stew
There's not very many foods as comforting as a bowl of hearty Slow Cooker Beef Stew! This stew recipe is loaded with vegetables and has the most tender, melt in your mouth pieces of beef! It's perfect for extra busy days too because all you need to do is dice up the veggies and meat, throw a few ingredients in the slow cooker to make a broth, and add simple seasonings! Just like that…dinner will be waiting for you!
Ingredients
Beef Stew Ingredients
3

cube steaks

cut in pieces

4

medium

russet potatoes

diced

3

medium

carrots

diced

1

medium

onion

diced

1

tsp

garlic paste

I like Gourmet Garden

1

TBSP

sugar

1

tsp

salt

1/2

tsp

cracked black pepper

3

TBSP

Worcestershire sauce

2

cups

tomato juice

4

cups

beef broth

6

ounce

tomato paste

2

bay leaves

2

cups

peas

frozen
To Thicken Beef Stew
3

TBSP

flour

1/4

cup

water
For Serving with Beef Stew
Instructions
Cut meat into chunks. Dice vegetables.

Add all BEEF STEW INGREDIENTS to the slow cooker.

Turn Slow Cooker and cook 4 hours on high or 6-8 hours on low.

About 15 minutes before serving mix remove bay leaves.

Stir to check teh consistency. To thicken a beef stew make a slurry by adddig flour to a small cup. Add water and stir until smooth. Add to stew and stir to combine.

Add frozen peas to the stew and stir. Peas will warm up quickly and still retain that gorgeous fresh green color if they are added at the end of the cooking instead of with the other vegetables. Put lid back on slow cooker and let it sit for about 15 minutes.

Check the consistency again. If needed make more flour/water slurry and add it to the stew.

Serve with plenty of grated cheese and slices of bread!

Store leftovers in the refrigerator. Microwave to reheat later.
Notes
Other vegeables may be substituted for listed vegetables. Corn, celery, sweet potatoes, butternut squash, broccoli, green beans, cauliflower are all delicious options.
Other cuts of beef may be substituted. Cubed shoulder roast, round steak, round roast, and even hamburger are great options. Brown hamburger before adding to the slow cooker.
Nutrition
Calories:
245
kcal
|
Carbohydrates:
32
g
|
Protein:
17
g
|
Fat:
6
g
|
Saturated Fat:
2
g
|
Cholesterol:
37
mg
|
Sodium:
829
mg
|
Potassium:
1048
mg
|
Fiber:
4
g
|
Sugar:
9
g
|
Vitamin A:
3757
IU
|
Vitamin C:
32
mg
|
Calcium:
61
mg
|
Iron:
3
mg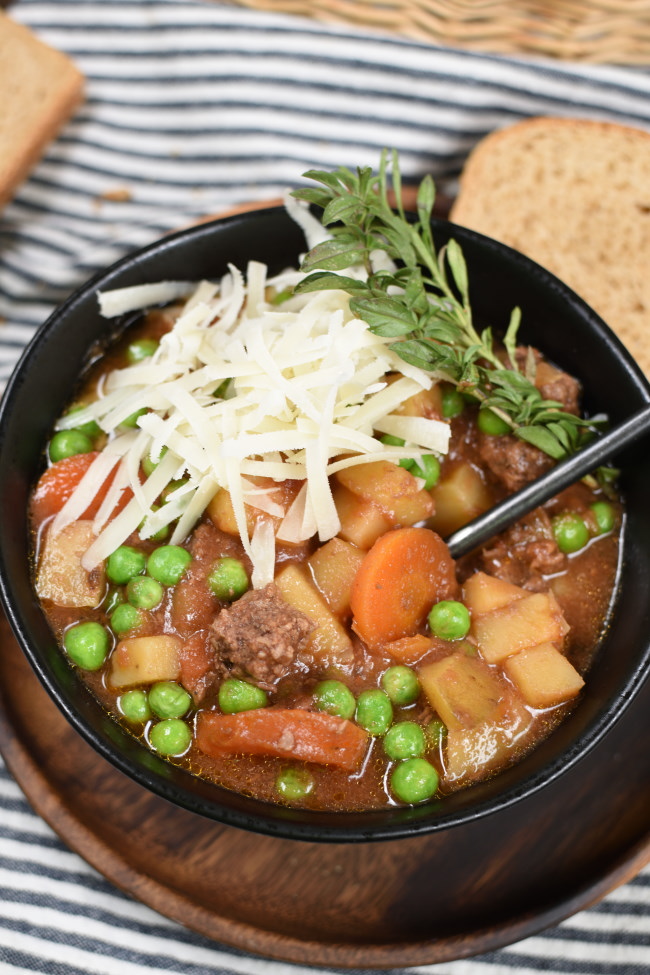 tried this recipe?
Make sure to share it with me! Leave a review or tag me on Instagram