Making this pesto recipe is as easy as adding a few ingredients to a food processor! Seriously! If you've got 10 minutes you can make pesto from scratch! If you're a basil lover, you've going to want to add this to everything!
Plus, you can freeze it for later when fresh herbs are hard to find in the grocery store!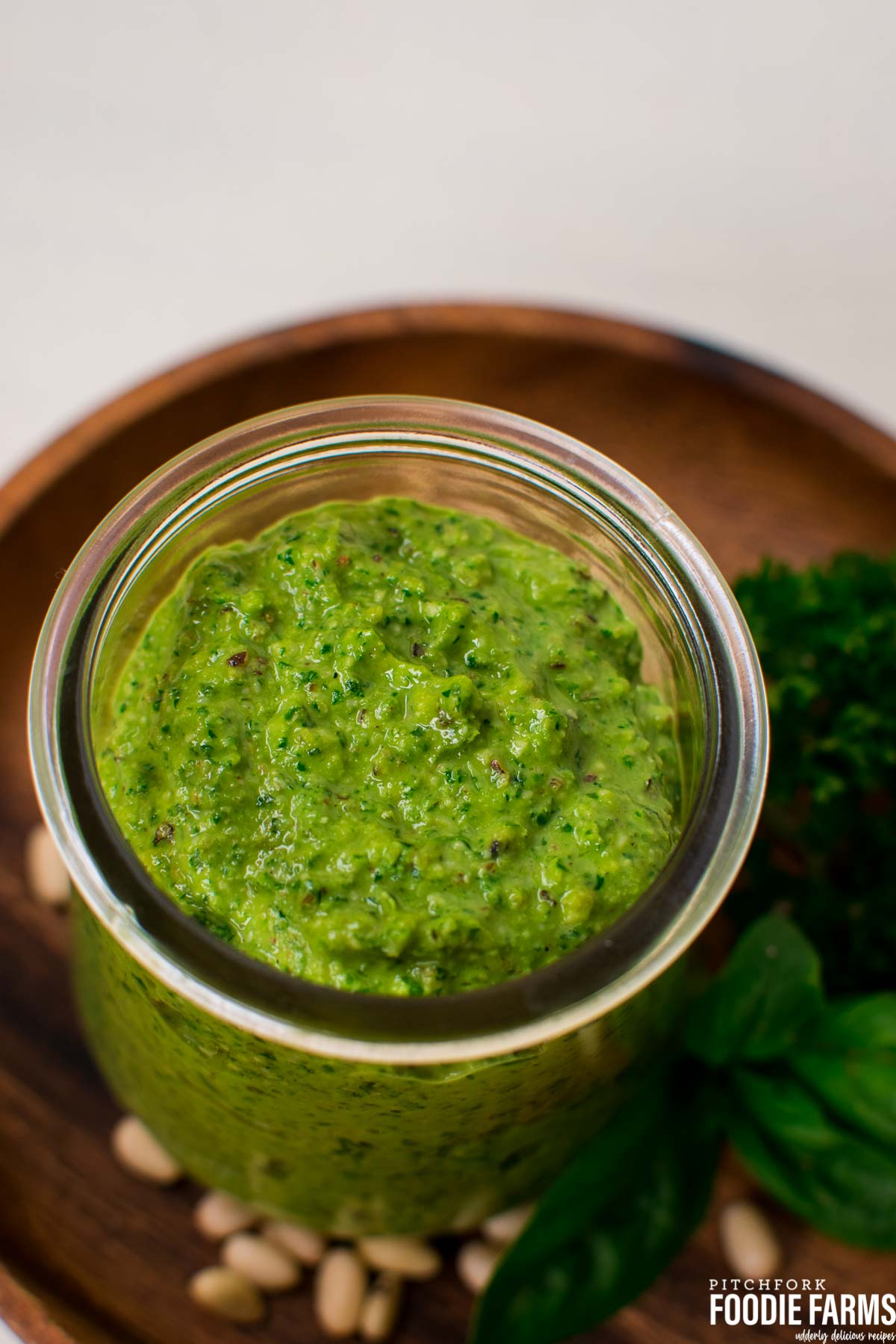 This recipe was originally published in 2013 and updated in 2021 to include more tips and updated images. The recipe is exactly the same!
Why You'll Love This Recipe:
There are lots of variations of pesto available in the grocery store. This version is a classic basil pesto sauce. It's exactly what you expect when you think of pesto and is fantastic added to lots of pasta recipes, spread on pizza, or slathered on sandwiches.
I used to buy store-bought pesto but the jarred stuff tastes processed and the fresh store-bought is so expensive! Making this recipe during the summer when I have fresh herbs growing in my garden, or when they're cheap in the store is a really good way to save money. Making pesto from scratch is so much less expensive than buying it.
This recipe freezes really well so you can enjoy it all throughout the year too! It's like the best taste of summer even during those cold months!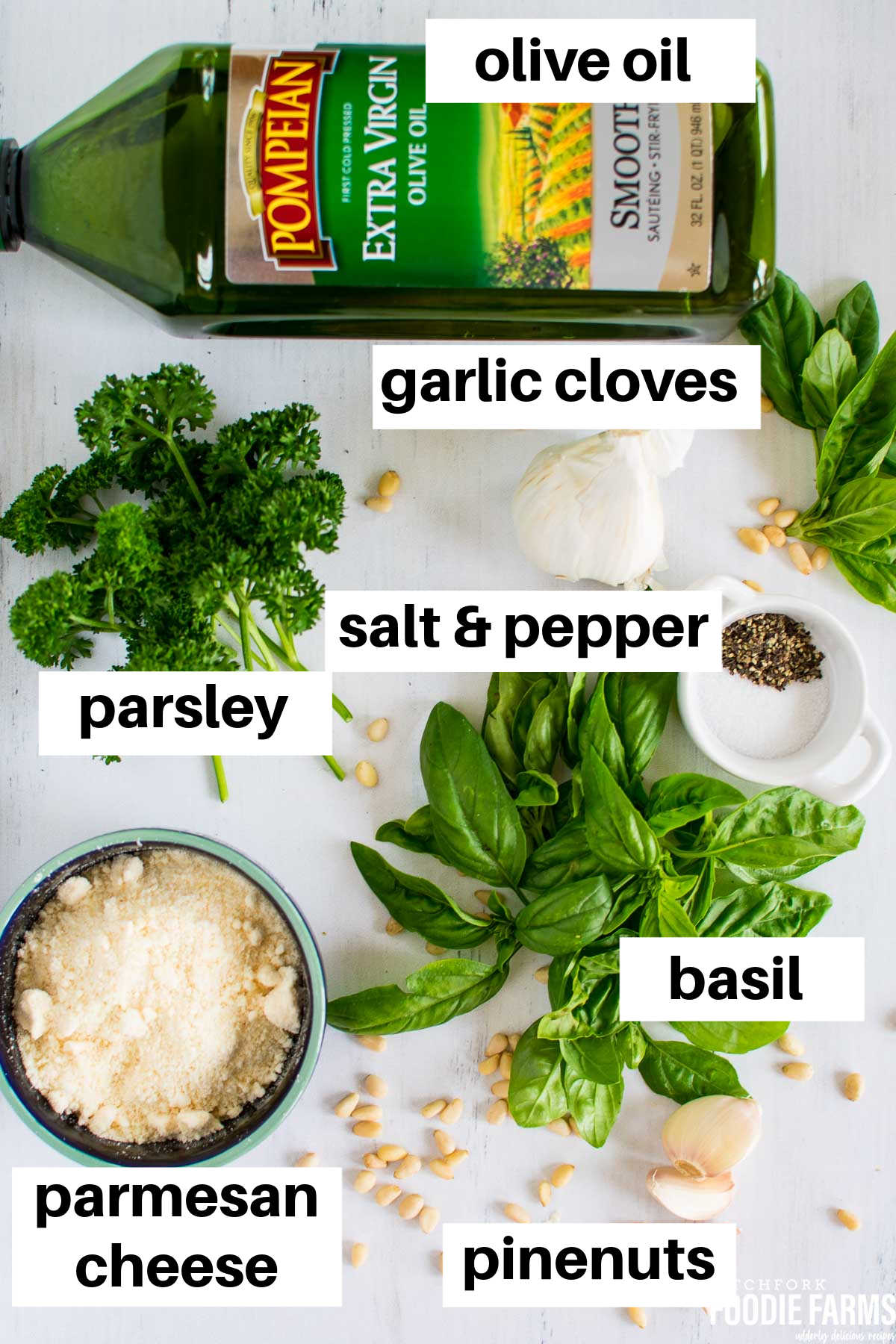 Ingredients:
This recipe is pretty straightforward, but there are a couple of little suggestions when it comes to what you'll need to make it. I've got a few substitution ideas so you can make them with what you have on hand, or available to you.
Basil and Parsley – only use fresh herbs. Dried herbs won't work in this recipe. I always use sweet basil, but you're welcome to experiment with different varieties. Using different varieties will alter the color and the taste. Flat-leaf or curly parsley can be used. And if you really don't love parsley you can substitute fresh baby spinach instead.
Parmesan Cheese – I typically use the kind in a can (it's still real cheese or I wouldn't use it). It's less expensive, and faster than grating fresh cheese yourself. For dairy-free pesto leave the cheese out and use an additional 1/2 cup of pine nuts.
Pine nuts – Pine nuts are quite expensive. Although they're fantastic in this recipe you can also use walnuts if you'd like. They will change the color and texture a little bit. It will still be great though!
Instructions:
The easiest way to make this recipe is with a food processor. If you don't have a food processor you can also use a blender. You might need to make two small batches instead of one big one.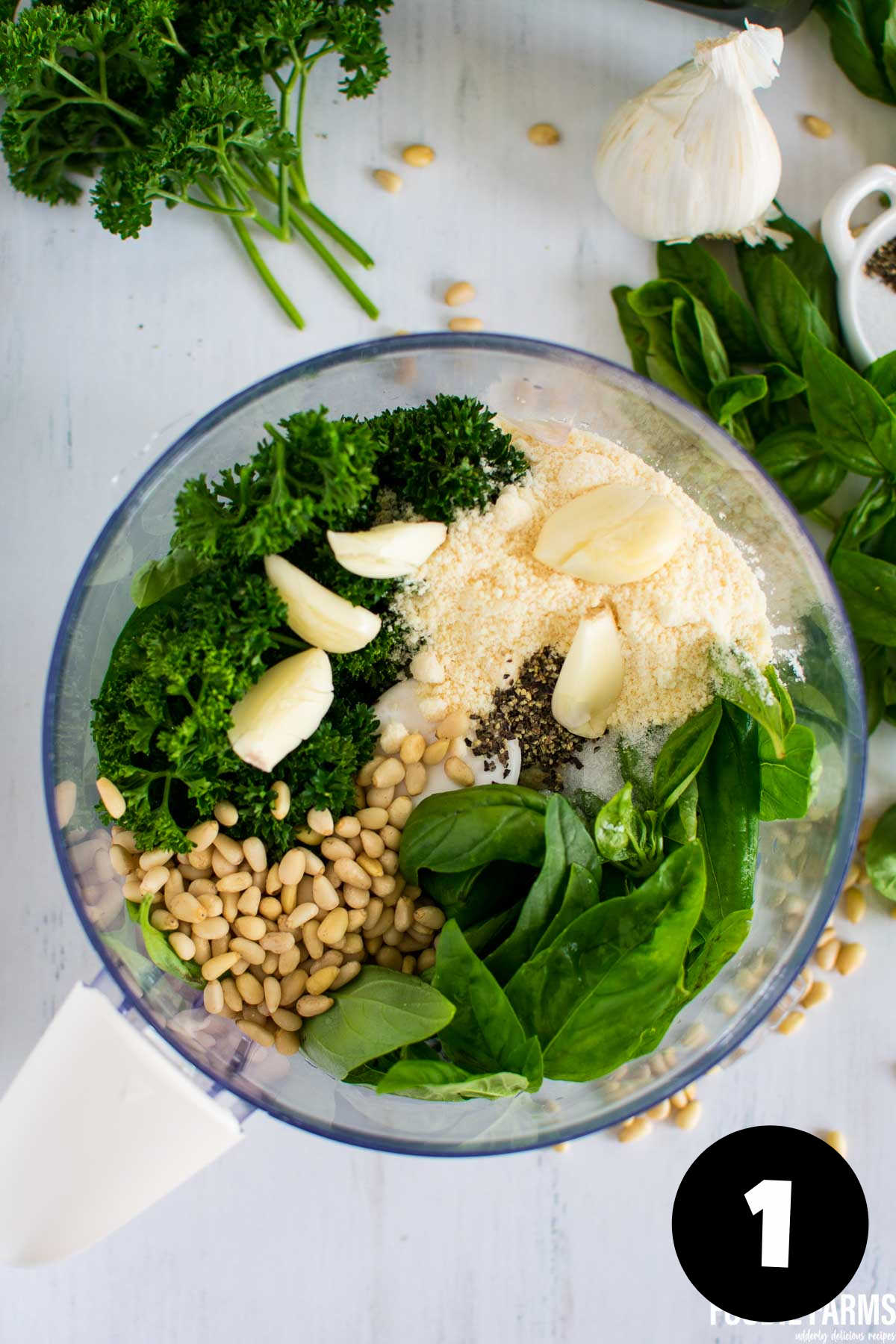 STEP 1: Add all ingredients, except olive oil, to a food processor. See note above about using a blender.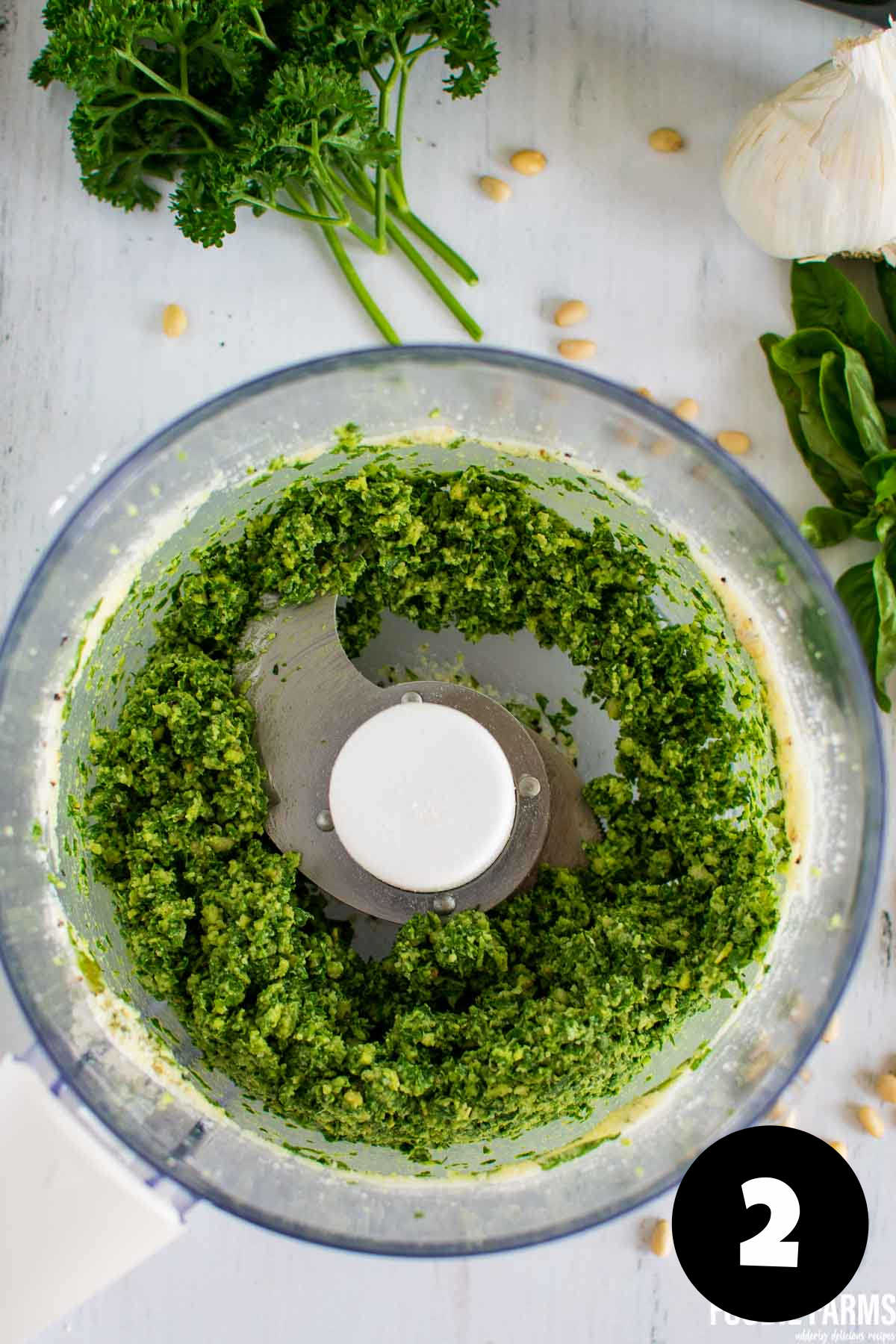 STEP 2: Process until the mixture is combined. The amount of time it takes will vary depending on how powerful your food processor is. It usually only takes about a minute. It will still have some texture and that's okay.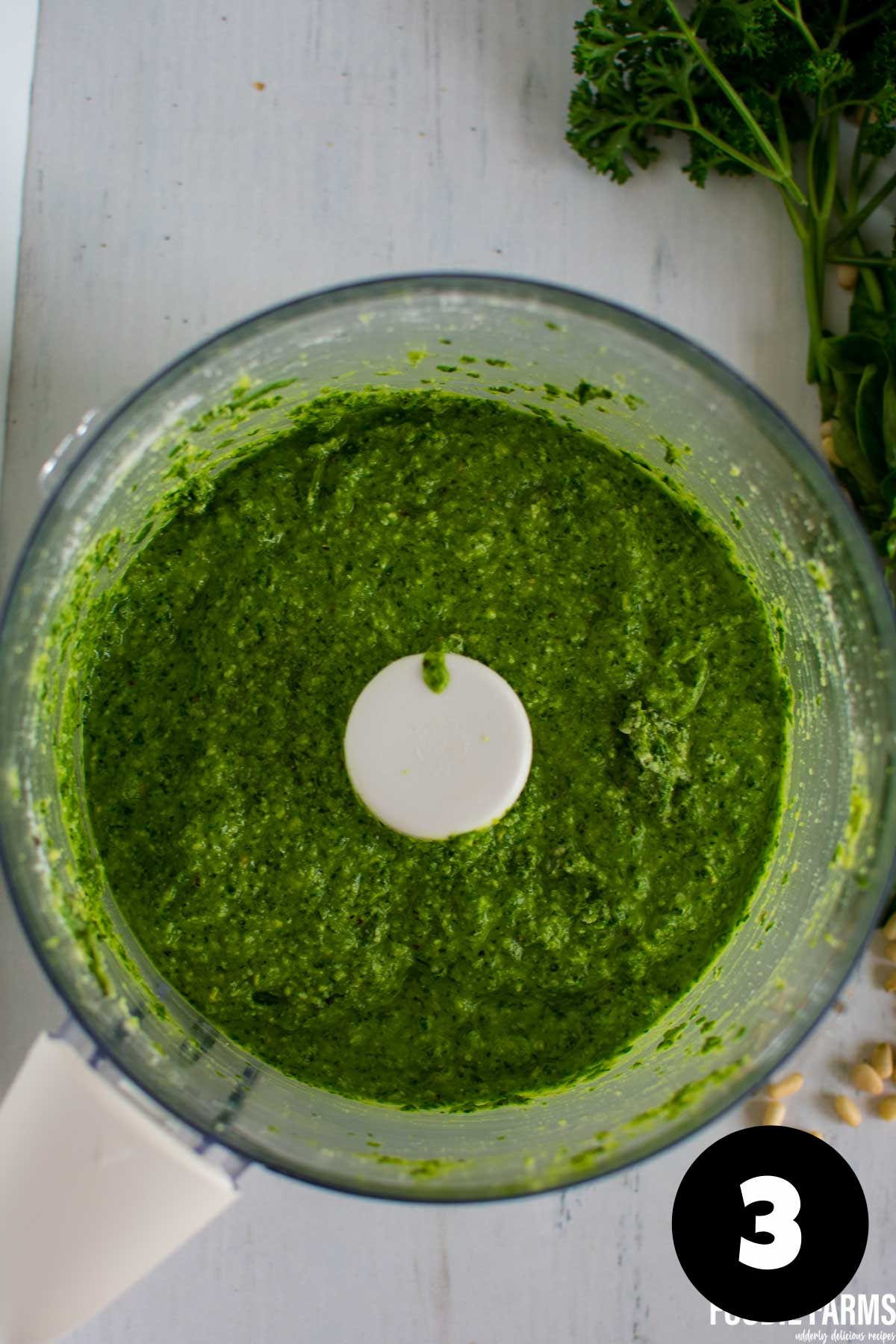 STEP 3: While the processor is running, gradually add olive oil. You may need more or less oil than the recipe calls for. It seems like pesto has a mind of its own. Sometimes it's pretty dry and needs lots of oil. Other times it needs less. And some people prefer it to be thicker and some prefer a little thinner. Feel free to use less olive oil to make it thicker, or use more to make the sauce thinner.
How to freeze:
Pesto is a fantastic item to have in the freezer because it keeps for up to 6 months. It's also a great way to add flavor to lots of recipes without adding lots of salt.
Lots of people make pesto sauce and put it in ice cube trays. Freeze. Then remove from the trays and store in an airtight container. This method works good but it's a bit more time-consuming than what I usually have time for, plus I don't own ice cube trays anymore. It is an option though.
My favorite method is to line a cookie sheet with parchment paper, or a silicone liner. Using a cookie scoop drop pesto onto the lined cookie sheet. Freeze. Remove from cookie sheet and store in the freezer in an airtight container.
To use frozen pesto simply thaw it in the fridge overnight. Or add it straight to sauces like spaghetti. It will thaw as it cooks.
FAQs:
Can I make pesto without nuts?
If you're allergic to nuts go ahead and leave them out. The pesto will be a little smoother and have less texture. It's not a deal breaker though. Simply leave them out of the recipe.
How long will fresh pesto last?
Store it in the fridge for up to a week or two in an airtight container. Storing it in a mason jar is my favorite way to keep it. It can also be stored in the freezer for up to 6 months. (See tips below on how to freeze it)
Serving Suggestions:
Recipes & Ideas for Using Pesto
Once you have a jar in the fridge you're going to want to serve it on everything! It's one of my favorite summertime condiments or ways to add fresh flavor in the winter.
Adding a Tablespoon of pesto sauce to different recipes is a great way to add flavor. We love adding it to soups, dips, sandwiches, pizza, bread, and pasta. Really, you can get creative and use it in so many ways. Here are a few ideas to get you started!
Sun-Dried Tomato Pesto Dip – A cream cheese dip that is deliciously served with veggies, crackers, or bread.
Pesto Monkey Bread – This bread is divine served with soup or Italian meals.
Creamy Pesto Pasta – Add grilled chicken to make it a hearty meal!
Add it to scrambled eggs before cooking.
Add to the yolks mixture when making hard-boiled eggs
Use in spaghetti or marinara sauce (I always add it to jarred marinara to up to flavor)
Spread on pizza crust
Mix with mayo to use as a sandwich spread (delicious on burgers or BLTs)
Toss with hot pasta
Add to butter to make garlic bread
Add to alfredo sauce
Mix a little with ranch dressing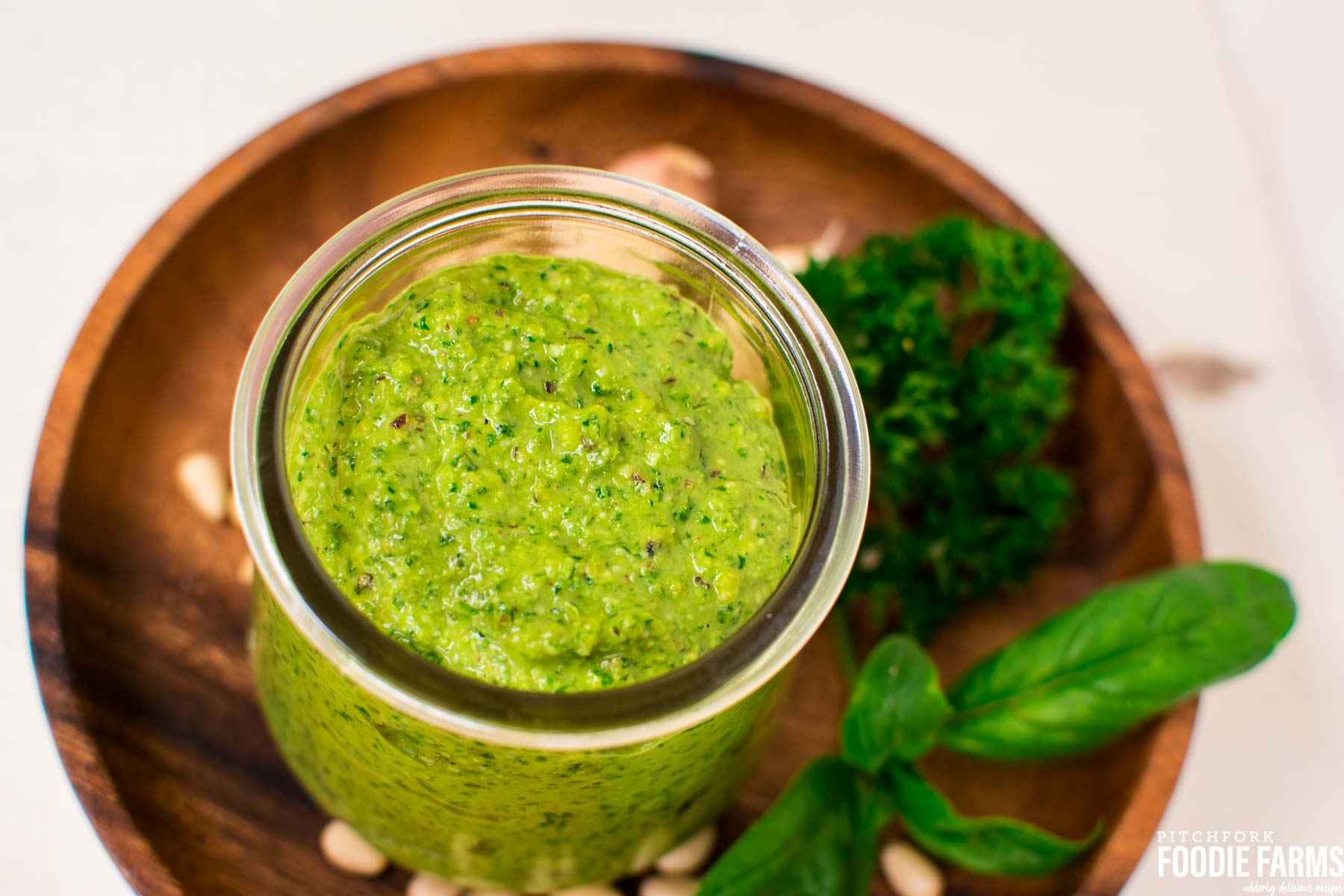 Recipe:
I can't wait to hear how you use this sauce! Be sure to leave me a comment below!
Fresh Basil Pesto Sauce
Making homemade pesto is so easy! Plus making it from scratch is much less expensive than buying store-bought pesto sauce and it freezes well. Use in in pasta, soup, dips, spreads, sauces, and more!
Ingredients
2

cups

fresh basil leaves

1/2

cup

fresh parsley

1

cup

grated parmesan cheese

1/2

cup

pine nuts

3

whole

garlic cloves

peeled

1/2

teaspoon

salt

1/4

teaspoon

pepper

1/2

cup

olive oil

See Note Below
Instructions
Add all ingredients except olive oil to food processor. Chop until it's about the consistency of a thick paste. (If you don't have a food processor you can definitely use a blender. You might need to make the recipe in two batches so the blender can process the it.)

While food processor is going, stream in olive oil. Add enough olive oil to get the consistency that you like. See the note below.
Notes
Herbs:
You're going to want to use just the leaves of the basil plant. Sometimes you can buy a potted plant in the grocery store and that's an inexpensive way to buy fresh herbs.
Flat Italian leaf parsley or curly parsley are both great options. Don't use the stem.
Olive Oil – It's easy to adjust the consistency of the pesto by adding more or less olive oil. Add more oil to make it thinner, and less oil for a thinner sauce. I like it thinner for use in dips, sauces, and spreads. I like it thicker for freezing.
How to store:
Fridge – Store in an airtight container in the fridge for up to 2 weeks. I like using a canning jar.
Freezer – Using a cookie scoop drop pesto on a parchment-lined baking sheet. Freeze until firm. Remove from baking sheet and store in a freezer air-tight container.
Nutrition
Serving:
2
Tablespoons
|
Calories:
117
kcal
|
Carbohydrates:
1
g
|
Protein:
3
g
|
Fat:
11
g
|
Saturated Fat:
2
g
|
Polyunsaturated Fat:
2
g
|
Monounsaturated Fat:
6
g
|
Cholesterol:
6
mg
|
Sodium:
170
mg
|
Potassium:
53
mg
|
Fiber:
1
g
|
Sugar:
1
g
|
Vitamin A:
372
IU
|
Vitamin C:
3
mg
|
Calcium:
78
mg
|
Iron:
1
mg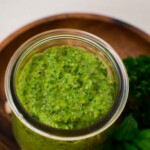 tried this recipe?
Make sure to share it with me! Leave a review or tag me on Instagram