Apple Pie Monkey Bread is a yummy pull-apart bread that can be made ahead of time, let sit overnight, and bake in the morning! It's made with yeast cinnamon rolls, and just like eating apple pie or apple fritters for breakfast!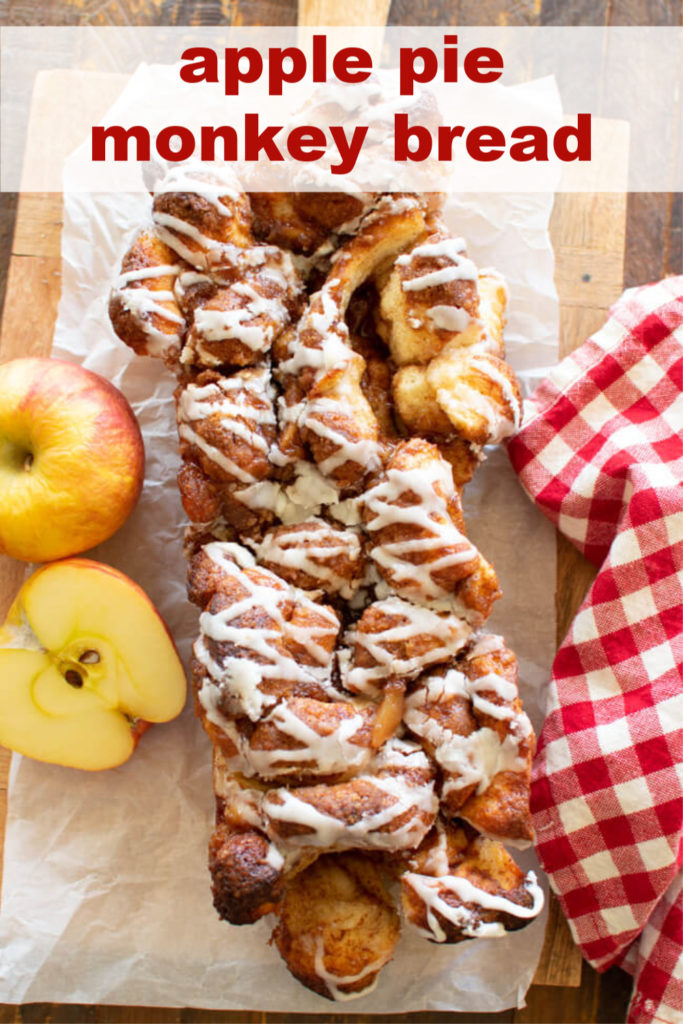 This Apple Pie Monkey Bread is out of this world! It has the best crispy edges and that ooey gooey center that's absolutely divine!
It's obviously perfect for breakfast but it's also amazing if you love apple desserts! Top it with ice cream and caramel sauce and it's like a whole new way of enjoying apple pie, caramel apples, and cinnamon rolls in one over the top dessert!
You're also going to want to check out my Baked Apple French Toast, Caramel Apple Blondies, No-Bake Caramel Apple Cookies, and My Apple Puff Pastry Tart too!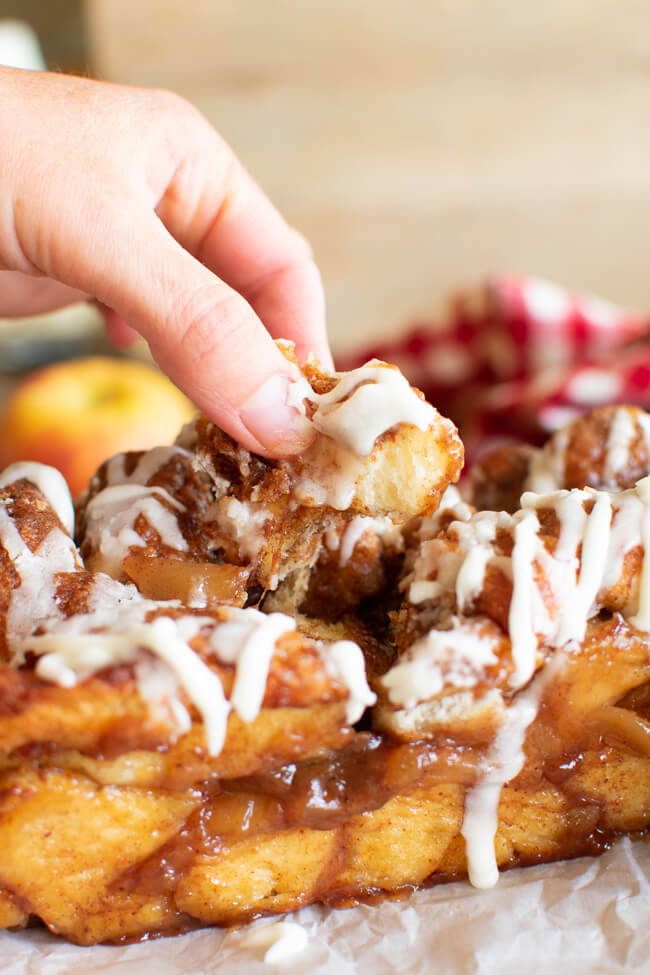 What is monkey bread?
I actually wondered why it's called monkey bread too and as far as I can tell there's not one definite answer. Some people claim it's because the little pieces of dough are picked off and eaten as a monkey would eat them. Others say it has to do with rich people enjoying it because they have lots of "dough".
Who knows where the origin of monkey bread began. What I do know is that it's worth the minimal effort required to make it!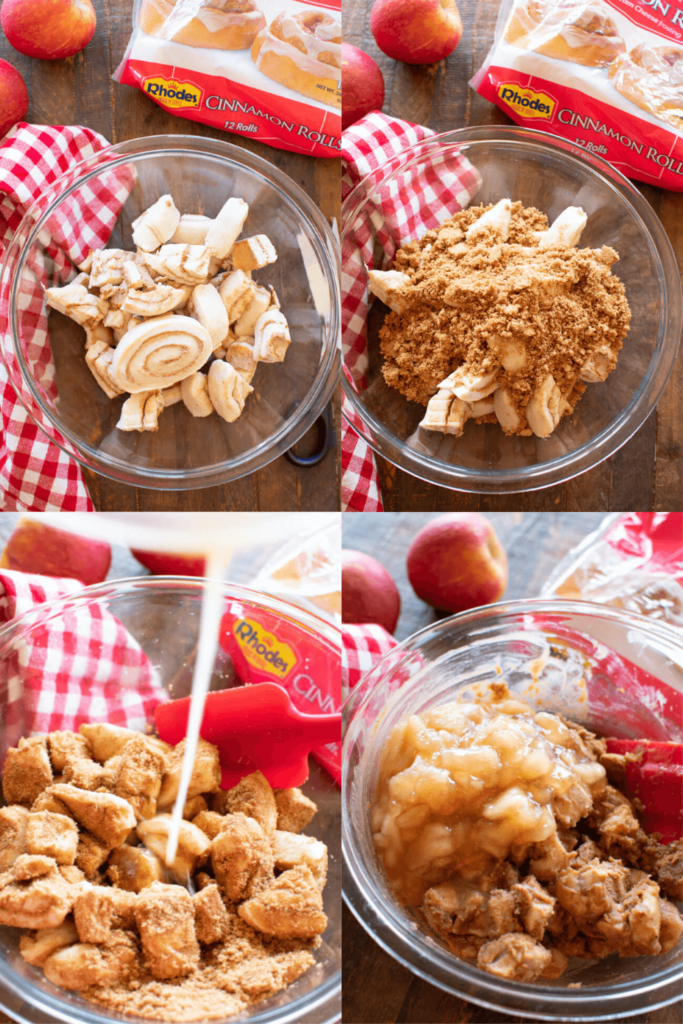 What kind of bread is used for making monkey bread?
That's entirely up to you! Maybe you have time and feel ambitious, go ahead and make your own dough from scratch.
Or, if you're really into shortcuts and don't mind sacrificing taste…pop open a can of biscuits.
However, if you LOVE homemade bread and still want the shortcut grab a bag of Rhodes Bake-N-Serv frozen cinnamon rolls! Everyone will think you made your own bread dough and you will still have plenty of time left over for everything else on your to-do list! I ALWAYS use the frozen dough for monkey bread! It's a lifesaver!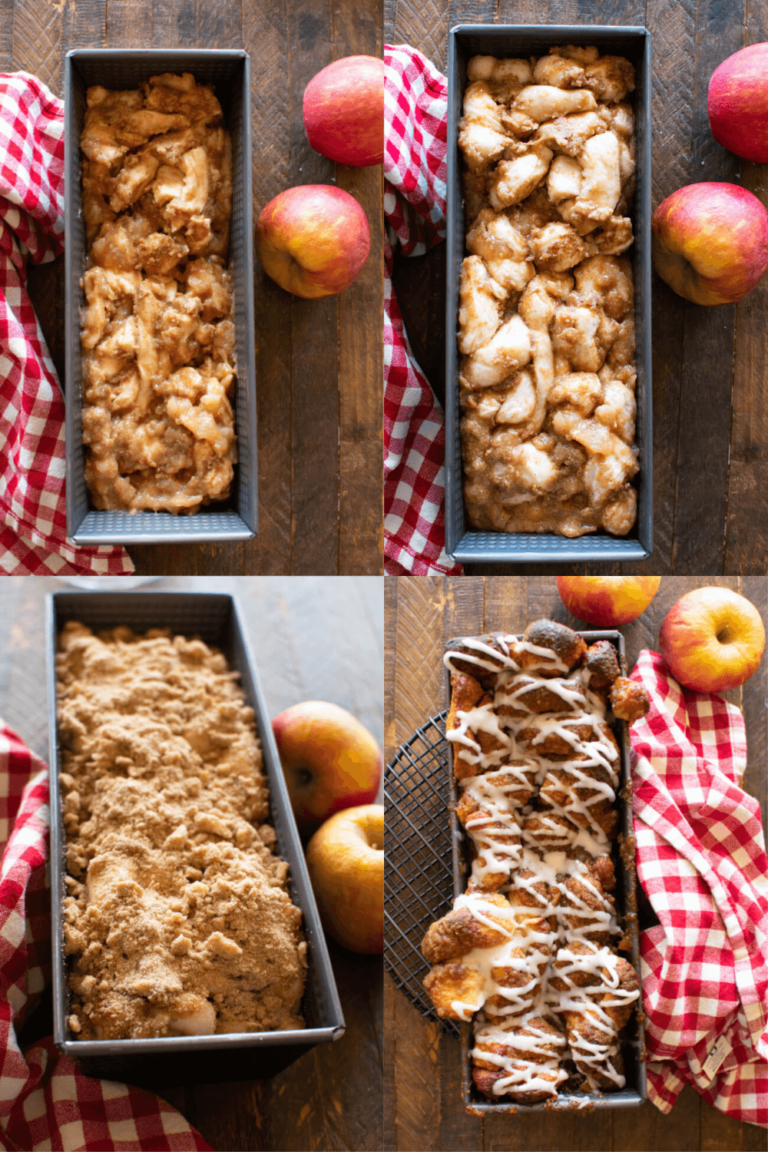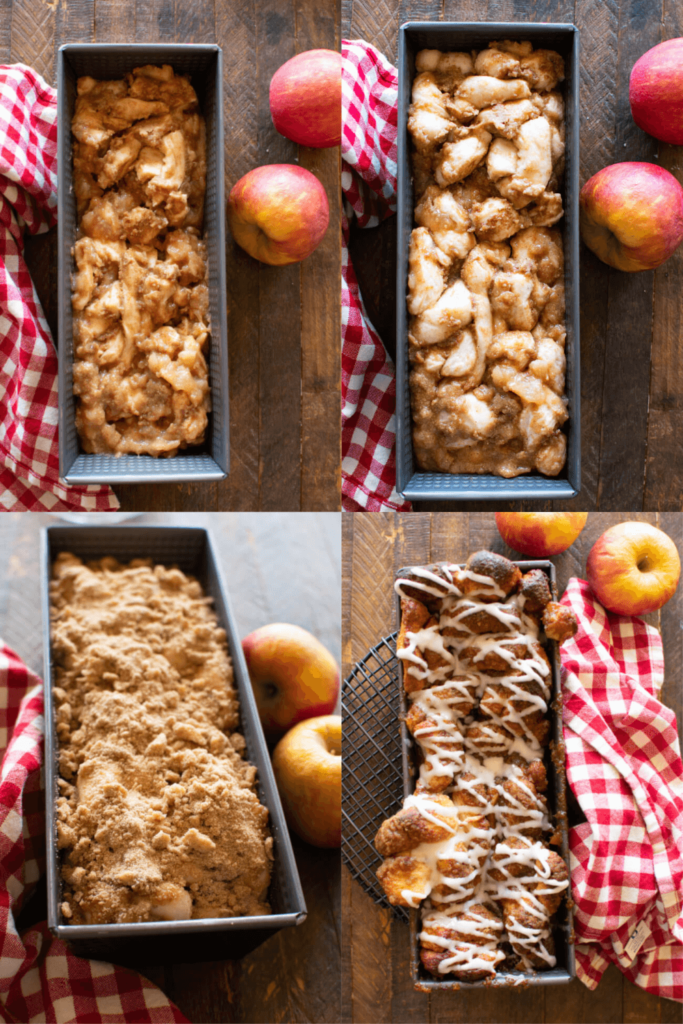 Can monkey bread be made overnight?
YES! Follow the instructions through step 10 in the recipe card on this post. Pop the loaf in the refrigerator and let it sit overnight. In the morning remove it from the fridge and let it sit at room temperature for about 30 minutes then bake as directed.
Not to worry if you want to make monkey bread right now. Just follow instructions on the recipe card.
I typically make pull-apart bread, or monkey bread, the day before then microwave it in the morning. It's a great way to enjoy it without having to wake up any earlier!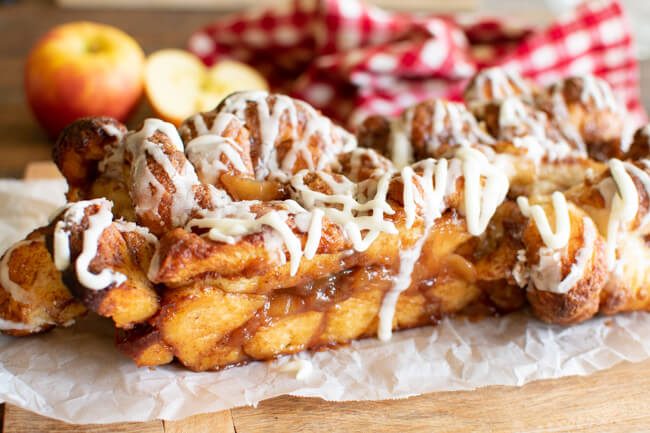 How to bake monkey bread perfectly.
If you've ever baked a bundt pan of monkey bread before you already know it can be tricky to get the inside to bake without burning the outside. The bread is so thick it's hard to get an even bake.
If you are using a bundt pan bake, decrease the baking temperature. If the inside is still underbaked and the top is already golden brown top it with a piece of aluminum foil.
I LOVE this nonstick metal bread pan my mother in law gave to me because it's longer and skinnier than typical bread pans. It's a great way to bread recipes to bake evenly without sunken tops, gooey insides, and overdone crust.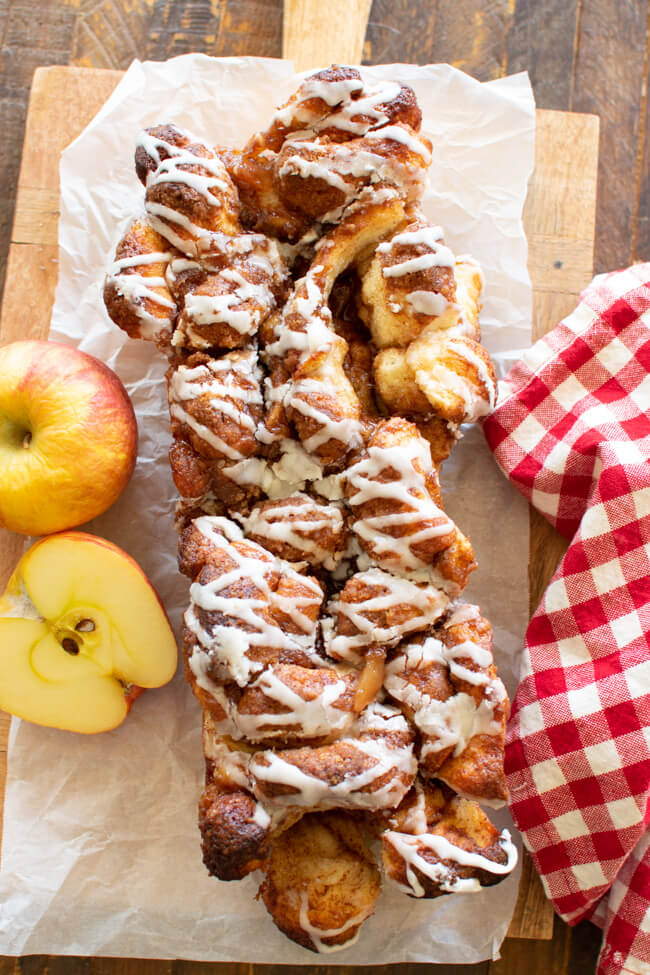 Best monkey bread recipes!
Be sure to check out these other monkey bread recipes from my collection of easy bread recipes!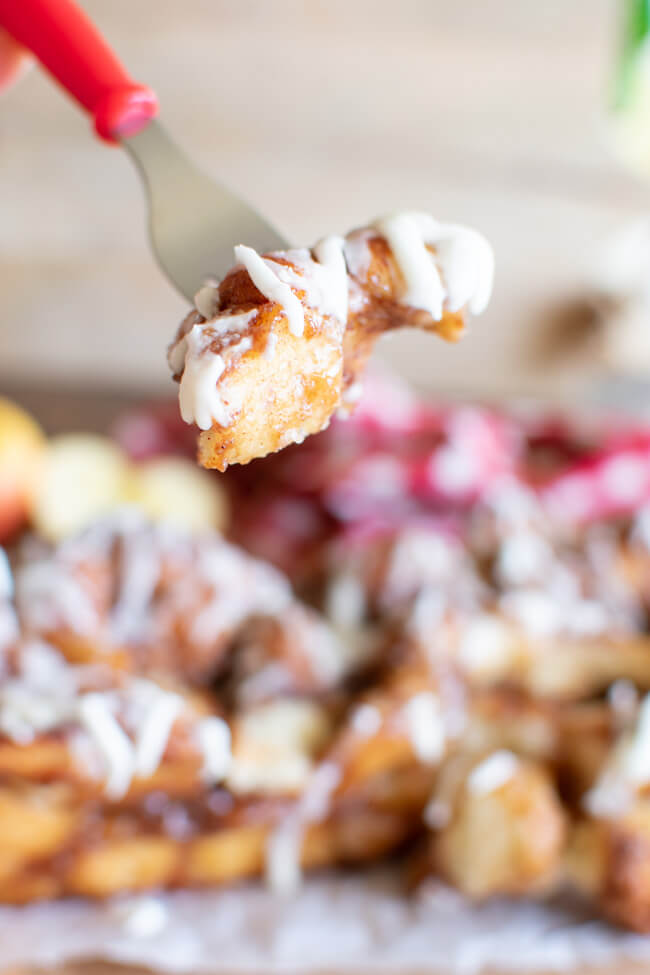 Rhodes rolls recipes!
I seriously love Rhodes frozen dough so much I always keep loaves, cinnamon rolls, and dinner rolls in my freezer all the time. It's especially handy since I live a million miles from the grocery store! A lifesaver!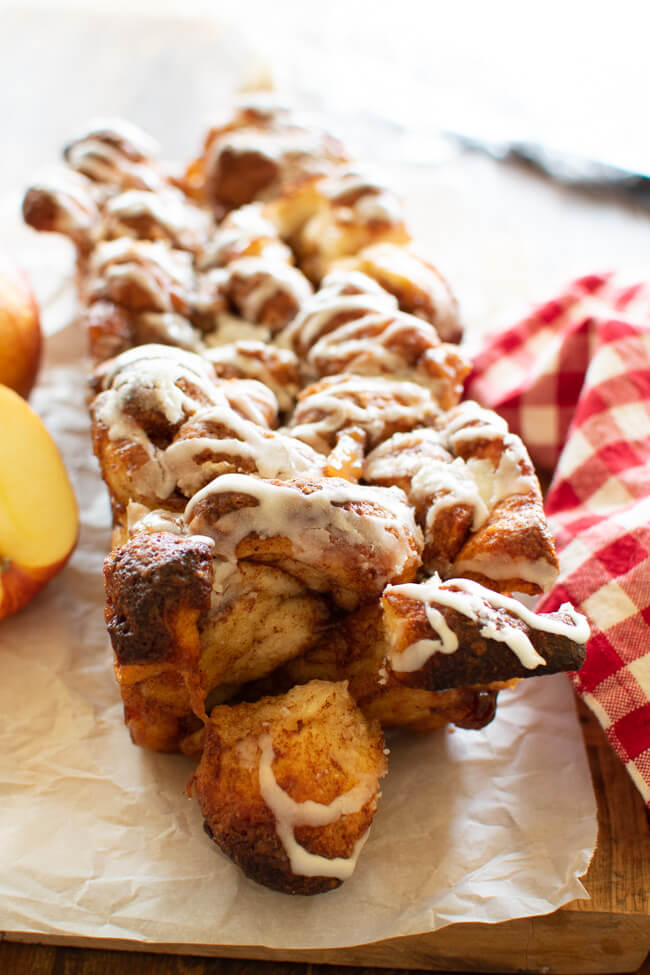 Apple Pie Monkey Bread Recipe
It's pretty obvious we LOVE monkey bread! I'm telling you though…this Apple Pie Monkey Bread is at the top of my list of favorites! And it's hard to choose a favorite because they were all pretty darn tasty!
Whip up a Sunshine Smoothie and to serve with your monkey bread and that's a complete breakfast at my house!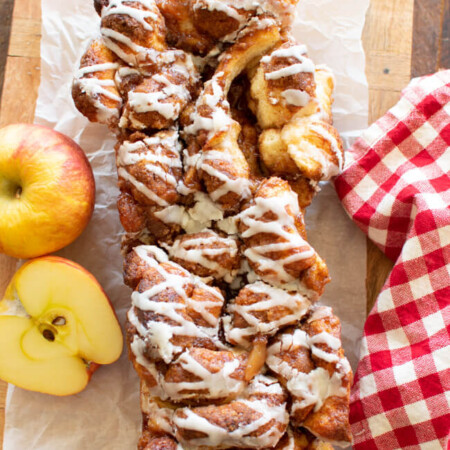 Apple Monkey Bread
Apple Pie Monkey Bread is made with simple ingredients; cinnamon rolls and apple pie filling! Make it ahead of time and let it sit overnight or bake it right away! You'll love this breakfast sweet bread recipe!
Ingredients
For the Monkey Bread
• 1/2 cup brown sugar

• 1 tsp. cinnamon

• 1/4 cup butter

• 1 cup apple pie filling
For the Streusel
• 1/3 c. brown sugar

• 2 T. all-purpose flour

• 1 tsp. cinnamon

• 2 T. butter
Instructions
Remove cinnamon rolls from the freezer and let them sit at room temperature for about 30 minutes, or until thawed just enough to cut in quarters with scissors.

While rolls are thawing, grease a 5" x 9.5" bread pan (or a pan like the one shown in the recommended products section below).

Mix 1/2 cup brown sugar and 1 tsp. of cinnamon together. Set aside.

You won't need the whole can of apple pie filling for this recipe. Spoon a cup of apples out of the saucy part of the pie filling. Roughly chop them into pieces about the size of a pea. Set aside.

As soon as cinnamon rolls are thawed enough cut them into quarters with scissors. Put rolls in a large mixing bowl.

Sprinkle brown sugar mixture over cut rolls. Toss until rolls are coated. Don't worry if all of the sugar mixture isn't stuck to the rolls.

Melt butter. Pour it over rolls. Toss to coat.

Toss chopped apple pie filling with rolls.

Pour cinnamon rolls into prepared loaf pan and cover with plastic wrap.

Let rise at room temperature until doubled in size. Or refrigerate overnight.

While rolls are rising mix flour, cinnamon, and brown sugar for streusel topping together. Cut in cold butter. Sprinkle over bread just before baking.

12. Preheat oven to 350 degrees. Bake for 35-40 minutes. I'd set the loaf pan on a baking sheet because some of that gooey apple pie filling and butter might bubble over the top and make a mess in the oven! All that messy is delicious!

Remove from the oven. Let cool for about 10 minutes. Then remove to a serving tray if desired or serve straight from the pan if you'd rather. Either way drizzle bread with icing packets that come with the cinnamon rolls.
Notes
For this recipe you'll only need part of a can of apple pie filling. Save the saucy part and use it to dunk monkey bread it! Other fun ways to use up the remaining apple pie filling include adding it to pancake batter, top pancakes with it, make a Greek yougurt breakfast parfait with it, or simply top it with whipped topping and eat it just like that!
This bread is best eaten straight from the oven. However, if you have leftovers store them in an airtight container in the refrigerator. Warm it in the microwave before serving.
You may use a traditional 9.5″ x 5″ bread pan but the pan in the suggested products below is my favorite. Because it's longer and not as wide it requires less baking time which allows more even baking. If you are using a traditional sized bread pan you may need to increase baking time.
Nutrition
Serving:
1
g
|
Calories:
506
kcal
|
Carbohydrates:
79
g
|
Protein:
5
g
|
Fat:
20
g
|
Saturated Fat:
9
g
|
Polyunsaturated Fat:
3
g
|
Trans Fat:
5
g
|
Cholesterol:
23
mg
|
Sodium:
858
mg
|
Fiber:
2
g
|
Sugar:
44
g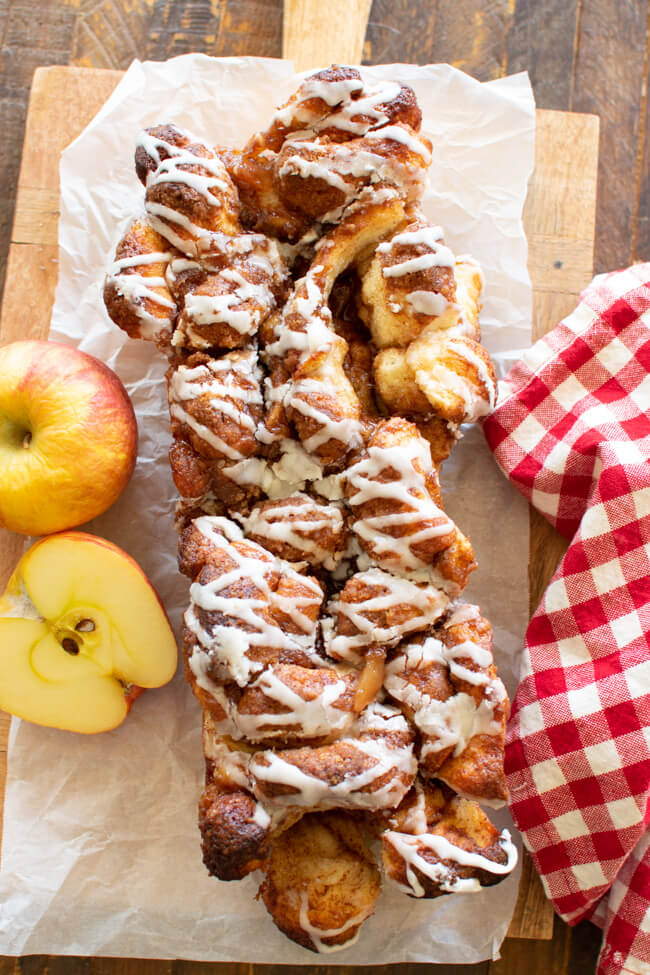 tried this recipe?
Make sure to share it with me! Leave a review or tag me on Instagram