Birthday Cake Monkey Bread has everything you love about birthday cake – sprinkles, birthday cake frosting, and plenty vanilla flavor! This breakfast is a perfect way to start celebrating any special day, but it will also make a normal old day feel like a party!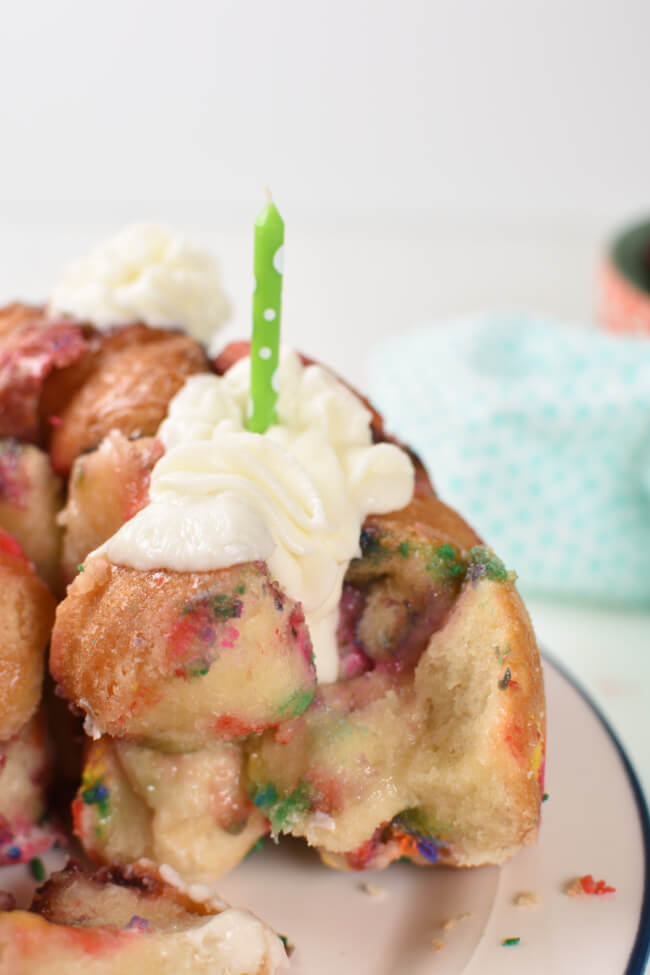 Thanks to my friends at Rhodes for sponsoring today's post! As always all opinions are my own! #Rhodes #frozendough
In my family we have three summer birthdays and two December birthdays. So we have a long spell between December and July without a reason to make birthday cake recipes!
Since May is a month full of celebrations from graduations, to Mother's Day, weddings, and of course the ending of school I thought it was a perfect excuse to whip up a batch of Birthday Cake Monkey Bread!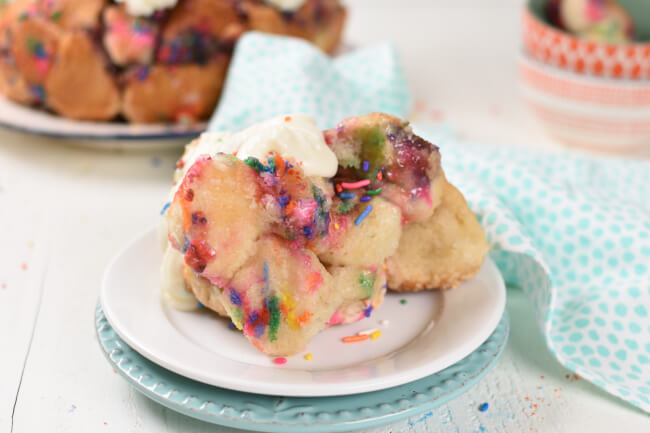 What is Monkey Bread?
Monkey Bread is sometimes called "pull apart bread". Monkey bread is basically pieces of dough tossed in or sprinkled with some sort of sugar mixture, then drizzled with butter. It's fun to eat because you pluck little pieces of bread off and eat them one at a time! Fun!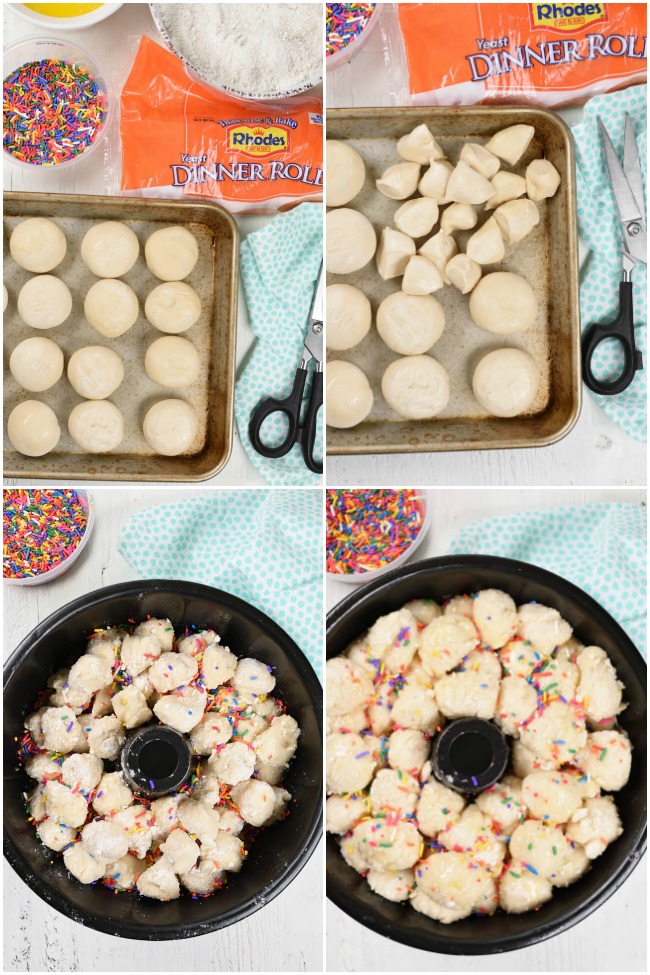 We love easy bread recipes!
Assembling this monkey bread is so EASY! Here are my hints for making it even easier!
I always use Rhodes frozen dough because who has time for making homemade dough? Especially when it tastes this amazing!
Only let the rolls thaw until they can easily be cut with scissors. This will make them not only easier to cut, but easier to coat with butter and sugar.
Coat bread pieces in butter, then roll them in a dry cake mix mixture. (You won't need to mix the cake mix according to the instructions on the back of the box).
Some people prefer adding the dry cake mix to a gallon bag and tossing the rolls in there. It's not my favorite method because they always get clumped together in one ball. But hey, if it works for you…go for it!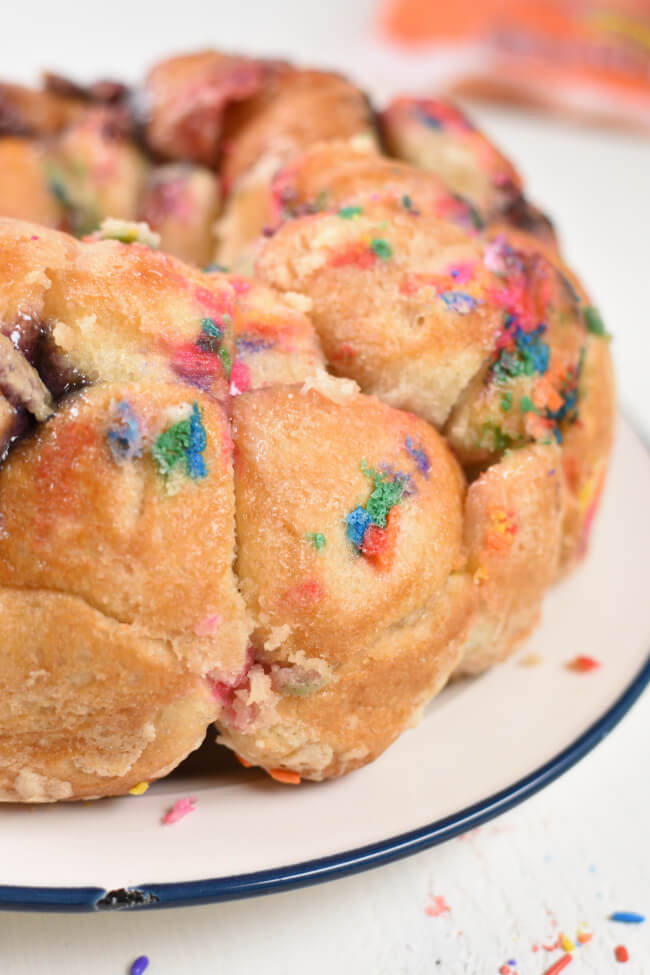 How long does monkey bread need to rise?
It really depends on the temperature of your room. Usually it takes about 3-4 hours.
You may also put assembled monkey bread in the refrigerator and let it rise overnight. If you choose this method allow it to sit at room temperature for about 10 minutes before baking.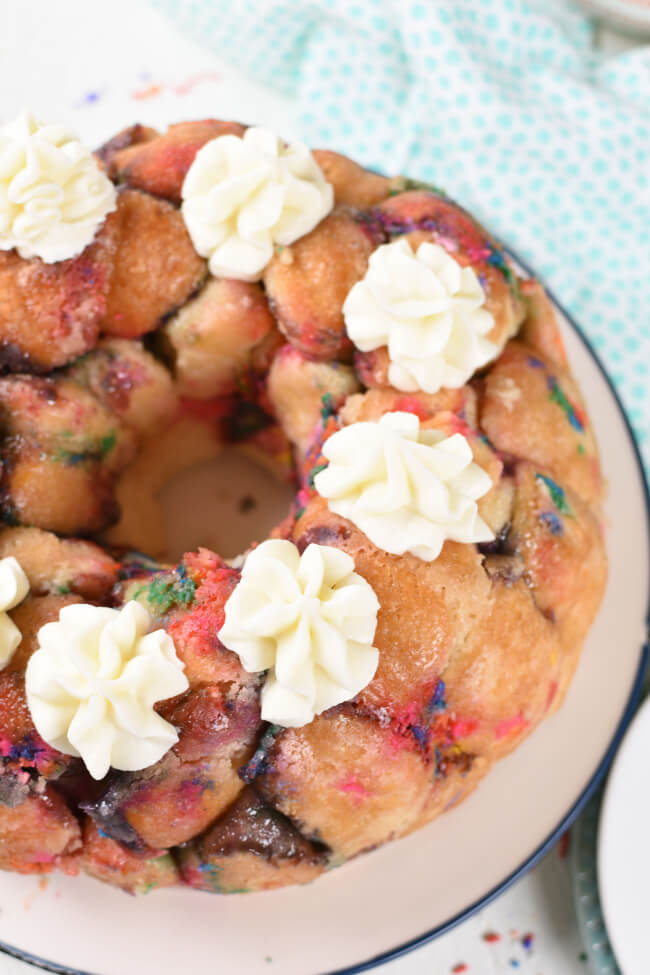 Do I have to frost this bread?
Absolutely not! It's delicious just the way it is!
BUT…what is birthday cake without frosting? It really is like icing on the cake! If you're in a hurry skip making homemade frosting and buy a can of it!
It's fun to pipe icing over the bread, or spread it over the top, or serve it along with the bread and let everyone dunk piece in it!
If you're feeling all sorts of crazy you can do all three! Then add more sprinkles for good measure!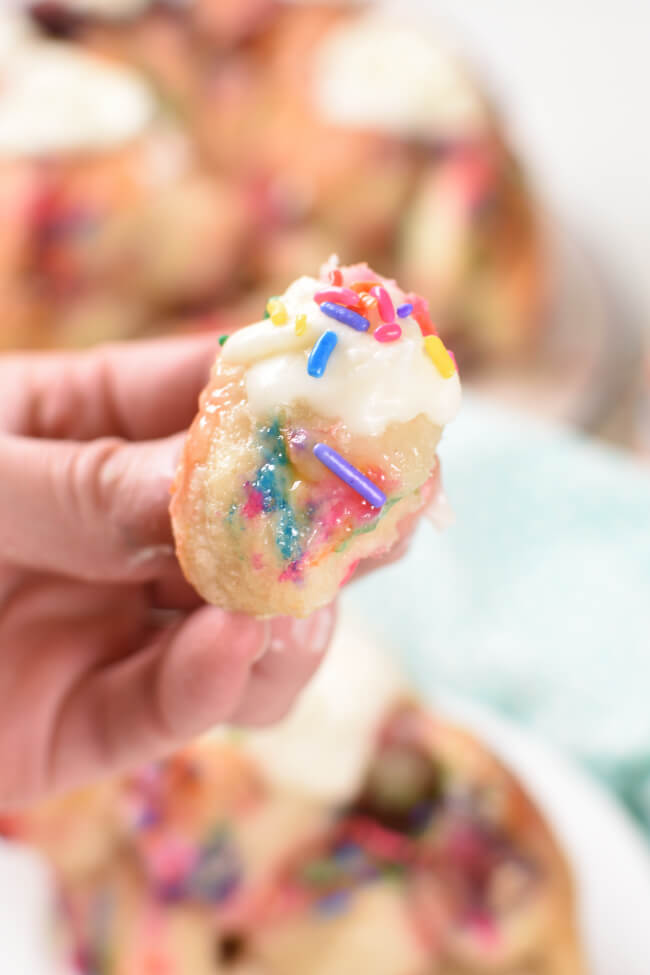 Other Monkey Bread Recipes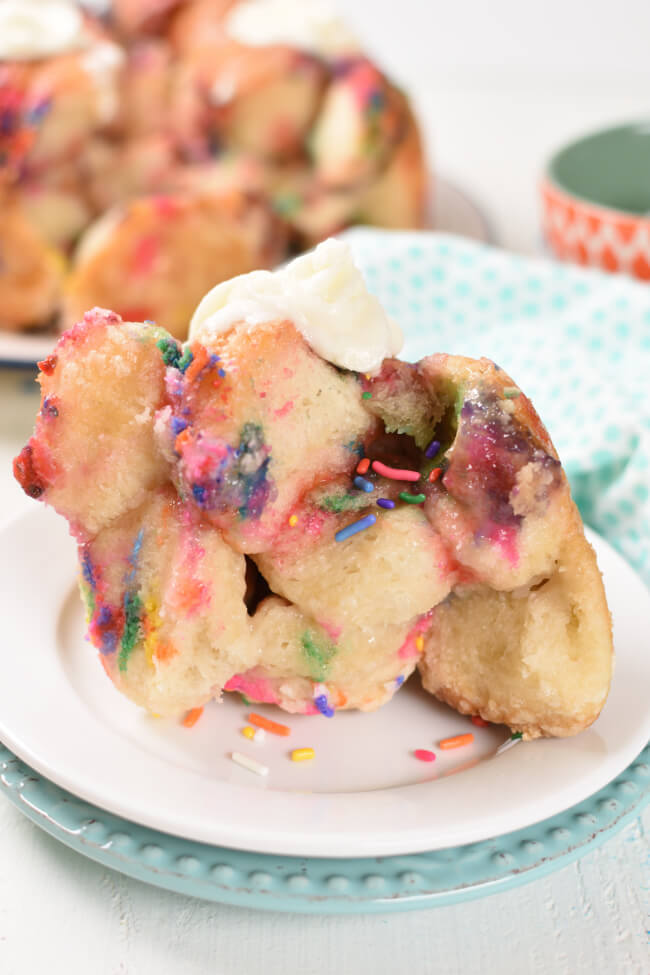 Birthday Cake Monkey Bread is a fun kids recipe!
Payson had a friend over the day I made this bread and they were both in love with it! Payson said it was the best monkey bread he's ever had…and that's saying something since I create a new monkey bread recipe every single month!
His friend is the most polite little boy on the planet. Apparently he wanted more but didn't want to ask for it because he thought it was rude!
I think I need to either have him over for more, or make a special delivery!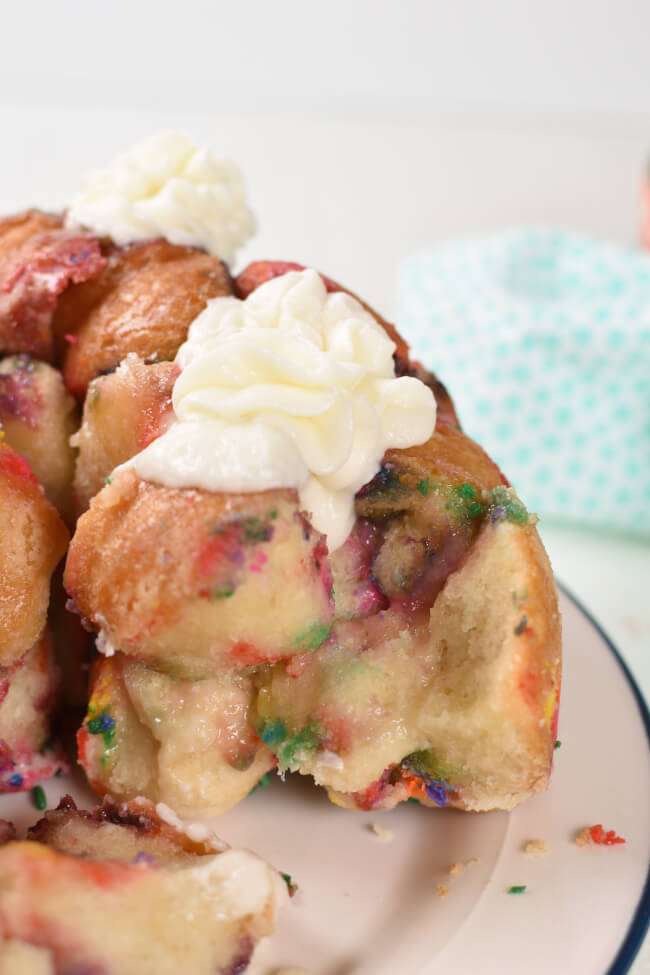 Grab the Birthday Cake Monkey Bread recipe!
Be sure to save this recipe to Pinterest so you'll be able to find it later!
And be sure to sign up for my newsletter so you can get all my recipes and some fun stories about the farm delivered straight to your inbox!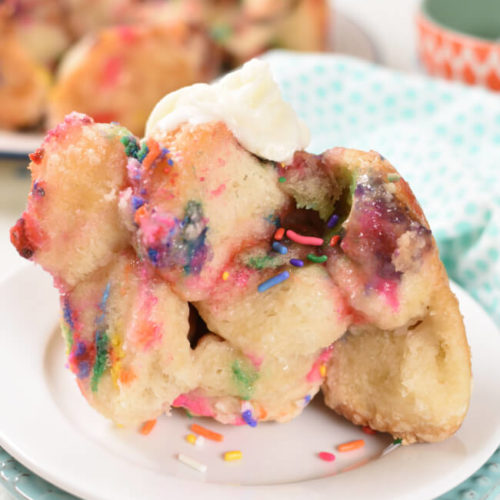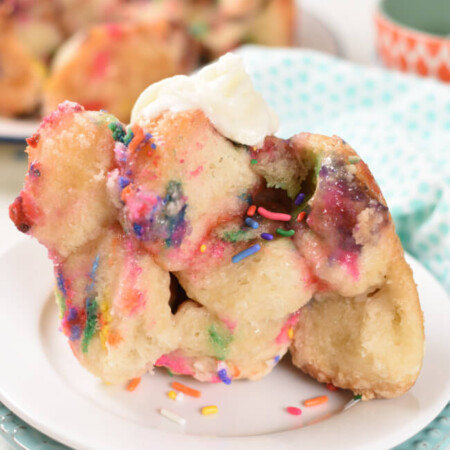 Birthday Cake Monkey Bread
Birthday Cake Monkey Bread is such a fun way to celebrate an occasion! It's easy to make and all the fun sprinkles will make even a regular day seem like a reason to party!
Ingredients
Monkey Bread
20

Rhodes rolls

1/2

c.

butter

1

c.

white cake mix

dry cake mix only

1/2

c.

granulated sugar

sprinkles
Frosting
1/4

c.

butter

room temperature

1

c.

powdered sugar

dash

salt

1/2

tsp.

almond extract

1-2

Tbsp.

milk
Instructions
Monkey Bread
Let Rhodes rolls thaw just until they are soft enough to cut with a pair of scissors.

Generously grease a bundt pan with baking spray.

In a shallow dish mix dry cake mix and granulated sugar. Melt butter in a shallow dish.

Cut half of the rolls in quarters. Coat each quarter roll in butter, then roll in cake mix and sugar mixture. Place rolls in prepared bundt pan.

Sprinkle a few candy sprinkles over the layer of rolls. It's easy to get carried away with the sprinkles because it seems like more sprinkles will be more fun! I've found that adding too many sprinkles isn't always best with this recipe because they settle to the bottom of the bundt pan then melt during baking. The bread actually is prettier if I contain myself!

Repeat process with remaining rolls.

Cover with greased plastic wrap and let rise until doubled in size. This usually takes about 2-3 hours and will depend on the temperature of your kitchen. At this point you can also put the monkey bread in the refrigerator until the morning.

Preheat oven to 350 degrees. Bake for 30-35 minutes. Check the bread about 20 minutes after baking and if it's getting over browned cover with aluminum foil for the rest of baking time.

Invert monkey bread onto a serving plate.
Frosting
With an electric mixer beat all ingredients until smooth. Start with one Tablespoon of milk and add more if needed to reach desired consistency.

Frosting can be piped onto monkey bread, spread over the top. or monkey bread can be dipped in it. Add extra sprinkles for decoration if you'd like.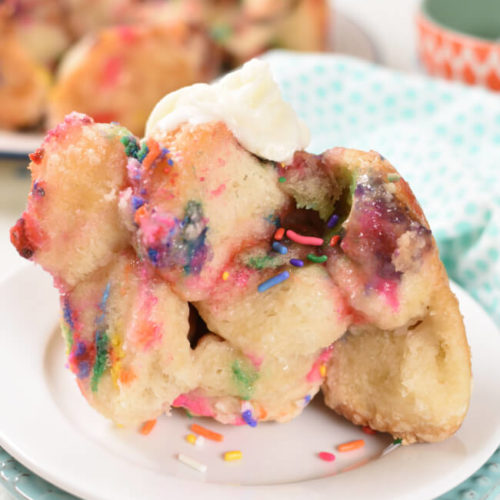 tried this recipe?
Make sure to share it with me! Leave a review or tag me on Instagram