These No Bake Meal Ideas are perfect for hot summer days or the busiest weekdays! They are family friendly recipes.
Instead of cranking on the stove use these skillet, one-pot, pressure cooker, slow cooker, grilled recipes. Plus, I've got a few easy no bake breakfast recipes too.
There are breakfast, brunch, lunch, and dinner recipes. And because dessert is important too, I've got a whole list of no bake dessert ideas too!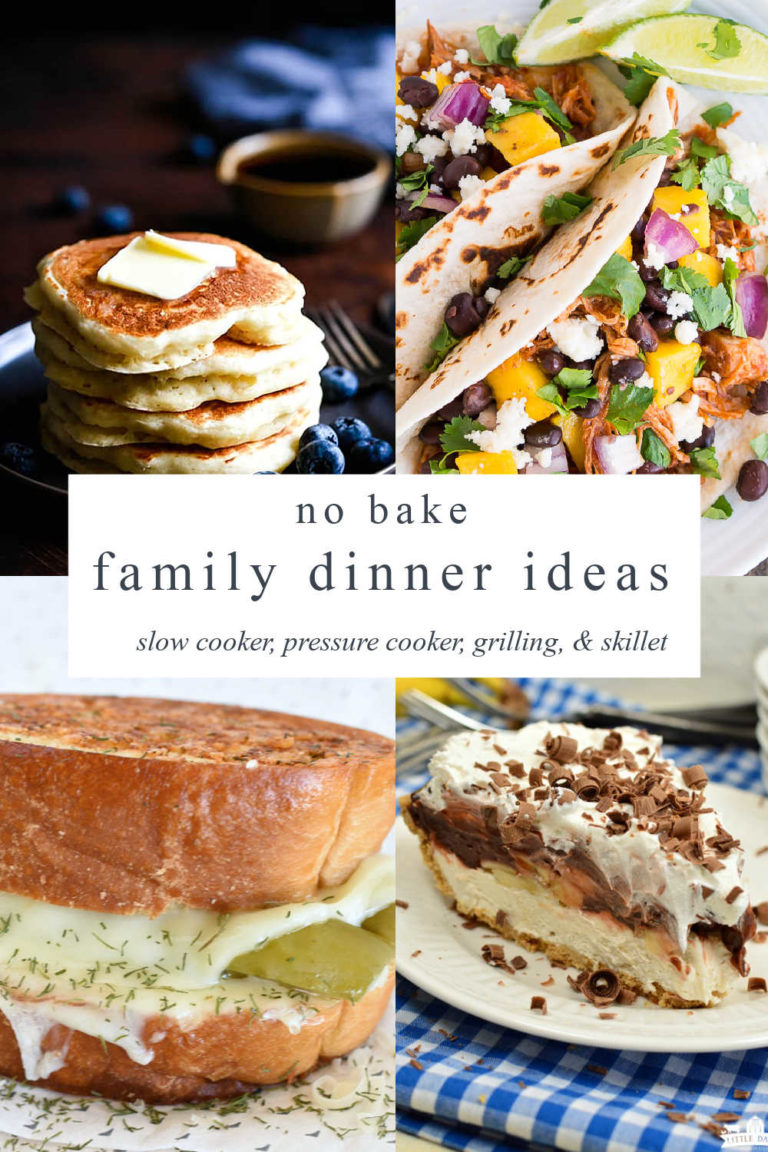 No Bake Meal Ideas are my go-to kind of recipes especially in the summer. But, they're also quick and easy for any other time of the year too.
In fact, most of time I make dinners without using the oven because I love how I can prep ahead of time and use the crock-pot.
In the summer nothing beats firing up the grill. It keeps the house cool and tastes amazing!
Check out these super fun no bake food ideas!
No Bake Brunch Ideas
Who has time for cranking the oven on for breakfast? Not me! Probably not you!
Some parts of these recipes can be prepped the night before and assembled in the morning. That's my favorite menu hack!
When my kids are in the tractors day after day, they eat A LOT of breakfast sandwiches because they're easy to pack up for on the go breakfasts, and they're quick to make.
No Bake Dinner Ideas
Here are a few of my favorite no oven meal ideas! They're all great no bake lunch ideas too because they're quick and easy.
I've got you covered with easy sandwiches, a campfire meal, Mexican food, and more!
You guys, I'm kinda the queen of quick and easy meals so be sure to check out my whole collection! If a recipe is going to be a winner at my house it has to be EASY!
No Bake Dessert Ideas