Sometimes the simplest things in life are best and Easy Graham Cracker Toffee Bark is definitely simple and the BEST! This no thermometer needed candy only takes 4 ingredients, comes together in about 5 minutes, and if you are like me it will be gone in about 5 minutes too! It's ridiculously easy to make and probably the most addiciting candy I've ever eaten! Now that's really saying something!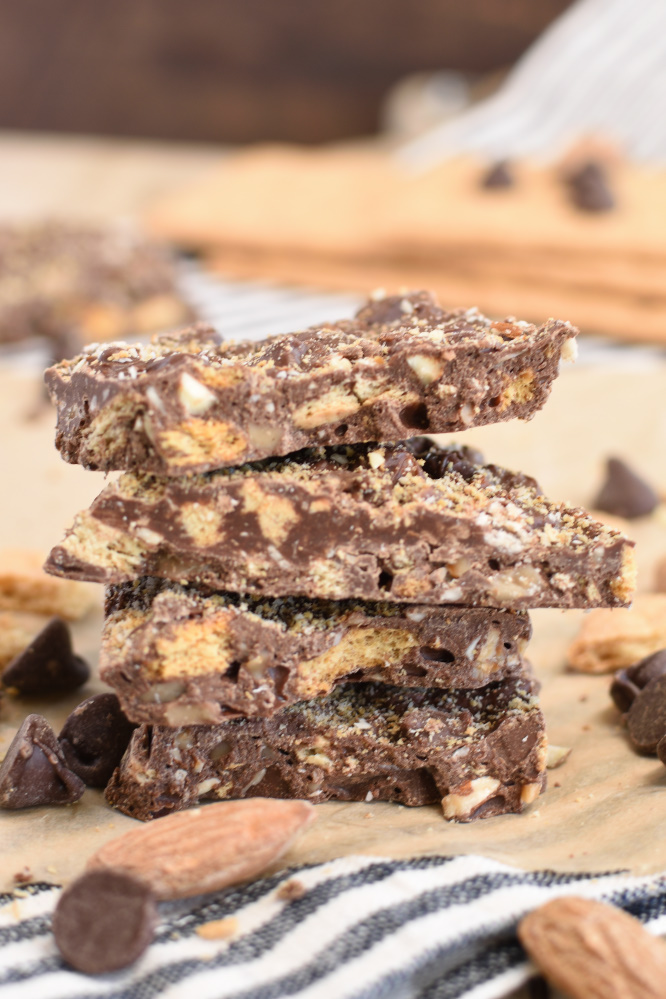 Easy Graham Cracker Toffee Bark is one of those recipes you will want to keep all to yourself!
I'm getting real with you guys today. I'm that crazy mom/wife that hides all the candy and snacks from my family. No kidding my family didn't even know Easy Graham Cracker Toffee Bark existed!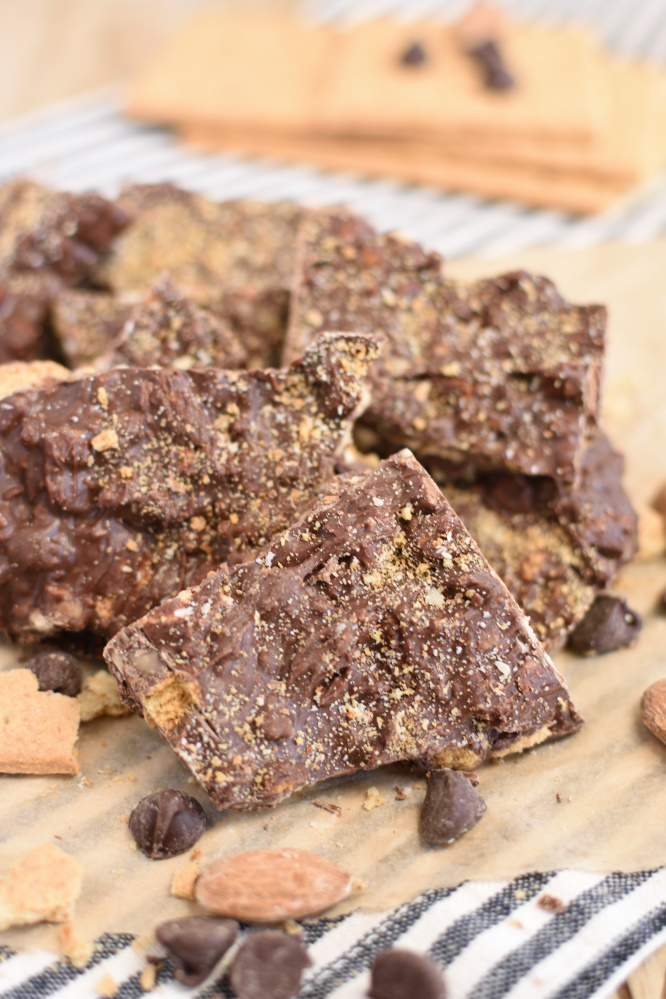 I love lot's of different kinds of candy, but this might be my very favorite!
There are two reasons I hide all the best treats!
For some crazy reason I just like to hoard a few items. Candy is one of them! Money is the other! I can't be helped! I save it…all of it!

And to be honest if I didn't hide all the candy my family would devour it in about 2 seconds! No joke!
When I was a little girl I used to save my Christmas candy until well after Christmas the next year. When I finally caved and decided to indulge in the much anticipated treats I would unwrap it to find stale, white, powdery chocolate!
Gah! Why do I save it until it's rotten?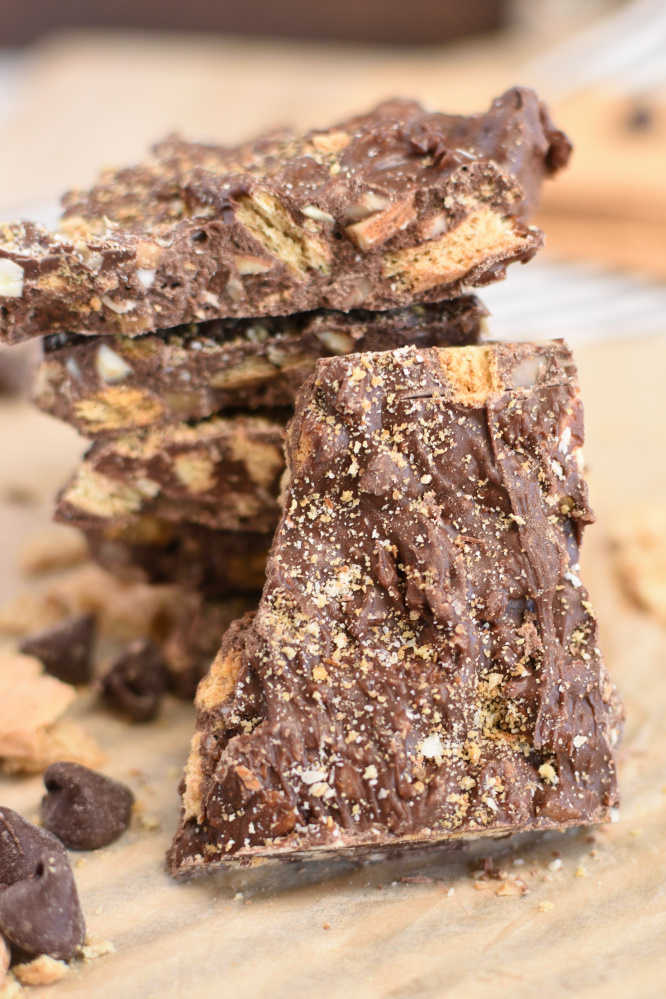 Want me to let you in on some of my favorite hiding tips?
Of course there's always the underwear drawer and it usually does work pretty good.

My favorite is hiding the really good stuff near the cleaning supplies…NO ONE ever looks near the cleaning supplies!

Or you can always tuck it inside the rice cakes bag! Trust me it's safe in there!

The other tip is to keep the candy on the move. Those kids are sneaky little buggers and will sniff it out after awhile!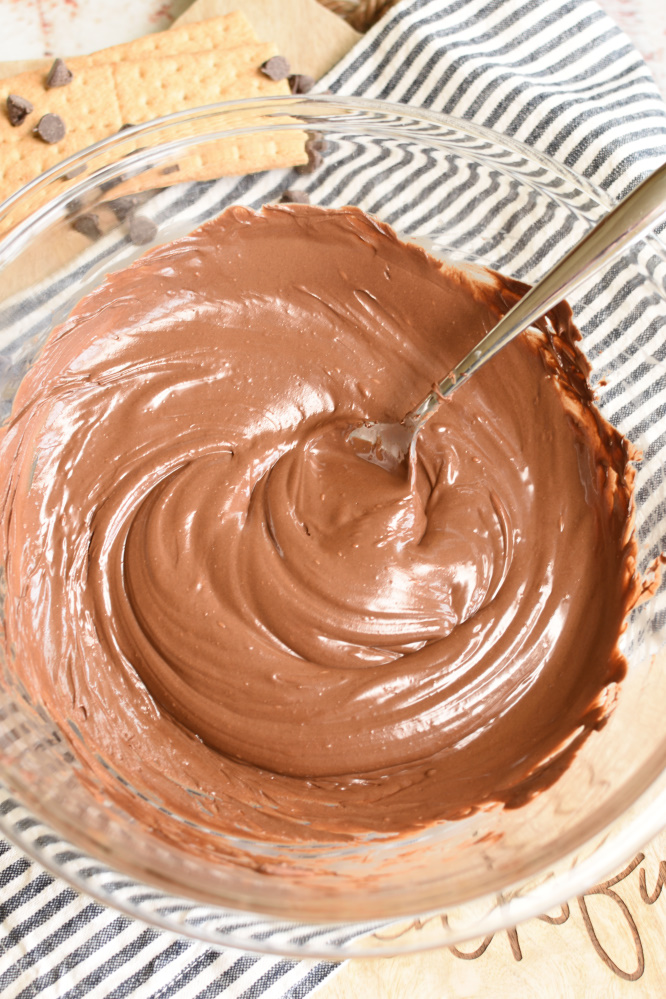 A few years ago I bought a HUGE bag of candy that tasted just like this Easy Graham Cracker Toffee Bark. I hid it! I hid it good! Really good! I ate the whole thing before it had a chance to rot…like in about a week and it was a Sam's Club sized bag! You know, the family size bags!
I was a little embarassed I snarfed the whole thing down by myself, yet a little proud of myself for not saving it at the same time!
It only take a few minutes and 4 ingredients to make Easy Graham Cracker Toffee Bark!
Sam's Club quit carrying the Graham Cracker Toffee Bark and I just knew I had to learn how to recreate it myself and that's when Easy Graham Cracker Toffee Bark was born! It is just as divine remembered it being when I was devouring it in my closet while no one was looking!
This bark is thick, and absolutely chock full of graham crackers, almonds, and toffee chips! I know they are just simple pantry ingredients but they take on a whole new WOW factor when they are nestled inside of chocolate bark! I can't even tell you how yummy!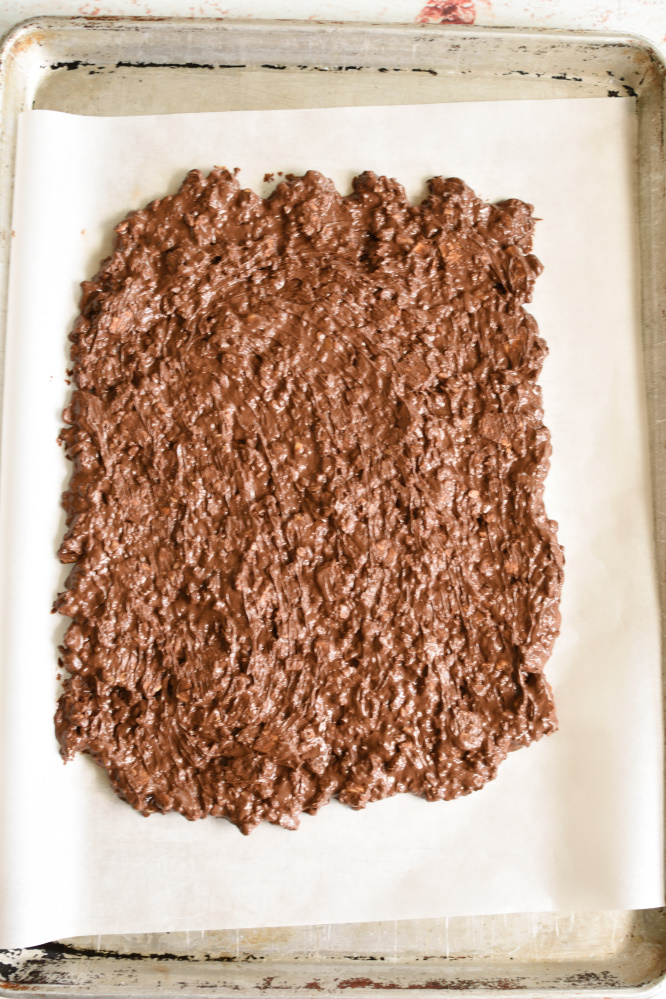 You guyyys! I whipped up a batch of Easy Graham Cracker Toffee Bark the other day to take to my mom's house. I actually shared it and everyone loved it!
I took it to my sisters baby shower. People had to push it away, out of sight, so they could stop themselves for eating to the point they needed to unbutton their jeans!
Easy Graham Cracker Toffee Bark really is that good!
And it's so stinking easy to make that it's completely dangerous! So dangerous I think I better not hide anymore of it or bad things might happen to me!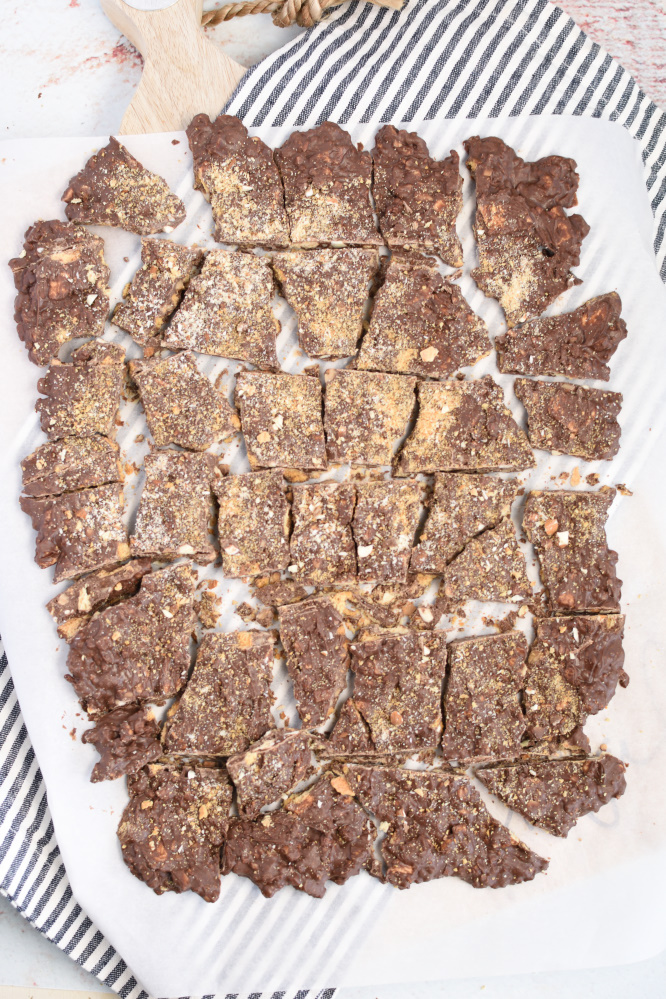 Don't let the simplicity of the ingredients and the recipe fool you. The combination is stellar!
Trust me, taking five minutes to throw a few simple ingredients you already have in your pantry together is a good idea!
Here's the deal, if you come to my house and find my stash of Easy Graham Cracker Toffee Bark by cleaning supplies you owe me one bathroom cleaning! Deal?
Go ahead and print the recipe off or save it to Pinterest!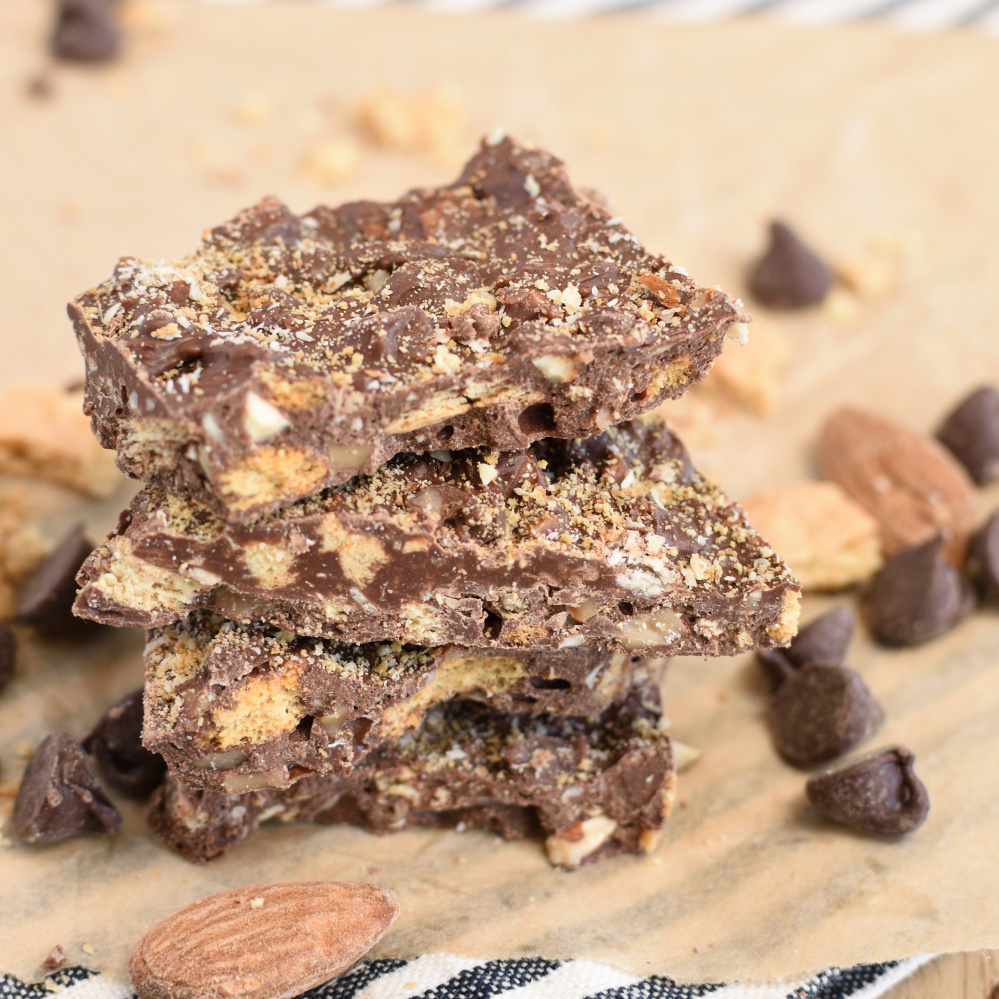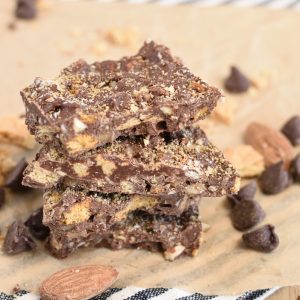 Easy Graham Cracker Toffee Bark
No bake Easy Graham Cracker Toffee Bark is that treat I can't quite convince myself to stop eating! Its ridiculously easy to make, and so stinking addicting! You are seriously going to fall in love with this one!
Ingredients
16

oz.

good quality chocolate chips

I like a combination of semi-sweet and milk chocolate

¾

c.

graham cracker chunks

I chop them a little smaller than the size of a penny

½

c.

chopped almonds

¼

c.

toffee chips
Instructions
Line a baking sheet with wax paper or parchment paper.

Measure out graham cracker crumbs, almonds, and toffee chips.

Melt chocolate chips in the microwave. I microwave them for 1 minute at half power, then stir. Then microwave for 30 second intervals at half power, stirring after each interval until the chips are melted and completely smooth. Watch it closely so it doesn't burn.

Add graham cracker chunks, almonds, and toffee chips. Stir.

Spread on the parchment paper. I like this particular kind of bark to be pretty thick. Mine was about ⅜-½ inch thick. (If desired you can add a sprinkle of sea salt before the bark sets up)

Let sit until firm. Break into pieces. Store in an airtight container.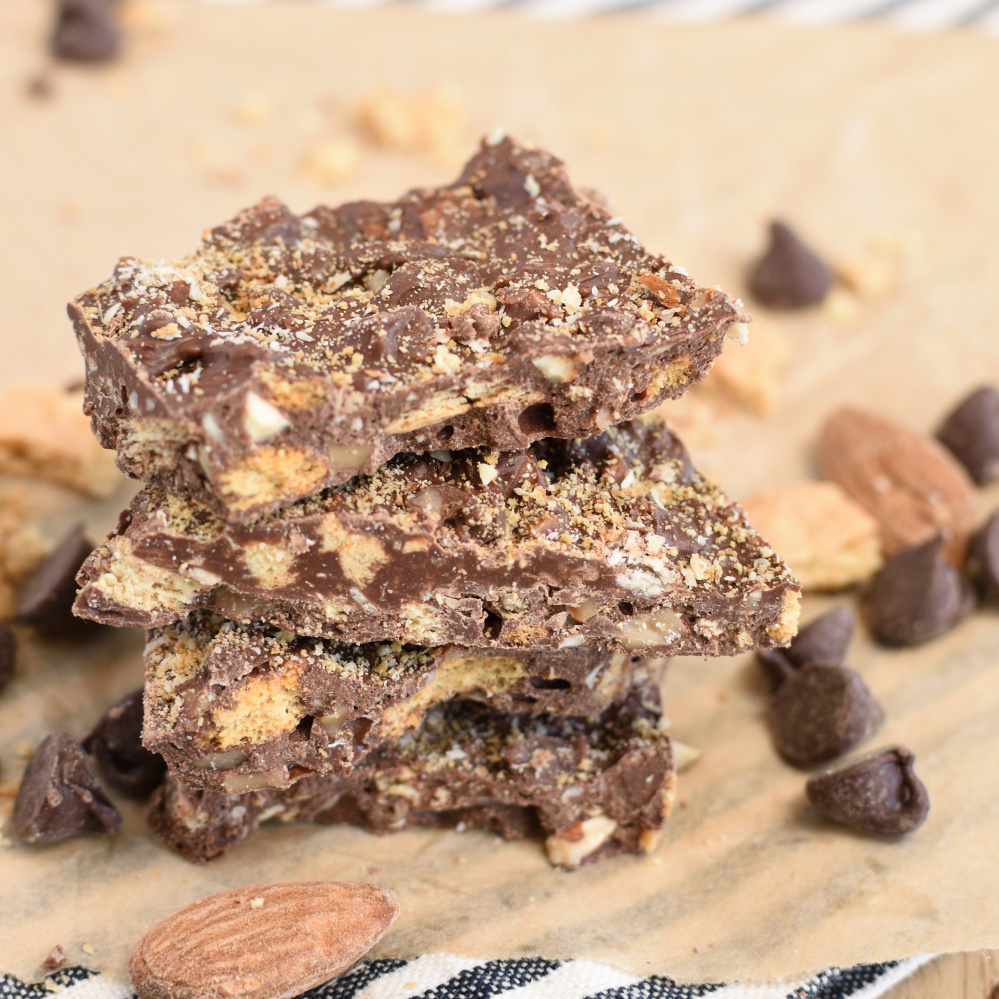 tried this recipe?
Make sure to share it with me! Leave a review or tag me on Instagram