Let me show you all my tips and tricks so you'll know exactly how to grill the perfect New York Strip Steak every time! It's one of our favorite beef steaks! You'll love this easy method for making juicy strip loin steaks on the smoker, charcoal grill, or gas grill! There's no marinading ahead of time.
When you're making steak the type of steak you're using matters! Boneless strip steaks make a juicy steak with a perfect beefy flavor! A striploin is a tender steak with the perfect amount of marbling that's made even more flavorful when rubbed with seasonings right before cooking!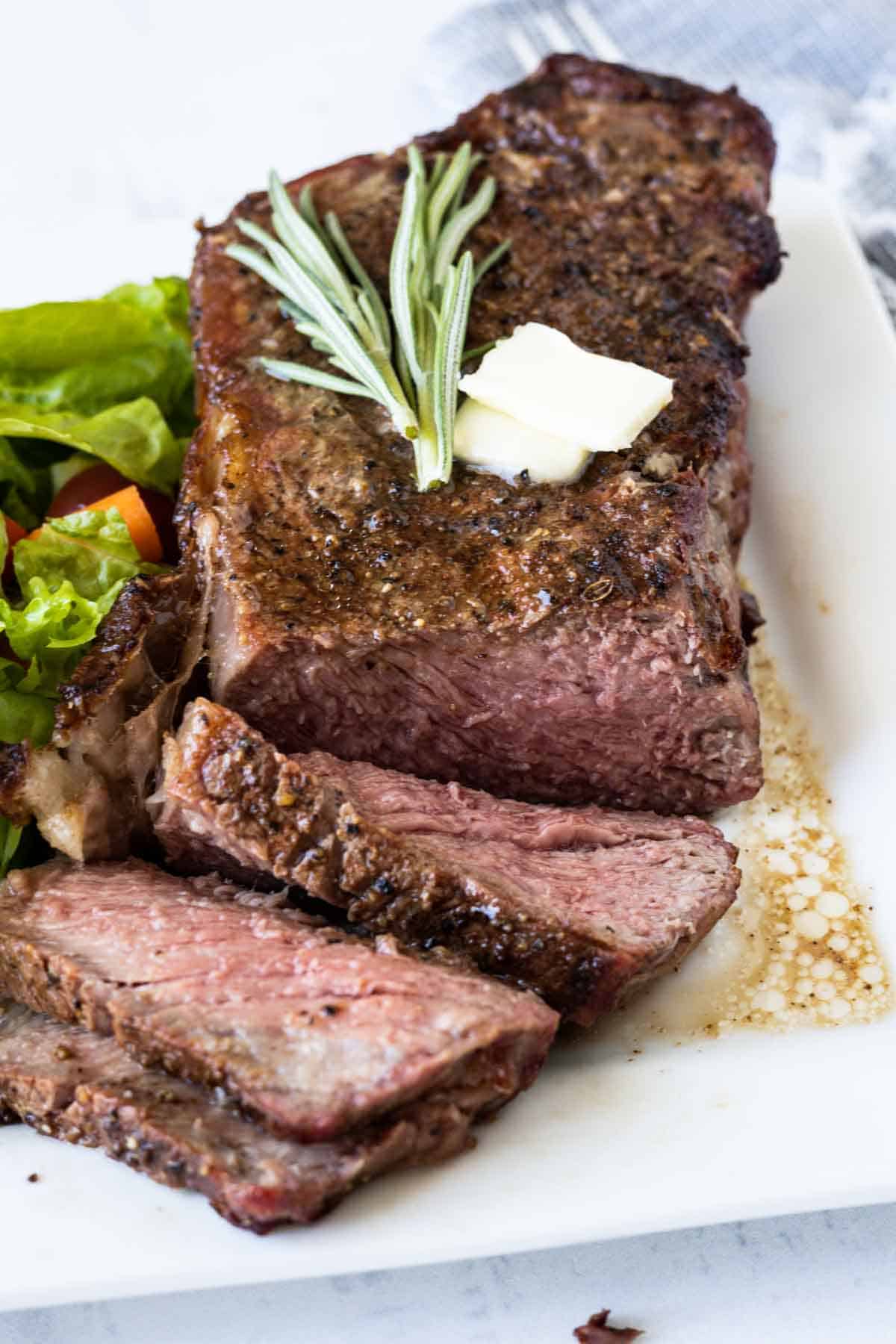 My family is all about amazing steak recipes! We've mastered making a beef tenderloin steak, or filet mignon, in a cast iron skillet! And, we're pretty fond of my homemade steak marinade for pretty much any cut of steak including sirloin, ribeye, and flank steaks.
We love all the different cuts of steak. I'm not sure why it took us so long to fall in love with the NY strip steak. But, it's definitely at the top of our list now!
We usually order ribeyes at our favorite steakhouse but one day we decided to switch it up and ordered a strip steak instead. We've been ordering it when we go to restaurants and buying NY strip steaks for grilling at home ever since! We're hooked!
Learn how to grill a New York Strip steak perfectly and it's a game changer! Striploin is a tender, yet marbled steak. Grilling ny steak is the best, most tender, and juicy cut of beef!
Why This Recipe Is the Best New York Strip Steak Recipe:
Eating out is so expensive these days that it makes more sense to go to the butcher and buy thick, fresh steaks and bring them home to grill. After you try this recipe you'll want to ditch eating out and make them at home too!
A New York Steak is almost as tender as a filet mignon, but it's also as flavorful as a rib eye because it has more marbling (that's where the flavor comes in) than a tenderloin steak, but the cut of meat comes from a very tender part of the cow. It's the best of both worlds.
Quick and easy! This steak grilling method doesn't require reverse searing. Don't get me wrong, that's a great method too. It takes a little more time and sometimes I don't have a little more time. This recipe doesn't require much planning ahead.
Only a few ingredients are needed!
What is New York Strip Steak
Strip steaks have the perfect balance between flavorful and tender. It all has to do with what muscle the meat comes from and what the marbling is like.
So, what is the difference between a rib eye and a New York steak? The ribeye vs. New York Steak is an age-old debate!
New York Strip Steak
It's a boneless steak that comes from the top part of the beef short loin, right behind the ribs.
This muscle doesn't get used very much so it's tender.
A strip of fat runs along the edge of the steak and doesn't have an excess of marbling in the actual meat.
The meat is still flavorful without the extra fat. It's also called striploin, Kansas City Strip steak, or Omaha Strip steak.
Ribeye Steaks
A ribeye steak, which is one of the most popular steaks comes from the beef rib section, close to the neck.
More marbling throughout the meat gives the steak a more robust and buttery flavor and is juicy.
It's also called a cowboy cut (with a bone)
What Grade of Steak Should I Buy?
The grade of beef is referring to the quality of the beef and is based on aging and marbling (the fat content inside the beef). Beef is graded on the amount of good fat in the meat and the tenderness. The age of the cattle also plays a part in the grade of the cut of meat.
Different grades of steak make a huge difference in the overall quality of the grilled steak. There is also a price difference between the different grades of beef.
I buy choice NY steaks which are not the most expensive quality, but still a good steak.
USDA Prime: Prime cut of beef is the highest grade of beef. This cut has the best marbling and is rich and tender. It's mostly found at high-end restaurants, butcher shops, and grocery stores.
Choice: Most beef on the market is labeled as choice graded. It's a middle-of-the-road, yet a really good quality grade of beef. This is the most common grade of beef and the one I usually buy. Choice grade is perfect for grilling steaks, or pan-fried steaks.
Select Grade: This is the lowest quality of beef because it doesn't have much marbling/fat content and is typically drier, tougher, and less flavorful meat. I love buying select-grade beef for recipes like Slow Cooker Cube Steaks in Mushroom Sauce, Mississippi Roast, and my Classic Roast Beef Recipe.
Ingredients Needed:
I love love, love that you don't really need any fancy ingredients to grill New York Steaks.
In fact, you might be surprised at just how simple the ingredient list is.
New York Steaks: I like thick cut steaks and usually buy ones them about 1 1/2 inches thick. You can buy thin steaks if you'd like, but they are harder to cook without drying them out. Thinner steaks cook through faster and are at the doneness temperature before the outside is seared. Thicker steaks stay juicy and don't get overdone as easily.
Olive oil: I like olive oil because it's a high smoke point oil, which means it can get really hot before it starts smoking. You can also use canola oil if that's what you have. If you don't have either go ahead and skip it altogether.
Seasonings: Salt and pepper are really all you need! Fresh ground black pepper and Kosher salt are my favorites. Fresh pepper adds more flavor than the kind that's already ground. Kosher salt has bigger flakes and gives the steaks great flavor. If you only have table salt and pepper go ahead and use it. Although, I'd definitely recommend buying a pepper grinder and Kosher salt. It's totally worth the money and you'll find that you will use it all the time!
Butter: Adding a little butter to the top of the grilled steak and letting it melt while the steak rests is divine! I love using my homemade garlic butter.
You're welcome to use your favorite homemade steak seasoning or store-bought steak rub. Whatever you use be sure to be generous for a heavily well-seasoned steak.
Instructions:
I'm going to walk you through how to grill New York Steaks so they are perfect every single time!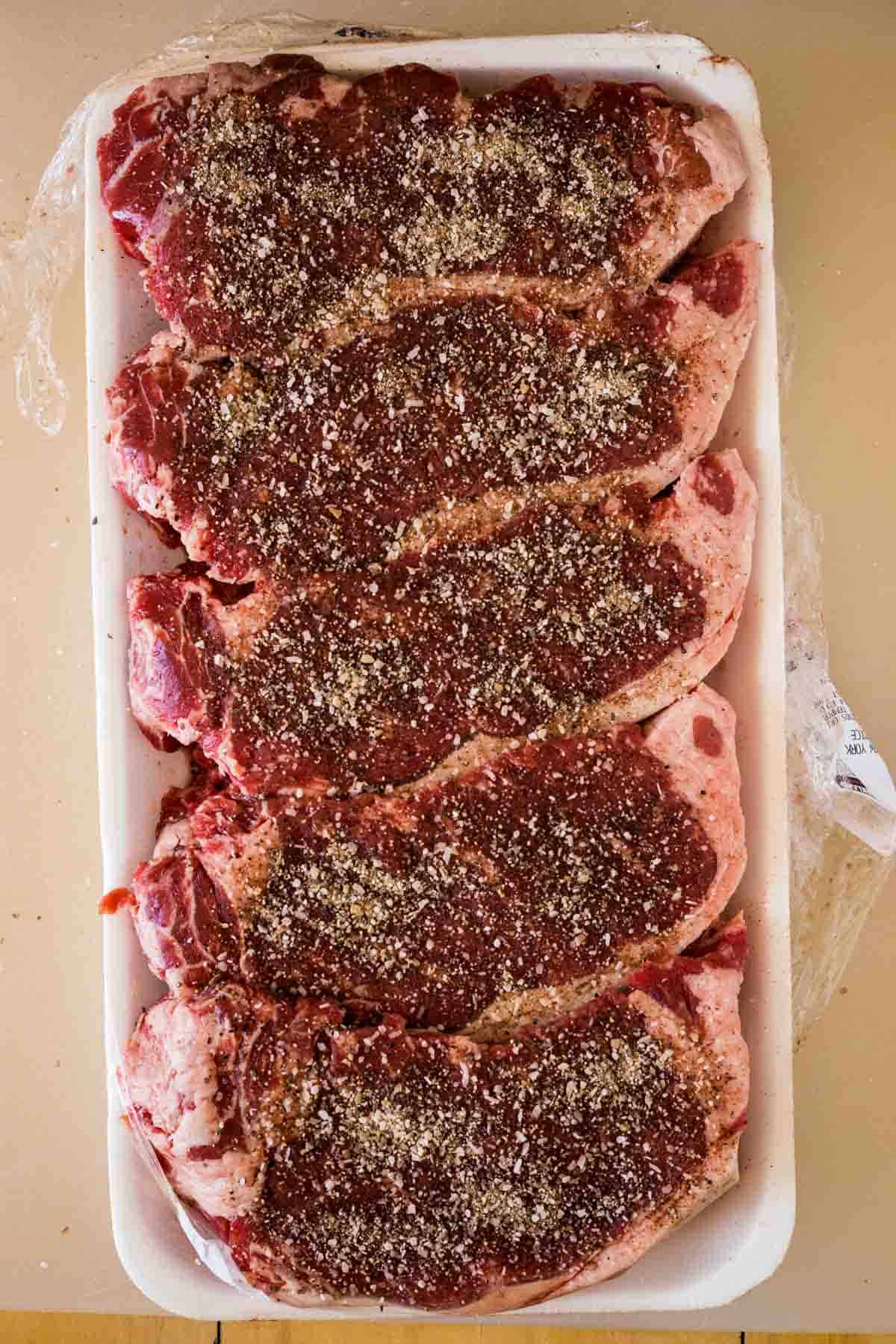 Step 1: For best results, about 30 minutes before grilling the steaks remove them from the refrigerator and let them sit covered at room temperature. Heat the grill to a high temperature or the smoker to 425 degrees. I use a pellet grill. Mine is a Traeger and it works perfectly!
Step 2:
Pat steaks dry with paper towels. Brush one side of each steak with a thin coat of oil. Generously (and I mean generously) season steaks with salt and pepper. You can also use your favorite steak seasoning if you'd like. Some people really like Montreal steak seasoning. And if love the flavor of the beef to shine, you can use a little bit of seasoning. This recipe isn't all about specific measurements. You do what you like!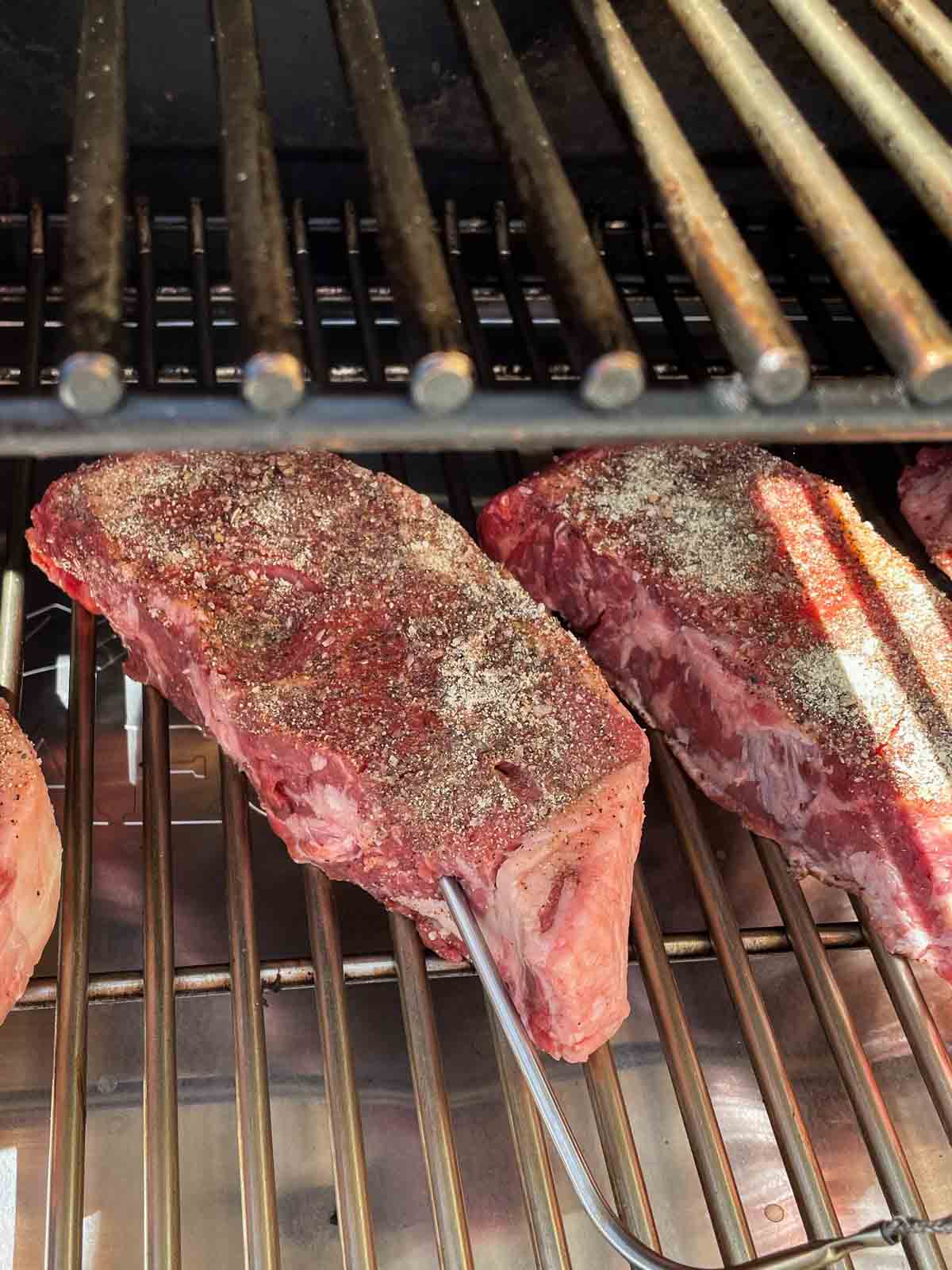 Step 3: Once the grill or smoker is preheated put the steaks on the hot grill for 4-5 minutes. Flip and grill for another 4-5 minutes depending on the desired doneness.
Cooking steaks to temperature instead of time is the best way to ensure they are cooked to the doneness you like. My Traeger has a temperature probe that I use. I also really love my Thermapen instant-read thermometer…a lot! (See steak temperature chart below.)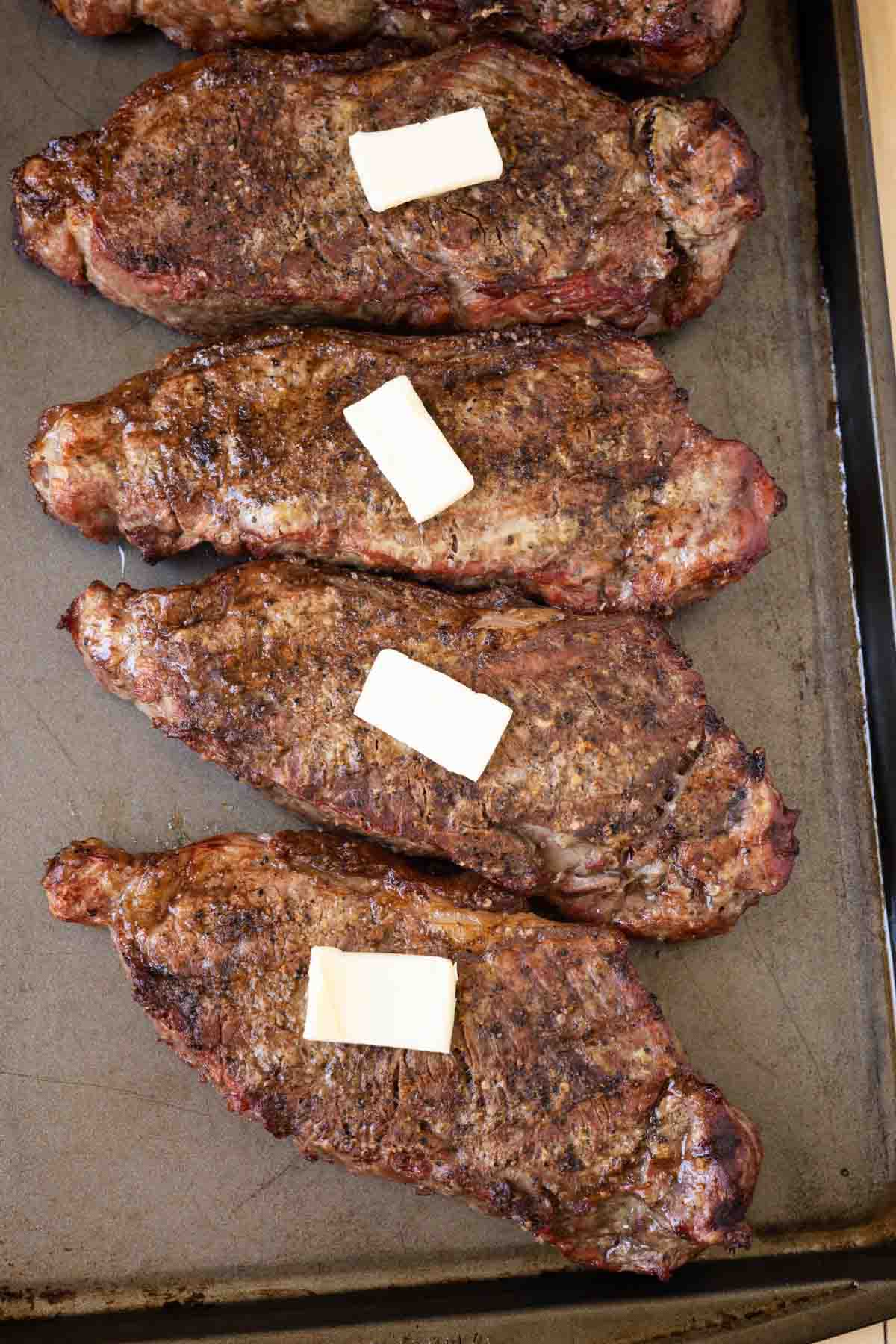 Step 5: Once steaks are 3-5 degrees away from the desired temperature remove them from the grill and place steaks on a cutting board (I like cutting boards with a channel around the edges to catch the juices. Set a small slice of butter on top of the steaks. Cover with aluminum foil and let the steak rest for 10 minutes. (My Garlic Herb Butter is my very favorite compound butter for steaks.)
How Long to Grill Steaks:
How long you should grill a New York Strip Steak depends on a lot of things. The internal temperature of your steak is the most important thing to know to get a perfect steak.
The thickness of the steak
The cooking temperature
The temperature of the steak before you start cooking it.
The desired doneness.
The length of time will vary, so cooking times are an estimated suggestion. The best way to know when your steak is done is to use a meat thermometer to check the temperature of the meat.
Check out this chart for cooking the perfect grilled steak medium-rare steak all the way to well done. Medium is my favorite and I don't recommend cooking strip steaks that are thinner than 1 inch because they cook through too quickly.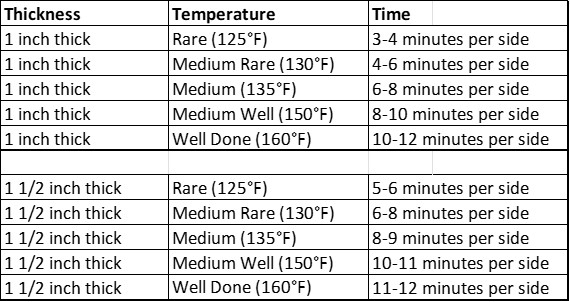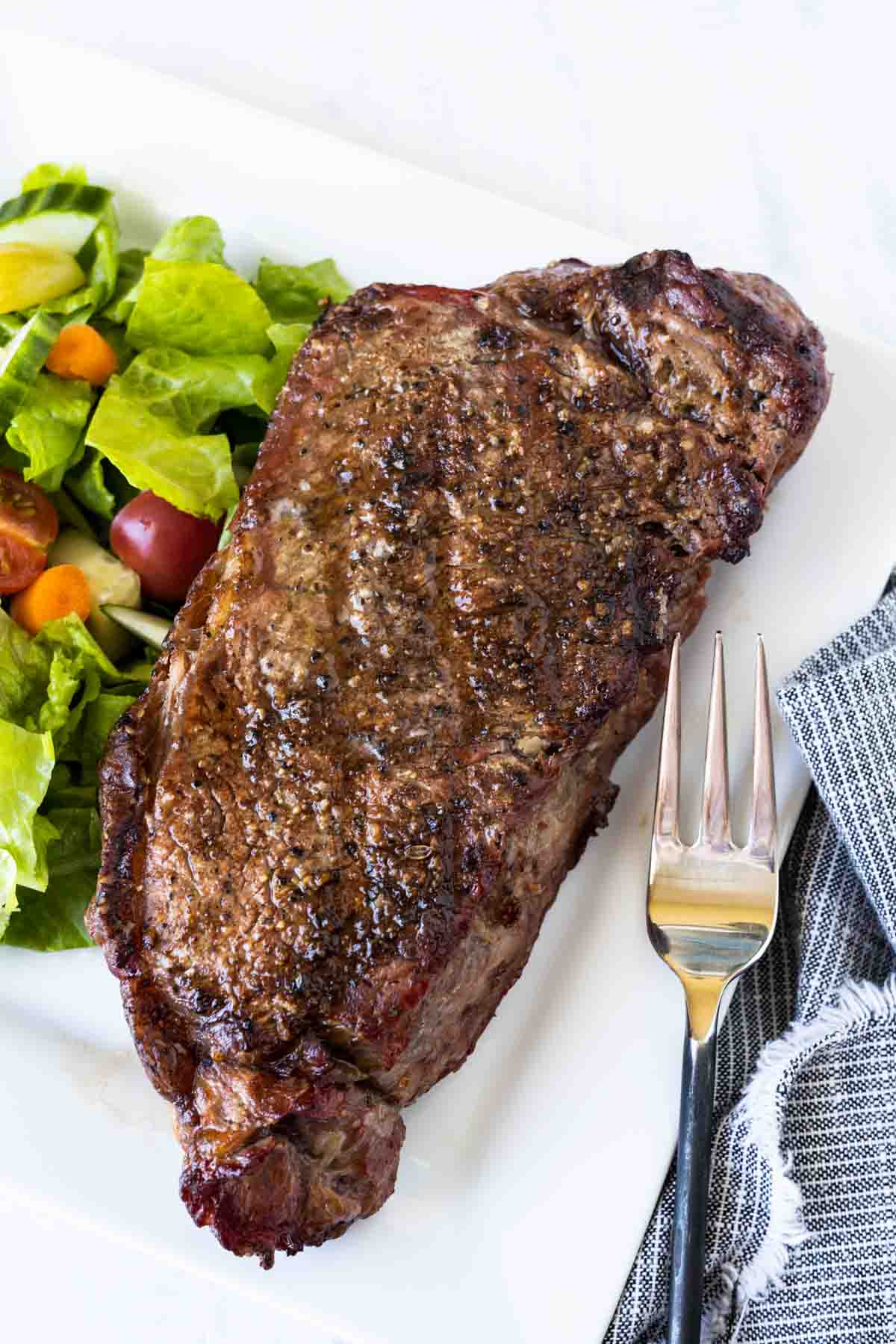 FAQs:
How long will a strip steak last?
You can keep a strip steak in the refrigerator for up to 4 days. You can also freeze it for up to 9 months in a freezer-safe bag or container.
How many steaks should I buy per person?
This all depends on your crowd! My boys can eat a lot of steaks! 5-6 ounces of steak in one serving. New York Strip Steaks are typically about 10 ounces, which would feed two people (again, that depends on who you are feeding)
How thick should steak be cut?
1 inch is a very standard thickness. I prefer 1 1/2-inch steak, which is what most premium steaks are cut to. 1-inch steaks cook quickly, Sometimes the inside of the steak is overdone by the time the outside is perfectly charred. 1 1/2-inch steak are best for achieving perfect grill marks on the outside and a pink center on the inside.
Serving Suggestions:
A striploin goes with about anything! I love that you can make it feel like a BBQ meal or dress it up and make it fancy! You choose! Here are a few simple and easy sides that go perfectly with this steak!
Leftover Steak Recipes:
Since you're already making the perfect New York strip steak you might as well make extras to use later in the week.
They are simple recipes that take just a few minutes to throw together
Steak and Eggs
Add to grilled cheese
Serve on a green salad with French Dressing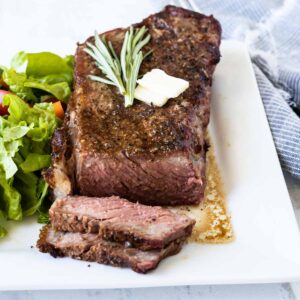 How to Grill Perfect New York Strip Steak
Learn all of my tips and tricks for grilling New York Strip Steak! Cook it on a gas or charcoal grill, or a pellet smoker. This steak is juicy, flavorful, and tender!
Ingredients
4

1 1/2 inch

New York strip steaks (about 10-12 ounces each)

2

Tablespoons

olive oil

2

teaspoons

Kosher Salt

1

teaspoon

freshly ground black pepper
Instructions
30 minutes before grilling remove steaks from the refrigerator and let rest at room temperature.

Preheat the grill, or smoker, to 425 degrees.

Pat steaks dry with a paper towel. This helps them to get a nice crust.

Brush a thin coat of olive oil on both sides of the steaks.

Generously season both sides of the steaks with salt and pepper. Although I recommend a generous seasoning you can adjust the amount to your taste.

Set steaks on the preheated grill or smoker. Grill for 4-5 minutes. Flip and grill for another 4-5 minutes, or until the desired doneness. I really recommend cooking steaks to the desired temperature rather than cooking them for a certain amount of time. See the cooking chart in the Notes section.

Remove steaks from the grill when they are 3-5 minutes away from the desired temperature. Set a small slice of butter on each steak. Cover with foil. Rest for 10 minutes.
Notes
Any beef seasoning will work for this recipe instead of salt and pepper.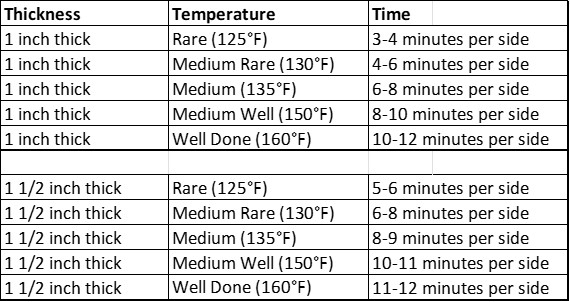 1 1/2 inch thickness is my favorite because it's thick enough that the inside has a chance to cook to the desired temperature before the outside is overdone.
Nutrition
Calories:
569
kcal
|
Carbohydrates:
0.3
g
|
Protein:
47
g
|
Fat:
41
g
|
Saturated Fat:
15
g
|
Polyunsaturated Fat:
2
g
|
Monounsaturated Fat:
20
g
|
Cholesterol:
181
mg
|
Sodium:
1281
mg
|
Potassium:
714
mg
|
Fiber:
0.1
g
|
Sugar:
0.003
g
|
Vitamin A:
3
IU
|
Calcium:
55
mg
|
Iron:
3
mg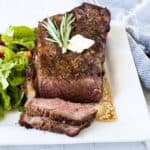 tried this recipe?
Make sure to share it with me! Leave a review or tag me on Instagram