Roasted Green Beans are a quick and easy side dish recipe that can be prepped and cooked in about 20 minutes! Plus, if you're really in a hurry you can prepare most of the recipe ahead of time!
Sometimes HEALTHY and FLAVORFUL don't belong in the same sentence, but these green beans really are both! Even my nonvegetable loving kid gobbled them down!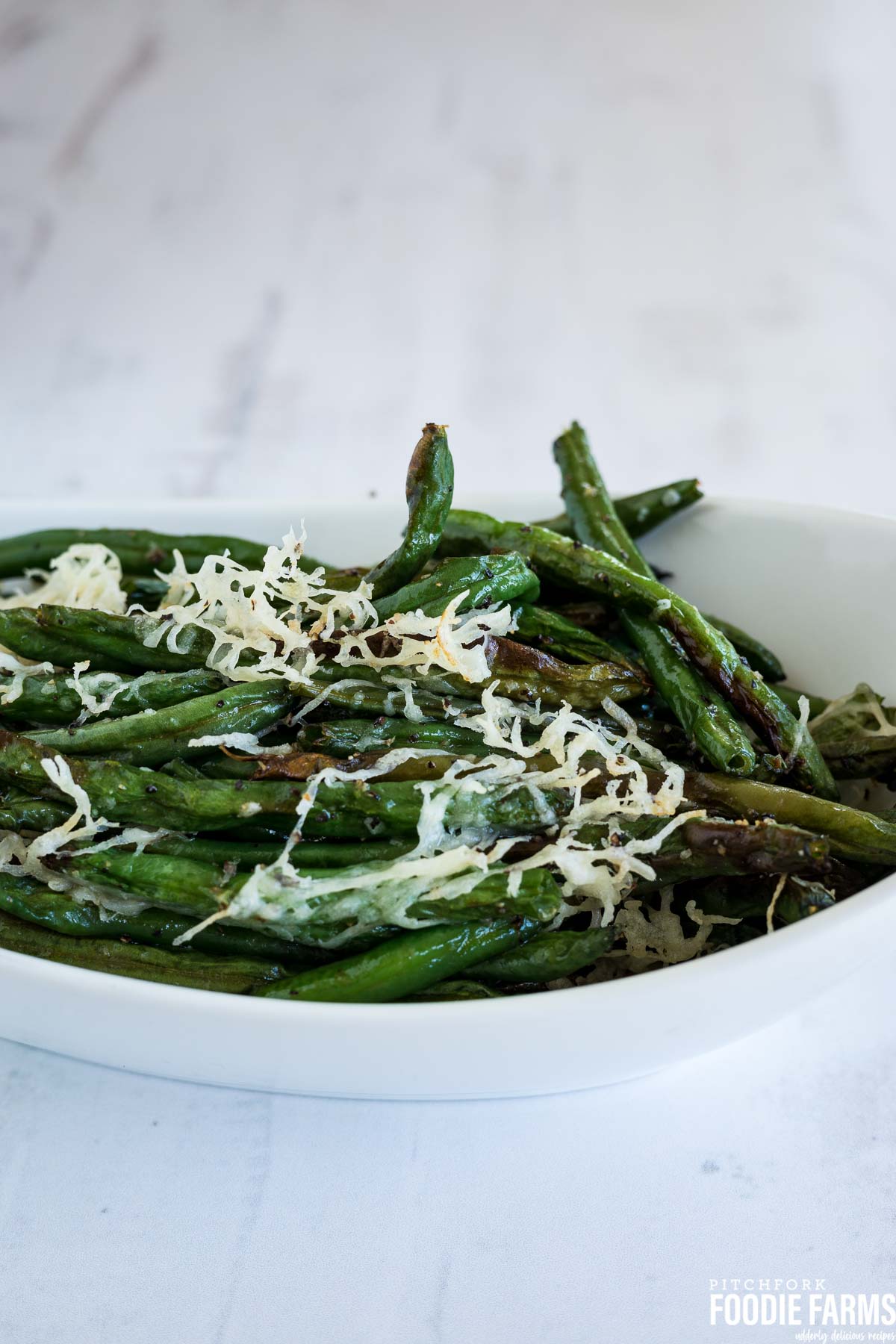 This post was originally published in 2014 and update in 2021 to include new images and additional tips. The recipe stayed the same!
Why Roasted Green Beans are the BEST:
I love side dishes, but to be honest with you it's the last thing I think about when I'm meal planning. That's why I'm usually scrambling at the last minute for something to serve with my main dishes. It's recipes like Parmesan Orzo, Smashed Potatoes, 3 Bean Salad, and Slow Cooker Corn that save my life because they can be made ahead. But when I'm at the last minute and don't have a thing ready…baking green beans is always a good answer!
Baked green beans seriously fit in the "last minute" category! As in, they can be made in about 20 MINUTES with only 4 INGREDIENTS! That makes them perfect for any quick and easy weeknight dinner.
Plus, they're elegant enough you could totally serve them with Thanksgiving dinner, Sunday dinner, or to company. Check out my suggestions below for making them extra fancy!
Oven-roasted green beans are tender, but not crunchy or too soft. The texture of my food is a big deal to me and these are perfect! They have crispy edges, kinda like French fries, yet they're lower carb! I LOVE the little brown bits of roasted cheese and beans too!
Ingredients: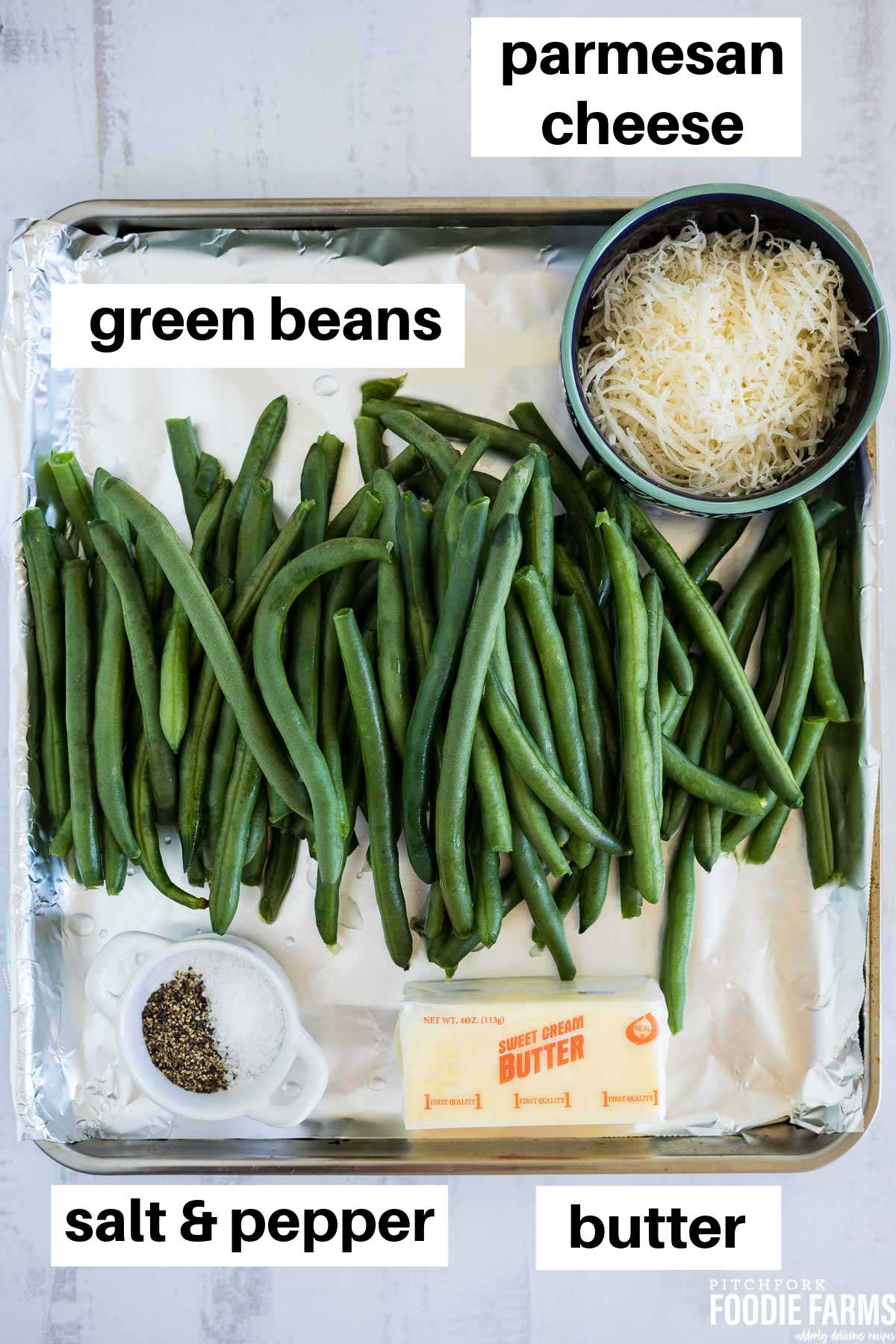 I love substitutions in recipes so you can use what you already have in your pantry or fridge. That's how we have to roll out here on the farm because going to the grocery store isn't a great option or an option at all for that matter!
Besides the fresh green beans, you most likely have all these ingredients on hand anyway. But, I'm going to give you some ideas just in case!
Beans – I highly recommend using fresh green beans. You can use frozen beans, but they will be a little softer and not quite as crispy on the outside. Be sure to thaw beans and dry them before using them.
Butter – My family owns a dairy farm so we're huge fans of butter! Plus, it gives roasted veggies a rich and almost nutty flavor. But, if you want to use olive oil or canola oil it will work perfectly. Some recipes actually list olive oil because it has a higher smoke point, which means it can get hot without burning and smoking. But, these beans aren't really in the oven long enough to have to worry about that. You can also use half butter and half olive, or canola oil if you'd like.
Parmesan Cheese – You can't go wrong with cheese! I like grating fresh parmesan cheese for this recipe. If you don't have fresh, go ahead and use the kind in a can. Or, you can leave it out altogether for a dairy free recipe.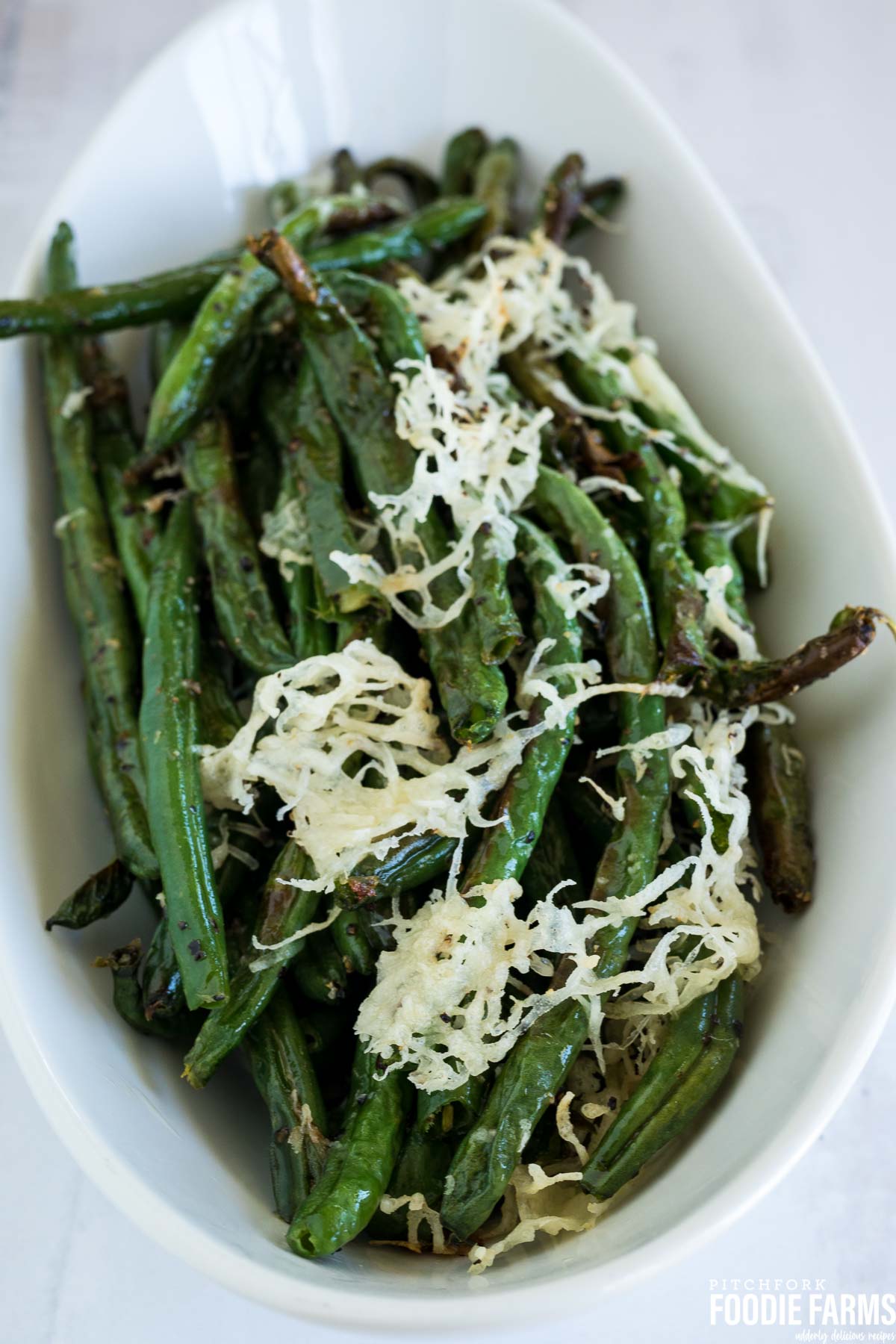 Instructions:
Don't you love recipes that don't involve any technical instructions! Me too! This recipe is EASY! Like, it hardly qualifies as a recipe easy! I'm going to share some of my tips for making them perfect the first time!
Choose green beans that are about the same size so they'll bake evenly.
Wash and trim the ends off of beans. The easiest way to trim the ends is to line them up on a cutting board and cut the tails off of each end with a knife.
Be sure to dry veggies before roasting them. This will help the fat (butter, oil, etc.) to stick to the beans and coat them. It also helps them to crisp while baking in the oven instead of steaming.
Line a baking sheet with parchment paper or aluminum foil for faster cleanup.
For less dirty dishes, add beans directly to baking sheet, drizzle with butter, seasonings, and toss with your fingers on the baking sheet.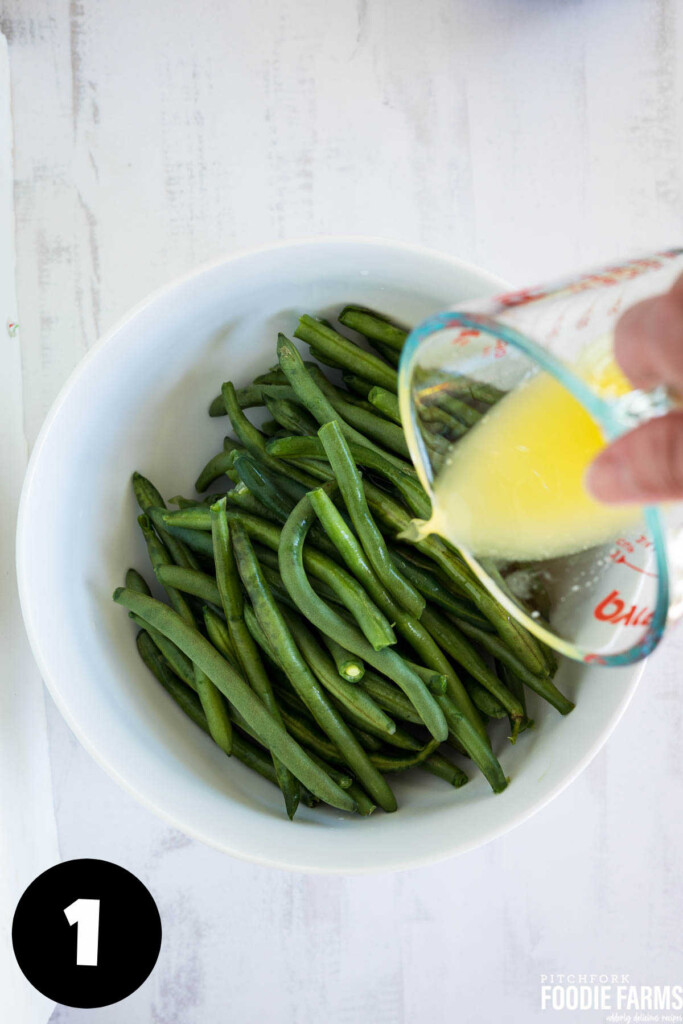 STEP 1: Preheat the oven. Drizzle melted butter over prepared beans. See tips above about prepping the beans. Toss beans to coat with butter.
STEP 2: Sprinkle beans with salt and pepper.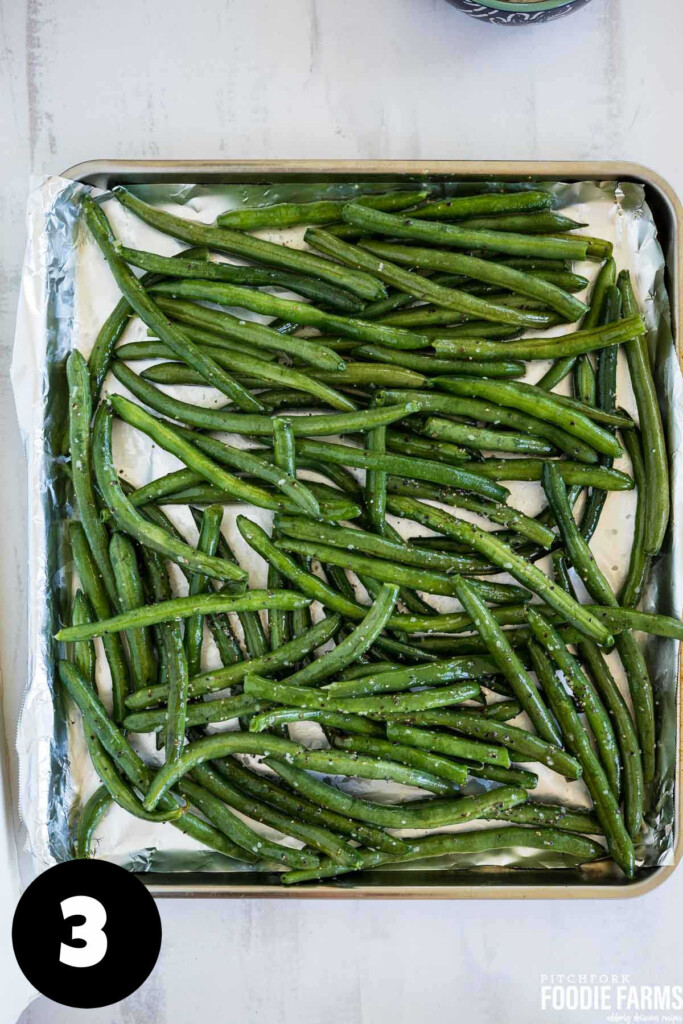 STEP 3: Spread the beans on a prepared baking sheet. They need to be in a single layer to bake and brown evenly.
STEP 4: Bake for about 15 minutes. Watch them closely and pull them out when they are crisp-tender and starting to get caramelized. We're going to throw them back in the oven for a few more minutes, so you don't want them all the way done at this point.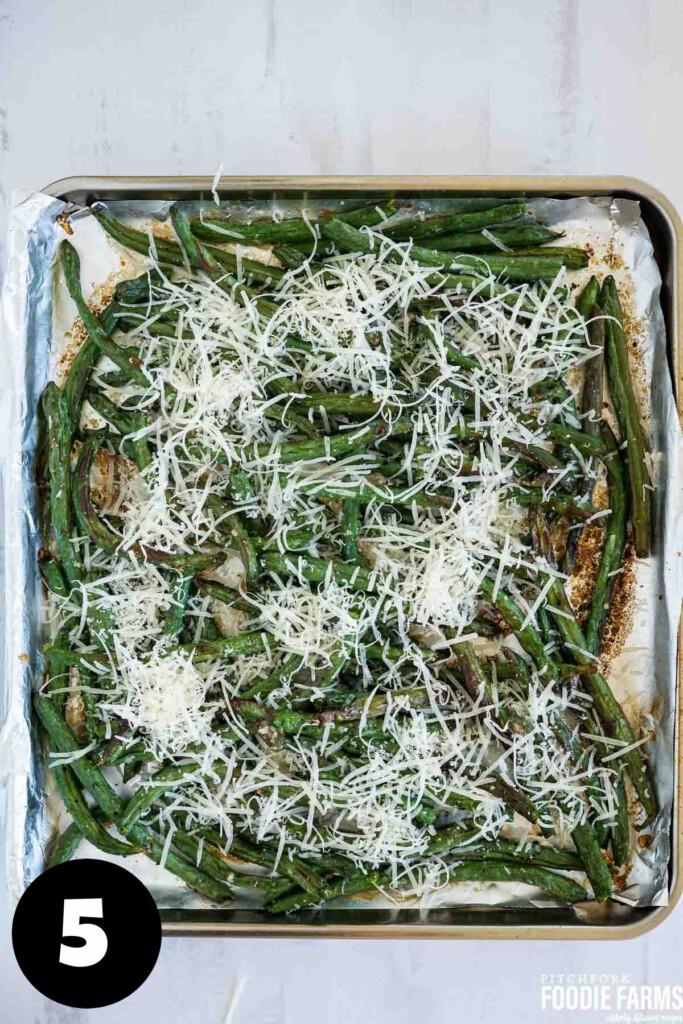 STEP 5: Sprinkle the veggies with grated parmesan cheese.
STEP 6: Return to the oven and bake for a few more minutes, until the cheese is melted and a little bit toasty.
FAQs:
Can I make roasted vegetables ahead of time?
Kind of! You can add beans, melted butter or oil, and seasonings to a ziplock bag and toss to coat. Refrigerate until you're ready to bake.

Or, you can roast beans ahead of time, cooking them about 5 minutes less than the total listed time. Then reheat in the microwave or on a baking sheet. If you cook them on a baking sheet they will be crispier than if you microwave them.
Can I make roasted green beans in the air fryer?
Yes! I love roasting veggies in the air fryer! Add beans to the air fryer and air fry for about 7-9 minutes at 375 degrees. Add cheese and air fry for 1 more minute.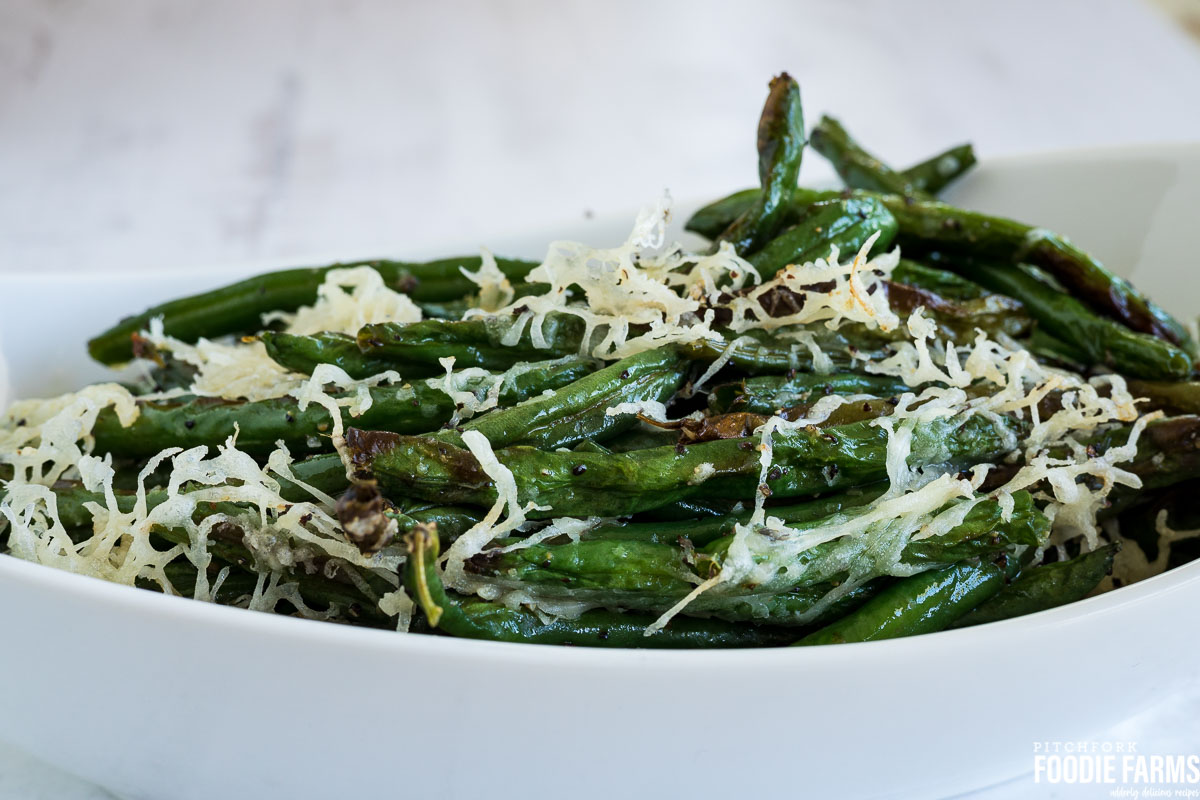 Options:
I'm giving you a basic roasted green beans recipe, but I'm also going to share a few options for switching up the recipe. Don't get me wrong, they are amazing as is…but, you can't go wrong with adding bacon!
Add other vegetables with the beans. Be sure to cut them about the same size as the beans so they'll cook evenly. Try diced carrots or potatoes, sliced onions or mushrooms, or cherry tomatoes.
The seasonings can be changed. Steak seasoning, Italian seasoning, or adding garlic are great options.
Lemon zest and juice add a nice pop of flavor.
Top the beans with garlic butter.
Cooked and crumbled bacon is always a great addition!
Experiment with different kinds of cheese. Good ol' cheddar is a fave!
Serving Suggestions:
Baked green beans pretty much go with any main dish. We love them with Italian food or meat and potatoes. Here are a few recipes they pair particularly well with.
Recipe:
Leave me a comment and let me know what optional add-ins you decided to try and what you served this recipe with!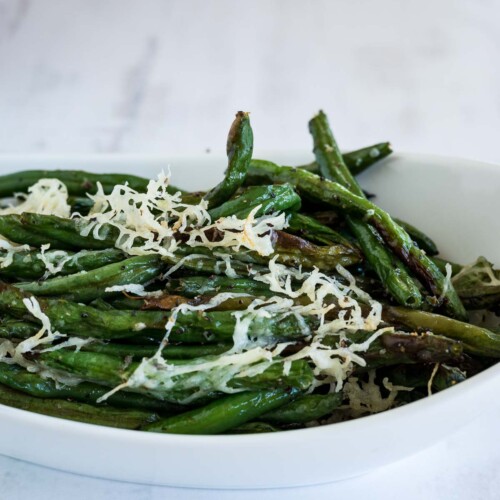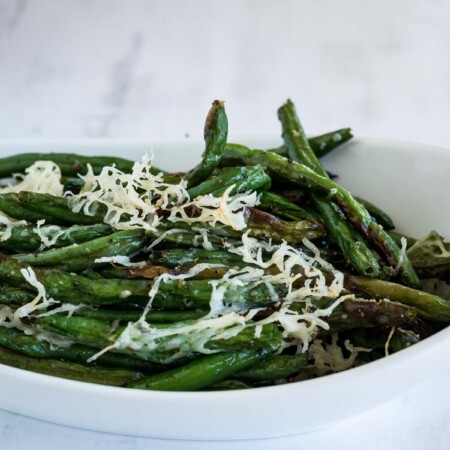 Parmesan Roasted Green Beans Recipe
Roasted Green Beans are so easy to make in less than 20 minutes in the oven! They're a favorite healthy side dish recipe! Add tomatoes, carrots, garlic, mushrooms, potatoes, or bacon if you'd like!
Ingredients
2

pounds

fresh green beans

washed, dried, and trimmed

4

Tablespoons

grated parmesan cheese

1

teaspoon

Kosher Salt

or to taste

1/2

teaspoon

course ground black pepper

or to taste

3

Tablespoons

butter
Instructions
Preheat oven to 425 degrees.

Line a baking sheet with aluminum foil or parchment paper. If you're using aluminum foil spray with nonstick baking spray.

Wash beans. Trim the ends off. Pat dry with paper towels.

Melt butter in the microwave. Drizzle over the beans. Toss to coat.

Add salt and pepper. Toss to coat.

Spread beans on the prepared baking sheet in a single layer.

Bake for 10-15 minutes until tender-crisp. Remove from the oven and sprinkle with parmesan cheese. Return to oven and bake for 3-5 more minutes or until the cheese is golden brown and the beans are desired doneness. They should be crispy on the outside and firm but tender on the inside. They'll have golden brown spots on them.
Notes
There are about 3 cups of green beans in a pound. I typically plan on feeding 4 people with one pound of green beans. That's 3/4 a cup of beans per person.
Olive oil can be used instead of butter in this recipe, although I love the flavor of using butter.
Use bright green beans that are about the same size so they'll roast evenly.
Cooking times will vary slightly depending on how fresh the beans are and desired doneness. They'll get a nice caramelized color on them when they're done. However, if you like them more tender or crisper you may need to adjust the baking time. You can poke the beans with a fork to check to see if they are cooked to your liking.
Nutrition
Serving:
0.75
Cups
|
Calories:
84
kcal
|
Carbohydrates:
8
g
|
Protein:
3
g
|
Fat:
5
g
|
Saturated Fat:
3
g
|
Polyunsaturated Fat:
1
g
|
Monounsaturated Fat:
1
g
|
Trans Fat:
1
g
|
Cholesterol:
13
mg
|
Sodium:
373
mg
|
Potassium:
244
mg
|
Fiber:
3
g
|
Sugar:
4
g
|
Vitamin A:
935
IU
|
Vitamin C:
14
mg
|
Calcium:
71
mg
|
Iron:
1
mg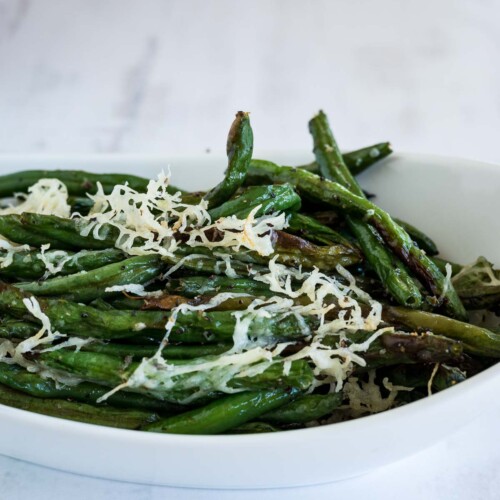 tried this recipe?
Make sure to share it with me! Leave a review or tag me on Instagram