Chances are, you already have all the ingredients to make this steak marinade! It's as easy to throw together as opening a bottle of marinade and is packed with flavor! This steak marinade has so many things going on your mouth will be dancing!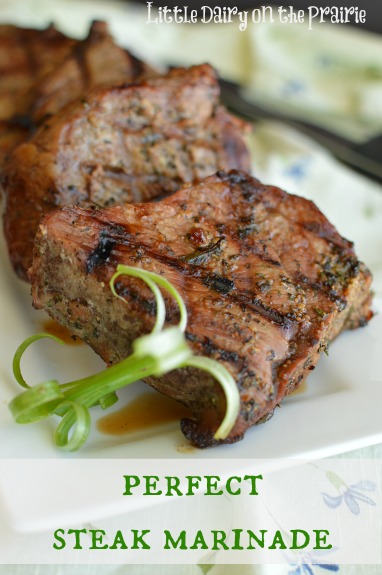 Did you know May is "beef" month? Well, it is! I just gotta say…I love beef! Beef ends up on our table at least three times a week. Actually, it's probably more like four to five times a week. It's so yummy and versatile and good for you. Did you know red meat has high levels of vitamin D, B12, iron, zinc and those important fatty acids everyone is always talking about. If I haven't had beef for a few days I really start craving it. I love craving something that is actually good for me!
You know we have dairy cows whose job is primarily to provide milk. Our main source of revenue comes from the sales of our milk. However, after a dairy cow is no longer able to produce milk she is sold to provide beef. We always raise our own beef.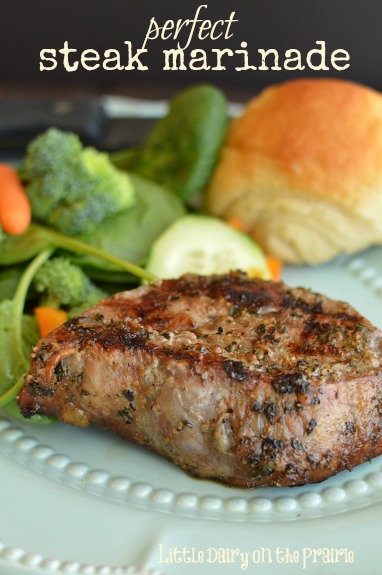 One of the easiest meals for me to prepare and serve is steak. In the morning, I throw my meat in some marinade. Let it sit all day. Fire up the grill and 20 minutes later dinner is ready. Oh ya, I also put potatoes in the oven and set them on time bake. If my family is lucky, I throw a salad with it. Seriously, steak is so much easier to make than a casserole. Less dishes too, and in my book, that's a big deal.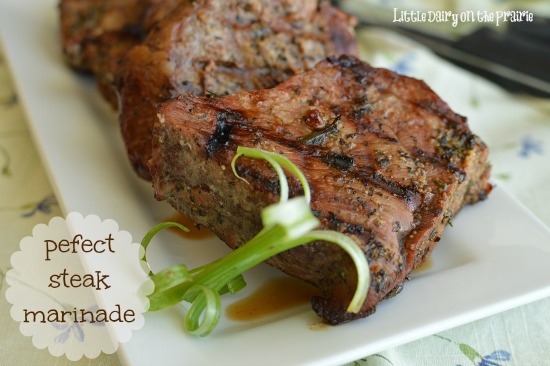 How can you go wrong with easy, healthy and delish? Celebrate Beef Month and grill a nice juicy steak for your family! They will love you for it! Who knows, you might even get hooked on how easy it is to throw a nice meal together and start craving steak too!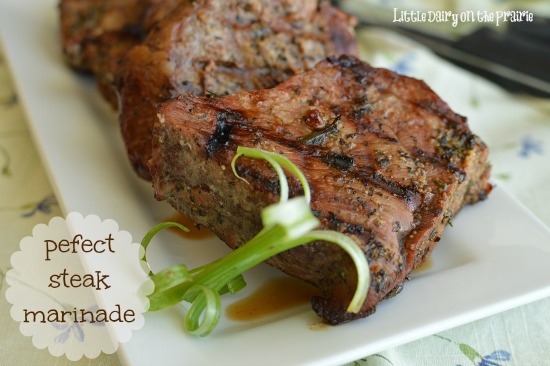 Perfect Steak Marinade
Ingredients
3

T.

soy sauce

1/2

c.

olive oil

1/3

c.

lemon juice

1/4

c.

Worcestershire Sauce

2

cloves

garlic

minced

3

T.

dried basil

2

T.

parsley flakes

1

tsp.

freshly ground black pepper
Instructions
Blend all ingredients together until well mixed.

Pour marinade over steak.

Cover and refrigerate for 8 hours, or overnight.

Grill meat.
tried this recipe?
Make sure to share it with me! Leave a review or tag me on Instagram