This Classic Slow Cooker Roast Beef recipe creates the most melt in your mouth, fall apart roast in ever! Throw a few ingredients you probably already have in your pantry in a slow cooker, and let it do the work for you! Serve it with mashed potatoes the first time around, then repurpose the leftovers into creative meals the next few nights!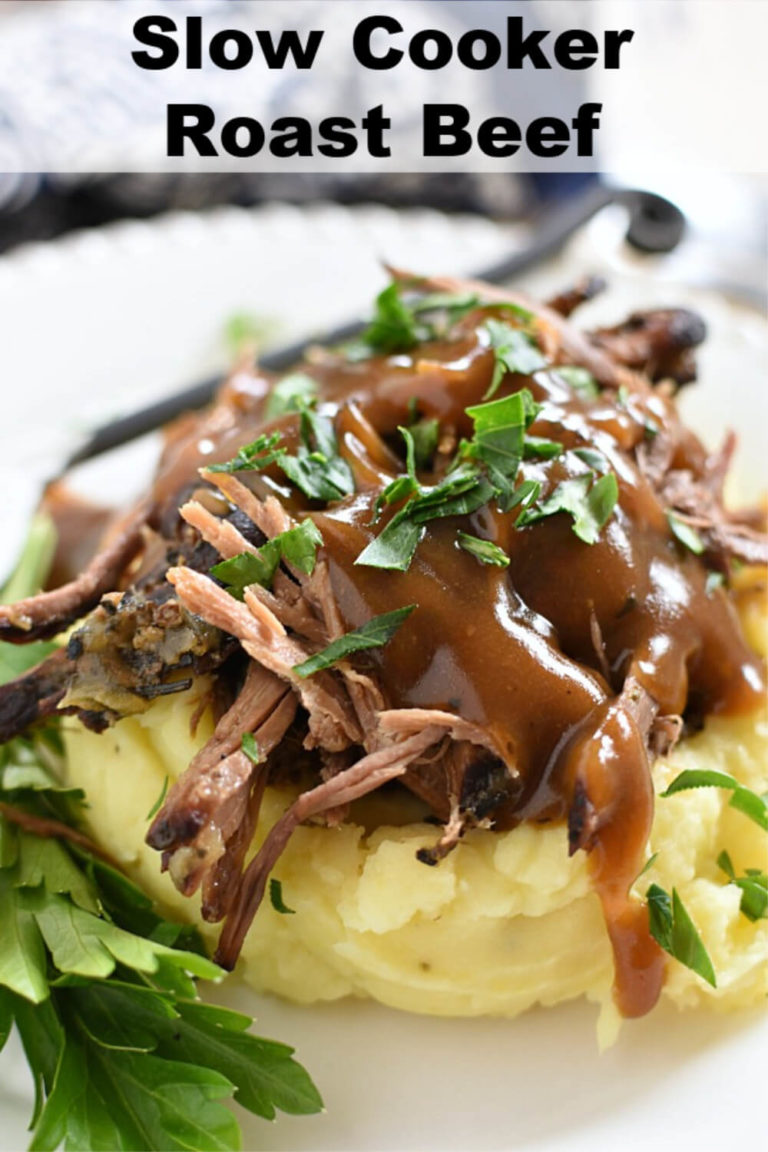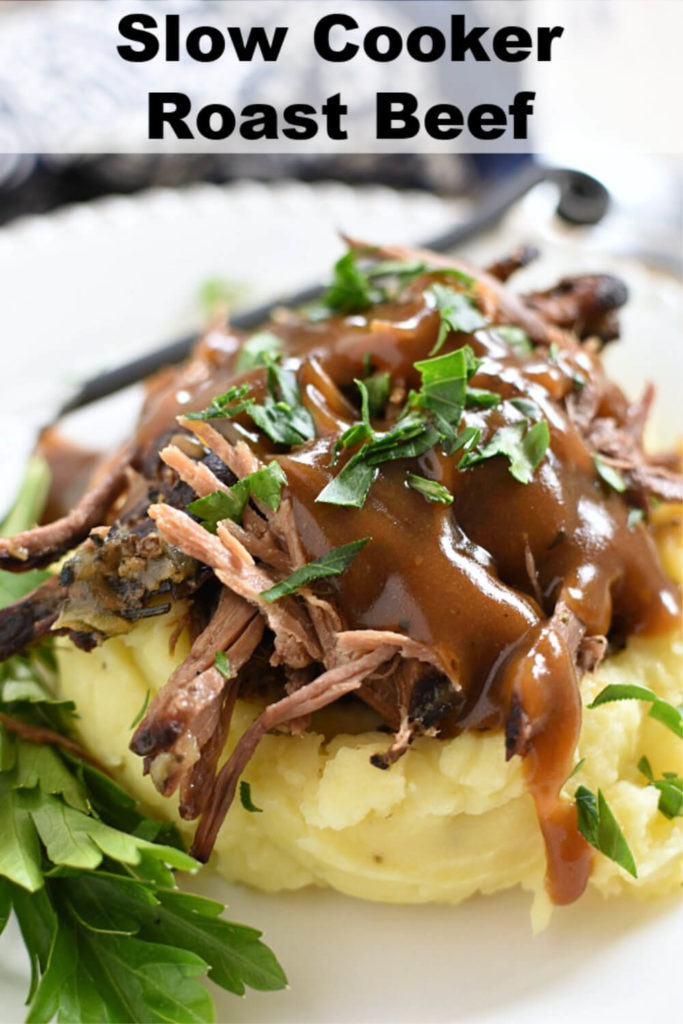 Cook once, eat twice…now that's the way to do dinner! I suppose there are some families that turn their noses up at leftovers, not my family! It's a good thing too because leftovers show up several times a week! With a small amount of planning and a little creativity you can easily turn the Classic Slow Cooker Roast Beef into several fabulous meals.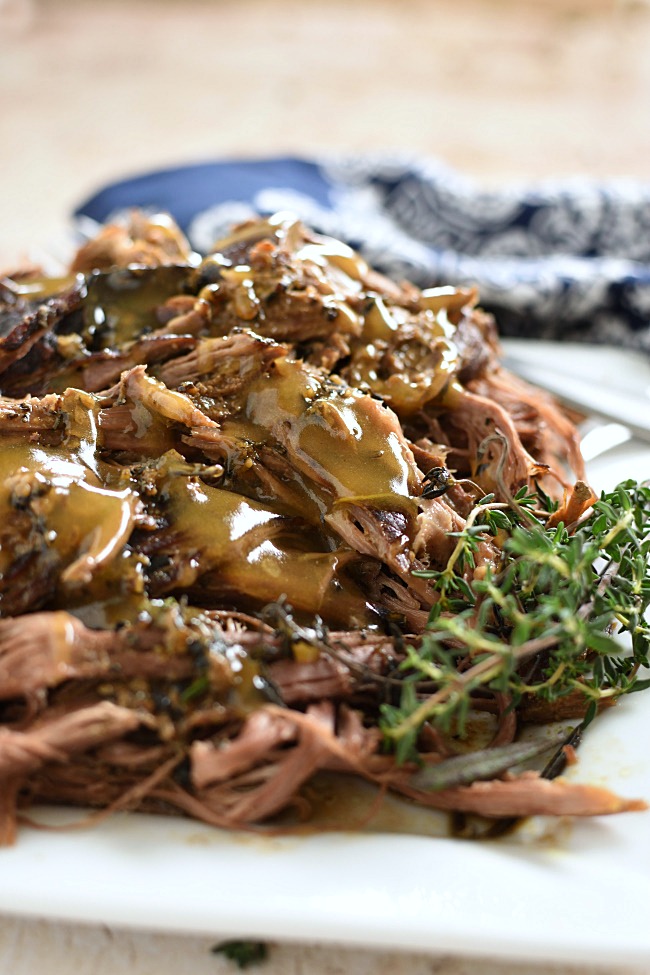 When you buy a roast make sure you choose a big one so you'll have plenty leftover roast beef hanging out in the fridge for later in the week. One of the easiest ways to get dinner on the table day in and day out is to have meat prepped ahead of time. Cooking meat is the hardest, and most time-consuming part of meal prep so why not do it all at once?
This recipe is "amazing". So so easy to prep, put it in the Crock-Pot and let the magic begin. I've made tons of pot roast – some good and some not so good, but this one is the keeper! So tender and flavorful. The gravy is a plus as well. This is pot roast is a "winner"! -Rhonda

What is the best cut of beef for making slow cooker roast beef?
Chuck roast is my favorite cut of meat for making fall apart roast beef in the slow cooker. What makes it a good choice? Chuck roast comes from the front end of the animal and it has just the right amount of marbling. Marbling is important, really important! Marbling is connective tissue that breaks down while the meat is being cooked. It adds flavor and helps the meat to shred after it's been cooked. (NOTE: The roast I used in this post is not a chuck roast. I live a long ways from the grocery store and I didn't have a chuck roast in the freezer, so I used what I had).
Rib, sirloin, rump, and round roast may be used too. You will likely have to cook them a little longer to allow the tissues to break down.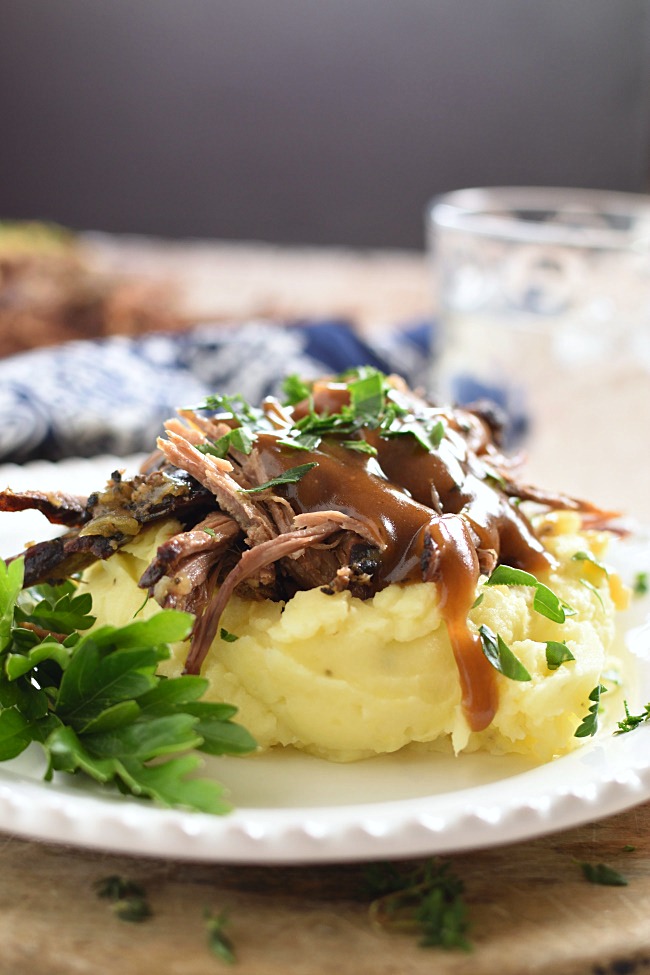 Do I have to sear a roast beef before cooking it?
That depends on who you ask! If you ask me, I say no you don't have to, but there are some benefits.
Searing roast creates a gorgeous color and it helps seal some of the juices inside the roast. It also adds a depth of flavor to the meat. How do you sear a roast?
Make sure you are using a high quality pan.
Preheat the pan to a very high temperature.
Add olive oil. Olive oil has a higher smoke point than some other oils so like to use it. Peanut oil is also a great choice.
Liberally season roast, then carefully set it in the screaming hot pan.
Let meat sear in the pan until it's ready to flip. You'll know when it's ready because the pan will release the meat and it can easily be picked up.
Flip meat and continue searing until all sides have been seared.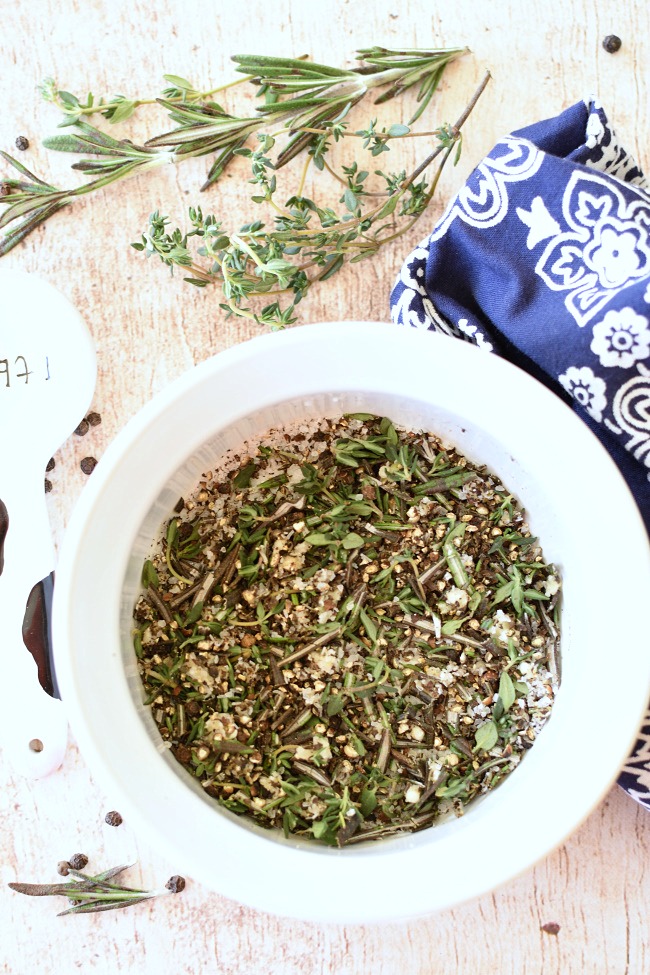 Now here's how I decide if I'm going to sear meat like my grandma would have done, or if I'm going to be lazy and skip it.
The main factor is whether I have I have enough time to sear my roast.
The second factor, of equal importance, is I have to decide if I want my hair to smell like seared meat for the rest of the day! It's and important part of my decision!
How do I want the meat to look? It's definitely prettier after it's been seared.
How am I going to use the meat? If I'm planning on shredding it and using it to make Creamy Shredded Beef Enchiladas I'll skip the searing every time.

What are some ideas for using leftover Roast Beef?
Hot Beef Sandwiches
Barbecue Beef Sandwiches
Beef Tacos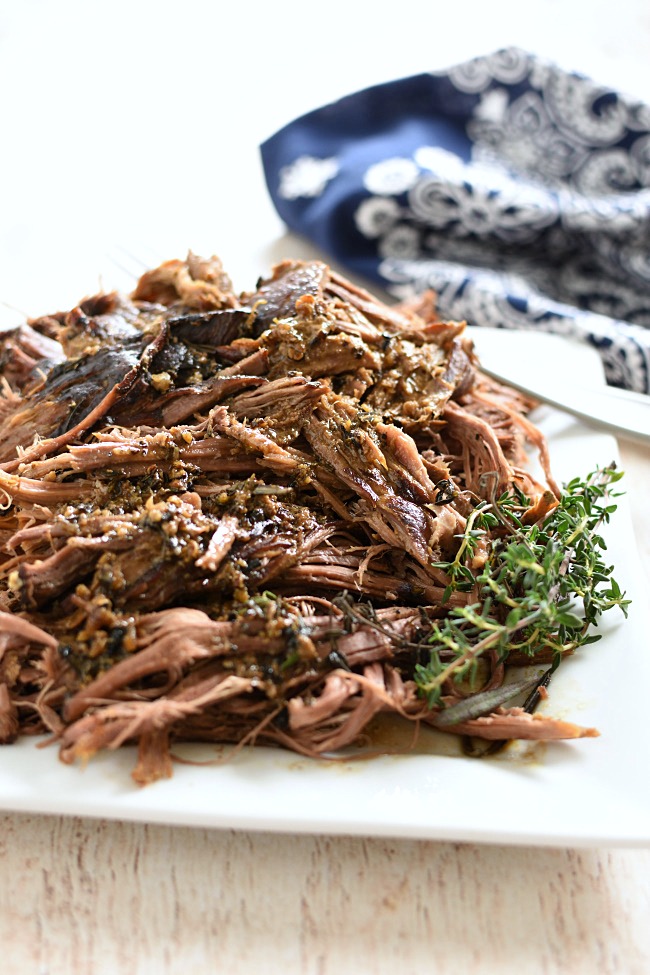 Can I prep Classic Slow Cooker Roast Beef ahead of time?
Of course! Almost everytime I make roast beef I prepare it ahead of time, usually the night before. Rubbing it with seasonings and letting it sit overnight allows the meat to absorb more of the seasonings and creates and even more flavorful roast.
It's completely fine to put a roast in the slow cooker, add seasonings, herbs, and liquid and stick it in the fridge until the morning. All that's left is throwing it on the slow cooker base and letting it go! Now that's a Sunday morning game changer! I've been cooking my roasts like this forever and it works like a charm!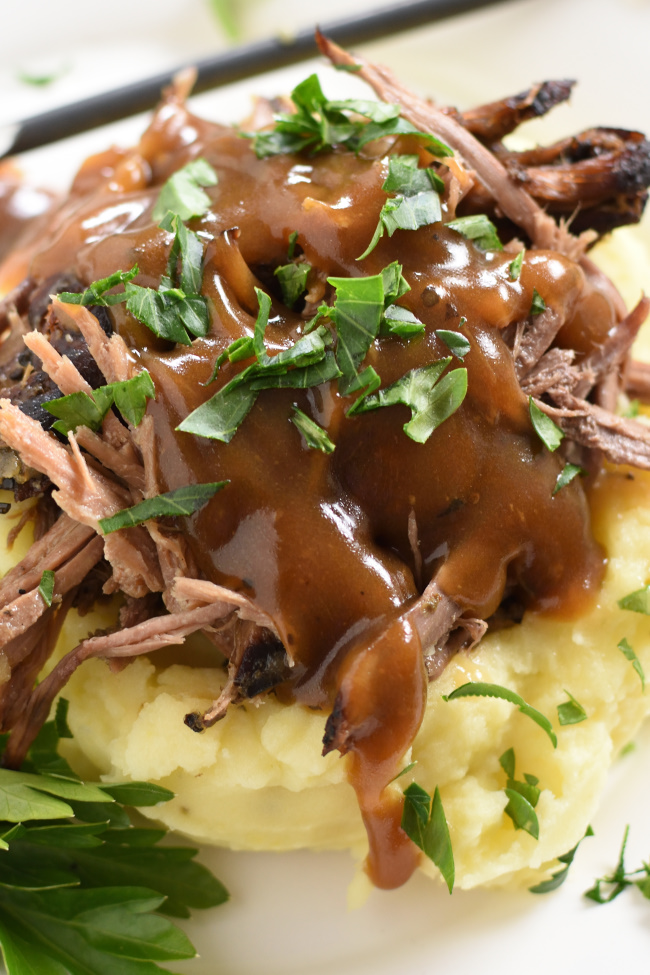 What to serve with Classic Slow Cooker Roast Beef?
My family always begs for Three Cheese Mashed Potatoes, and Slow Cooker Cheesy Creamed Corn every time I serve a roast.
Maple Glazed Carrots also make a gorgeous addition. Easy Parmesan and Garlic Rolls are the easiest rolls in the world to make and are a perfect addition.
Grab the Classic Slow Cooker Roast Beef!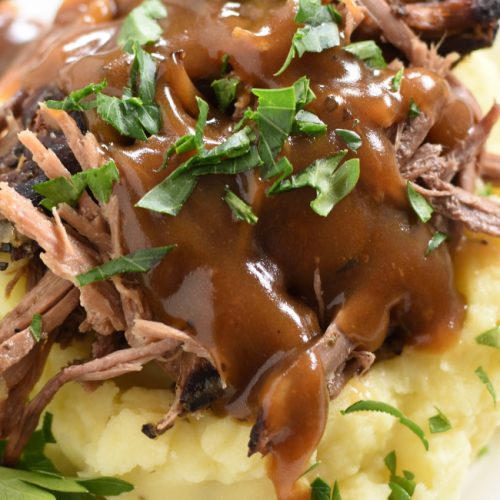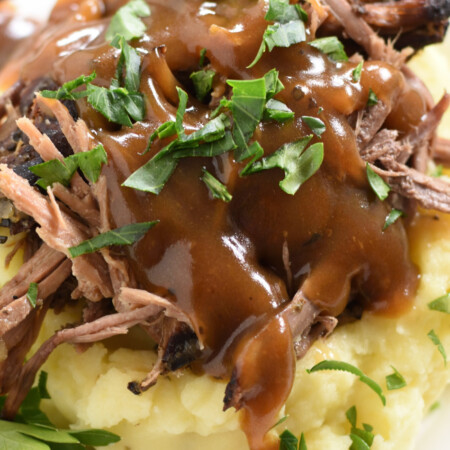 Classic Slow Cooker Roast Beef
Classic Slow Cooker Roast Beef is the most amazing fall apart, melt in your mouth raost beef! It's just right for serving with mashed potatoes and there are millions of options for using up the leftovers! This is the way to cook once and eat twice!
Ingredients
1 3-5

pound

Chuck Roast

salt and pepper

1

c.

Beef Broth

For the Rub

1

T.

Kosher salt

1 1/2

tsp.

black peppercorns

mulitcolored is fine too

1

T.

Fresh rosemary

or 1 tsp. dried.

1

T.

Fresh thyme

or 1 tsp. dried.

2

garlic cloves

For the Gravy

2

Tbsp.

cornstarch

salt and pepper to taste
Instructions
Searing the roast in this recipe is optional. You can read about the pros and cons of searing the roast in this post.

To sear roast heat heavy duty pan over medium high heat. Add enough olive oil to cover the bottom of the pan. While pan is heating pat roast dry with paper towels. Season with salt and pepper. Set roast in hot pan and let it sear until it isn't stuck to the pan. Flip and repeat searing process until all the sides are seared. Remove raost from pan and set it on a plate.

While roast is searing make rosemary rub. Chop herbs, mince garlic, and crush peppercorns.

To crush peppercorns add them to a sealable bag and whack them with a rolling pin. You could also put them in food processor too. Combine kosher salt, crushed peppercorns, garlic, and herbs together.

Rub a little bit of olive oil over roast. It will help the rub to stick to the roast. Sprinkle rub over roast using fingers to gently press into the roast.

Set roast in slow cooker. Add beef broth to slow cooker being careful not to pour it directly on roast washing seasoning off.

At this point you an refrigerate roast until you are ready ot cook it, or you may cook it immediately.

Cook roast in slow cooker on high for 6-8 hours, or on low 8-10 hours.

Remove roast from slow cooker and let it rest for 5 minutes. It will easily shred when pulled apart with two forks. Serve immediately. Store leftovers in the refrigerator in an airtight container.

To make gravy add cornstarch and 1/4 cup water to a sauce pan. Whisk until smooth. Using a baster remove drippings from roast and add them to saucepan. If you need more liquid you can add additional beef broth. Cook over medium heat, whisking constantly until desired consistency.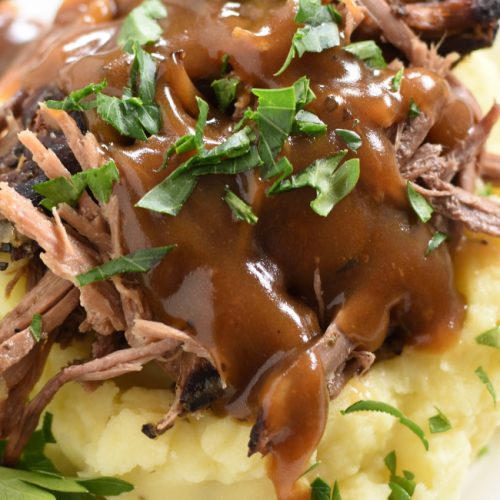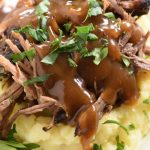 tried this recipe?
Make sure to share it with me! Leave a review or tag me on Instagram