Tenderloin Steak also called a Filet Mignon, is the most tender cut of beef! I'll show you how to cook a tenderloin steak to get PERFECT results every single time! We're going to sear it in a cast-iron skillet until it gets the best crust, and then bake it in the oven for just a few minutes until the center juicy and hot pink!
Cooking this steak recipe in herb butter gives it the best flavor! It's literally melt in your mouth amazing and juicy!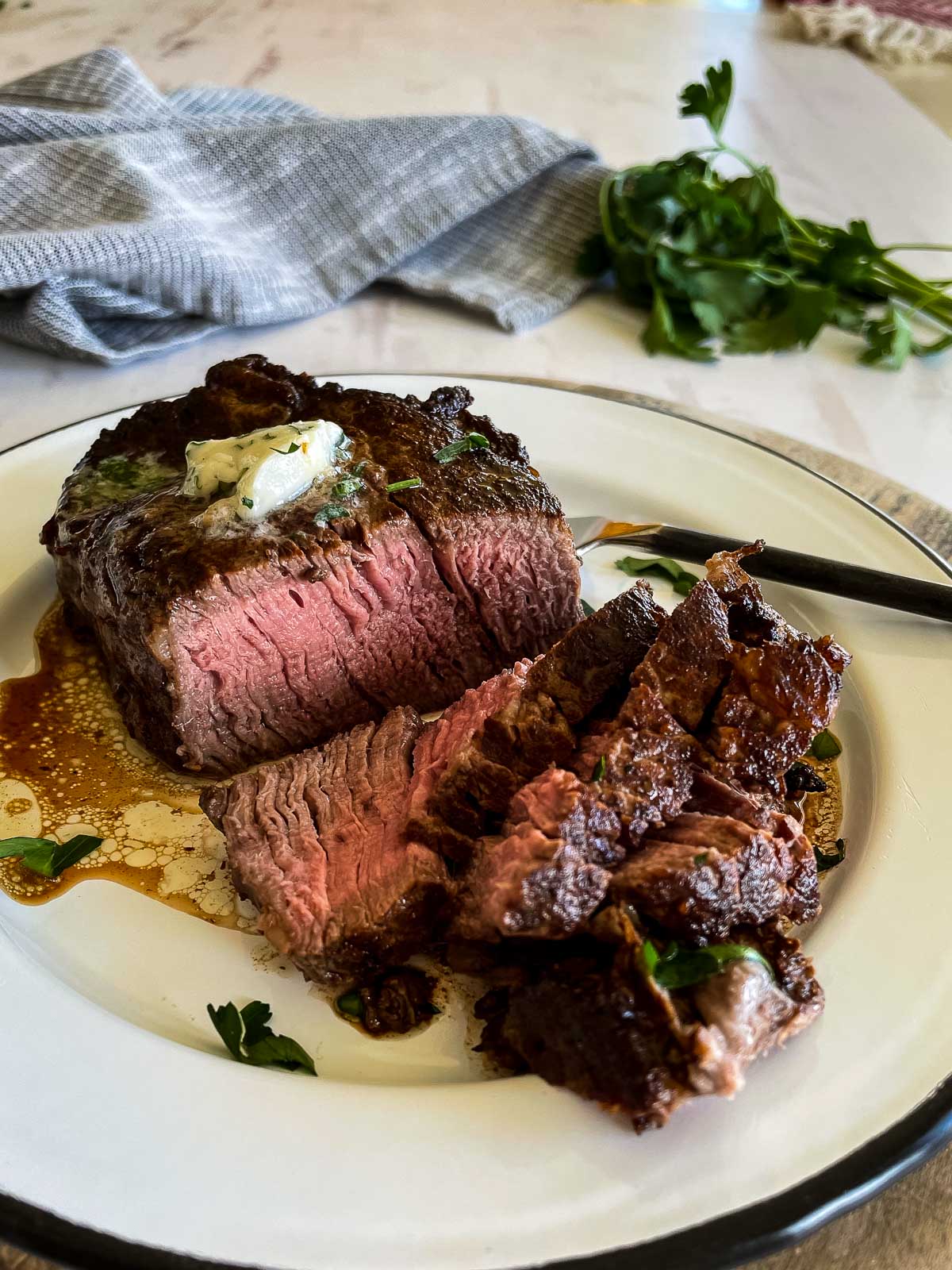 This post was originally written in 2014 an updated in 2021 with new images and additional text. The recipe stayed the same.
We fell in love with beef tenderloin steaks from a local restaurant we love. Don't get me wrong, I love to eat out. But, it's so expensive. I can handle it if it's just Justin and me. But, bringing the kids is another story!
I went to work learning how to make these filet mignon steaks at home and let me tell you…we've never looked back! Pan fry the steaks then finish them off in a hot oven.
It's EASY! And it's so much LESS EXPENSIVE than eating out. And it tastes AMAZING! It's our favorite keto or low carb main dish and the easiest romantic Valentine's Day dinner!
Tenderloin vs. Filet Mignon
This is important so let's talk about it!
Tenderloin and filet mignons are the same cut of meat found on the loin of a cow. One is cut into steaks and one isn't.
Some people also ask, "what's the difference between ribeye and filet?" The ribeye comes from the center of the rib steak. It's heavily marbled which means it has more fat and more flavor, but it's not as tender as a filet.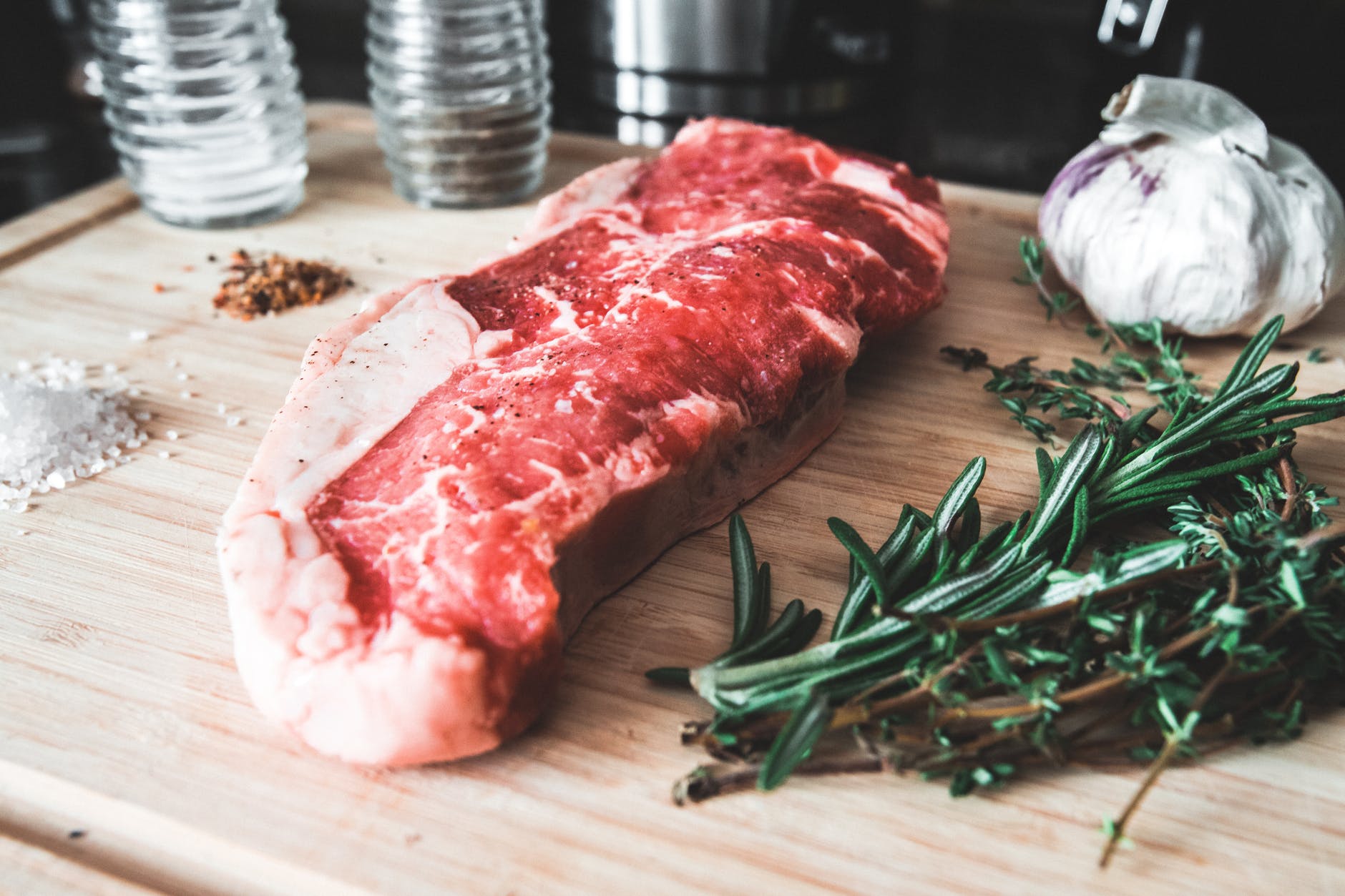 What is a tenderloin?
A tenderloin refers to the whole beef tenderloin. Or the roast. It's long and skinny and tapered on the end. And, it's the most tender roast on a beef. It's a lean cut of meat with little marbling and without a bone.
Prime and Choice are the two grades I recommend. Prime is more expensive and comes from younger animals and has a little more marbling. Choice grade is still a great quality of meat, has a little less marbling, is a little bit cheaper, and is what I usually buy.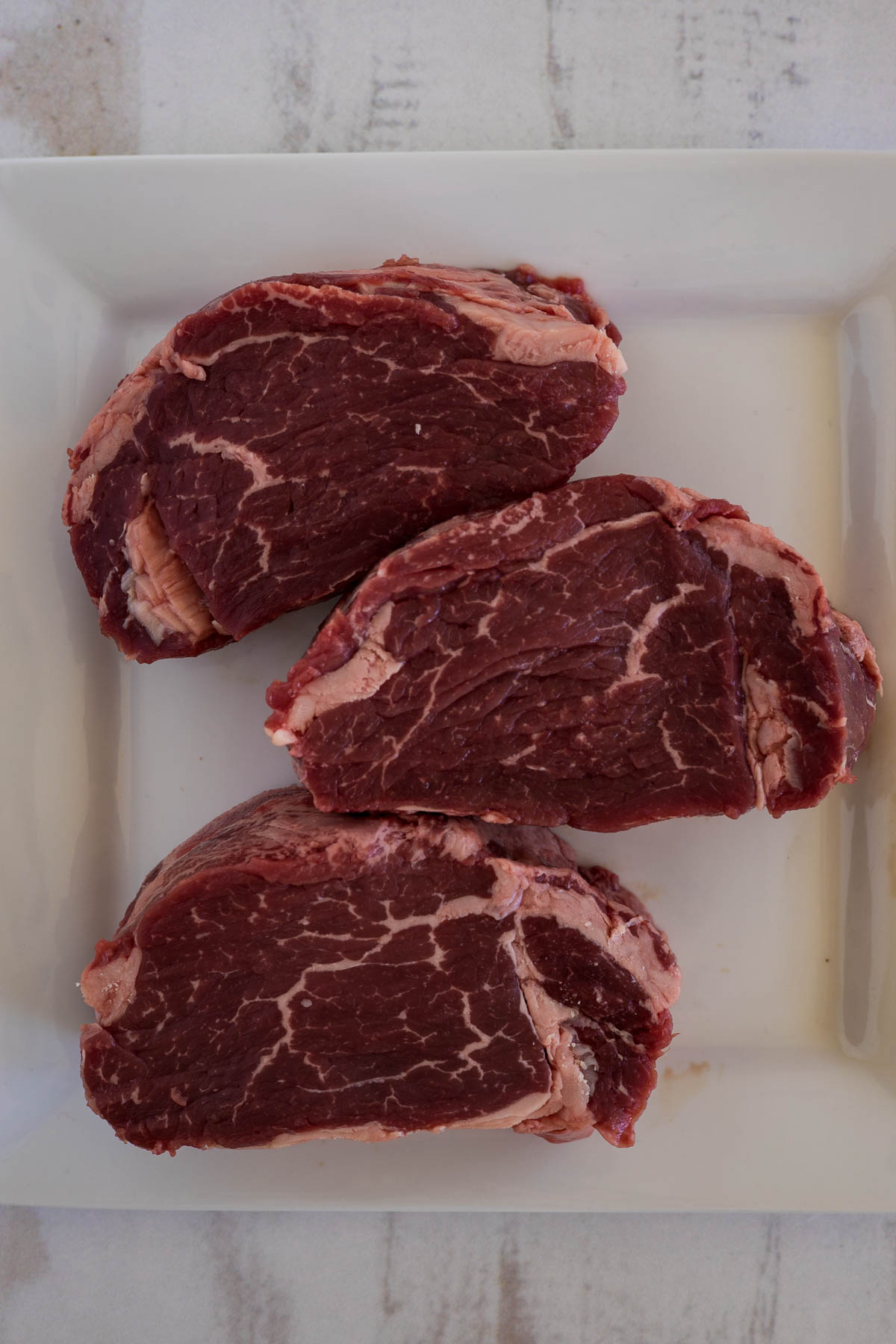 What is a filet mignon?
Filet mignon is also called a tenderloin steak. A tenderloin roast is cut into pieces to make tenderloin steaks. Because they are cut from the same piece of meat as a tenderloin roast, they are tender, lean, have little marbling, and don't have a bone.
Typically the steaks are cut from the tapered, or narrow end of the roast.
I don't recommend cooking tenderloin steak on the grill. They're better seared to lock all the juices in.
Why is beef tenderloin expensive?
Well, there isn't very much quantity of tenderloin on a cow so it's going to be higher priced. Since it's the most tender piece of meat it's makes it more valuable too.
The other day I was in the grocery store and a tenderloin roast was $10.00 per pound, and the tenderloin steaks were $20.00 a pound. I always buy the roast and cut my own steaks. It's really easy and saves so much money!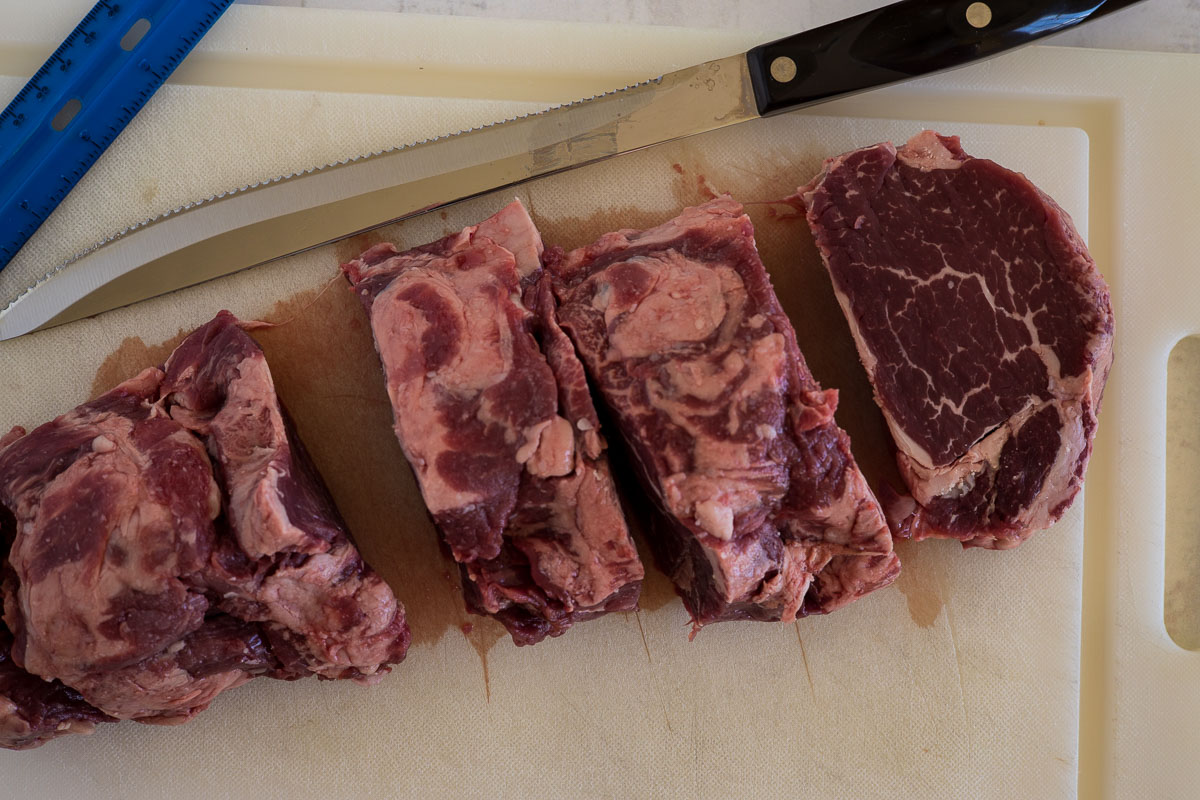 How to make filet mignons out of tenderloin roast?
Using a sharp knife, cut roast widthwise. It's important to make each steak the same width. I measure the steaks with a ruler and cut them into 2-inch pieces. You can cut them thinner, but you'll need to reduce cooking time.
To freeze steaks, cut them on a cookie sheet and freezer for about 30 minutes. Remove from baking sheet and store in an airtight container for up to 3 months.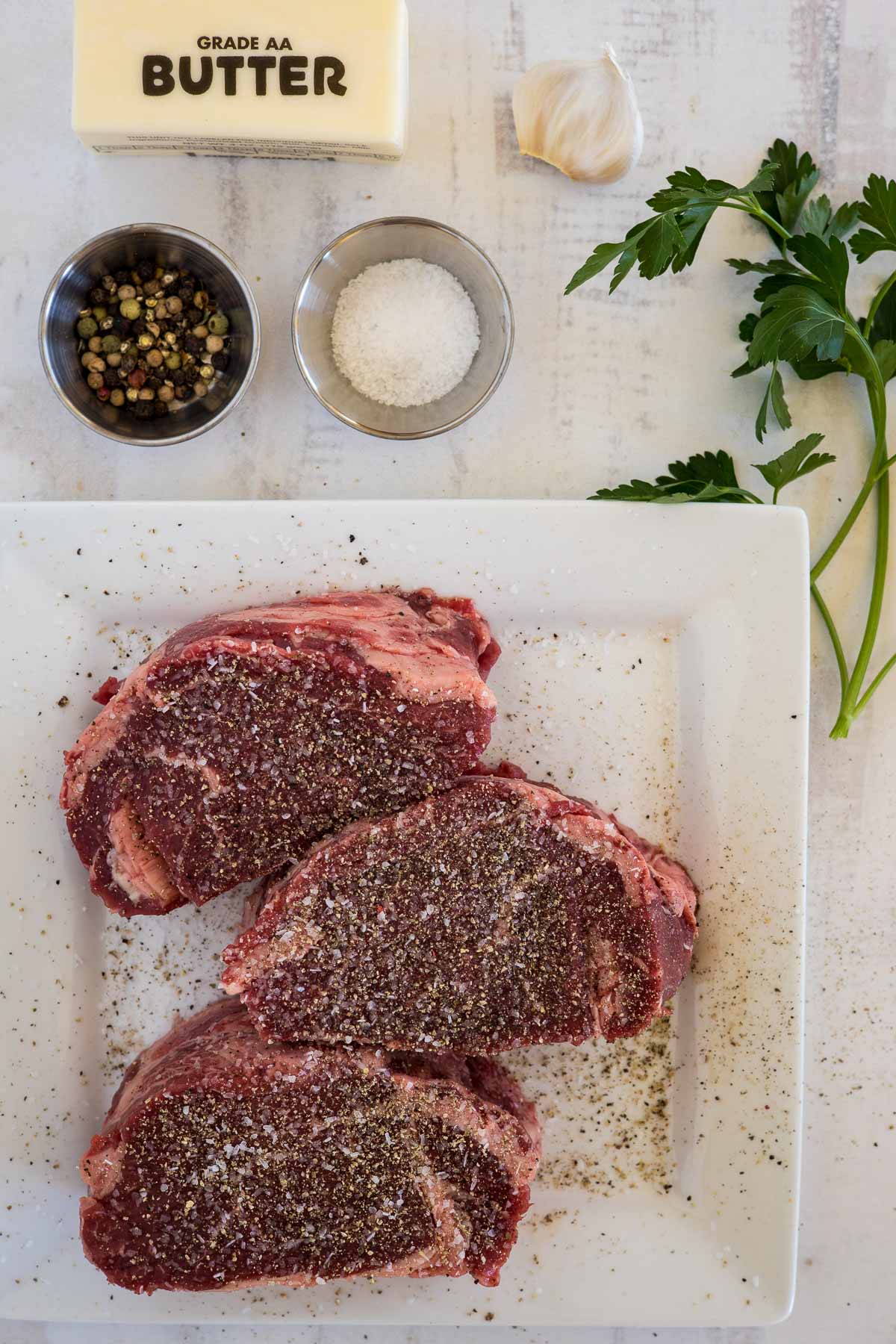 Equipment needed to bake steak in the oven:
Heavy skillet – a cast iron skillet is my favorite because it cooks evenly and holds its heat really well. Any heavy skillet will work.
Tongs – long tongs for flipping the steaks
Temperature Probe – an oven-safe thermometer is best because you can keep an eye on it while it bakes. This Thermoworks Chef Alarm is the one I have and it's great. If you don't have an oven-safe probe you really need an instant-read thermometer.
Ingredients needed to make herb butter tenderloin steaks:
Tenderloin steaks
Butter – salted or unsalted
Olive Oil – it has a lower smoking point than butter keeping the butter from burning.
Salt and pepper – I like Kosher salt and cracked black pepper
Herb Butter – Make this Garlic Herb Butter recipe, or make the one in this recipe using butter, garlic, thyme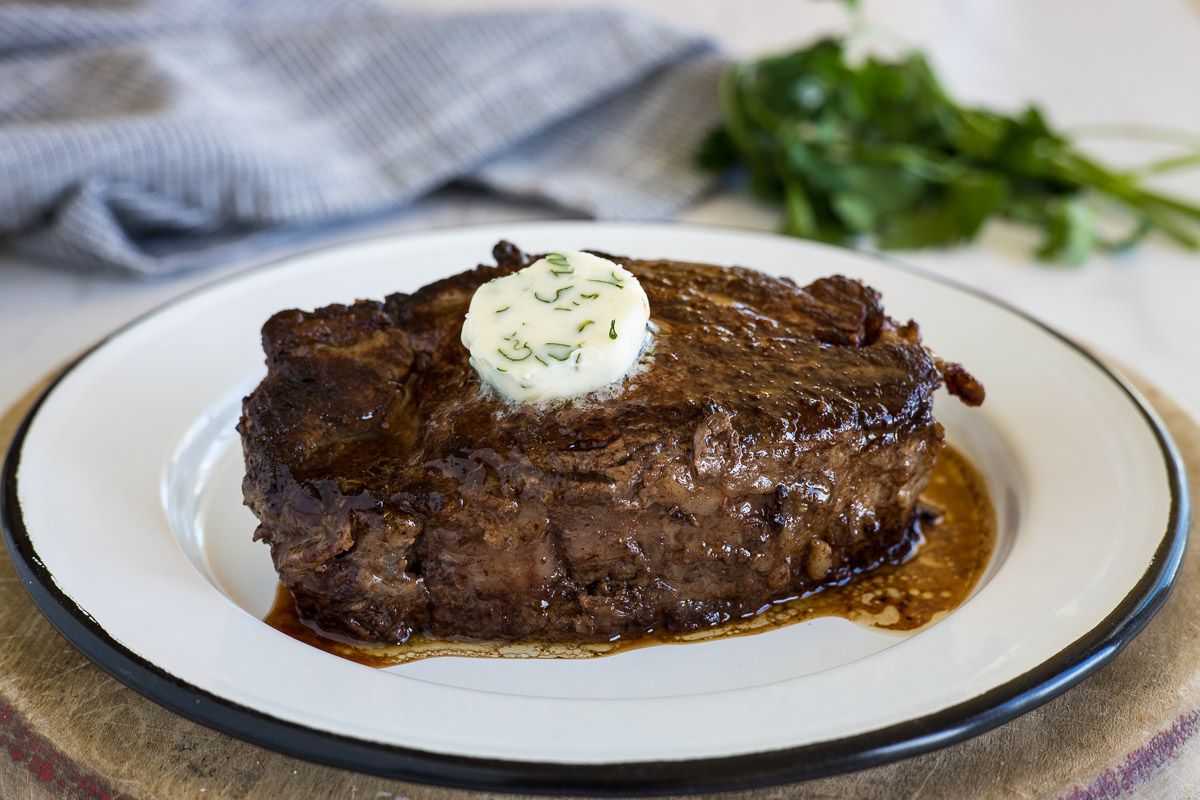 Tenderloin Steak Recipe
Little Dairy on the Prairie Pro Tip: It's really important to make sure your steaks are at room temperature before cooking them. Remove them from the fridge and let them sit at room temperature for up to an hour before cooking.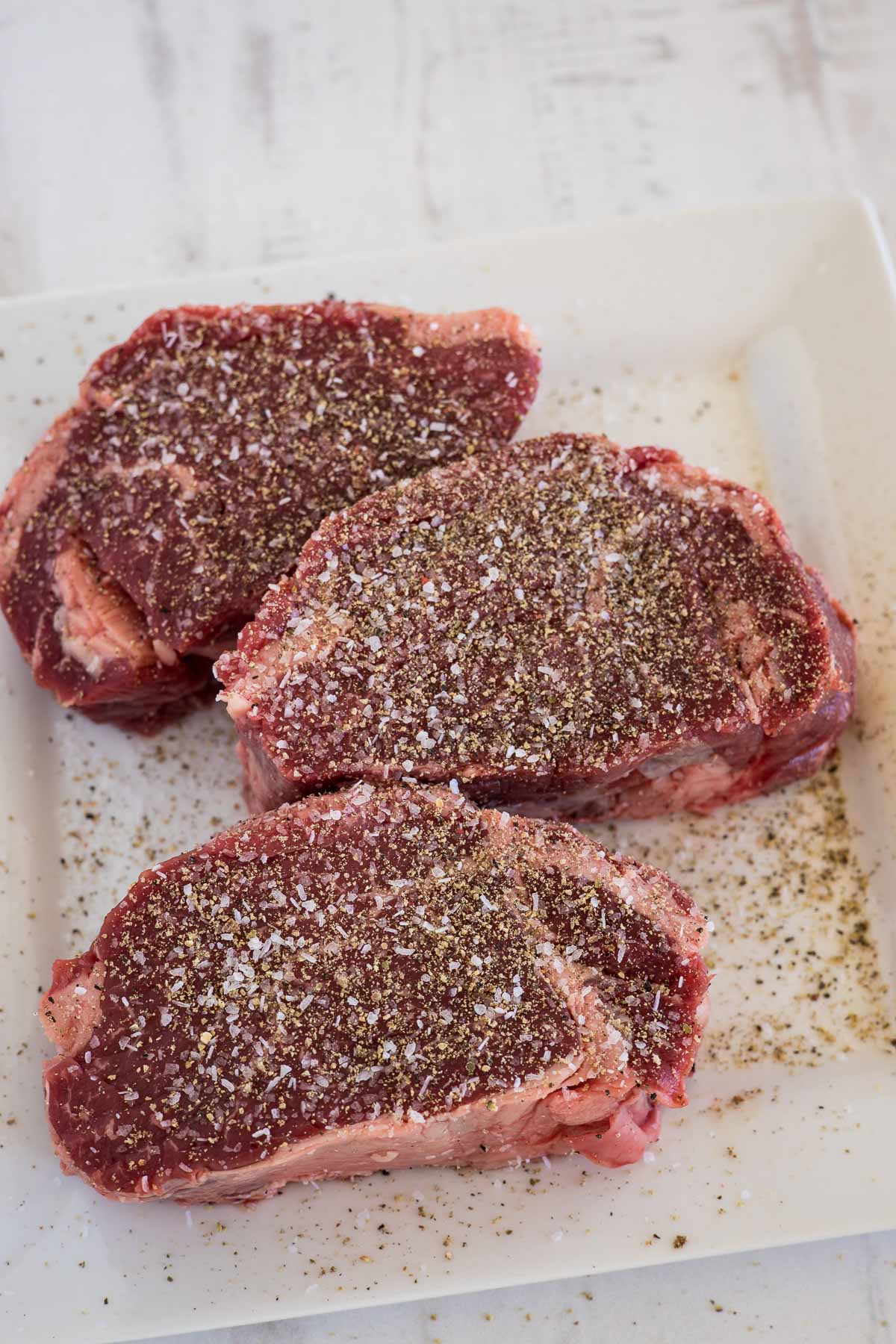 STEP 1: Pat steaks dry. Season steaks on both sides with salt and pepper. Be generous! They're thick and need lots of seasoning. You can use steak seasoning if you'd like, but Kosher salt and pepper really are the BEST. Preheat oven to 400 degrees.
STEP 2: Heat skillet over medium medium-high heat. Add butter and olive oil.
STEP 3: Add steaks. Cook for 2 minutes on each side spooning butter over steaks while they cook.
STEP 4: Flip steaks. Cook for 2 more minutes spooning butter over steaks.
STEP 5: Bake steaks in the oven for 6-10 minutes. You'll want to cook them to temperature, see the chart below. The temperature will rise about 5 degrees after taking it out of the oven. Take it out 5 degrees less than the desired temperature. Also, I'd suggest cooking them one doneness less than you typically like. So if you're usually a medium-medium well person, go with medium.
STEP 6: Rest steaks for 5-10 minutes.
Steak Tenderloin Doneness Temperature Chart:
Rare: 120-125° (about 4 minutes in the oven)
Medium Rare: 130-135° (about 5-6 minutes in the oven)
Medium: 140-145° (about 6-7 minutes in the oven). My personal favorite for tenderloins.
Medium Well: 150-155° (about 8-9 minutes in the oven)
Well Done: 160° (about 10 minutes in the oven)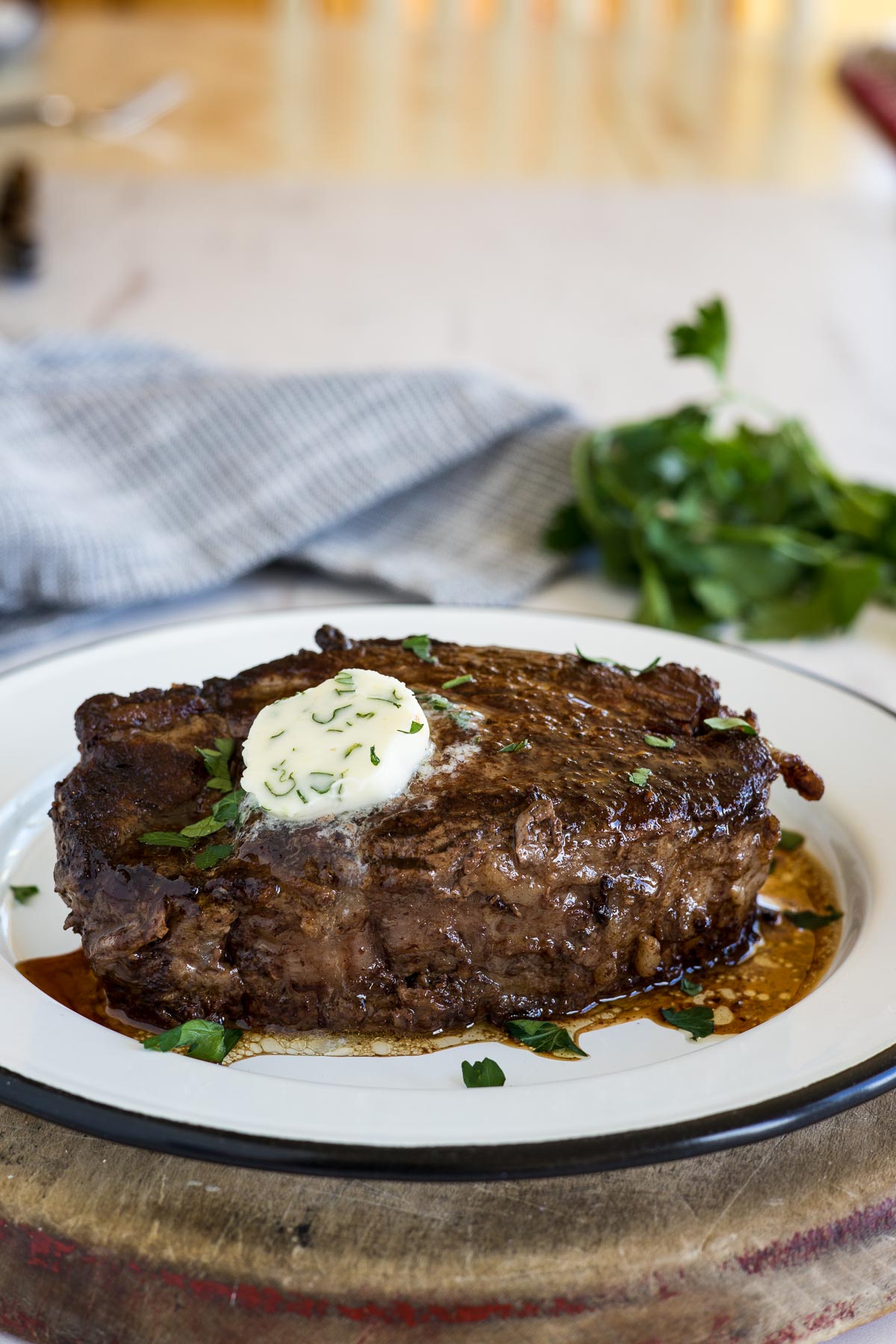 What to serve with beef tenderloin steak:
To make a classic restaurant style dinner serve with baked potatoes and a salad! Here's some other options: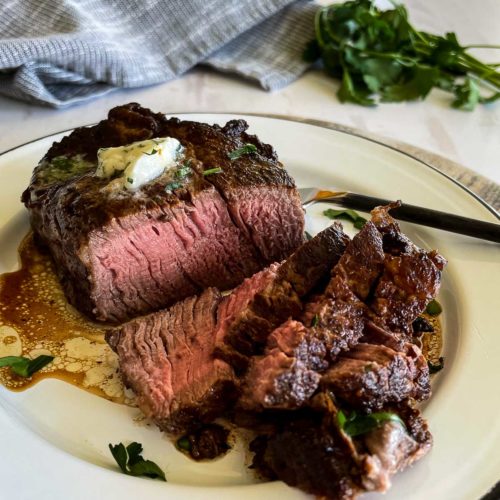 Tenderloin Steak Recipe with Herb Butter
Tenderloin Steak, also called a Filet Mignon, is the most tender cut of beef! I'll show you how to cook a tenderloin steak to get PERFECT results every single time! We're going to sear it in a cast iron skillet, and bake it in the oven for just a few minutes!
Cooking this steak recipe in herb butter gives it the best flavor! It's literally melt in your mouth amazing and juicy!
Print
Pin
Rate
Ingredients
Ingredients for cooking steaks
4

6 ounce

beef tenderloin steaks

1 1/2

teaspoons

kosher salt

1

teaspoon

black pepper

2

Tablespoons

butter

1

Tablespoon

olive oil

or avocado oil
Thyme Herb Butter
1/4

cup

butter

room temperature

1

clove

garlic

1

teaspoon

fresh Thyme
Instructions
To make Herb Butter:
Mix room temperature butter, garlic, and thyme together. Spread a strip about the diameter of a quarter on a piece of wax paper. Roll up and twist ends. Refrigerate for at least 20 minutes before using.
How to Cook Tenderloin Steaks:
Remove steaks from the refrigerator at about an hour before you're ready to cook thme. The steaks need to be room temperature to cook through perfectly.

Pat steaks dry (this helps the steaks to get a nice crust on them). Season both sides very generously with salt and pepper. Press salt and pepper if needed to help it stick to the meat.

Heat a cast-iron skillet, or heavy skillet, over medium-high to high heat. Add butter and olive oil. Add steaks and sear for 2-3 minutes per side. Spoon butter over steaks as they cook.

Insert an oven-safe thermometer and set an alarm for desired temperature (remember the temperature will rise about 3-5 degrees as the steaks rest). Put steaks in the oven and bake until they reach the desired temperature. This will take between 6-10 minutes depending on the thickness of the steaks and how hot you want them. I don't recommend going over medium for these steaks.

See cooking chart in the notes below.

Top with slices of herb butter. Cover with aluminum foil and allow to rest for 10 minutes before serving.
Notes
Steaks:
Size of Steaks – Use steaks that are close to the same size in thickness and diameter so they cook the same. I like steaks that are about 6 ounces. That's usually about 4 inches in diameter and 2 inches thick.
Room temperature steaks: Be sure to let the steaks come to room temperature before cooking. Otherwise, the outside of the steak will be overcooked before the inside reaches the correct internal temperature.
Equipment needed:
Heavy Skillet: Cast iron skillets are my favorite and work great. You can use an aluminum skillet as long as it's heavy. To get a nice crust on the steak the skillet needs to be really hot. A heavy skillet ensures even cooking.
Oven safe thermometer: Cooking these steaks to the exact temperature is important (remember to take them out 3-5 degrees before the desired temp). It's hard to guess how done a steak is without using a thermometer. Having a thermometer that is oven-safe is best so you don't have to take it out of the oven to check the temperature. If you don't have an oven-safe thermometer I'd suggest at least using an instant-read thermometer.
The temperature of steaks:
Resting steaks: I take the steaks out of the oven before they reach the desired temperature. However, some steaks might cook faster than others. If one is cooked a little more done, I remove the steak from the skillet and allow it to rest on a plate so it will slow the cooking.
Cooking Chart: This is a basic guideline to help you get the perfect temperature steak! It helps to know steak temperature before putting them in the oven to gauge how long they'll need to cook.
Rare: 120-125° (about 4 minutes in the oven)
Medium Rare: 130-135° (about 5-6 minutes in the oven)
Medium: 140-145° (about 6-7 minutes in the oven)
Medium Well: 150-155° (about 8-9 minutes in the oven)
Well Done: 160° (about 10 minutes in the oven)
Nutrition
Calories:
188
kcal
|
Carbohydrates:
1
g
|
Protein:
1
g
|
Fat:
21
g
|
Saturated Fat:
11
g
|
Trans Fat:
1
g
|
Cholesterol:
46
mg
|
Sodium:
1024
mg
|
Potassium:
26
mg
|
Fiber:
1
g
|
Sugar:
1
g
|
Vitamin A:
591
IU
|
Vitamin C:
2
mg
|
Calcium:
14
mg
|
Iron:
1
mg