This easy steak quesadilla recipe can be made in under 10 minutes. It's loaded with bell peppers, onions, cheese, and leftover steak!
Serve the beef quesadilla with all the fixings; sour cream, guacamole, lime juice, pico de Gallo, and fresh cilantro! A beef and cheese quesadilla is the perfect quick and easy lunch for one or dinner for the whole family.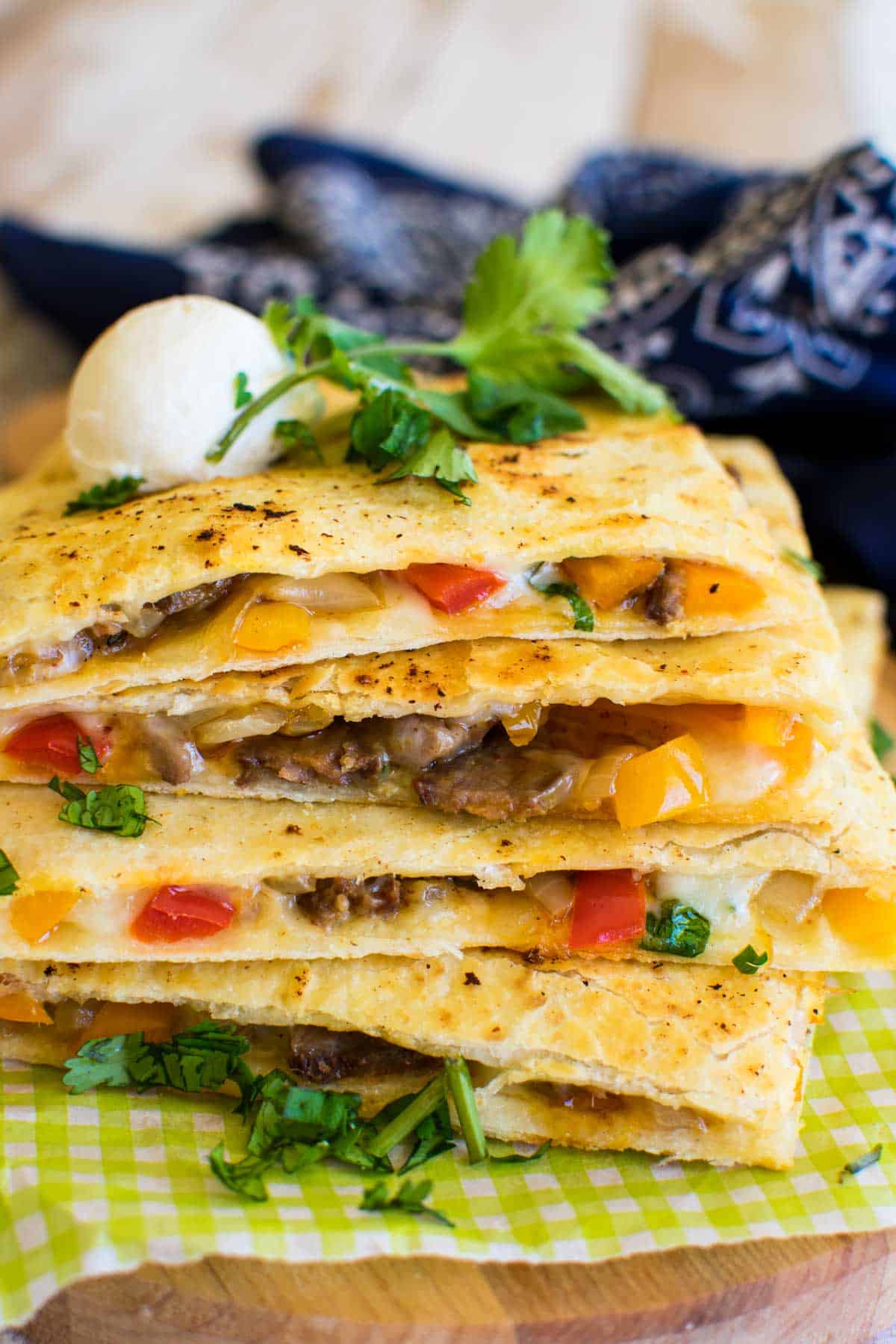 Every person in my family is a big-time steak eater! We seriously could eat beef seven days a week and not get tired of it…ever!
We love perfectly grilled New York Steak and pretty much any other steak in my perfect steak marinade! These are our favorite warm-weather grilled steaks.
In the winter we usually go for a skillet tenderloin steak or slow cooker cube steaks.
Regardless of what kind of steak I'm cooking, I always make enough that we have steak leftovers. It gives me a headstart on all kinds of meals like Steak Pasta, Steak Pizza, Asian Beef and Noodles, and Philly Cheesesteak Nachos, or adding it to scrambled eggs!
What else can I make out of leftover steak? We think these are the best steak quesadillas! They're so easy and loaded with the best flavors! Don't worry, if you don't have leftover steak you can still easily make them. It just won't be quite as much of an easy dinner.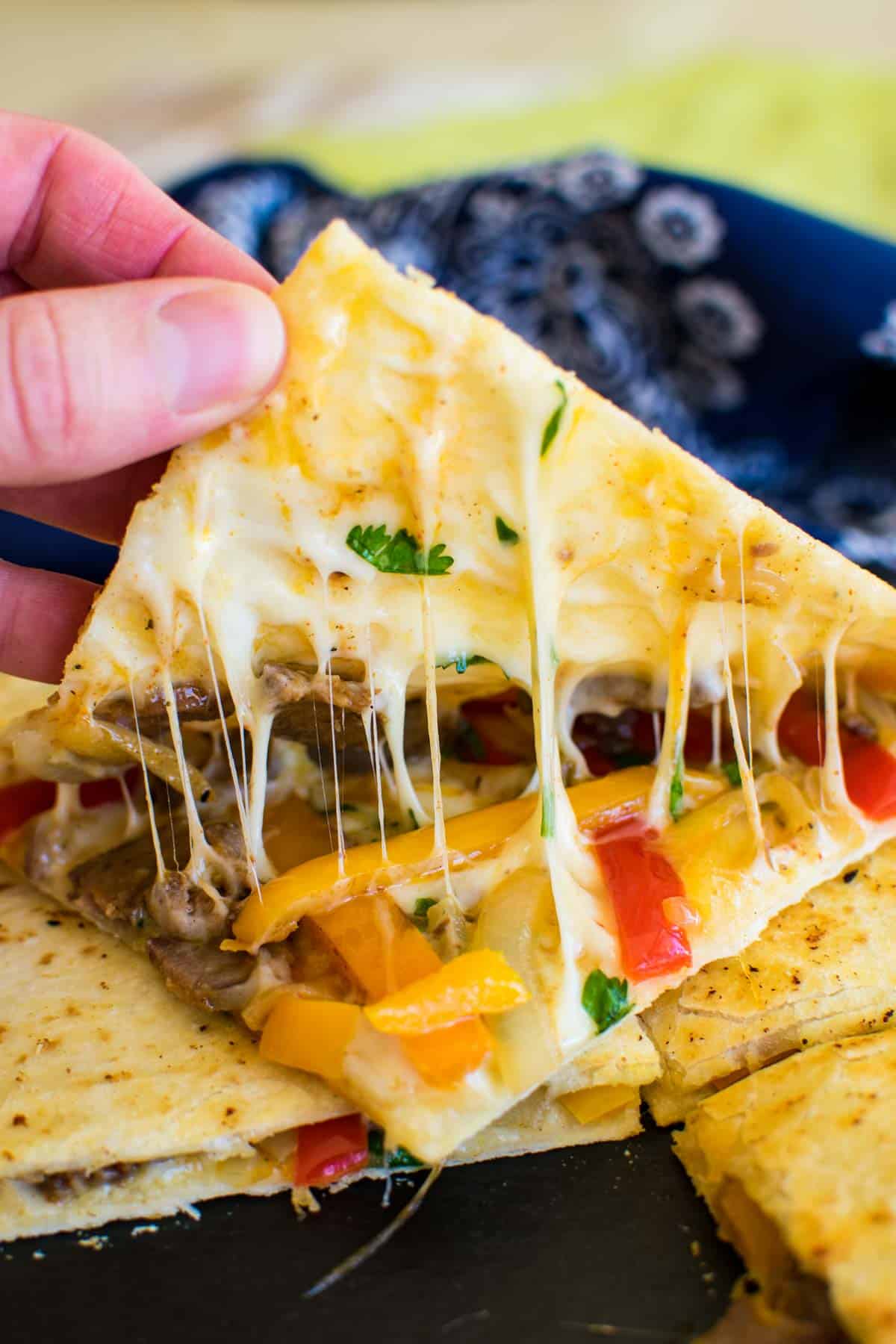 Why I love this recipe:
Quick and Easy – Quesadillas are quick and easy meals for lunch or dinner. With leftover steak, they're even easier to pull together for an easy weeknight dinner.
So Delicious- Everyone loves cheesy quesadillas. Cheese quesadillas with steak are basically a grown-up version that's packed with protein. Kids still love them too!
A Few Simple Ingredients– You only need a few ingredients to make quesadillas, and you can customize them for each person. Use what you have on hand. It's the ultimate leftover steak recipe!
Make a lot or a few– You can make just one steak quesadilla, a few, or enough for the whole family.
Best steak for quesadillas:
For steak quesadillas, you can use any cut of steak. Let's go over some options
Sirloin steak- a fairly tender, yet less expensive beef steak
Ribeye Steaks- a well-marbled and flavorful steak
New York Strip – a tender and flavorful steak
Flank Steak or Skirt Steak- these two cuts of meat are really similar. They're both really flavorful, but also tough and chewy. They're both popular steaks to use to make fajitas or carne asada. Be sure to slice these into thin strips.
Tenderloin (filet mignon) – a very tender and more expensive cut of meat. I'd use leftover tenderloin steak to make Tenderloin Tips instead of using it for quesadillas.
Although I love planning my meals around the idea of repurposing leftover meat into other meals, you can totally cook steak just for this recipe. Using leftover steak makes it a quick and easy meal though!
You can easily air-fry, make broiled steak, or cook a steak in a skillet, too if you don't want to crank up the grill.
Steak quesadillas are also a great recipe idea for using leftover steak from a restaurant, too.
Ingredients:
Making steak and cheese quesadillas is one of my favorite ways to use up leftovers because pretty much anything goes! Let's talk about some of the options for making steak quesadillas!
Tortillas: Large flour tortillas, corn tortillas, a low carb tortilla, or gluten-free tortillas are all great options! You decide!
Steak: See the section above for suggestions for cuts of steak.
Cheese: You can use your favorite shredded cheese or whatever's in your fridge. This is a leftover meal after all! Mozzarella melts well, but you can also use pepper jack, Mexican blend, Monterey jack, cheddar, or Oaxaca — or a combination if you're feeling like it. Regardless of what kind you use, be sure to use lots of cheese!
Butter: Butter gives you the best flavor but you can use corn oil, canola oil, or olive oil to fry your quesadillas.
Onion and peppers: These two give a fun fajita-like flavor. I use red bell pepper and sweet onions, but you can use whatever you have on hand or skip these. Quesadillas have no rules.
Seasonings: This is one of the fun parts of making this recipe! You can use any seasonings you like. We love using fajita or taco seasoning to give it a southwest vibe. But, they're also great with an all-purpose rub or homemade steak seasoning. Or, sprinkle with garlic powder, salt, and black pepper. Adding chili powder and ground cumin would be great too!
Substitutions & variations
You can make your quesadillas however you want. Let each person in the family decide what's going into theirs. You can also serve the cheesy beef quesadillas with dippers and toppings to make them happy.
Omit onions and peppers
Use a variety of cheeses
Use southwest seasonings to give it a Taco Bell Steak Quesadilla vibe.
Adding black beans would be tasty.
Add diced jalapeno pepper to make it spicy.
Serve these with a side of Refried Bean Dip and Cheesy Spanish Rice.
My kids are dunkers and they love sauces. Here are some of our favorites.
How to make Steak Quesadillas
You aren't going to believe how easy it is to make these quesadillas with leftover steak.
If you're cooking fresh steak for this recipe you'll need to fry, grill, or air fry it before making this recipe! You can cook the steak and slice the steak into thin steak strips. Or, you can slice the steak into thin strips and then fry them. Be sure to fry them in a single layer.
It's easier to cut the raw steak into thin slices after it's been frozen for about 10-20 minutes. Be sure to cut it thinly and against the grain.
Step 1: Slice peppers and onions. Heat a cast iron skillet or a nonstick skillet over medium heat. It needs to be a large skillet that will fit a flour tortilla. Add butter, onions, and sliced bell pepper to the skillet. Saute until they are crisp-tender and golden brown. Remove from the pan and set aside.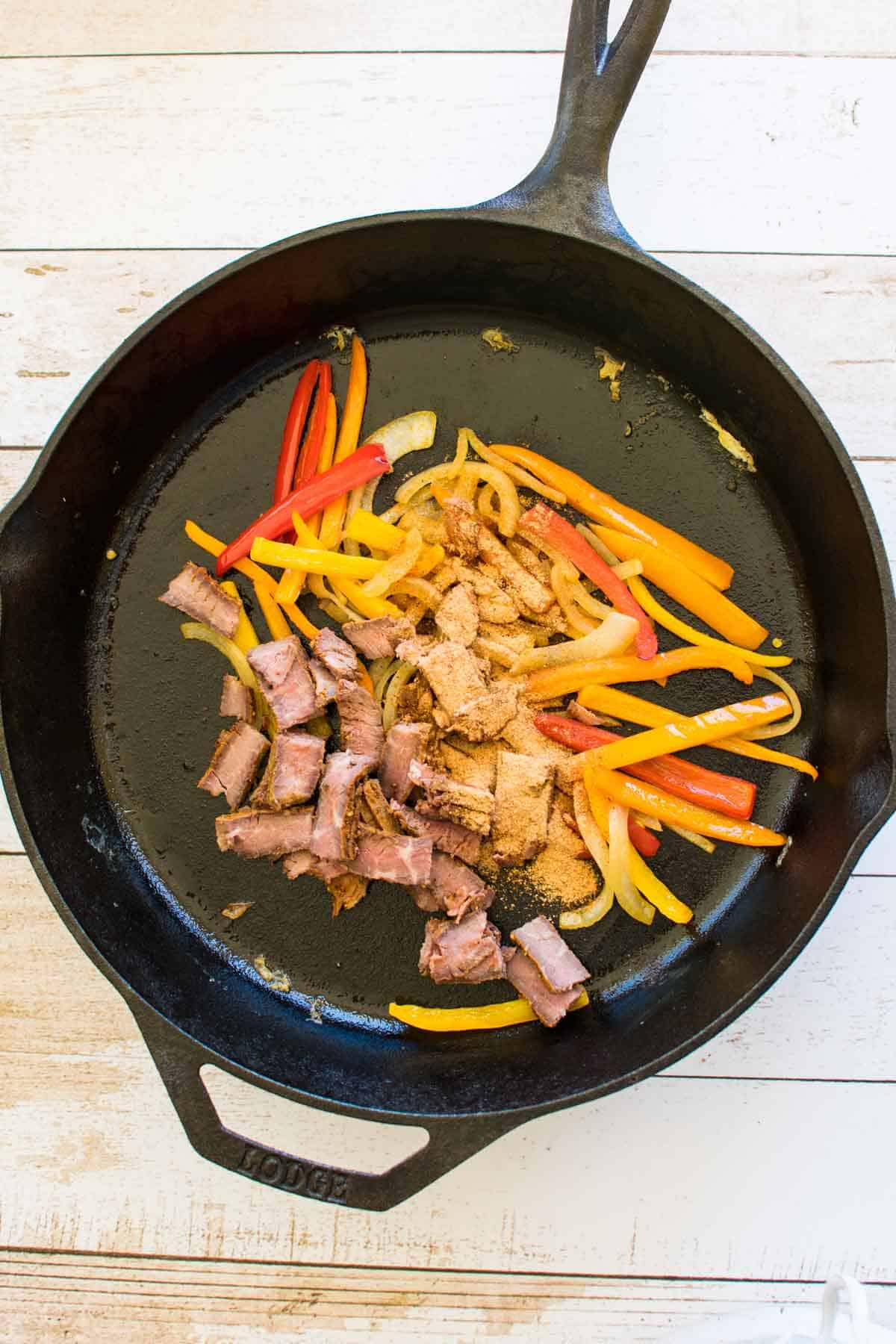 Step 2: Add steak slices and sauteed veggies to a bowl. Sprinkle with seasonings and stir the steak mixture to coat. Set aside. Carefully, wipe with paper towels to get a clean pan.
Step 3: If you have a super hot pan you'll need to let it cool down until it's about medium heat. Set the skillet over medium-low heat. Add butter and melt. Add one tortilla, then sprinkle a layer of grated cheese. Layer slices of beef, sauteed onions, and peppers, then another layer of grated cheese. You want to use plenty of cheese because the layers of cheese are what "glues" the quesadilla so the fillings don't fall out. Top with another tortilla.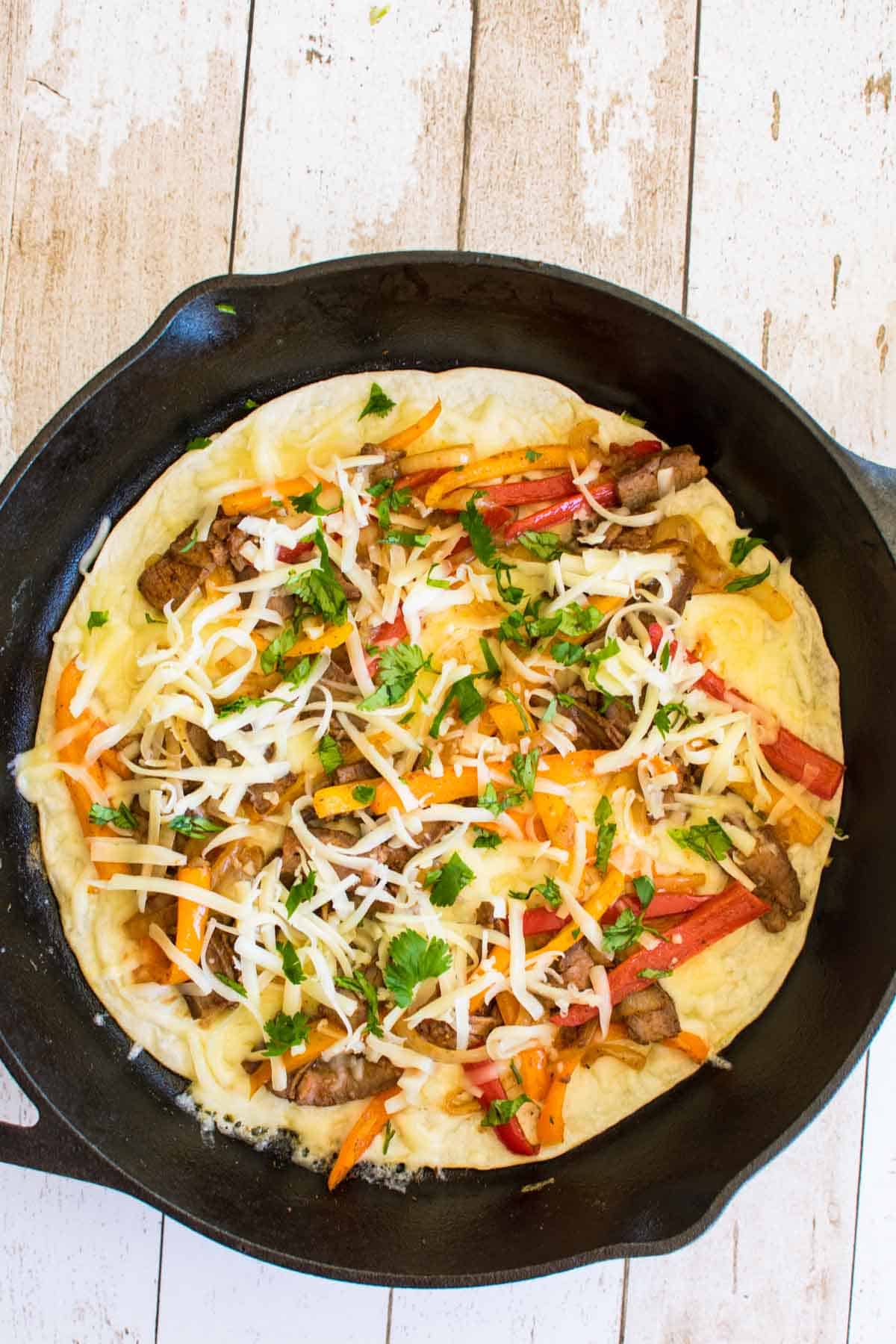 Step 4: Cook the quesadilla until the tortilla is golden brown. Then flip with a pancake turner. Continue to cook until the second side is golden brown and crispy. It will take about 2-3 minutes. It's important to cook the tortilla at medium heat, or less so that the cheese will melt before the tortilla burns.
Step 5: Remove to a cutting board and repeat with the remaining tortillas and fillings. Cut steak quesadilla into wedges.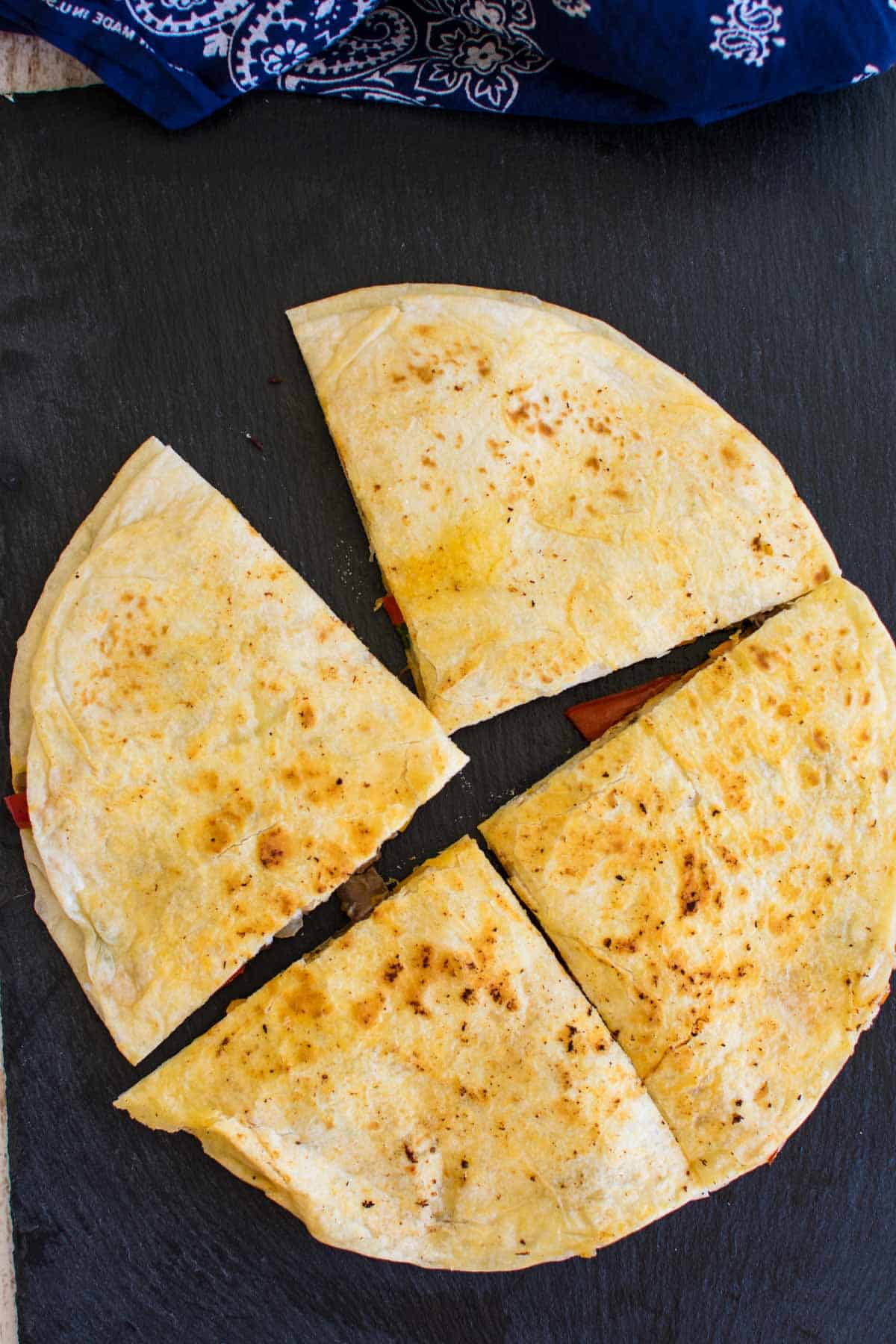 You can either make a delicious quesadilla with two whole tortillas or use one tortilla. If you're using one tortilla add quesadilla filling to half of the tortilla and then fold the other half over the top. It's a little easier to flip if you're only making half a quesadilla.
How to store/freeze:
Serving a leftover steak quesadilla right away is the best because the tortillas are crispy and the cheese is warm and gooey. If you need to make several at a time consider using a pancake griddle. Put the cooked quesadillas on a baking sheet and keep warm in the oven (250 degrees).
You can refrigerate leftovers in an airtight, food-safe container for up to 4 days.
If you want to freeze the quesadillas, cook them and let them cool completely. Wrap them in plastic wrap and store in an airtight container. Freeze for up to 2 months.
To reheat, you can fry in a skillet, cook in the air fryer or microwave them. Frying them is the best way because it will make melted cheese and crispy tortillas. (The microwave method will make a soft tortilla.)
FAQs:
What is the best steak for quesadillas?
A tender cut of steak like the New York Strip is great for quesadillas, but flank steak or skirt steak is traditional. A sirloin steak is a great budget option.
What is the best cheese for quesadillas?
Shredded mozzarella cheese melts extremely well, making it the perfect cheesy option for quesadillas. For a spicier option, use pepper jack or a Mexican blend.
Can I make a leftover steak quesadilla ahead of time?
You can make beef quesadillas ahead of time. To reheat them fry them in a large skillet over medium heat. I prefer prepping the steak and veggies ahead of time and making the fajita quesadilla right before serving.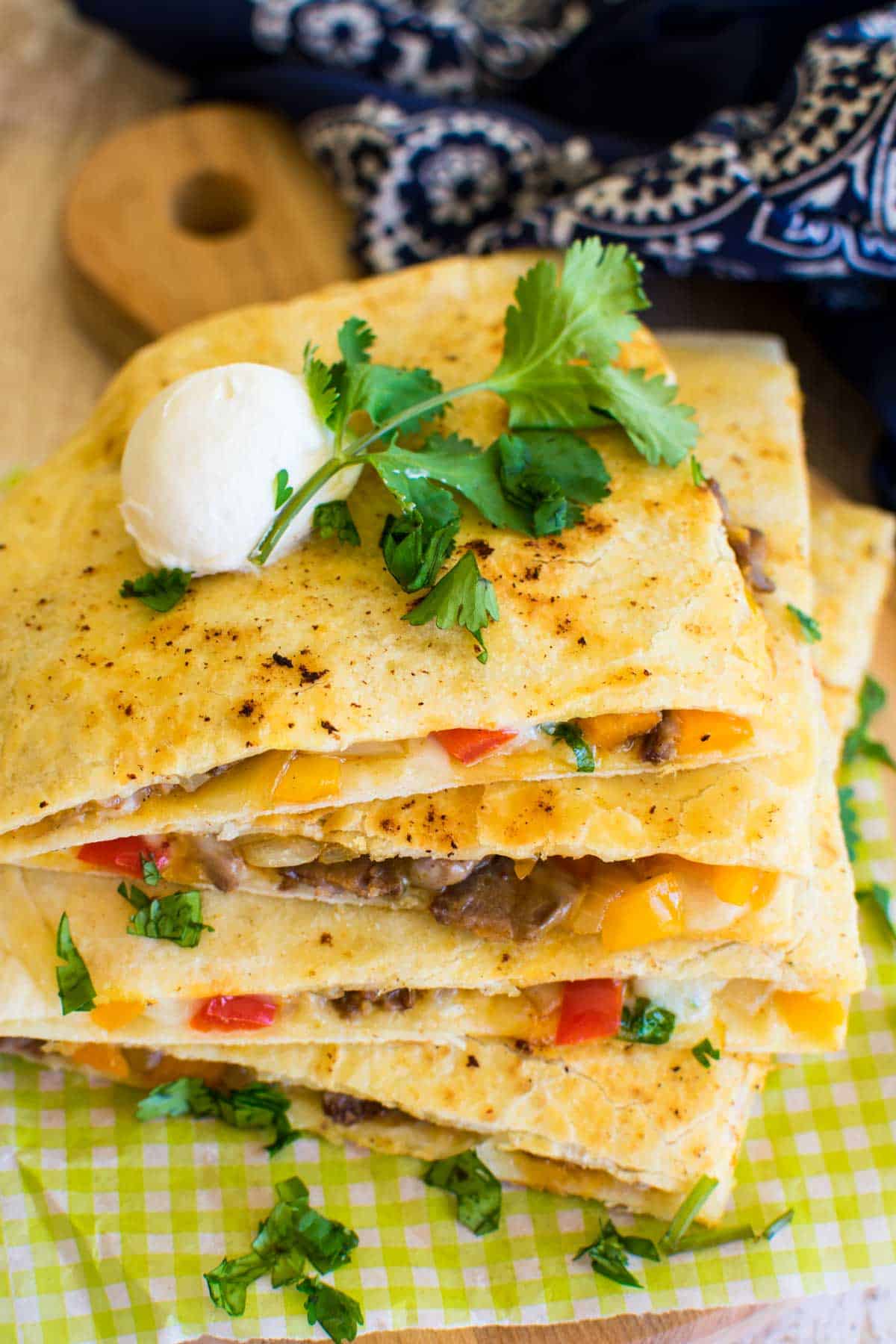 More quesadilla recipes
A basic cheese quesadilla is always popular at my house, but it's fun to switch up the classic by adding meat and veggies. You'll love these varieties!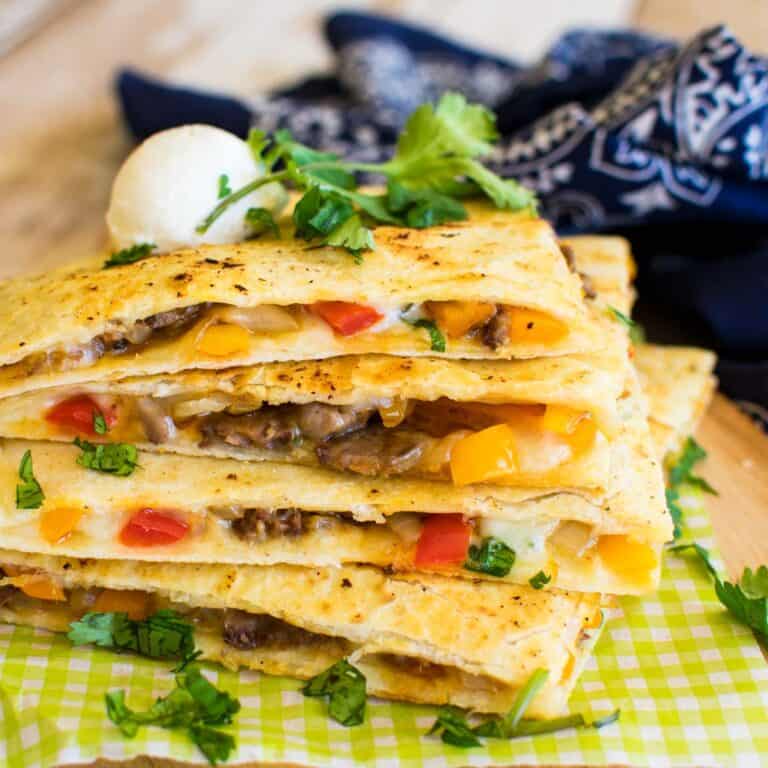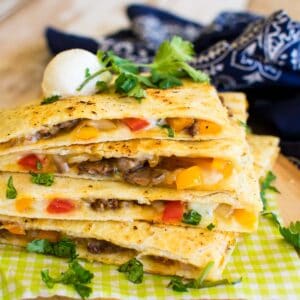 Steak Quesadilla
A steak quesadilla is the best way to use leftover steak! Pile sauteed peppers, onions, steak, and plenty of cheese on a tortilla and fry it until golden brown! You can prep all the ingredients ahead of time and then make this quick and easy lunch or dinner in about 10 minutes!
Ingredients
2

8 inch

flour tortillas

1/2

cup

steak

sliced

1/2

cup

mozzarella cheese

grated

1/4

cup

onion

sliced

1/4

cup

peppers

sliced

1/2

teaspoon

taco seasoning

2

Tablespoon

butter
Instructions
Thinly slice grilled leftover steak against the grain. See the note below if you need to cook the steak.

Slice onions and peppers. Set aside.

Heat a skillet over medium heat. Melt one tablespoon of butter. Add sliced onions and peppers. Saute until almost crisp tender.

Add sliced, pre-cooked, steak. Cook one more minute. Remove steak and veggies from the pan. Carefully wipe the pan clean with a paper towel.

Over medium heat, melt the remaining Tablespoon of butter in the same skillet. Add one tortilla to the pan. Layer with grated cheese, meat and veggies, and another layer of cheese. Top with the other tortilla.

Cook for a couple of minutes, or until the bottom tortilla is golden brown. Flip and cook for a few more minutes or until golden brown and the cheese is melted. Remove a cutting board. Let rest for a minute. Cut into wedges.
Notes
If you're using raw steak:
If you're using raw steak slice thinly against the grain and then cut again to make small steak pieces.

Heat a skillet over medium-high heat. melt a tablespoon of butter in the skillet.

Add the steak pieces and fry until cooked through. The amount of time will vary depending on the thickness of the steak.
Serving Suggestions:
Serve with sour cream
Salsa
Steak sauce
Storing:
Although you can store steak quesadillas in the fridge or freezer, I don't recommend it. It's better to prep the veggies and meat ahead of time and fry the quesadillas when you're ready to eat them.
Nutrition
Calories:
425
kcal
|
Carbohydrates:
29
g
|
Protein:
23
g
|
Fat:
24
g
|
Saturated Fat:
13
g
|
Polyunsaturated Fat:
2
g
|
Monounsaturated Fat:
8
g
|
Trans Fat:
0.2
g
|
Cholesterol:
73
mg
|
Sodium:
630
mg
|
Potassium:
307
mg
|
Fiber:
2
g
|
Sugar:
3
g
|
Vitamin A:
445
IU
|
Vitamin C:
16
mg
|
Calcium:
228
mg
|
Iron:
3
mg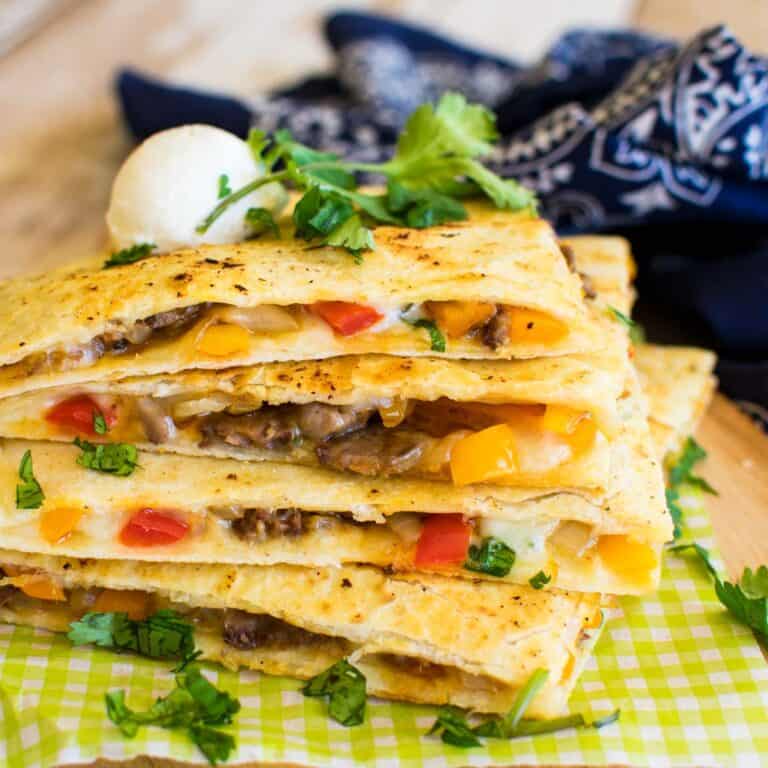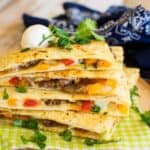 tried this recipe?
Make sure to share it with me! Leave a review or tag me on Instagram