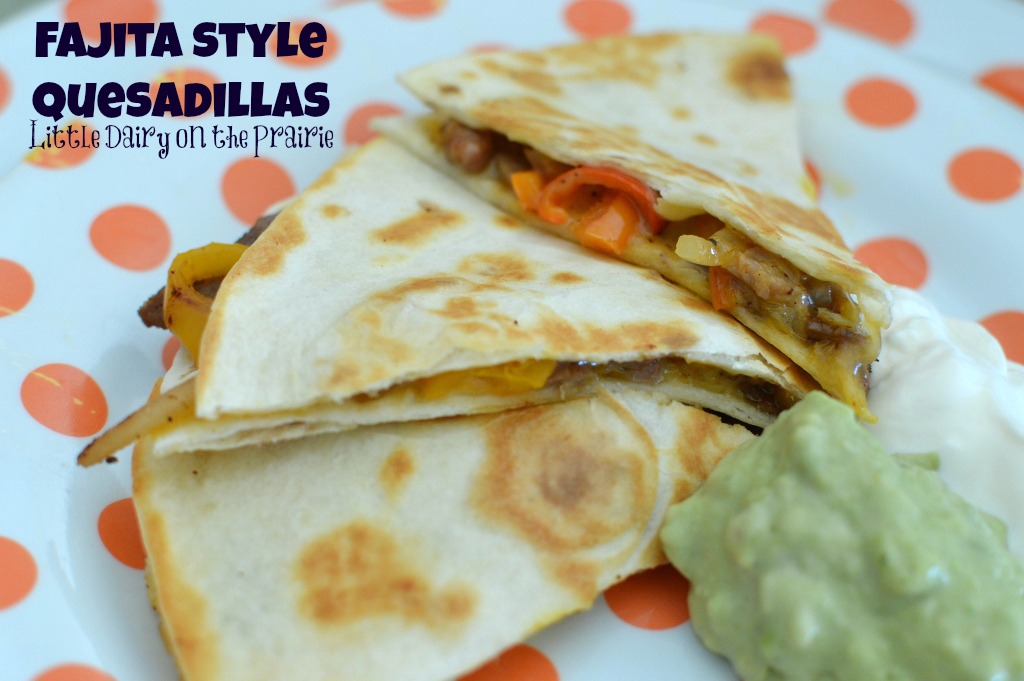 Since we live right here on the "little dairy" Justin is home almost everyday for lunch. One of the reasons we keep staying on the "little dairy" is because our family gets to be together throughout the day. I'm never exactly sure when he will be in for lunch. Or how long he will be here. Or how many people he will bring with him. I have learned to throw lunch together at a moments notice. And I like to challenge myself with using up the leftovers at lunch time. This happened to be a pretty tasty way to use some of them up. I will be planning on making extra steak so I can have a reason to make these quesadillas. So add whatever leftovers you have laying around. And pat yourself on the back for reinventing last nights dinner.
Heat a skillet over medium high heat. Add a little olive oil and sauté onions and peppers until they get a little color on them and they are crisp tender.
I sliced and added my leftover grilled steak. Sprinkle in some cumin and chili powder. Stir together. I made another quesadilla that I didn't take pictures of, that had shrimp added. My men loved it.
Dump the veggies and steak out of the skillet. Return skillet to medium heat. Melt a little butter, lay tortilla down, sprinkle with grated cheese, meat and veggies, more grated cheese and top with second tortilla. Let it cook until golden brown and cheese starts to melt. Flip quesadilla over. Cook until second side is golden brown.
Serve with guacamole, sour cream and salsa.
The next time I made these I had some leftover rice in the fridge. So I added that too. It was yummy.
Fajita Style Quesadillas
These quesadillas make the perfect lunch. They are quick to put together and super tasty!!
Ingredients
Tortilla Shells

Sliced Steak

Diced Shrimp

optional

grated cheese

pepper jack and cheddar

sliced onions

sliced peppers

cumin

chili powder

Sour Cream

Guacamole

Salsa
Instructions
Slice onions and peppers. Saute in olive oil over medium high heat.

Slice steak and shrimp. Add meat to the sautéed veggies. Sprinkle with cumin and chili powder to taste. About 1/8 teaspoon. Stir together. Remove from skillet.

Add 1/2 Tablespoon of butter to the skillet and turn heat down to medium. Add one tortilla. Top with shredded cheese, steak and veggies and more cheese. Add another tortilla to the top.

Continue to cook until golden brown and cheese is melted.

Slice and serve with sour cream, salsa and guacamole.
tried this recipe?
Make sure to share it with me! Leave a review or tag me on Instagram