Beef Tenderloin Tips with mushroom gravy is a favorite 30-minute meal! Tenderloin tips are fork tender and the savory mushroom gravy is full of flavor and creamy!
My family has completely fallen in love with beef tenderloin no matter how it's cooked! It's one of the most tender cuts of beef and is flavorful!
Tenderloin tips are a little like beef stroganoff, but so much better because the filet tips are so tender! It really is the ultimate comfort food!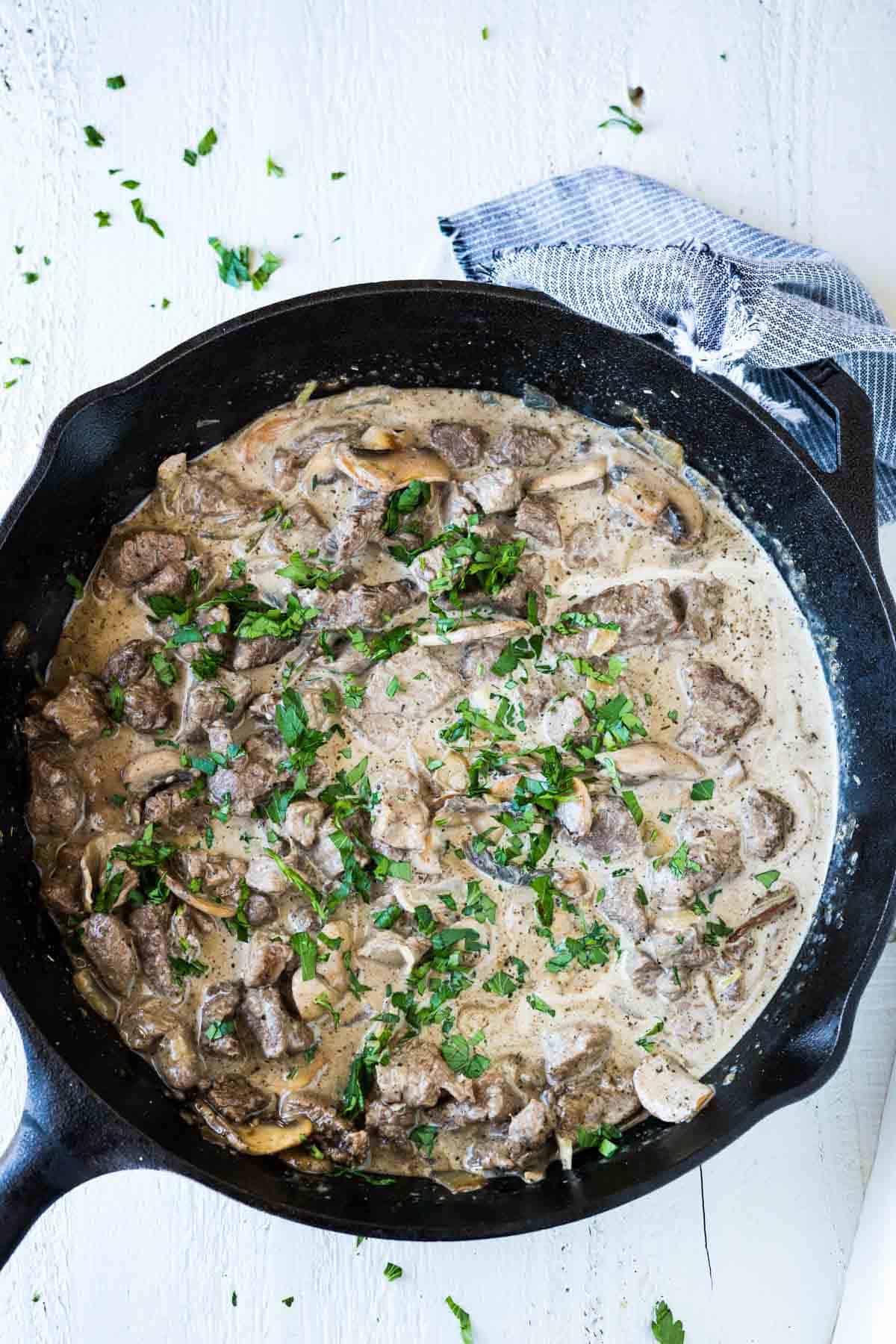 I love that it's a one-pan meal that I can make in less than 30 minutes of cooking time! It's seriously fancy enough for company, yet it's one of my favorite quick meal ideas the whole family loves for weeknights!
We love serving this tenderloin tips recipe with the delicious gravy with creamy mashed potatoes or over egg noodles! Add parmesan garlic rolls and roasted green beans and you're set!
Why You'll Love This Recipe:
Mostly, you'll love it because it tastes amazing! The tenderloin beef tips are seasoned with salt and pepper. The savory mushroom gravy is rich and has the best flavor!
Beef tenderloin tips are so tender that you'll love them so much better than tougher cuts of meat like chuck roast, sirloin steak, or another less expensive type of beef. Be prepared to spend a little more because tenderloin sells for a premium price. It's totally worth it though!
Adding cream takes a rich brown gravy to the next level by making it creamy! The mushroom sauce is perfect with the tender pieces of beef!
This meal will seem fancy, but it's really simple to make! It's seriously so easy!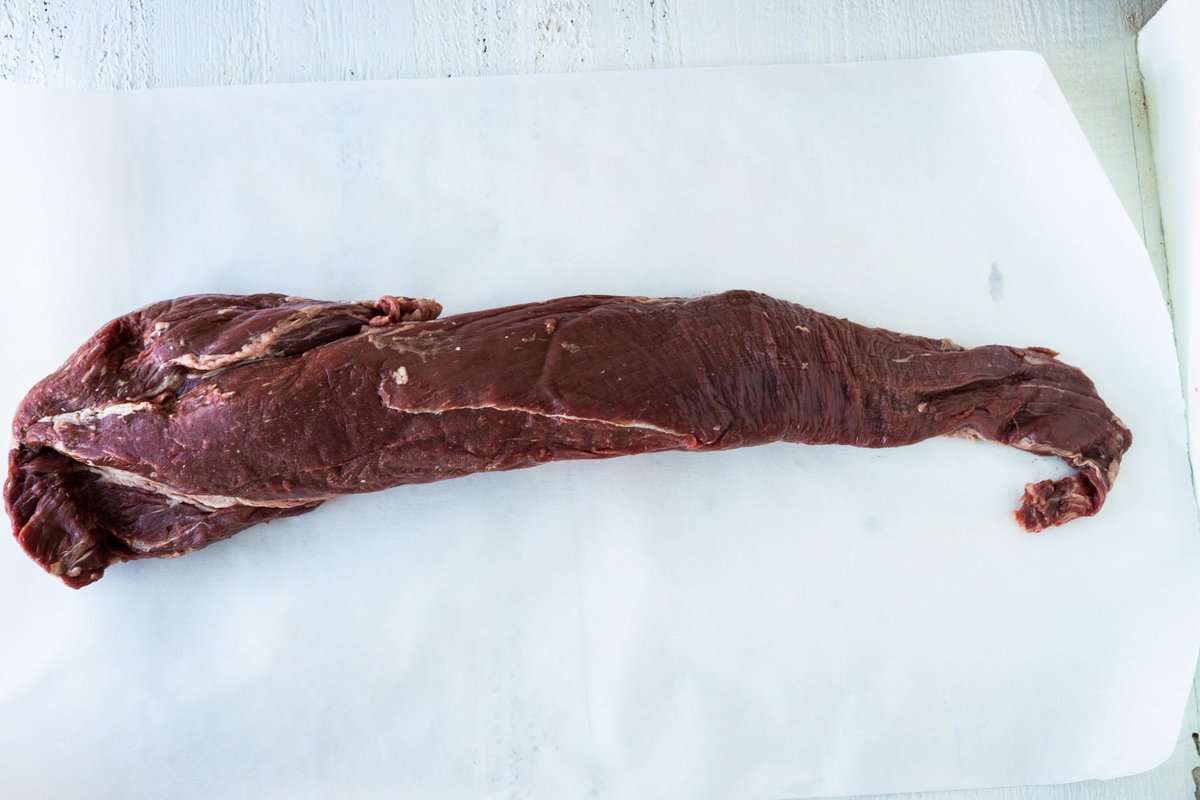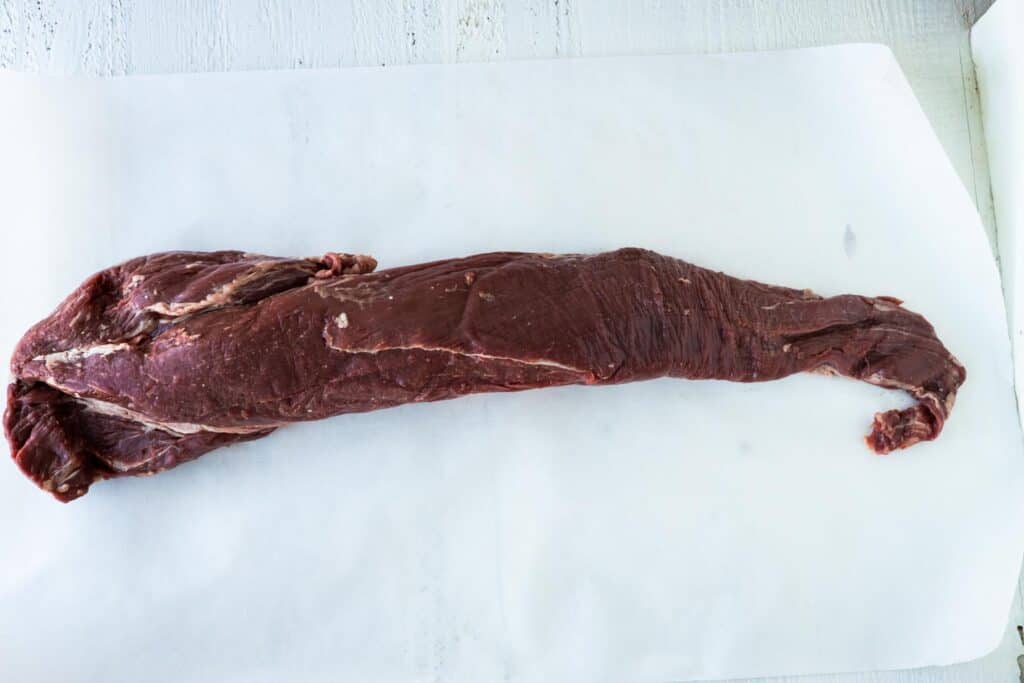 What are beef tenderloin tips?
Before we start we should probably go over this so we're all on the same page. There are so many options at the grocery store and sometimes it can be tricky to find what you're looking for.
A beef tenderloin is cut from the loin section of the cow. It's an area that doesn't get used very much, making it an extra-lean cut of beef yet still tender.
Tenderloin roasts come in different sizes. You can buy just the middle section or larger roasts are the whole tenderloin.
The ends of the tenderloin, or the tail, is the skinny tapered end of whole beef tenderloin roasts.
You can buy tenderloin beef tips from the grocery store. But, I usually buy a whole tenderloin and use the middle to make smoked tenderloin, and cut the tenderloin butt into filet mignon or tenderloin steaks. Then I use the trimmings, scraps, ends, and leftovers to make this beef tenderloin tips recipe.
Tenderloin is one of the most expensive cuts of beef. But, buying the whole tenderloin roast and using all the different cuts of meat actually makes it a pretty affordable price. I can serve my family 3-4 times with one tenderloin roast.
Ingredients Needed:
You'll mostly need simple ingredients. Scroll to the recipe card to see a full list of ingredients.
Since I live in the middle of nowhere I cook with what I have on hand…and most of the time that means I'm making substitutions. Let's go over some options if you don't have everything listed in the recipe!
Tenderloin tips: Using tenderloin tails and tips will give you the most tender steak bites. A top choice is the grade of beef I buy. You don't need a prime cut of meat for this recipe. You could also use sirloin tips. I wouldn't recommend using stew meat because it's a tough cut of beef (you'd want to make instant pot beef tips or the slow cooker if you are using stew meat. Or you can use it to make my Crock Pot beef stew instead!).
Butter: Using real butter adds the BEST flavor! You could also use olive oil.
Garlic: I almost always use Gourmet Gardens garlic paste because it tastes as close to fresh garlic as you can get without having to peel garlic cloves! If you're ambitious go ahead and use garlic cloves. Or, you can use garlic powder.
Beef Broth: Broth has a more robust flavor than beef stock.
Seasonings: I like using salt and pepper, but you can also use steak seasoning if want to amp up the flavor.
Worcestershire Sauce: It adds a flavor, but if you don't have it don't worry about it!
How to make Tenderloin Beef Tips:
This beef tenderloin tips recipe is as easy as can be! I love that it's a one-skillet meal on the stove top.
Freeze whole tenderloin for about 10-15 before cutting it into tenderloin beef tips. meat is much easier to cut if it's partially frozen.
To prepare ahead of time cut the meat, mushrooms, and onions ahead of time. Store separately in airtight containers until you're ready to make the gravy recipe.
Step 1: Clean and slice mushrooms. Set aside.
Step 2: Cut the end of the tenderloin into about 1-inch pieces. Generously sprinkle with black pepper and Kosher salt. Let the meat sit at room temperature for about 10 minutes.
Step 3: Heat a cast iron skillet, or another large and heavy skillet, over medium-high heat.
Step 4: Add a drizzle of olive oil to the hot pan. Add a single layer of beef tips to the pan. Divide the meat into two batches if needed. Fry the meat until it has a nice crust on the outside then flip to sear the other side. It should only take a couple of minutes and should be about 120 degrees. Remove from the skillet and set aside.
Step 5: Let the pan cool to about medium heat. Melt a couple of tablespoons of butter in the same large skillet. Add the mushrooms and onions and saute until golden brown and tender. Add garlic and seasonings.
Step 6: Sprinkle with flour and stir to coat. Slowly add beef broth while stirring. Simmer, stirring occasionally until the pan sauce is thickened.
Step 7: Add the steak bites back to the skillet. Cook until the meat is about 130 degrees for a medium-rare cooked perfect steak.
Step 8: Pour heavy cream into the skillet and stir. You'll love tenderloin tips in a creamy sauce! It's heavenly! Sprinkle with fresh parsley for color and freshness!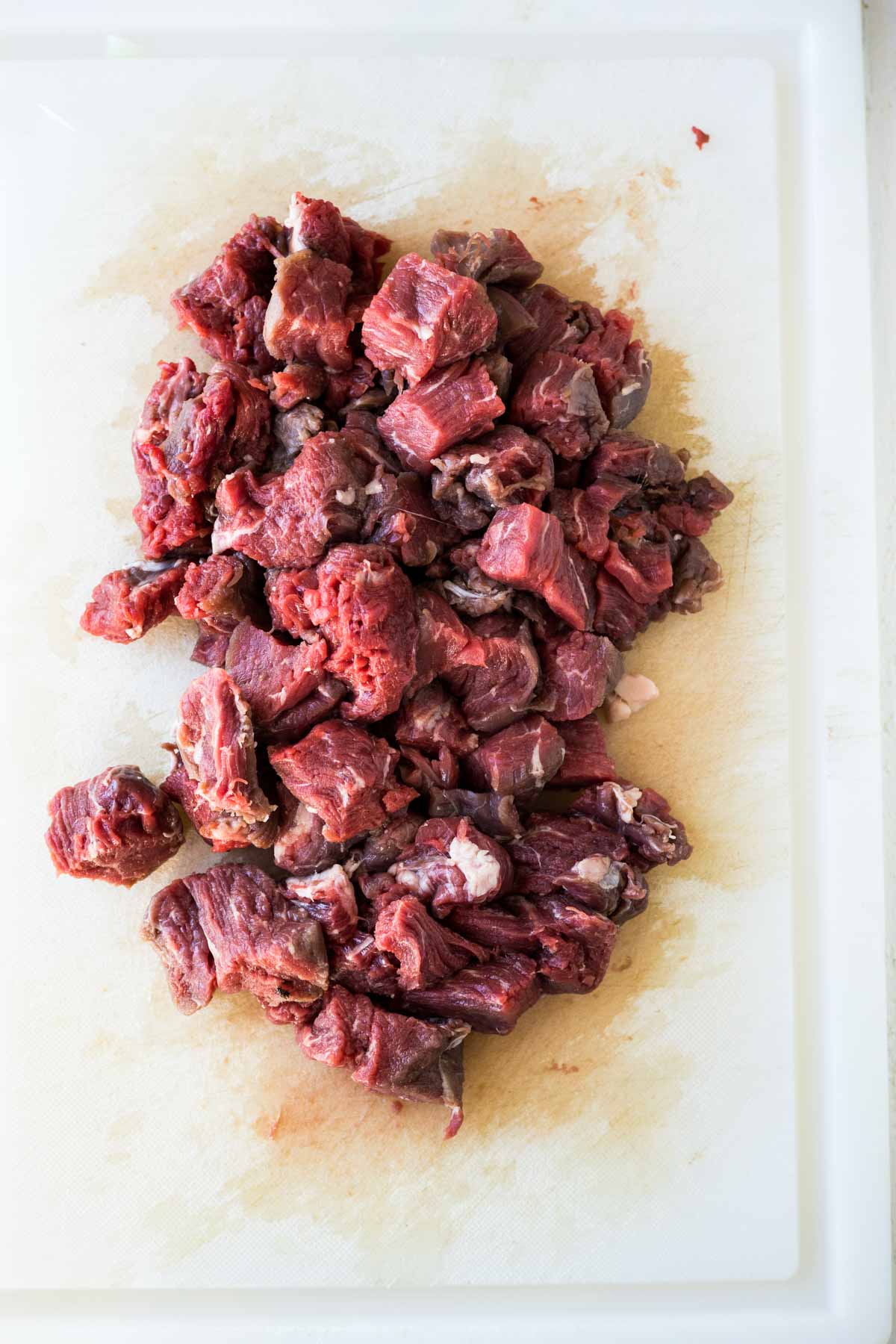 I love my cast iron pan or a dutch oven for searing meat. It heats evenly.
Using an instant-read thermometer is a life changer! It's best if you cook steak tips to temperature instead of by cooking time!
How to Store Tenderloin Tips
Tenderloin beef tips make fantastic leftovers! The leftover steak bites in gravy will keep in the fridge for up to 4 days.
To reheat the beef tenderloin tops simply microwave the beef tips until they are warmed through.
Although you could freeze beef tenderloin tips in gravy for up to 3 months I wouldn't recommend it. I'd prefer to freeze the raw tenderloin steak bites by themselves and then make tenderloin tips and gravy recipe later. If you are going to make the whole recipe and freeze it, add the heavy cream after thawing and reheating.
FAQs:
Are tenderloin tips the same as filet mignon?
Tenderloin tips are cut from the tail of a whole tenderloin roast (or eye filet) and filet mignon steaks are cut from the center of the roast. They are both from the same cut of meat.
Are tenderloin tips fatty?
Tenderloin is the most tender cut of beef because it's an underused muscle on a cow. It's very tender and lean. It's not fatty at all, especially if you buy a super-trimmed filet mignon.
How is tenderloin best cooked?
It's best cooked to medium rare (about 130) because it's a lean cut of meat it will dry out if it's overcooked. It's best to use a meat thermometer to make sure you don't overcook it.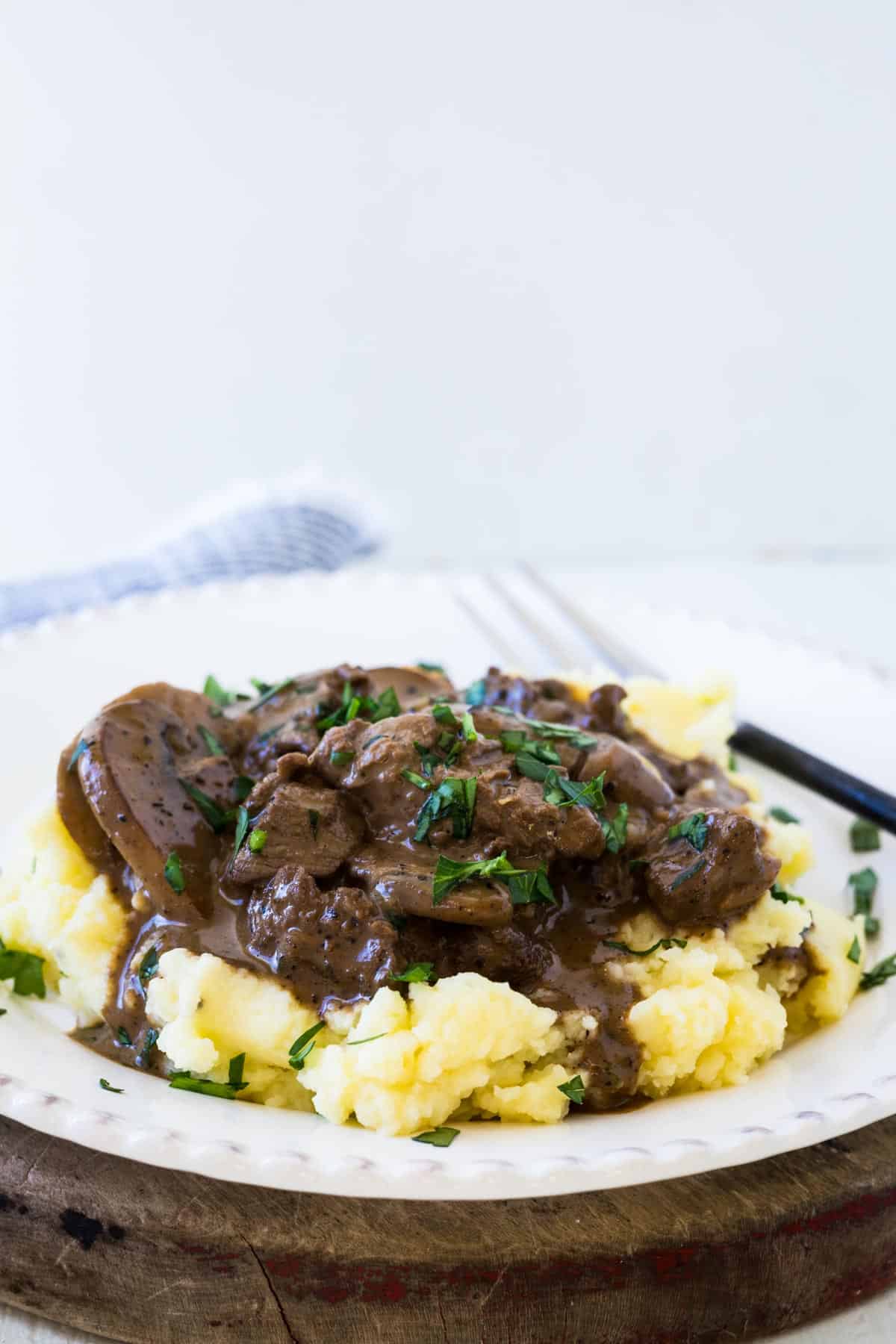 What to serve Beef Tips with:
You can serve beef filet tips with pretty much anything you'd serve any other beef recipe with. The beef and savory gravy are delicious served over rice, potatoes, or pasta.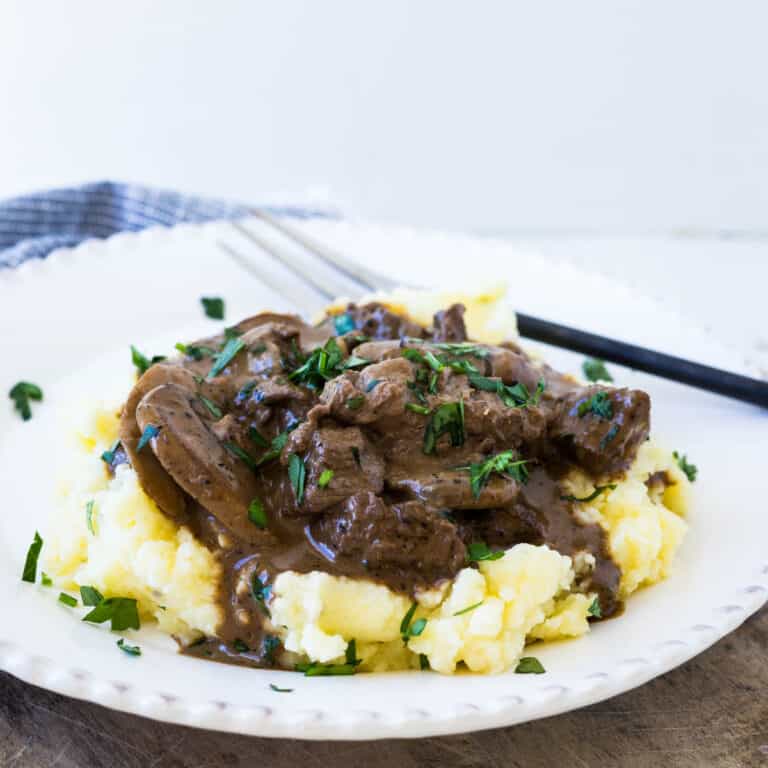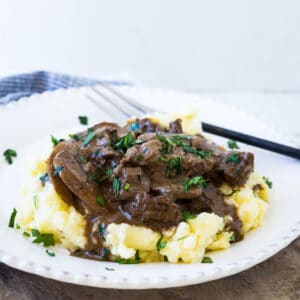 Beef Tenderloin Tips with Mushroom Gravy
This is the best beef tenderloin tips in a mushroom gravy recipe! It's an easy 30 minute recipe made in one skillet! You'll love the savory and creamy gravy served over mashed potatoes or pasta!
Ingredients
1

Tablespoon

olive oil

1

pound

beef tenderloin tips

kosher salt

to taste

black pepper

to taste

2

Tablespoons

butter

2

cups

mushrooms

sliced

1

cup

onions

sliced

1

teaspoon

garlic paste

2

Tablespoons

flour

1/2

teaspoon

ground sage

1/2

teaspoon

thyme

1

cup

beef broth

2

Tablespoons

Worcestershire

1/3

cup

heavy cream
Instructions
Cut beef tenderloin into 1-inch cubes. Generously season with kosher salt and black pepper. Set aside and let come to room temperature, about 10 minutes.

Slice onions and mushrooms. Heat a heavy skillet over medium-high heat. Add olive oil. Add a single layer of beef chunks to the skillet. It's better to fry the meat in two batches than to overcrowd the pan. Cook until the meat is seared on the outside, then flip. This should only take a couple of minutes. The beef should be 120 degrees (use an instant-read thermometer if you have one.) Remove tenderloin tips from the pan and set them on a plate.

Allow the pan to cool to about medium heat.

Melt butter in the pan. Add mushrooms and onions. Saute until tender. Sprinkle with flour and stir to coat. Add garlic paste, sage, and thyme. Stir.

Gradually add beef broth while stirring. The mushroom gravy will reduce and thicken. I cooked it for about 5 minutes.

Add steak bites to the mushroom sauce. Cook until the steak bites are at 130 degrees.

Remove from the heat and add heavy cream. Sprinkle with parsley.
Notes
Before serving taste test and adjust seasonings (salt and pepper) as needed.
Your favorite steak seasoning can be used instead of salt and pepper.
Beef tenderloin tips are best served with mashed potatoes, rice, or pasta.
To reheat, warm individual portions in the microwave until warmed through.
Nutrition
Calories:
512
kcal
|
Carbohydrates:
11
g
|
Protein:
24
g
|
Fat:
41
g
|
Saturated Fat:
19
g
|
Polyunsaturated Fat:
2
g
|
Monounsaturated Fat:
16
g
|
Trans Fat:
0.2
g
|
Cholesterol:
117
mg
|
Sodium:
444
mg
|
Potassium:
687
mg
|
Fiber:
1
g
|
Sugar:
4
g
|
Vitamin A:
487
IU
|
Vitamin C:
6
mg
|
Calcium:
50
mg
|
Iron:
4
mg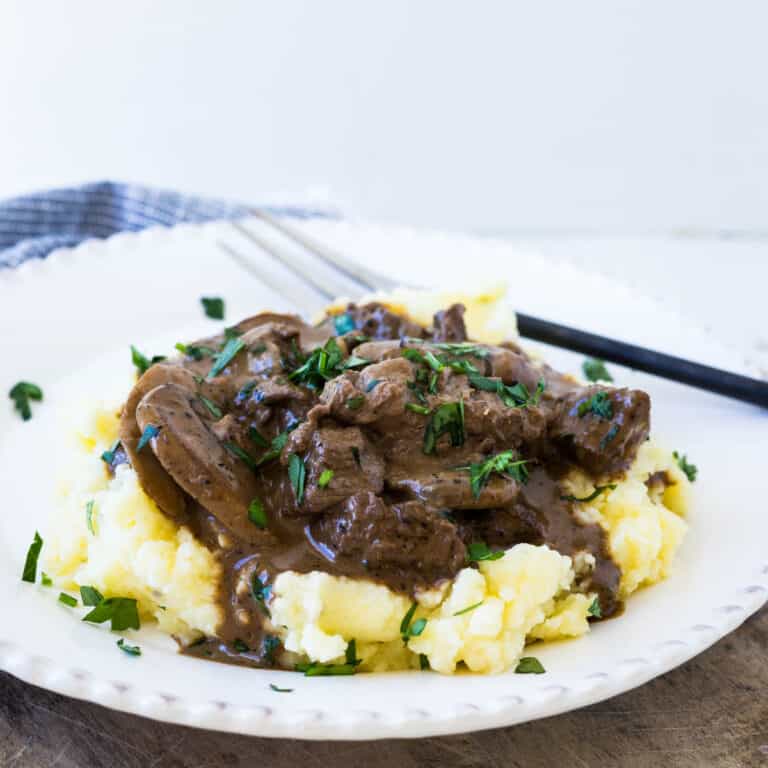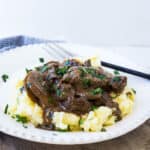 tried this recipe?
Make sure to share it with me! Leave a review or tag me on Instagram