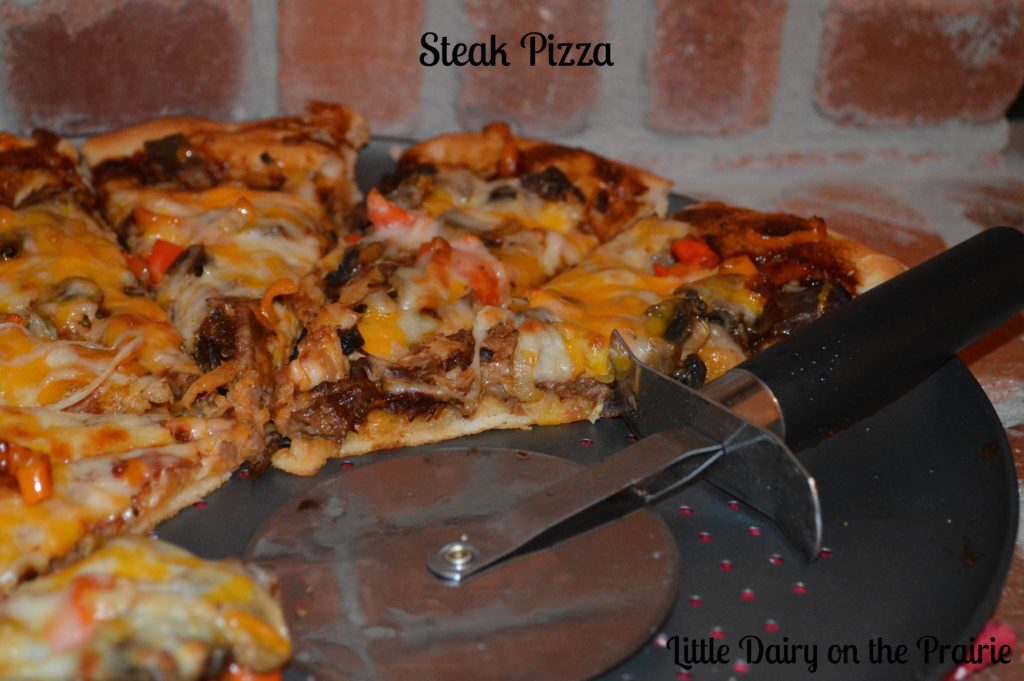 One day I had some leftover steak. You know yesterday was a good day when today you have leftover steak. I decided to turn it into pizza. Obviously I am new at photographing my food. I'm going to take a class soon so I can actually take good pictures. But no matter what the picture looks like this pizza was delish!!
Sorry, there's no during shots of me making this pizza. How do food bloggers take pictures and cook at the same time anyway? You will just have to read the recipe and figure it out this time.
Good pizza starts with good crust and ends with lots of cheese. This is my favorite pizza dough recipe.
Pizza Dough
1 cup hot water
1 cup warm milk
1 heaping TBSP yeast
1/4 cup real butter
1/3 cup honey
5 1/2 cups flour
1 1/2 tsp. salt
Put everything in the bowl of a large mixer. I use my kitchen aid. Mix it all together. The dough should be a little stiff. Add more flour if needed. Let rise for about 30 minutes. Roll out onto greased pizza pans. Add toppings. Bake at 425 degrees for 15-20 minutes with rack in center of oven. This makes two large pizzas.
Steak Pizza
Leftover Steak Sliced Thin
BBQ sauce (whatever kind you have hanging out in the fridge is fine)
Steak Sauce
Grated Mozzarella, Cheddar and Parmesan Cheese
Sautéed Onions, Mushrooms and Peppers
Prepare a batch of my favorite pizza dough. While dough is rising sauté the onions, mushrooms and peppers. Mix some BBQ sauce and steak sauce together. Put pizza dough on the pans and spread sauce on top of it. Sprinkle some of the grated cheese on the sauce. Add sliced steak and veggies. Top with more cheese. Bake at 425 degrees on center rack in the oven for 15-20 degrees. Let rest for a minute before slicing.
My kids are get pretty excited when I take pictures of their food. Mostly because they can't wait for the photo session to end so they can devour. It's partly their fault that it takes so long because they all think they need to have their picture taken. But look how cute. His brothers are going to be so jealous that he was the first one to make an appearance on the blog with facial hair.