Cheesy Spanish Rice has everything you already love about Spanish Rice and more! You still get all those savory flavors with the addition of melted, gooey cheese! It's over the top!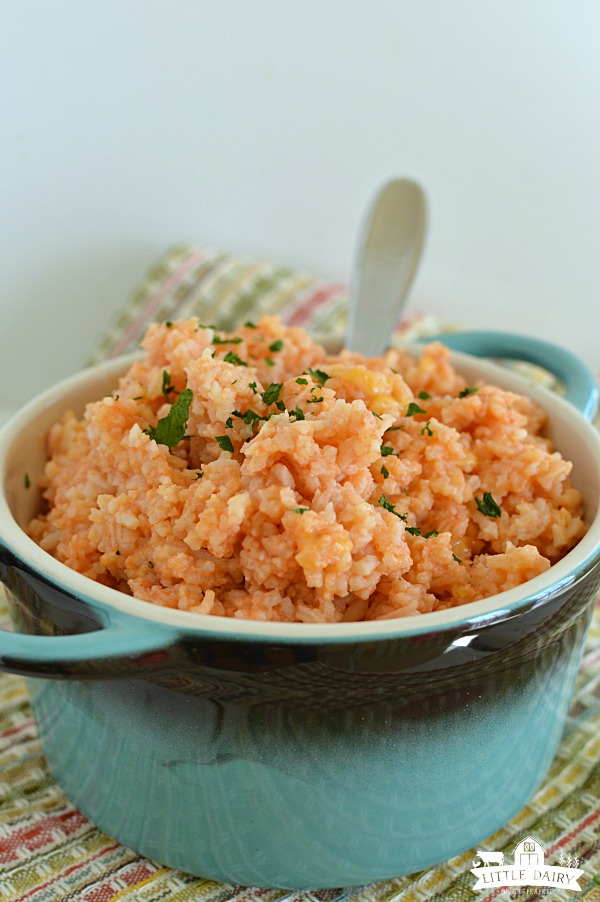 My family has enjoyed Mexican food for as long as I can remember. In fact, when we go out to eat we usually choose Mexican or Italian food. I can already make the most mouthwatering steak at home so I don't feel like I need to pay someone to make that for me. Mexican food though, it just doesn't usually taste the same when you make it at home as when you get it from an authentic Mexican restaurant. Do you know how hard it is to find an authentic Mexican restaurant though?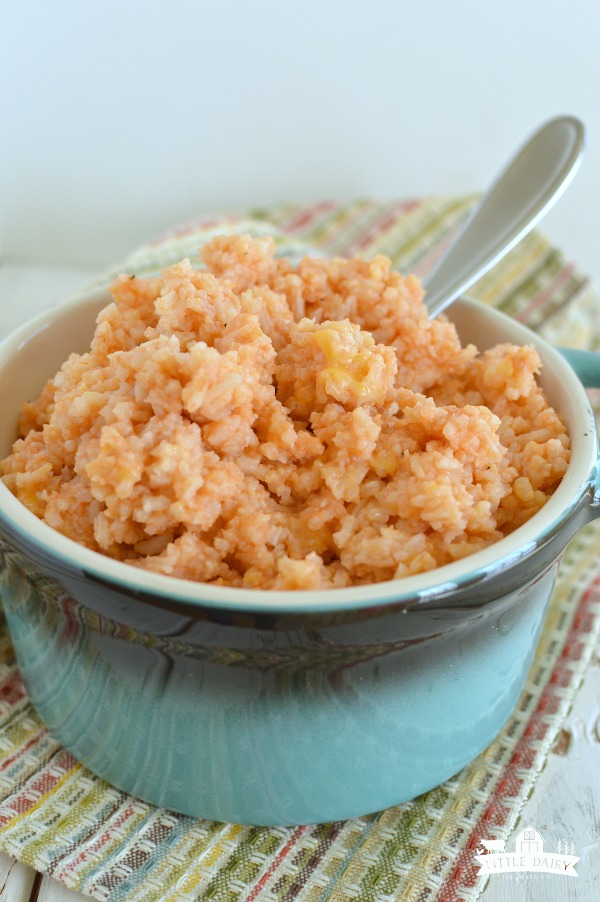 We have found a few that we love but unfortunately it's not always convenient or even possible to leave the farm to get my Mexican food fix! I have learned to make Creamy Beef Enchilada's, Beef Enchilada Stacks, and Slow Cooker Carne Asada that hit the spot on those days when I NEED Mexican food!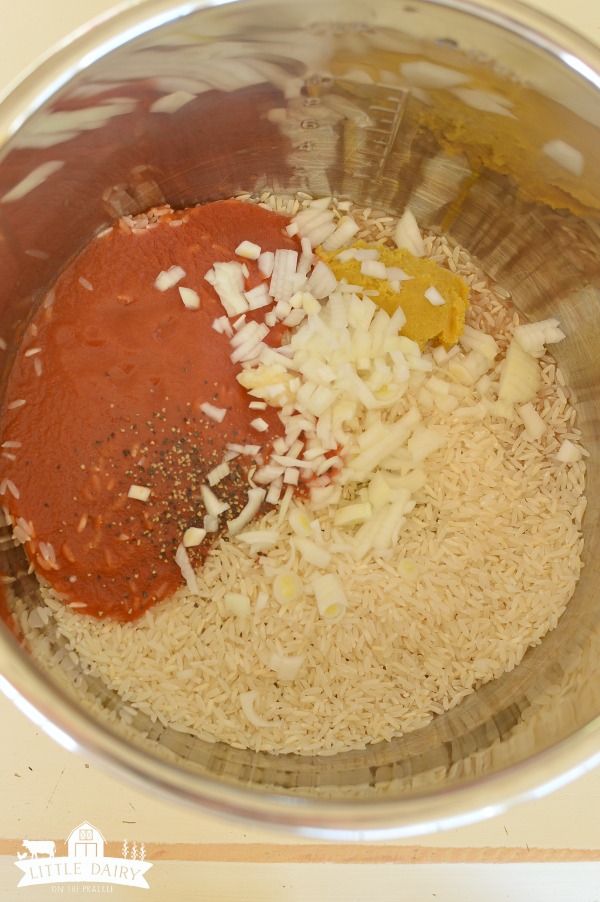 Of course if you are serving Mexican food you need to serve Cheesy Spanish Rice alongside of it! This recipe is so easy, thanks to the InstaPot! Fry rice right in the InstaPot until it's golden brown. Add all the rest of the ingredients, except cheese, to the InstaPot, stir, and cook for 10 minutes.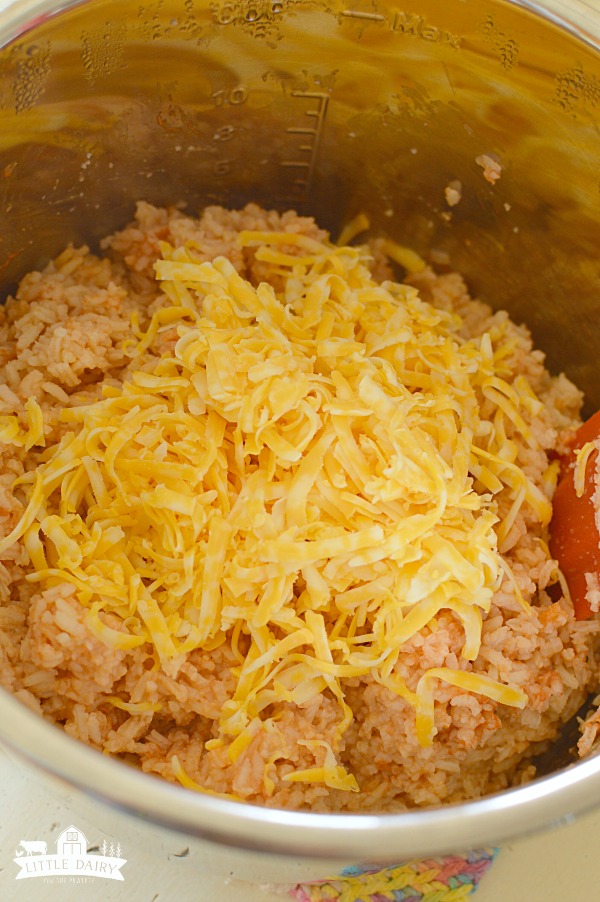 This Spanish Rice recipe already has the best flavors, but then when you add cheese to the mix…you get Cheesy Spanish Rice and trust me it's even better!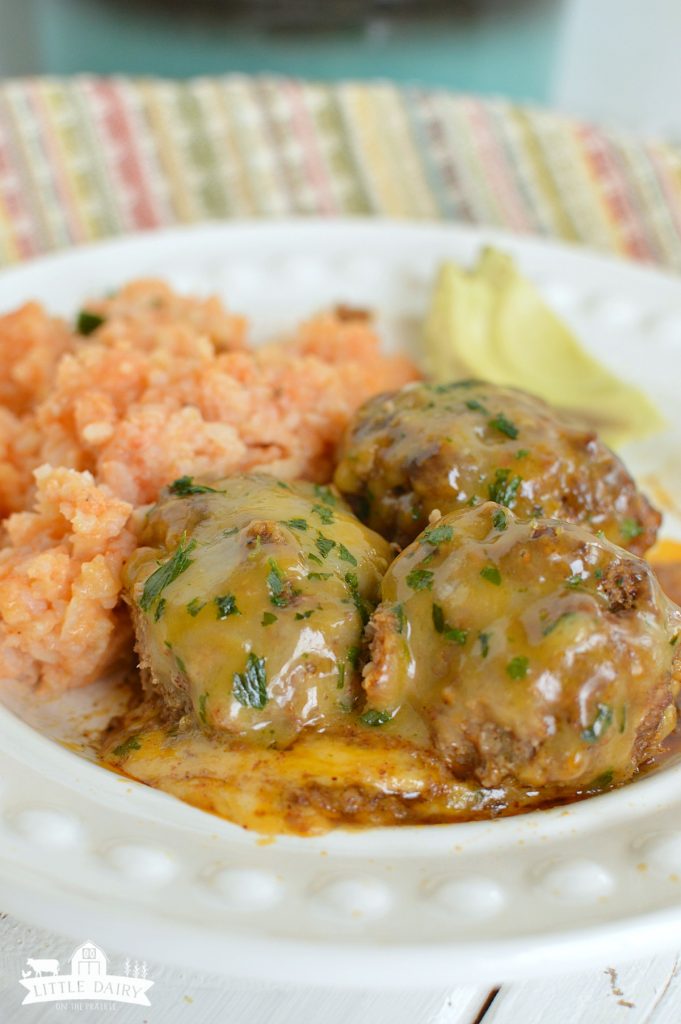 Cheesy Spanish Rice is our new go to side dish! I almost always have a container of it in the refrigerator. I'm not even kidding you when I say we eat it with everything; breakfast burritos, my boys stirred it into their chili, and they even eat it for an afterschool snack! Trust me…it's that good!
Cheesy Spanish Rice
Ingredients
1 1/2

c.

long-grain rice

3

T.

oil

2

T.

finely chopped onions

1

clove

minced garlic

1 8

oz.

can tomato sauce

2

tsp.

chicken bouillon

pinch

ground black pepper

4

c.

chicken broth

2

c.

grated cheddar cheese

you can use less but the more the better 😉
Instructions
I used my instapot to make this rice but it's easy to make on the stove top too. I'll give you directions for either method.

InstaPot Method:

Using the saute setting stir fry rice in oil until golden brown.

Add the remaining ingredients except cheese.

Set InstaPot to the "Rice" setting. I usually adjust the time down to 10 minutes. Make sure pressure valve is closed and lid is on tight.

After the timer beeps quick release the pressure.

Stir in cheese.

Serve immediately.

Stove Top Method

In a 3 quart pan stir fry rice in oil over medium heat until golden brown.

Add remaining ingredients, except cheese.

Bring to a boil then simmer with the lid on until rice is cooked. See rice package directions.

Add grated cheese and stir.

Serve immediately.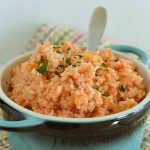 tried this recipe?
Make sure to share it with me! Leave a review or tag me on Instagram