Discover the irresistible flavors of our garden-fresh zucchini salsa. Made with fresh zucchinis bursting with nutrients, this savory salsa is a must-try for any salsa lover. Get ready to indulge in a delicious blend of fresh veggies and aromatic herbs. It's perfect for serving with tortilla chips or topping your favorite dishes.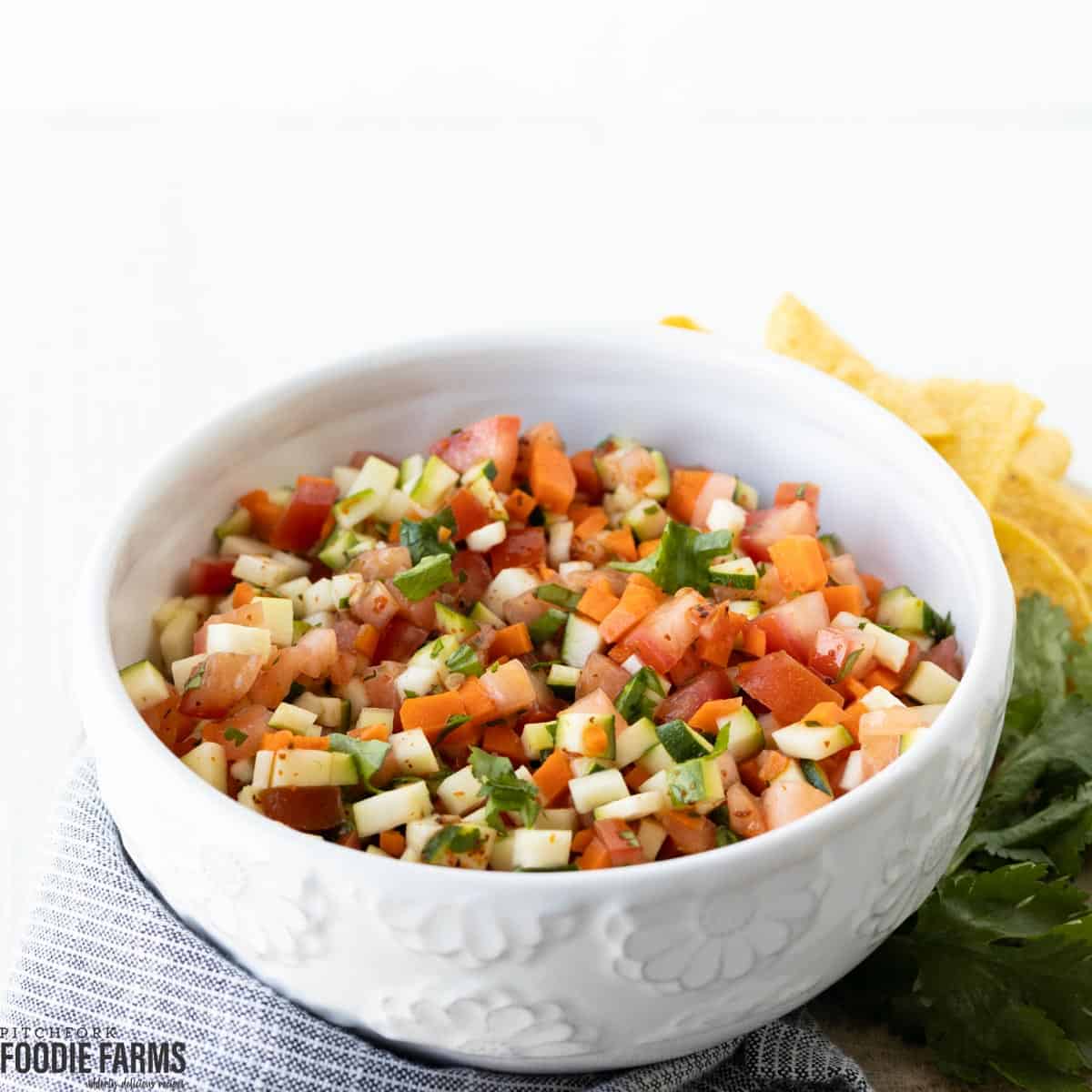 If you have ever grown zucchini you know that once it's ready there's no stopping it! You'll be looking for zucchini recipes to use up all the extra zucchini! We love all the sweet zucchini recipes like zucchini bread, zucchini brownies, pumpkin zucchini muffins, and zucchini cookies.
But, if you're looking for healthy zucchini recipes look no further than this zucchini salsa recipe! It's fun to make several salsa recipes and serve them with different kinds of chips. Chips and salsa are the perfect party foods, appetizers, or finger foods! Be sure to check out my Tomatillo Lime Salsa and Cream Cheese Salsa Dip!
Our family visited Mexico a few years ago and discovered this fresh salsa recipe. We fell in love with it and I knew I had to learn how to make that salsa at home!
It's really similar to pico de gallo made with fresh tomatoes, onions, and cilantro except it has a few extra veggies. It also has lime juice and the Mexican spice Tajin which gives it the most amazing flavor!
This is a fresh salsa recipe, which means no canning, or boiling water bath, and it's a no cook recipe. It's a quick and easy 10 minutes total time recipe. All you need to make this fresh salsa is a cutting board and a good knife! Stir it together and stick it in the fridge!
Why You'll Love Zucchini Salsa
Tastes amazing! That's the most important thing! It's fresh, healthy, and has an absolute explosion of flavors! The lime juice really brings everything together!
It's healthy! This garden salsa is so healthy! No brown sugar. Just veggies, olive oil, lime juice, and a few seasonings!
Fast and easy! This is such an easy zucchini salsa recipe! You'll chop all the vegetables, add a few ingredients and that's it! I can whip up a batch in minutes.
Customizable! It's easy to switch this recipe up to your personal preference. If your family can handle the heat, add jalapenos to make it spicy. Substitute whatever veggies you have growing in your garden, or fresh produce you have available to you.
Ingredients
You'll need really simple ingredients. Some of them might be a little unusual though. Let's talk about how to substitute and swap as needed.
Raw Zucchini: Green or yellow zucchini. I love using green because it adds a pretty pop of color. You can also use summer squash or yellow squash if you don't have zucchini. Diced cucumbers are also delicious.
Tomatoes: This is a tomato salsa so you will need tomatoes. My favorite variety is Roma tomatoes because they are fleshy, or meaty, and don't add extra liquid. You can also use canned tomatoes if needed, although I prefer raw.
Raw Carrots.
Lime juice: Fresh lime juice adds bright flavors to this salsa. You can also use bottled lime juice in a pinch. Lemon juice will work but will change the flavor profile.
Tajin: Tajin is typically found in the Mexican aisle at the grocery store. You can make homemade tajin, but it seems like a lot of work to me! Or, use one teaspoon chili powder and one teaspoon cumin.
Salt: Table salt
Optional Ingredients
Onion: My boys don't like onions so I leave them out sometimes. Purple or red onions add a pretty pop of color. I also like the sliced green onions or scallions. Sweet onions have a milder flavor.
Jalapeno Pepper: Adding jalapeno peppers is optional. Remove the seeds and membranes for a milder spice, and leave them in for extra heat!
Cilantro: If you don't love cilantro simply leave it out, or substitute parsley instead.
Olive oil
How to Make Zucchini Salsa
This zucchini salsa recipe makes a pretty small batch. I like it fresh so I'd rather make smaller batches of the salsa and make it more often. However, you can grab a large bowl and make a lot of salsa if you're feeding a crowd. Just double the ingredient to make a big batch.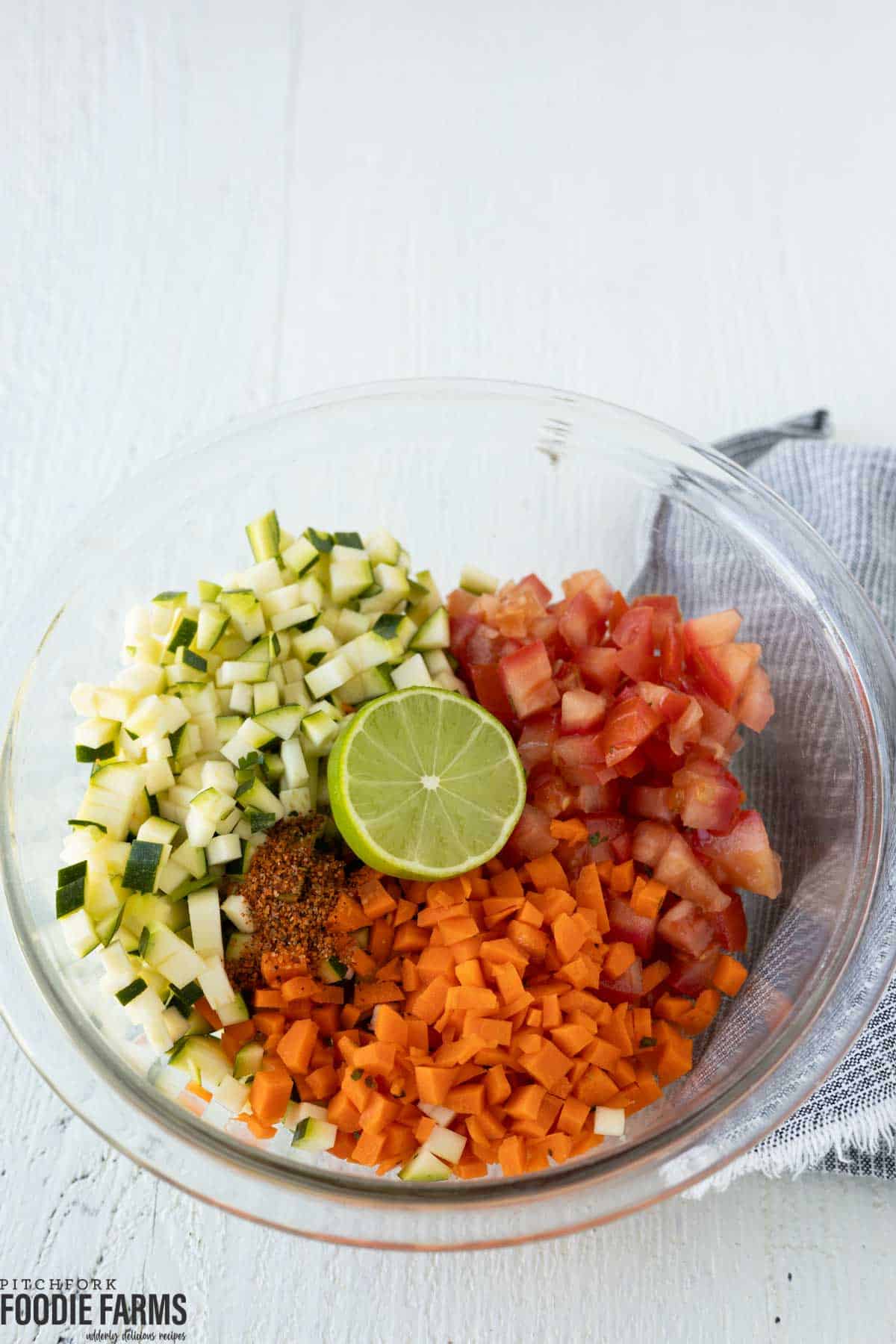 Step 1: Dice vegetables. Finely dice all the veggies.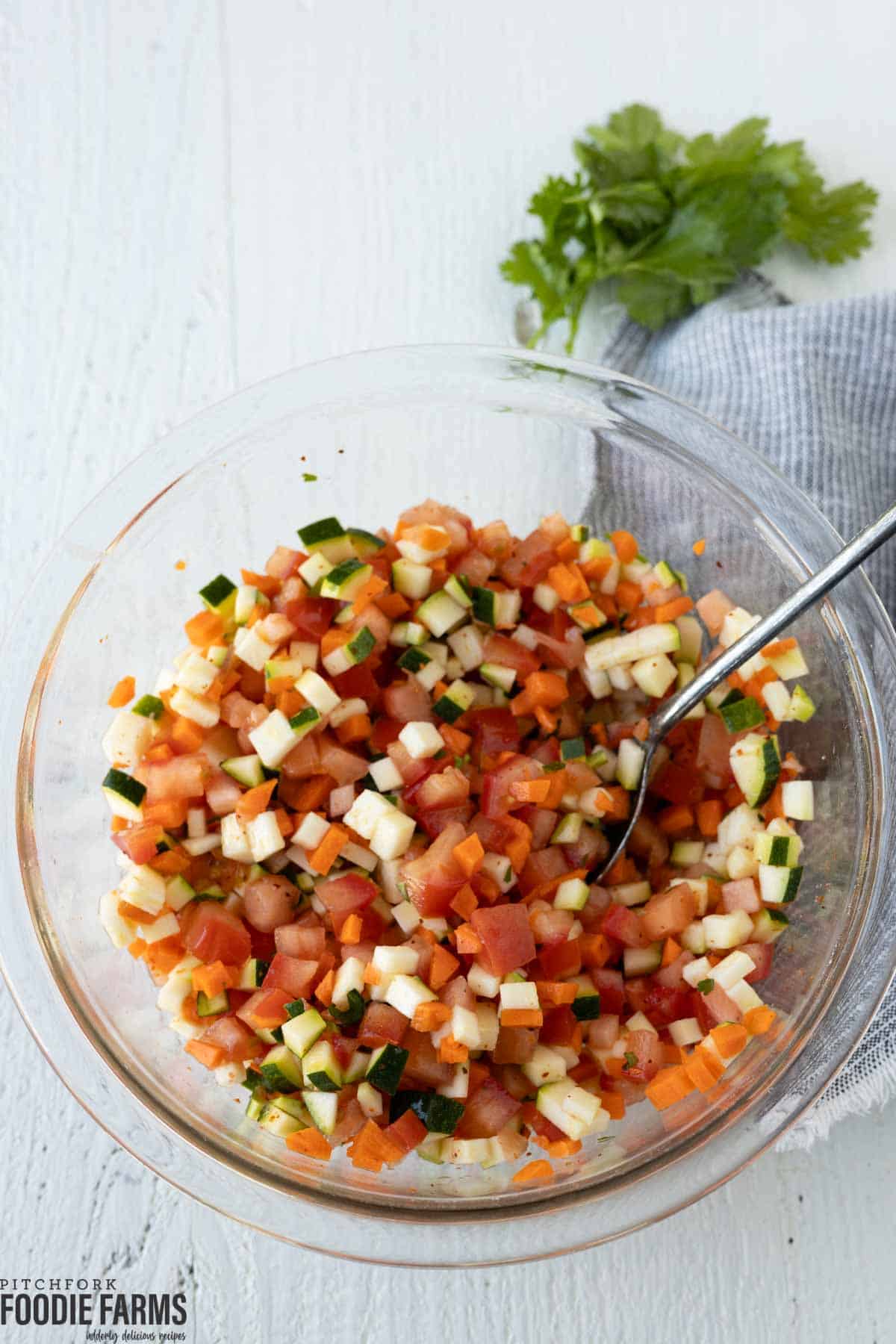 Step 2: Add seasonings and lime juice. Add the chopped garden tomatoes, carrots, zucchini, onions, cilantro, and jalapenos to a medium bowl. Add olive oil, tajin, salt, and lime juice to the zucchini mixture. Stir. Taste test. Adjust seasonings.
Use a food processor before and it's quick and easy. I prefer a more chunky salsa so I think it's worth it to chop the veggies by hand.

Store leftover salsa in an airtight container in the fridge for up to 4 days. You might need to drain extra juice off the salsa before serving. Mason jars work great.

This salsa does not freeze well. The veggies will get mushy.

No need to peel the zucchini. Choose small zucchini squash because it will have smaller seeds and be more tender. The skin will also be thinner.
Garden Salsa Variations
​One of my favorite things about this recipe is that it's super versatile. It's so easy to switch up the original recipe to fit our taste. Here are a few suggestions for changing it up.
Corn Kernels: Fresh, canned, or frozen corn
Sweet Bell Peppers: Add diced yellow, red, orange, or green peppers
Spicy: This salsa recipe can be made anywhere from mild to spicy! To make spicy zucchini salsa add chili peppers, or add red pepper flakes.
Garlic: Minced fresh garlic or garlic powder
Green Tomatoes: Use green tomatoes to make zucchini salsa verde.
Serving Suggestions
Of course, this zucchini salsa is delicious served with corn chips or tortilla chips.
It's also really yummy spooned over grilled chicken, mixed in a taco salad in a tortilla bowl, or served with breakfast burrito bowls. I'm not a huge fish fan, but I think it would go really well with fish.
FAQs
Can I make zucchini salsa ahead of time?
Fresh zucchini salsa can be made ahead of time. In fact, the flavors will have a chance to infuse the veggies. The zucchini will lose its crunch and get a bit soft as it sits. The salsa will also get juicy. If it's extra juicy drain the juice before serving.
How long will zucchini salsa last?
Fresh zucchini salsa will last in the fridge for up to 4 days.
How to store zucchini salsa?
Store zucchini salsa in an airtight container in the refrigerator.
Can you can zucchini salsa?
This is a fresh zucchini salsa recipe so it's not meant to be canned. It's so simple to make fresh garden salsa that I prefer making batches throughout the year.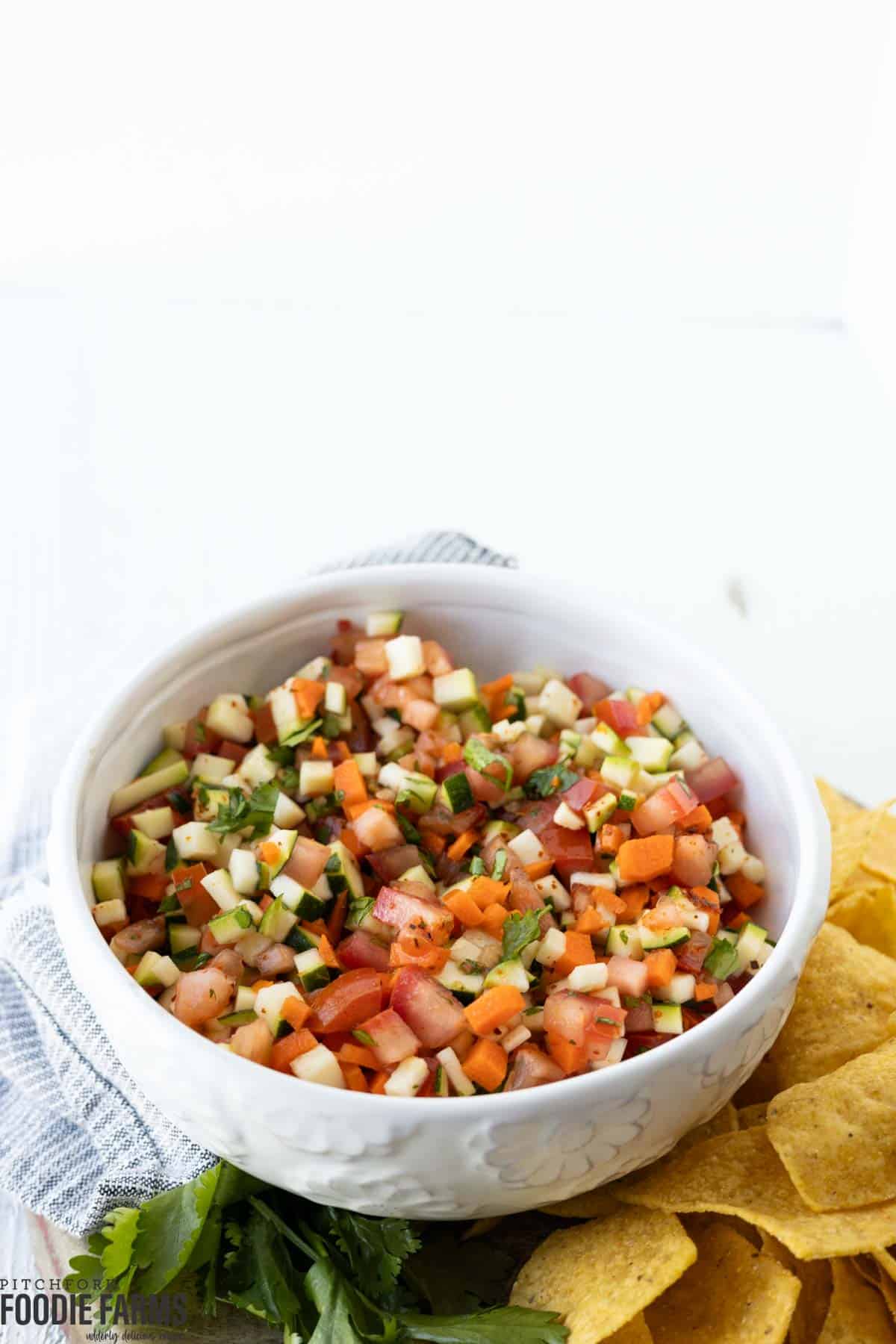 Other Zucchini Recipes
If you have an abundance of zucchini, check out these simple recipes for using it!
Zucchini Salsa Recipe
Once you try it you'll love making salsa with zucchini! It's so flavorful and healthy! This is one of our favorite quick and easy appetizers!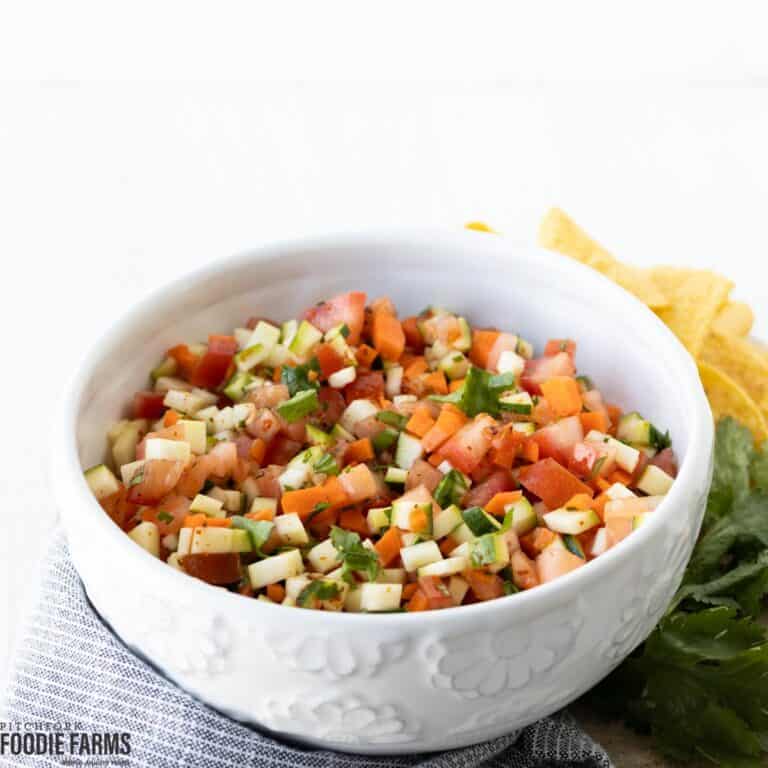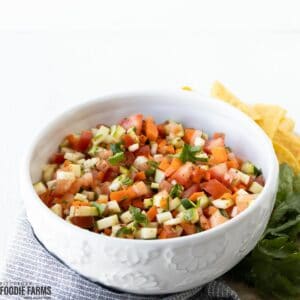 Zucchini Salsa
This Easy Zucchini Salsa is a healthy salsa recipe made with raw zucchini, carrots, tomatoes, and lime juice and is loaded with Mexican flavors! Make a batch in 10 minutes (no cooking) and serve it with tortilla chips or grilled chicken!
Ingredients
1

medium

zucchini

1

medium

carrot

2

Roma tomatoes

2

Tablespoons

lime juice

1

Tablespoon

olive oil

1

teaspoon

tajin seasoning

1/2

teaspoon

salt

1/3

cup

diced purple onion

1/4

cup

chopped cilantro
Optional Ingredients
corn kernels

cucumbers

hot sauce
Instructions
Finely dice the zucchini, carrots, tomatoes, and cilantro. Add to a mixing bowl.

Add lime juice, olive oil, tajin, and salt. Stir. Taste test and adjust seasonings as needed.

Zucchini salsa is best served immediately because the salsa will get soft as it sits.
Notes
It's easy to customize this recipe to your liking.
Omit onions or cilantro
For spicy heat add hot sauce or diced jalapenos
Add other veggies; bell peppers, corn, etc.
Tajin is a Mexican spice typically found in the Mexican aisle at the grocery store. If you don't have it use 1/2 teaspoon cumin and 1/2 teaspoon chili powder. It's not exactly the same, but it still be delicious!
Nutrition
Calories:
30
kcal
|
Carbohydrates:
3
g
|
Protein:
1
g
|
Fat:
2
g
|
Saturated Fat:
0.3
g
|
Polyunsaturated Fat:
0.2
g
|
Monounsaturated Fat:
1
g
|
Sodium:
158
mg
|
Potassium:
147
mg
|
Fiber:
1
g
|
Sugar:
2
g
|
Vitamin A:
1562
IU
|
Vitamin C:
9
mg
|
Calcium:
11
mg
|
Iron:
0.2
mg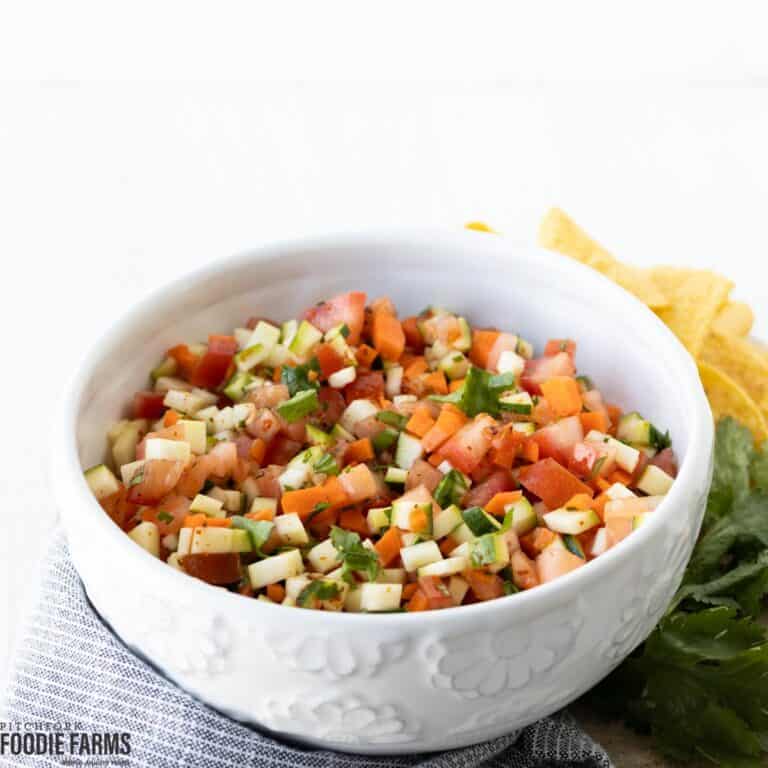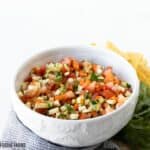 tried this recipe?
Make sure to share it with me! Leave a review or tag me on Instagram