If you are one of those people who just can't leave salsa alone you have to try Fresh Garden Salsa! This salsa is a little different from any other salsa I've ever made and I'm in love!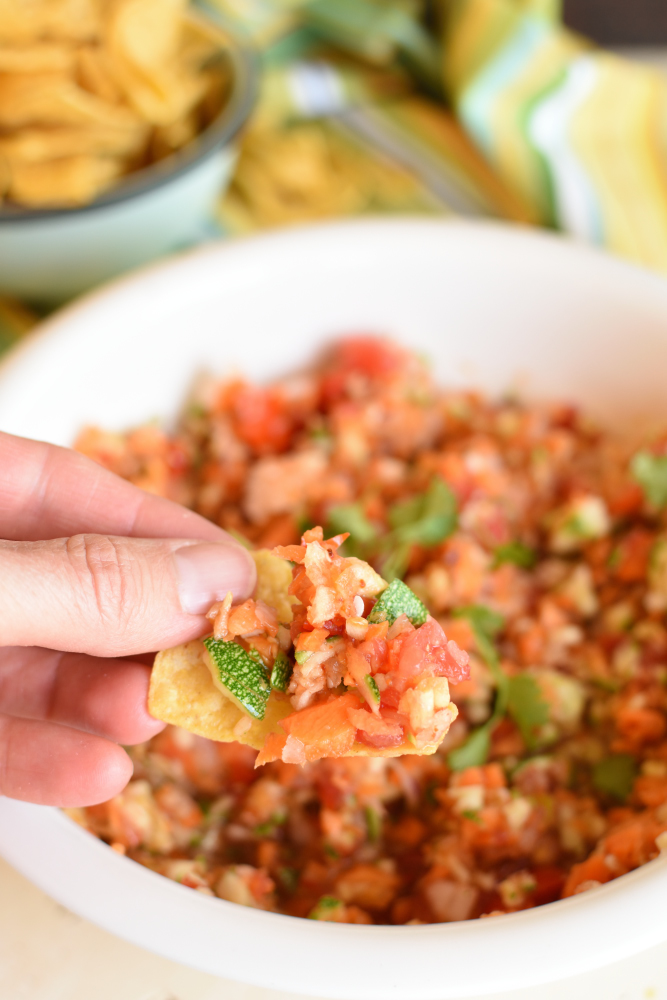 Every other blogger on the planet is bringing you lots of pumpkin and apple recipes today right? Well, I'm holding onto summer for just a little bit longer so I can bring this Fresh Garden Salsa recipe to you. I want you to be able to enjoy it before the fresh veggies season is gone. I'll share pumpkin next week!
Last year my family went to Puerto Vallarta for a little vacation and loved every minute of our trip! One of the excursions we went on was a ziplining adventure and it was beyond exciting! We got to ride burros to the top of the mountain and then zipline down waterfalls, into little water pools, go on a huge water slide, and even zipline on a little surf board. It was my families favorite excursion!
Anyway, at the bottom of the ziplining they provided quesadillas (I'm not sure why they are so much better in Mexico) and this Fresh Garden Salsa! We ate enough salsa I think we counted it as lunch!
You can't beat recipes like Fresh Garden Salsa that come straight from Mexico!
At first we were a little skeptical of salsa made with carrots and zucchini. I mean it's not what we are used to when we think of salsa. Trust me when I tell you this combination of fresh veggies in Fresh Garden Salsa is stellar! It's out of this world yummy! It's one of the reasons I grow a garden! Yup! That good!
Like pretty much every other recipe on my site it's super easy to make too. Especially with the help of the food processor.
Chop zucchini into small pieces. I just pulse the food processor a few times.
Chop tomatoes into small pieces.
Chop carrots into small pieces.
Chop onions into small pieces.
Put all the chopped veggies in a bowl.
Add Lime salt (We bought ours at Walmart when we were in Mexico but I've seen it at several grocery stores in the states too)
Add a little salt.
Stir it together
Fresh Garden Salsa is a bit like Pico de Gallo but with extra veggies mixed in too!
Grab a bag of chips and dig in!
We love it served on Cheesy Beef Mexican Casserole, Easy Chicken Enchilada Casserole, and Quick and Easy Beef Burritos too.
It froze at my house last night and that means it's about time to harvest my garden and say goodbye to having fresh veggies for the rest of the year. Well, at least being able to pick veggies straight from the garden. Hurry and make Fresh Garden Salsa before it's too late! I have a feeling this weekend is going to include nestling under my covers on my favorite chair with a bowl of this Fresh Garden Salsa and enjoying a football game or two!
Fresh Garden Salsa
If you are a salsa lover you have to try Garden Fresh Salsa! It's a little bit like a pico de gallo, but it's packed with lots of veggies straight from the garden!
Ingredients
1

small zucchini

about a cup

1

medium carrot

about a cup

2

medium tomatoes

about 2 cups

1/2

purple onion (my family doesn't love onions as much as I wish they did so I only used about 1/4 a cup.
Instructions
Chop zucchini into small pieces. I just pulse the food processor a few times.

Chop tomatoes into small pieces.

Chop carrots into small pieces.

Chop onions into small pieces.

Add all chopped veggies to a bowl.

Sprinkle Tajin Clasico Con Limon (They called it lime salt in Mexico. I used about 1 T.)

Sprinkle salt in to taste (I used about 1/2 tsp)

Stir.

Serve with chips or any other Mexican food!
tried this recipe?
Make sure to share it with me! Leave a review or tag me on Instagram