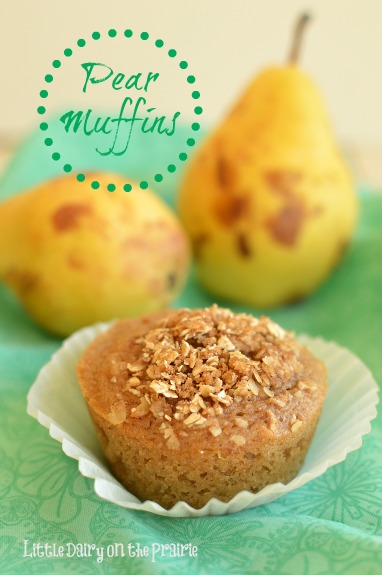 I bought a box of pears in a moment of dilusional thinking. For some crazy reason I had convinced myself that my life was going to "slow down" in a few days. What was I thinking? How could I forget that I still had payroll to take care of, bills to pay, math homework, to help when the vet came and a messy house in desperate need of cleaning up? Well, those juicy pears got the best of me and I brought a box home. I planned to make lots of fun things with those pears. I ended up dehydrating them, making a little bit of fruit leather and these delicious Cinnamon Pear Muffins! Buying a box of pears was worth it after all!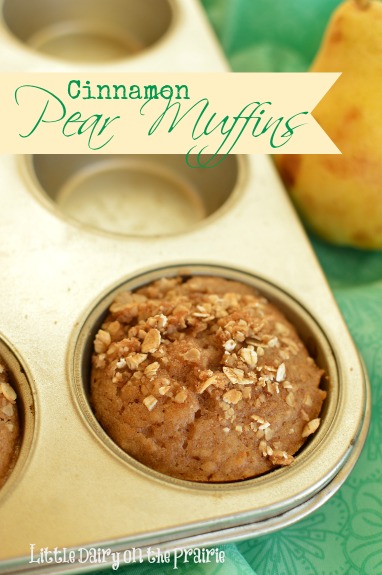 Pear Muffins are so moist thanks to the, well, pears. I can't resist cinnamon and all those other warm spices this time of the year either. And who can resist a streusel topping? Not me!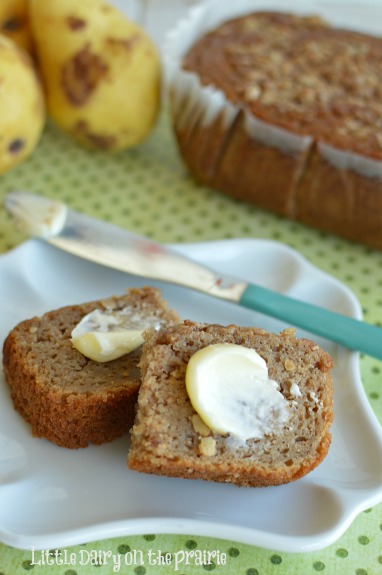 If you are in a huge hurry you can make these into bread.
Bread vs. Muffins (the way I see it)
Bread – Faster to put into the pan. Takes longer to cook (Perfect for the days you don't have lots of hands on time but will be around in 50 minutes to take it out of the oven. That's enough time for a jog, to mow the lawn, take a shower and get ready for the day, drive the football carpool, etc.)
Muffins – Cuter than bread. Takes longer to put in the pan. Already in serving sizes. Cooks faster. (Perfect for days when you need breakfast in a hurry. You don't have to stick around waiting for the muffins to cook.) Did I mention they are cute?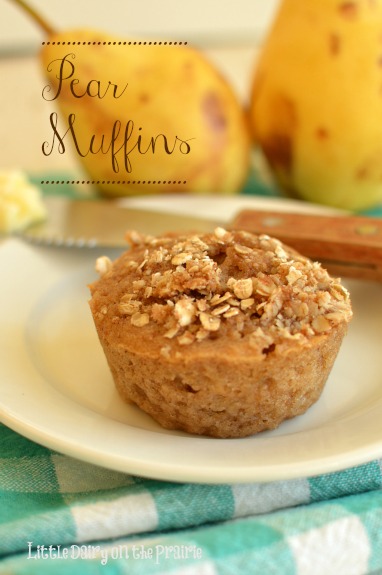 Muffins? Bread? You decide. Either way this bread is scrumptious. I served Cinnamon Pear Muffins to my family one day when nobody was going to actually be home for breakfast. They made the perfect on the go breakfast. They would also be delish with vanilla ice cream and a little caramel sauce. Not for breakfast. That would be crazy. Try it for dessert!
Pear Muffins with Oatmeal Streusel
Cinnamon Pear Muffins with an oatmeal streusel topping is the BEST fall breakfast! Use fresh or canned pears. You can make them into muffins or pear quick bread.
Ingredients
To Make the Pear Muffins:
4

cups

pear puree

1

teaspoon

lemon juice

3/4

cups

oil

1

cups

sugar

1/2

cups

brown sugar

4

eggs

1

teaspoon

vanilla

3 3/4

cups

flour

2

teaspoon

baking powder

1

teaspoon

baking soda

1 1/2

teaspoon

salt

1

Tablespoon

cinnamon

1/2

teaspoon

nutmeg

1/2

teaspoon

allspice

1

cup

walnuts

optional
Oatmeal Topping:
1/2

cup

quick oats

1/4

cup

brown sugar

1/2

teaspoon

cinnamon

1/4

cup

butter

cold
Instructions
Preheat oven to 350 degrees.

Puree pears. Add lemon juice to pears. Set aside.

Mix oil white sugar, brown sugar, eggs, and vanilla.

Stir in pureed pears.

In a separate bowl mix together flour, baking powder, baking soda, salt, cinnamon, nutmeg, and allspice.

Add dry ingredients to wet ingredients. Mix only until combined. Stir in walnuts if desired.

In a food processor mix topping ingredients together. If you don't have a food processor cut butter in using two knives.

Sprinkle topping mixture over muffins or bread.

Bake 20 minutes for muffins.
Notes
Pears:
Fresh - peel, core, and puree in a blender until smooth.
Canned - drain, puree in a blender.
To make a loaf:
This recipe makes 2 loaves.
Bake for 50-55 minutes. Cool for a minute in the bread pan then finish cooling on a wire rack.
Nutrition
Calories:
274
kcal
|
Carbohydrates:
36
g
|
Protein:
4
g
|
Fat:
13
g
|
Saturated Fat:
2
g
|
Trans Fat:
1
g
|
Cholesterol:
32
mg
|
Sodium:
256
mg
|
Potassium:
102
mg
|
Fiber:
2
g
|
Sugar:
18
g
|
Vitamin A:
108
IU
|
Vitamin C:
1
mg
|
Calcium:
45
mg
|
Iron:
1
mg
tried this recipe?
Make sure to share it with me! Leave a review or tag me on Instagram

Your mouth will water while you are baking these cinnamon Pear Muffins. As if the moist muffin wasn't enough they are topped with an almost candy like streusel topping! This is exactly what fall should smell and taste like.