Easy Cheesy Sloppy Joe Bombs are the quickest little appetizer or meal ever which means weeknight dinner or party food is only minutes away! This is going to be one of those staples you keep coming back to over and over again!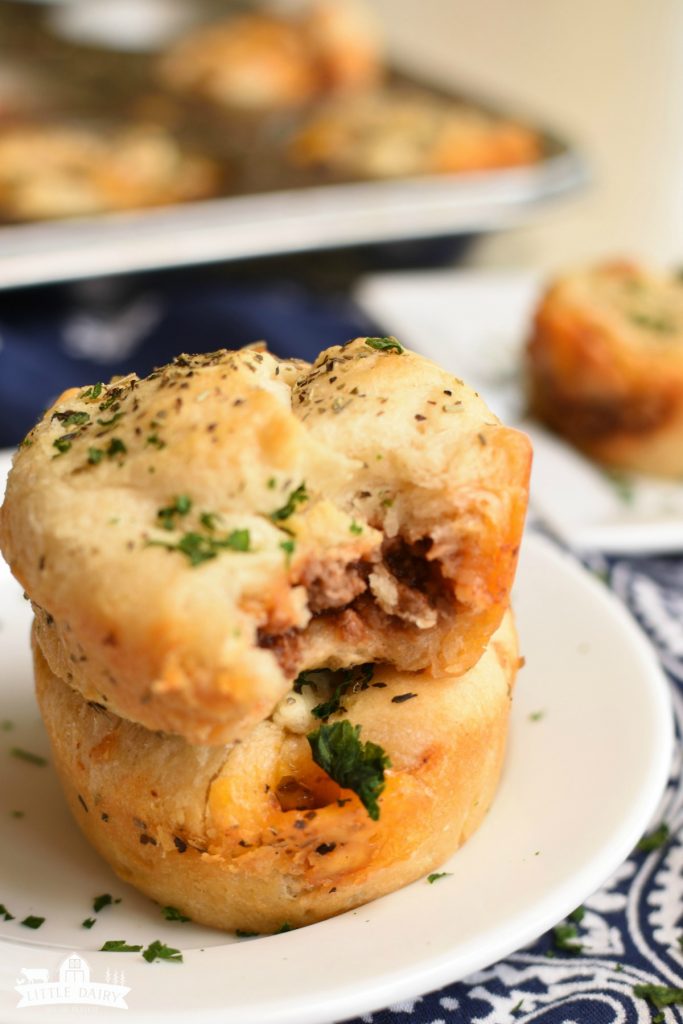 I shared this post on my friend Andi's blog, Weary Chef, a few months ago! If you haven't checked her site out make sure you do! She has loads of easy recipes that are perfect for families!
Be sure to sign up for my newsletter too so you don't miss any of my super easy recipes! And follow me on Instagram for behind the scenes on the farm and in my kitchen!
Even though I wrote this during the holiday season when I was drowning in business I feel like life hasn't really let me up and I'm still surviving on quick and easy dinner ideas just like these Sloppy Joe Bombs!
This overly crazy busy time of the year leaves me scrambling at dinner time more often than not! It's recipes like this one that helps me get dinner on the table in no time at all. Be sure to check out my other super quick and easy recipes too!
You know what else is awesome about this recipe? It only has 5 simple, really simple ingredients!
Hamburger (if you happen to have leftover sloppy joe mix that makes the whole process even faster)

Sloppy joe sauce (I used Manwich just to keep things quick)

Crescent Rolls

Shredded cheese. Any flavor will due! I've used pepper jack, cheddar, and Swiss!

And seasonings for the top. Once again, use whatever you have around…see how easy this is! I used Italian Seasoning. Minced Parsley would work too!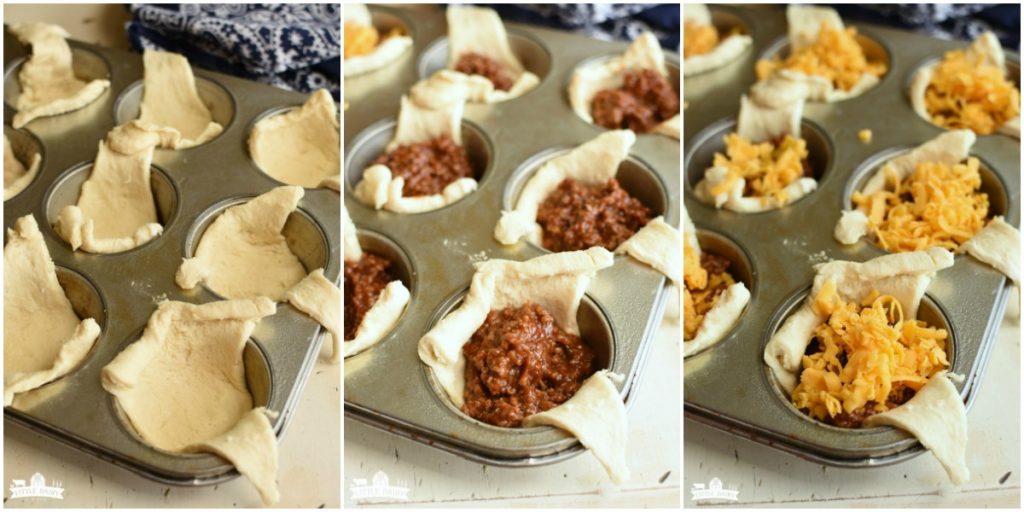 Assembly is super quick!
Set crescent rolls in a greased muffin tin. Press them into the bottom of the pan so it covers the bottom of each muffin spot. Don't stress if it looks like it's not fitting perfectly. It will all work out in the end!

Spoon a couple Tablespoons sloppy joe mix over the crescent rolls.

Sprinkle cheese over the top.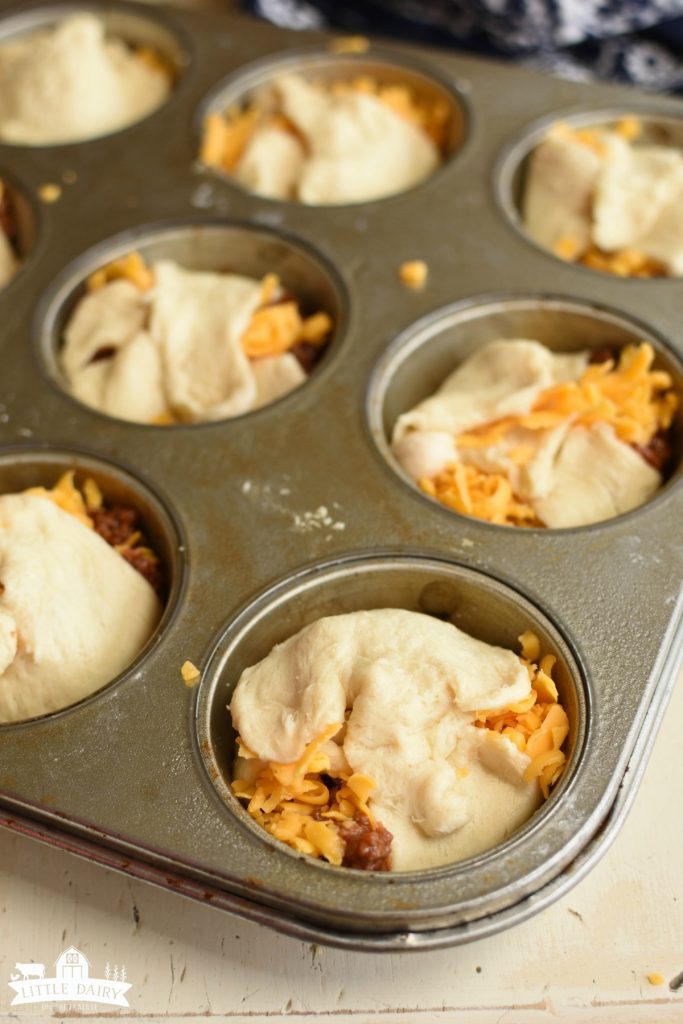 Pull corners of crescent rolls over the top of bombs. It's completely fine if there are parts of sloppy joe mix and cheese peeking out of the bomb. Just do the best you can and everything will work itself out in the oven!

Sprinkle with seasonings.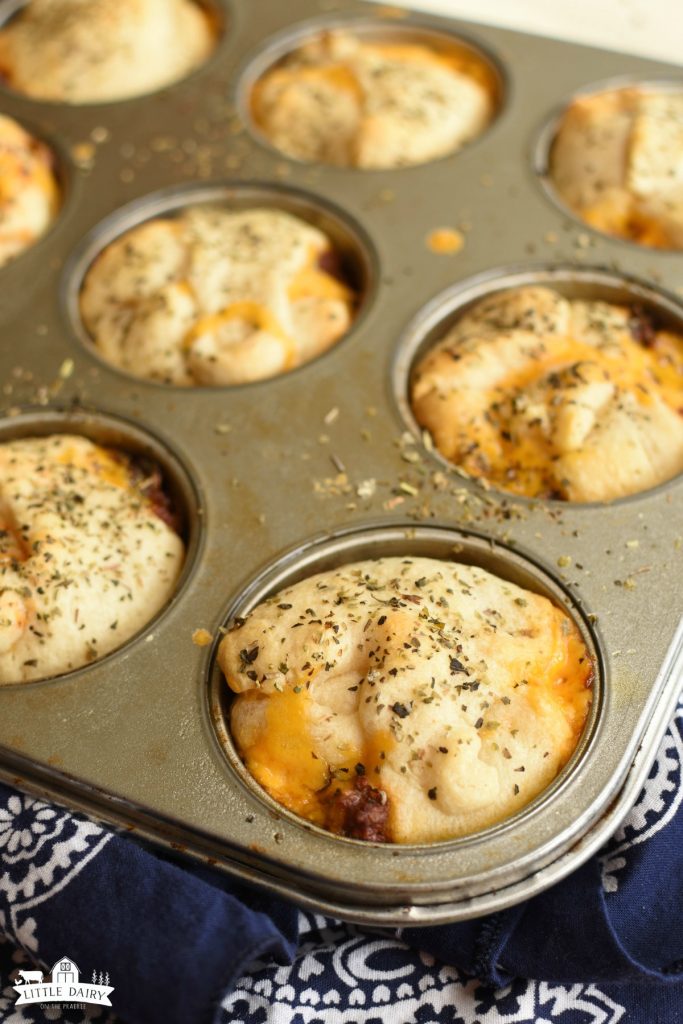 Pop the Easy Cheesy Sloppy Joe Bombs in the oven and bake them for 12-14 minutes. They should be golden brown on the top!
Let them hang out in the muffin pan for just a few minutes to cool a little then serve them! My family likes Easy Cheesy Sloppy Joe Bombs exactly as they are. I'm a little more adventurous when it comes to garnishes like veggies, sour cream, and parsley than my boys are. No doubt adding pretties to the top takes extra effort and time and if you don't have time for that it's not big deal because these are delicious by themselves!
Grab the printable recipe right here! It's sure to be a budget friendly family meal that will surely show up in your menu rotation often!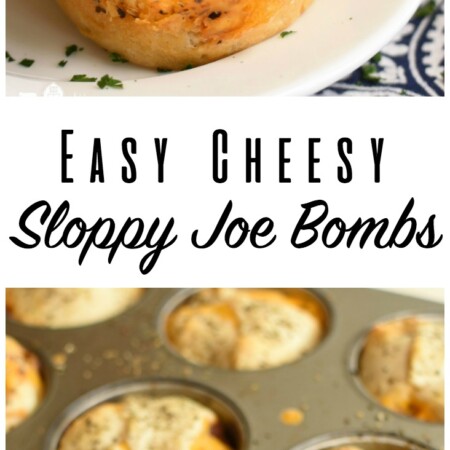 Easy Cheesy Sloppy Joe Bombs
Add Easy Cheesy Sloppy Joe Bombs to your menu this week or bring them to your next holiday party! I'm pretty sure you are going to love this new spin on an old classic! Enjoy!
Ingredients
2

cans crescent rolls

16 rolls total

1

pound

ground beef

1 15

oz.

can sloppy joe sauce

1 ½

c.

shredded cheese

Italian seasoning to taste
Instructions
Preheat oven to 350 degrees. Grease 16 cups in muffin tins.

Set one crescent roll in each muffin cup. Press into the muffin tin and up the sides creating a little base for the bombs.

Brown and crumble ground beef until cooked through. Add sloppy joe sauce heat until warmed through.

Spoon 2 Tablespoons of sloppy joe mixture into each roll lined muffin cup.

Sprinkle grated cheese in each muffin cup.

Pull corners of crescent roll up to create and pinch together. Don't worry if there is cheese and sloppy joe mixture peeking through cracks in the crescent roll. It will be okay!

Sprinkle tops of Easy Cheesy Sloppy Joe Bombs with Italian seasoning.

Bake for 12-14 minutes. Tops will be golden brown!

Let sit for about 3-5 minutes then serve!

tried this recipe?
Make sure to share it with me! Leave a review or tag me on Instagram