Christmas Crack is aka saltine cracker candy is the most addicting candy recipe I've ever made! It only takes five simple ingredients (butter, brown sugar, saltine crackers, chocolate chips) and about 20 minutes to whip up a batch!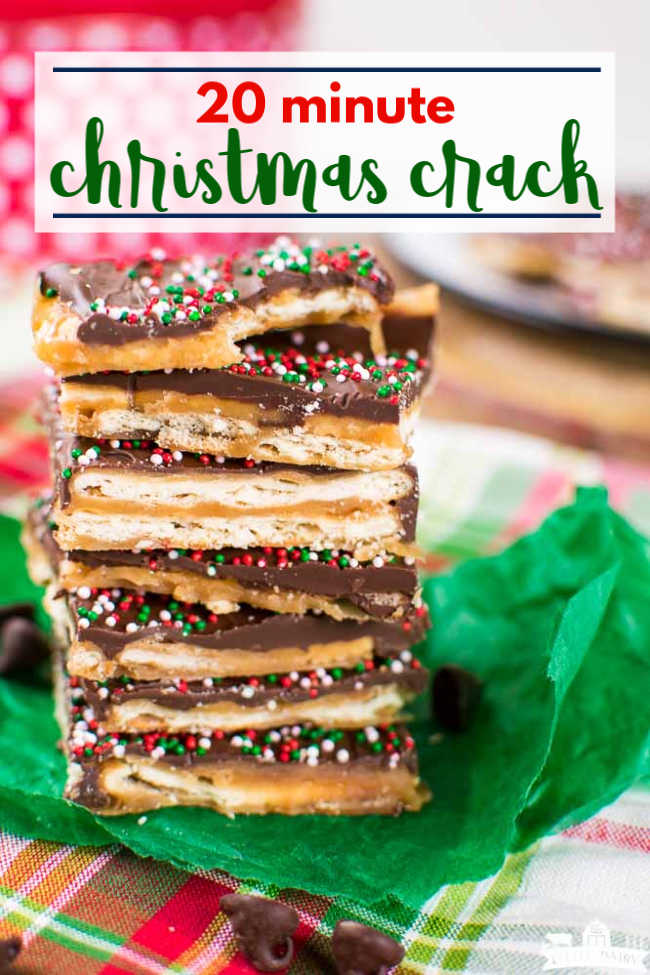 NOTE: This post was updated in 2019 to include new photos and a few extra tips! The recipe is exactly the same!
Seriously! This Christmas Crack recipe is so quick and easy to make that it's completely dangerous! I make this candy about a million times during the holidays and about a million more times throughout the year. And every time I make a batch I completely lose the whole "I'm going to control myself" battle!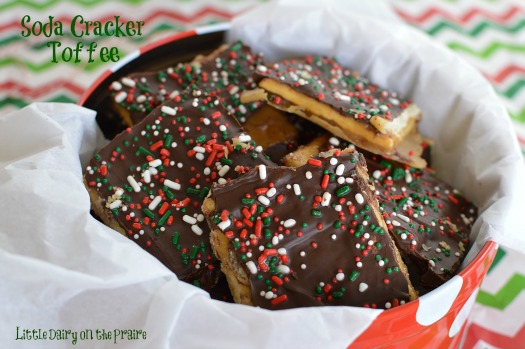 Besides being addicted to chocolate, and salty-sweet desserts, my favorite thing about this recipe is how EASY it is to make! Plus, it's made with simple and cheap ingredients I always have in my pantry. And, you don't even need a candy thermometer for this recipe!
20 minutes you guys…seriously 20 minutes of hands-on time and you can have a batch of it made. All that's left is letting it cool and cracking it into pieces. And if you want to speed up the cooling time just stick it in the fridge for a bit.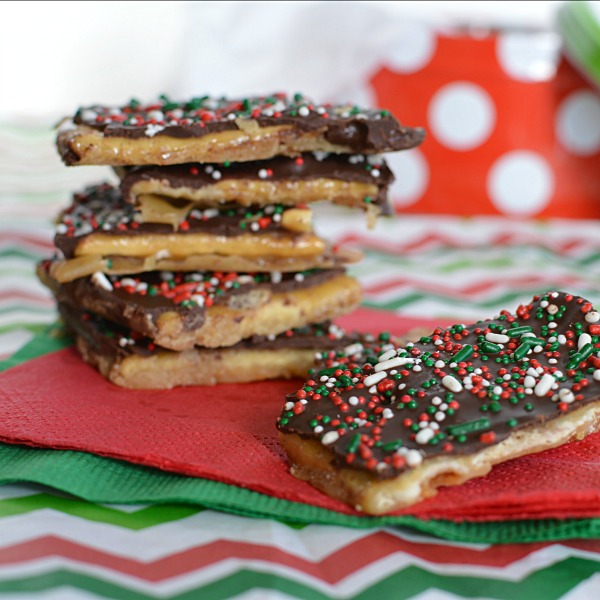 PRO TIP: Little Dairy on the Prairie Pro Tip
How to make Christmas Crack so it's not gooey/sticky/grainy? I'm going to tell you EXACTLY what you need to do so this recipe will work every single time!
The butter and brown sugar needs to slowly come to a boil. Don't get impatient here! Bring it to a boil over medium heat…no higher! I use a whisk to stir it while it's coming to a boil. It helps keep the butter and sugar from separating. Once the mixture comes to a full ROLLING boil (meaning it doesn't stop boiling even when it's being stirred) remove the whisk and don't stir it anymore. Turn the heat as low as you can while still maintaining a constant, but gentle boil.
That's the trick! The key is to whisk, use as low of heat as possible, and make sure it comes to a ROLLING, yet gentle boil. Following these steps will make perfect Christmas Crack Candy every single time!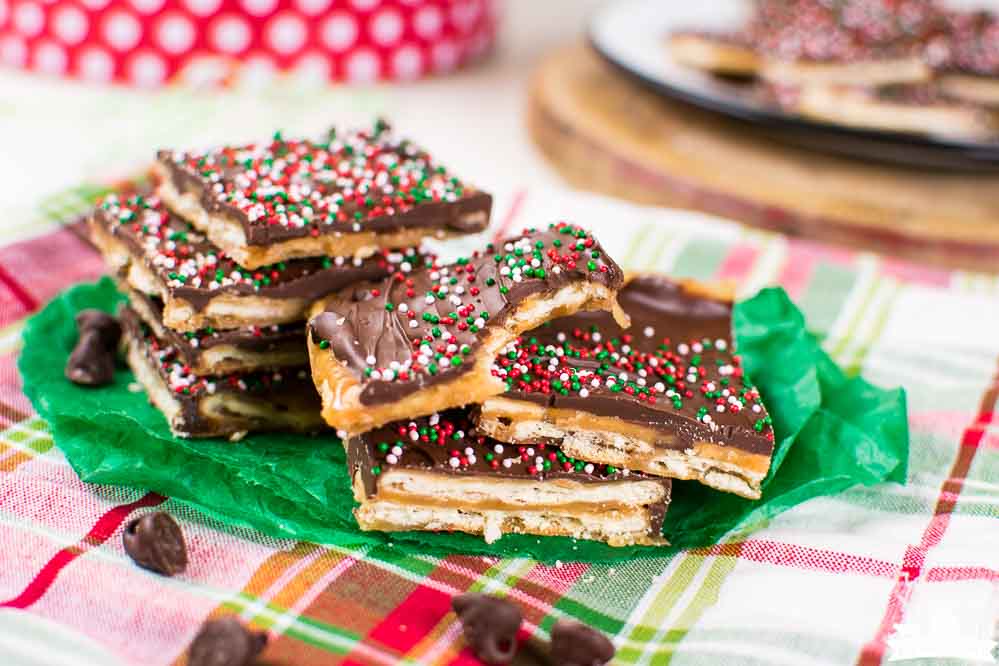 Readers are addicted to Easy Christmas Crack too!
This is soooo good I can't keep it on hand or I'll eat it all! You will not regret making it.

Mary
I made this last night for the first time and gave to coworkers today. It was a hit! Thank you for the great recipe. It turned out perfect & is the perfect combo of salty/sweet! I am currently printing out the recipe for one of my coworkers who absolutely loved it. Merry Christmas

Cori
I am addicted to this stuff, I swear!! Can't wait to make it for the holidays this year:) THANK YOU for the recipe!!

Xx

Taylor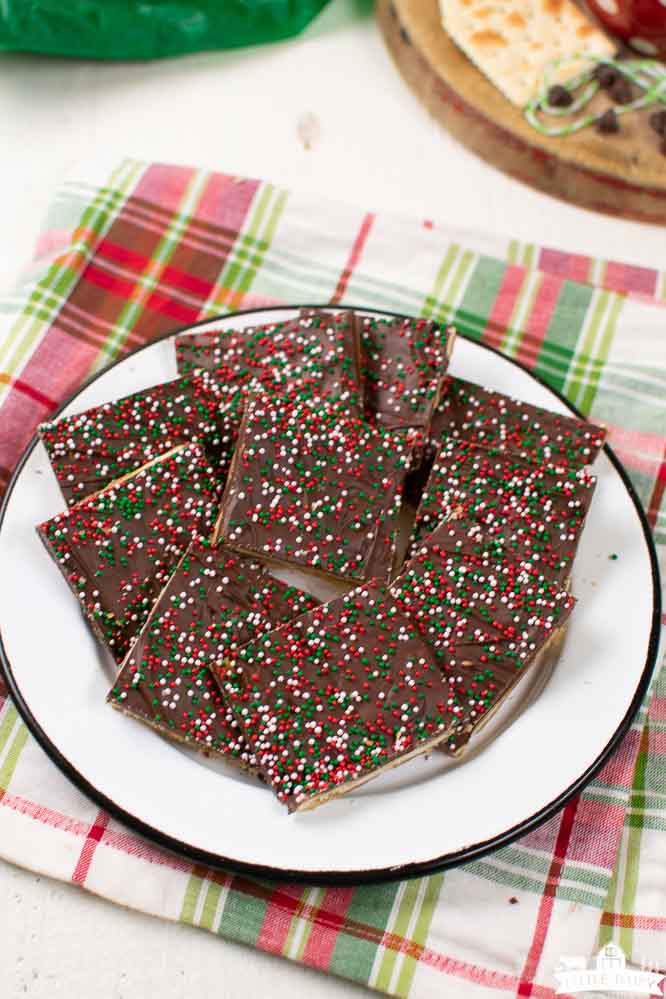 FAQ's about Saltine Cracker Candy
Can I freeze saltine toffee?
No. Freezeing this candy will change the texture of the candy and make the sugar grainy and the crackers soggy.
How long can you store Christmas Crack?
Store Christmas Crack in an airtight container for up to two weeks. The chocolate on the top may discolor after a week though.
What is Christmas Crack?
Christmas Crack is a quick and easy saltine toffee recipe made with saltine crackers, butter, brown sugar, chocolate chips, and you may add sprinkles to make it festive.
What kind of chocolate chips should I use to make Christmas Crack?
Use high quality semi or milk chocolate chips. I use Nestle or Ghiradelli brand chocolate chips.
Why is my Christmas Crack grainy or soft?
Over medium heat bring the butter sugar mixture to a full rolling boil for the listed time. Don't boil the mixutre at a high heat or it will burn before it has a chance to boil for the full time.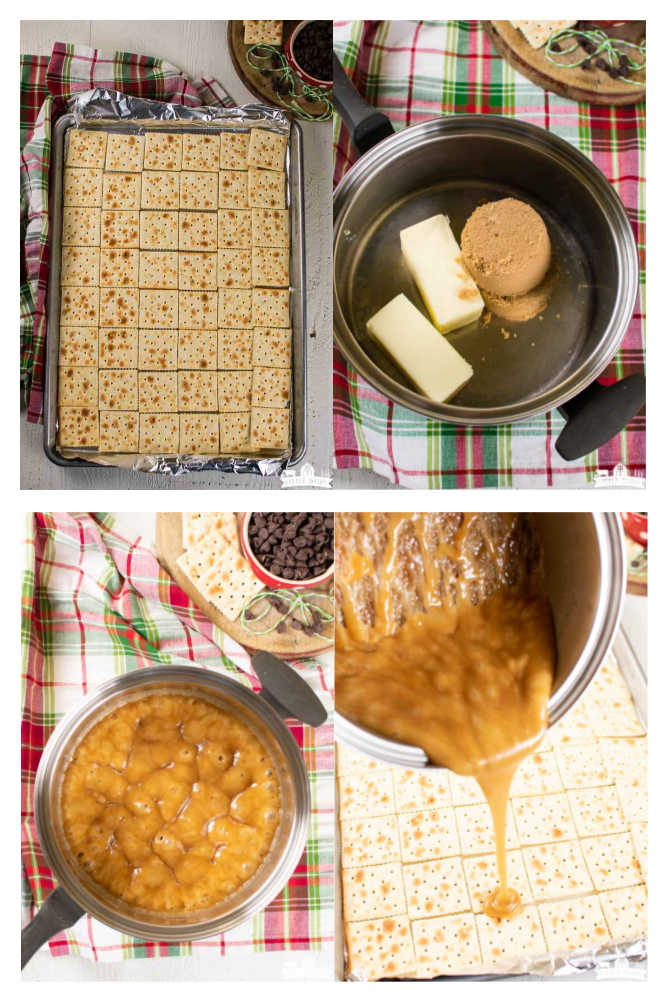 How to make Christmas Crack
STEP 1: Preheat oven to 400 degrees.
STEP 2: Line a half sheet baking pan with aluminum foil. Grease foil with nonstick baking spray
STEP 3: Set crackers in prepared pan, salt side up so they are touching.
STEP 4: Melt butter and brown sugar over medium heat. Stir until it comes to a full rolling boil. Remove spoon from pan and continue to boil for 3 minutes.
STEP 5: Pour caramel mixture over crackers.
STEP 6: Bake for 5 minutes.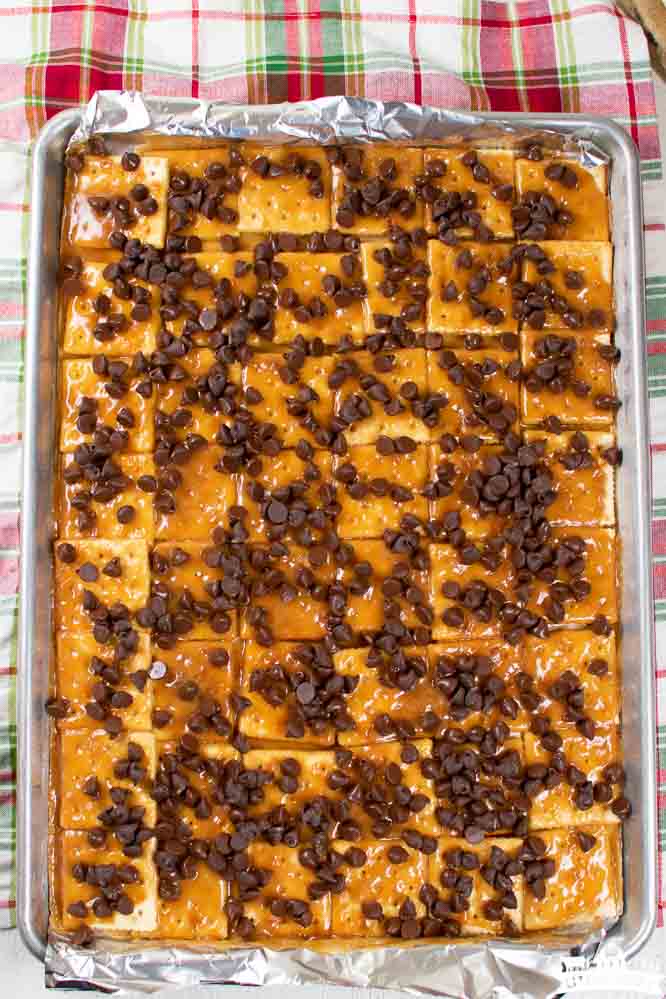 STEP 6: Remove from oven and sprinkle with chocolate chips. Let rest for 5 minutes.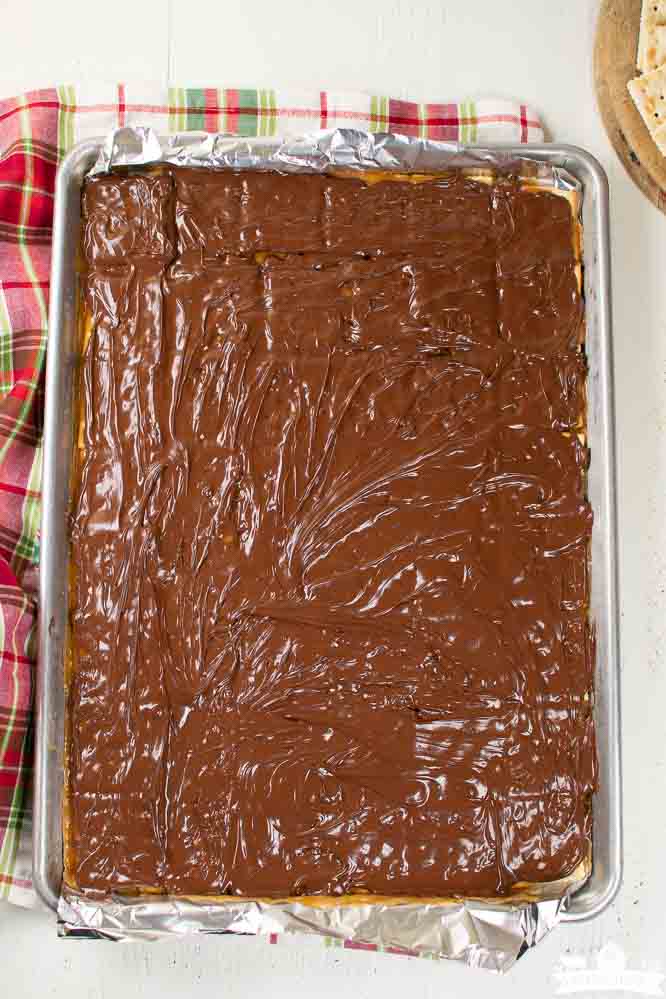 STEP 7: Smooth melted chocolate chips over toffee.
STEP 8: Garnish with sprinkles, other candies, chopped nuts, or sea salt.
STEP 9: Cool until set. Break into pieces.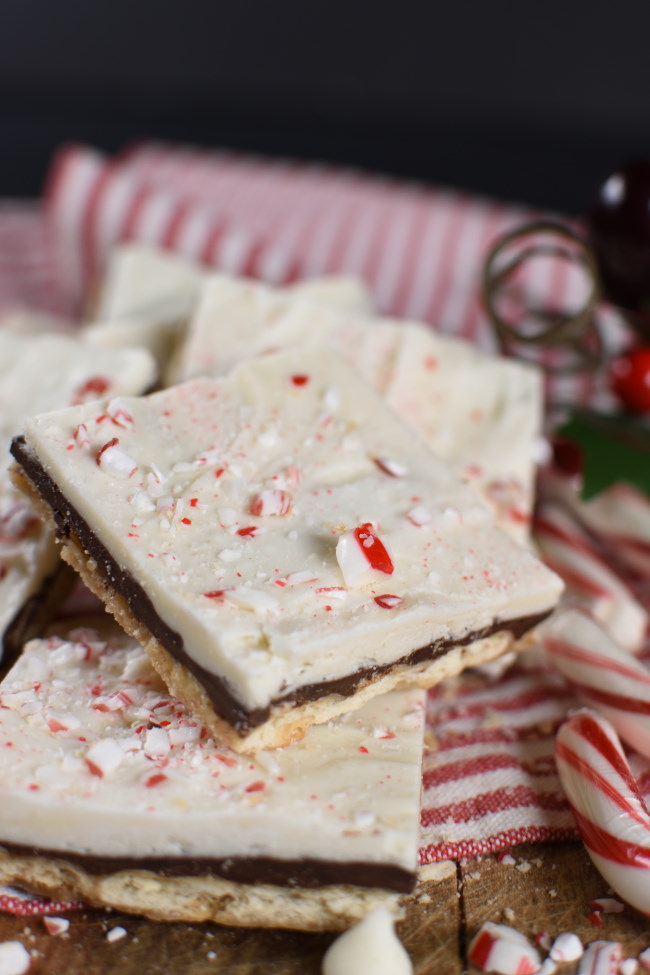 Fun Variations of Saltine Cracker Candy.
Part of the fun of this basic cracker candy recipe is changing it up for the seasons and turning it into fun new flavors. You can seriously go crazy with this!
Toppings
crushed crackers
course sea salt
chopped walnuts, pecans, or almonds
crushed candy canes
miniature dried marshmallows
seasonal sprinkles
cayenne pepper
seasonal candies like M&M's or candy eyes for Halloween
What kind of chocolate can I use for making saltine cracker toffee?
high quality semi-sweet and milk chocolate are traditional choices.
substitute peanut butter chips, mint chips, or butterscotch chips for chocolate chips
use a combination of chips and swirl them until marbled
Use semi sweet chocolate, let cool, and drizzle with white chocolate
Can I use other crackers?
Yes! Here are some fun options!
Graham crackers
Pretzels
Ritz crackers, or other butter crackers
Club crackers
Chocolate graham crackers
Check out these fun variations of crack candy I've made and loved!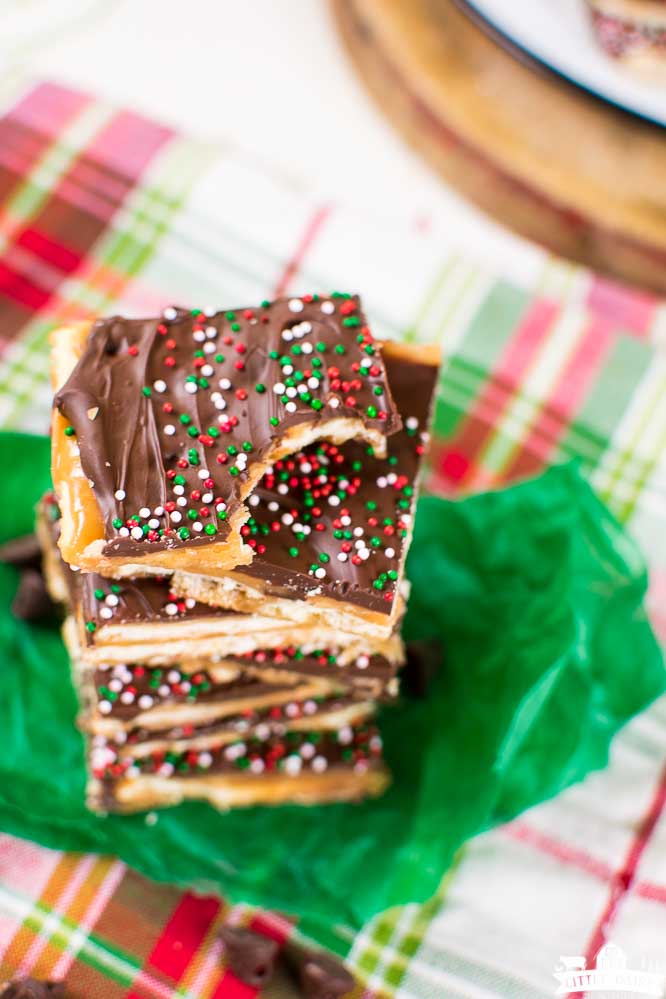 How to break saltine toffee crack into pieces?
Saltine cracker bark is way easier to break into pieces than traditional toffee. Wait until the bark is completely cool before breaking into pieces.
You can either break/crack it into random pieces. I like to peel the aluminum foil off the bark, set it on a cutting board, and cut it into even pieces. I'm OCD that way! Either way works great though!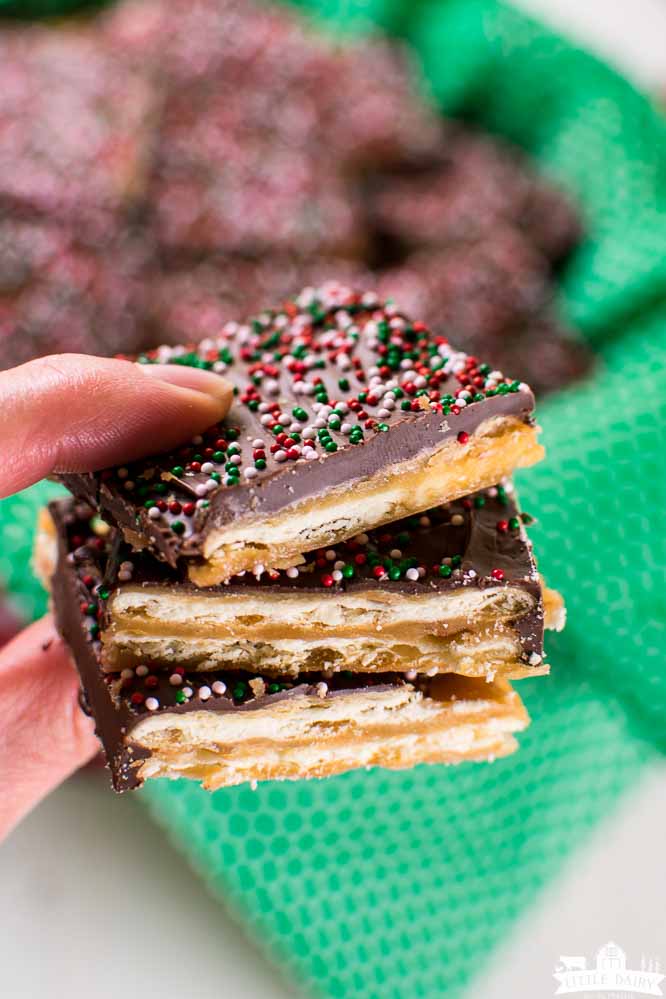 Other Easy Christmas Candy and Cookie Recipes
Easy Christmas Candy Recipes
Easy Christmas Cookie Recipes
Be sure to check out my other Christmas dessert recipes too!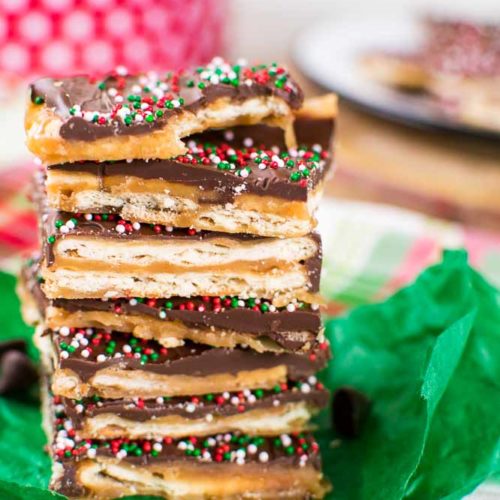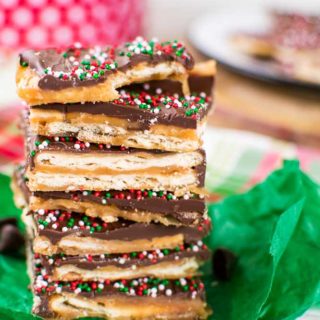 Christmas Crack
Christmas Crack, sometimes called Saltine Cracker Candy, is the most addicting easy candy recipe in the world! It's salty-sweet and dangerously simple to make! Add it to all your Christmas goody plates and be prepared to share the recipe because everyone beg you for it!
Ingredients
1

cup

butter

no substitutes

1

cup

brown sugar

48

saltine crackers

1 1/2

cups

semi sweet chocolate chips

Sprinkles

chopped almonds or walnuts (optional)
Instructions
Preheat oven to 400 degrees.

Line baking sheet with aluminum foil and spray with cooking spray.

Line foil with saltine crackers, touching salt side up. You probably won't need quite two sleeves of crackers.

Over medium heat, while constantly stirring, bring butter and sugar to a gentle, yet rolling, boil. If you turn the heat too high the mixture might separate. I like to use a whisk for stirring.

Once it's boiling remove the spoon and boil for exactly 3 minutes. You want the heat to be as low as possible while maintaining a boil. It's important for the mixture to be completely boiling for the entire three minutes or the candy will turn out soggy.

Pour over saltine crackers. Spread with the back of a spoon if necessary.

Bake for 5 minutes.

Immediately after removing them from the over sprinkle with chocolate chips. Let sit for a few minutes. Spread with the back of a spoon.

Decorate with sprinkles, chopped nuts or colored dipping chocolates.

Allow candy to completely cool.

Break or cut into pieces.
Notes
Store saltine toffee in an airtight container. It should last for up to a week.
It's fun to use a different kinds of chocolate.
You may cool candy in the refrigerator or in the freezer for a few minutes, however it will get mushy if it's stored in the freezer.
Nutrition
Calories:
96.52
kcal
|
Carbohydrates:
9.68
g
|
Protein:
0.67
g
|
Fat:
6.26
g
|
Saturated Fat:
3.73
g
|
Cholesterol:
10.51
mg
|
Sodium:
66.24
mg
|
Potassium:
43.89
mg
|
Fiber:
0.54
g
|
Sugar:
6.58
g
|
Vitamin A:
120.99
IU
|
Calcium:
9.06
mg
|
Iron:
0.54
mg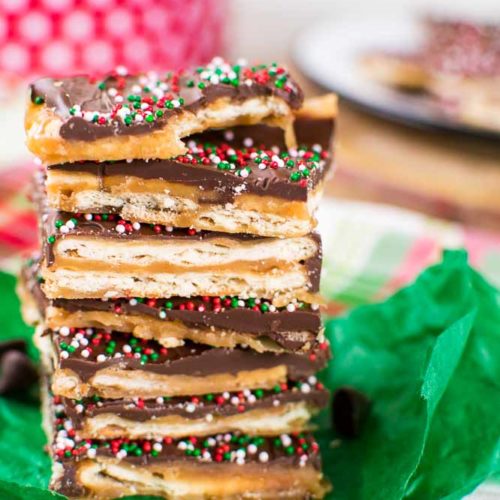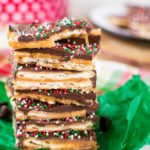 tried this recipe?
Make sure to share it with me! Leave a review or tag me on Instagram