Mint Chocolate Magic Bar Cookies are the most decadent magic bar in existence! They have a simple, yet delicious chocolate graham cracker crust, then they're topped with chocolate chips, mint chips, crushed mint chocolate sandwich cookies, and luscious sweetened condensed milk! Besides being out of this world yummy, they're extra pretty on a cookie tray for the holidays!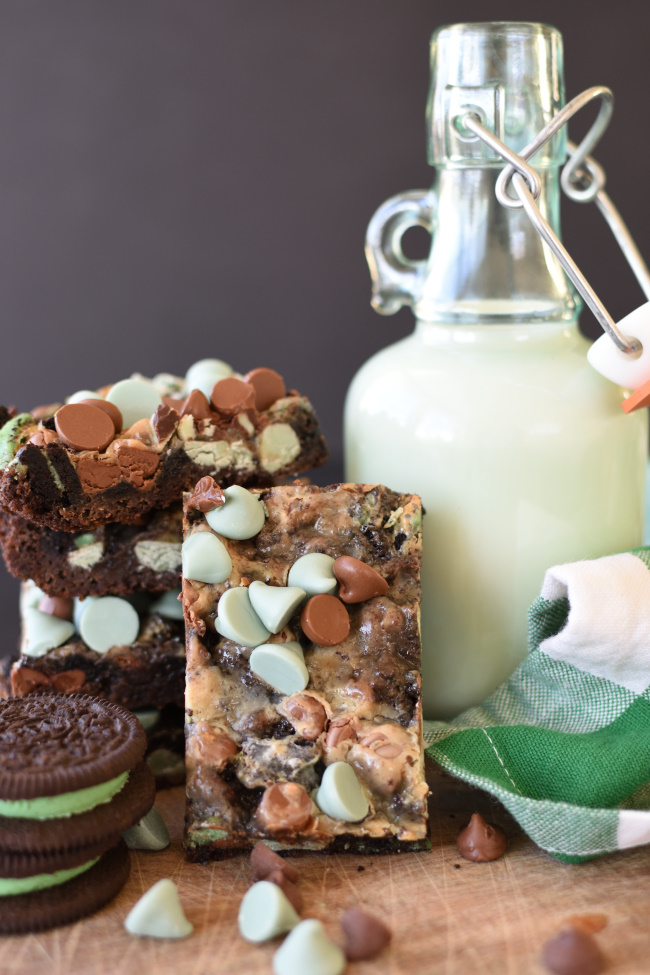 I can't get my brain to quit thinking about all things mint chocolate! My dreams are pretty much made of Mint Chocolate Kiss Blossom Cookies, Mint Chocolate Chip Sugar Cookies, Homemade Mint Oreos, No-Churn Mint Cookie Ice Cream, Double Chocolate Mint Chip Cookies, and Loaded Grasshopper Cookie Bars! I guess it's fair to say I'm addicted!
Mint Chocolate Magic Cookie Bars are a perfect addition to the dream! I'm in love with the chocolate graham cracker base in these cookies. Do you already know how decadent and gooey-sweetened condensed milk makes magic bars, right? Add the mint and chocolate flavors in there and you've got one heavenly little bar cookie!
If you need a few other Christmas cookies be sure to try out my Gingersnaps, Snickerdoodles, and Coconut Lime Sugar Cookies!
Mint Chocolate Magic Bar Cookies require simple ingredients.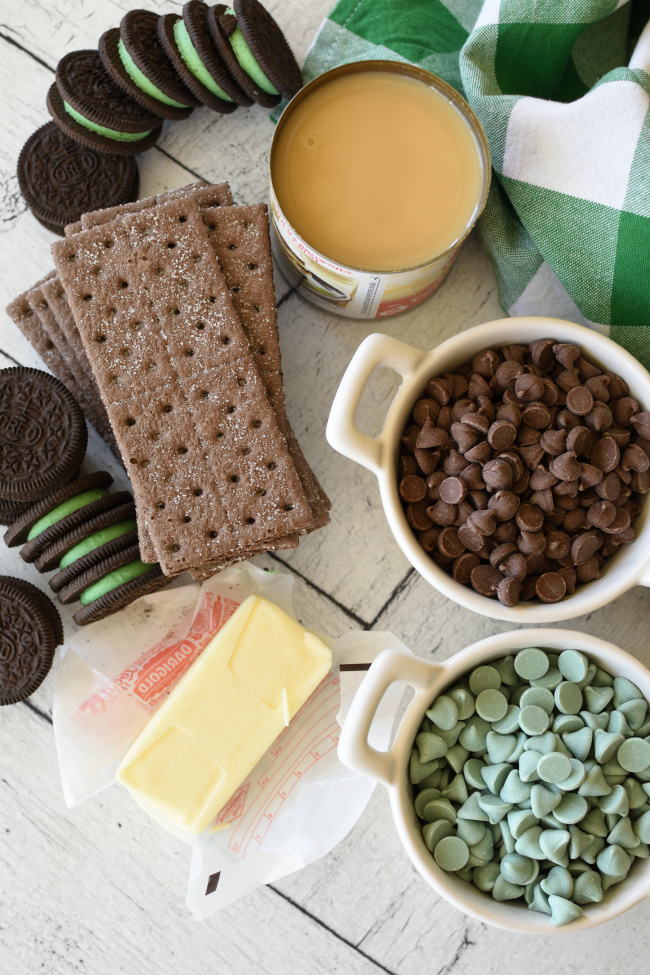 Here are two tips for making these cookies.
Use real butter! No exceptions! Real butter is where it's at!
After buying a package of mint chocolate sandwich cookies, hide it. If you don't the children will devour it and there won't be any left for magic bars! (Hide them from the hubby too! I think he eats them faster than the kids and it's hard to punish him for it!)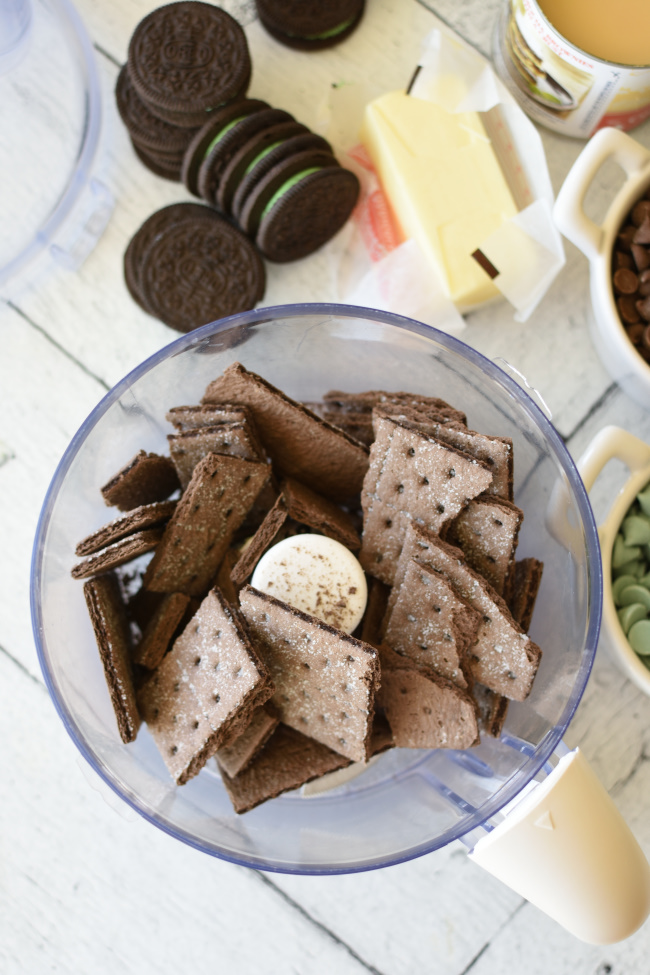 What's the easiest way to make a graham cracker crust?
Using a food processor is the easiest way to make graham cracker crusts. If you don't have a food processor you can always use the old-fashioned method. Add crackers to a sealable bag and crush them with a rolling pin. I don't love this method because no matter how high quality my bag is, it always rips and little crumbs fall out. What can I say, I don't like cleaning up messes!
Use the back of a flat bottom glass to press crumbs in a baking pan. You don't want to press too hard here, but not too light either. Too hard creates a concrete hard crust, too light and you'll have crumbs. Just press it nicely!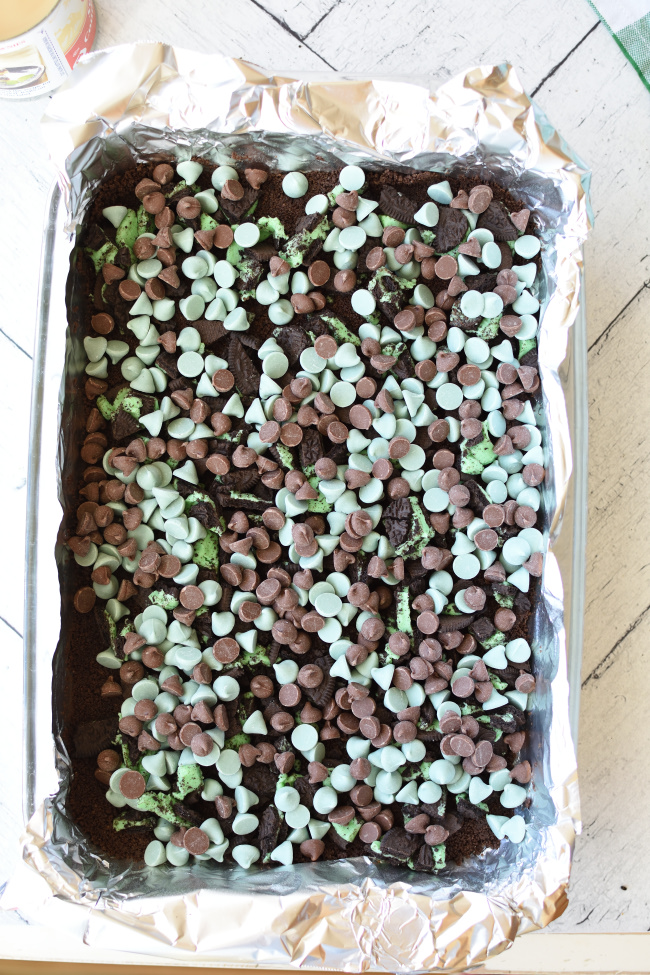 Sprinkle half of the mint chips, half of the chocolate chips, and all the chopped mint Oreos on top.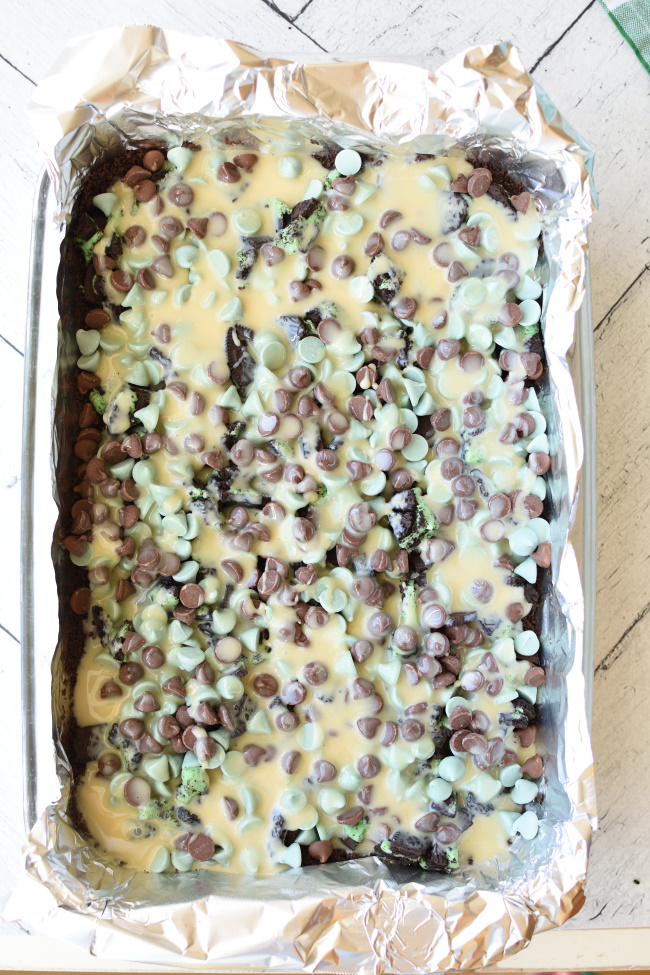 Oh my goodness! Sweetened condensed milk is life! It's so stinking good! Please tell me I'm not the only one that eats it with a spoon! Drizzle that yumminess (minus a spoonful 😉) all over the top of the bar cookies!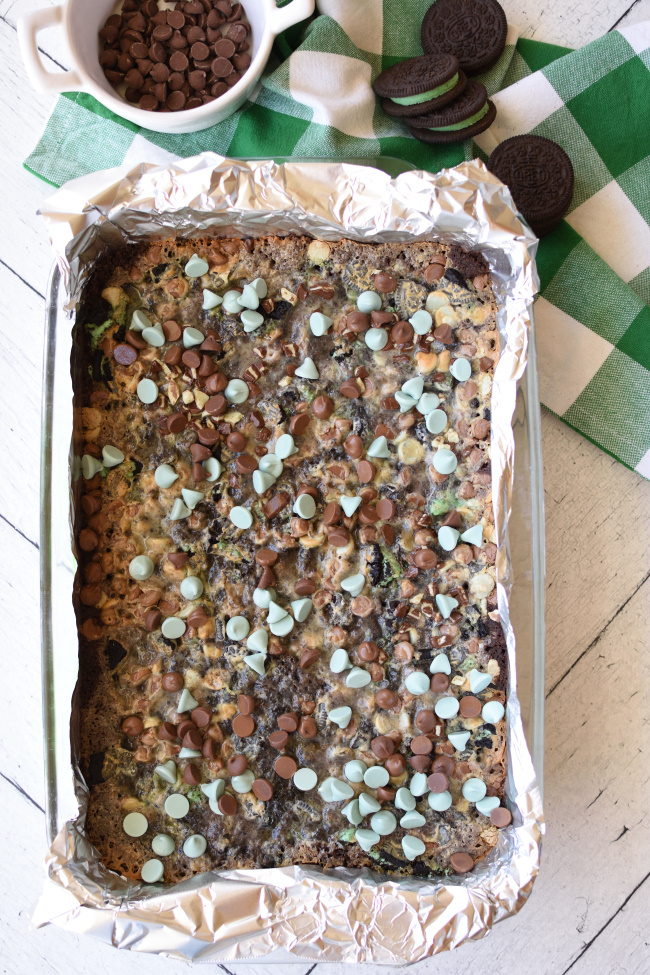 Bake those bad boys up! As soon as they get out of the oven sprinkle the other half of the mint chips and chocolate chips over the top! This way they'll stay on top and be really pretty!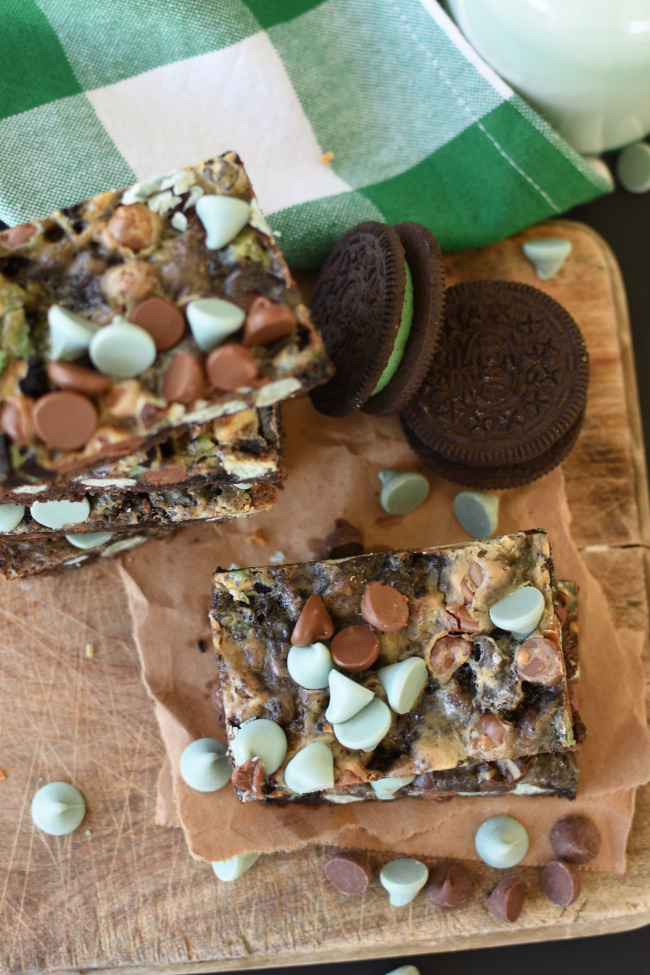 Wait until the cookies have completely cooled, then cut into squares. You can trim the crusts off for prettier cookies, or leave them on if you're an edge lover!
Mint Chocolate Magic Bar Cookies love ice-cold milk!
Trust me, you're going to want an ice-cold glass of milk to enjoy with these cookies! They're incredibly decadent, and oh so yummy!
Mint Chocolate Magic Bar Cookies lived up to the expectations of my minty dreams! My goodness, the crispy crust, and gooey top are a match made in heaven!
Every bite is roll your eyes in the back of your head amazing! I'm pretty sure you need these in your life ASAP!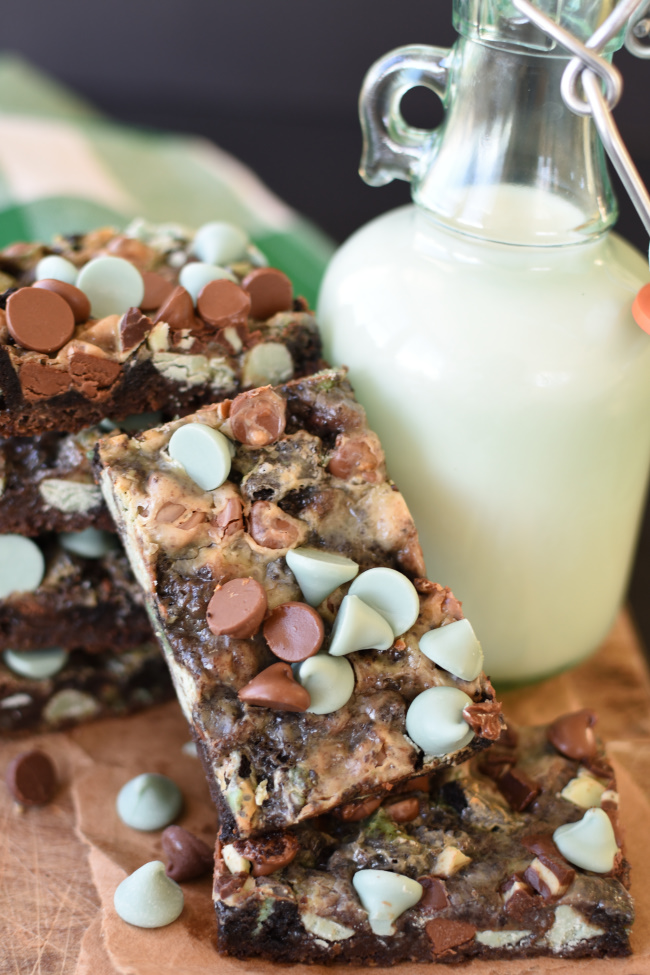 Here's the Mint Chocolate Magic Bar Cookies recipe!
Be sure to pin this recipe for later. Here's the printable recipe too!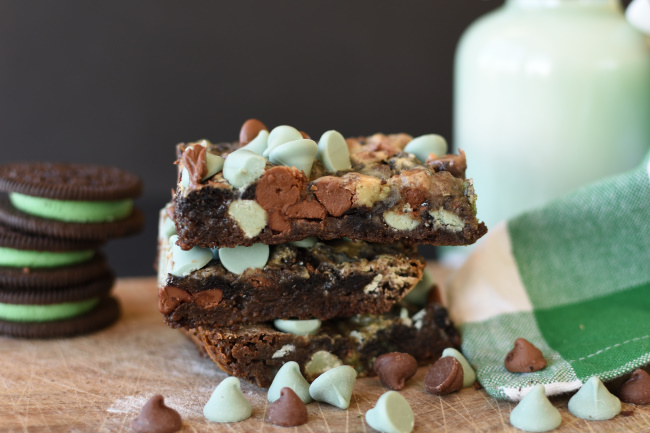 Mint Chocolate Magic Bar Cookies
Mint Chocolate Magic Bar Cookies are the most dreamy cookies ever! They have a chocolate crust and that magical gooey, mint chocolate layer on top! They're easy to make and disappear in a hurry!
Ingredients
1 1/2

c.

chocolate graham cracker crumbs

1/2

c.

melted butter

1

14 oz. can

sweetened condensed milk

(not evaporated milk)

1

c.

semi sweet chocolate chips

divided

1

c.

mint chips

divided

1 1/2

c.

mint chocolate sandwich cookies

chopped
Instructions
Preheat oven to 350 degrees. Line a 9 x 13 baking pan with aluminum foil. Grease.

Crush chocolate graham crackers until they are fine crumbs. You'll need 1 1/2 cups of crumbs. This is usually about one and a half sleeves of graham crackers for me.

Melt butter in the microwave. Pour into food processor with crumbs. Pulse completely mixed in.

Pour crumbs into prepared baking pan. Press with the bottom of a glass. Bake for 5 minutes.

Sprinkle half a cup of chocolate chips, and half of mint chips over crust. Sprinkle all chopped cookies evenly over crust.

Drizzle sweetened condensed milk evenly over chips in baking pan.

Bake for 20 minutes-25 minutes. Be careful not to overbake or the magic bars will be dry.

Remove from oven and immediately sprinkle with remaining chocolate chips and mint chips.

Cool. Cut into squares. Store in an airtight container.
Notes
If you can't find mint chips Andes mint pieces may be used.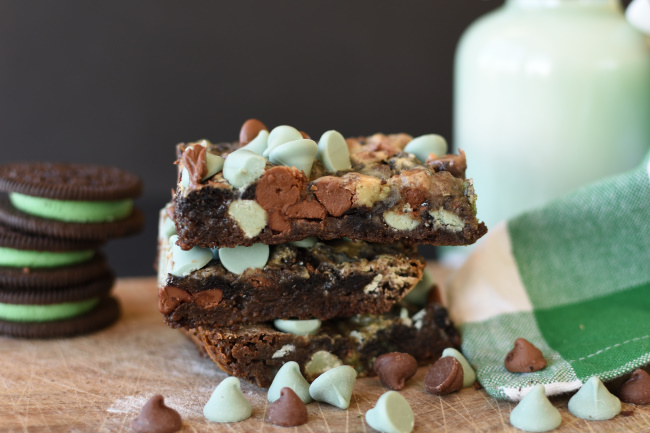 tried this recipe?
Make sure to share it with me! Leave a review or tag me on Instagram