If there is one thing in the world that I simply cannot stop eating is Christmas Crack! This Mint Christmas Crack is no different either! I seriously have to have my kiddos hide it or else it will literally be gone in no time at all!
This year I've finally convinced myself to get on my Christmas shopping early! In fact, I think I almost have my list finished up…except for getting gifts for my husband!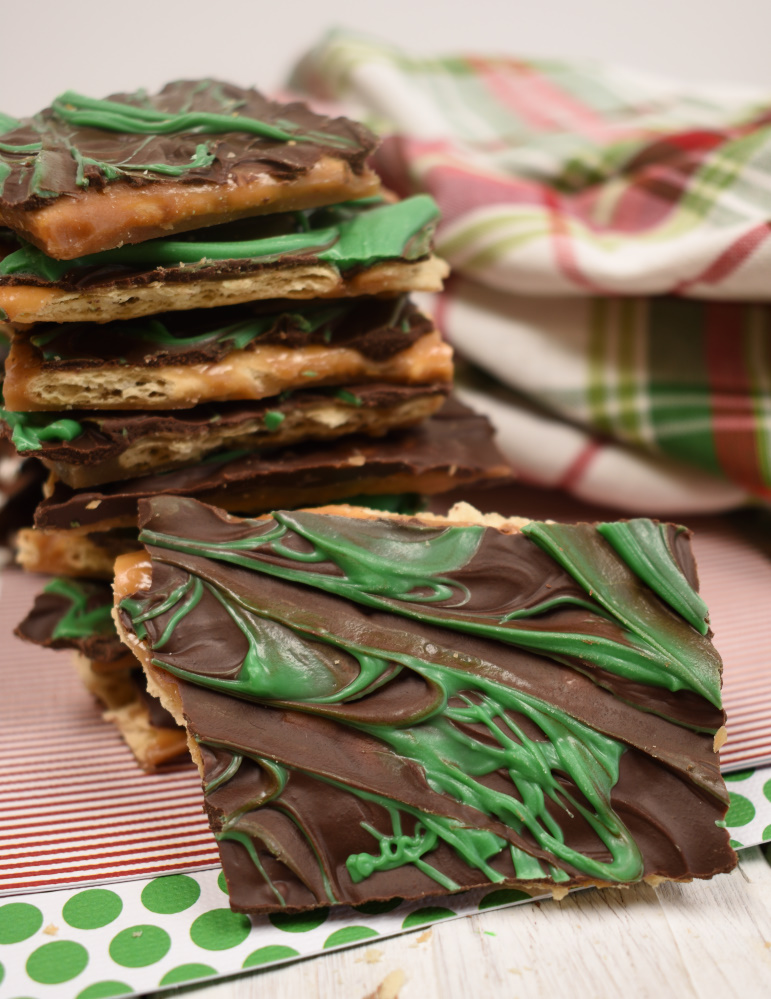 He's the hardest person to shop for and I have no idea what to give him. All he really likes to do is work! Giving your husband new work boots or gloves really isn't that exciting or impressive. Every year I try to give him one gift that he would NEVER guess he's getting!
A few years ago I thought I was being so clever, helpful, and thoughtful in my gift giving. I had the brilliant idea to give my husband a toilet for Christmas! Yes, you read that right…a toilet! You see, he has his own bathroom and his toilet is constantly plugged. I felt bad for the poor little fella having to plunge at least once a week and thought if I gave him a new potty it would take care of the problem.
That potty sat under the tree the whole Christmas season long and he couldn't guess what the odd shaped, extra heavy boxes were (most toilets come in two boxes). He waited for Christmas morning in great anticipation!
I must admit he was very surprised at what was in the box and didn't even come close to guessing it! Guess what he thought about it though! He said it was the "crappiest" gift he'd ever received!
Say what? I thought long and hard about that gift! It was a perfectly thoughtful gift, after all I was saving him from having to do a super nasty job! Turns out he doesn't like comfort height toilets so he made me take it back! Boo to taking the toilet back! Boo to him having to keep plunging!
So this year, I'm not giving him a toilet! Maybe I should just give him a new plunger! In fact, I think that's a great idea. Ssshhh! Don't tell him! Hehe!
Okay, enough potty talk for one day! (I live with boys so potty talk and Mint Christmas Crack in the same post doesn't bother me at all.) If it bothers you, I'm sorry and stick with me because this candy is worth the potty talk!
There are many things I love about Mint Christmas Crack
It's so darn easy to make (We're talking about 15-20 minutes total hands on time here)

This stuff goes like hotcakes no matter where I take it (hello salty sweet)

It's so cheap! (Yes I'm a tightwad and if you've priced saltine crackers lately you know they aren't going to blow the budget)

I ALWAYS have the ingredients on hand! (I hope you buy butter by the case too. It stores beautifully in the freezer)
Check out this video to see exactly how easy Mint Christmas Crack is to make!
It's pretty obvious that I'm no help when it comes to creating awesome Christmas lists. But I will say I'm pretty dang good at creating Christmas goodies! Here's a list of my other favorites besides Mint Christmas Crack!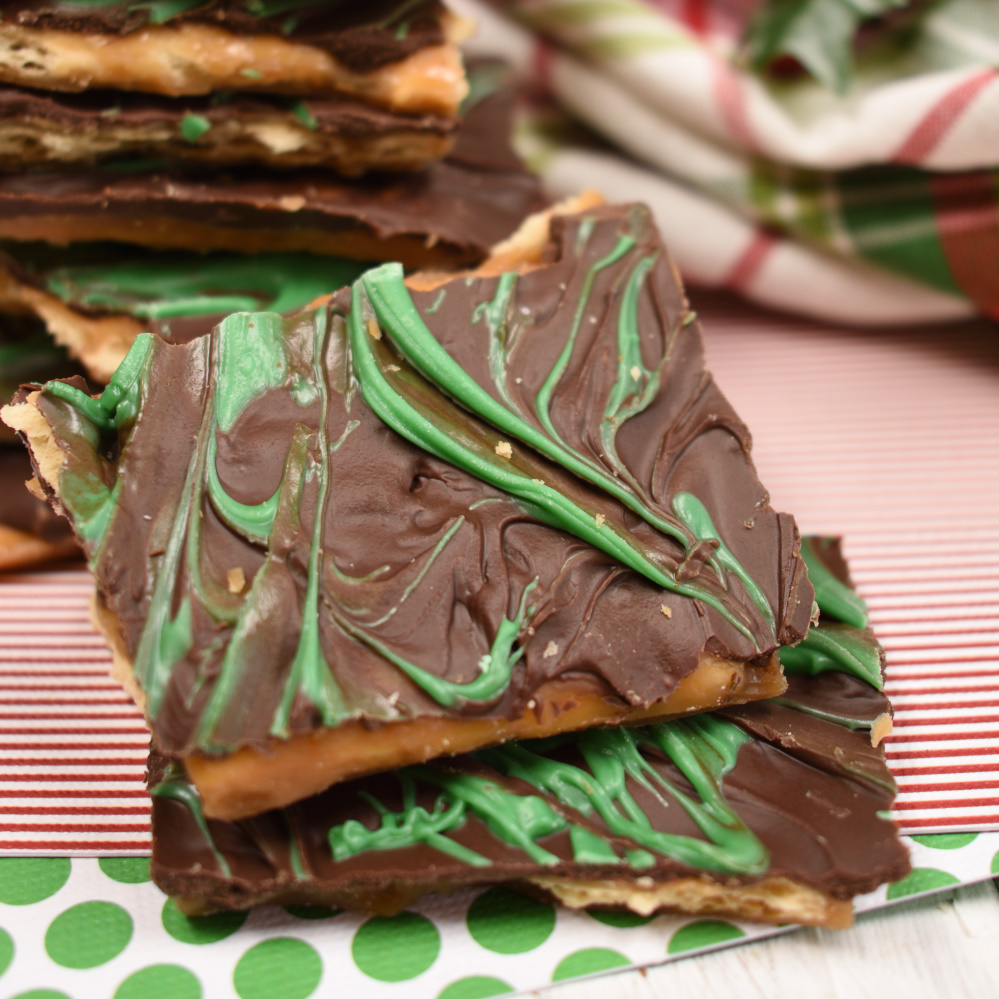 May you have much better luck with your Christmas list than I did! Maybe we should all just make Mint Christmas Crack for our husbands, I happen to mine likes it more than potties!
Mint Christmas Crack
Mint Christmas Crack is the the most addicting and easiest Christmas candy around! It's the candy I just can't walk away from!
Ingredients
1

c.

butter

1

c.

brown sugar

2

sleeves saltine crackers

you might not need the whole thing

1 ½

c.

chocolate chips

semi sweet or milk chocolate are fine

1

c.

green mint chocolate chips

If you can't find them you can always just sprinkle Ande's mint chips on the top. Spreading them around is optional
Instructions
Preheat oven to 400 degrees.

Line a baking sheet with aluminum foil. Spray foil! Trust me, this step will make your life easier!

Set crackers, salt side up, on baking sheet in a single layer.

Bring butter and brown sugar to a gentle boil, stirring constantly. I usually set my heat to a little above medium heat. Once the the mixture hits a rolling boil (a boil that doesn't stop when you quit stirring) remove your whisk or spoon. Turn the heat down to medium or just under. Boil for exactly 3 minutes.

Pour butter sauce over crackers. Spread with a spoon if necessary.

Bake for 5 minutes.

While candy is still hot sprinkle chocolate chips over the top. Spread them once they are soft enough.

Melt mint chips in microwave at half power in 30 second intervals. Stir after each interval. Continue until chips are melted and smooth.

Drizzle over candy. Use a knife to swirl.

Cool.

Break into pieces! Store in an airtight container.
tried this recipe?
Make sure to share it with me! Leave a review or tag me on Instagram