Microwave Peanut Brittle is a million times better than store-bought peanut brittle! My mother-in-law makes it every year for Christmas, and I can't contain myself when I'm around it! You've need this candy to be part of your tradition too!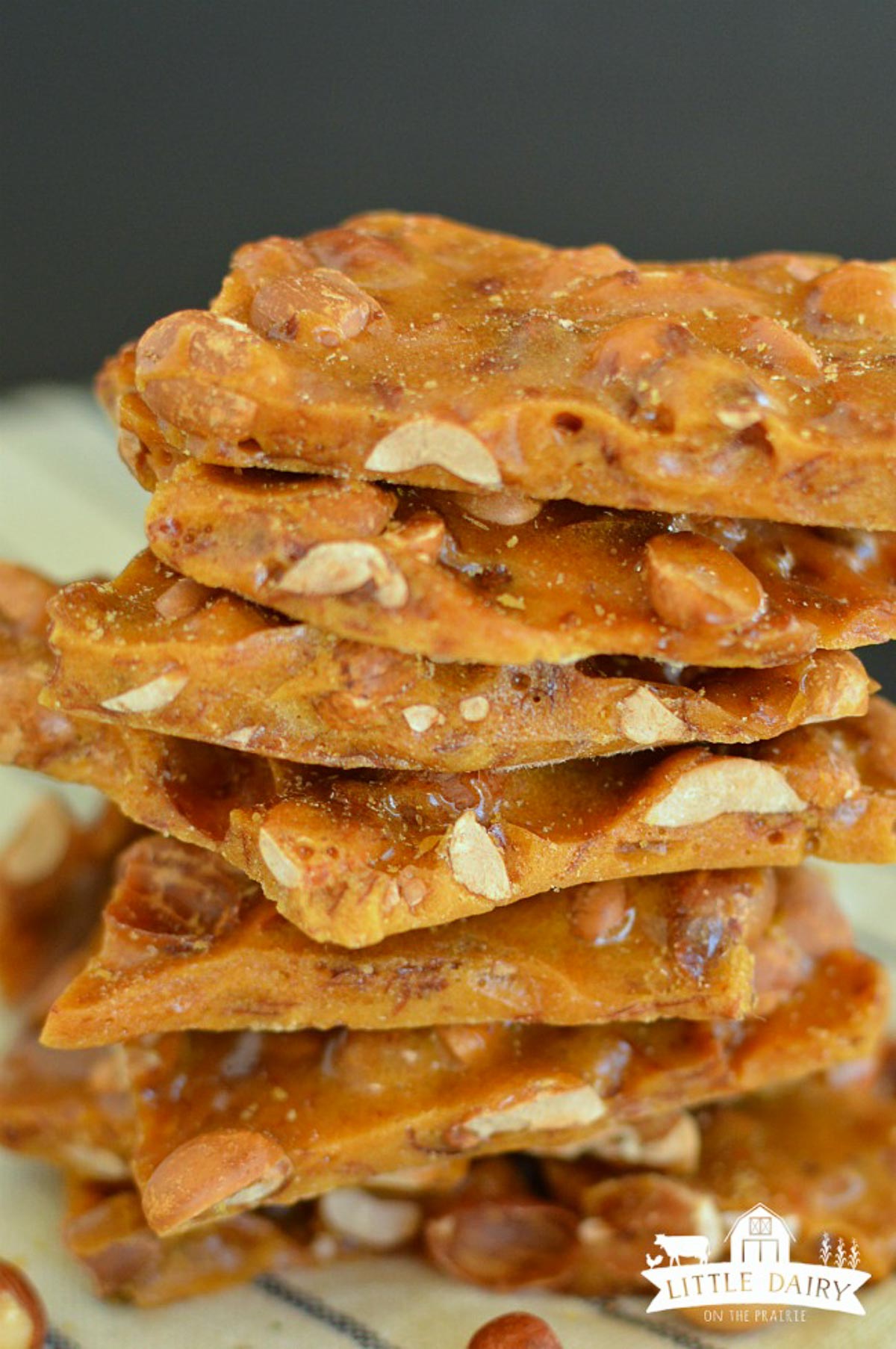 When I was a kid I always wanted my mom to let us make candy for Christmas. You know the candy recipes that you need a candy thermometer for.
Super easy candy recipes were more her thing. She always said those other recipes were too hard to make and they usually don't turn out.
So, when my mother-in-law shared her peanut brittle recipe with me I was scared to make it…until I found out it was a microwave peanut brittle recipe!
You guys, it's so easy to make. Even my mom would approve of it because it's so quick and simple!
WHY THIS RECIPE WORKS:
Simple ingredients are all you need.
15 minutes of hands-on time + cooling time is how quickly this comes together.
It's a recipe for microwave peanut brittle. It doesn't get any easier than that! No stove-top. No candy thermometer.
I've tested it several times to get the timing right…I've got tips for getting it right in your microwave!
INGREDIENTS NEEDED:
Granulated Sugar
Light Corn Syrup – Just do it! It's necessary!
Peanuts – unsalted and roasted
Salt – regular table salt
Butter – salted or unsalted
Vanilla
Baking Soda
HOW TO MAKE THIS PEANUT BRITTLE RECIPE IN THE MICROWAVE:
STEP 1: Cook sugar and corn syrup in the microwave.
STEP 2: Add peanuts and salt. Microwave again.
STEP 3: Add butter and vanilla. Microwave again.
STEP 4: Add baking soda. Pour and spread.
Little Dairy on the Prairie Pro Tip: Cook times will vary depending on your microwave wattage. Watch closely during the final cook time. You might need to cut 30 seconds or so off of the cooking time. Once you get the timing perfect for your microwave write it down for next time!
RECIPE FAQs
Why does peanut brittle have baking soda?
Baking soda creates bubbles in the brittle which makes it less dense. It's easier to crack with air pockets.
How to store peanut brittle?
Store it in an air-tight container at room temperature. Storing it in the fridge will make it sticky. It will last up to 2 months.
Why is peanut brittle chewy?
Peanut brittle has to get to a certain temperature to help it set up hard enough to crack. If you're brittle is chewy, try microwaving it longer before adding the baking soda.
OTHER EASY MICROWAVE CANDY RECIPES
Microwave candy recipes are the BEST! They're so quick and easy and typically only take a few ingredients.
You can manage to make these even on the craziest days!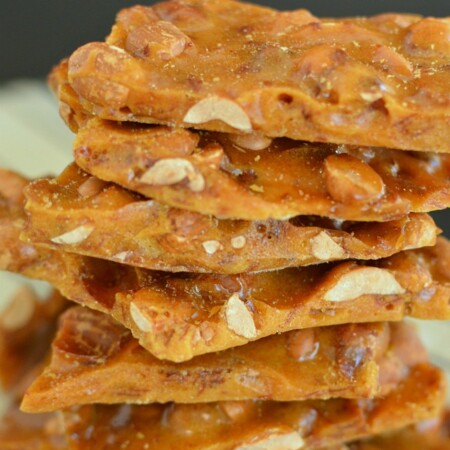 Microwave Peanut Brittle
If you are a little intimidated of candy thermometers this Microwave Peanut Brittle recipe is for you! It's easy to make and only takes a few minutes! I also love that it makes a fairly small batch!
Ingredients
1

cup

granulated sugar

1/2

cup

corn syrup

1

cup

peanuts

1/8

teaspoon

salt

1

Tablespoon

butter

1

Tablespoon

baking soda

1

teaspoon

vanilla
Instructions
Generously grease a half sheet baking pan, or cover with parchment paper and grease. Set aside.

In a large microwavable mixing bowl stir together sugar and corn syrup. Microwave on high power for 3 1/2 minutes.

Add peanuts and salt. Stir. Microwave on high power for 3 minutes.

Stir in butter and vanilla extract. Microwave on high between 1 1/2 minutes. Watch carefully to make sure it doesn't get too dark. See NOTE below.

Remove from microwave and add baking soda. Stir.

Quickly pour on the prepared baking sheet. Spread into a thin layer. The more you spread the fewer bubbles it will have. So leave it thicker for more airy peanut brittle and spread it thinner for more dense brittle. See NOTE below.

Cool completely. Break into pieces.

Store in an airtight container at room temperature for up to 2 months.
Notes
Cook Time:
Cook time will vary depending on the wattage of your microwave. If your microwave cooks really hot you will need to reduce the cooking time. Watch it closely during the last minute and a half of cooking taking care to not let it get too dark.
Spreading the Brittle:
The more you spread the brittle the less airy and delicate it will be. You can heat the baking sheet a little bit before pouring the brittle on it. Tip the cookie sheet from side to side to help the brittle spread without using a spoon or a spatula.
Peanuts:
Raw Spanish Peanuts, Roasted, Salted, or Unsalted are all great options.
Nutrition
Calories:
110
kcal
|
Carbohydrates:
18
g
|
Protein:
2
g
|
Fat:
4
g
|
Saturated Fat:
1
g
|
Cholesterol:
2
mg
|
Sodium:
191
mg
|
Potassium:
54
mg
|
Fiber:
1
g
|
Sugar:
17
g
|
Vitamin A:
17
IU
|
Calcium:
9
mg
|
Iron:
1
mg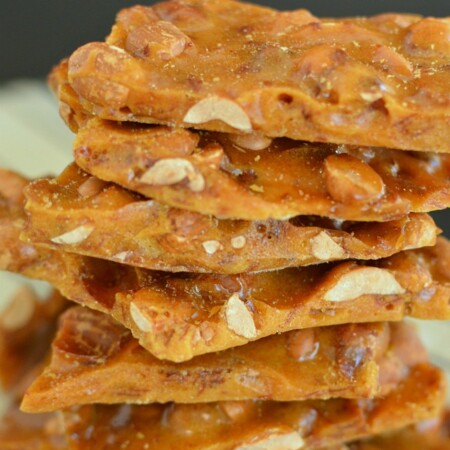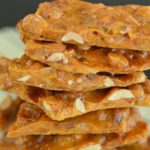 tried this recipe?
Make sure to share it with me! Leave a review or tag me on Instagram