Cracker Candy is a no thermometer needed, easy candy recipe that will remind you of homemade toffee and is often called crack candy because it's so darn addicting! The other awesome thing about this recipe is that you'll need 4 simple ingredients, like saltine crackers, and just a few minutes to make it!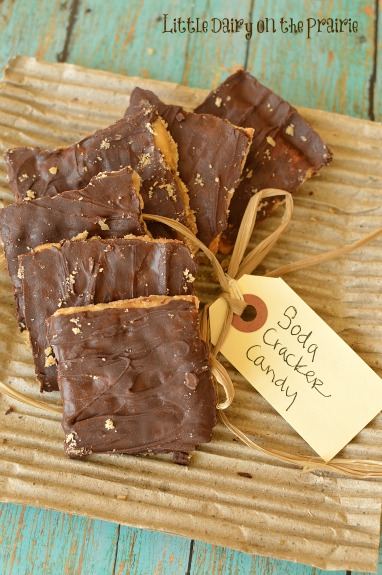 This cracker candy recipe has been a staple in my house for years! There are a million reasons to love this recipe!
I always have the simple ingredients in the fridge and the pantry.
Soda crackers are dirt cheap which makes this a pretty inexpensive recipe to make and that's a big deal!
This stuff takes about 20 minutes of hands-on time. Um, that's a big deal too!
Every time I share it with friends or family, they go crazy for it. It's seriously so addicting I dare you to limit yourself to one piece! It's impossible!
Carson, my oldest child, used to hang out with his friend Wayne all the time. They went on a million fishing trips and other wild excursions together.
The one thing Carson could count on is that going with Wayne would always be an adventure. One time they went fishing with Wayne's grandpa and planned to camp in his sheep camp over the weekend. It was a great idea until it came unhitched from the pickup and rolled into the Salmon river! Always adventure!
I'm pretty sure Wayne actually enjoyed Carson's friendship, but I KNOW he enjoyed the Saltine Cracker Candy I sent on every single trip just as much!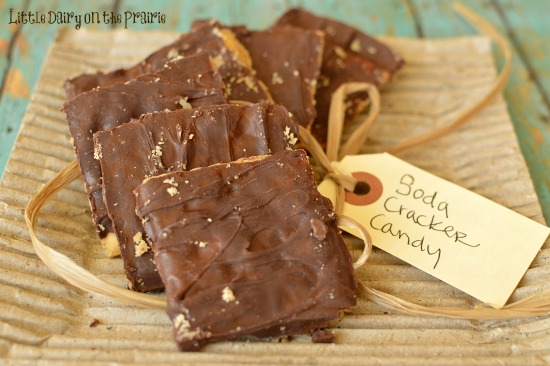 What is cracker candy?
I'm not sure why they call it crack candy? I always thought it was because you crack the candy into pieces. But, at the same time, I wonder if it's called crack because it's so stinking addicting.
Basically it's has a caramel/toffee layer that's poured over saltine crackers and then baked for a few minutes. Add chocolate chips to the top and it becomes a saltine cracker bark!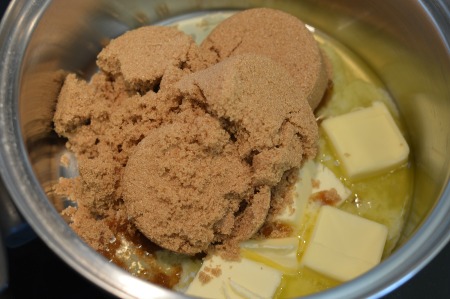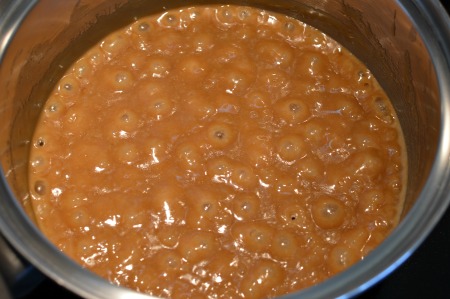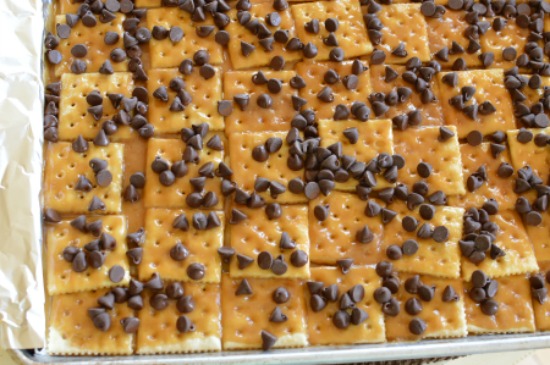 How to make Cracker Candy?
Homemade candy recipes can be tricky, but this is an easy one! There really isn't much to it, but you do have to make sure you follow the instructions exactly so it will turn out as toffee and not gooey.
Be sure to line a jelly roll pan with aluminum foil and SPRAY it with nonstick baking spray or coat it with butter.
Preheat the oven and line the jelly roll pan with saltine crackers BEFORE you start making the caramel mixture.
Bring the brown sugar/butter mixture to a gentle rolling boil. It's more like a simmer.
The mixture needs to gently boil for 3 minutes. This needs to be exact so use a timer. DON'T stir the mixture during the 3 minutes. It looks like it's going to burn and needs to be stirred. Hold strong and leave it alone!
Bring the mixture to a boil over medium heat. That's the trick to keeping it from burning.
Use high-quality chocolate chips so they'll melt.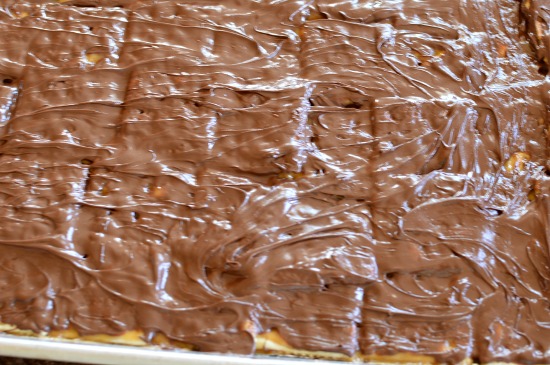 How to make other kinds of Cracker Candy?
It's easy to switch up this same cracker candy recipe to make it into different recipes. Use your imagination, but here are a few ideas to get you started!
Use Ritz crackers or graham crackers
Top with sliced almonds, chopped pecans or walnuts.
Sprinkle tops with sea salt, decorative sprinkles, or other candies.
Use a combination of chocolate chips with peanut butter chips
Leave off chocolate chips if you want cracker candy without chocolate
Other Easy Cracker Candy Recipes
You guys, I don't always have time to make full-blown, get my bake on, kind of desserts. But I'm not going to let that stop me from eating dessert!
Go check out my other easy dessert recipes with few ingredients, no bake dessert recipes, or dessert bar recipes. I'm sure you'll find something to love!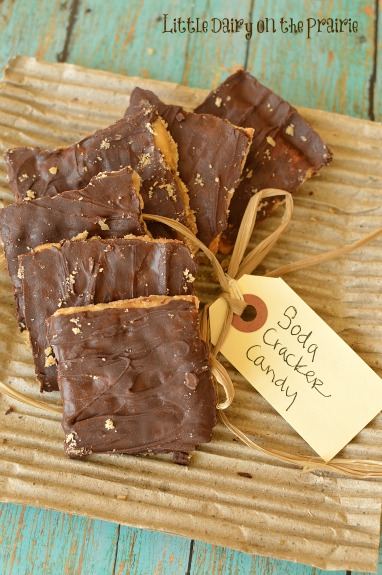 Cracker Candy
Cracker Candy is super easy, no thermometer needed, candy that will remind you of homemade toffee and is often called crack candy because it's so darn addicting! The other awesome thing about this recipe is that you'll need simple ingredients, like saltine crackers, and just a few minutes to make it!
Ingredients
1

cup

brown sugar

1

cup

butter

no substitutes

36

saltine crackers

2

cups

semi-sweet chocolate chips

1/2

cup

Walnuts

optional
Instructions
Preheat oven to 400 degrees.

Line a half sheet baking sheet (18" x 13") with aluminum foil and spray with cooking spray.

Line baking sheet with soda crackers, salt side up with edges touching. Set aside.

Over medium heat, while constantly stirring, bring butter and sugar to a gentle, yet constant, boil. Don't turn the heat too high or the mixture might separate. I like to use a whisk for stirring.

Once the caramel mixture comes to a gentle, yet boil that doesn't stop when stirred, remove the whisk or spoon. Boil for exactly 3 minutes without stirring. The heat needs to as low as possible and still hot enough for the caramel mixture to boil. If you turn the heat too high it might burn.

Remove caramel from heat and drizzle over crackers in prepared pan. Spread with the back of the spoon to cover crackers as much as possible. Don't worry if there are spots without any caramel covering them. It will work itself out in the oven.

Bake for 5 minutes.

After removing from the oven, sprinkle with chocolate chips. Let them sit for about 5 minutes. The heat from the candy will melt the chocolate chips as they sit.

Spread chocolate chips with the back of a spoon. If desired sprinkle with chopped nuts.

Cool completely. Break or cut into pieces.
Notes
It's fun to use different kinds of nuts! Try almonds or pecans!
Store cracker candy in an airtight container. It should stay good for up to two weeks.
Freezing toffee will make it soggy.
If you're in a hurry and need to cool candy faster it can be put in the refrigerator, or any other cool place. I like to stick it in my garage in the wintertime.
Nutrition
Calories:
149.59
kcal
|
Carbohydrates:
13.69
g
|
Protein:
1.21
g
|
Fat:
10.27
g
|
Saturated Fat:
5.6
g
|
Cholesterol:
14.16
mg
|
Sodium:
78.4
mg
|
Potassium:
78.28
mg
|
Fiber:
1
g
|
Sugar:
9.71
g
|
Vitamin A:
162.58
IU
|
Calcium:
15.01
mg
|
Iron:
0.88
mg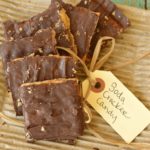 tried this recipe?
Make sure to share it with me! Leave a review or tag me on Instagram