You guys these truly are the Easiest 3 Ingredient Microwave Caramels EVER! It takes one minute to cook these caramels in the microwave and three…that's right, three ingredients! What's even better than a one minute, three-ingredient candy? You will never know 3 Ingredient Microwave Caramels are this easy to make because they are every bit as tasty as any other caramel!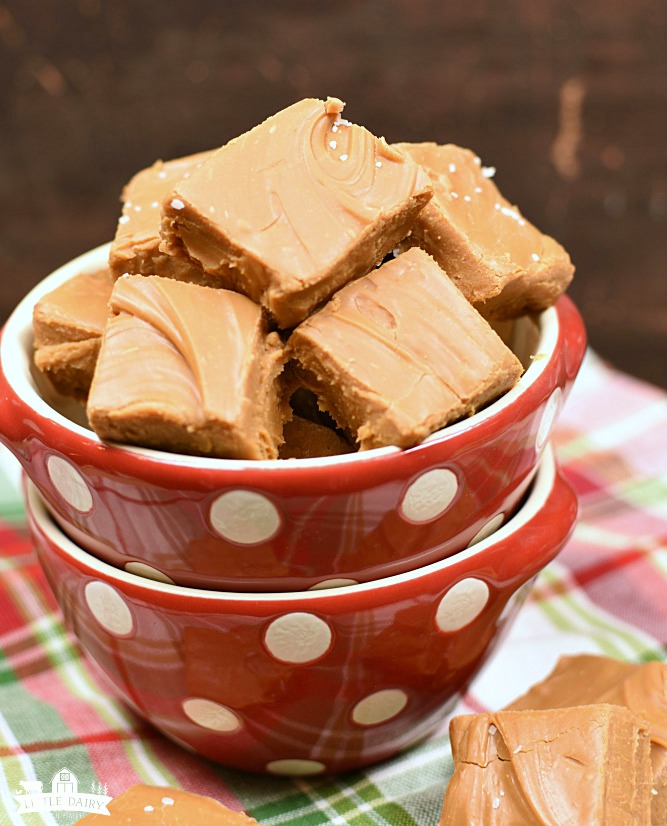 My husband LOVES caramels, like a lot! The only problem is that I don't just love making candy that involves a candy thermometer! So I'm always on the hunt for a great caramel recipe that's fast and easy to make. Heck, I just need a recipe so I can hurry up and make him caramels so I can say I'm a good wifey!
A few years ago I started making Perfect Microwave Caramels and they are really, really delicious! They are everything a caramel should be without the fuss of stirring and watching and waiting for the caramel to come to a boil, blah, blah, blah!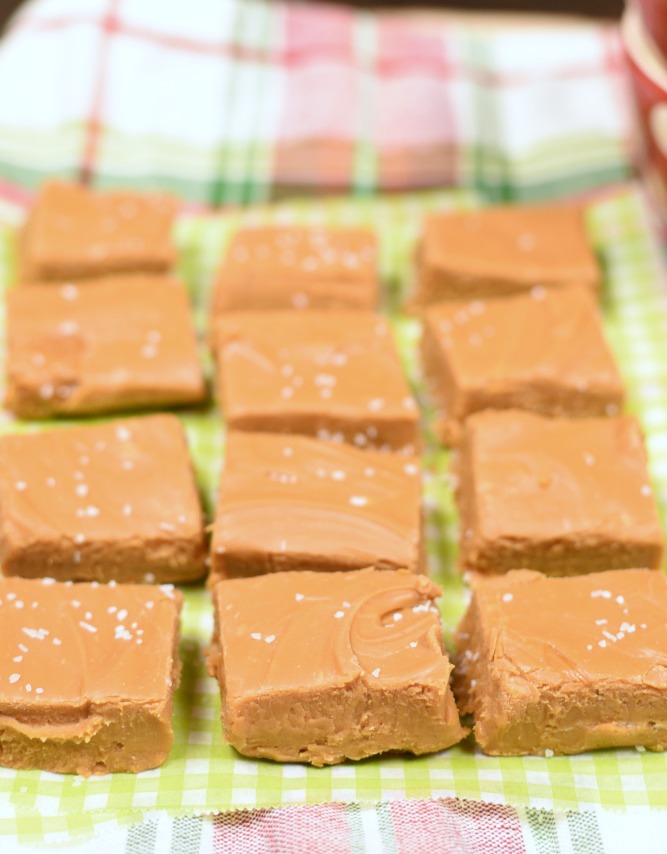 This year I must be getting even lazier or busier or something. Let's just say busier! That sounds better. I wanted a caramel recipe that was even easier than my Microwave Caramels. I know…how does it get any easier than popping a few ingredients in the microwave right?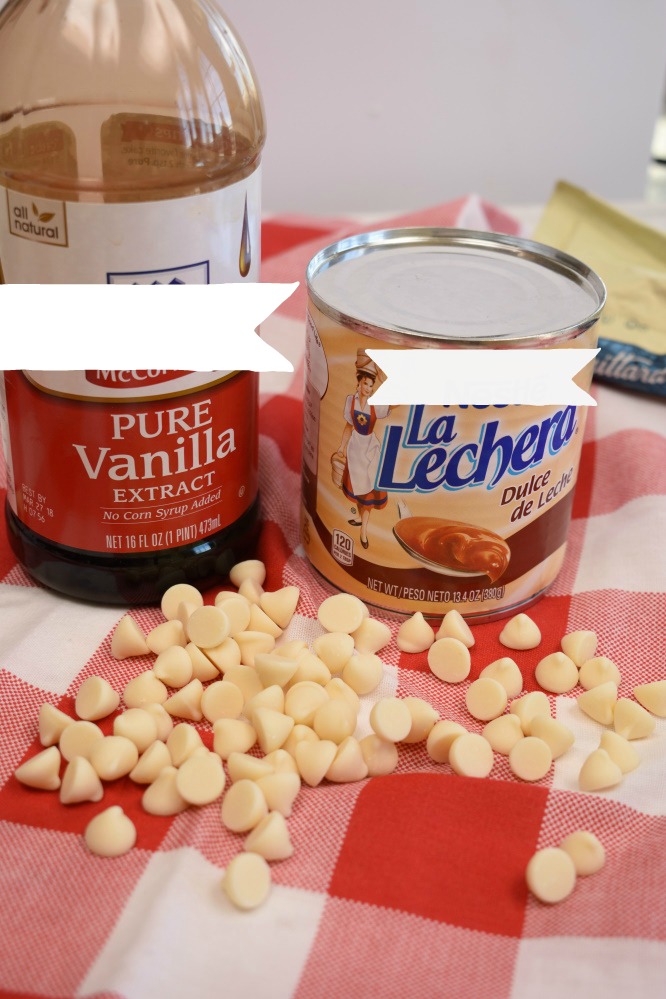 The other day while I was riding the treadmill I came up with this idea to make caramels out of white chocolate chips, dulce de leche and vanilla. Boy was I on to something! My idea got even better when I realized all I need to do was pop these in the microwave for one minute! One measly minute! Then let them sit while I go about my day, come back and cut the caramels into squares. Of course, you can salt them if you want! Yum!
Watch my video to why these are the easiest 3 Ingredient Microwave Caramels ever! Seriously, my 4th grader could handle this!
So if you have a bunch of presents stowed under a blanket in your room that need to be wrapped, you have laundry sitting in the dryer ready to be folded, a kid that needs help with algebra (why have I forgotten about all the inequality rules), your husband is begging you for caramels, and you actually just wish you had time to go to the bathroom…these Easiest Vanilla Caramels are exactly what you are looking for!
Honestly, the hardest part about this candy recipe was trying to decide what to name it. Easiest Vanilla Caramels, Easiest Microwave Caramels, 3 ingredient Caramels, No Candy Thermometer Needed Caramels, White Chocolate Caramels? Gosh, I just couldn't decide!
I guess Easiest 3 Ingredient Microwave Caramels it is! Long name for a short recipe!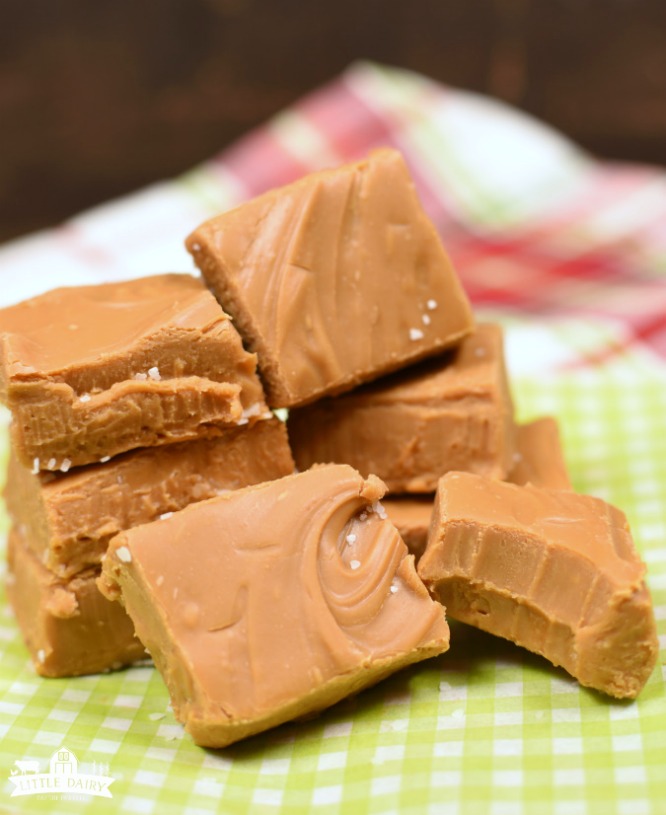 Merry Christmas everyone! And for heaven's sake make yourself some caramels to munch on before you start wrapping all those Christmas presents and trying to do the math!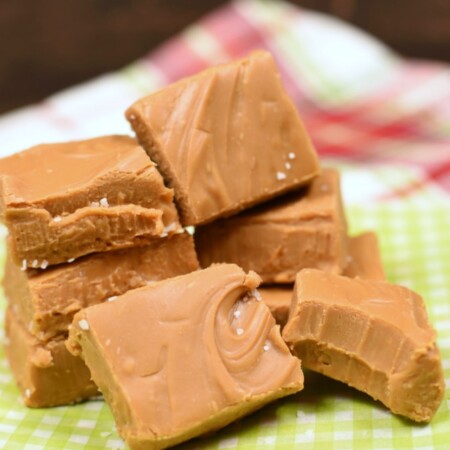 3 Ingredient Microwave Caramels
3 Ingredient Microwave Caramels are the easiest candy in the world to make and they taste every bit as good as those candies that you have to babysit! They are creamy, rich, and smooth! Be sure to make room on your holiday tray for them!
Ingredients
2

cups

white chocolate chips

14 ounce

dulce de leche

1

tsp

Vanilla
Instructions
Line a 9 x 9 baking dish with wax paper or grease pan.

Add white chocolate chips and dulce de leche to a microwave safe mixing bowl. Stir to coat.

Microwave on high for 1 minute.

Remove from microwave and stir until melted. If they chocolate chips aren't completely melted you may need to microwave for 10 more seconds, then stir. Repeat until melted and smooth. Add vanilla. Stir.

Pour into prepared baking dish. Spread to edges.

Let sit until firm. I put it in the fridge for about 3 hours.

Cut into bite size pieces. Store leftovers in the fridge.
Nutrition
Calories:
41
kcal
|
Carbohydrates:
4
g
|
Protein:
1
g
|
Fat:
2
g
|
Saturated Fat:
1
g
|
Cholesterol:
2
mg
|
Sodium:
7
mg
|
Potassium:
21
mg
|
Fiber:
1
g
|
Sugar:
4
g
|
Vitamin A:
2
IU
|
Vitamin C:
1
mg
|
Calcium:
15
mg
|
Iron:
1
mg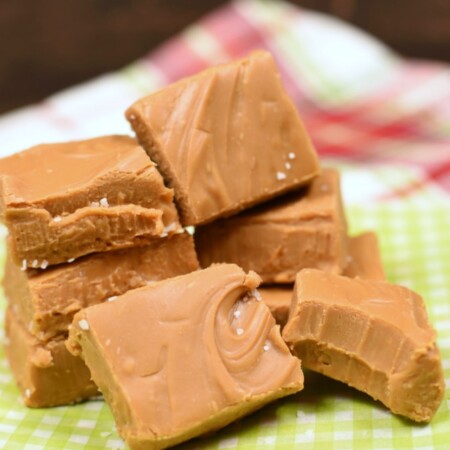 tried this recipe?
Make sure to share it with me! Leave a review or tag me on Instagram