Here are some of my favorite Fall Menu Ideas for the cozy weather that's right around the corner. We've got you covered with chili, slow cooker recipes, and all the classic fall flavors!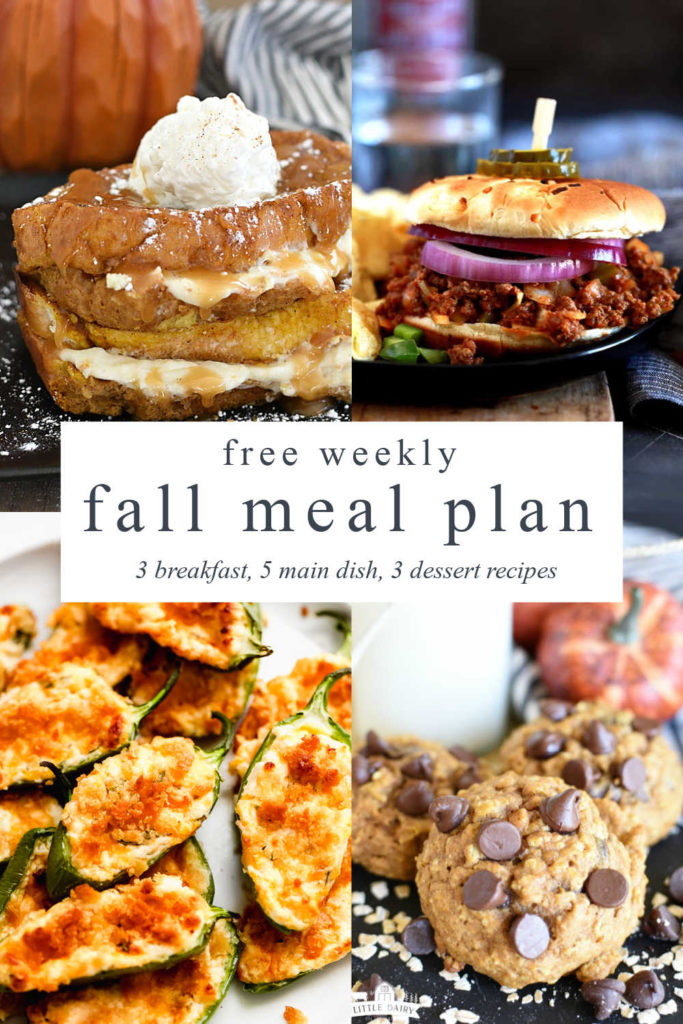 It's starting to get colder, the days are getting shorter, and we are still trying to squeeze as much farming in as possible before it gets too cold!
In other words, I'm spending quite a bit of time driving tractors in the fields and need all the help I can get when it comes to getting dinner on the table.
Menus like this Fall Weekly Menu Ideas are perfect for getting dinner on the table in a jiffy!
It's packed with quick and easy recipes. There are sandwiches, slow cooker meals, sheet pan dinners, comfort food, chicken, beef, fish, a side dish and even dessert recipes!
Regardless of whether you are running to soccer practice or to the tractor, I hope this meal plan helps simplify your life as much as it does mine! Enjoy your week!
Fall Breakfast Recipes
I'm totally in love with the crisp cool mornings in the fall!
These easy breakfast recipes are totally worth climbing out from under the covers!
I've got a make ahead recipe, a perfect weekend recipe, and a super decadent breakfast idea for you!
Fall Appetizer
It's football season and appetizers are all the rage!
These simple appetizer recipes will be the hit at any party! Plus, they are easy which is a must! There's a sweet one and a savory finger food recipe just to keep things balanced!
Fall Main Dish Menu Ideas
If you need new fall dinner ideas these are all classic fall recipes with a spin just to keep things fresh!
Slow cookers are my fave in the fall and I'm sharing plenty of options for using the crock pot!
Feel free to use these main dish recipes anytime they fit into your schedule.
Easy Fall Side Dish Recipes
Side dish recipes are always the last part of the meal I plan. I'm not sure why because I love them.
But, if they aren't easy…they aren't happening! Trust me, these ones are easy.
These potatoes are perfect served with the tilapia in this weeks fall menu or with Classic Roast Beef.
Cornbread muffins are amazing served with any kind of grilled meat or BBQ. They're also a favorite with any chili recipe!
Quick and easy dessert recipes
Dessert is the very best part of any meal planning!
I've got a super easy, no bake dessert for you because I know how busy fall is.
And nothing says fall more than pumpkin or maple syrup pecan cookies!