Grilled Chicken Taco Pizza is a super versatile dinner you can make in about 15 minutes! Choose from several easy crust options, then pile it high with your favorite kind of cheese, and all the fixings you like on your tacos! You can even bake it in the oven or on the grill!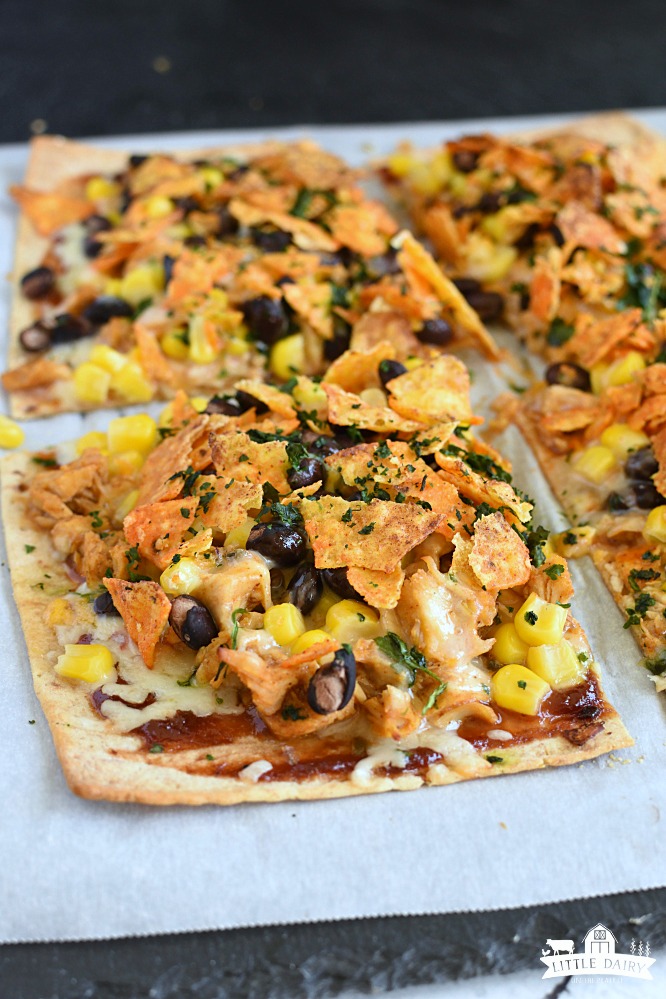 Did you see my post The BEST 3 Ingredient Grilled Chicken Recipe from earlier this week? If you didn't head over there and check out all my tips about how to get dinner on the table in a hurry! As I promised I'm sharing lots of super easy ways to use up all the leftover grilled chicken I showed you how to make.
I hope you guys are ready to head to the store and load up on chicken! Once you experience having sliced, or diced grilled chicken in the fridge you are going to fall in love with it! Preparing and cooking meat is the most time-consuming part of making dinner.
Having made ahead grilled chicken ready to go is a game-changer when it comes to throwing meals together in no time at all! I'm completely addicted to Make Ahead Meals. I'm also a huge fan of using up leftovers in a whole new way so the family doesn't even remember they at this in a different way yesterday!
Grilled Chicken Pizza is a meal even the pickiest eaters will love!
Pizza is one of those meals that are so easy to customize. One half of our pizza never looks like the other half. We always have half without olives, half without pineapple, etc. It's so easy to do and worth it!
This chicken pizza can be made a hundred different ways! When you can't run to the grocery store you really learn to cook with what you already have in your pantry, fridge, or freezer.
I've thrown together some options just to get your creativity going! Of course, there are a million other ways you could throw this pizza together; think salsa or enchilada sauce instead of chili sauce. Heck, you could even use refried beans instead of sauce!
Is your mind going crazy with awesome Chicken Taco Pizza options? Here are some of my faves to get you started!
Pizza Crust Alternatives
So you don't feel like making homemade pizza crust, or maybe you simply don't have time. Here are some options for pizza crusts besides traditional pizza crust, which of course is an option and dang good one too!
French Bread – cut it in half lengthwise, or slice it in pieces

Tortilla

Flatbread (that's what I used)

Frozen dough – I love Rhodes and use it all the time

Often times you can buy it from a pizzeria or the grocery store

English Muffins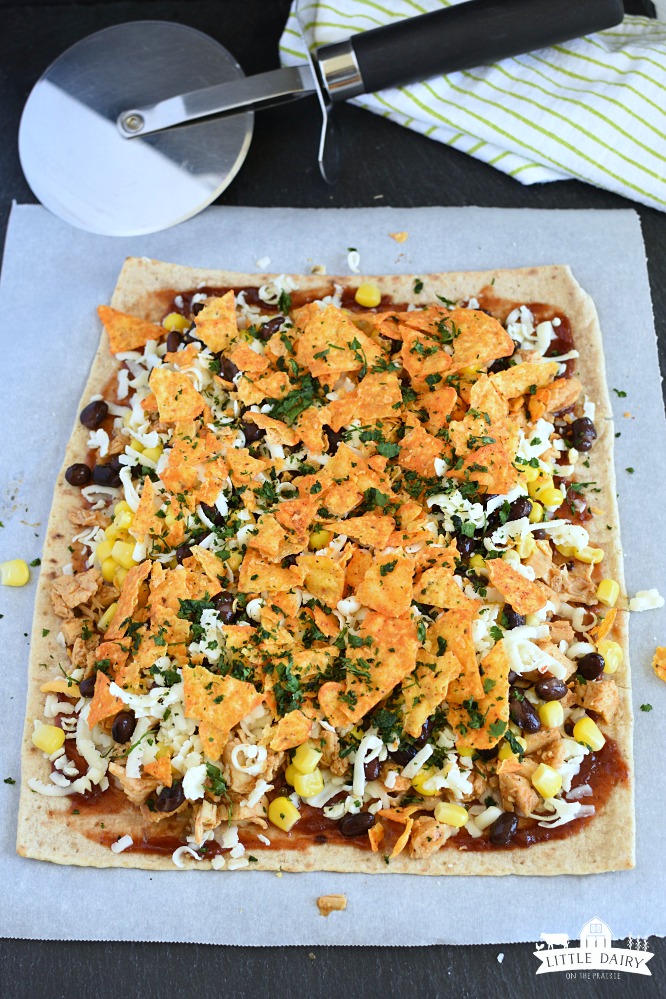 What toppings are good on Chicken Taco Pizza?
I usually find my inspiration by checking out all the containers of leftovers in my fridge. Use your imagination! If you like it on tacos you'll like it on taco pizza!
I used leftover grilled chicken. Rotisserie chicken or shredded chicken work great too.

Chili sauce makes a great base

Pepper Jack cheese is great, but use what you already have

Corn

Black Beans, refried beans, chili beans – you choose!

Olives

Tomatoes

Lettuce

Avocados

Salsa

Onions

Cilantro

Tortilla Chips (a must!)
Baked it in the oven or on the grill.
If you are baking it in the oven move the rack to the middle of the oven.
Preheat the oven to 400 degrees.
Set pizza on a baking sheet lined with parchment paper or greased.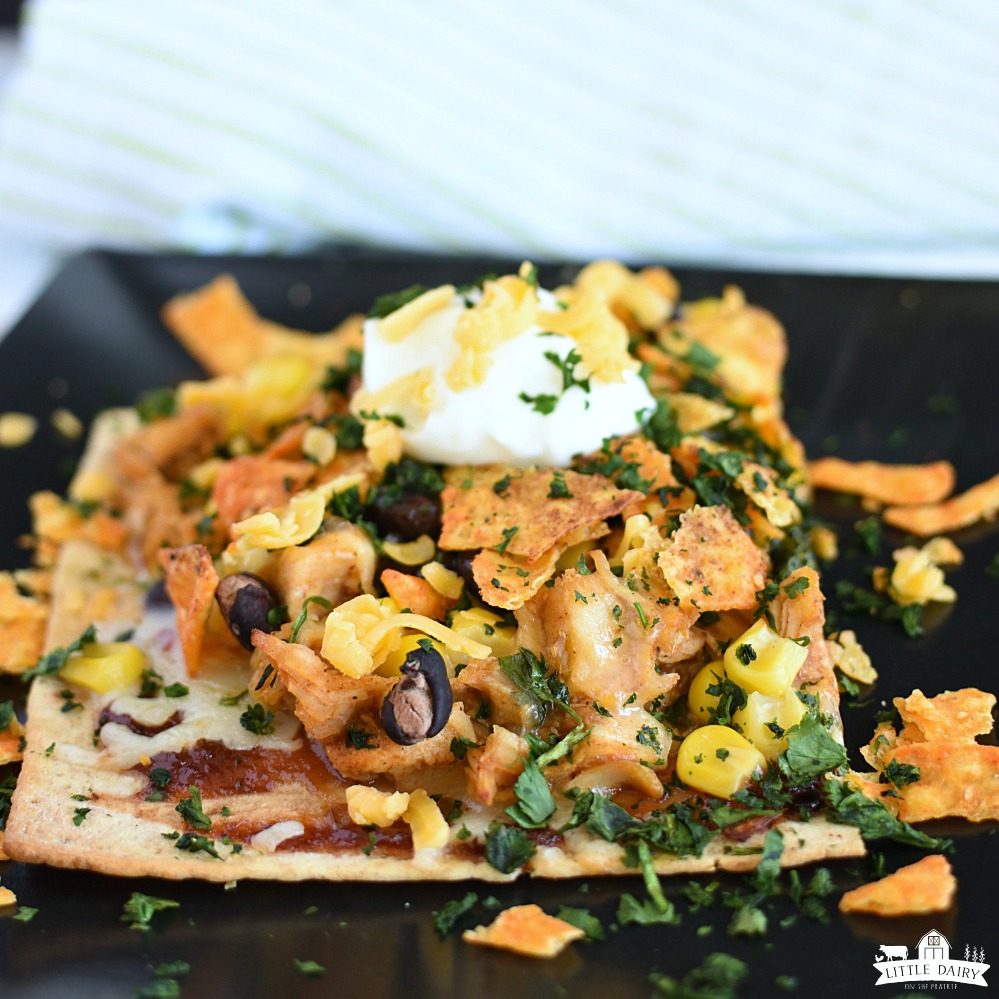 If you are grilling preheat the grill to 400 degrees. Set pizza on an indirect heat spot on the grill. Watch it carefully so it doesn't burn.
Taco Chicken Pizza – an easy meal
You guys, customizing your pizza is so much fun! Your family can have your pizza exactly the way you love it!
If I had one piece of advice for you it would be to make sure you use plenty of cheese, PLENTY of cheese is what pizza is all about!
Okay, two pieces of advice because I can't help myself! If you are in a hurry as often as I am try using different kinds of pizza crust.
Flatbread like I used to make this pizza is as easy as opening a bag. It keeps for quite a while which happens to be important when you live 60 miles from the grocery store. Besides all of that, it only has a handful of calories which totally leaves plenty of room for dessert!
What's happening on the farm!
School is finally out! Yay! Now we can fill our entire days with farm work! The boys work long, hard hours during the summer, but they would throw a fit if we tried to take them off the farm! It's in their blood!
I know there's plenty of opinions about how old a kid should be before they get their first cell phone. I bought Payson his first phone for Easter when he was 8 years old. Too young? I got tired of spending half of my days trying to find him on the farm and decided my time was completely worth the $10 a month it costed me to buy him a phone!
The other day he called me and insisted I come to look at this baby calf! "It's the cutest one that's ever been born", he insisted! He's such an animal lover!
Here's the Chicken Taco Pizza Recipe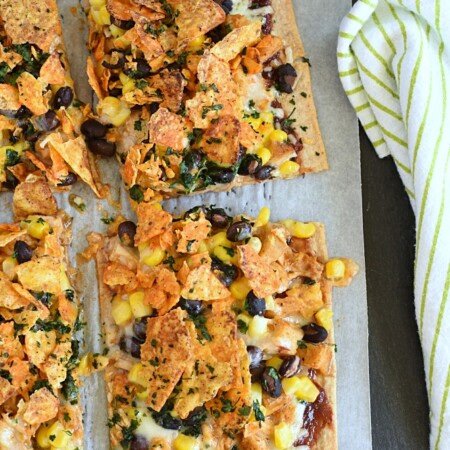 Chicken Taco Pizza
Grilled Chicken Taco Pizza is a super versatile dinner you can make in about 15 minutes! Choose from several easy crust options, then pile it high with your favorite kind of cheese, and all the fixings you like on your tacos! You can even bake it in the oven or on the grill!
Ingredients
Pizza crust

I used flatbread. See post for more options.

Chili sauce

salsa, enchilada sauce (I used chili sauce, use whatever you have on hand)

Shredded Cheese

I like Mexican blend, or Pepper Jack. Use what you have on hand

Grilled Chicken

diced (shredded slow cooker chicken is fine too)

Optional toppings:

Beans

Corn

Corn Chips

Olives

Onions

Jalapenos

Garnish:

Cilantro

Pico de Gallo

Salsa

Sour Cream

Avocados

Guacamole
Instructions
NOTE: Amounts will vary depending on what kind of crust and what size crust you use. This recipe is easy to adapt to make enough for a crowd, or to make a single serving. See post for details and suggestions.

Move oven rack to center of oven. Preheat oven to 400 degrees.

Set flatbread (or other crust) on baking sheet or pizza pan. I set my flatbread on parchment paper.

Spread chili sauce over flatbread.

Sprinkle with grated cheese.

Add diced chicken.

Add any other toppings you like.

Sprinkle with a little more cheese.

Bake for 10-15 minutes. Baking times will vary depending on what kind of crust you choose. I baked my flatbread pizza for 12 minutes.

minutes before the end of baking time add crushed tortilla chips to the top of pizza.

Remove from oven. Let rest for a couple minutes.

Cut into slices.

Serve with garnishes.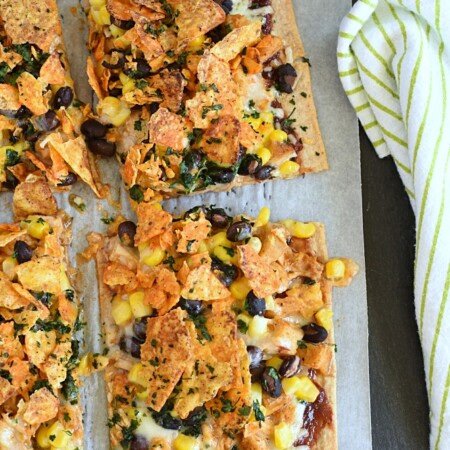 tried this recipe?
Make sure to share it with me! Leave a review or tag me on Instagram