Recipes like Slow Cooker Cheesy Tortellini save my life! All I have to do is throw everything in the slow cooker, wait a few hours and dig into this divinely comforting pasta!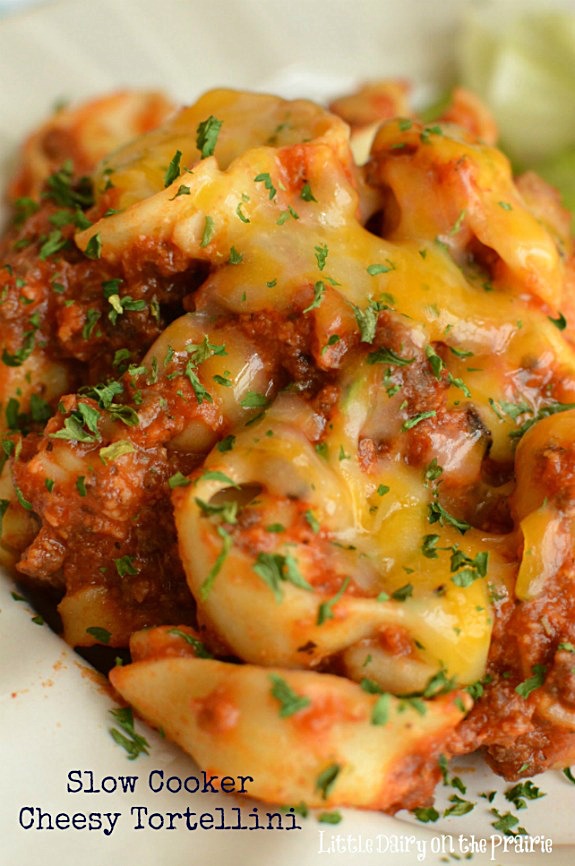 Let's face the facts. Sometimes, Mom's don't feel like cooking. Other days, Mom's don't have time to cook. That's why every Mom needs a few good "throw it in the slow cooker and leave it" meal options. If you ask me, there is no such thing as too many of those. That's why I'm sharing another fix and forget with you today!
Pay close attention or you will miss the instructions.
Throw almost everything in the slow cooker. (I did this right before church)
Let it cook in the slow cooker. (This happened while I was at church)
Add tortellini and cheese. (I did this as soon as I got home from church)
Let it cook for 15-20 minutes. (I raced the clock to see if I could change my clothes and set the table before the 20 minutes was over)
That's it!
Sometimes I wish I was one of those Moms that made a huge Sunday dinner of roast beef, mashed potatoes, homemade rolls and pie. Then I remember how much I love my Sunday afternoon nap. I guess I love it even more than eating a big Sunday dinner. At my house it's a race to see how fast we can get from church, into our PJs, dinner served and cleaned up and in our beds. That's why we eat quick Sunday dinners like Slow Cooker Cheesy Tortellini! Nobody at my house complains about yummy food like this anyway! I'll save the roast beef for Monday night's dinner! Here's to happy napping!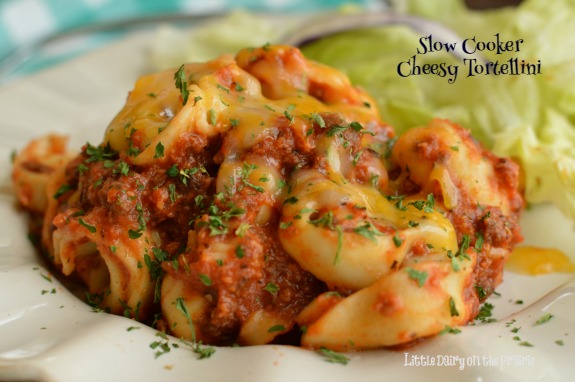 Slow Cooker Cheesy Tortellini
Ingredients
1

lb.

ground beef

1/2

an onion

diced

1 24

oz.

jar marinara sauce

1 14

oz.

can diced tomatoes

drained

2

cloves

garlic

minced

1

tsp.

dried oregano

1

tsp.

dried basil

1 9

oz.

pkg 3 cheese tortellini

refrigerated or fresh

1

c.

mozzarella cheese

1

c.

cheddar cheese

1/2

c.

Parmesan cheese

Fresh parsley for garnish
Instructions
Over medium high heat, brown ground beef and onion. Crumble beef as it browns. Drain if necessary.

Add ground beef and onion, marinara sauce, diced tomatoes, garlic, oregano and basil to slow cooker. Cook on High heat for 3 hours or on low heat for 6 hours.

Mix all the different kinds of cheese together.

Stir in tortellini and half of the cheeses. Sprinkle remaining cheese over the top.

Cover and cook for 15-20 more minutes or until tortellini is tender.

Serve while hot!
tried this recipe?
Make sure to share it with me! Leave a review or tag me on Instagram