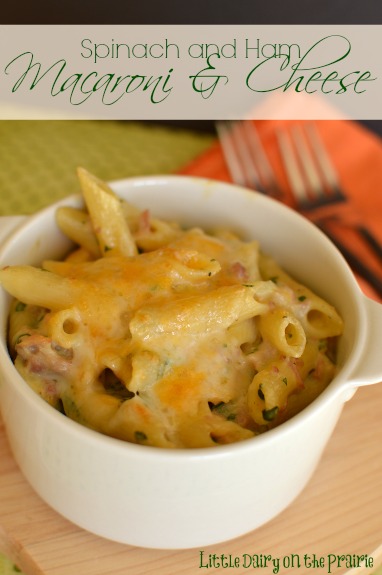 We aren't the "go out to eat" on Valentines Day type of people. How about you? Are you going out and letting someone else do all the work? Or staying home and creating your own dinner?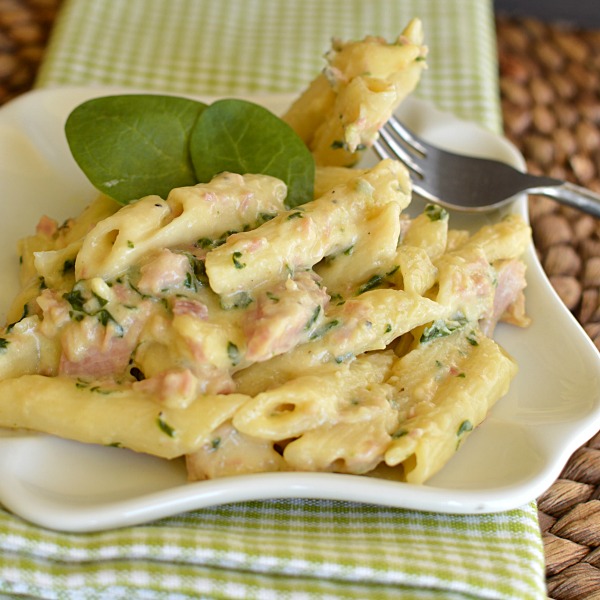 This year my kids don't have school on Valentines Day. Romantic! Right? Our school participates in a Winter Sports Activity Program where all of the kids get the chance to go snow boarding. Justin volunteered to go help out. It worked out that they are taking the kids all day on Valentines Day. Guess what I will be doing? Probably watching old episodes of Pioneer Woman!
If I was making a Valentines Day dinner, I would make this Mac and Cheese. I think pasta makes a perfectly romantic dinner. This one is so creamy and yummy it makes a perfect pasta choice.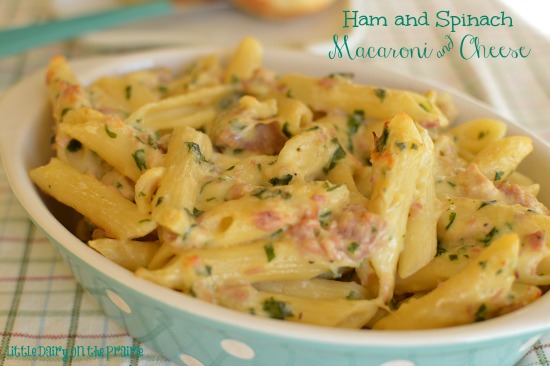 I make the whole thing and pop it under the broiler for a few minutes to get it nice and crispy on the top. I would have left this in a little bit longer, I like crispy pieces on the top. When I have four boys pounding their forks on the table chanting for food, I move a little faster. They weren't really pounding their forks on the table, but they were ready to eat!
Besides being a sneaky way to get a little extra spinach in my kids diets, I think it's really pretty. The green adds a bit of freshness to my blah and cold winter!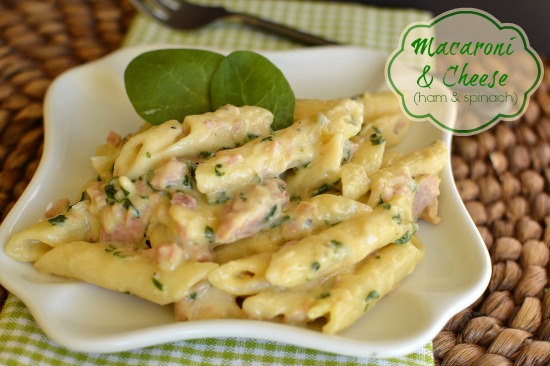 Skip the long restaurant lines this year, stay home and make this Mac and Cheese! If you are brave enough to fight the crowds, this Mac and Cheese is easy enough to throw together for a tasty week night meal too! Whatever occasion you decide to make it for…just make it!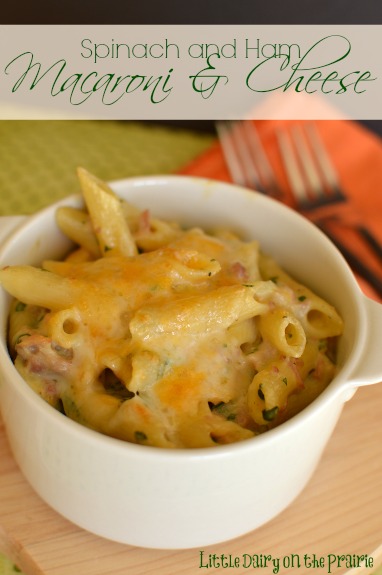 Ham and Spinach Macaroni and Cheese
Ingredients
1 16

oz.

box penne pasta

1 1/1

c.

cheddar cheese

shredded

1

c.

Swiss cheese

shredded

1/2

c.

Parmesan cheese

shredded

3

T.

butter

3

T.

flour

2 1/2

c.

milk

1/2

c.

sour cream

1/2

t.

onion powder

1

t.

salt

1/8

t.

cayenne pepper

1 1/2

c.

chopped ham

1 1/2

c.

finely chopped fresh spinach
Instructions
Cook pasta according to package directions. Drain. Set aside.

Toss Parmesan, cheddar and Swiss cheeses together. Reserve 1/2 cup of cheeses.

In a medium sized sauce pan, melt butter. Whisk in flour until smooth. Gradually add milk bring to a boil over medium high heat. Simmer for 3 minutes. Stir in onion powder, salt and pepper. Add the larger portion of cheeses. Stir until melted. Add sour cream and stir to incorporate.

Add pasta, spinach and ham to sauce and gently stir.

Pour in a greased 3 quart dish. Sprinkle with remaining cheese.

Bake at 350 degrees for 10 minutes Then broil until cheese is bubbly and golden brown, about 3 minutes.
tried this recipe?
Make sure to share it with me! Leave a review or tag me on Instagram

An extra creamy macaroni and cheese, full of flavor thanks to three different cheeses. Adding ham turns it into a hearty main dish. Besides that, it gets bonus points because the kids will devour it, spinach and all!!