Cheesy Beef Mexican Casserole has layers of crunchy tortilla chips, spicy ground beef, and gooey cheese! It's a make ahead casserole which makes this a perfect family dish for busy week nights!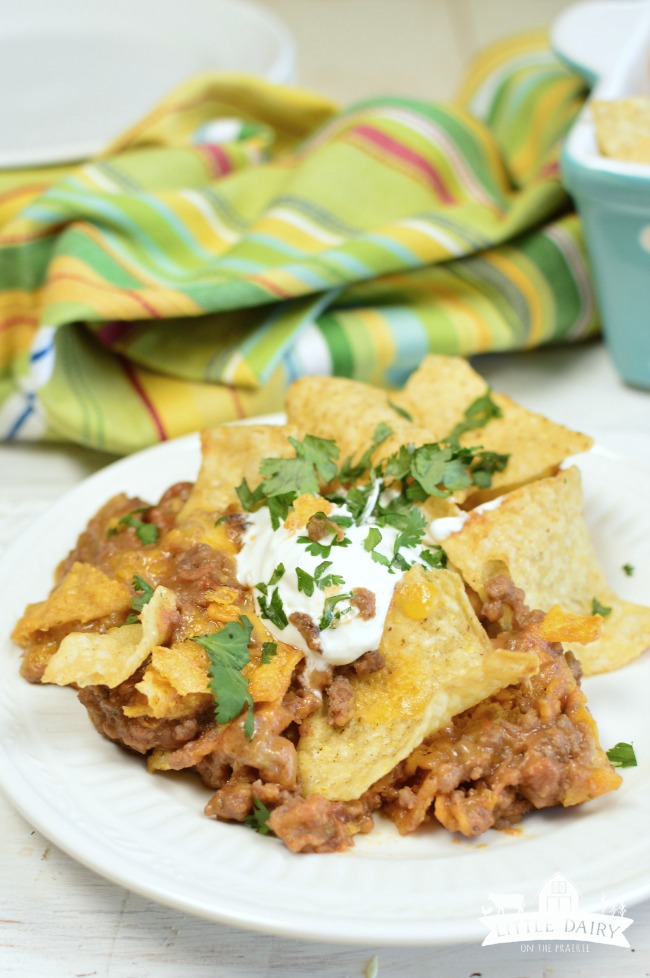 Need more quick and easy recipes? Make sure you sign up for my emails and I'll send them straight to your inbox…Just trying to simplify your life! Click HERE for to sign up !
Hi friends! I'm going to keep this post short and sweet because I'm busy and don't have a ton of time to write a post with lots of flowery paragraphs. I'm guessing you are here you are busy too and aren't wondering how to kill the rest of your evening. Instead you are probably looking for a super quick and easy meal that will satisfy your whole family!
You are in the right place! Cheesy Beef Mexican Casserole is made with just a handful of pantry ingredients and comes together in no time.
Cheesy Beef Mexican Casserole Video and an excuse to use up leftovers!
Did you notice that I used 3 different bags of tortilla chips? My family has become seriously addicted to salsa and guacamole which means we buy tortilla chips by the shopping cart full.
I'm sure you aware of the crumbs you always wind up with on the bottom of the bag after you devour all the big chips. No need to throw those away anymore. They are perfect for using up in this Mexican Casserole! Don't worry if they are all different brands, or even different flavors (chili cheese, ranch, nacho cheese, or plain). Save yourself a trip to the grocery store and use up what you already have! Now I feel completely responsible and resourceful!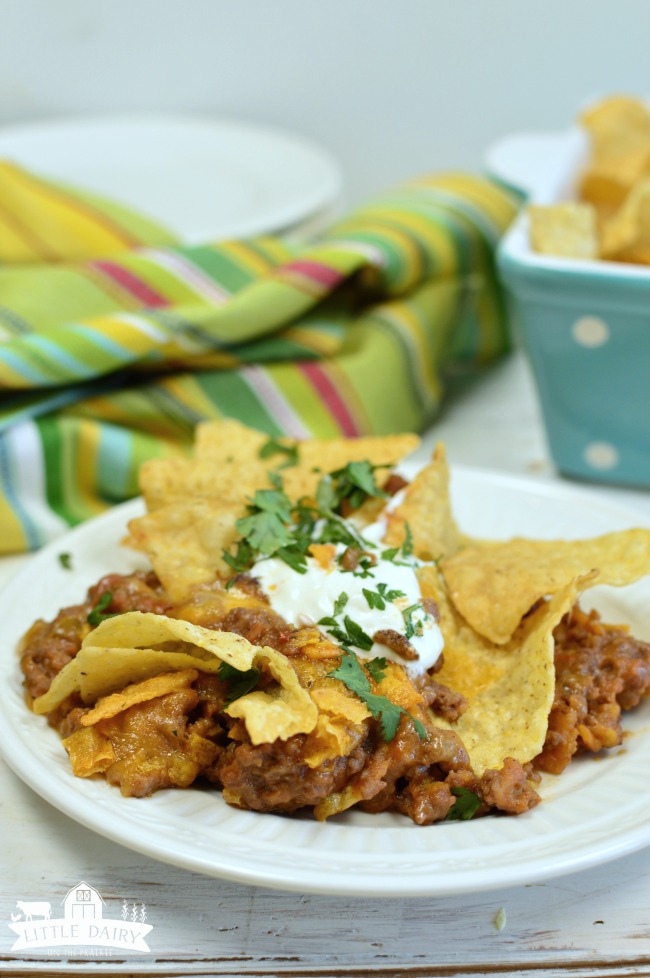 Story time…
Okay, I have just enough time to tell you this little story…
Once upon a time I took my youngest child fo swim camp for a week and left my oldest two children and my husband home. Of course I left all kinds of pre-made food in the fridge for them including already to go taco meat. I though it would be so easy for them because all they needed to do was warm up a little meat, grab a tortilla shell, and some grated cheese along with whatever other fixings they wanted.
At the end of the week I came home to 3 starving boys who claimed I didn't leave easy food for them. They said they didn't have time to drag out all the extra stuff they needed. WHAT? How much easier could I make it? When I left for swim lessons this year I left them a panful of Cheesy Beef Mexican Casserole…extra toppings not necessary! And I came home to an empty pan in the fridge! Now if I can get them trained to take the fridge out of the pan and wash it next time we'll be set!
I don't want you to get the wrong impression of my boys. They actually work HARD, pretty much from sun up to sun down. They truly aren't home at all to get meals ready, and when they do come home it's usually one at a time. They do know how to get grated cheese out of the refrigerator, they just prefer not to have to waste time on that!
Cheesy Beef Mexican Casserole – the printable recipe!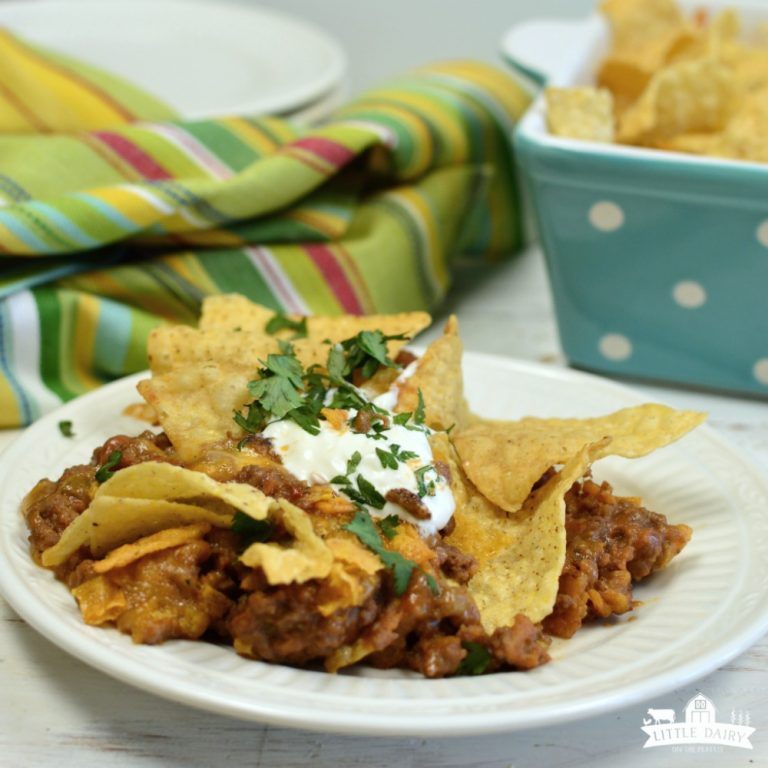 Cheesy Beef Mexican Casserole
Cheesy Beef Mexican Casserole has hearty layers of spicy cheese, gooey cheese, and crunchy tortillas! It's a great make ahead meal for busy weeknight dinners!
Ingredients
1

pound

lean ground beef

1

pkg. taco seasoning

1

can refried beans

1/2

c.

salsa

3-4

c.

grated cheese

cheddar, Monterey Jack, Pepper Jack are all good choices

about 1/2 a bag of tortilla chips (use and variety you like and it's okay to use more than one variety.

cilantro

for serving

sour cream

for serving
Instructions
Preheat oven to 375 degrees.

Grease a 7 x 11 baking dish. If you want you can use a 9 x 13 inch baking dish. The layers will just be a little shorter and you might need a little more cheese and chips to cover the whole surface area.

Brown ground beef. Add taco seasoning, refried beans, and salsa. Stir.

Add one cup grated cheese. Stir.

Sprinkle tortilla chips on the bottom of baking dish.

Spread about half of the meat mixture over the tortilla chips. Sprinkle with half of the remaining cheese.

Repeat chips, meat, and cheese layers one more time.

Add one more layer of tortilla chips to the top of the casserole.

Cover with foil and bake for 30 minutes. Remove foil and bake another 5 minutes or until chips are slightly toasted!

NOTE: This casserole can easily be made ahead of time. I make it all the way through the final cheese layer then cover with foil and refrigerate unti I'm ready to bake it. When you're ready to bake it remove the foil, add the final layer of tortilla chips, put the foil back on and continue with the baking instructions. You might have to increase the baking time to 45-50 minutes because they casserole will be cold all the way through before you start baking.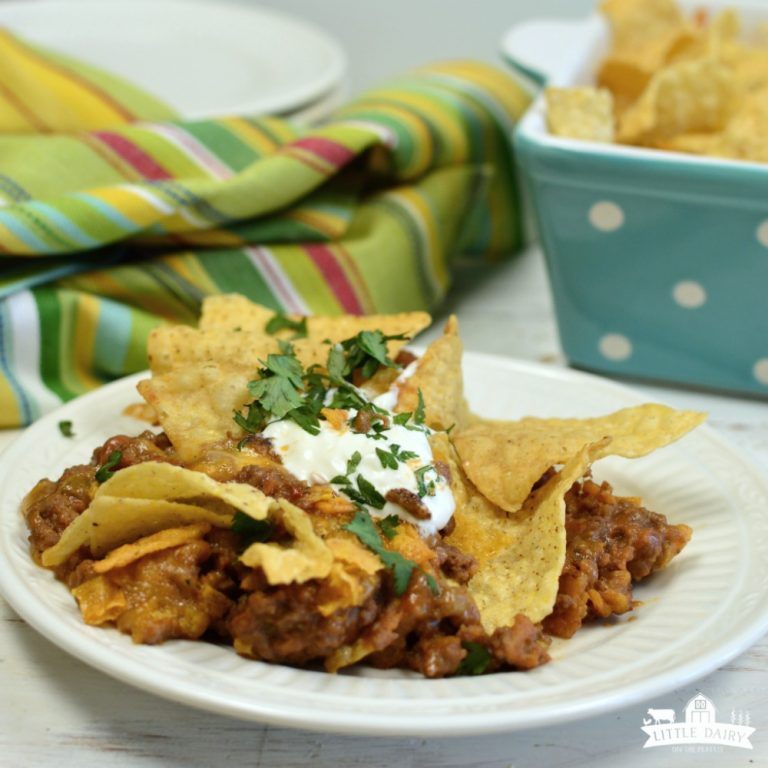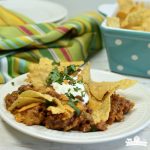 tried this recipe?
Make sure to share it with me! Leave a review or tag me on Instagram