This delicious smoked meatloaf recipe is going to rock your world! Cooking meatloaf on a pellet grill (I use my Traeger), gives it the best smoky flavor all while keeping it extra moist!
You're going to literally fall in love with the bbq meatloaf glaze! It's sticky, sweet, and really is the icing on the cake!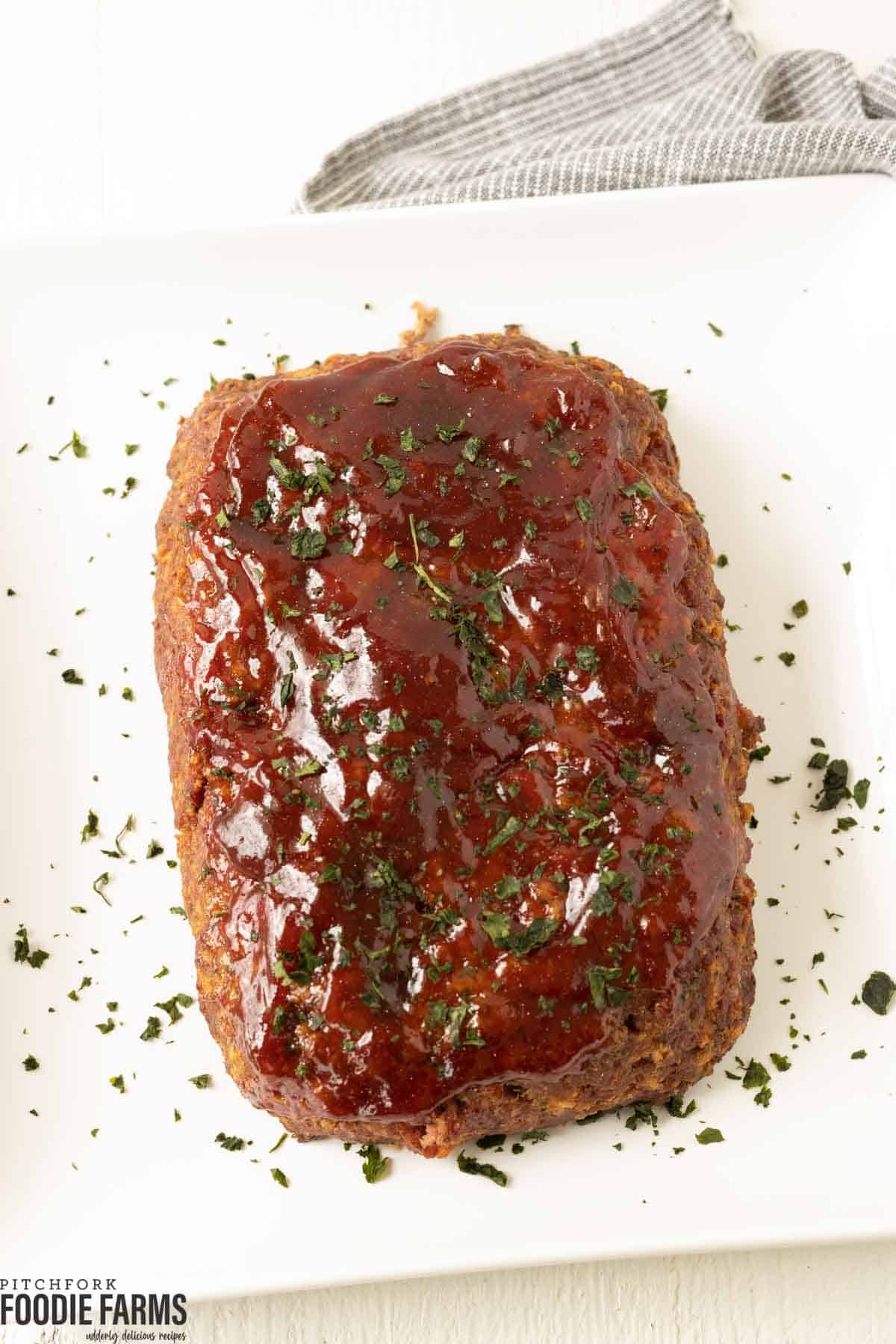 This post was originally written in 2013 and updated in 2023. I used to make this meatloaf into burger patties, but recently started shaping the meat into a meatloaf and smoking it instead of grilling. I love the smoky flavor mixed with the caramelized sauce! You're going to love this new version even more than the old version!
Either you LOVE meatloaf, or you have bad memories of dry meatloaf or overbaked cafeteria meatloaf!
This recipe for smoked meatloaf is going to get you in the "love it" camp! Cooking a classic meatloaf recipe on the smoker gives the best smoky flavor and keeps it moist. There is just something about smoking ground meat that takes it to a whole new level!
Adding that smoky flavor knocks the socks off of baking it in the oven, although you can cook this recipe in the oven if you don't have an electric smoker. The sweetness of the glaze is absolutely perfect with regular ground beef meatloaf.
It's the ultimate comfort food! I love serving it with Cheesy Mashed Potatoes or Smashed Red Potatoes, Bacon and Garlic Peas, Roasted Green Beans, and Parmesan Garlic Dinner Rolls!
Why This Recipe Works
Tastes amazing! Your mouth is going to start watering the minute you smell this meatloaf! When you cut into it you'll notice a gorgeous smoke ring that lets you know it's going to be packed with flavor!
The BEST Meatloaf BBQ Glaze! I could eat this brown sugar glaze with a spoon! It's that good! You're going to baste the meatloaf during the last little bit of cooking time which creates a thick and sticky sauce! This homemade sauce is easy to make and is a million times better than dumpling bbq sauce out of a bottle!
Easy recipe, little prep time! You can assemble the meatloaf ahead of time and throw it on the smoker when it works for you. Or, assemble and start smoking right away. There aren't a lot of extra steps which really does make this an easy smoked meatloaf recipe.
Ingredients
The list is a little bit longer, but they're all simple ingredients.
Let's talk about substitutions just in case you don't have everything on hand.
For the Meatloaf
Ground Beef: Use lean ground beef. I like to use 85% lean or 90% lean. Some classic meatloaf recipes use hamburger with a higher fat content to keep the meatloaf from drying out. We're going to add other ingredients like Panko bread crumbs and large eggs to keep it moist. This creates a juicy meatloaf without being greasy.
Binder: BBQ sauce, eggs, and Panko breadcrumbs help hold the meatloaf together so it doesn't get crumbly. Use oatmeal if you don't have breadcrumbs.
Yellow or White Onion: I like sweet onions. If your family really doesn't like onions use 1 teaspoon of onion powder or sauté them before adding them to the meat mixture. Adding raw onions does add moisture to the meatloaf.
Seasonings and Spices: Salt, black pepper, garlic powder, parsley. Add red pepper flakes for and added spicy kick!
BBQ Meatloaf Glaze
Base: Ketchup & barbecue sauce (Use your favorite bbq sauce or my homemade bbq sauce)
Sweeteners: honey & brown sugar
Seasonings: Onion Powder, cider vinegar, Worcestershire sauce
How to Smoke a Meatloaf
Let's walk through the step-by-step instructions! This recipe is really easy!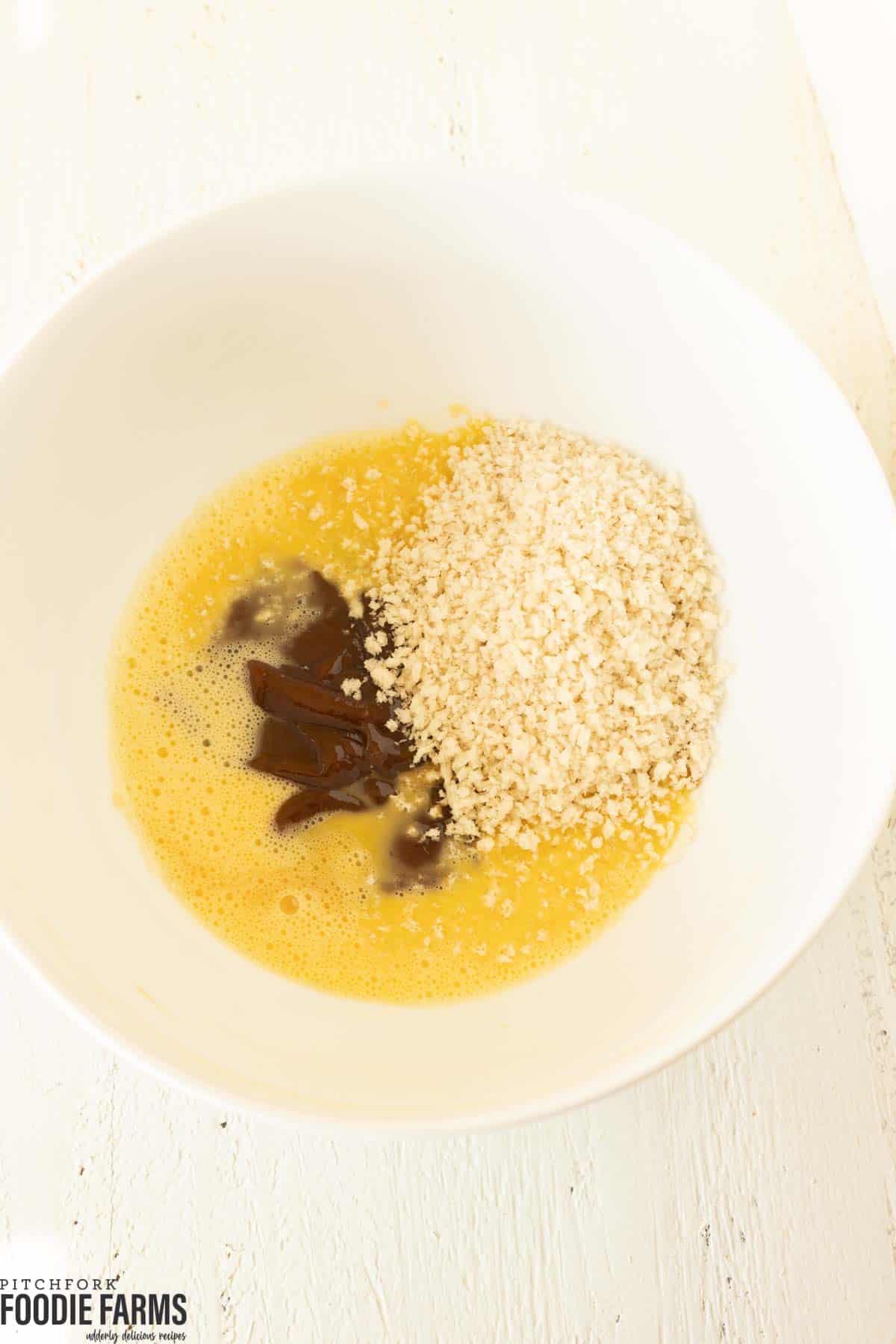 Step 1: Preheat smoker. Heat the smoker to 250 degrees. Mix binders. In a large bowl, whisk the eggs until beaten. Add barbecue sauce and breadcrumbs. Stir. Let soak for a couple of minutes.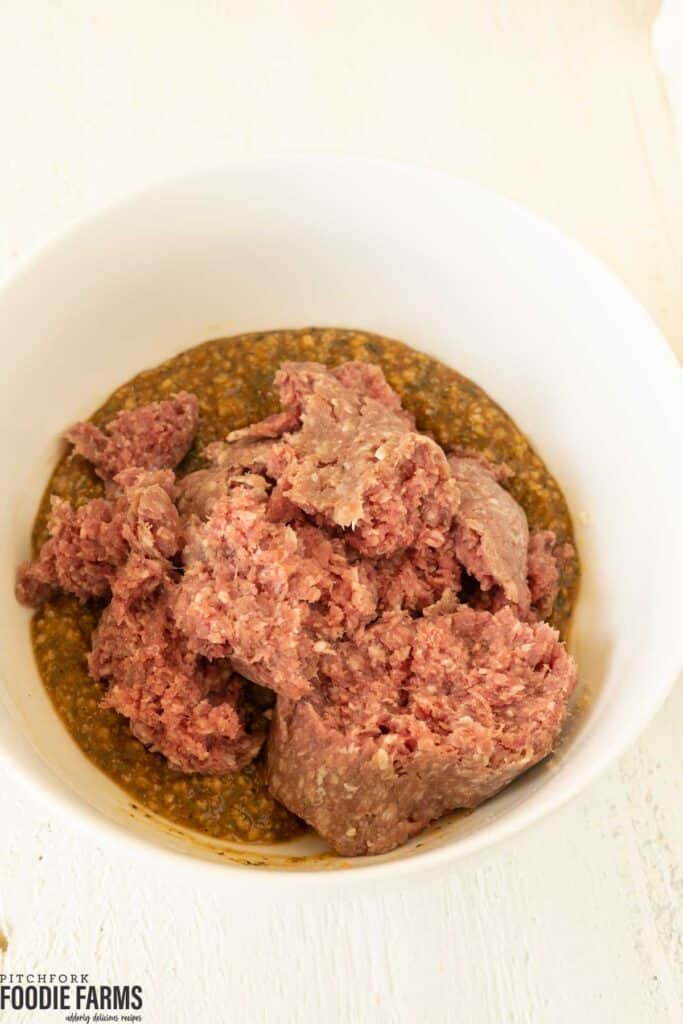 Step 2: Add meat. Add the ground beef, seasonings, and onions. Use your hands to gently mix the meat mixture. Over-mixing will create tough meatloaf.
Step 3: Shape meat loaf. Line a loaf pan with aluminum foil. Spray with nonstick baking spray. Add the meatloaf mix to the prepared pan. Press into a loaf shape.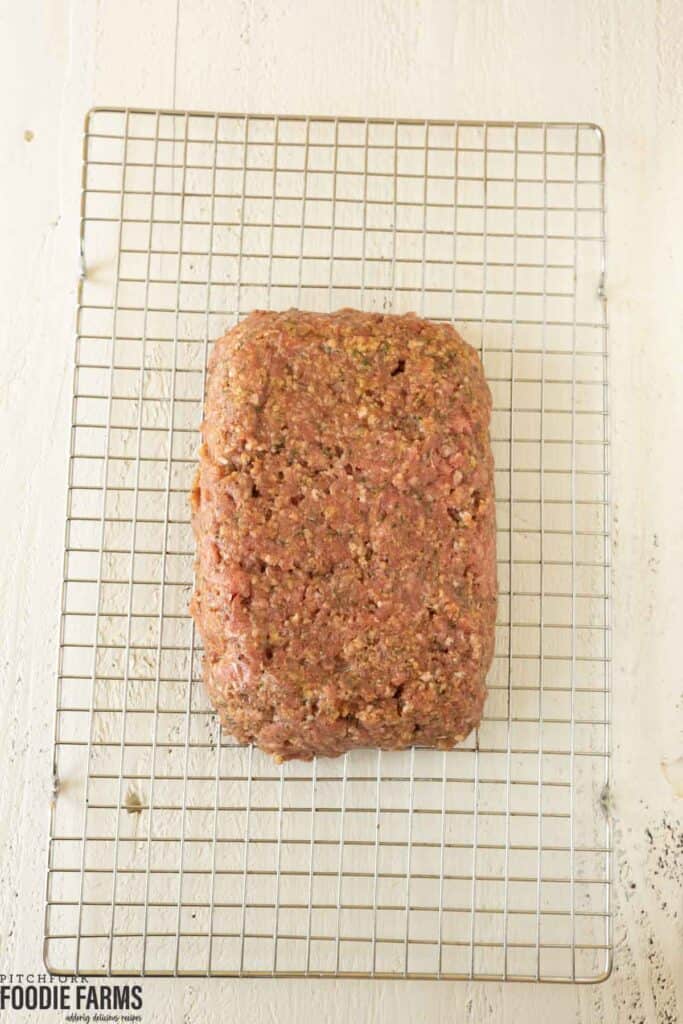 Step 4: Smoke. We want to either set the meatloaf straight on smoker grates, a wire rack, or a pan with holes in the bottom so the smoke can penetrate the entire meatloaf. The easiest way for me is to remove the meatloaf from the pan using the foil. Flip it over on the smoker racks. Smoke until the meat is 140 degrees. The amount of time will vary depending on the thickness of the meatloaf.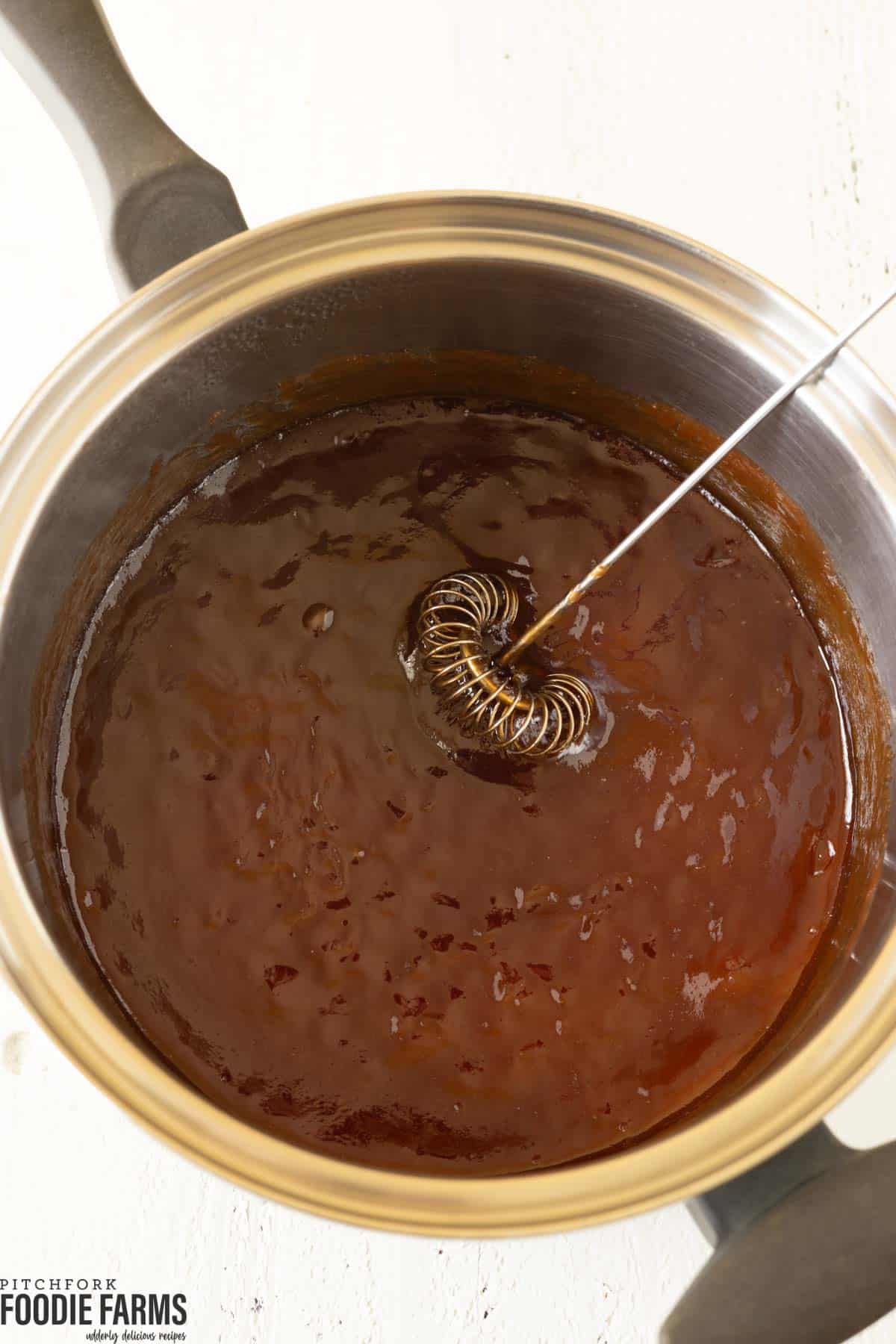 Step 5: Make the glaze. Add bbq glaze ingredients to a small bowl. Whisk to combine. Bring to a simmer over medium heat. Simmer, stirring frequently, until thickened. About 5 minutes.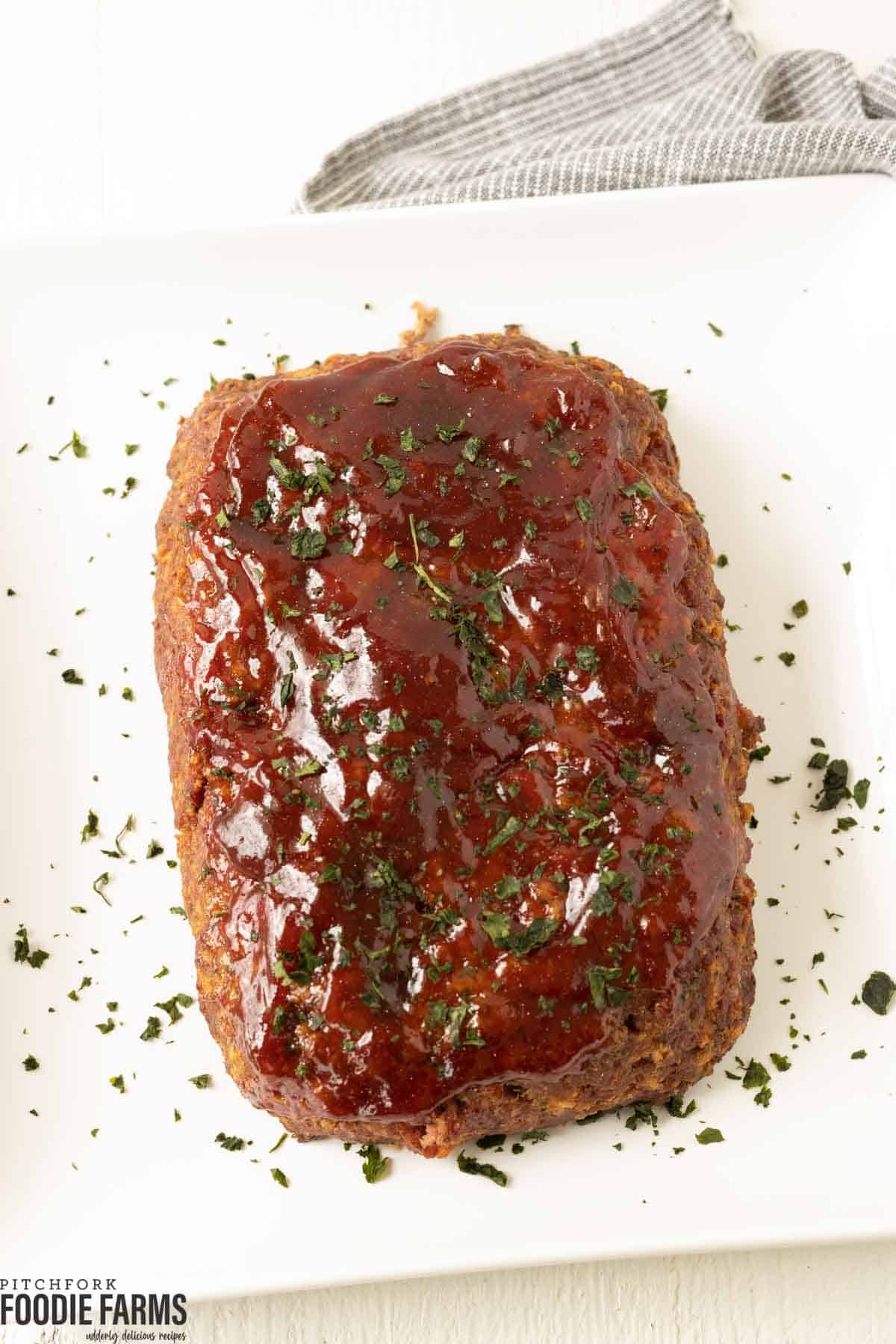 Step 6: Glaze meatloaf. Remove the meatloaf from the smoker and set it on a baking sheet, or use a long baster to brush on the top of the meatloaf with 1/3 of the glaze.
Step 7: Keep smoking. Return it to the smoker rack and smoke for 10-15 minutes. Brush meatloaf with the barbecue sauce and smoke one more time. The meat should be 155 degrees when you remove it from the smoker.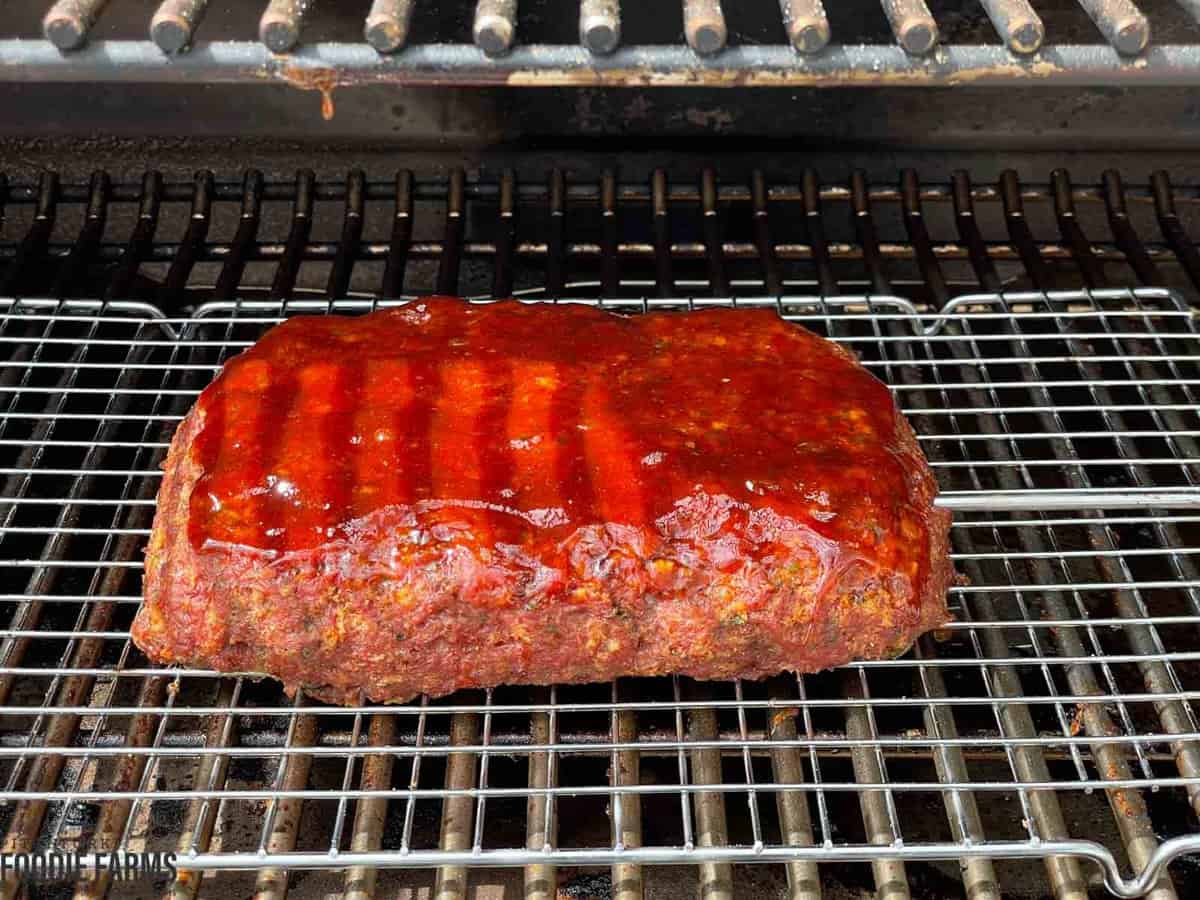 Step 8: Rest meatloaf. Brush the remaining 1/3 of the barbecue glaze on the meatloaf. Tent with foil. Let rest for 10 minutes. Slice and serve.
Tips and Tricks
Lean ground beef. Using 85-90% lean ground beef is a great option because it keeps the meatloaf from being greasy. Using more total fat will make the meatloaf extra greasy and even drip extra grease.
Use a meat probe or instant read thermometer to measure the internal temperature of the meatloaf to make sure it's cooked through and not overdone. I always test the doneness of smoked meat by temperature instead of time for the best smoked meatloaf recipe.
Be careful to not over mix the meat mixture. It will make the meat tough.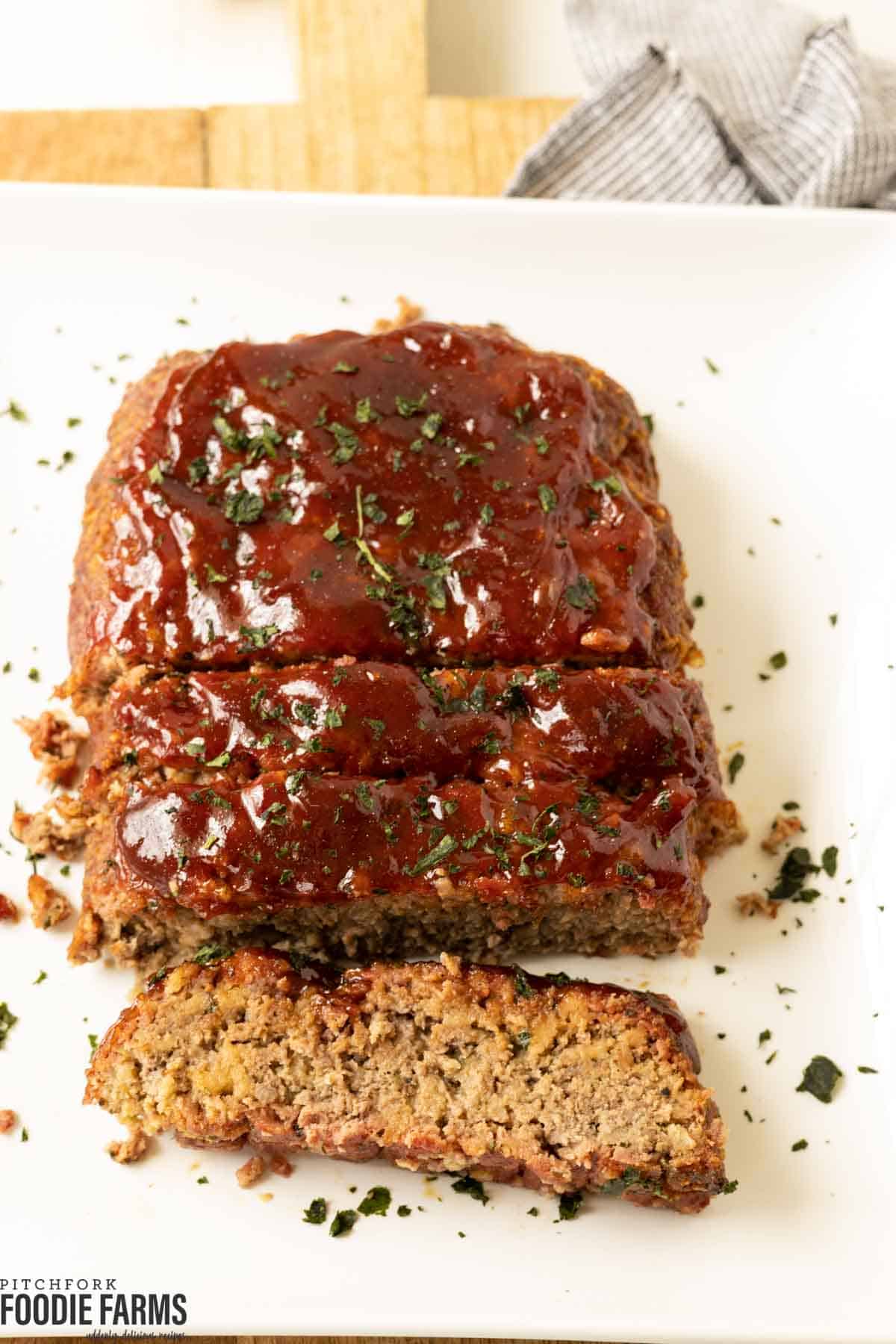 How to Store Leftover Meatloaf
If you have leftover smoked meatloaf, allow it to cool to room temperature and then refrigerate it in an airtight container or wrap it tightly in plastic wrap.
Properly stored, it should last in the refrigerator for up to 3-4 days. You can also freeze the leftover meatloaf for longer storage, typically up to 3 months.
How to Make Meatloaf Ahead of Time
Mix the meat mixture and shape it into a loaf. Store in the refrigerator for up to a day or wrap in plastic wrap and add to a freezer bag and freeze for up to 2 months.
Thaw overnight in the fridge before smoking.
Smoke the prepared meatloaf when you're ready to serve. The glaze can also be made ahead of time and refrigerated until you're ready to glaze the meatloaf.
How Long do I Need to Smoke Meatloaf?
It varies depending on how thick the meatloaf is. I plan on about 2 1/2 hours from start to finish.
The best way to know if the meatloaf is done is by checking the temperature of the meatloaf.
What temperature should I cook meatloaf to? Meatloaf is done smoking when it's at 155-160 degrees f. I take it off the smoker at 155 degrees and it will rise about 5 degrees as it rests.
FAQs
What is the best wood for smoking meatloaf?
The best wood chips for smoking meatloaf are mesquite and hickory for a bold flavor. They both pair well with beef. A great choice for a milder flavor use cherry, apple, pecan, or other sweet fruit woods.
Does meatloaf stall on a smoker?
BBQ smoked meatloaf will stall, but it won't last as long as a stall when cooking larger pieces of meat. I plan on about 2 1/2 hours to make smoked meatloaf.
Do I need to pre-cook the meat before smoking meatloaf?
No, pre-cooking the meat is not necessary. The meatloaf will cook entirely on the smoker or grill. Just ensure that the internal temperature reaches a safe level (160 degrees f) to kill any bacteria.
Can I use a regular oven instead of a smoker to cook meatloaf?
Yes, if you don't have access to a smoker or grill, you can still make delicious meatloaf in a regular oven. Simply follow this meatloaf recipe and bake it at 350 degrees for 45-50 minutes, or until it's internal temperature is 160 degrees.
Other Easy Ground Beef Recipes
Grilled Meat Loaf Patties and a Sweet Sauce
This meatloaf is a quick and easy weeknight dinner! The sauce makes it good enough to serve to company!!
Ingredients
For the Meatloaf
2

pounds

ground beef

1/2

cup

barbeque sauce

2

Tablespoons

Worcestershire sauce

2

Tablespoons

mustard

2

whole

eggs

1

teaspoon

salt

1

teaspoon

black pepper

1

teaspoon

onion powder

2

teaspoons

dried parsley

3/4

cup

panko bread crumbs
For the Meatloaf Glaze
1/2

cup

ketchup

1/2

cup

brown sugar

1/4

cup

honey

1

Tablespoon

cider vinegar

1

teaspoon

Worcestershire

1

teaspoon

onion powder
Instructions
How to Smoke Meatloaf
Preheat the smoker to 250 degrees.

Line a loaf pan with aluminum foil and spray with nonstick baking spray. Set aside.

Whisk egg. Add bbq sauce and breadcrumbs. Let soak for about 5 minutes.

Add the ground beef, meatloaf seasonings, and diced onions. Gently mix with your hands being careful to not overmix. Press the meatloaf mixture into the prepared pan.

Invert the meatloaf directly on the smoker rack, a wire rack, or pan with holes in the bottom and remove the aluminum foil.

Smoke until the internal temperature of the meatloaf is 140 degrees. The amount of time will vary depending on the thickness of the meatloaf. I usually plan on about 2 hours.

Brush about a 1/3 of the glaze over the meatloaf. (See note below) I like to use a long handled basting brush or take the meatloaf out of the smoker to glaze it then put it back on the smoker for 15 minutes, or when the meat has an internal temperature between 145-150.

Glaze the meatloaf again using about 1/3 of the sweet sauce. Smoke until the internal temperature is 155℉.

Remove the meatloaf from the smoker. Glaze with the remaining glaze. Tent with aluminum foil. Rest for 10 minutes. Serve
How to make BBQ Meatloaf Glaze
Add all the glaze ingredients to a medium saucepan. Whisk.

Bring to a boil over medium heat. Cook for 5 minutes, or until the sauce is thick and bubbly.
Notes
Glaze: Brush more of less sauce on the top or the meatloaf to your personal preference. Sometimes I like saving a little extra for dipping the meatloaf in.
Nutrition
Calories:
450
kcal
|
Carbohydrates:
39
g
|
Protein:
21
g
|
Fat:
23
g
|
Saturated Fat:
9
g
|
Polyunsaturated Fat:
1
g
|
Monounsaturated Fat:
10
g
|
Trans Fat:
1
g
|
Cholesterol:
81
mg
|
Sodium:
839
mg
|
Potassium:
481
mg
|
Fiber:
1
g
|
Sugar:
32
g
|
Vitamin A:
127
IU
|
Vitamin C:
2
mg
|
Calcium:
62
mg
|
Iron:
3
mg
tried this recipe?
Make sure to share it with me! Leave a review or tag me on Instagram