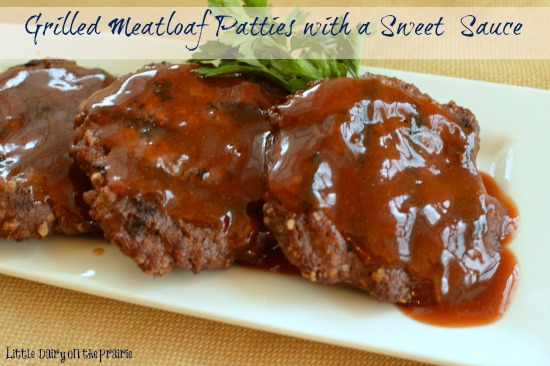 I love cooking on the grill. I love not having to wash pots and pans. I'm going to use my grill until it is absolutely too cold to keep using it.
They other day I knew I was going to be in a huge hurry at dinner time. I decided to make these meatloaf patties. This meal even scored a "ten" from all of my boys. They loved the switch up on traditional meatloaf. It's the sauce that takes it over the top. I could eat this stuff with a spoon.
So here's how you make the meatloaf. Whisk eggs. Add BBQ sauce, mustard, pepper, salt, onion powder, honey and Worcestershire sauce. Whisk to combine.
Add oatmeal. I blended mine first because I still don't love the texture of oatmeal. If you like oatmeal, just leave it whole and be proud of yourself for saving time.
Add ground beef and mix with hands to combine.
Form into patties. After making the patties I put them in the fridge for later.
Preheat grill. Grill patties over high heat for 6-8 minutes per side. Remove from grill and place on a serving tray. Pour sauce over the top of patties and serve.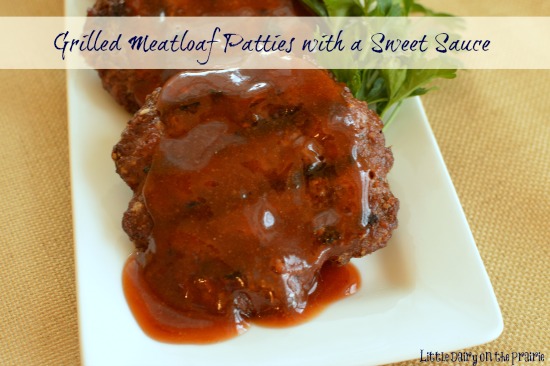 I didn't take pictures of the sauce making process. It's easy though. I will walk you through it.
1. Add all ingredients to a mixing bowl.
2. Whisk to combine.
3. It is one of those things that gets better as it sits.
4. Refrigerate leftovers!
See. It's super easy and you don't really need pictures!
Seriously, this meatloaf is super delicious. It's a perfect recipe to throw into your busy weeknight rotation.
Sauce adapted from Sisters Cafe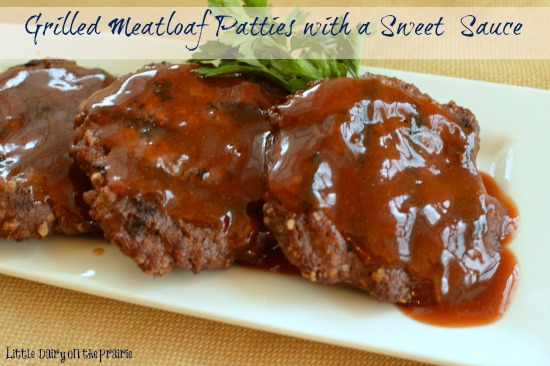 Grilled Meat Loaf Patties and a Sweet Sauce
This meatloaf is a quick and easy weeknight dinner! The sauce makes it good enough to serve to company!!
Ingredients
MEATLOAF:

1 1/2

pounds

ground beef

2

eggs

1

tsp.

salt

1

tsp.

black pepper

1

tsp.

onion powder

1/2

c.

barbeque sauce

2

T.

Worcestershire sauce

1

T.

honey

2

T.

mustard

1/2

c.

oats

SAUCE:

3/4

c.

ketchup

3/4

c.

brown sugar

1/4

c.

honey

1

T.

cider vinegar

1

tsp.

soy sauce

1/2

tsp.

onion powder
Instructions
MEATLOAF:

Whisk egg.

Grind oats in blender if desired. It's optional. I just don't like the texture of the oatmeal.

Add all other meatloaf ingredients and mix together with hands.

Shape into patties.

Grill over high heat for 6 to 8 minutes per side.

SAUCE:

Mix all sauce ingredients together. Pour over meatloaf patties after they are cooked.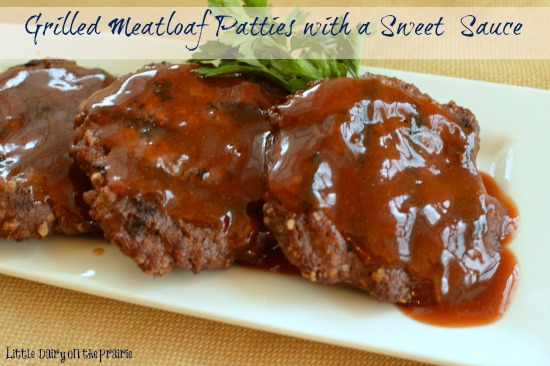 tried this recipe?
Make sure to share it with me! Leave a review or tag me on Instagram