A BBQ just wouldn't be the same without Baked Beans and I'm telling you that Smoked Baked Beans are where it's at! These are thick, smoky, sweet, and have bacon!
These semi-homemade baked beans made from canned beans are so easy and crazy yummy!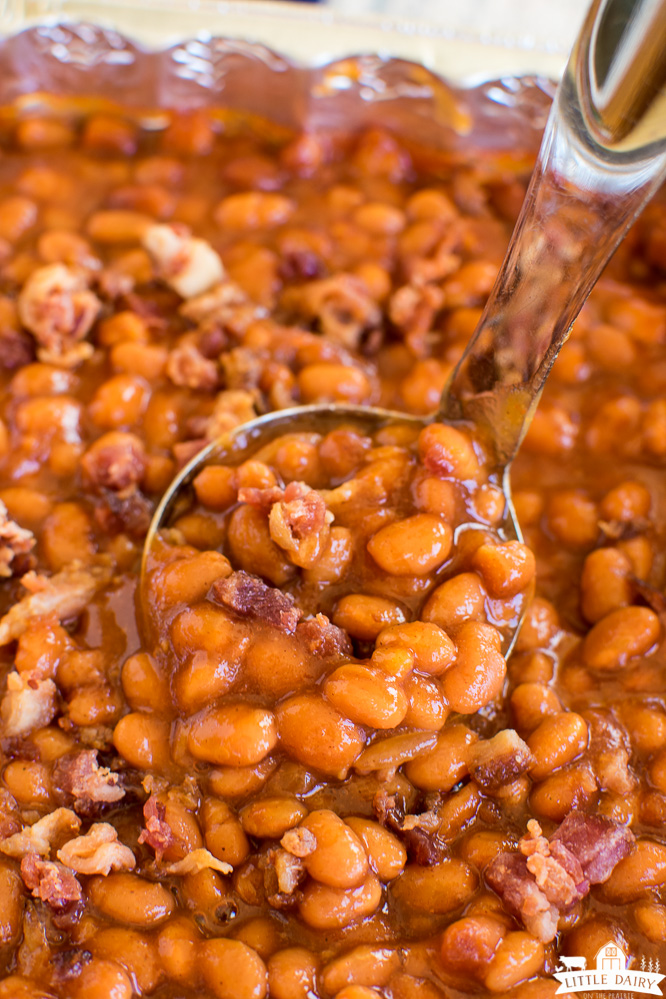 My mom makes the very BEST homemade baked beans in the whole world! To be honest, I've never really met another baked bean recipe I love as much as hers! Her recipe is sweet and savory, but not spicy at all.
I've taken her recipe and added bacon, sometimes pineapple, and threw them on the smoker to make them even better! Trust me, making them from scratch is so much better than just opening a can! It's easy too!
If you're going to a barbecue or potluck and need a summer side dish to blow the rest out of the water this is it!
Or, if you're looking for something to serve with your steaks, burgers, brisket, ribs, pulled pork, or grilled chicken you're in the right place!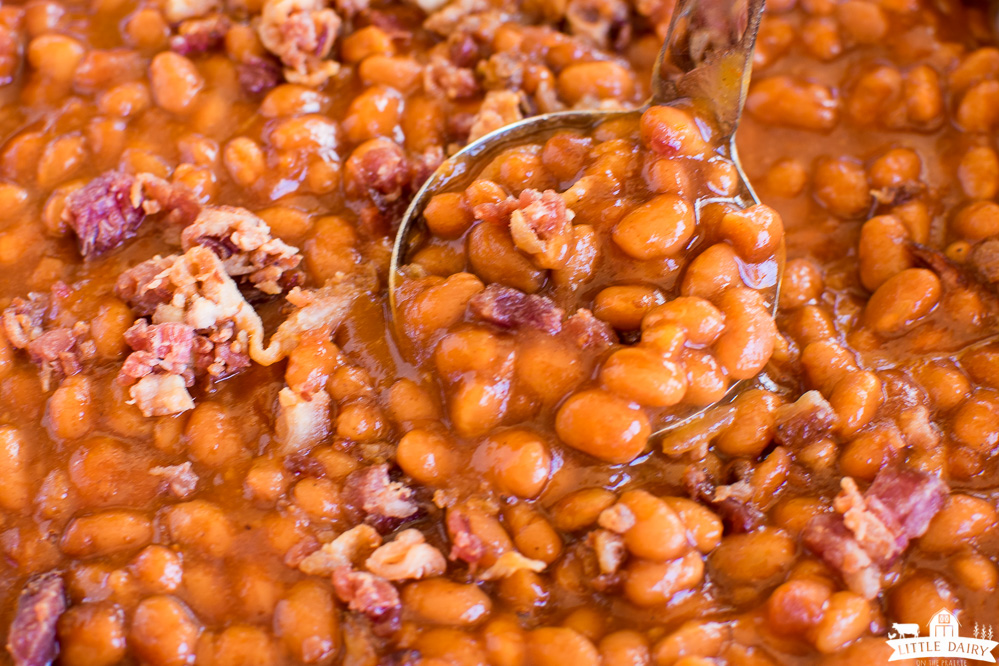 Ingredients in Baked Beans
This recipe is EASY and uses simple ingredients like canned beans!
Because I live in the middle of nowhere and can't go to the grocery store I'm going to share suggestions for substituting. Just in case you don't want to make another trip to the store either!
Pork and Beans – Any brand of canned beans will work. My favorite is Van Camps. The store brands have too much sauce and not enough beans.
Brown Sugar – Dark or light, I like dark best. You can also use honey.
Ketchup – If you don't have ketchup use BBQ sauce
Molasses – There's really not a substitute for this one, but it keeps for a long time!
Worcestershire – if you don't have it just skip it.
Bacon – I really like frying extra and keeping it in the fridge for recipes like this. We also really like using pre-cooked and crumbled storebought bacon. Just make sure it's real bacon! If you're really in a pinch you can add sausage or pancetta.
Cinnamon – You'll just need a dash, it adds the BEST flavor! Trust me!
Optional if you want you can add pineapple
Little Dairy on the Prairie Pro Tip: Can I soak beans instead of using canned beans? Yes! But, that's too much of a hassle for me so I never do it that way!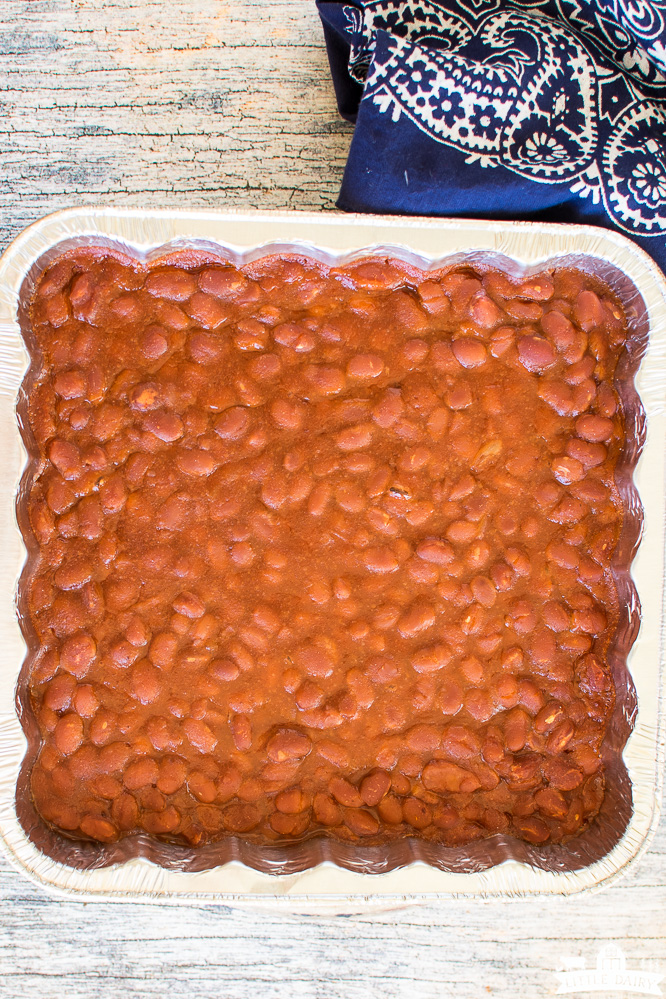 How to Smoke Baked Beans
This recipe really is almost as easy as opening a can of beans, but it's a million times better! Here are are the step by step instructions on how I make 'em!
Scroll to the next section so see all my tips and answers to FAQ's like what kind of wood to use, how long to cook them, to cover them or not, etc.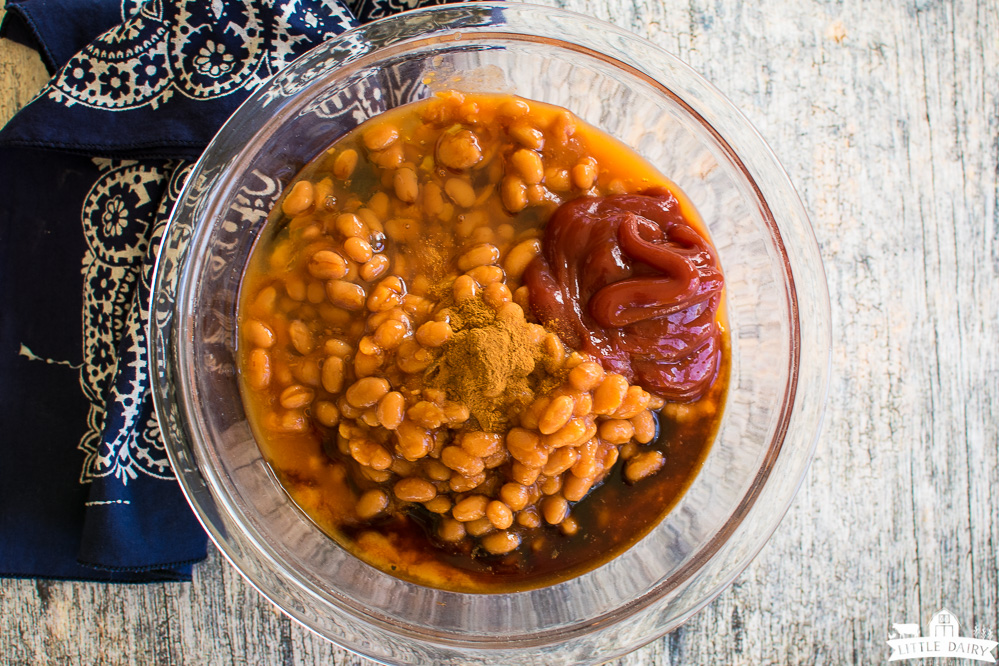 STEP 1: Mix all ingredients together. Be gentle so you don't smash the beans.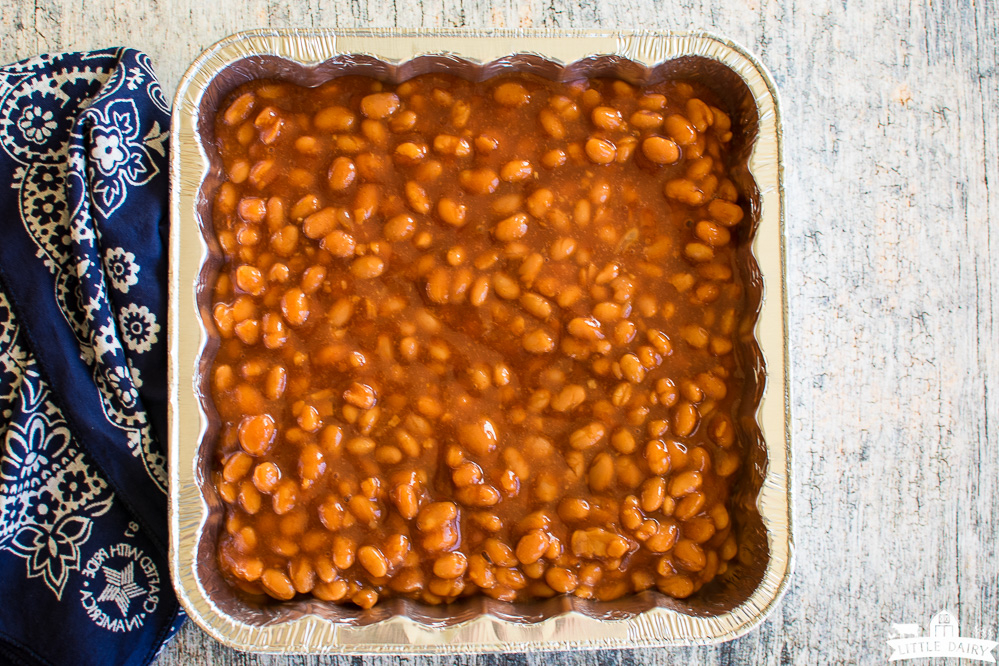 STEP 2: Pour into a baking dish. See my notes below about different types of pans and skillet options.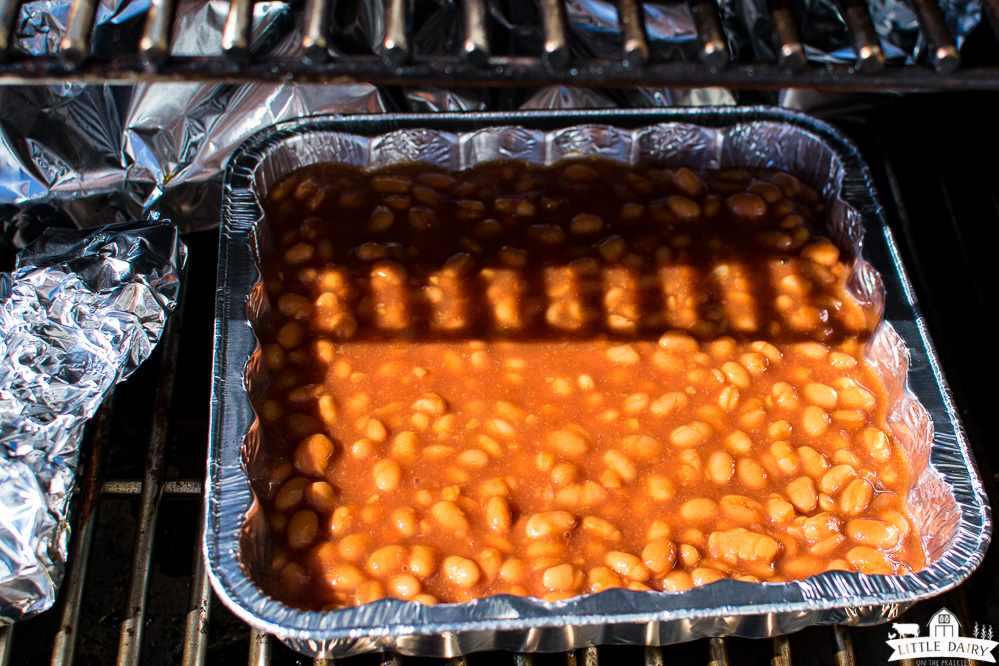 STEP 3: Put the pan in the smoker. Cook for about 2-3 hours on about 250 degrees.
Little Dairy on the Prairie Pro Tip: Bake uncovered so the beans get extra smoky and thick.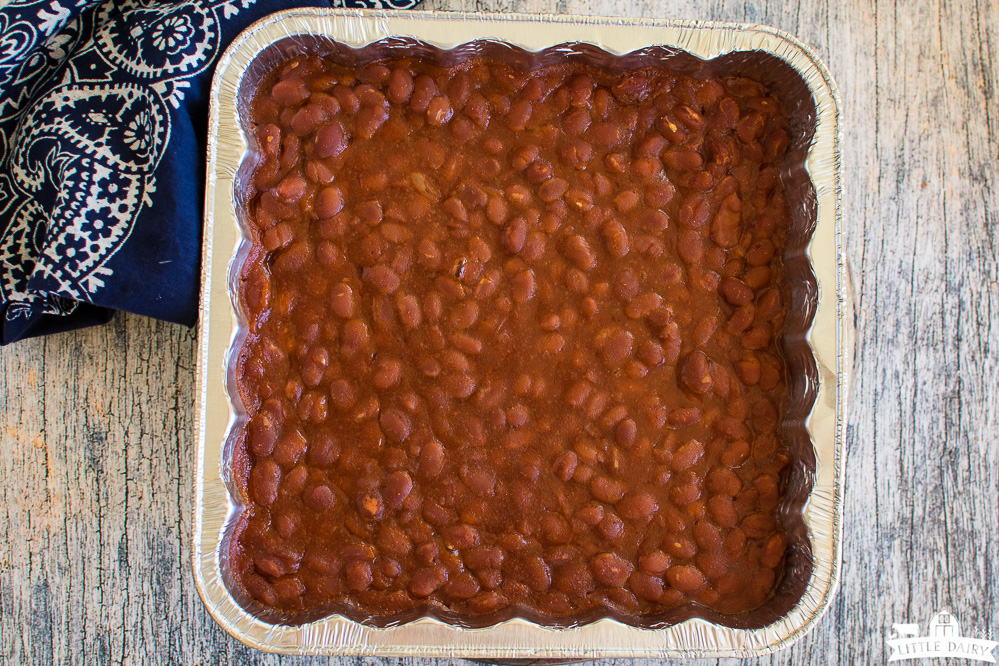 STEP 4: Add bacon pieces to the top. Serve hot!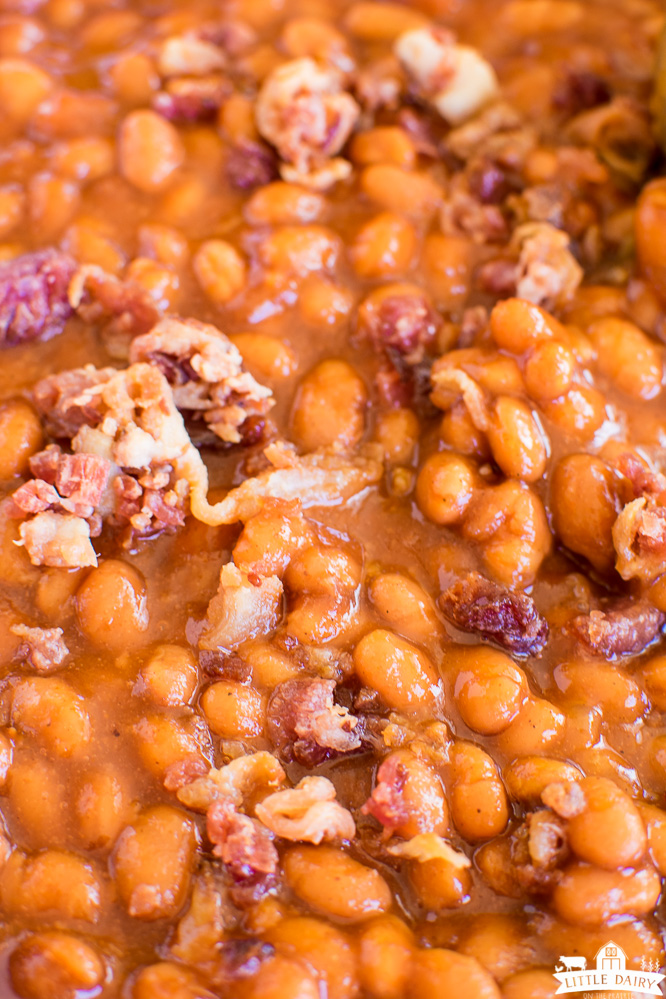 Tips for smoking beans:
Smoked beans are really simple to make. All you really do is throw the pan on the smoker and let it work it's magic. But there are a few tips to help you get the perfect consistency and the best smoky flavor.
What Pan Should I Use?
Disposable aluminum foil pans are my favorite because you can't beat how easy the cleanup is.
A cast iron skillet is a classic and gives the beans the best flavor. Plus, it holds heat and keeps the beans warm after you take them off the smoker.
You can use a glass baking dish, although it might leave soot on the bottom of the pan. I use one glass pan specifically for smoking.
How Long Should I Smoke the Beans?
How long to smoke beans will depend on what temperature your smoker is set at. Just use whatever temperature your meat is cooking at.
Typically it's around 250 degrees for most smoked meats. The beans will need to cook for about 2-3 hours.
What Kind of Smoker Should I Use?
Electric, Pellet, and Wood Smokers will all work great. I have a Traeger
Don't have a smoker? These beans can be baked in the oven. Bake them uncovered at 300 degrees for 2 hours.
Or put them in the Slow Cooker on low for 4-6 hours.
What's the Best Type of Wood to Use for Smoked Beans?
Cherry, Apple, Alder, Hickory, and Blends are all good varieties of wood to use.
Mesquite can over-power the beans, but I use it if I'm already smoking with it.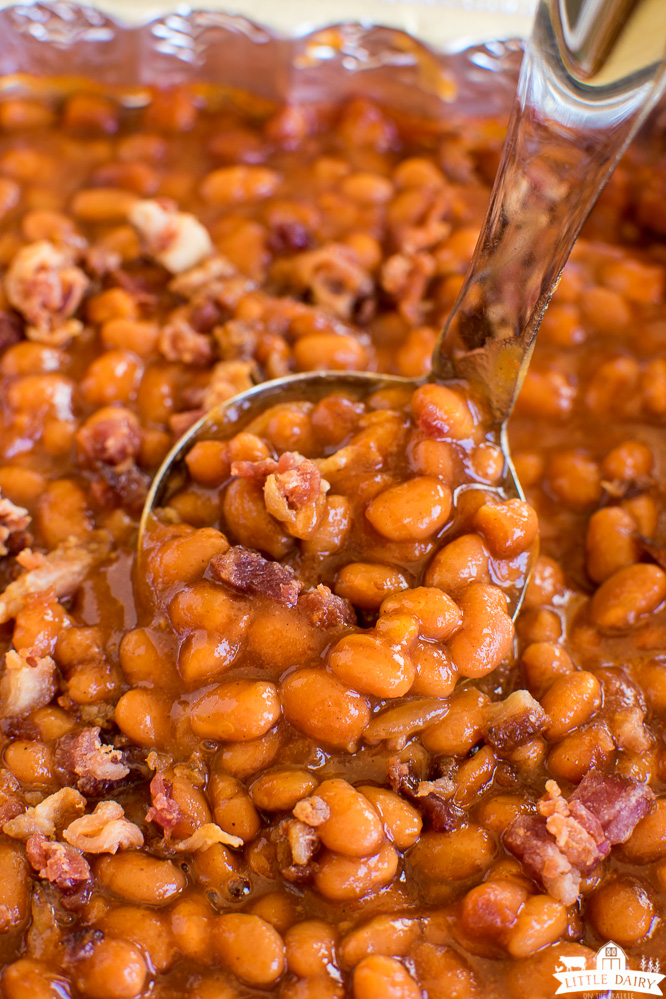 Other BBQ Side Dish Recipes
These beans are a no brainer when it comes to side dishes! Here are a few more to add to the list! They're all fantastic served together!
Smoked Baked Beans Recipe: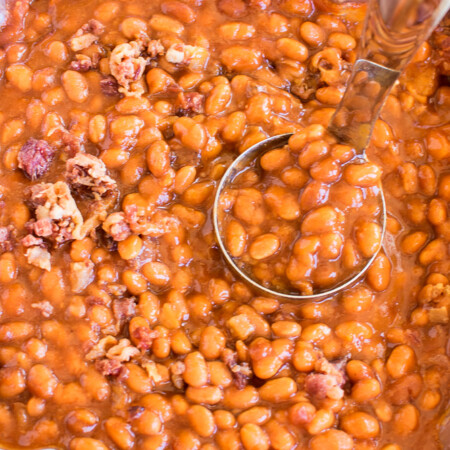 Smoked Baked Beans
Smoked Baked Beans with Bacon and Brown Sugar is the best BBQ side dish recipe ever! They're easy to make since they use canned beans, and bake right along with whatever meat you already smoking!
Ingredients
2

15 ounce cans

pork and beans

4

strips

bacon

1/4

cup

brown sugar

1/2

cup

ketchup

1

Tbsp

Worcestershire

1

Tbsp

molasses

1/8

tsp

cinnamon
Instructions
Heat smoker to 250 degrees.

Drain most of the juice from the pork and beans. Mix all the ingredients together.

Put beans in a cast-iron skillet, disposable aluminum baking pan, or another dish that's grills safe. Leave uncovered.

Set beans in the smoker. Cook for 2-3 hours.

Remove from smoker. Stir. Top with additional bacon if desired. Serve.
Notes
Cooking Temperature: These beans are very forgiving and can be smoked at a hotter or lower temperature (ranging from 200 degrees to 350 degrees), depending on what temperature you already have your grill set at.
Cooking Time: You may need to adjust cooking time depending on the temperature.
Nutrition
Calories:
281
kcal
|
Carbohydrates:
46
g
|
Protein:
9
g
|
Fat:
8
g
|
Saturated Fat:
3
g
|
Cholesterol:
20
mg
|
Sodium:
897
mg
|
Potassium:
614
mg
|
Fiber:
8
g
|
Sugar:
16
g
|
Vitamin A:
103
IU
|
Vitamin C:
4
mg
|
Calcium:
96
mg
|
Iron:
3
mg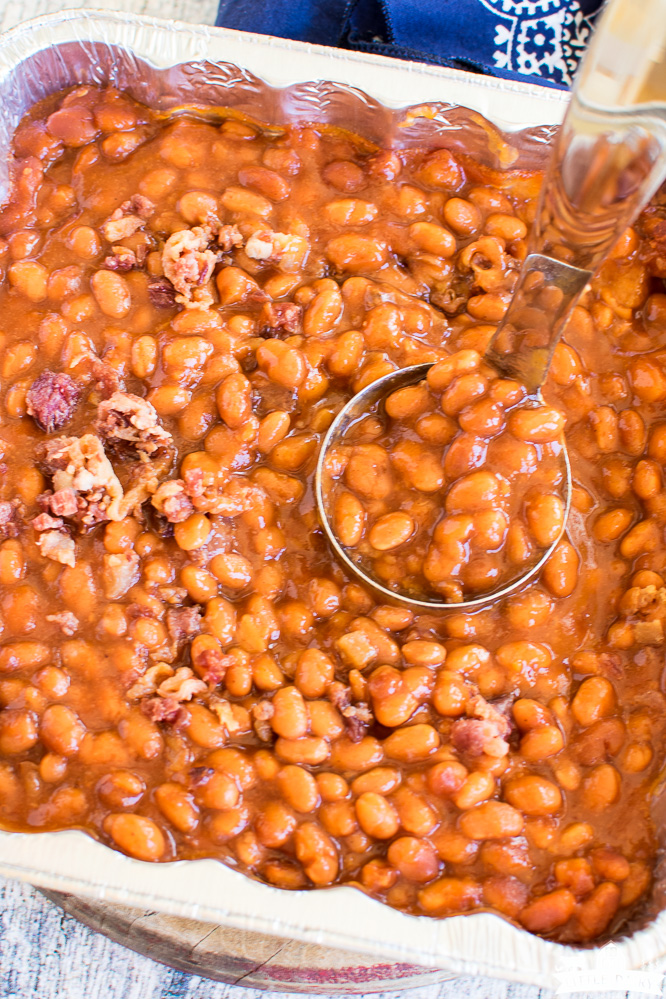 tried this recipe?
Make sure to share it with me! Leave a review or tag me on Instagram