Juicy cheeseburgers are as American as Apple Pie! My family has grown to love a healthier version we call Cheeseburger Lettuce Wraps! You gotta try it! I know you are going to love them too!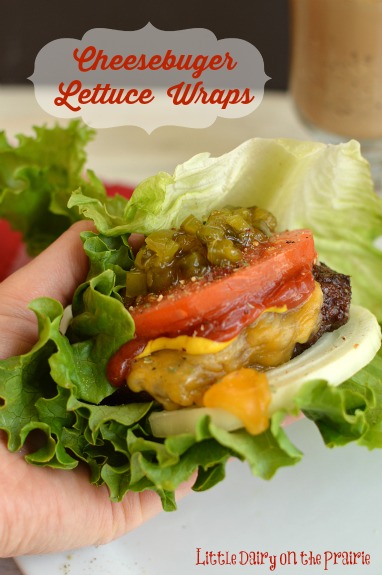 So the other day I told you about me not being able to make these amazing No Bake Chex Cookies anymore because my kids have swimming lessons soon. I don't think I explained why it's such a big deal for me to fit in a swim suit for my kids swimming lessons. Here's the deal. My kids swimming lessons are for two hours a day, for one week. We rent a camper and camp right by the pool. The kids and I buy day passes to the pool and end up swimming the whole day. I mean, they swim and I sit in the pool and watch them the whole day. Since I don't know how to swim I have to either sit there or practice some water aerobics that I made up for people who have to sit on the shallow end of the pool! They are pretty much lame! Lol! Anyway, I end up wearing a swim suit plenty that week. And lets face it, a tight swim suit is not comfortable for a whole week!
Anyway, in my attempt to be more comfy in that swim suit I have decided to cut back on the carbs here and there. These Cheeseburger Lettuce Wraps are an easy place for me to cut some carbs out. I'm usually not into lower carb, calorie, fat, etc. Honestly though, I don't miss the bun, at all!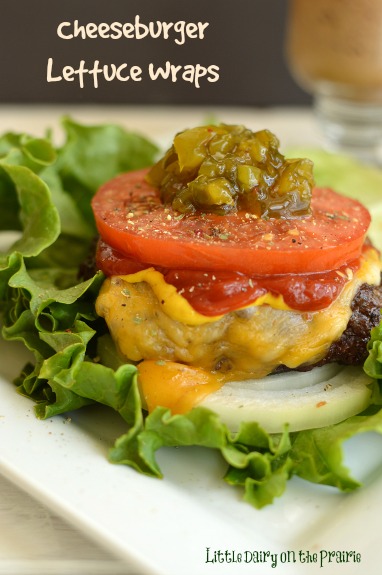 Last time I made cheeseburgers I offered buns and lettuce for building a wrap. Three of the five in my family chose the Cheeseburger Lettuce Wrap. Now, if you were really trying to cut back, I guess you could cut out the cheese. Or switch it to mozzarella. I can't believe I just told you that because I really don't believe in cutting out the cheese! I hold the mayo, and choose a "not" sweet pickle relish and I don't saute the onions in butter. That's how I justify the cheese! And I'm okay with that!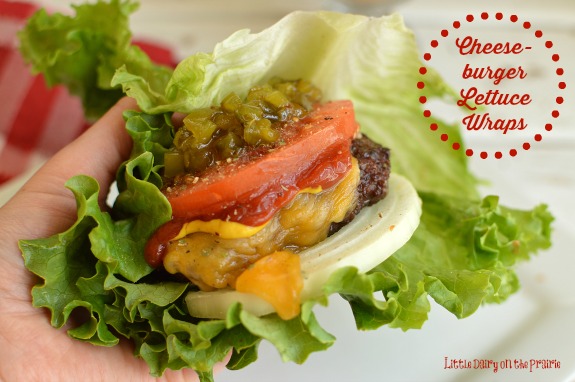 Layer all of your toppings on top of a big piece of green leaf lettuce. Wrap it all up and you will love it! I honestly don't miss the bun at all. Usually when I eat a cheeseburger with the bun I get so full I feel like I am going to pop! When I eat my cheeseburger this way I don't feel that heavy feeling. Although, I am not saying I don't still love regular cheeseburgers. I'm just saying I think I will wait until after I'm done wearing my swim suit for those!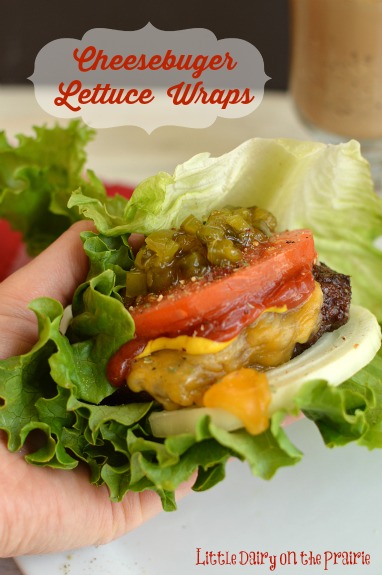 Cheeseburger Lettuce Wraps
Everything you love about a juicy cheeseburger without the bun! With a perfectly seasoned cheeseburger you won't feel like you are missing a thing!
Ingredients
1

pound

ground beef

season salt

lemon pepper

garlic salt

Worcestershire sauce

leaves

green lettuce

choose the biggest leaves from the head of lettuce

cheese slices

pickles

or hamburger relish

ketchup

mustard

onions

thinly sliced

tomato

thinly sliced
Instructions
Mix ground beef with seasonings and Worcestershire sauce. Use seasonings and sauce to taste. I use what I think is good, then add a little more! Let sit in the refrigerator for a few hours.

Grill over medium high heat until medium well. A minute before hamburgers are done, add cheese and continue to cook for one minute.

Layer lettuce leaf, onions, cheeseburger and whatever other toppings you like on your cheeseburger. Wrap lettuce leaf around cheeseburger.

Serve!
tried this recipe?
Make sure to share it with me! Leave a review or tag me on Instagram